+ 3 - 1 | § ¶
Buy Butner's Mack CF Pumper
You've always wanted a Mack CF pumper? Here's your chance, as auctioned on GovDeals. Former Butner Public Safety, one 1983 Mack CF pumper with a 1250 GPM pump and 750 gallon tank. And automatic transmission. No double-clutching required! Current bid price is $1,525. Here's a photo from a couple years ago, by Lee Wilson. Nice looking truck. Thanks Thomas!



GovDeals photo
+ 2 - 1 | § ¶
Charlotte Station 42 Opens
From the Charlotte Fire Department's Flickr site: "On Monday, January 30, 2012, the crew of Engine 42 moved into their new fire station at 5620 Central Avenue in Charlotte. The city began construction of Station 42, an 11,000 square foot, 3-bay fire station in November, 2010, to improve the level of service to the eastside of Charlotte. Engine Company 42, a 4-person crew and Battalion 4 will be responding to the needs of the Eastland corridor."



Charlotte Fire Department photo
+ 3 - 1 | § ¶
Louisburg's New Engine
Speaking of new deliveries, here's the Louisburg Fire Department's new Pierce Velocity pumper. And a top-mount at that! Photo from Pierce, via their Flickr site. See larger version.


+ 3 - 2 | § ¶
Evening Reading - January 30, 2012
Good evening Raleigh. Let's see, what's the report of new apparatus around the area these days? Cary's received their two new Pierce Velocity rescues and a Pierce Velocity platform. See Lee's photos of those. Wake Forest's received a new Pierce pumper, which we blogged about. Looks quite a bit like Morrisville Engine 3. Durham's received a new haz-mat rig, also blogged about. What else has been delivered lately, or is expected soon?
+ 1 - 2 | § ¶
Morning Hot Shot
Or maybe it's a cold shot, since last night's apartment fire on McNeill Street had been extinguished by the time of this photo. We're about a month into external flash mode, using a camera bracket and having pretty good success minimizing the glow of reflective surfaces. (Some scene lighting or other ambient light is required. Plus the higher ISO, lower flash output, and assorted boosts in post-processing.) Slowly, surely getting better. See more photos.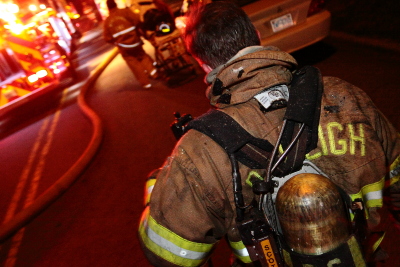 + 2 - 1 | § ¶
Mystery Habitat
Blink and you'll miss this one. That is, if you're riding in a passenger car. There are a couple of these around this place. Wonder what the total numbers are for our area?


+ 2 - 1 | § ¶
Life of an American Fireman, 1903
Here's a video that was shared on the Carolinas Fire Page mailing list. This is the famous early silent short Life of An American Fireman, shot in 1902 by Edwin S. Porter for the Edison Manufacturing Company. Read the Wikipedia entry. This was one of the earliest American narrative films, and utilized personnel and equipment from New York, Newark, Orange, and East Orange, NJ. As these notes from the filmmaker recount, about 300 firefighters appear in the various scenes.

+ 3 - 1 | § ¶
North Carolina Radio Discussion Forums on RadioReference.com
Looking for a place to ask questions about scanners and frequencies and monitoring public safety (or other) radio channels around the Triangle? Check out the North Carolina Radio Discussion Forum on RadioReference.com. Good place to post questions and participate in discussions. You'll learn all sorts of things, such as what's happening with the dispatch talkgroup patches being tried today by the Raleigh Police Department.

+ 1 - 2 | § ¶
Raleigh Fire Department Celebrates Centennial in 2012
Extra! Extra! Read all about it! The Raleigh Fire Department is celebrating its 100th anniversary this year. FireNews.net has published a special feature, including a long short history of the fire department's last 100 years. Learn more at www.RFD100.com, a new site that's still new. Click the image to read the FireNews feature.


+ 1 - 3 | § ¶
Morning Reading - January 26, 2012
Good morning Raleigh. Watch your mailboxes for the latest issue of Carolina Fire Rescue EMS Journal, which features a two-page article about the centennial history of the Raleigh Fire Department. Author credit Yours Truly. Included are sidebars about the biggest fires, and ordering Raleigh FD centennial challenge coins. Please note that the date for this summer's birthday party has been changed to June 16, 2012. See www.RFD100.com.
Wake County EMS seeks federal grant to help lower medical costs - News & Observer story from last week about approval for Wake County EMS to apply for a nearly $1 million grant to add 14 advanced placement practice paramedics, two supervisors, and a grant supervisor. The monies will expand a current pilot program that can provide alternate (and less costly) treatment and transport options for some types of patients.

Asheville firefighter Jay Bettencourt tells his story - Statter911 feature in two parts, with Asheville Firefighter Jay Bettencourt telling the first-person story of the medical office building fire on July 28, 2011. He recounts his actions and experiences at the incident, including the interior operations. The fire took the life of his friend, mentor, and captain, Jeff Bowen, and seriously injured Bettencourt. It is powerful and perhaps mandatory reading.

Group creates national firefighter code of ethics - Firehouse.com story about a code of ethics created by the Cumberland Valley Volunteer Firemen's Association with the assistance of the National Society of Executive Fire Officers. Hope to blog about this later in a dedicated posting. Are some (very small percentage) firefighters behaving more badly than ever before? Probably not. Rather, it's the increased visibility of their actions. It's easier than ever for people outside the fire service to learn what's happening inside the fire service. More later.

One bus, two bus, red bus, bad bus - Digital Photography Review article about a fascinating copyright rule in England. One image that's similar but not directly copied has been ruled as a copyright infringement. How different are copyright laws overseas versus over here? Not sure on that one, but they are different, to be sure. As for that site, it's my recommendation as the go-to source for discussion of photography as well as camera reviews.
+ 2 - 1 | § ¶
Vintage Building Permit, 1947
From our friends in the city inspections department, here's a building permit dated November 26, 1947. No lathing until wiring inspected! Click to enlarge:


+ 5 - 4 | § ¶
UPDATED: Historic and Former Firehouses of Indianapolis
January 23
For your hysterical historical enjoyment, and in preparation for a possible first-time trip to FDIC in a couple more months, here's an armchair tour of historic and former firehouse of Indianapolis. Twenty-two active and former firehouses dating to 1872. Photos from Google and IFD. Data from IFD, as previously posted below. Can't wait to see the things in person.
Next question, what other major metropolitan fire departments have historical fire station information readily available? Will virtually visit fire stations for food. Meanwhile, see this history page more old stations including Baltimore, Charleston, Detroit, Minneapolis, Milwaukee, and St. Louis. Those were all real visits.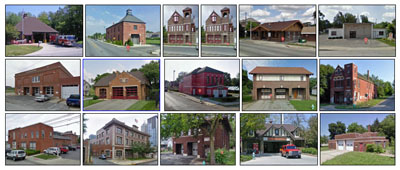 READ MORE
+ 8 - 11 | § ¶
Eight Years, Five Days, and One Inch Ago
With a wintery precipitation pending for Friday afternoon, let's revisit and repost this recollection from January 19, 2009. Don't forget to fuel your vehicle after reading. And maybe plot a half-dozen alternate routes home from work or school!

On January 19, 2005, a surprise snowfall paralyzed the Capital City. 'Twas an early Wednesday afternoon when the white stuff started falling. About an inch accumulated around town. On roadways, the snow quickly melted and then refroze due to the low temps. The slick streets were soon clogged with cars and busses, from early-closing schools and businesses.
Everybody was suddently on the road and congestion stalled traffic throughout town. Emergency responses were slowed on both major roads and popular cross streets. The gridlock also caused problems for the crews clearing snow and applying sand. Gridlock persisted on major roads into the early evening. Dozens of abandoned cars littered roadways.
Multiple-vehicle accidents occurred throughout the afternoon, though no serious injuries were reported. Firefighters assisted some stranded motorists with finding shelter. Routine commutes that day took as long as ten hours for some drivers.
Around 8:00 p.m., units responded to a working apartment fire at 1209 Holman Street. Car 72 and Truck 1 were first on scene, reporting fire showing from a second floor window. By 9:00 p.m., the Raleigh Police Department had responded to 422 vehicle accidents since 11:00 p.m. Another 60 reported accidents were pending. By midnight, officers were taking information over the phone for minor wrecks.
By 10:00 p.m., some 350 school buses were still on the road. Another 3,000 children around Wake County were being sheltered at 56 schools. Major Raleigh roadways including both the Beltline and New Bern Avenue remained stalled into the late evening. By 11:00 p.m., Governor Mike Easley had declared a state of emergency for Wake County. This allowed state government buildings to be opened as shelters. Some stranded motorists slept overnight in their cars.
By 8:00 a.m. the next morning, the Raleigh Fire Department had answered 152 calls since the start of shift. The average call volume was 82 calls per day.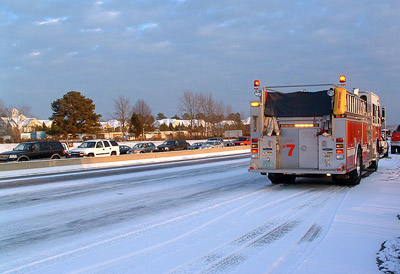 + 4 - 1 | § ¶
Wake Forest's New Engine
From a reader, here's another new delivery. The Wake Forest Fire Department last week received this 2012 Pierce Saber pumper-tanker engine, 1500/1000. Features include a 10-inch cab extension, roof-mounted light tower, and foam system. It replaces a 1996 E-One engine, which will be placed in reserve, which will replace Engine 4, a 1989 Simon-Duplex/FMC engine, which will be sold. Click to enlarge. Thanks Matt!


+ 5 - 2 | § ¶
TrafficLand = Best Traffic Camera Site Ever
Here's their page of traffic cameras in Raleigh. Camera images updates every two seconds. Bookmark now. That is all.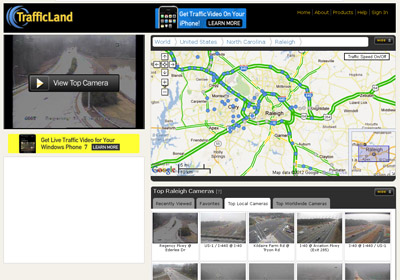 + 2 - 2 | § ¶
Korean Tow Trucks Race to Reach an Accident First
Found on Facebook, here's your wild video of the day. Four minutes of fast driving (and using a siren at times!) through what looks like a major city in South Korea. At least one rival tow truck is seen toward the end of the clip. How many moving violations do you spot?



+ 1 - 2 | § ¶
Cary's New Ladder 3
Delivered on Friday morning, January 20. Photographed at Station 1 by Lee Wilson, who plans to return when the sun is shining. The town's third new fire engine is a 2012 Pierce Velocity aerial platform, 100-foot with a 1500 GPM pump and a 300 gallon tank. It replaces a 2003 Pierce Dash aerial platform, which will be placed in reserve and which will replace a 1995 Mack/Craft Body Works service truck. This marks their eight Velocity, following Engine 1, Engine 3, Engine 7, Truck 6, Rescue 7, and the new Rescue 2 and Rescue 4. Read prior posting and discussion about the new deliveries. See more photos from Lee.



Lee Wilson photo
+ 4 - 1 | § ¶
Raleigh Emergency Rescue Squad Incorporation, 1953
From the archives of the Raleigh Fire Department Historical Society, here's the incorporation certificate of the Raleigh Emergency Rescue Squad. The document is dated August 27, 1953, and signed by Secretary of State Thad Eure. Click once or twice to enlarge:

Here's a bit of their history, as contained on this page about
modern volunteers of the Raleigh Fire Department
:
"[They were organized] after both the police and fire departments were criticized for the delay in extricating a driver pinned under a truck on Hillsboro Street. Criticism also came after a drowning in the Neuse River several miles from Raleigh. The body was not recovered for a week until City Manager W. H. Harper asked [Raleigh Fire Department] Captain Jack Keeter to help however he could. Along with Assistant Chief Lee Matthews, civilian Bob Biggs, and future police officer Andy Povlosky, the four borrowed a fishing boat from one man, a boat motor from another, and transported the items to the river in Keeter's pick-up truck. The four launched the boat, and Povlosky and Matthews rode around until finding and recovering the body. Later, a Red Cross course was conducted with about 25 firefighters and civilians attending.
"The Raleigh Emergency Rescue Squad was formally chartered on August 27, 1953. The Wake County Office of Civil Defense allocated $2,500 for a rescue truck and a 1954 GMC panel van was purchased. Local businesses donated money and materials to outfit the van. Squad members also designed and built a boat trailer and the city provided the funding for two boats and two motors. The rescue squad responded both in the city and in the county, though only provided patient transport when an ambulance was not available. They were particularly helpful during the period between when area funeral homes stopped providing patient transport and when private ambulance services started operating.


News & Observer photograph
READ MORE
+ 1 - 2 | § ¶
CFD and RFD - The Command Connection
Did you know that three members of the Raleigh Fire Department have served as Fire Chief of the Cary Fire Department? After Asst. Chief R. Lee Matthews retired in 1963 with 36+ years of service, he took the position of Acting Fire Chief for five months in 1967. He was acting chief from January 21, 1967 to May 1, 1967. Matthews had served the Cary Fire Department in earlier times. In 1926, for example, the fire department had 12 (!) volunteers with Matthews acting as a part-time training officer.
Chief Matthews replacement was Clarence F. Ayscue. He was appointed Fire Chief on May 1, 1967 and served until July 15, 1968, when he was hired as a firefighter for the City of Raleigh. He retired from the department in 1989. Subsequent Cary Fire Chiefs were John L. Dew (1968-69), Billy Henderson (1969-71), and Terry Edmundson (1971-75).
Chief Edmundson's replacement was Capt. Ned K. Perry, who served with the city from 1958 to 1975. Perry was also a charter member of the Raleigh Fireman's Club Inc. (organized in 1968) and the first President of the re-chartered Raleigh Firefighter's Association Local No. 548 (organized in 1969). Perry served the Cary Fire Department for 18 years and retired in 1993.
Another former Raleigh firefighter is a current member of the Cary Fire Department command staff. Capt. Mike Cooper was a member of the Raleigh Fire Department from 1991 to 2005, when he was hired by the town of Cary as an Assistant Fire Chief of Logistics. He served in the role from 2005 to 2010. When Asst. Chief Don Daniels retired in January 2010, he moved over to supervise Budget and Planning and serve as the department's Accreditation Manager.
Next project? How about mapping the command staff connections for other fire departments in Wake and surrounding counties? Now that would be an interesting list to compile!
+ 3 - 2 | § ¶
UPDATED: Fire Commission Meeting - Jan. 19, 2012
January 22:
Handful of highlights from the meeting, as best recounted by myself. These are my words in places, not necessarily the language used by those speaking at the meetings. Apologizes for goofy paraphrasing. See full agenda and meeting documents below.
Eastern Wake Fire Department Update - The county auditor has been appointed the trustee of EWFD for a minimum of two years. The county commissioners have also appointed four members to the EWFD board of directors. The fire commission will be also kept apprised going forward of any developments. See minutes of prior meetings for the story so far.

Bay Leaf Fire Station #1 Reconstruction - Construction documents are being prepared and the bid process is expected to be completed in late April. Construction is expected to start in June. The station will take two years to build. A temporary station will be erected/opened on the site, before the reconstruction begins.

Wake Forest/Falls Merger - This is planned to take effect (or is that completed?) in April. They've already started working on full operational consolidation, have committees working on various points, created a new organizational structure, created policies for volunteers, and are preparing the paperwork to file for the disillusion of Falls Fire Department. The merger was planned for March, but has been pushed one month so the Falls fire district can be included in the upcoming ISO evaluation of Wake Forest. Both Fire Chiefs told the commission that their expectations have been exceeded by how well the process has been working.

Fire Protection Agreement Revisions - The agreement documents used with non-profit fire departments are undergoing revisions, and notably with regard to language around monies, assets, liquidation of assets, department disillusions, etc.

Wake County Association of Fire Chiefs - Garner Fire Chief Matt Poole presented an introduction during the period of public comment. The recently organized organization started as a chief officer's lunch in May, and for the purpose of meeting, greeting, and networking. As participation grew, the need for an entity was apparent. The group has drafted by-laws and established their mission. Voting members can be any chief officer of any fire department in Wake County. Public, private, municipal, volunteer, combination, etc. They also retired and honorary members. Their first project is a pair of classes this week taught by NFA instructor Howard Cross. Those classes are being conducted with the participation of the Wake County Firefighter's Association.
READ MORE
+ 2 - 1 | § ¶
Now This is a REAL Man Cave
For sale on GovDeals, currently priced at a mere $454.44. Located just down the road (a bit) in Douglas, GA. One former forestry tower, approximately 100 feet tall. Buyer must remove the structure themselves. Also requires a cleanup deposit ($300) and a certificate of insurance binder ($1,000,000) prior to removal. Talk about a deal! There's the building itself, perfect as any fireman's man cave. Then there's the tower, which should bring at least a little dough as scrap metal. Raise you hand if you'll be bidding, and let me know if you win! We'll want pictures! Thanks to "Firegeezer" Bill S. for sending.



GovDeals photo
+ 2 - 2 | § ¶
Firefighters Bury Dog Killed in Friday's House Fire
Postscript to Friday night's house fire in Wake Forest, as reported by WRAL. Though the owners of home at 2636 Dun Loring Drive were out of town, their dog was still inside the structure. Their Italian Greyhound named Adele perished in the blaze. After the fire was extinguished, firefighters buried the dog in the rubble of the structure. They fashioned a cross from the debris and placed a brick marker on the grave with Adele's name. One of the neighbors was so moved by the gesture that she sent a photo to the news station. Read the entire story. See prior posting about the fire.



WRAL photo
+ 3 - 1 | § ¶
Last Night's House Fire in Wake Forest
Five fire departments were on scene on Dun Loring Drive at last night's major house fire in Wake Forest. Here's a quick sketch of what happened, as memory serves. Dispatched to 2636 Dun Loring Drive about 9:00 p.m. Heavy fire found in the rear of a 1 1/2-story single-family residence with 2,472 square-feet. Detached garage also burning. Hand lines pulled for both interior and exterior attack, though impacted by limited water supply. Inside operations also minimized due to collapse hazards. First engine(s) initially nursed. Water point established at Dun Loring and Matterly drives, with Stony Hill 261 supplied by tankers (and subsequent hydrant?).
Aerial operations started about 50 minutes into the incident with Bay Leaf Ladder 25. Rear-steering helped with driveway access. Extensive overhaul after the big water. Command located in front yard, rehab located across the street in a residential driveway. Staging on the aforementioned streets. Spectators (and cameras) everywhere. (One photographer drove 30 minutes to be there, but he's a bit obsessed.) Residents out of town. No injuries, including to four firefighters inside when the roof fell (as reported by NBC17). Cause not determined.
Units on scene: Wake Forest E1, E2, E3, L1, B1, C5, C1; Falls 217, 212, C2; Stony Hill 261, 268, 392, R26; Bay Leaf 361, 258, L25; Brassfield (Granville County) 163. EMS response forthcoming. Bay Leaf air unit to Wake Forest Station 1, for bottle filling. Coverage included Durham Highway at Wake Forest Station 1, Falls pumper staffed at Falls fire station, and New Hope Engine 3 at Stony Hill Station 1. Readers please provide corrections or additions. See photos by Legeros. News coverage: WRAL, NBC 17, News 14.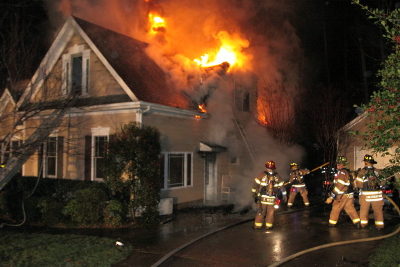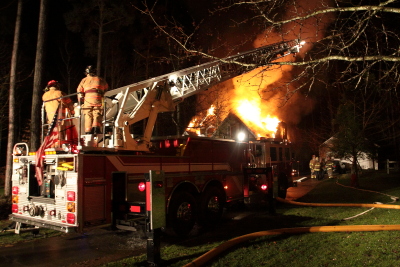 + 3 - 2 | § ¶
Wet Trees at Night
As photographed at last night's major house fire on Dun Loring Drive in Wake Forest. This is accidental art, a shot snapped to simply show "here's what the yard looked like." Plus a conversion to gray scale.We'll post a proper (er, dedicated) incident summary and a photo facing the structure a little bit later. Click to enlarge:


+ 1 - 2 | § ¶
Morning Reading - January 20, 2012
Good morning Raleigh. The merger of Falls and Wake Forest fire departments is scheduled for April, as reported at last night's Wake County Fire Services meeting. Both Fire Chiefs told the commission that their expectations have been exceeded by how well the process has been working. Good to hear. Also introduced last night was The Wake County Association of Fire Chiefs, a new organization comprised of chief officers from fire departments in Wake County. More information forthcoming, as well as more meeting highlights.
+ 3 - 1 | § ¶
Cary Receives New Rescues
Two new Pierce Velocity rescue trucks were delivered yesterday to the Cary Fire Department. They'll replace a pair 2000 Ford F-550/KME light-duty units. The new Rescue 2 and Rescue 4 were spec'ed the same as Rescue 7, and carry a full compliment of ground ladders, breathing air compressors and fill stations, light tower, etc. Plus full extrication and fireground support stuff. Cary's new Pierce Velocity platform ladder is due today. See this prior posting about the trucks, including a good reader discussion. See more photos from Lee Wilson.



Lee Wilson photo
+ 4 - 3 | § ¶
Yrac Fire Department Badge
Here's our vintage badge of the week, a two-inch by two-inch badge from the Yrac Fire Department in Cary. Recently sold on eBay and snapped up by a local buyer. Read the history of the Yrac FD, which was Cary spelled backwards. Click to enlarge:


+ 2 - 1 | § ¶
Raleigh Fire Department Newsletter, Winter 2012
The winter 2012 edition of the Raleigh Fire Department Newsletter has been posted to to the web site raleighfirenews.org. The contents include: Capt. Scott Nipper; Christmas morning fire; Two children rescued from apartment fire; Starting our centennial year; Chief Warner retires; More retirements; Promotions and appointments; New personnel; Response changes; Photo gallery; Recruit academy starts; Where are they now? Calendar; New live fire simulator. See the web site for back issues. Edited by Yours Truly (department historian Mike Legeros), the Raleigh Fire Department Newsletter is a quarterly publication for personnel, retirees, and citizens. Read the issue
, or click to access:

+ 3 - 3 | § ¶
UPDATED: Mystery History
January 18 update. Three more photos added. Does that confirm the exact building? How about a specific year, any guesses? Original posting: What are we looking at here? Can you place the location as well as the timeframe? Click to enlarge:


+ 5 - 2 | § ¶
Vintage Guilford EMS
More time machine travels, this time with some Guilford EMS vehicles from back in the day. Dig that station wagon, man! Top shot is 1986, Unit 902 and a van at Base 3. Bottom shot is Unit 400 and Unit 1957 at City Stage in 1984. Readers can add makes, models, memories. Click to slightly enlarge:


+ 2 - 2 | § ¶
Vintage Rigs - Triad and Triangle
Reader David Raynor has been scanning some of his older fire apparatus photos. He shares these shots from Durham, Greensboro, High Point, and Raleigh. Left to right, top to bottom: 1986 Ford/EEI (E_ in 1986), 1985 EEI (E18 in 1986), 1974 American LaFrance (T5) and 1977 GMC/E-One (Sq 1), 19__ American LaFrance (E6) and 1977 GMC/E-One (Sq 1), 19__ Ward LaFrance (E7 in 1993), 1977 Mack/Baker (T111 in 2004) with curiously dressed person approaching from the rear. That guy's nothing but trouble... Click to enlarge:


+ 2 - 1 | § ¶
Atlas Fire Apparatus Ad - 1982
Found for sale on eBay, here's a Fire Engineering magazine ad for Atlas Fire Apparatus in Raleigh. They built commercial-chassis pumpers, tankers, and mini-pumpers for a couple decades in the Capitol City. Started as Atlas Steel Products in 1959, and was acquired by Amfire in 1982. Later renamed Emergency Equipment Incorporated (EEI). Readers probably have plenty of anecdotes on this one. Click to enlarge:


+ 4 - 0 | § ¶
How It Started
As Firegeezer has posted, it was 40 years ago today that the pilot episode of Emergency! was broadcast. We know what happened next and many are here because of what happened next. Here's those first few minutes. Who tired of watching vintage apparatus in action?



+ 1 - 2 | § ¶
Morning Reading - January 15, 2012
Good morning Raleigh. Did you catch last night's News 14 segment about the Raleigh Fire Museum? Yours Truly spoke on camera, during yesterday's regular scheduled opening. (Second Saturday of each month, located at the training center.) That's always a humbling experience. Need to bring a script or talking points next time. Talking extemporaneously is tough. And expensive! That word cost me $2.00 this morning...
+ 2 - 1 | § ¶
Vintage Color Footage of Greenville Fire Department
Here's a treat and a half as found by our friends at the Greenville Fire Department. Start watching about eight minutes into this 1941 silent color film. At the 08:03 mark. Watch firefighters receive a telephone alarm, slide down the pole, grab their gear, and roll with three gorgeous old trucks. Two Macks and a Reo, right? The segment is short but sweet, and part of a longer municipal overview. And some of the earlier color footage of North Carolina fire departments that this historian has seen. Watch some Raleigh Fire Department clips from 1950, for vintage motion picture action.



Sanborn Fire Insurance Maps provide some context for what we're seeing. In November 1941, they recorded the Greenville Fire Department protecting a population of 12,674 people with a volunteer department consisting of one chief, one assistant chief, two paid drivers, and 34 men. The firefighters were paid on call only. They operated a Mack triple combination pumper (750 GPM, 100 gallons) and a Reo triple combination pumper (350 GPM, 120 gallons). The fire alarm system had 50 boxes, with a horn on the fire station, which was built in 1940 at the corner of 5th and Green street. Here's a picture of the station some decades later, and before it was closed and later demolished.
Take a peek inside
or click to enlarge:

North Carolina State Archives photo
+ 0 - 3 | § ¶
Fire Blogging and Free Speech and Living Out Loud
Last week or abouts, Curt Varone at Fire Law Blog answered this question: "Could blogging become an issue during the hiring process?" He provides a thoughtful legal perspective. Free speech is protected and the First Amendment is pretty broad in that regard. (He declines to provide a picture of said pretty broad, however. Use your imagination.) For this blogger (me, not that blogger, Curt), what's notable is what's largely unsaid.
Everything you do in the presence in others is observed by others. Your actions, your words, your behaviors over time, your character as perceived through your actions, and more. If you're a blogger or even just a regular social media user (e.g., you eat lots of fiber before getting on Facebook), then your words are having a far greater reach.
Can those words-- and the actions of being a person who "lives out loud"-- impact hiring and promotion and other aspects of your career. But of course! Getting a job, getting a promotion, etc. nearly or almost always require the decision of a human being other than yourself. And those people form their opinions and perspectives from any number of sources. That includes-- if available-- your actions through blogs and social media.
So what's a person to do, if they want to social media-ize but also be treated as fairly as possible in the workplace? As Varone notes in his posting above "The best advice is to be careful what you blog about. I am not talking about self-censorship out of fear – but rather out of thoughtfulness and respect for others. Think through what you have to say – say it in a respectful way, and you should be fine."
Be thoughtful, but perhaps don't worry. There will be those people who overreact to your thoughtful thoughts. There will be others who read them differently, or unexpectedly. There will be some who will take your nicest words and still use them in negative ways. Thus you can't really win by worrying about it. Be thoughtful, but don't obsess. Since blogs are a written media, over-thinking can curb the creative process. You words will suffer.
READ MORE
+ 3 - 3 | § ¶
Half Tiller Sitting in Sampson
Lee Wilson this week found the front end of an American LaFrance tiller on Highway 55 at Highway 96. That's just east of Dunn, just east of Harnett County. Formerly served the Stafford Fire Department in Virginia. Maybe someone knows where the back end resides. See more photos.



Lee Wilson photo
+ 3 - 1 | § ¶
Raleigh-Wake County Emergency Communications Center Celebrates 40th Anniversary
Press release. The Raleigh-Wake County Emergency Communications Center is celebrating its 40th anniversary today. Since its founding in January of 1972, the center has rendered essential public safety communications that have substantially contributed to the apprehension of criminals, suppression of fires and saving of lives, both in Raleigh and through Wake County and the participating municipalities.
During the past four decades, the emergency communications center has seen growth in demand that mirrors the growth in the community. Between 2000 and 2010 alone, the number of emergency incidents dispatched grew by more than one third. Today, more than a million telephone calls are received or made by the staff each year.
Over the course of its history, the center has played an integral part in mitigating emergencies, both large and small. Among major incidents are the commuter airplane crash near the airport in 1988, Hurricane Fran in 1996, the ConAgra explosion and fire in 2009, and the killer tornadoes of 2011. Severe weather events are particularly challenging as they directly impact the most citizens and place greater demands upon the center. The 6,386 emergency calls received in a 24-hour period during Hurricane Fran still stands as a record. Read entire press release.
+ 2 - 3 | § ¶
Dispatchatron
From a reader, here's the neatest scanner mod seen in some time. A local resident has added flashing lights and a Matchbox- scale car launcher, configured for the occasion of a fire truck-themed birthday party for their son's fourth birthday. And you thought trip lights were cool! Be honest, who immediately wants a copy of the schematics? Read more and watch a video clip. Thanks Paul!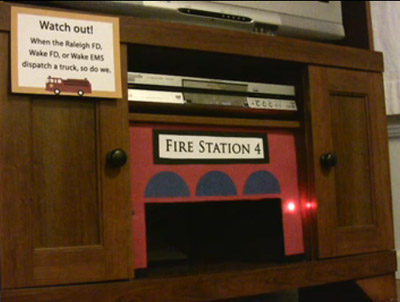 + 1 - 3 | § ¶
UPDATED: Robeson County Fire Chief Killed While Responding to Accident
January 12
Family visitation will be at Purnell Swett High School (11344 Deep Branch Road, Pembroke, NC, 28372) on Thursday, January 12, from 6:00 p.m. to 9:00 p.m.
Memorial Service will be at Purnell Swett High School (11344 Deep Branch Road, Pembroke, NC, 28372) on Friday, January 13, at 3:00 p.m.
Any departments planning to bring apparatus or honor guards planning to participate need to call 1-800- 678-3786 (NCFFF Memorial Hotline) for Apparatus Staging and Honor Guard Information. All participating apparatus and honor guards must be in place at Purnell Swett High School no later than 2:30 p.m. Additional apparatus stage information is forthcoming.
January 9
As was reported yesterday, Fire Chief Samuel Butler, 52, of the Evans Crossroads Volunteer Fire Department in Robeson County was killed in a vehicle accident just before 10:00 p.m. on Sunday evening, January 8. He was responding to a reported vehicle accident in the westbound lanes of Interstate 74.
He was driving his 1993 Toyota Camry and attempting a u-turn at the end of the on-ramp from Cabinet Shop Road, when his vehicle was struck by a tractor-trailer truck. Butler died on impact. Other firefighters, including one of Butler's sons, arrived within minutes. See the below stories for more details.
Butler had been a member of Evans Crossroads VFD for over 20 years, and was named fire chief a year ago. He'd served as Assistant Chief for 12 years. He was also President of the Robeson County Fireman's Association. He is survived by a wife, and a daughter, and two sons, who are both volunteer firefighters.


News stories
+ 2 - 2 | § ¶
Raleigh Fire Museum Open Saturday, January 14
The Raleigh Fire Department museum will be open Saturday, January 14, from 10:00 a.m. to 2:00 p.m. The museum is located in a classroom trailer at the Keeter Training Center at 105 Keeter Center Drive, Raleigh.
Created and operated by the non-profit Raleigh Fire Department Historical Society, the museum is a collection of hundreds of artifacts and images representing over 150 years of firefighting in the Capitol City.
The centerpiece is the 1870 fire alarm bell that hung in a clock tower on Fayetteville Street and alerted the volunteer fire companies. Other displays include a photo history of city fire apparatus, from horse-drawn hose wagons to the modern pumping engines.
The Raleigh Fire Department museum is open on the second Saturday of each month from 10:00 a.m. to 2:00 p.m. Parking and restrooms are available. Admission is free. Please note that the city's collection of antique fire apparatus is housed at a separate location, at Fire Station 28 at 3500 Forestville Road in northeast Raleigh.
Contact the historical society for information about arranging special tours or group events at the fire museum. For contact information, or to learn more more about the history of the Raleigh Fire Department, visit www.raleighfirehistory.org.

+ 0 - 3 | § ¶
Video of Pink Heals Parade in Hickory
Found via random searching on YouTube, here's a three-minute video of an apparatus parade in Hickory in September, as part of the Hickory Pink Heals Tour. Perhaps our intrepid readers can rattle off the participating departments and maybe even the trucks that we're watching.
January 12 update: Thanks to our western North Carolina apparatus guru Benjy Grice, that very list is included below.

READ MORE
+ 2 - 3 | § ¶
Avalon Mill Fire, 1911
Found for sale on eBay, here's your historic mill fire photo of the day. That's Avalon Mills burning on June 15, 1911, in the mill village of Avalon near Madison in Rockingham County. As this web page summarizes, more than 450 people lived in Avalon. Over half worked at the mill.
The village was eventually abandoned after the fire destroyed the structure. Residents both moved themselves and their houses (!). Read more about the village and the fire, which includes some drawings, which includes this insurance drawing of the building. Fire protection systems included "glass disc" sprinklers, fed from a 5,000 gallon tank and a 1,000 GPM pump. Click to slightly enlarge:


+ 2 - 3 | § ¶
Pierce Peek
Coming soon to the Cary Fire Department. New Ladder 3, new Rescue 2, and new Rescue 4. Three good looking pieces of Pierce apparatus. The platform ladder replaces a 2003 Pierce Dash platform, which will be placed in reserve, and which replaces a 1995 Mack / Craft Body Works service truck. It marks the town's first reserve aerial apparatus. The two rescue trucks replace a pair of 2000 Ford F-550 / KME light-duty rescue units. The new rigs are spec'ed the same as Truck 7, e.g. full compliment of ground ladders, breathing air compressors and fill stations, light tower, etc. Plus full extrication and fireground support equipment. Delivery soon! Click to enlarge:


+ 2 - 4 | § ¶
Watch This Video - Everybody Goes Home, Chicago FD
Produced by the Chicago Fire Department and the National Fallen Firefighters Foundation, this superb short film was released a couple weeks ago. It contains personal testimonies by firefighters (and family members) who have experienced close calls, severe injuries, and deaths on the job. Seat belts. Structures. Health and wellness. Personal protective equipment. Complacency. Vehicle operations. Consequences. Watch the video. What it says is more powerful than any words that this blogger can craft.



+ 2 - 3 | § ¶
Selma Super Pumper in Action
As photographed by Lee Wilson yesterday at live fire exercises in Selma. The engine is a 1985 Duplex/EEI with a 1,500 GPM Hale pump that we have blogged about before. Originally lettered as the Selma "super pumper." Looks like it's received an updated paint job in recent times. See more photos from yesterday.


Lee Wilson photo
+ 2 - 4 | § ¶
Myrtle Beach Former Fire Stations
Found only a pair of former fire stations in Myrtle Beach. Left is old Station 3 on South 13th Street, right is old Station 4 at the airport fire station on Phyllis Boulevard. Both were moved to much larger facilities nearby. Asking around, it sounds like the prior Station 1 (in a City Hall building) was demolished and the prior Station 2 was torn down and rebuilt at the same location. Unsure if any existing station buildings are historic, e.g. older than fifty years of age. Probably not, since much of Myrtle Beach is relatively new. Readers can perhaps advise more about MFFD facility history. Click to see larger versions:

+ 3 - 3 | § ¶
Former Fire Stations - Robeson, Scotland, Horry Counties
For your Friday morning viewing pleasure. Each links to my road trip photos. Will be added at some point to my former fire station database, which also needs updating with some recent pics from Lee and Lee.



Calabash FD - Laurinburg FD



Lumber Bridge FD - Ocean Isle Beach FD



Parkton FD - Red Springs FD



Rowland FD - Shalotte FD
+ 1 - 3 | § ¶
Shannon Fire Department's New Rosenbauer
From a reader, here's an interesting looking engine and another Rosenbauer in the Carolinas. This one's operated by Shannon Fire Department in Robeson County. Their old station (which is beside their current station) was one of my stops, while roaming down south earlier this week. The top-mounted pumper is a 1,250 GPM beauty with 1,000 gallon tank. The chassis is a Spartan Furion. Internal compartments for ladder and suction hose storage. Read more specs. Looking at the Rosenbauer web site, their trucks are making in-roads around here. Topsail Beach. Mount Airy. Rocky Mount. Etcetera.



Rosenbauer America photo
+ 1 - 2 | § ¶
Granville Firefighter Saves Brothers From Burning House
That's the headline from yesterday's WRAL story about an off-duty rescue (or should we call it a pre-arrival rescue?) in Granville County. Lt. Chris Brodgen of the Cornith Volunteer Fire Department was headed to work Wednesday morning, just before 6 a.m., when he saw smoke coming from a house at 4698 U.S. Highway 15. He stopped at the residence, reported the fire by calling 911, and began walking around the building. He saw a lot of smoke coming from the eaves on all sides. A neighbor, alerted by a barking dog, came outside and told Brodgen where the bedrooms were located.
He found a piece of firewood, broke a window, and pulled one of the two occupants to safety. Brodgen then banged on a second window, and the second resident was able to self-evacuate. Crews from Providence FD, Corinth FD, and Oxford FD responded and controlled the fire within 20 minutes. The cause is under investigation. The property owners said there are smoke detectors inside, but could not advise if they had batteries. Read the entire story.



WRAL photo
+ 2 - 3 | § ¶
Caption This Historical Photo
If the open-cab Crown pumper doesn't already give it away, this stunning image comes from Southern California Photographer Boris Yaro snapped the shot of a movie studio fire. 'Twas September 8, 1974, when a set of fake brownstones burned at Burbank Studios. Three soundstages and four movie sets were destroyed. The picture (including a larger version) and incident are recounted on this Los Angeles Times blog post. And which was found and shared by the Carolinas Fire Page mailing list. Thanks Jeff.



Boris Yaro/Los Angeles Times photo
+ 1 - 3 | § ¶
Raleigh Police Monitoring Guide
The fine folks at RadioReference.com and the particular person of Marshall Sherard have created a Raleigh Police Monitoring Guide. This is a web page/wiki page that's a great starting point for armchair (or mobile) listeners. (Bad guys who are reading can stop now. This won't interest you.) Raleigh police call signs are explained, as well as the different sets of talkgroups. For a more general overview of public safety radio monitoring in Raleigh and Wake County, see this second web page. Thanks to Marshall for passing along, for making the thing. Next question, can you partner with the The Slammer to add some beauty shots to the site?!? Happy listening.,,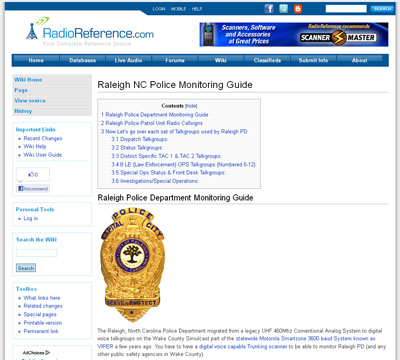 + 3 - 3 | § ¶
Air Horn Atop Laurinburg Former Fire Station
Here's what looks like a well-weathered Gamewell diaphone air horn, found and photographed on a pole beside the town's former fire station in the 400 block of Farley Street. Pics of the building to be posting. Perhaps readers can provide more building information. Air horns were an alternate alerting device back in the day, instead of bells or sirens. Wake Forest used one, for example. Click to enlarge:

+ 3 - 1 | § ¶
Panther Spotted in South Carolina
Thanks to the friendly folks at the Myrtle Beach airport fire station, here's a posted photo of a rare (for the Carolinas) Rosenbauer Panther airport crash truck. Believe it was delivered in 2011. Model year is 2009, delivered in April 2009. It's a Panther 1500 with a 1,850 GPM pump, 1,500 gallon water tank, and 210 gallon foam cell. Detroit diesel engine, 665 HP. Roof and bumper turrets. 6000 watt light tower. Read full specs. More photos to be posted. Click to enlarge.


+ 6 - 1 | § ¶
Surf Shop Fire Engines
Reporting from the road. Saw these rigs this morning on Kings Highway in Myrtle Beach, during a brief overnight trip to the Grand Strand. Top to bottom, left to right: Ford/American LaFrance at a surf shop, Ward LaFrance at a resort/conference center, American LaFrance also at a surf shop, and a Seagrave at Calli Baker's Firehouse Bar & Grill. Love that "Ladder One." Must be a heavily disguised service truck... Click to enlarge:


+ 4 - 3 | § ¶
Wilmington Fire Station 2
Reporting from the road. Here's Wilmington Fire Station 2 under construction at Empie Park. Located at 3403 Park Avenue, the new station replaces a 1965 structure that was demolished last year. The prior building had a host of problems, and had been closed since October 2010. Read prior blog postings from July 30, 2011, July 10, 2011, and April 14, 2010. Click to enlarge:


+ 2 - 2 | § ¶
Fanbulance
From a reader, this curious conversion has been seen in Raleigh. For extra credit, can you place the location that's pictured? 'Taint Hillsborough Street across from the library, which was my first thought. Thanks Scott! Click to slightly enlarge:


+ 3 - 2 | § ¶
Morning Reading - January 2, 2011
Good morning Raleigh. Another holiday today for many. And with cooler temperatures than the balmy conditions we enjoyed last week. Couple things to read this morning. Have nothing else to say.
+ 2 - 3 | § ¶
International PayStar Crash Truck at MSP, 1977
Time for a trip down memory lane. Remember our mystery crash truck posting from a few months ago? Here's the answer, a 1977? International PayStar F5070 / King Fisher airport crash truck that served Minneapolis-St. Paul International Airport. Carried 4,500 gallons of water and 500 gallons of foam. Powered by twin 318-HP V8 diesel engines, one for the chassis and one for the pump. Manual turret on top with a reach of 210 feet. Cost $200,000, weighed 83,000+ pounds. Front axle was rated at 18,000 pounds; rear tandem rated at 65,000 pounds. Single-speed transfer case. Five-speed automatic transmission. Accelerates on concrete from zero to 50 MPH in less than 60 seconds. Designated Rescue 9.
Shown in the Volume 47, No. 3, 1977 issue of International Trail magazine. Scanned from photo copies, provided by our friends as the airport fire department. The truck was one of the first crash trucks encountered by a young fire buff who would later live in North Carolina. Was twelve when this truck was delivered. By that time, I was infamous for making long-distance phone calls to apparatus manufacturers, to request literature that they gladly provided. (Also called the Los Angeles City Fire Department one time and received a nifty educational/promotional booklet.) My parents soon informed of this thing called "phone charges."
As for the pictured truck, it was a deep, dark yellow and impossibly tall. Had a wide attachment for the rear, as memory serves, for applying foam on a runway. Don't readily recall the rest of the airport's fleet. Maybe Walter trucks. Good excuse for research, next time we travel to the Twin Cities. The past becomes ever-sweeter as it fades ever faster. Click once or twice to enlarge:


+ 4 - 1 | § ¶
Jonesville Fire Department Closing
FireNews.net is reporting on this Elkin Tribune story about the closing of the Jonesville Fire Department in Yadkin County. That's Station 17 in the county nomincalture. The Arlington Fire Department has been contracted by the town to provide fire protection, beginning today, January 1. Some of their equipment and apparatus will be transferred as a consideration of the contract.
The department has six vehicles, including a 2010 E-One Typhoon pumper delivered in January of last year. That's Engine 1701 and it will likely be sold. Engine 1704 will be given to AFD, which appears from their web site to be a 2000 Volvo/KME pumper. Another vehicle has been "surplused." Three remaining vehicles will be retained by the town, for other municipal use.
Response times shouldn't be affected, as the Arlington fire station is located in the town (321 S. Main Street), and but a couple blocks away from the Jonesville fire station (111 S. Bridge Street). Jonesville firefighters will be encouraged to join AFD, or another fire department.
The backstory involves a failed inspection in November by the Office of the State Fire Marshal, and a subsequent decision by town officials to close the fire department. Read the above article for more details.
Jonesville is the oldest town in Yadkin County. The 2000 population was 1,464, though it grew by nearly 800 residents when it merged with neighboring Arlington. The town has 1.9 square miles. The Jonesville Fire Department was established in 1957 and its first apparatus was delivered in 1958. Read more history from the Jonesville FD web site.



Jonesville Fire Department photo
+ 1 - 4 | § ¶
The Year in Review
Legeros Fire Photography
Twelve months of incidents and events as seen through the lens of Mike Legeros. He's the one in the Hawaiian shirt. Building fires, vehicle fires, hose streams, aerial streams, privates, paramedics, chief officers, incident commanders, promotional ceremonies, retirement lunches, MVAs, MCIs, USAR, haz-mat, trees down, buildings down, the Raleigh tornado, Wake County, Johnston County, downtown, down east, graduations, celebrations, the state EOC, the state firemen's convention, parades, public education, axes, helmets, ambulances, radios, pulling hose, loading hose, smiles, tears, and whole lot of shutter clicks.
Featured agencies include but are not limited to Raleigh FD, Raleigh PD, Wake County EMS, Durham FD, Bay Leaf FD, Warrenton FD, Warrenton PD, Soul City FD, Morehead City FD, Newport FD, Fuquay-Varina FD, Rolesville FD, Wake County EM, Six Forks EMS, Wake County FF Association, NC Task Force 8, Durham Highway FD, Cary FD, Western Wake FD, Stony Hill FD, Apex FD, Raleigh FD Historical Society, Wake-New Hope FD, NC Forest Service, Wake Forest FD, Cary EMS, Charlotte FD, Morrisville FD, Garner FD, Raleigh-Durham Airport ES, Selma FD, Selma EMS, Fairview FD, and the Dragon Slayers.
Thanks for everyone's support and assistance. See the photos. See prior years on Mike's photo archive page or at www.flickr.com/legeros. (See also prior posting about picking these photos.)


Legeros Fire Blog
Renamed this year from the longer Raleigh/Wake Firefighting Blog. Total of 454,590 page views and 67,988 absolutely unique visitors, says Google Analytics. Total of 1022 topic postings, if my math is correct. Total of X posted comments, where X equals some number not yet computed. Might get around to that.
The process of posting comments was also updated. Reader remarks are now moderated. This change was effected a couple months ago. The reason for the change was my diminished tolerance for the negativity that was regrettably regularly recurring with operational questions and discussions about specific incidents. Or, short version: quarterbacking was getting out of hand.
Trends, thoughts, observations, observations on observations? Let me think about that. My favorite question for the Firegeezers and Dave Statter every year in Baltimore is "what have you learned since last year?" Will work on a response to that to myself. Meanwhile, here are some stats.
The top ten threads by unique page views:
The top ten threads by reader comments:
+ 3 - 4 | § ¶
Mystery Place
Happy New Year. Here's a brain teaser to help you shake off sleep or any other induced in the prior twelve hours. Brick and metal. Beams and walls. Where's this place?