+ 10 - 16 | § ¶
Kinston Ladder
Seen in a field off I-95 between Benson and Fayetteville, an American LaFrance 700 Series (?) ladder lettered for Kinston.


+ 9 - 15 | § ¶
Smithfield's Fire
The perfect ending to the perfect weekend, a four-day stay in Charleston for the purpose of a fire museum opening slash first-year wedding anniversary? Smithfield, Selma, Four Oaks, Micro, Strickland's Crossroads, Thanksgiving, Cleveland, and others at a scrap metal plant off Highway 301. You could see the smoke from Raleigh.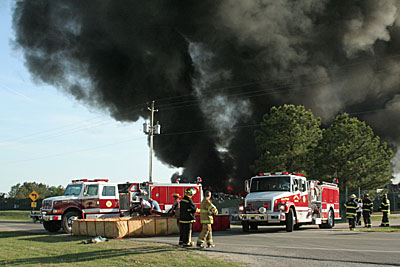 + 9 - 15 | § ¶
Smithfield's Fire
The perfect ending to the perfect weekend, a four-day stay in Charleston for the purpose of a fire museum opening slash first-year wedding anniversary? Smithfield, Selma, Four Oaks, Micro, Strickland's Crossroads, Thanksgiving, Cleveland, and others at a scrap metal plant off Highway 301. You could see the smoke from Raleigh.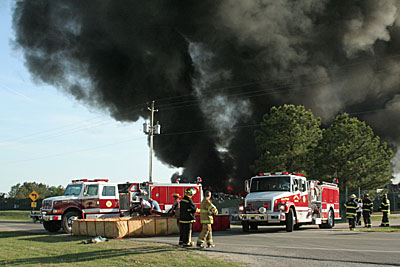 + 12 - 13 | § ¶
Robeson County Former Firehouses
Four former firehouses in Robeson County. Left to right, top to bottom: Lumberton Old City Hall at 112 North Elm Street (built 1917, closed 1976), St. Paul's Old Fire Station at the present Municipal Building at 210 West Blue Street (built 1968, closed ?), Lumberton Old Station 2 and Old Public Safety Center at the present Police Department at 1305 Godwin Street (built 1962, closed 1983?), Lumberton Old Station 2 at the old Armory and present Recreation Center in the 1100 block of North Cedar Street (built ?, closed 1962). Click to enlarge:


+ 12 - 11 | § ¶
Firefighter Fashion Show
Press release. Raleigh firefighters are again participating in the Southern Women's Show this weekend. They'll be passing the boot for the Wake County Chapter of the Firefighters Burned Children Fund, as well as modeling Talbot's Men's fashions on Friday night and Sunday afternoon. At Sunday's show, the Raleigh Fire Department Honor Guard will open the ceremony. In addition to the Talbot's men's fashions, the fire department's new dress uniforms will be shown. There will also be a booth with information on fire safety, child passenger seat safety, and Raleigh Fire Department recruiting.
+ 10 - 15 | § ¶
Fighting Fire with Fire
The Spring 2007 issue of Carolina Fire Rescue EMS Journal features a feature on steam fire engines by Mike. It's a two-page piece with three wee photos. You can also download a PDF version of the entire issue from their web site. Be warned, it's a 70 MB file.


+ 11 - 12 | § ¶
Falls New Engine
Fresh from the factory and photographed by Lee:


+ 9 - 17 | § ¶
Station 7
Cary's new station is a stunner. The 17,200 square-foot facility cost $4.5 million, which included around $1 million (!) of additional sewer and water work for that particular location. Three very deep bays housing Engine 7 and Truck 7. Morrisville Engine 3 moves into the facility at the end of the month. Bedrooms for three companies. Two offices, one that opens into the watch room. Watch room has a sliding glass window facing the front lobby. Exercise room and classroom, the latter the first in-station classroom for Cary. The recruit academy is using same. They graduate in October. Day room with giant chairs that opens into a kitchen/dining room. Back patio with a grill, picnic table, and a pair of all-weather ceiling fans. Decon room and tool room off the apparatus floor. Half-story between the building sections for storage. Two doors open above the apparatus bay. On the other side of the bay is a platform with rope pulleys. Though designed for ropes training, the ceiling fixtures probably prohibit its use. Outside is a patch of bricks for future replacement with those inscribed with retiree names. Very cool. Wrap-around driveway with secondary lower lot.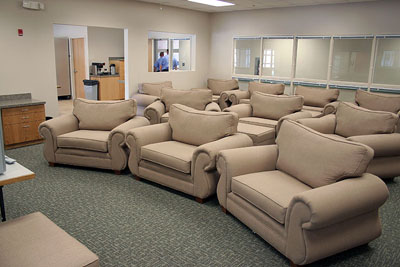 + 12 - 9 | § ¶
Engine 28
...was placed in service at 12:00 noon today. It operates a 1995 Pierce Dash pumper, formerly Engine 15.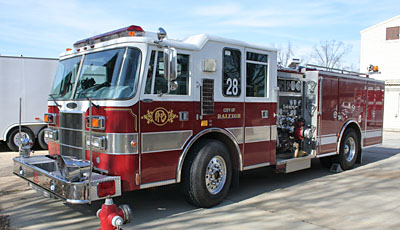 + 7 - 15 | § ¶
Recruitment Site
The Raleigh Fire Department recently created a recruitment site that includes stock photography from a certain pair of photographers. Visit www.raleigh-nc.gov/fire and click on the Join RFD banner.
+ 12 - 8 | § ¶
Suds
This Firehouse article links to video footage of a new Chicago high-expansion foam unit in use. Ah, memories of Raleigh's two foam trucks. They've been gone, what, fifteen years now?


+ 11 - 11 | § ¶
Brush Fire
Talk about timing. Cary to Garner for a planned social call on the far side of the county and it's but blocks from a major brush fire. Clayton, Cleveland School, and later Garner, plus the Forest Service and a pair of big, honking plows. Cue Smoke Gets In Your Eyes.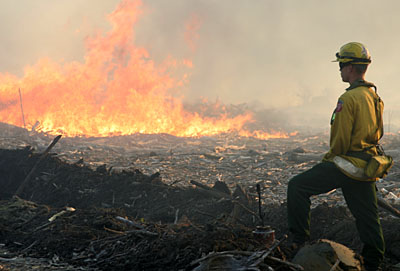 + 9 - 15 | § ¶
South Orange Rescue
Passed along by a reader, here's an interesting ambulance design in nearby Orange County. Check out those rear checkers!


+ 13 - 9 | § ¶
Station 28
The antiques were moved to the new station on Saturday. The two 1982 Macks were also moved there. They'll be combined into a single restored pumper. The remaining Macks still sitting at Services have been sold, we're told. They're still shooting to open tomorrow.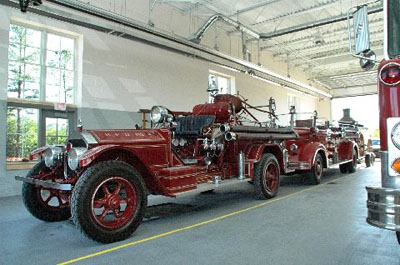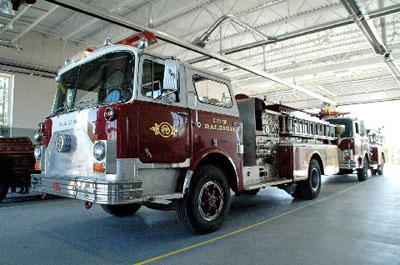 + 10 - 17 | § ¶
Airport Calls
Now that the airport's on the county radio system, what are the aviation-specific calls types we're hearing? READ MORE
+ 10 - 15 | § ¶
Nine Months and 46 Years Later
Thus ends the Great Reading. This month Mike finished a research project of reading (or skimming) each day's newspaper between January 1, 1867 and December 31, 1912. Merely 16,801 days worth of newspapers including the Daily News, Daily Sentinel, Daily Standard, Daily Telegram, News & Observer, Observer, Raleigh News, Raleigh Times, and Weekly Standard. READ MORE
+ 16 - 7 | § ¶
Airport EMS
Where has Six Forks EMS been hiding their airport unit all this time? Inside a warehouse at 6901 Mt. Herman Road. The 10,816 square-foot structure was built in 1972 and obtained by RDU in 1990. It's served Six Forks since October 2005 and presently houses a 12-hour unit. Two boats and a light trailer are also parked inside. We're told there's talk of a nearby Lumley Road lot being donated for a permanent EMS facility. The land would be free, but a building would have to be built. Click to enlarge:


+ 11 - 9 | § ¶
Cary Open House
We're told that there's an open house at Cary Station 7 on Wednesday, April 25, from 9:30 to 12:00. Watch for the guy in the Hawaiian shirt. Maybe even the late-riser will be there.
+ 12 - 8 | § ¶
The Next Police Chief
Something interesting on the City of Raleigh web site, a four-question survey for residents from City Manager Russell Allen seeking input on the next Police Chief.
+ 5 - 14 | § ¶
Familiar Faces
Here's a recent find from the State Archives, an audience of Raleigh firefighters at a civil service hearing in 1979. See how many people you recognize. Click to enlarge:


+ 12 - 9 | § ¶
For Sale
As noted by a reader, these are for sale at the State Surplus Center out Highway 54. And if we never told you before, we love the blue and white colors. Great change, that was.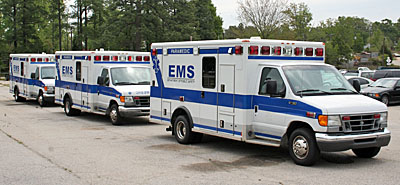 + 7 - 11 | § ¶
Station 28
Station 28 should open Monday, we're told. It'll be staffed with a single engine company. The three oldest antiques will also be there, the 1905 American LaFrance (steamer), the 1926 American LaFrance, and the 1950 Mack. They may also move a Mack pumper and the Mack platform out there. The 9,960 square-foot facility is the first three-bay station built by the city in 50+ years. It cost some $2.3 million, building plus land.


+ 12 - 7 | § ¶
Help Wanted
When Raleigh's first full-time firefighters were hired in December 1912, the following notice appeared in local papers. Note the work schedule (one day off every eight days), the hour for meals each day, and three-quarters salary drawn during probation. They hired 15 positions (two Captains, three Lieutenants, and ten FFs) to augment the paid Chief and Asst. Chief. Click to enlarge:


+ 5 - 11 | § ¶
AVL
Automatic Vehicle Location in all county ambulances in two weeks, says this WRAL article. Wake SO cruisers have already been equipped. There's also an article on same in this morning's N&O. Here's some general information about AVL systems.
+ 5 - 12 | § ¶
Wind
Busy day in Raleigh today. At least the rain was yesterday. Heard of more than one dumb-a@@ driving through traffic cones and into power lines. The mini-pumpers were out and about, aiding as they do during severe weather. Trees and lines, rinse and repeat.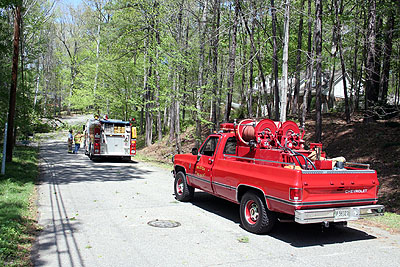 + 11 - 9 | § ¶
Special Fire Commission Meeting Report
There was a special meeting of the Wake County Fire Commission this evening, called for the purpose of receiving a report on the evaluation and the application of closure criteria to Western Wake Station 2. Some background on this agenda item. Both the county and WWFD made presentations to the fire commission. READ MORE
+ 10 - 10 | § ¶
Hot Video
As linked from this Firehouse article, here's some incredible raw video of a bowling alley fire in Pennsylvania that includes the daring moving of a raised platform. Holy cow. Here's the related forum discussion.
+ 11 - 11 | § ¶
Holly Springs Station 2
Renovations are nearly complete at Holly Springs Station 2. They included reducing the bays from three to two and increasing the number of sleeping rooms. We'll get some photos after the finishing touches are finished. The 1971 structure first served the Holly Springs Rural Fire Department. It became an HSPS facility after the merging of the municipal and rural departments in 1997. It present houses an engine, a reserve engine, a brush truck, and one of two ambulances that is rotated into service at Station 1.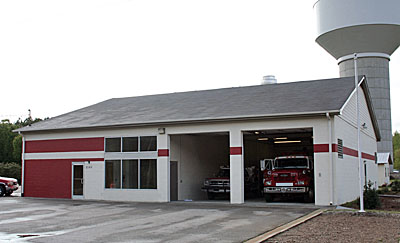 + 10 - 9 | § ¶
Holly Springs Ladder Painted
Here's Holly Springs' new ladder, shot Sunday between cloud bursts. It's a 1999 ALF/LTI mid-mount 93-foot platform with a 2000 GPM Hale pump that served Pattonville, MO. The red section of the wraparound light bar includes twelve LEDs that firefighters installed. Sharp-dressed truck.


+ 10 - 13 | § ¶
Traffic
How popular are these pages? Last month, the blog was viewed 9,134 times and the photo site was viewed 9,480 times. That is, the main pages of both. Average daily traffic was 268 views (blog) and 306 views (photos). The most popular blog entry is not known. The most popular photo sets were the Glen Eden Drive transformer fire (19,561 views), the RDU drill (10,215), the RFD graduation (10,181), and Big Fire on Capital Boulevard (6,068). The total traffic in February for the Big Fire photos was 43,443 views. Now, there are some apples and oranges here. The blog and photo site totals reflect a single page each. The photo set totals reflect all pages, both index page and slide pages.
+ 15 - 14 | § ¶
Overnight Sensation
The wee hours will be wet hours, or so the weathermen say. Get those rescue boats ready. Don't expect pictures, however. It tough enough to shoot in daylight in driving rain.


+ 10 - 12 | § ¶
Good Work by Fire Truck (audio)
Here's a recording of Raleigh Times article from 1912, about the demonstration of an American LaFrance motor truck. This one took a couple takes, plus a couple edits. Mike is recording these using Audacity and a standard Radio Shack microphone. The sound files are normalized, and a bass boost is added before exporting. The mp3 audio clip is 4:56 long.
+ 13 - 11 | § ¶
State Medical Assistance Teams
From a reader comment on another topic, here's a nifty NC SMAT web page.
+ 7 - 10 | § ¶
Fire Horses Slip on Way to Duty (audio)
Here's another audio recording, another news reading from 1912. The location of the slipping horses is Dawson Street in front of Union Station, which was located beside the present Station 1. The mp3 audio clip is 2:40 long.
+ 10 - 15 | § ¶
Rex Healthcare
This trailer is parked across the street from Rex, along with a handful of ambulances. No Hummers, however.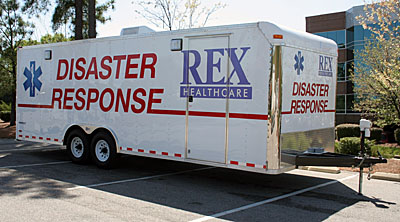 + 9 - 11 | § ¶
Pumper and Utility
Locution has started saying Pumper and Utility when dispatching some departments. Pumper is the new designation for a pumper-tanker, and Utility is the new designation for a pick-up truck or other utility-type vehicle. We're told that the changes are being made at a rate of about two departments a week. Sounds a little different, but should very effective for knowing exactly the type of truck that's responding. About 100 county rigs and vehicles are being changed, or about 40 percent of the fleet. You've already heard some of the changes. BLFD Truck 25 is now BLFD Ladder 25, FVFD Truck 1 is now FVFD Rescue 1, etc.
+ 8 - 14 | § ¶
Station Closures
Here's a short history of fire station closures in Wake County. READ MORE
+ 14 - 12 | § ¶
Brier Creek / Closest Unit
Though yesterday's major fire was at the very edge of the city, it was still quite close to a bunch of non -Raleigh stations. Listed below are driving distances, via Google and MapQuest, from 9105 Meadow Mist Court to these stations. In the perfect world of closet -station dispatch, the run card for Brier Creek would probably bring RFD, DFD, BFD, and maybe PFD and DHFD on a first alarm. In the real world, there are county lines, municipal boundaries, and other jurisdictional considerations. Plus the powerful citizen perspective, which goes something like "if I pay taxes in This City, why is the fire truck by my house going to a fire in That City?" And so on. The different distances are interesting when compared. READ MORE
+ 9 - 11 | § ¶
Special Fire Commission Meeting
Notice. There will be a special meeting of the Wake County Fire Commission on Monday, April 16, at 6:30 p.m., for the purpose of receiving a report on the evaluation and the application of the commission's closure criteria to Western Wake Station 2. There will be a presentation by county staff followed by a presentation by Western Wake Fire Department. The meeting will be held at the Wake EMS Training Facility, in the lower level of the Wake County Commons Building.
+ 8 - 13 | § ¶
North Charleston / American LaFrance Fire Museum Opens
Press release. The grand opening for the North Charleston / American LaFrance Fire Museum and Educational Center has been announced as Saturday, April 28, from 9 a.m. to 2 p.m. Admission is free, food vendors will be present, and both old and modern fire trucks will be on display. See the forthcoming web site for more information. Mike and the Missus will be there, bundling the event with their one-year wedding anniversary. Can't have a romantic getaway without fire stuff.
+ 10 - 11 | § ¶
More Talk
There's more talk on Raleigh fire calls of late, notably on fire alarms. Size-ups are being given, command is being established, and so on. If you miss the dispatch, check the talkgroup. If they're talking on an Ops channel, it's likely a fire alarm. If they're talking on a Tac channel, it's a structure fire. And if you hear additional tones and units dispatched, it's a working structure fire.
+ 16 - 8 | § ¶
This Afternoon's Fire
Here's a panoramic perspective of this afternoon's two-alarmer on Meadow Mist Court. Engine 24, 23, 17, 18, 16, 4, Ladder 23 (first on scene?) and 16, Rescue 14 and 19, and Battalion 1 and 4. Plus all the other usual suspects. Click to enlarge:


+ 11 - 13 | § ¶
Raleigh's Fire Chief is a Hero (audio)
Here's another podcast, this one longer and recorded on the first take. It's the quick reading of a News & Observer article from 1912, and tells about Sherwood Brockwell, Raleigh's first full-time Fire Chief, and his adventures while studying with the New York City Fire Department. The mp3 audio clip is just over four minutes long.
+ 10 - 10 | § ¶
Bullseye
Here's a view of the scene of last week's tanker accident, looking across Glenwood Avenue from the service station where the unmanned vehicle rolled away from.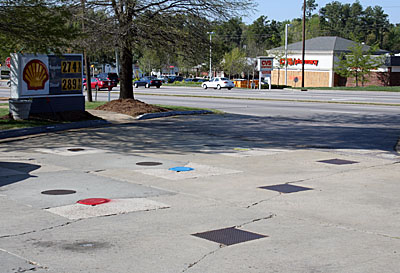 + 14 - 6 | § ¶
Station 28
We've heard April 15 as the opening date. Haven't been inside, but the exterior and grounds are looking good. Enormous apparatus bay as well. Click to enlarge:


+ 6 - 11 | § ¶
WakeMed Hummer
Seen at the special ops center on Sunnybrook Road. For the EMS agency that has everything...



+ 11 - 6 | § ¶
Cookie Cutters (Audio)
Let's try a podcast. Here's an audio answer (mp3) to the following reader question: As far as the cookie-cutter stations go, there has been a lot of discussion about newer rigs not fitting. Is this a problem of height, width, or length, or a combination of all three? And is this a problem with the older stations, or all of the cookie-cutter stations?
+ 9 - 12 | § ¶
Absolutely Fire Proof
From 1912, here's an amusing ad for an otherwise unfortunately named new hotel. Click to enlarge:


+ 12 - 9 | § ¶
Postscript
Speaking of St. Augustine School, insurance maps in 1909 listed the school as having a fire department equipped with a hose reel and 500 feet of 2 1/2-inch cotton rubber-lined hose along with two fire extinguishers and two dozen fire buckets. The hose house was attached to a lumber building just east of the Lyman Building. By 1914, the fire department had relocated to a combination hose and coal house just north of the Lymen Building. The school's equipment consisted of three hand hose carts, 1,200 feet of 2 1/2-inch hose, and one hand ladder truck, and fire pails.
+ 10 - 13 | § ¶
Spectacular and Dangerous Fires
Thus read the headline of the May 27, 1911 edition of the News & Observer, when St. Agnes Hospital burned and every other building at St. Augustine School caught fire. The full story, quite amazing even by contemporary comparison, is printed below. First, some notes. The school and all its buildings caught fire before, on March 6, 1883. Only one building was partially saved. St. Agnes hospital burned two years earlier, in its earlier building. It burned again on December 16, 1926. St. Agnes, or external walls, still stands. It closed in 1961. The Milburnie power plant noted in the article is a hydroelectric plant on the Neuse River east of Raleigh. READ MORE
+ 8 - 19 | § ¶
Specialty Companies?
Is this the correct list for the "specialty companies" in Raleigh, or those that operate special apparatus? READ MORE
+ 10 - 11 | § ¶
Scanner Laws?
From a reader, are there any laws that prohibit or impact the use of a scanner to monitor public safety radio traffic? State, local, or otherwise? We don't believe so, but let's throw this to some bigger radio geeks than ourselves for confirmation.
+ 7 - 11 | § ¶
The Phone Call
From a discussion started at a station last night, where were you and what were you doing when you "got the call?" That is, the offer of a full-time firefighter position in Raleigh, Cary, etc.? Mike was working at a traffic reporting company, and was sitting in the studio the day of the call. Might have been morning. He was fresh from college and working a pair of side jobs as well, clerk at a copy center and Sunday evening board operator at an AM radio station. The starting salary of $18,327 (if memory serves) seemed a fortune.
+ 10 - 9 | § ¶
Fire Talk
Do you have questions about Raleigh and Wake County fire departments? Ask Frick and Frack, the Fire Talk Guys. We don't have a radio show, nor a toll-free number, so mail your questions and we'll answer to the best (or worst) of our abilities. And, as needed, we'll punt to our readers or off-line experts. Fire away.
+ 10 - 10 | § ¶
Survey: Registration and Comments
How would you react as a reader if this blog required registration to post comments? And/or, what is your opinion of anonymous comments and the present handling therein? And/or, what are your reasons for posting comments without signing your names?
+ 12 - 10 | § ¶
Tanker Versus Building
Here's something you don't see every day. Glenwood Avenue at Millbrook Road. No injuries.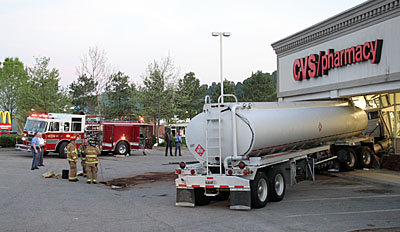 + 8 - 11 | § ¶
Airport Response?
Mike's airport response chart is horribly out of date. Can some forward or post corrected information? Thanks so much.
+ 10 - 7 | § ¶
Make Your Own Sign
For your April Fools enjoyment, here's a Road Construction Sign Generator that should be good for a few yuks.


+ 12 - 11 | § ¶
Houston Site
From a reader, here's an interesting buff's site from Houston: http://www.4alarm.org/. Interesting private apparatus service that they provide. Bet their insurance costs a ton.
+ 8 - 11 | § ¶
Building Station 1
So you think Station 7 took a while to build in Cary? The land for Station 1 in Raleigh was purchased twelve years before that building was completed. On the same day the site of old Station 1 on West Morgan Street was sold to the state for $35,000, the city purchased a $15,000 lot on South Dawson Street from J. J. Towler on June 27, 1941. Building the thing took some time. The country was soon at war and construction materials were suddenly scare. As the equipment of the $120,000 fire alarm system needed a permanent home, however, the familiar alarm house was completed in the rear of the lot the next year. It was constructed using materials salvaged from the old station, including window frames. The accompanying Central Fire Station was finally completed eleven years later in 1953. It was dedicated on October 5.
+ 11 - 10 | § ¶
Heard on Scanner
Acropolis Place in Garner. Okay, that's it. Coolest street name in Wake County. No question.
+ 14 - 12 | § ¶
Classic LaFrance
Lee has posted two sets of photos of older American LaFrance apparatus. Here's the first set and here's the second set.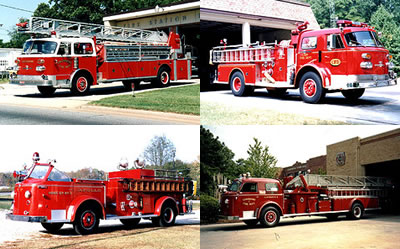 + 9 - 11 | § ¶
Station 28
The new station is nearing completion. The construction trailer is gone and landscaping has started. We're told that the city seeks to have the building turned over to them by April 6, so the Services staff and those assigned to the station can commence their preparations the following week.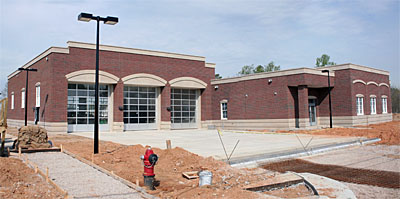 + 10 - 9 | § ¶
Soccer Dad
Lee was out of service late last week due to car repairs. Since Friday night, he's been riding in a rental. One sweet, domesticated ride.


+ 7 - 14 | § ¶
Station 7 (Behind)
There are some interesting things behind Station 7 in Raleigh. USAR 1 and USAR 2 are parked there, the latter with a newer Volvo cab. USAR 1: 1998 Sterling/1974 Hackney. USAR 2: 2006 Volvo/2002 Great Dane. There's also a nice brick outbuilding that houses the rescue boats, among other things.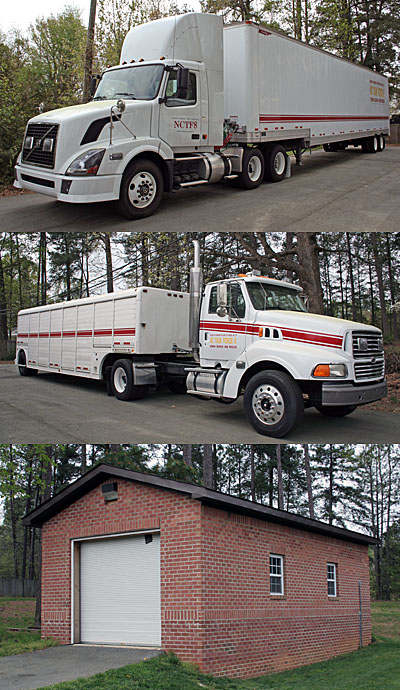 + 4 - 13 | § ¶
Station 7 (Again)
And here's a picture of Cary's newest station, now open for business.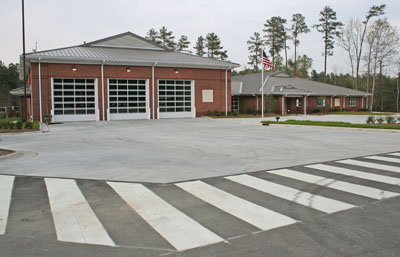 + 9 - 15 | § ¶
MFD
Speaking of the Twin Cities, the Extra Alarm Association has everything and then some about the Minneapolis and St. Paul fire departments. Now that's a buff's club. Mike's stepfather was a member. They conduct monthly meetings at different area firehouses. Great newsletter, too.
+ 11 - 9 | § ¶
Marooned
Decades before the first maroon buggy appeared in Raleigh, the Fire Chief and Assistant Chief drove cars closer to purple than red. See below images, which may or may not show the same car. Why that color? Presumably the same reason as today: it's cheaper to purchase a stock color than a custom one. Yeah, it's a freaky at first. Mike recalls his double take some years ago when he first saw such colors in Minneapolis.