+ 22 - 19 | § ¶
Big Fire on Bald Head
Speaking of the Cape Fear coast, FireNews also finds this dramatic photo of a house fire on Bald Head Island from Tuesday night. David Sanacore took the picture posted by StarNews Online. The island Public Safety Department responded, along with Yaupon Beach, Oak Island, and Southport fire departments. Since the island is accessible only by ferry, Coast Guard boats and a passenger ferry were utilized. The fire was reported about 8:45 p.m. Arriving units found the house "fully ablaze."



David Sanacore/StarNews photo


Cars are not permitted on Bald Head Island, and residents instead roll around in golf carts. Just how many people are we talking about? Says this Wikipedia article, the 2000 census recorded 173 people, 88 households, and 71 families residing in the Village of Bald Head Island. Does the village comprise the entire island? And are there seasonal residents that arrive? Maybe readers can enlighten. As for the Public Safety Department, their web site shows a modest fleet of apparatus, including a telesqurt, what looks like an engine and a heavy rescue, a couple ambulances, and a water rescue unit. Click to enlarge:



Bald Head Island Public Safety photo
+ 17 - 20 | § ¶
Update on New Hanover County Consolidation Plans
FireNews finds this WECT story on the latest from New Hanover County, and plans to move Castle Hayne, Federal Point, Myrtle Grove, and Wrightsboro fire departments under county control. Firefighters raised concerns to county officials at a meeting on Monday night, as well as presented a petition from hundreds of county residents.
They took issue on points ranging from the timetable (the county should move a bit slower) to the data (the volunteer response numbers are actually higher). Touted benefits include improved ISO ratings, more efficient operations, and reduced redundancies.
A combination of paid and volunteer personnel would continue, with the latter consisting of either certified firefighters or Fire Corps members, who are not certified and do not fight fire. County Commissioners will vote on the plans in August, which is a two-month extension.
Read or watch the story for more, which includes copies of the Recommended Action Plan
, and a map showing the fire districts before and after
. Also see this Star-News article on the subject from Monday.
+ 13 - 12 | § ¶
Funny Sign
Seen on the east side of Durham. Shopping center with an EMS station inside? Negative, instead it's EMS Environmental. Private industry, unrelated to emergency medical services.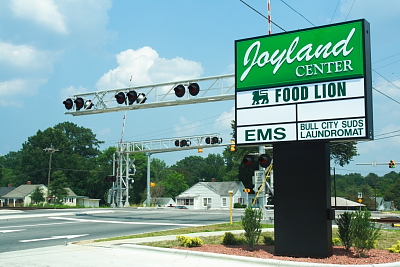 + 15 - 15 | § ¶
The Great and Powerful Ozz
Since it's Sunday morning, let's cruise off-topic and talk about Ozzy Osbourne. Singer-songwriter of many decades. Reality television star and occasional huckster in recent years. Ozzy has been in the news lately, and most curiously as recently reported by the The Sunday Times. Get this, the Oz-Man's genome is being sequenced. Why? Researchers are dying to know how he's lived so long, given his decades-long history of drug and alcohol abuse. Google finds that story easily.
Ozzy's substance abuse is gleefully chronicled in his autobiography I Am Ozzy. As ghostwritten with Chris Ayres, the thing is an absolute hoot. Tons about Ozzy's Black Sabbath days. Tons about his infamous exploits. The dove. The bat. The Alamo. The Osbournes. And all those drugs and bewildered physicians therein. At point, his body developed AIDS as a response! Great reading, and very (and expectedly) British in language.
Osbourne is also promoting his new album, Scream. His first studio album in three years was released last week. It's enjoyable and very polished, though a bit staid in songwriting. Here's a good Wiki article on his discography. The album also debuts a new guitarist, Gus G. He seems pretty strong. Here's a nifty Wiki article on all band members. There's also an insert in the Scream jewel box, announcing the coming 30th anniversary versions of Blizzard of Ozz and Diary of a Madman. Fully restored, rare tracks, even demos on deluxe versions. Oh man. Everybody, let's go back to the early Eighties!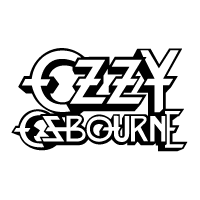 + 13 - 10 | § ¶
Votes For Posts
Repeat of 2008 posting. Those little plus (+) and minus (-) signs to the right of each blog entry? Those are voting links. Click to indicate if a particular entry is "good" or "bad". Or, wait and vote after comments have been received. Good posts don't always equal good comments, and vice versa.


+ 13 - 12 | § ¶
Reader Mail
The gas bag opens the mail bag. Most of these are queries or requests. Many rewritten for the sake of clarity and/or obfuscation. Should be reasonably interesting or entertaining. Thanks for your notes.

Q: Do you have a current list of fire stations and addresses in Wake County?
A: This directory of county fire departments
should meet your needs. Same is linked from the Wake County Fire-Rescue site.
--
Q: Can you throw these guys a plug on the blog, www.urbanfirefighter.com? New, online magazine. Very cool.
A: Nice sound effects on the home page!
--
Q: Are the toys on your site for sale? I am trying to find die-cast vehicles for sand-table training exercises, particularly Boley brand.
A: Negative. Try eBay and do a search on "boley fire." That's a good place to start.
READ MORE
+ 13 - 8 | § ¶
Still More Sanborn Maps
He never tires about blogging about Sanborn Maps, those marvelously detailed maps from the late 1800s and much of the 1900s, that documented fire equipment, water supplies, buildings, and other infrastructure of locales across the country. See such maps from North Carolina. Mike's latest map play involves Raleigh maps and a set of digital crayons. He's extracted those pages containing diagrams of then-current and then-former fire department facilities. Mostly fire stations, but the alarm house as well. The idea isn't new-- see this web page of his-- but the color scheme is a change. And the streets are now shaded. And notations have been added. Got the idea from a Detroit discussion board, and someone's highlighting of former fire stations there. View the Sanborn Map excerpts. And just ignore Mike speaking in the third-person. Must be the heat.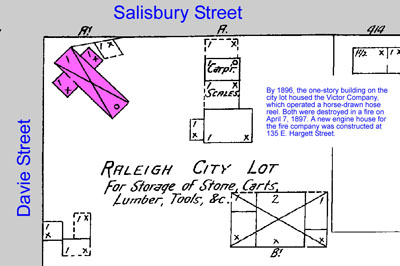 + 14 - 13 | § ¶
Wake Tech Announces New Degree in Fire Protection
This NBC17 story last week reported on a new degree program at Wake Technical Community College. The two-year associate's degree program in Fire Protection Technology starts in the fall, will be held at the school's Public Safety Education Campus in Raleigh, and include course work in "hazardous materials, firefighting strategies, and fire investigations, as well as supervision and leadership."
It'll be offered to both high school students entering the field and professional who want to earn the degree. Wake Tech also has a "flip flop" schedule which gives students "the option of attending classes on alternating days each week to accommodate work schedules." The college is already the provider for in-service continuing education training for 4,000+ area firefighters. Read the entire story.
The college web site has detailed information about the Fire Protection Technology program. Watch the rotating banner on the home page for that link. The web site is a bit difficult to navigate otherwise. Below is the full course list from the planning guide from the program web page. See same for credit hours and additional information.
First Semester
ENG 111 Expository Writing
FIP 120 Intro to Fire Protection
FIP 124 Fire Prevention & Public Ed
FIP 128 Detection & Investigation
FIP 240 Fire Service Supervision
Major Elective
READ MORE
+ 15 - 9 | § ¶
Here Comes The Heat
Highest temperatures in two years. Very hot. Brutally hot. Tarzan hot. Stay hydrated and keep those rehab supplies handy. Or get thee to a swimming pool if you're off-duty. Back to the high eighties by next week. For extra credit, complete the phrase: "It's so hot outside..."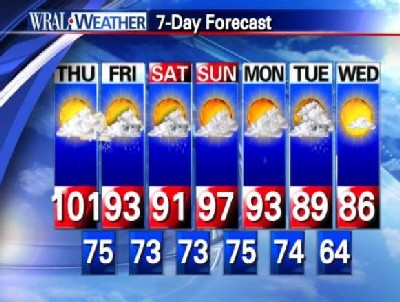 + 12 - 13 | § ¶
Le Château Ravagé Par Un Incendie
Found on Firegeezer, here's a neat incident photo showing apparatus at a castle fire in France. Yeah, that's a phrase that won't read in American newspapers. Castle fire. That's also the land of single-purpose aerial apparatus. Chassis and aerial only, as in other Euro countries. Raad Firegeezer's report, which includes assorted links. Or click to slightly enlarge:


+ 14 - 10 | § ¶
New Raleigh Haz-Mat Vehicle
The Raleigh Fire Department placed a new haz-mat vehicle in service today. Designated SR2, the 2010 Ford F-350 light-duty truck with a walk-in Knapheide body replaces a 2008 Ford F-350 pick-up truck. SR2 is maintained at Station 8 and is staffed by Engine 8's personnel. It's both a local and regional response unit, and is equipped for initial incident assessment, such as monitoring and recon entry. It can also tow a cargo trailer that's part of the NC Regional Response Haz-Mat Team 4 equipment cache. SR 2 also responds as part of the Haz-mat Group of NC USAR Task Force 8. Here's a preliminary picture. Better one later.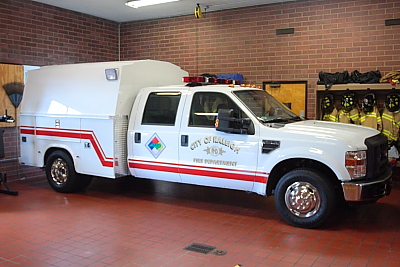 + 12 - 20 | § ¶
Raleigh to 400,000 and 45
The population of the Capital City has cleared the 400,000 plateau, according to the U.S. Census Bureau's Annual Estimates for Resident Population for Incorporated Places. The Census estimate of 405,791 places Raleigh 45th among America's largest cities. Read entire press release.
+ 20 - 15 | § ¶
OSFM Article on Pine Knoll Townes
This article appeared the Spring 2010 issue of Fire and Rescue Journal, as published by the Office of State Fire Marshal (OSFM). The author is myself, Historian Mike Legeros. It recounts the historic, multi-structure fire at a new townhome community on February 22, 2007. The narrative includes conditions leading up to the incident, and lessons learned thereafter. Photos include images from Legeros and Lee Wilson, who skillfully captured the scope of the rapidly spreading fire. That's his iconic shot on the first page. This PDF version has been stitched together from scan of the printed version. Watch the OSFM publications web site for the originating digital version. Read the article
(2.2M), or click to view:


+ 12 - 9 | § ¶
Facelift for Cupola at Durham Station 2
The Durham Herald-Sun also recently reported on restoration of the cupola at Fire Station 2 at 1001 Ninth Street. Scaffolding was recently installed, as the restoration begins this month. The $150,000 project is scheduled for completion in October. The fire station was completed in 1950, and is the oldest engine house in the Bull City. It presently houses Engine 2, Ladder 2, Squad 2, and Battalion 2. Read the entire article. Or learn more about the station at the unofficial DFD site.



Brittany Bass / Durham Herald-Sun photo
+ 16 - 10 | § ¶
Durham Opens Fire Station 15
As this morning's News & Observer reports, the Durham Fire Department opens Fire Station 15 on Monday. The three-bay facility at 2070 Torredge Road will serve Treyburn, a primarily residential section to the far north. The area is currently served under contract by the Bahama Fire Department. Officials have been planning the fire station for over 15 years. It was even superseded by Station 16, which opened southwest of the city in 2006 on Farrington Road.
The three-bay facility will house a three-person engine company, as well as the department's swift water rescue team. The latter is relocating from Station 14 on Umstead Road, to be closer to the Little River Reservoir and Lake Michie. It cost $2.6 million, and includes such green features as a solar water heater and a truck-washing area equipped for water reclamation. A dedication ceremony and open housed is planned for August 14.
More information about the facility and its prototype design is available in this press release that Google finds. The station was designed by G. H. Williams Collaborative. The building is 7,911 square-feet, single-story, with separate accommodation for eight firefighters per shift, weight room, captain's offices, dining room, and kitchen. The unofficial DFD home page has a couple preview pictures of the station territory.

Update: Today's Durham Herald-Sun also has a story about the new station, as well as this picture:



Durham Herald-Sun photo
+ 11 - 11 | § ¶
Mystery Apparatus
Been a while for one of these. Recognize these markings? Key words include "fire" and "department."


+ 8 - 15 | § ¶
This Morning's Second Alarm / Dillmark Court
Two alarms at 2805 Dillmark Court. Engine 10 arriving at a two-story, wood-frame townhouse with 1,080 square-feet. Built 1986. Found fire in downstairs living area venting out of rear of structure, and up to second floor. Dispatched 5:40 a.m. Controlled 6:06 a.m. No injuries. Three people displaced. Cause determined as accidental. Units on scene included E10, E26, E2, E12, E7, E3, E1, L8, L4, R2, R3, B2, B3, C10, C20, A1, C2, EMS 7, EMS 18, EMS 19, M94, D1, T1. Late incident photos posted by Legeros.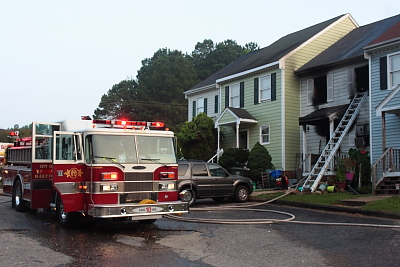 + 9 - 18 | § ¶
Camp Lejeune Opens New Fire Station 10
Another new fire station opens Monday at Camp Lejeune in Jacksonville. The base fire department opens a new Fire Station 10 that day, and also places Truck 10 in service, which will operate a 2009 Pierce Velocity 75-foot quint. Lee Wilson is traveling down east this week, and has posted photos of the new station along with other base apparatus. Google doesn't find much additional information about the department. Perhaps readers can add additional details. See also this Carolinas Fire Page list of Onslow county fire stations.



Lee Wilson photo
+ 15 - 13 | § ¶
Live Burns at Grain Elevators
For your Friday enjoyment and as found on this Firehouse forums posting, here are a pair of fascinating video slideshows of grain elevator live burns in rural Iowa. The first video from October 2009 involves logistics including 143 firefighters, nearly two dozen tankers, adjacent support buildings to be protected, and a railroad alongside. The elevator is burned one building at a time. The second video is dated September 2009. Both operations were conducted by a private consulting company called the Iowa Large Structure Burn Team. Read the original posting for additional comments and videos.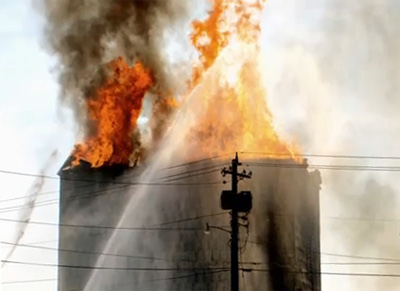 + 17 - 10 | § ¶
In Memory of the Charleston 9
Today is the third anniversary of the Charleston Super Sofa Fire, where nine members of the Charleston Fire Department died on June 18, 2007. The state's premiere fire news site, sconfire.com, has posted a third anniversary tribute including video on their home page. Click to visit: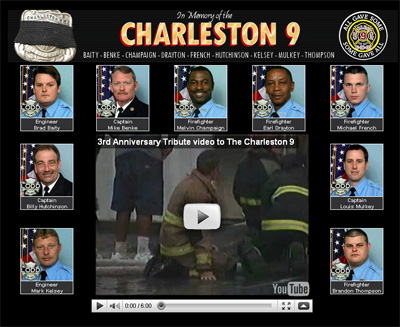 + 11 - 13 | § ¶
Pierce Pumpers Delivered to Charleston
The Charleston Fire Department recently received a pair of sharp-looking pumpers, including this one that appears on the Pierce new deliveries site. The 2010 Pierce Arrow XT pumpers are equipped with 1500 GPM Hale pumps and 750 gallon tanks, along with features including 400 HP Cummins engines, 5000 KW Honda generators, through-body ladder storage, three 1.75-inch crosslays, and LED warning packages. They were sold by Sparatan Fire & Emergency Apparatus, which has additional photos and schematics. The trucks are numbered Engine 108 and Engine 115.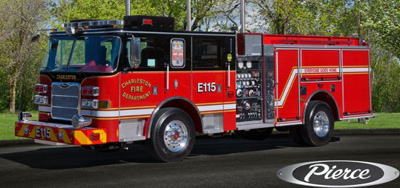 + 26 - 19 | § ¶
A Short History of Hose
Below is a picture of early fire hose, as photographed at the New York City Fire Museum. I have been reading and learning about the history of fire hose, and attempting to answer a question about apparatus. Why was hose carried on a reel, and then on a wagon? Here's my best attempt at an answer. Comments, questions, and corrections welcome!
Let's go back to the 17th Century, when the first practical fire hose was invented in Holland in 1673. It consisted of 50-foot lengths of leather (or sailcloth) and was sewn together in a single seam. Brass screw threads were attached at the ends, so sections could be connected. (The inventor, the Superintendent of the Fire Brigade, also created the first version of rigid suction hose.)
Stitched leather hose worked as well as it could. The seams might leak or even burst from excess pressure. The leather could also crack or dry out. Metal rivets were added over a century later, developed in 1807 (or 1808) by a pair of Philadelphia firemen. They bound the seams of their leather hose with copper rivets instead of stitching.
This worked wonders, allowing higher pressures and a greater flow of water. With a double-row of copper rivets, numbering 22 per foot, the result was a nearly leak-proof section of hose. It could also withstand a higher pressure of 200 pounds per square-foot. And it lead to the new concept of relay pumping, where water could be moved hundreds or thousand of feet, from engine to engine. (Ditto the development of suction hose, and which replaced the venerable bucket bridge.)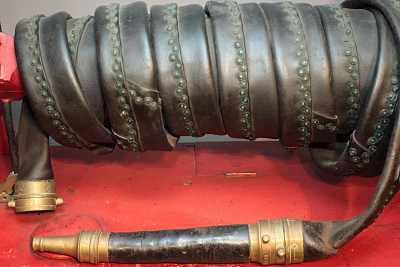 Metal-riveted leather hose was heavy, however. Fifty-foot lengths weighed about 85 pounds, and excluding couplings. Nor was leather hose very flexible. It became stiff with use, and difficult to roll or fold. Thus drums (or reels) were developed for transporting the hose. Short (single?) could be wound on a reel on the hand-engine itself. Longer lengths could be wound on reels mounted on a two- or four-wheel wagon.
READ MORE
+ 13 - 13 | § ¶
Fire Museums on Flickr
The photos from the New York City Fire Museum have been uploaded to my flickr site and the fire museum collection therein. The full contents of that collection are:
+ 16 - 13 | § ¶
1950 Mazda CTL/1200
New model for the man cave, 1:43 scale replica of a 1950 Mazda CTL/1200 fire engine. Used in Japan, and probably other places. Carried suction hose, soft hose, and a couple play pipes. Equipped with pump and maybe water tank. Hand-crank siren operated by the guy on the tailboard. Small bell. Even a spot light. Made by Ebbro. Click to enlarge:


+ 13 - 9 | § ¶
Zebulon Fire Station, 1974
And our friends at the Zebulon Fire Department pass along this nifty newspaper clipping from 1974, or abouts. Shows the town's new fire station at 113 E. Vance Street. Same was utilized by both the municipal and rural fire departments, as well as a bay for Zebulon Rescue Squad. Any guesses on makes and models of the trucks? 1972 Ford/Howe and 1972 Chevy/Bean, perhaps? We'll see if we can get a larger version of the picture. Good stuff.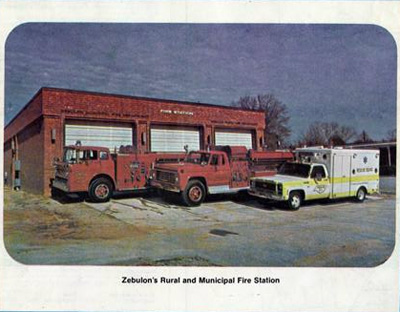 + 9 - 14 | § ¶
First Annual Report of Cary Rural Fire Department
Random artifact, recent discovered in records recovered from Western Wake Fire Station 2. That is, the former Station 2, said facility having been closed a couple years now. The station was formerly operated by the Yrac Fire Department, which was originally called Cary Rural Fire Department. Here's their first annual report
,from 1962. Or click below to read the PDF document. Or read more about the history of YFD.


+ 12 - 14 | § ¶
Firefighting Lore - Fire Marks
Q: Did firefighters in the United States really refuse to fight fires at homes or business that lacked the proper fire mark?
A: Negative. That is a myth.
As researched by Robert M. Shea in an article that we blogged about before, modern literature on (and thus contemporary understanding of) American fire marks includes misconceptions including (a.) arriving volunteer fire companies would not fight fires unless a fire mark was present, (b.) the companies received a reward from the insurance company whose fire mark was present, and (c.) the creation of paid municipal fire departments diminished the use of fire marks.
What then were fire marks used for? The answers vary, says the author. From simply identifying the insuring company, to deterring arsonists, and perhaps even motivating firefighters. Nonetheless, American insurance companies issued fire marks for over 150 years. They're found in fire museums across the land. The above article is posted on the web site of the Fire Mark Circle of the Americas.
+ 16 - 8 | § ¶
Yesterday's House Fires in Cary / Bell Arthur Drive
Two alarms at 102 and 104 Bell Arthur Drive. Arriving chief officer found working fires at two houses. Second alarm requested on arrival. Interior attacks for both. Mutual aid from Apex and Morrisville to scene, and including Durham Highway (P1 to Morrisville Sta 1), Parkwood, and Western Wake (P196 to Cary Sta 5) for coverage. Dispatched about 7:20 p.m. Controlled at 7:49 p.m. Temperature about 85 degrees, humidity about 70%. Cause suspected as lightning. Units on scene included Cary E5, E2, E_, L5, T_, R4, B_, others?; Apex E3, L3; Morrisville E1; EMS 52, 54, 41, D5, D2, M91, T1; WC1. Watch video report from WTVD.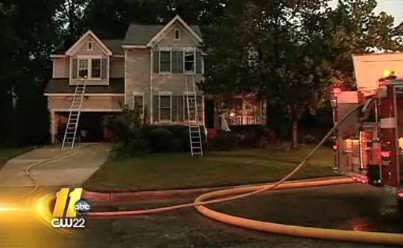 + 16 - 8 | § ¶
Yesterday's House Fires in Cary / Bell Arthur Drive
Two alarms at 102 and 104 Bell Arthur Drive. Arriving chief officer found working fires at two houses. Second alarm requested on arrival. Interior attacks for both. Mutual aid from Apex and Morrisville to scene, and including Durham Highway (P1 to Morrisville Sta 1), Parkwood, and Western Wake (P196 to Cary Sta 5) for coverage. Dispatched about 7:20 p.m. Controlled at 7:49 p.m. Temperature about 85 degrees, humidity about 70%. Cause suspected as lightning. Units on scene included Cary E5, E2, E_, L5, T_, R4, B_, others?; Apex E3, L3; Morrisville E1; EMS 52, 54, 41, D5, D2, M91, T1; WC1. Watch video report from WTVD.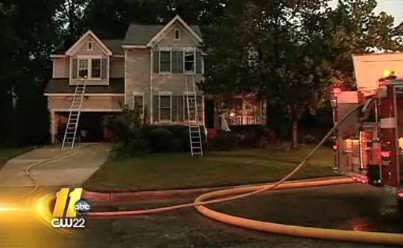 + 14 - 9 | § ¶
Firefighting Lore - Brass Railings
Q: Why were watch stations in fire houses once equipped with brass railings?
A: To protect equipment from being damaged by horses.
Though romanticized in retrospect, fire horses could also be a pain. They required constant grooming, feeding, and exercise. They left things behind that required sanitary disposal. They could get sick, and even be struck down in epidemic. That happened in 1887, and decimated Boston's entire fleet of four-legged members. The more rowdy mares might damage equipment on the station floor, hence the above brass railing. Below is an example watch station at the New York City Fire Museum, complete with railing. Source: A Pictorial History of the Fire Engine, Volume 1 by Matthew Lee, self-published in 1997.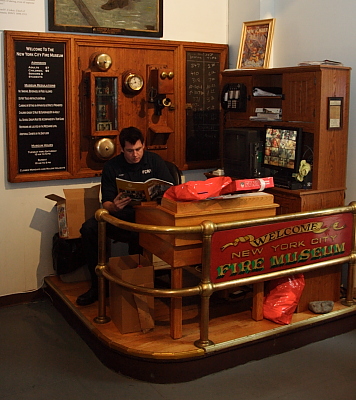 + 13 - 8 | § ¶
Last Night's Major Fire / New Hope Church Road
Two alarms at 2605 New Hope Church Road. Engine 11 arriving at a two-story, wood-frame apartment building, with 7,920 square-feet. Built 1972. Heavy fire showing, and declared major working fire on arrival. Heavy fire found on second floor, and in attic. Crews withdrawn from interior attack after several minutes. Ladder 2 utilized for aerial stream, followed by resumed interior work. Exposure protection on east side of building, and deluge gun positioned behind building. Two hydrants utilized, both on or near New Hope Church Road.
Command located in parking lot, in front of building. Medical monitoring and rehab located on grassy hill, above parking lot, and in front of building. Temperature about 80 74 degrees, with about 67% 96% humidity. Crews evaluated for heat exhaustion and dehydration. One firefighter transported to hospital. No civilian injuries. Twenty-four people displaced, 12 adults and 12 children. Two of six apartment units destroyed. Six total uninhabitable. Cause determined as accidental. Dispatched 9:09 p.m. Controlled 10:13 p.m.
First alarm: E11, E19, E15, L2, R1, B1. Second alarm, including working fire dispatch: E21, E9, E27, E7, L1, R2, B2, C10, C20. Special called: E13, L5. Medical: EMS 2 (first alarm), EMS 5, EMS 4, D1, D4, M91, T1 (second alarm). Preliminary photos posted by Legeros.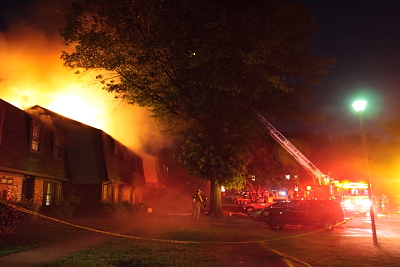 + 12 - 10 | § ¶
Collapse Incidents
A seeming spate of collapse incidents has struck the state of late. Holden Beach had a deck collapse on Thursday, June 10, injuring seven people at 479 Ocean Boulevard. Four were transported. Hickory had a ceiling collapse at a church on Sunday, June 14. Twelve people were transported from the Friendship Missionary Baptist Church. No serious injuries. Oxford had a roof collapse tonight, at 200 CertainTeed Drive. No one was injured in the incident that occured at a shingle plant. Use your favorite search engine to find additional news on each.
+ 13 - 10 | § ¶
Falls Fire Department Anniversary Planning
The Falls Fire Department is trying to reach anyone who has ever served the department, and in any capacity. They're celebrating their 40th anniversary this year, and planning for a birthday party for former members and their families on July 10. Help is requested with spreading the word. Contacts the planners via party@fallsfd.com. Or contact Nick Rhodes directly at 919-669-0643, or nrhodes@fallsfd.com. RSVP is requested by July 1.
+ 11 - 10 | § ¶
Lightner Tower Gets Another Chance
That's the headline from today's News & Observer article, reporting on city council members meeting this week to discuss alternative proposals for the Clarence E. Lightner Public Safety Center. They'll consider choices both cheaper and more expensive, as proposed by the Center's architects and summarized in the article:
Move emergency dispatchers and traffic management staff to basement. Cost increases $39 million.
Move emergency dispatchers to new building, four or six stories tall. Build 11-story building for fire, police, and IT departments. Cost increases $19 to $73 million.
Move emergency dispatchers to four-story building farther away from other city buildings. Built 11-story building for fire and police departments. Cost increases $54 million.
Remove space for IT department and large conference room from original plan. Cost decreases $13 million.
Remove space for fire and IT departments and large conference room from original plan. Cost decreases $19 million.
+ 11 - 15 | § ¶
Getting Out of the Way
From a reader, here's a unique peek at driving conditions across the pond. It's a compilation of driver's eye views from what appears to be Warwickshire Fire & Rescue Service. Beware, there's a roundabout included, though that clip stops as they enter same. Good thing, too. It'd probably induce vertigo in western viewers. And if the left-side driving is too terrifying, simply view the video with a mirror! Thanks for sending, Paul.


+ 17 - 11 | § ¶
Fire Education Vehicles
Here are a pair of appealingly designed vehicles used by the Office of Fire Safety Education of the New York City Fire Department. They were photographed at the department's facilities at Fort Totten. More on the latter later. Click to enlarge:


+ 11 - 13 | § ¶
Out of Service
Reporting from the road this weekend. Spent a few days in New York City. Lots of walking, lots of eating, and way too many photographs. Attractions ranged from Times Square to Fort Totten, from a ride through Harlem, to a stroll on the Brooklyn Heights promenade. Endless subway rides, except for the day that we rented a car. Joy that was, not. Toured the New York City Fire Museum, for a repeat visit. First time with digital camera, however. Saw quite a few FDNY vehicles about. Passed a couple houses, but didn't go inside. More later.

+ 13 - 11 | § ¶
Greensboro Tank Farm Fire
The Greensboro News & Record reports on this morning's tank farm fire in Greensboro. Lighting started same at a Colonial Pipeline Company facility off Gallimore Dairy Road. The tank contained 20,000 barrels (840,000 gallons) of gasoline, and was reported ablaze by a passerby about 12:45 a.m. The fire was controlled at 5:15 a.m. Suppression including removing some of liquid from the tank, and the application of nearly 2,000 gallons of foam. Exposures included two nearby tanks, though each were nearly empty.
No evacuations were necessary, though roads were closed, including both directions of nearby Interstate 40. Departments on scene included Greensboro, High Point, and [crews from?] Guilford County. Total personnel numbered about 150. Crews were being rotated at 15-20 minute intervals. Personnel were treated for heat exhaustion, and two hospitals were also alerted and ready. More later as known. Readers to the west can perhaps add additional.


Rob Brown / News & Record Photo
+ 15 - 9 | § ¶
Raleigh Fire Department Receives Grant For Live Fire Simulator
On Monday, June 14, the Raleigh Fire Department will receive a check representing nearly $146,000 in federal funds for the purchase of a new 40-foot, mobile, live-fire, multi-training simulator. The presentation ceremony will be held at Fire Station #1, located at 220 S. Dawson Street at 11:30 a.m. The check will be presented by U.S. Rep. Brad Miller.
The funds are being awarded by the United States Department of Homeland Security as part of its Assistance to Firefighters Grant program and require a 20 percent local match. The AFG program is designed to help emergency responders obtain equipment, protective gear, emergency vehicles, training, and other valuable resources.
The training simulator will provide firefighters with live fire training as well as ventilation, forcible entry, standpipe, sprinkler, confined space, firefighter survival, and Self Contained Breathing Apparatus (SCBA) skill stations.
+ 12 - 10 | § ¶
Interschutz
The international fire/rescue/safety/security expo Interschutz is underway this week in Leipzig, Germany. It's purportedly the largest such show in the world, and is organized only once every five years. And that's up from once every ten years, if memory serves.
Firegeezer has surfaced some photos and links from FWNetz.com, including an image gallery numbering 300 images. Mostly apparatus photos, and of which are mostly European rigs. Some of the trucks that caught Mr. Blogger's eye include:
Also observed a multi-axle aerial platform by Bronto in Finland, which is touted as a new world's record of 112 meters. That's 367 feet, Charlie. Talk about a pucker-factor! And there's lots of other stuff. Heavy pumps. Light pumps. Aerials of all sizes. Airport apparatus. A military tank conversion.
Great photos by the gang at FWnetz. Thanks for posting, and giving the world a chance to virtually share in the experience!
We hope to attend in 2015, after unsuccessfully planning a trip there this year. That is, Mr. Blogger looks forward to attending. The Missus was more excited at the prospect of our first European trip, than that particular destination.
+ 9 - 17 | § ¶
Cooling Off / Fire Operations 101
Yesterday's News & Observer also published this photo from Saturday's Operations 101 event at the Keeter Training Center. The headline was "Your Best Shot: Cooling Off." The caption read: "Mike Legeros took this photo of Raleigh City Councilor Nancy McFarlane flanked by Capt. Dennis Tart, left, and firefighter Donald Williams of the Raleigh Fire Department. The fire department invited City Council members to spend Saturday learning how firefighters do their jobs. McFarlane nad just finished a search-and-rescue drill, in which she entered a hot, smoky building and helped bring out a 160-pound mannequin." The photo appeared in the paper's Triangle & Company section, as one of their recurring Your Best Shot photos. Click to enlarge.

Fire Department Operations 101 was hosted by the Raleigh Fire Department, and sponsored by the Raleigh Professional Firefighters Association. It was intended as "freshman orientation" to daily operations, risk, and rewards faced by Raleigh firefighters. City Council members were escorted by shepherds during all stages of the half-day event, which started with a fitting of full firefighter personal protective equipment.
Classroom instruction included emergency medical technician and firefighter skill sets. Council members also attended demonstrations of haz-mat and USAR operations. After lunch, they dressed and responded as Engine 14 and Ladder 4 to simulated structure fire in the lower-level of the training tower. Their objectives were to advance a charged hose line, extinguish a fire, search and locate a victim, and resuscitate same. Read the original press release or see more photos.
+ 11 - 13 | § ¶
Arson Task Force Forms in Apex
The News & Observer had a story yesterday about the arson task force that's formed in Apex. Local, state, and federal authorities are working together to catch the person or persons responsible for fires that have destroyed five houses since last year. They're the second Triangle town that's facing a suspected serial arsonist. A multi-agency task force is working in Clayton, to solve a string of fires from October. Apex and Clayton police are also comparing notes, to see if the same people are responsible for the fires. Read the entire story. Other coverage of this story includes NBC 17.
+ 11 - 12 | § ¶
Moving Van
Question from Mrs. Blogger. Why do you spend all day at the office, come home, and get on the computer? Answer from Mr. Blogger. Because I'm nuts. Here's another night shot. Smoke investigation-reported-as-house fire on Biddeston Court. That's the second-due engine in the distance. First-due squeezed by okay. Click to enlarge:


+ 10 - 11 | § ¶
Bystanders
Residents at an apartment complex on Smith Creek Parkway Sunday night. Extinguished with sprinkler system. Exceptionally dark on arrival of EMS. Then the trucks arrived and things became a bit more bright. That's 1600 on the camera. Click to enlarge:


+ 13 - 5 | § ¶
Changes in Garner
Time to praise the press. The Garner Citizen has been doing a great job these days, covering recent changes to emergency services in Garner. Today there's a good feature on the EMS merger, which brought both personnel and equipment from Garner EMS and Rescue Squad into Wake County EMS effective May 31.
The Citizen is also reporting this week on Town Council requests to merge the rescue function of the squad with the Garner Fire Department. The council seeks employment for the current rescue employees, as well as the transfer of town-funded assets. The request comes in the wake of administrative changes announced at Garner Fire Department, and the retirement of long-time Fire Chief Phil Mitchell.
Check out the Citizen web site for those stories. Timely and balanced reporting, there. More perspectives and retrospectives later, as we watch and wish the best for the evolution of Garner emergency services.
+ 15 - 10 | § ¶
Sign in Front of Rescue House
Here's the answer to a reader question, about a banner over an old Raleigh fire station. This is the photo, from the fire horses collection. The thing reads "July 1906 - World's Champion - 28 Seconds - Rescue." The building is the Rescue Company engine house, which was located in the 300 block of Fayetteville Street. It was built in 1870, demolished in 1914, and served as Raleigh's original Station 2. Read more. Or see some old maps.
The sign refers to the fire company winning first place in the horse hose wagon contest, at the 1906 state fireman's tournament in Asheville. They broke what was called a "world's record," though the winning time was probably just the best recorded in the state. (I have never come across validation of the claim as country-wide.)
The Rescue Company competed against horse hose wagons from Asheville, Durham, Goldsboro, Kinston, Raleigh's Capital Hose Company, and Statesville. Read about the tournament, or even view newspaper clippings. As for the sign, did it survive? Alas, unknown. Maybe someday it'll surface. Click to enlarge:


+ 12 - 9 | § ¶
Emergency Fire Dispatch (EFD)
Speaking of our friends at the Raleigh-Wake Emergency Communications Center, they today hosted a meeting of county and city fire chiefs concern Emergency Fire Dispatch (EFD). That's a set of protocols similar to the EMD program that's been used in Wake County for 13 years now. These are fire protocols, however. The ECC is examining the possibility of implementing same as a means of providing a more standardized product, and increasing their quality assurance efforts. See this demonstration for further information. Thanks to Director Barry Furey for passing along.
+ 11 - 13 | § ¶
Raleigh-Wake Emergency Communications Center Receives International Award
The Association of Public Safety Communications Officials International (APCO) 2010 Horizon Award for Large 911 Centers has been awarded to the Raleigh-Wake Emergency Communications Center. The award, inaugurated in 2009, is presented annually to acknowledge the efforts of communications centers that have proactively assessed and met the technological and operational needs of their center, employees, and service population. Read entire press release.


+ 15 - 11 | § ¶
Yesterday's Apartment Fire / River Run
Two alarms at 6913 River Run. Engine 18 arriving at a three-story apartment building, brick and frame construction, with 8,704 square-feet. Built 1985. Pine straw burning beside structure, with extension into structure. Extended interior operations, locating fire burning in walls. Some extension into attic space. Second alarm requested for manpower approximately 30 minutes into incident. Dispatched about 6:40 p.m. Crews remained on scene late into evening. First alarm: E16, E17, E18, L3, R3, B4. Working fire: E23, C10, C20, A1. Second alarm: E4, E9, E_, L1, R1, B1. EMS resources included Truck 1. Corrections/additions welcome.
+ 11 - 14 | § ¶
New Old Ambulances
Wake County has re-lettered a quartet of ambulances acquired from Garner EMS & Rescue Squad. They're entering the reserve fleet. Eight days ago, three Wake County EMS units were placed in service in that area. EMS 16 at Garner Fire Station 2 (24-hour shift), EMS 18 at Garner Fire Station 3 (two 12-hour shifts), and EMS 19 at Garner Fire Station 1 (two 12-hour shifts). EMS 17, since you asked, is the Holly Springs unit. Click to enlarge:

+ 13 - 9 | § ¶
Trespassers Burned at Raleigh Substation
WTVD posted this video report on an usual incident in southwest Raleigh early this morning. Just after midnight, units were dispatched to an electrocution at a Progress Energy substation near Centennial Ridge Way and Tryon Road.
A man and a woman in their mid-twenties were treated for burns after climbing a fence and receiving electric shocks in the order of 23,000 volts. One was seriously burned and WRAL reports they were rushed to UNC hospitals.
Power to the substation was temporaily shut down during the rescue, which caused an extended outage to that area. A third person involved is being sought. Units on scene included Engine 20 and EMS 8.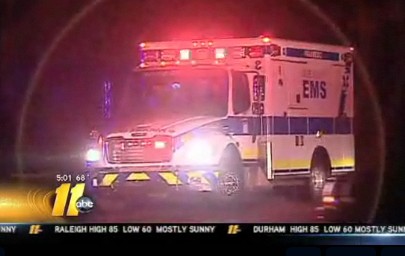 + 11 - 11 | § ¶
This is Your Brain
Morning reading from the New York Times. Subject matter is gray matter. What's happening to our brains as we adapt to digital technologies.
+ 13 - 13 | § ¶
Sanborn Fire Insurance Maps... in Color!
That North Carolina Maps site, referenced in the Trolley Tracks posting, is a digital collection containing over 3,000 maps from the North Carolina State Archives, the North Carolina Collection at UNC-Chapel Hill, and the Outer Banks History Center. As it happens, they have digital version of Sanborn Fire Insurance Maps produced through 1922. That's the year before their copyright starts. (Said maps were produced to the 1950s.)
We've blogged about digital Sanborn Maps before. They're available through NC LIVE-- typically requiring login through a library account-- and are available for all years produced. Not just until 1922. But they're black-and-white. Sanborn Maps surfaced by North Carolina Maps are in glorious color. Which makes them infinitely easier to read. User interface is also faster and more intuitive. Click the Sanborn Maps tab on the main site, and scroll down to see a list of all available.
For extra credit, can you identify the "mystery map" below. That's a city hall building with a fire station, in a popular North Carolina city. Man, nothing better than old maps!


+ 17 - 10 | § ¶
Raleigh Street Car Map, 1914
The Raleigh Connoisseur recently blogged about trolley tracks uncovered on Edenton Street. They linked to a digital map from 1914, which shows street car routes. Been wanting to see one of these for some time!
Here's the map overlaid with Google, as well as the original. The routes included north (Glenwood Avenue), west (Hillsboro Street), northeast (Oakwood), due east, west to Union Station, and two spurs south. Below is a medium-resolution, annotated version of same. Click to enlarge.
See also this high-resolution version. (Added December 2019)

+ 15 - 15 | § ¶
Trolley Tracks on Glenwood Avenue
Need a diversion for an otherwise sweltering Sunday? Explore trolley tracks recently uncovered on Glenwood Avenue at Five Points. Same were used from the 1880s to the 1930s. Specifically, with mule-drawn cars from 1886 to 1891, and electric-powered cars from 1891 to 1933.
From 1881 to 1894, the operating company was Raleigh Street Railway. From 1894 to 1933, they were run by the Raleigh Electric Company, which was renamed Carolina Power & Light Company in 108. The trolleys linked downtown to the emerging suburb of Hayes Barton. It also provided service to nearby Bloomsbury Park, which featured the carousel moved to Pullen Park in 1921.
One surviving structure shown below is a trolley shelter on Glenwood Avenue at Harvey Street. The stone structure was built by the Raleigh Electric Company, and presently serves as a bus shelter. Haven't found a date or era for the thing. Presume turn of century or earlier.
Sources: News & Observer article, June 1. North Carolina Railroad Structures database. Wikipedia page on Capital Area Transit. Wikipedia page on Pullen Park. Click to enlarge, or view more photos.

+ 14 - 7 | § ¶
This Morning's House Fires in Apex
Two houses were destroyed this morning in Apex, the first dispatched about 2:35 a.m. at 1013 Saint Emilion Court. Arriving units found two structures "engulfed in flames," as this WRAL story reports. The homes were located within a block of each other, on Saint Emilion Court and Bexely Hills Bend. One house was a model home, and the other was under construction. Crews controlled the fires in about 45 minutes. The fires are considered suspicious. Officials previously investigated suspicious fires at three homes in nearby neighborhoods off Olive Chapel Road. Those occurred in September, October, and February. We'll add additional incident information from this morning as learned.



Jack Tiger/WRAL photo
+ 19 - 10 | § ¶
NIOSH Report Issued on Nash County LODD
FireNews reported this week on the National Institute for Occupational Safety and Health (NIOSH) report released Wednesday, about the death of volunteer firefighter Gregory Cooke of the Salem Fire Department in Nash County. He collapsed after "activating a pump and advancing a hose line" in March of last year, and died ten years days later at the hospital. The report cites the firefighter's existing medical conditions, and the risk presented both to the firefighter and beyond. Among the report's recommendations are that fire departments "fire departments have a comprehensive wellness and fitness program for firefighters, medically clear firefighters for SCBA use, and conduct annual respirator fit testing." Read the NIOSH report.
+ 14 - 9 | § ¶
Volunteers Wanted For Fire Expo in August
The Wake County Firefighters Association is seeking volunteers to assist during the South Atlantic Fire Rescue Expo, being held at the Raleigh Convention Center August 11-14. Participants will be given a free conference pass and a t-shirt. Please contact President Lee Price for more information, or to volunteer. Response is requested by June 25, so t-shirts can be ordered in advance.
+ 12 - 12 | § ¶
Fire Department Hosts Fire Ops 101 For City Council Today
On Saturday, June 5, today, the Raleigh Fire Department will host its initial Fire Department Operations 101 class for the Raleigh City Council, a "freshman-orientation" to the daily grind, the risks, and the rewards that Raleigh firefighters deal with each day. The training session, starting at 8 a.m. at the Keeter Training Center, is being undertaken by several members of the Raleigh City Council. They will go through a series of training sessions required by both emergency medical technicians and firefighters and then put those skills to use in a mock disaster scene. Media are invited to attend the training sessions. Read entire press release.
+ 16 - 10 | § ¶
Durham County EMS Celebrates 35 Years
From the Durham Herald this week comes a short story on Durham County EMS, which celebrates its 35th year of service. They started May 31, 1975, after the county took over the ambulance service. Then they had six ambulances and 24 emergency medical technicians. Now they have 12 ambulances and about 132 employees, who answered more than 28,000 calls last year. Their funding through the county comes from a trust fund, which was created when Duke and Durham Regional hospitals merged. That and fees charged to users of the ambulance service. Read the story.



Durham Herald photo
+ 10 - 11 | § ¶
Cary's Old Service Truck
Photographer Lee Wilson last week found a former Cary rig, recently relocated to the Blue Ridge Mountains and serving the Parkway Fire Department in Mitchell County. PFD was created in 2001 as a merger of Altapass (1984-2001) and Grassy Creek (1964-2001) fire departments. That's near Spruce Pine, which itself absorbed Estatoe FD (1988-2003). Anyway, back to the rig. The 1995 Seagrave/Marion service truck was received by the department in April. It's designated as Rescue 2. Wonder what other old local rigs can be found in the western part our state. See all of Lee's photos from his recent trip.



Lee Wilson photo
+ 13 - 10 | § ¶
Letter to the Editor
This was published in the News & Observer today.
+ 15 - 12 | § ¶
It Can Happen Here
Random posting recommendation. EMS blogger 9-ECHO-1 on the active-shooter incident in Apex. e.g. DJ on this blog. Was also first medic unit on scene that day, which meant entering the building with police with weapons drawn. Read all about. Then, as he advises, go dust off that plan for active shooter training. You never known when you'll need it.
+ 14 - 13 | § ¶
Lighter and Lower Profile
You've read about the flat-pack breathing apparatus that's being developed, right? Light, lower profile. Why hasn't someone developed a lighter, and lower-profile fire helmet? But wait, they have! French and other European crews already use the things. Have for decades. Guess it's a different amount of tradition, and change to adapt from. Seventy-some years for the yellow bottles on your backs, versus leather lids that date a couple centuries in origin. Just something I was thinking about.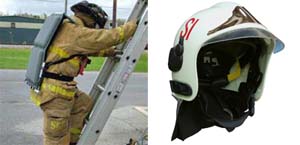 + 12 - 13 | § ¶
Rocky Mount Receives New Fire Chief
This Rocky Mount Telegram story reports on the new head of the Rocky Mount Fire Department. Fire Chief William L. "Trey" Mayo , who is well-remembered in Raleigh. He started his career in the fire service with the Raleigh Fire Department, and left as a Captain to become Deputy Chief of Carrboro. Chief Mayo met with city employees at a reception on Wednesday. Congratulations, Trey! Read the story.


Ben Goff / Rocky Mount Telegram photo
+ 12 - 13 | § ¶
North Carolina Fire Horse Histories
For about four decades, fire departments around our state used horses. Teams of one and two horses (plus the occasional mule) pulled steam engines, hose wagons, chemical carts, combination hose and chemical carts, aerial ladder trucks, service ladder trucks, chief's buggies, and more. They served from Asheville to Elizabeth City, from Morganton to Wilson.
The largest equine fleets were located in Wilmington and Charlotte. Those cities as many as 14 and 13 horses in service, respectively, at the turn of the last century. Source of Sanborn Maps for that information.
Horses first appeared here in the 1870s, replacing the hand power of volunteer firefighters. They were put to pasture in the early 1910s, with the arrival of motor apparatus. The animals were adored by both crews and citizens. The men who cared and operated for them developed strong emotional attachments. The horses were, well, members of the department. They were well-remembered after they were gone.
To centralize information about this period in our state's history, a new site has been created on the subject of North Carolina Fire Horses. Content includes the excellent essay "Day of the Fabulous Fire Horse" by Oxford poet, author, and newspaper columnist Thad Stem Jr., which appeared in the Charlotte Observer in 1966. Also included are assorted fire horse histories, as found on the web and in fire department yearbooks. Plus Sanborn Map information, on numbers of horses and types of apparatus. And pictures!
Visit the web site. See what you think. Collectively, it paints a pretty good portrait of regular operations in a horse-drawn fire department. Additions and corrections are welcome. Particularly citations, as authors need to be citied for the yearbook excerpts. Shoot me a private message, and I will expand the content accordingly! Thanks for reading, hope you enjoy. Oh, and a pun. Guess this particular post makes me a confirmed... wait for it... neigh sayer.

Photo credits below, left to right, top to bottom: Greensboro Historical Museum, North Carolina State Archives, Greensboro Historical Museum, Raleigh Fire Department.


+ 13 - 7 | § ¶
What Does Social Media All Mean?
Discussion topic for the day. There's a good discussion brewing over on The Fire Critic, about page views and social media networking. Rhett writes in response to a Firefighter Hourly posting. Dave Statter adds an eloquent opinion in his comments to the Critic's post, including a great perspective of what works for fire service blogs. Note his language about open exchange of ideas. Ditto on censorship, which, cough, cough, we have long performed (albeit infrequently) here, but presumably for a greater good. Maybe it's led to a greater bad? Discuss as desired.
+ 12 - 12 | § ¶
Numbers and Revisions
Memorial Day saw sorting stacks of papers in the man cave. Quite a few contained handwritten notes on Raleigh Fire Department history. They'd been placed aside, either for filing or File 13. Incidents, apparatus, personnel, the usual stuff. The notes had been taken during research, at libraries while reading microfilm. Or at fire stations, while skimming log books.
Each sheet's information had presumably been recorded in my digital files, but I double-checked. One piece of paper included personnel totals for a couple decades in the last century. You know, how many people were in the department. No source was noted, however. My bad.
For 1950, was jotted, the total positions numbered 84. Opened my master data spreadsheet, and saw the number 63 for that fiscal year. The source was a Sanborn fire insurance map from October 1949. So which was correct? 84 or 63? Looking at adjacent years, and the total positions in FY49 was 67. The total in FY51 was 82. Sources for both were budget docs. Conclusion? The total positions in FY50 was more likely 84 and less likely 63.
READ MORE
+ 11 - 13 | § ¶
Distracted Driving on Construction Sites
Seen in downtown Raleigh. Sign of the times, I guess.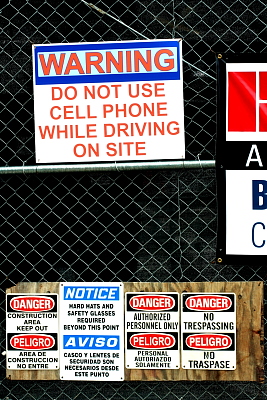 + 13 - 11 | § ¶
How to Remind a Parent of the Baby in the Car?
That's the title of an interesting article in today's New York Times, about ideas for solving the problem of a parent forgetting that their baby's in the car. Says the National Safety Council, about 30 children a year die in such situations. Many are accidental, with parents or caregivers inadvertently leaving them in the vehicle. Technology could come to the rescue, though liability issues are also present. What happens if the device doesn't work? Or maybe behavior modifications are the answer. Suggestions one organization, leave a personal item with the child. Purse. Phone. Presumably, you'll remember the item, and thus the child. Obviously, these are exceptionally rare incidents, though even one is a tragedy.