+ 8 - 7 | § ¶
Attack of the Batmobiles!
Now let's get our geek on with footage from Josh Turchetta shot last night in Hollywood, where Warner Brothers gathered five Batmobiles for filming. There's the 1966 television version by George Barris. There's the 1989 film version designed by Anton Furst for Batman and Batman Returns. There are the Schumacher sequel versions, from Batman Forever and Batman and Robin. And finally the Tumbler from the Christopher Nolan films Batman Begins and The Dark Knight. Wouldn't you love to take any of those babies for a spin? That's Danny Elfman's music from Batman Returns as background music, methinks. Big nod to AICN. Click to watch:


+ 9 - 7 | § ¶
Airport Drill, 2012
Here's the "now" photo from today's disaster drill at Raleigh-Durham International Airport. No smoke bombs this time, but quite a bit of real rain. The bus in the background was serving as a section of fuselage. Airport Emergency Services were first on scene, followed fire and EMS units from Wake and Durham counties. All were staged on airport property, but staggered their responses to replicate actual travel times. They included RDU CFR, Raleigh FD, Morrisville FD, Cary FD, Parkwood FD, Bethesda FD, Durham Highway FD, Wake County EMS, Cary EMS, Apex EMS, Eastern Wake EMS, Parkwood EMS, and Durham EMS. (Who got missed?) Plus law enforcement, fire marshal offices, emergency management, and more. Photos by Legeros forthcoming. Give me a day or so. Click to enlarge this picture.


+ 6 - 3 | § ¶
Airport Drill, 1979
While we ramp up (ha!) for this morning's disaster drill at the airport (camera, check. Umbrella, check), here's a blast from the past on that subject. November 4, 1979. Alarm sounded at 2:33 p.m. Within 30 seconds, recounted the news account, crash trucks were spraying water on smoke bombs. Eleven minutes later, Morrisville fire units arriving and began administering aid to the "patients." Response times from off-airport are considerably better three decades later. We might even have some readers who were there, and can tell about the "old days" at the airport fire department. Click to enlarge:


+ 4 - 1 | § ¶
Ladder Climbers: Female Fire Captains Love Their Careers
The Greensboro News & Record published this story last week by staff writer Taft Wireback. Great opening paragraphs: "Save your 'Gee whiz, ain't that cute?' reaction for some other challenge to gender stereotypes. City fire [Captains] Wendy Cheek and Carol Key say that they and hundreds of other female firefighters nationwide have moved way beyond that." The article is a profile of the Greensboro Fire Department's two highest-ranking female firefighters on active duty. The department has 25 female members in its ranks of 500-plus. (Doesn't say if that's line personnel or all personnel.) Theirs is heritage going back 30 years and which has produced a Deputy Chief along the way. Read the story.



Jerry Wolford/News & Record photo
+ 2 - 3 | § ¶
Commercial Roof Collapse Close Call - What it Looks Like
Single-story commercial structure in Dearborn, Michigan, yesterday. See this Firefighter Close Calls posting or this Statter911 story. Both with links to high-quality, very-close aerial footage from WXYZ-TV.



Click On Detroit photo
+ 6 - 3 | § ¶
Tanker Rollover in Graham County
FireNews.net has posted photos of yesterday's tanker rollover in Graham County. The apparatus from Stecoah Fire Department overturned on Highway 28 near Fontana. The driver received minor injuries. Notes the story, one of the first people on scene was a retired fire chief from Florida who was hiking the Appalachian Trail.



FireNews.net photo
+ 5 - 3 | § ¶
March Episode of FireWatch - Firefighters Recounts Flashover
The March 2012 episode of the Raleigh Fire Department's cable television series FireWatch is now available online. In the latest episode, Fire Educator Ron Campbell talks with Raleigh Fire Department Capt. Alan Lee, Senior Firefighter Shane Canady, and Senior Firefighter Marty Pleasant from Engine 2, about their experiences and lessons learned at a flashover at a recent house fire in Garner.
FireWatch airs on the RTN-11 cable television channel on Monday (12:30 p.m.) Friday (11:00 a.m.), Saturday (11:30 a.m., 6:30 p.m.) and Sunday (2:30 p.m., 8:30 a.m.). Or view archived episodes of FireWatch. (Also check this page, and scroll down about halfway, for links to all past episodes.)


+ 7 - 1 | § ¶
Reader Mail - March 2012
Let's open the mailbag. Low creative energies at this time. And since I am already reading and filing mail at this moment...
Q: Mike, I saw this in the Wilmington paper. Thought you may be interested in it .Enjoy your website very much. http://www.starnewsonline.com/article/20120224/ARTICLES/120229802/1004/

A: Thanks, that's an interesting story about the city testing preemption technology for stoplights.

--

Q: Hey Mike, some New Bern Fire Department trailers were recently broken into. If you can pass the word around up there about this, we would greatly appreciate. There are some low people out there. http://www.newbernsj.com/articles/equipment-105333-fire-burglary.html.

A: Thanks for the story link. Saw that FireNews.net had posted same. I will add to my next posting of morning or evening reading.

--

Q: Someone showed me a fire bucket they owned a while back and asked why the bottom of the bucket is rounded, and not able to stand up on it own. I could not think of a reason. I saw a similar bucket in the Raleigh Fire Museum. Do you know why they are made that way?

A: Such buckets had rounded bottoms so they couldn't be re-purposed for regular use. You couldn't set them down, or they'd roll over. Thus they had to hang on a wall, for fire use only.

--
READ MORE
+ 4 - 2 | § ¶
Committee Approves Land Acquisition for Fire Station 29
Press release. The Raleigh City Council Budget and Economic Development Committee has approved acquisition of two parcels for the construction of Fire Station 29. The City of Raleigh Fire Department has been working with Williard Ferm Architects, P.A. for the development of the Fire Station 29 site located at 12113 Leesville Road. As a part of the design process it became apparent that the assemblage of additional property would greatly reduce the construction cost of the facility. The committee has approved the condemnation of one property and the swap of another. The property acquisitions must be approved by the entire City Council. They will be considered at the Council's April 3 meeting. Read entire press release.
+ 5 - 3 | § ¶
Cary Rescue 2 Revealed
Here's a nice shot of Cary Rescue 2 with all compartments open and the light tower in action. Photographer Lee Wilson snapped this and some others yesterday. See more photos. The 2012 Pierce Velocity is one of two delivered in January, along with a 2012 Pierce Velocity platform also delivered that month.



Lee Wilson photo
+ 3 - 4 | § ¶
Caption This Photo / Big Drum
Wake & District Public Safety Pipes and Drums participated in Sunday's ceremony at the Falls fire station, celebrating the merger (e.g. operational consolidation) of the Falls Fire Department and the Wake Forest Fire Department. See earlier posting about same. See event photos from Legeros. The pictures were made with a pair of Canon DSLR cameras, one short lens and one long. External flash with diffuser, sometimes bounced, sometimes direct. Crazy lighting conditions at times. Slowly, steadily getting better at indoor photos.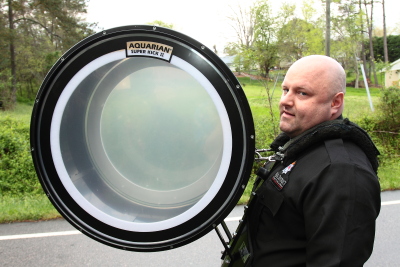 + 8 - 2 | § ¶
UPDATED: Treasure Coast, Topsail Island, Surf City Fire Departments
March 27, 2012
Why did the Surf City fire stations look familiar to me? Because I had driven by the buildings last summer, then written this blog post about Topsail Island fire departments. Here's a picture of the Topsail Beach Fire Department, on the south end of the island. Do they have more than one station? Guess another trip is in order, to see more of those observation towers, poke around the remains of Camp Davis, and dig into a little more fire department history. Now that's what you call a fun vacation! See more trip photos, and read about those Topsail towers.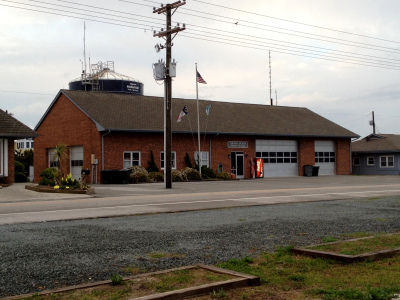 July 2, 2011
Heard of Treasure Coast Volunteer Fire Department in Pender County? That was the original municipal fire department in Surf City, and that operated from 1993 to 1994. Their history is part of a story recounted in the history of the Surf City Volunteer Fire Department. Today, the island is protected by two Surf City fire departments, the municipal and the "rural". Back in the day, there was just one. Here's a summary of that history, aided by Google news archive searches and some other online records:
1966 - Topsail Island FD incorporated on September 15, 1966. Occupies block building at Roland Avenue and North Topsail Drive, the structure built in the 1940s. Such buildings were common on the island, from when the military had a top-secret testing facility there in the early 1940s.
1974 - Department renamed Surf City Volunteer FD. Effective on June 28, 1974.
1992 - Surf City Volunteer FD opens Station 2 on Highway 210 in the fall of that year. Exact address is 100 Deer Run Road.
1992 - Treasure Coast FD begins organizing as a municipal department for Surf City. They start around October, 1992.1
1993 - Treasure Coast FD assumes municipal fire protection responsibility. Effective on October 6, 1993.
1993 - Surf City Volunteer FD ceases operation at Station 1. Effective on or after October 6, 1993.
1994 - Treasure Coast FD incorporated. Effective March 24, 1994.
1994 - Treasure Coast FD ceases operation. Town renews contract with Surf City VFD, and the first renewal is a 90-day contract approved in May 1994. Town officials also call for merger of the two departments, citing a savings of over $40,000. Source is Star-News, May 6, 1994.
1994 - Surf City Volunteer FD resumes operations at Station 1. Effective around May 1994.
1996 - Surf City Volunteer FD Station 1 destroyed by Hurricane Fran on September 5, 1996. Temporary building, with one bay housing one engine, is later used. Remaining apparatus is housed at Station 2.
1999 - Surf City FD organized, second attempt at municipal department. Station located at 200 Wilmington Avenue. Town cancels contract with Surf City Volunteer FD.
1999 - Surf City Volunteer FD closes Station 1 and begins exclusive operations from second station on Highway 210.
2008 - Surf City FD opens Station 2 at 1220 Highway 210 East.
How big is each department?
Surf City FD - Three engines, one platform, one tanker, one brush truck, one rescue-body utility truck, one light truck, one SUV, one mule. Eleven full-time and 20 volunteer members. Web site.
Surf City Volunteer FD - Two engines, one tanker, two brush trucks, one QRV/chief's car, three watercraft. Over 30 members, all volunteer. Web site.
How close is Surf City Volunteer FD and Surf City FD Station 2?
About a mile. Thus the double take you'll make, when you ride into town for the first time, and see a pair of "Surf City fire stations" within a mile of each other. They both have Hummers, as Mr. Blogger discovered today while roaming around that end of the county. Didn't stop for pictures, sorry.
READ MORE
+ 3 - 4 | § ¶
How Photographers Spend Their Time
Credit this great graphic to www.ispwp.com, in a posting titled The Secret Life of Wedding Photographers. It translates pretty well to fire photographers. Absolutely great graphic. Will party like a rock star for food. Click to enlarge:


+ 5 - 5 | § ¶
UPDATE #2: Wake County Fire Commission Meeting Date Change - March 22, 2012
March 25
Here's a partial, impartial recap of Thursday's fire commission meeting, and particular agenda items therein. See referenced documents in this folder of posted files:
Consider Recommended Fire Protection Agreement - Commission members expressed the need for a longer review period, so they, their staff, or their boards could more thoroughly review the proposed changes. They thus made no move to adopt the document. County staff will take their comments back to the Board of Commissioners. It was noted that many of the added actions in the agreement are already being done by contracted fire departments and county Fire Services.

Consider Recommended Fire Commission Rules of Procedure - This was approved after a length discussion, with two changes, one of which was restoring language for an alternate representative for each of the four regional fire services positions.

Consider Recommended Amendment to Fire Compensation Administrative Guidelines - Checking on this one. Believe the decision to recommend was postponed until further discussion is done, or specific questions answered.

Future of Fire Service in the Fire Tax District - The County Manager presented a short statement about the "state of the union" regarding the Fire Tax District. That's the district that provides funding for fire protection in (a.) unincorporated areas of Wake County and (b.) the town of Wendell. Service is provided through 14 contracts with non-profit departments and six contracts with municipal departments. His core message, coupled with praise for the Wake Forest/Falls merger, involved his stated need for more mergers and consolidations of fire service providers. He noted that very little revenue growth is expected in the tax district over the next few years. Thus, he will not recommend any increase in the tax rate until more consolidations occur. Three areas of particular interest were cited, all watershed areas, where no municipal growth is ever expected: Falls Lake/northern area, Swift Creek area, Little River/Eastern Wake County area. He closed his comments noting that he doesn't know what the solution should be, and his office will work with anyone with ideas. See his message document in this folder of posted docs.

Public Command / Wake County Association of Fire Chiefs - Garner Fire Chief Matt Poole noted that they're bringing a seminar to town, with the Salisbury Fire Department teaching a class about line-of-duty deaths. They'll be sharing the knowledge and experience gained when their department lost two members at a mill fire in 2008.
READ MORE
+ 5 - 2 | § ¶
Topsail Towers - Operation Bumblebee
At the end of World War II, the United States Navy established a missile testing facility on Topsail Island. The site was one of three along the Atlantic coast, part of a top-secret project for assembling, firing, monitoring, and perfecting experimental ramjet missiles. Navy and Marine personnel, numbering 500 men, arrived in mid-1946 to begin installing the necessary facilities. The buildings included a number of masonry observation towers that are still standing, both beach- and sound-side.


The site was placed in operation in March 1947. They launched an estimated 200 rockets over the next 18 months. The site was closed, as the location didn't meet the needs of a permanent base due to weather conditions and increased sea traffic. But the towers are still standing, as is the assembly building, which most recently was converted to the museum about the program. Read a bit more on this Wikipedia page. Or read a detailed history via Google books in Ray McAllister's Topsail Island: Mayberry by the Sea. Very good history there. Some of the structures are also listed on the National Register of Historic Places. Read the documentation from 1993, which contains quite a bit of details.
Read detailed information about each tower.
+ 5 - 2 | § ¶
Emergency Cigar Delivery Vehicle
Seen this weekend in North Myrtle Beach. Top is a converted Chevrolet ambulance or rescue truck outside Nick's Cigar World on Kings Highway. Bottom is a gutted Ford pumper outside a pawn shop, also on Kings Highway. That one's seen better days. See a prior posting with four other old engines from there. Click to enlarge:


+ 6 - 3 | § ¶
North Carolina Fire Department Mergers
How many fire department mergers have happened in our state? Here's a quick list, based on my database of former fire departments. Exclude are assorted municipal/rural mergers, where one joined with the other. And it's not indexed. Thus Black River FD is listed as part of Angier FD + Black River FD, for example.
54 East FD > Swepsonville FD (Alamance)
87 South FD > Eli Whitney FD (Alamance)
Altapass FD + Grassy Creek FD > Parkway FD (Mitchell)
Angier FD + Black River FD > Angier-Black River FD (Harnett)
Battleground FD > Summerfield FD (Guilford)
Burlington FD #2 > Burlington FD (Alamance)
Cameron Rural FD > Circle V FD (Moore)
Carbon City FD > Morganton FD (Burke)
Carmel FD > Carolina FD (Mecklenburg)
Catawba Heights FD > Mount Holly FD (Gaston)
Chapel Grove FD > Crowder's Mountain FD (Gaston)
Chestnut Hill FD > Salisbury FD (Rowan)
Chestnut Ridge FD > Tryonota FD (Gaston)
Coats FD + Grove Rural FD > Coats-Grove FD (Harnett)
READ MORE
+ 5 - 2 | § ¶
UPDATED: Falls, Wake Forest Fire Departments Celebrate Merger on Sunday, March 25
At 4:00 p.m. on Sunday, March 25, a ceremony will be conducted at the Falls Fire Department at 11908 Falls of Neuse Road, to commemorate and celebrate the department's merger with the Wake Forest Fire Department. The departments signed an operational consolidation contract on July 25, 2011. The merger was first proposed in 2009, and originally included ideas to close the Falls fire station.
The Falls fire station will be renamed Wake Forest Station 5, and will retain the nickname "Home of the River Rats." The apparatus will be renumbered to include Engine 5, Tanker 5, Squad 5, Brush 5, Utility 5, Boat 5, and Car 6. (Wake Forest Station 4 is in the planning stages, and mostly recently in the news regarding town officials discussing funding. It will be located on the northwest side of town.)
Personnel from the Falls FD staff will serve in roles such as Asst. Chief of Volunteer Operations, Battalion Chiefs, and Captains. The response area of Falls and Wake Forest fire departments will be merged. The result will add a ladder response to some current Falls responses.


Fire District Maps
These maps were distributed at Thursday night's Wake County Fire Commission meeting. The map on the left shows the current fire district boundaries for Falls, Wakette (the Wake Forest rural district), Wake Forest, and nearby Raleigh and Rolesville. Note the planned location for Wake Forest Station 4. The map on the right shows the proposed expanded Wakette fire district, now incorporating the Falls fire district. Click to enlarge:


Established in 1970
The Falls Fire Department was established in 1970. They were incorporated on July 7, 1970. Donations were requested of $10 per residence or business, and anyone who donated became a voting member. The fire department raised $3,060 that first year. The fire district limit included east to the railroad tracks on Durant Road, and south on Falls of Neuse Road to the present location of Ravenscroft School.
Sam Perry was the first fire chief. The Falls Community Clubhouse became the fire house. Two fire engines were obtained, a 1956 Ford/American pumper from Six Forks FD and a 1966 military 6x6 tanker from Durham Highway FD. Readers are welcome to expand this history, and add their memories.
Mr Blogger, when spent nights a couple decades ago at the old mill-turned-condos with a girlfriend who lived there, particularly loved hearing their siren begin blasting.

Earlier Mergers
This is the second merger for the Wake Forest Fire Department. On July 1, 1983, the Wake Forest municipal fire department and Wake Forest Rural Fire Department merged. Their districts were joined. Wake Forest Fire Department Inc. was chartered. At or about the same time, the town's second fire department was also merged into the organization, Wake Forest Fire Department #2, shown below, which operated from a fire station on Taylor Street.
Other fire department mergers in Wake County have included Six Forks Fire Department (1956-2002), which merged with the Bay Leaf Fire Department in 2002. And Fairgrounds Fire Department (1961-1998) and Yrac Fire Department (1961-1998), which merged to form Westen Wake Fire Department in 1998. Plus a number of mergers of town and rural fire departments, in such places as Apex, Fuquay-Varina, Garner, Holly Springs, Morrisville, and Zebulon.
Gone But Not Forgotten
The Falls Fire Department (1970-2012) will join the list of "gone but not forgotten" fire departments in Wake County (excluding aforementioned municipal and rural variants): Fairgrounds FD (1961-1998), Knightdale FD (1954-2003), Six Forks FD (1956-2002), Wake Forest FD #2 (1942-1983), Western Boulevard FD (1957-1960), and Yrac FD (1961-1998). See much earlier blog posting listing all Wake County fire departments past and present.

+ 5 - 4 | § ¶
Hall-Wynne Ambulance Service of Durham, 1950s
Found for sale on eBay, here's a matchbook from the Fifties advertising the Hall-Wynne ambulance service of Durham. They were a funeral home, and are still operating today. Pretty neat. Click to enlarge:

+ 4 - 4 | § ¶
Apex Engine 1
Photographer Lee Wilson last week snapped this well-posed photo of Apex Engine 1, a 2011 E-One Typhoon rescue engine 1500/750. 'Twas delivered on October 28, 2011. And was purchased as an emergency replacement for a 2000 E-One Cyclone pumper. Same was a demo unit and is equipped as a squad, with both engine and rescue equipment. See prior posting. And see larger versions of the photo by Lee.



Lee Wilson photo
+ 6 - 1 | § ¶
UPDATED: Raleigh Firefighters Rescue Elderly Man From Burning House
March 20
As this News & Observer story reports, Raleigh Fire Department Capt. Rob Mitchell (E21C) and Lt. Brandon Hopkins (R1C) talked this morning about Sunday night's rescue of an elderly man at a house fire on Kincaid Drive. They described the sequence of events, including the initial entry by Capt. Michell and Firefighter Austin Foster from Engine 21. With their charged line and a thermal imaging camera, and after initially hitting the flames, they started searching the right side of house. Flames were rolling down the hallway where the resident was believed to be. (Temperature from the floor to their crouched waist was at least 400 degrees. Thus they're on breathing air.)
Lt. Hopkins and Firefighter Tim Ballard from Rescue 1 entered as members of a second search time. They checked a bedroom and found the resident on the floor, with part of his upper body laying against a bed. They dropped their tools, grabbed the resident by his arms and legs, and carried him outside. He wasn't breathing, and resuscitation efforts were started. He was breathing on his own by the time he was transported to the hospital. Read more of their account. See also aftermath photos from Legeros.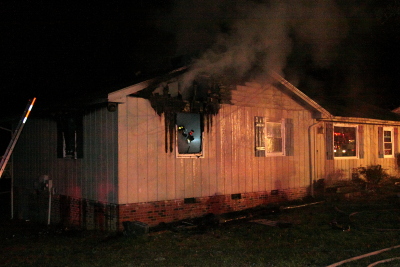 March 19
More information was released today about last night's house fire at 4125 Kincaid Drive, where Raleigh firefighters rescued an elderly man from his burning home. As this WRAL story reports, the 75 year-old resident called 911 at 8:49 p.m. He was trapped in his house, and remained on the phone to describe his exact location. While the fire department was en route, an arriving police officer as well as another man the trapped man's son, who also lived there, attempt entry/re-entry. They couldn't get past the flames.
Engine 21 arrived and found heavy smoke and flames from the front of the single-story structure. They had been notified of the trapped occupant and his reported location. Engine 21 was joined by Rescue 1 inside and the two teams searched the house. The resident was found in his bedroom and in respiratory arrest. He was resuscitated by fire and EMS personnel, and was transported to WakeMed and later airlifted to the burn center in Chapel Hill.
The police officer and man resident who attempted to enter/re-enter the home each suffered smoke inhalation. They were treated and released at WakeMed. Three dogs were also rescued. The fire was controlled in 20 minutes. The cause remains under investigation. Units on scene included E21, E21, E11, E19, L2, R1, B2, B1, A1, C10, C20, C40, EMS 5, EMS 2, EMS 63, D1, M94, T1. Media: WRAL, WTVD, News & Observer.
Update #1: This second News & Observer story provides more details. The rescued man lived with his son, who tried to reenter the structure along with the officer. The father remains in critical condition at the burn center in Chapel Hill.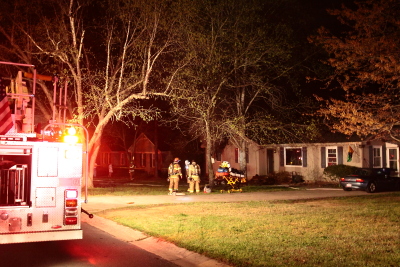 + 7 - 1 | § ¶
Small Plane Makes Hard Landing at Airport
WRAL posted this photo of a small plane that made a hard landing early this evening at Raleigh-Durham International Airport. Three people were aboard. Click to slightly enlarge:


+ 3 - 5 | § ¶
Caption This Photo / Pipes and Sand
That's the Wake & District Public Safety Pipes and Drums on Saturday in North Myrtle Beach, where they appeared in the town's 24th Annual St. Patrick's Day Parade. And then they high-tailed it (high-kilted it?) back to Raleigh, to play at favorite pubs that evening. Read all about it. Click to enlarge:


+ 5 - 3 | § ¶
Morrisville Dedicates New Station, Firefighter of Year Named
The Cary News has posted a pair of stories about the Morrisville Fire Department. First is a historical recap in the context of last week's dedication of their new Station 1. The $3 million facility has three drive-through bays and ten dorm rooms. It will also double as the town's emergency operations center. It's about twice the size of the original, built in 1960 at 100 Morrisville Carpenter Road. Here's a prior post with some facility history of MFD. The second story is a profile of Jared Masker, who has been named Morrisville Firefighter of the Year by Cary VFW Post 7383. The ceremony was held at the Town Council meeting on February 28. Notes Fire Chief Todd Wright, Masker was instrumental in helping the fire department receive its accreditation. Congrats Jared!



Aliana Ramos/Cary News photos
+ 4 - 3 | § ¶
The Perils of Interpreting Photos
On the FireNews.net Facebook page yesterday, they posted the below WRAL reader photo from a house fire in Clinton on Saturday. They also asked a question about the photo, the placement of personnel, and the risks of the well-involved porch. This morning, FireNews has issued a clarification and a retraction, of sorts. Read through the things. There's a great lesson there, and one that easily forgotten in our digital age. Snapshots are just that. Moments in time. Even seasoned scene photographers can jump to conclusions. That's the power of pictures. And the very human beings that interpret them.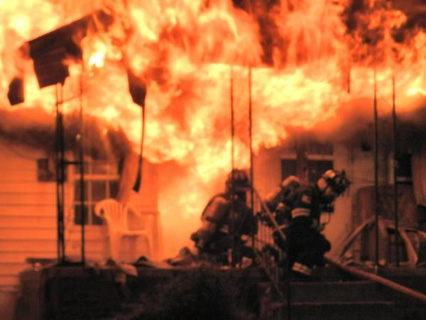 + 5 - 2 | § ¶
Raleigh Professional Firefighters Association to Present Semi-Annual Fundraising Concert
Press release. On Sunday, April 29, the Raleigh Professional Firefighters Association will host The Temptations Review featuring Dennis Edwards, and special guests The Embers. Show time is 6:30 p.m. at the J.S. Dorton Arena, at the North Carolina State Fair Grounds. Seating is general admission and the doors will open at 5:30 p.m.
The Raleigh Professional Fire Fighters Association is a 501c5 non-profit organization. The benefit concert does not directly support or affect the services provided by the City of Raleigh Fire Department. Activities supported and funded by their organization include Camp Celebrate, Dance Like No One is Watching Gala, smoke detector programs, creating awareness of firefighter injuries and occupational hazards, support of youth athletics, support of battered women's shelters, and financial support for other organizations. Read entire press release.
+ 4 - 3 | § ¶
Evening Reading - March 16, 2012
Good evening Raleigh. Moving a little slower this weekend, both in body and mind. Crazy sleep schedules can have that effect. Hope to be back normal-- ha, relative term there-- by Monday or Tuesday.
+ 3 - 1 | § ¶
This Morning's Fire on Arckelton Drive
Mr. Blogger is under the weather. Thus only listened to this incident. Wish I'd instead been asleep, but my mid-night had been doubled-down with insomnia. Memo to self: Don't take non-drowsy expectorants anywhere near bedtime. Still assessing other side-effects, such as talking in the third person. As for this morning's fire, here's a bit of detail.
Duplex at 4016 Arckelton Drive. Engine 14 arrived with heavy fire visible in the rear of the structures. Crews made entry, and were working to reach the seat of the fire in an attic space. Sagging roof conditions were observed outside. Crews were removed from inside the structure, and Ladder 2 began flowing. One additional engine was requested at that time. A portable monitor was also deployed, believe to the rear of the structure.
Dispatched at 2:05 a.m. Controlled at 2:56 a.m. Both units rendered uninhabitable. No injuries. Cause determined as improperly discarded smoking material, cigarette on back deck. (Idea for national cigarette safety campaign: Watch Your Butts. Wonder what those annual stats look like?) Units on scene: E14, E16, E17, E9, E6 (special), L3, L2, R3, B3, A1, C10, C20, EMS 2, EMS 6, EMS 11, D1, T1.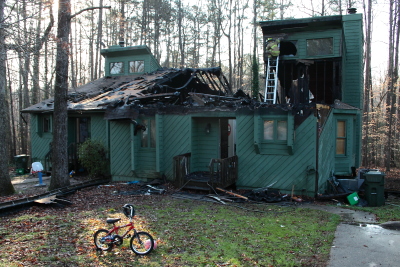 + 5 - 2 | § ¶
Kannapolis Fire Apparatus Through The Ages
From our friends at the Kannapolis Fire Department comes a pair of neat photos showing a 2008 Seagrave, a 1940 Mack, and a 1900s (or abouts) hand hose reel. The modern rig is Engine 11, a 2008 Seagrave Maurader with a 1,500 GPM pump and a 750 gallon tank. The 1940 Mack Model 60 was one of the fire trucks purchased by Cannon Mills back in the day. It's privately owned and on loan for a public education event. The hand-drawn hose reel is owned by the fire department, and probably dates around 1900. That's a not-bad guess. Here's a history of the Kannapolis Fire Department, researched a couple years ago and posted on the blog. Plus a couple historical photos. Photos taken on March 13 by Division Chief Tracy Winecoff. (Familiar family name there!) Thanks to Joshua Clay, Battalion 1-A, for sending. Click to enlarge:


+ 4 - 5 | § ¶
Historic and Former Firehouses of Columbia
With another road trip to Myrtle Beach pending, an exploration of Columbia seemed logical and particularly for finding any historic or former fire stations. With the help of a recent CFD history book, and quite a bit of Google searching, a mere handful have been located. Looks like a number of the older stations were demolished and rebuilt on their same lots. Or they disappeared in the wake of urban renewal and bigger and more buildings downtown.
The monster, eight-bay, Central Fire Station appears still intact, and still has the training tower in back. Looks like development of that building/facility is planned. Old Station 2 on Blanding Street is the former Palmetto Steam Fire Engine Company #2, which was built in 1866 by firefighters and Union troops from chimney bricks left after the great fire of February 17, 1865. It's presently part of an Italian restaurant.
The one-story building at 900 Main Street is a purported old fire station, and more recently an acclaimed (but since closed) pub. Sanborn Maps from 1910 show Station 3 on that block, but a couple buildings to the left. Was this a replacement Station 3? Or just a case of mistaken historical identity? Looks like of small. Old Station 11 is now the fire department's Logistics headquarters. That was the first station staffed with black firefighters.
There are also former county fire stations to be found, such as Old Station 16 in the rear of 952 Lake Murray Boulevard. That building presently serves as a Columbia police substation. Maybe readers can tell more. Or a visit to the local history library there, if it really compels me. Click to enlarge:
| | | | | |
| --- | --- | --- | --- | --- |
| Old Station 1 | 1001 Senate Street | Built 1951 | Closed 1995 | |
| Old Station 2 | 1213 Blanding Street | Built 1866 | Closed 1921? | |
| Old Station 11 | 1901 Harden Drive | Built 1953 | Closed 1995 | |
| Old Station ? | 900 Main Street | Built ? | Closed ? | |
| Station 7 | 2622 Main Street | Built 1948 | | |
+ 2 - 5 | § ¶
Raleigh-Wake County Emergency Communications Center 2011 Annual Report
Same has been posted to the City of Raleigh web site. The 46-page document includes a two-page retrospective of the April 16, 2011, tornado. There's also an extended history of the Emergency Communciations Center, as they're celebrating their 40th anniversary this year. Prior to the creation of the ECC, various city and county agencies (such as the Raleigh Fire Department, read that history) were dispatched using separate or partially consolidated services. Today, they dispatch the lion's share of the fire, police, and EMS agencies in Raleigh and Wake County. Plus public utilities, public works, and Wake County Social Services after-hours. Read the 2011 ECC Annual Report (PDF). Learn more about ECC statistics.


+ 3 - 4 | § ¶
Yesterday's Apartment Fire on Quarry Street
That was good listening yesterday morning on Quarry Street, where crews responded to a house fire at 9:47 a.m. Arriving crews found heavy smoke and fire from the rear of a two-story multi-residental structure at 613 Quarry Street. Challenges included a dead hydrant on Tipton Street. One additional engine was special-called. Controlled at 10:20 a.m. No injuries and despite early report of a child possibly in the structure. Coverage: WRAL, WTVD (includes aerial photos), NBC 17, News & Observer. And for those who were watching at home, a nearby DOT traffic cam captured the column of smoke over the treetops. TrafficLand Raleigh for those.



Shawn Rocco/News & Observer photo
+ 4 - 2 | § ¶
King Firefighter Recovering After Being Struck
Firehouse.com by way of WGHP-TV has posted details on Monday morning's firefighter accident. Lt. Les Collins of the King Fire Department was struck at the scene of a tractor-trailer accident on Highway 52 North. The 15-year veteran was walking to his department vehicle to leave the scene when a minivan crashed through the barricade. The van was traveling over 60 mph, struck the vehicle, and struck Lt. Collins.
He was knocked onto the windshield of the van. Both vehicles slid about 100 feet before coming to a rest. Lt. Collins reportedly saw the van coming through the barricade, but couldn't get away in time. Fire Chief Steven Roberson told WGHP that the firefighter is feeling much better, and is walking around. He was transported to Wake Forest Baptist Medical Center in Winston-Salem, and sustained severe road rash, a bruised pelvis, and a broken pinky finger.
The driver of the van was charged with careless and reckless driving. Most interestingly, he told investigators that he thought the accident scene was a routine traffic stop. He also told them that he never saw the barricade. Great question implied there. How to make drivers uniform respect (or at least increasingly aware) of emergency vehicles, be they serving at a traffic stop or vehicle accident? Read the Firehouse.com story, or read the WGHP-TV story.
+ 1 - 6 | § ¶
Vintage Photo of Charlotte Telesquirt
Here's a little lime love from FireNews.net, which posted this week this undated photo of a Ford/Grumman telesquirt from back in the day in Charlotte. Says Editor Jeff Harkey, four such units served the city as Engine 11, Engine 12, Engine 14, and Engine 17. As he best recalls. Does Grumman still make fire apparatus? Looks like the answer is no. Google search results cite 1990 or maybe 1992 as the last year they were manufactured.



FireNews.net photo
+ 5 - 6 | § ¶
Hose Company 2, Circa 1914
A new old photo of the Raleigh Fire Department has surfaced, and rates for my money as the best to date. This is Hose Company 2 around 1914, which is the year their Salisbury Street station opened. Could have been taken later that decade, as white apparatus was utilized until about 1920. That's when the fleet was repainted red. The truck is a 1912 American LaFrance Type 5 combination chemical and hose car. The color is white with blue trim. We recently posted some close views of the truck, as pictured in front of Station 3. This photo is far better and offers greater detail.
The physical measurements are 11 by 14 inches. The scanning was done by JW Photo Labs on West Street, using a camera and studio lighting. The photo belongs to Lt. Tim Thrower, who received same as a gift from grandmother when he joined the department years ago. She found same at a yard sale! Very early photos of the Raleigh Fire Department are rare. Maybe three dozen to date from 1920 or earlier. Why is that? Maybe cameras were scarce. Maybe photography was expensive. Maybe most photos were squirreled away, and have yet to surface. We'll hang a copy of this one in the Raleigh Fire Museum. Click once or twice to enlarge:


+ 4 - 1 | § ¶
Kid with a Camera (and a Mom) and a Two Homes Ablaze in Loudoun County, VA
Here's your morning fire video, from Statter911. Two homes that burned in Loudown County, VA, on Saturday. The footage is unique as its shot by a young kid who has to contend with his mother's cautions and admonitions.1 It's also expectedly dramatic pre-arrival footage, with the second of two closely space homes soon catching fire. Dave also offers a strong opinion about modern home building techniques. Twelve reader comments so far. Read his posting.



1
There's a future blog posting if there ever was one. What's the appropriate demeanor to exhibit when watching such simultaneous exciting and tragic events as a fully-involved house fire? We are indeed a century past the days when newspapers reported the enthusiasm of crowds watching such scenes. They'd bring out chairs and picnic lunches and brag about "that was a good show." Of course, such viewing also took place at certain Civil War battles, if memory serves. Perspectives change over time.
+ 6 - 5 | § ¶
Hot Shot: Durham House Fire
Here's your morning hot shot from the gang at durhamfire.net, by way of their unofficial Durham Fire Department Facebook page. House fire from yesterday at 1510 Concord Street with "B" shift companies E1, E3, E4, L1, L2, Squad 1, B1, B3, MS1, Safety 1, and Bethesda FD. Dispatched about 7:30 a.m., reports this WTVD story. Arriving units found a fully-involved structure with flames showing through the roof. The blaze was also visible to drivers on the Durham Freeway. Click to enlarge:


+ 2 - 6 | § ¶
Dam Interesting
Would you believe a century-old dam on the Neuse River, just outside Raleigh? Here's a picture, both above and below. Notes this News & Observer article from 1997, Milburnie Dam was built about 1900. The water powered an early hydroelectric plant, and later a grist mill. The latter operated until the early 1940s, and remained vacant until 1980. The current (ha!) hydroelectric plant at that location was built in 1984. Three turbine-powered generators produce (or produced) just over 3 million kilowatt hours of electric each year. That's enough to power about 250 homes, notes the article.
Below the dam is the location of old Raleigh Beach, which was a popular swimming spot for years (or decades). And, alas, the site of many water rescues and body recovery operations. (Heck, the Raleigh Emergency Rescue Squad was formed in response to criticism of the city, after a week passed without a drowned body in the Neuse River being recovered. Wonder if that was at Raleigh Beach?) Here's an aerial view from Google Maps. The old section of Raleigh Beach Road is presently a walking trail that connects Anderson Point Park with the Hedingham community. The plant and the dam are easily viewed, and are right off the trail. Click to enlarge:

+ 5 - 3 | § ¶
And a Piano, Too
Tobacco barn and player piano, as photographed early afternoon on Raleigh Beach Road. Live burn conducted by New Hope Fire Department. The property address was 4805 Raleigh Beach Road. That's the old Coley family homestead. There's is a familiar name in the local fire service. Fifty-seven acres and a couple buildings, including a 1,177 square-foot home built in 1937. That was the training structure. The owner spoke of a couple older buildings formerly on the property, including a tenant home. The site has been the scene of woods fires in recent years. Unsure when the home was last occupied. [ Updated with YouTube embed of "The Old Piano Roll Blues." Feel free to suggest a different rendition... ]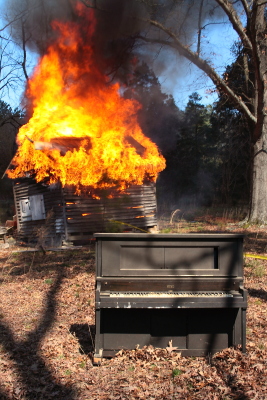 + 3 - 4 | § ¶
Walking Home
Members of Engine 5 on "C" platoon return to quarters on foot, after a structure fire just before shift change at 210 Groveland Avenue. The station is two blocks away. The engine was first on scene at a two-story detached garage (with finished upstairs room), with smoke and fire showing. The fire was controlled within 20 minutes. Extended overhaul involved. Some incoming "A" platoon personnel reported to the scene, and relieved the "C" platoon members on such units as Engine 6, Engine 6, Ladder 4, and Rescue 3. Most drove or back to their stations. These four hoofed it. More pictures and incident details have been posted. Click to enlarge:


+ 5 - 2 | § ¶
Cool as Heck Brush Engine
Nanjemoy Fire Department in Maryland. Rosenbauer wildland engine on a Ford F-750 chassis with a Darley pump (500 GPM), a Cummins engine (manual transmission), and a custom fabricated brush guard. Single axles. Carries 400 gallons plus 30 gallons. Mess of scene lights. Pretty sharp looking. Probably too much for these parts. Brush units are smaller around here, and around this part of the state. Does anyone run wildland engines in the central Piedmont? See more information.



Rosenbauer photo
+ 6 - 3 | § ¶
Mystery History - Morning Check
Here's a little mystery history for your Friday morning, a nifty photo of Raleigh Fire Department personnel circa 1984. The picture was probably staged for the yearbook that year, and likely shot by Gary Knight. That looks like Buxton in front and Moore in the back, standing. The trucks are a pair of American LaFrance pumpers, either 700 or 900 series. The station location isn't known. Is that a single bay door shown? Are the trucks facing backward? We'll lead readers look closely. And why two trucks? One is certainly a reserve. If you identify the station from the photo, then you're really eagle eyed! Click to enlarge:


+ 5 - 6 | § ¶
Morning Reading - March 8, 2012
Good morning Raleigh. Saw a few FOOLS last night at Napper Tandy's at their monthly meeting. Discussed the blog a bit. We're a few months into the big tone-down, partly accomplished by implementing moderated comments. Blog might be duller now, but the blogger has considerably less heartburn. Buy me a beer, er soda, some time and I will pontificate at length. As for the Capital Area FOOLS, they're again planning a Brotherhood Bash to accompanying the annual Fire Expo. This year's will be bigger and better. More details as we get closer to August. Or see photos from the first bash, last year.
+ 8 - 4 | § ¶
Second Annual Warren County Junior Firefighters Competition, Saturday, April 28
Fire Explorer Post 672 is hosting its Second Annual Warren County Junior Firefighter Competition on Saturday, April 28, 2012, at the Warren County Recreation Complex, 840 NC Highway 158 Bypass,Warrenton, NC.
The competition will consist of six field events, plus one knowledge-based written exam, and one knowledge-based oral exam. Trophies are awarded for first through third place in all events plus "best overall" for the team with the highest average for the day. Entry fee is only $50 per team. Competition limited to 20 teams. View the flyer.
READ MORE
+ 7 - 3 | § ¶
Video of Charlotte School Bus Fire From Last Month
Here's last month's video of the school bus that burned in Charlotte on February 9, 2012. Looks like the arriving engine parked ahead of the bus, to the right of the frame. The incident resulted in statewide inspections ordered for school buses. Read WCNC story for more, or Google.



+ 3 - 3 | § ¶
Raleigh's Railroad Turntable
There are a number of interesting structures around Raleigh that reflect its railroad history. The section of Union Station beside Station 1. The remains of a wooden trestle on Hargett Street where a coal yards stood a century before. And a working turntable in the 200 block of West Johnson Street, where a Seaboard Air Lines Railroad roundhouse once stood. Here's a photo from Lee Wilson from 2007 showing the thing in action:



Lee Wilson photo

This Goodnight Raleigh posting talks about the thing. A brick roundhouse once stood on the spot, along with a water tank and coal station for fueling the steam locomotives. And concrete strips can still be seen radiating out from the turntable, which supported the tracks leading to the stalls of the roundhouse. Here's a Sanborn Map excerpt from 1909 showing the thing. View an interactive version of the map.

+ 7 - 1 | § ¶
Four Hundred Old Firehouses and Counting!
Been a year or more since we updated our database of historic and former firehouses in North Carolina. We've counted 400 of the things, maybe more. You can check my math. The criteria is simple: any building still standing that's a closed firehouse, or an active fire station that's 50 years or older. Blog readers and site visitors have been contributing for years.
Time for another round of reviewing. If you're interested, please lend a hand. Help is needed with a number of street addresses and specific locations. Ditto for dates. Plus any buildings not yet listed. Send photos as well! All corrections and additions are most welcome. Thanks in advance for your help. Obsession is good. Click once or twice to enlarge:


+ 7 - 3 | § ¶
Raleigh Fire Museum Open This Saturday, March 10
We've added some new artifacts and new display cases to the Raleigh Fire Museum, which is open Saturday, March 10, from 10:00 a.m. to 2:00 p.m. Notable are a pair of Cairns helmets, made of metal and dating to the 1920s. Or probably earlier. The museum is located in a classroom trailer at the Keeter Training Center at 105 Keeter Center Drive, Raleigh. It's operated by a non-profit 501(c)3 organization also named the Raleigh Fire Museum. The museum is open on the second Saturday of each month from 10:00 a.m. to 2:00 p.m. Parking and restrooms are available. Admission is free.


Please note that the city's collection of antique fire apparatus is housed at a separate location, at Fire Station 28 at 3500 Forestville Road in northeast Raleigh. And that is a secondary mandatory destination for anyone interested in history! Contact the Raleigh Fire Museum for information about arranging special tours or group events at the museum. For contact information, or to learn more more about the history of the Raleigh Fire Department, visit www.raleighfirehistory.org.
+ 4 - 2 | § ¶
Vote For Best Fire/EMS Blog
This annual contest is hosted by EMS1, FireRescue1 and FireCritic.com, and sponsored by the American Military University. Four categories will be award, two in fire and two in EMS. They'll be a Judges Choice and a Readers Choice for each. Here's the nomination form, on the FireCritic site. Here's his posting about the contest, with links to the rules and what have you. The contest will be conducted in two phases. Open nominations until March 10, and voting for the finalists until March 21. Cast away!


+ 3 - 6 | § ¶
Four Years + 1100 Toy Cars = Metropolis II
For your Monday morning enjoyment, here's another off-topic treat. This is Metropolis II, a 600 square-foot kinetic sculpture by artist Chris Burden that's been installed at the Los Angeles County Museum of Art. The thing took four years to build and features 18 roadways where 1,200 Hot Wheels-sized cars travel at 240 scale mph. Plus 13 HO-scale trains that also travel through the set. Every day, approximately 100,000 cars circulate through the cityscape, the artist estimates. The cars are lifted by a magnetic conveyor belt, then are propelled by gravity to the bottom. Teflon-coated tracks and specially designed curves help with their velocity. The sculpture requires human monitoring, and with ear plugs, as the thing is noisy. And it can only run for 90 minutes at a time. Google Metropolis II for more articles about the thing.


+ 4 - 6 | § ¶
Shear Excitement for Airport Firefighters
A number of firefighters and fire departments participated in a St. Baldrick's Foundation event at Napper Tandy's yesterday in downtown Raleigh. Among the teams that raised money for children's cancer was RDU Fire Rescue. The airport firefighters raised $2,905 and nearly tripled their goal of $1,000. They were followed by a team from the Garner Fire Department. We'll have a "before" photo posted. Plus some other familiar faces. Good day and good cause. And more than a few double-takes. No camera was harmed during the making of these pictures... Click to enlarge:

+ 6 - 5 | § ¶
Mystery Marker, Updated
March 5
And here's another marker at the same location. This one reads Yadkin Street:


December 6, 2011
This was submitted by a mystery reader. (Meaning, identity concealed. Why someone would read this blog is a different mystery!) The thing reads Railroad Street. Where is it located and where did it come from?


READ MORE
+ 4 - 2 | § ¶
Homes Damaged, Destroyed in East Charlotte This Morning
The overnight storms swept through east Charlotte about 2:30 a.m. and damaged several homes on Brookstead Drive near the Reed Creek Plantation area. Many roads were also blocked by downed trees in the nearby area of Plaza Road Extension. Three people were transported with weather-related injuries. Two shelters were opened at area schools. About 45 people had arrived at the shelters early this morning. Sources: WSCO-TV, WCNC. Still collecting information. More updates coming.
As this subsequent Charlotte Observer story notes, the damage was caused by a tornado with winds up to 135 mph. The Red Cross reports a preliminary estimate of 89 homes damaged, including eight severly, and three destroyed. See this slideshow also. Another tornado struck Cherokee County last night, with 25 homes and 15 businesses damaged, reports this WRAL story. See also this subsequent FireNews.net story, with photos from the Charlotte Fire Department.



WSCO-TV photos
+ 2 - 3 | § ¶
Closer Look: Hose Company 3, 1920
For your Friday enjoyment, here's a view and closer views of Hose Company 3 in front of their East Hargett Street station. The photo is dated 1920. That's an 1912 American LaFrance Type 5 combination chemical and hose car. It's lettered for No. 2, because it originally served as Hose Company 2. (They were renamed engine companies around 1920.) Two of these were delivered in February 1913, the first motor apparatus of the city. Look closely and you'll see some familiar items. What do you notice? Click to enlarge:


North Carolina State Archives photos
+ 5 - 6 | § ¶
Morning Reading - March 1, 2012
Good morning, Raleigh. How many months have 28 days? Trick question, they all do! Spring is around the corner. Don't know how that happened. Seems just yesterday we were celebrating the holidays.
+ 6 - 2 | § ¶
UPDATED: Arrangements for Sawmills Firefighter Chad Settlemyre
March 1
The Lenoir News-Times posted a story this week, reprinted on Firehouse.com. Members of the Sawmills Fire Department learned of their brother's death a little more than 12 hours after celebrating the groundbreaking of an addition to their fire station. The department's first responders were dispatched to a reported unconscious subject at 3:10 a.m. Monday. They discovered the patient was Firefighter Chad Settlemyre. He was transported by Caldwell County EMS to Frye Regional Medical Center in Hickory. There he was pronounced dead. The cause has not been determined and an autopsy is planned. Settlemyre had been at the station that weekend, helping with preparations for Sunday's ceremony. Here's his obituary from the Hickory Daily News. He's survived by a wife and a two-year old son. The funeral is Saturday at Fellowship Baptist Church in Hudson. See below.
February 28
Information is still scare about the death of Firefighter Richard "Chad" Settlemyre, 25, of the Sawmills Fire Department in Caldwell County. He died early Monday morning, February 27, at Frey Regional Medical Center in Hickory. Reports this FireNews.net announcement, he had been engaged in a work detail the day before, and had left the fire station at approximately 3:30 p.m. on Sunday, February 26. The Hickory Daily Record has posted a preliminary obituary. A complete obituary will probably appear tomorrow. Haven't found any news coverage as of yet. Funeral arrangements are as follows:
Visitation

Friday, March 2, 2012
6:00 p.m. to 8:00 p.m.
Fellowship Baptist Church
2682 Fairwood Drive
Hudson, NC, 28638

Services

Saturday, March 3, 2012
2:00 p.m.
Fellowship Baptist Church
2682 Fairwood Drive
Hudson, NC 28638