+ 1 - 2 | § ¶
Updated: Mystery Apparatus
October 1
Here are the rigs revealed, as photographed at the Pima Air and Space Museum in Tucson, AZ. Top left is a Army Class 530 crash truck, originally spec'ed as 500/400/40, but modified with a larger water tank and turret. Top right is an Air Force Biederman O-11 crash truck, but with it's original double Rockwood foam turrets apparently upgraded to a single one. Bottom is an Oshkosh M-12 crash truck that originally served the Tucson airport. Thanks to Mark Redman and Ted Heinbuch via the Fire Trucks at War Facebook group for the detailed information. Click to enlarge:



September 30br> Reporting from the road, somewhere in the continental United States. Answers at a later date.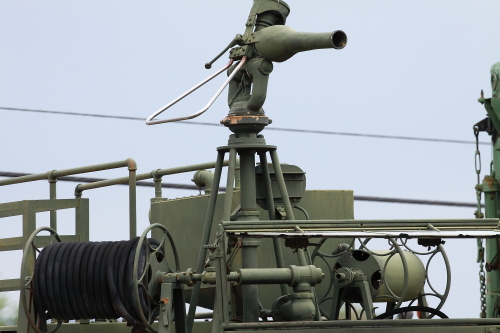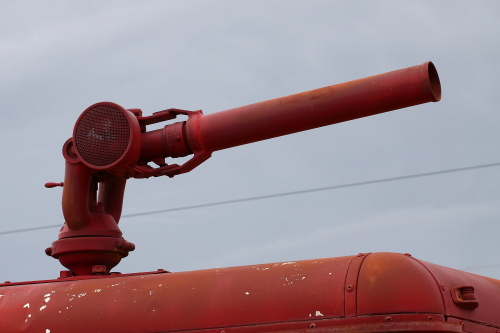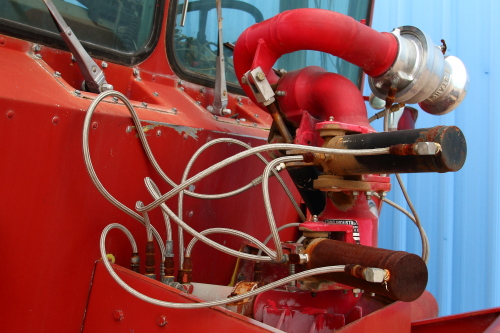 + 1 - 0 | § ¶
Flood-Prone Milner Inn Acquired by City of Raleigh
As yesterday's press release noted, the City of Raleigh is acquiring the Milner Inn at 1817 Capital Boulevard, which is one of the most flood-prone properties on Capital Boulevard (my words). It and three other sites were damaged by flooding on August 12. Recall the water rescues performed (see photos) as residents and patrons were evacuated from the Inn and the adjacent Foxy Lady.
The city and the owners have agreed to a purchase price of $830,00. The closing is tentatively planned for mid to late October. The acquisition is being funded through a FEMA grant program both (a.) in response to historical flooding events and (b.) to eliminate future claims submitted to the National Flood Insurance Program (NFIP).
Prior to this deal, the city had used FEMA grants and budgeted Stormwater Utility fund monies to fund the purchase seven structures that had experienced multiple flood-related losses over the years. Here's a blog post about the demolition of the nearby AMF bowling alley in April 2013, and the related Capital Boulevard corridors study.
The city plans to demolish the hotel and the neighboring night club. Their goal is to build a park in the area between the north and southbound lanes of Capital Boulevard, and through the incremental acquisition of the commercial properties therein. Such a park would improve the appearance of the city's northern gateway, as well as improve flood control both there and downstream.
The News & Observer has a good article on the story by Colin Campbell. Below are pictures of the Inn's flooding both in August and in June 2007, when remnants of a tropical storm brought flooding to a number of areas around Raleigh.
Readers, what are your memories of flooding (and responses to same) at the Inn or neighboring properties, over the years and decades?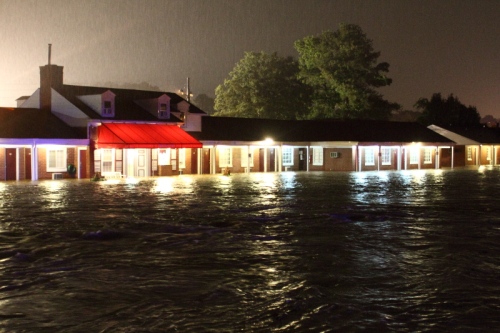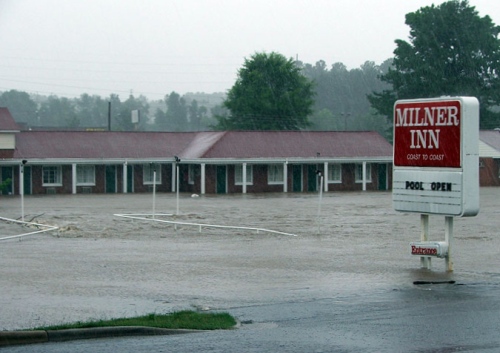 + 1 - 2 | § ¶
Raleigh Recruit Academy Graduates on Thursday
Raleigh Fire Department Recruit Academy 39 graduates this week from their twenty-eight week fire academy. The ceremony starts at 6:00 p.m. 7:00 p.m. on Thursday night, September 25. The location is Fletcher Opera Theater at the Duke Energy Center in downtown Raleigh. You know, the place we once called Memorial Auditorium. They'll then begin serving six months as probationary firefighters, assigned to engine and ladder companies around the city.
Their academy started on March 24. Recruitment started in the fall of last year and was conducted both locally and regionally. There were 883 applicants. During their twenty-eight week academy, the recruits have received state certifications on EMT, Firefighter I & II, NCRIT (Rapid Intervention Team), and Hazardous Materials Operation.
They also received training on technical rescue, fire-ground procedures, high-rise operations, accountability systems, safety companies, engine and ladder company operations, and firefighter safety and survival. Plus an extensive physical fitness regiment! (Raise you hand if you still remember what you sang while running in formation, even decades later.)
Training was conducted at the Keeter Training Center, as well as at the Wake County Fire Training Center, Central Carolina Community College Emergency Services Training Center in Sanford, and Gaston College Regional Emergency Services Training Center in Dallas.
Photo
Here's their breathtaking photo as taken by Jeff Harkey from atop Two Hannover Square on Fayetteville Street. Where have prior academy photos been taken? All over the place. Here's a page of prior photos. (The members of Academy 13 were particularly handsome.) See my RFD history page for other historical academy data.



Jeff Harkey photo

The recruits are almost exclusively from North Carolina, plus one each from Florida and Colorado. They are Jeremy Ardner (Garner), Nicholas Azan (Miami, FL), Emmet Bagwell (Raleigh), Anthony Battaglia (Raleigh), Brian Bello (Fort Collins, CO), Sylvester Brooks (Raleigh), Samuel Brown (Raleigh), Timothy Caldwell (Raleigh), Nicholas Campasano II (Morrisville ), Nicholas Christopoulos (Raleigh), Micah Cobb (Raleigh), Caleb Creech (Zebulon), Christopher Davis (Wendell), Aaron Dickson (Raleigh), and Stedman Greggs (Raleigh).
Along with William Henderson (Durham), Kristopher Hinnant (Selma, NC), Travis Holland (Selma, NC), Hipolito Lara, Jr. (Clinton, NC), Todd Lineberger (Charlotte), Phillip Mack (Raleigh), Mark Mancini (Emerald Isle, NC), Travis Parrish (Henderson, NC), Adam Pearce (Zebulon), Mark Pearce (Cullowhee, NC), Sandra Prier (Raleigh), Al'Landrew Shepperson (Cary), George Smith (Carolina Beach, NC), James Wood (Clayton, NC), and Marshall Wrenn (Charlotte).
Family relations? A number of recruits are related to current and retired members: Bagwell is the son of Battalion Chief Randy Bagwell, and also brother-in-law of Firefighter Jason Lee and cousin of Lt. Rocky Bagwell. Parrish is the son of Firefighter Scott Parrish, and also the nephew of Lt. Donald Williams. Holland is the fiancé of Firefighter Kelly Lamotta, and cousin of Firefighter Davie Hodge. Hinnant is the son-in-law of Capt. Bill Melina. Davis is the son-in-law of retired Battalion Chief Jerry Pace. Pearce is the nephew of retired Capt. Tim Pearce. Memo to self, update my Raleigh Fire Department family tree (see this PDF doc)!
Congratulations to all!
+ 1 - 2 | § ¶
Land for Fire Station 14... And Other Notes
As this press release noted, City Council last week approved the acquisition of land on Harden Road for a new Fire Station 14. The 1.63 acre site is located at 3510 Harden Road, which is nearly directly south of the station's current location on Lake Boone Trail.
The purchase price is $590,000 and the acquisition is contingent upon a satisfactory survey and Phase I environmental report. (The latter meaning that there aren't any potential or existing contamination liabilities.)
Here's where the thing's located, via Imaps:


Where does this announcement place the city's current fire station plans? Here's a chart comparing the current problems. Primary source is the special facilities edition of the Raleigh Fire Department Newsletter that was published last month. See also the FY15 adopted Capital Improvement Program document on this page.
| | | | | | | | | | | |
| --- | --- | --- | --- | --- | --- | --- | --- | --- | --- | --- |
| Station | Project | Address | New Size | Current Size | New Lot | Current Lot | Cost | Status | Notes | Current Station |
| 29 | New | 12117 Leesville Road | 10,198 | -- | 2.86 | n/a | $2.7M | Under construction, completion in December | Will house engine. Designed to also house ladder. | -- |
| 11 | Expansion | 2925 Glenridge Road | ~5,400 | 4,923 | -- | 1.08 | $450K | Construction starts in fall. | Bay expansion for larger apparatus, plus station renovations. | Built 1971 |
| 12 | Relocation | SE corner Poole Road and Bus Way | ~17,000 | 4,189 | 3.40 | 0.63 | $5.3M | Land cleared, construction starts in fall. | Designed to house engine, ladder, BC, DC. | Built 1974 |
| 14 | Relocation | 3510 Harden Road | +15,000 | 3,616 | 1.56 | 0.71 | $7.2M | Land acquisition authorized. | Designed to house engine, ladder, BC, DC. | Built 1974 |
| 6 | Rebuild | 2601 Fairview Road (rebuilt at current location) | TBD | 5,408 | -- | 0.58 | $6.4M | Planning and design underway. | Planned to house engine and ladder. | Built 1949 |
| 3 | Relocation | Near Rock Quarry Road and Martin Luther King Jr. Parkway | ~11,000 | 3,564 | TBD | 0.16 | TBD | Land acquisition underway. | | Built 1951 |

Here's an updated version of my fire station map, with the assorted new station locations added. Click to enlarge:


+ 1 - 1 | § ¶
Forestry Service Attack Plane, Circa 1975-76
Our friend Bob Bartosz shares this vintage image by Kinston firefighter Tony Kelly, later Fire Chief. The picture's from around 1975 or 1976. He and Bob traded photos back in the day.
The image depicts a C-130 aircraft used by the North Carolina Forest Service. It was equipped to carry 3,000 gallons of ammonia sulfate fire retardent, and operated with a six-man crew. The plane was stationed in Kinston.
Readers, care to add context, about forest service air operations back in the day? Or information about the Kinston airport and it's history and service with the forest service? Click to enlarge:


+ 1 - 0 | § ¶
Special Called Wake County Fire Commission Meeting - Thursday, September 25
There will be a special-called meeting of the Wake County Fire Commission on Thursday, September 25, 2014. It will be held at 10:00 a.m. in Conference Room C-170 of the Wake County Public Safety Center in downtown Raleigh.
The purpose of the meeting is to receive public and stakeholder input on the Fire Cost Share Study. That's the lone agenda item, a presentation about same and receiving of feedback.
Here's a prior blog post about the study.
+ 2 - 3 | § ¶
Coverage During Today's Firefighter Funeral
Here's a list of fire departments and EMS agencies providing coverage in Franklin County, during today's funeral for Justice Fire Department firefighter John Gupton. Thanks for the collective input via my Facebook query. Awaiting more details...
Wake County
Bay Leaf 121 to Youngsville FD
Fairview FD to Mitchner's Crossroads FD
Hopkins FD to Bunn Sta 2
Raleigh Engine 26, Ladder 8 at Louisburg FD
Rolesville P153 and Car 1 to Bunn Sta 1
Stony Hill FD at Youngsville Sta 3
Wake County EMS 33 and EMS 15 to Bunn FD.
Wake Forest FD at Youngsville Sta 1
Wendell E11 to Bunn Sta 1
Zebulon Pumper 92 and Car 2 to Pilot FD.
Vance County
Bearpond FD to Epsom FD
Cokesbury FD at Youngstville Sta 2
Vance County Rescue to Epsom FD.
Granville County
Creedmoor FD to Franklinton FD
Warren County
Afton-Elberon FD to Gold Sand FD
Warrenton FD to Centerville FD.
Nash County
Various fire departments provided coverage at Justice FD this weekend. Rotating on six-hour shifts until Monday morning at 6:00 a.m.
+ 3 - 2 | § ¶
Durham Fire Department History Bits - 1935 to 1969
Found these while browing the bookshelves at Olivia Raney Local History Library on Carya Drive in Raleigh. They are Durham Morning Herald index cards from back in the day. Someone somewhere copied the index cards and bound them into books. The library has a copy on their open shelves. There are four books (volumes), covering topics from "A" to "Z".
Newspaper index cards are similar to a library's card catalog. They served as an index to either all or major articles of a paper, and were used primarily by staff to find or research older stories. Card collections might be copied and later bound and donated to a local library. And/or photographed on microfilm for library use, as happened with the News & Observer index cards. (The cards were later digitized in recent years, and can be viewed on this site. See prior posting.)
Here are the index cards about the Durham Fire Department. They represent a nifty historical perspective on both (a.) major events in the department and (b.) "slices of life" representing what caught the attention of the morning newspaper. Next question, where can you read some of these stories? e.g., where or what are the archives for the Durham Morning Herald? Let me look into that some time.
Reading the cards reveals all manner of interesting things. Black firefighters were proposed as early as 1949, for example. Council deferred, but recommended to "augment Negro personnel on police force." Winston-Salem would hire their first black firefighters two years later. Durham would wait another nine years before making that move. (Related posting.)
There's discussion of county fire protection in the 1940s. The city was providing protection to rural communities, as no other fire departments were yet organized in Durham County. By the end of that decade, the county had purchased a fire engine. It was placed in service on August 18, 1948. If memory serves, it was housed at Station 1 and operated by a city crew.
View the index cards (PDF, 5MB)


+ 2 - 1 | § ¶
Eastern Wake Firefighter Injured at Accident This Morning
As reported by this Eastern Wake News story earlier today, Captain William Boggs of the Eastern Wake Fire Department was injured this morning at an accident scene south of Knightdale. Two cars were being cleared from the scene, when one of them rolled unexpectedly. Boggs was pinned between the two cars, and suffered a broken leg. He was transported to WakeMed by Wake County EMS and was reported in good condition.
The original accident happened about 6:30 a.m., when a car backed out of a driveway and was struck by a car in the roadway. This occurred near the intersection of Bethlehem Road and Moon Valley Lane. The drivers and/or passengers were not seriously hurt. And that's the update on that story, basically a rewrite of what you could read, if you clicked the news story. Best to Captain Boggs. Send a picture of yourself on crutches and we'll amend the posting!
+ 2 - 0 | § ¶
UPDATED: Franklin County Firefighter Killed in Apparatus Accident
Afternoon Update:
The deceased firefighter is John Derek Gupton, age 24. He had been a member of the Justice FD for five years. He's a third-generation firefighter in his family. Thanks to Firefighter Close Calls for that information. The injured firefighter is Kyle Horton, who is also a Franklin County Sherrif's Deputy. He was treated and released from WakeMed last night.
Arrangements have been announced. Visitation is Saturday, September 20, from 6:00 p.m. to 9:00 p.m. at Strickland's Funeral Home, 103 W. Franklin Street, Louisburg. Firefighters attended are requested to wear full dress uniform. No apparatus please, as there's limited parking.
Funeral is Sunday, September 21, at 2:00 p.m., at Duke Memorial Church, at 3971 NC 581 Highway. That's about a half-mile down the road from the fire station. Apparatus and personnel should arrive at the church at 1:00 p.m., for parking and lining up. Thanks to Lee Wilson for passing along. He also snapped this photo:


Lee Wilson photo
Morning Posting:
Here's what's known about yesterday's apparatus accident in Franklin County. The name of the deceased firefighter, identified only as young man in his 20s, hasn't been released and/or published.
Late yesterday afternoon, a Justice Rural Volunteer Fire Department firefighter was killed and a second firefighter was injured when their two-axle, 2,500-gallon tanker overturned on Sykes Road in Louisburg. They were responding to a fire alarm (false) in the Lake Royale community.
At about 5:10 p.m., the apparatus overturned in the 1300 block of Sykes Road. It reportedly lost control in a curve and/or struck a culvert. The accident occurred about four miles from the location of the call. Other firefighters responding to the fire alarm were the first to discover the accident.
The driver was killed. The second firefighter aboard was transported to WakeMed, where they were treated and released. Officials are saying that excessive speed does not appear to have been a factor.
Numerous news outlets have broadcast video and still footage from the scene. They're linked below, along with a historical perspective on apparatus and tanker incidents in North Carolina.


WTVD photo

Adam Owens/WRAL photo
News Reports
Historical Perspective
At least twenty-six North Carolina firefighters have previously died in the line duty as a result of apparatus accidents between 1917 and 2007. These were collisions with vehicles or other objects, or apparatus leaving the roadway. (Many others have died in falls from vehicles, being struck by vehicles, or while operating personal vehicles.)
At least seven of the fatalities involved tankers. All were volunteer firefighters:
6/16/1960 - Vernon Lee Thompson - Cary (Wake)
4/5/1973 - Melvin Eugene Gardner - Rockingham (Rockingham)
3/13/1976 - Carlos Dale Dorsett - Westside (Randolph)
7/12/1977 - Billy R. Fullbright - Ranlo (Gaston)
4/30/1979 - Walter Washington McNeely Jr. - Lake Toxaway (Transylvania)
3/27/2007 - Billy Harold Williams - Rhodestown (Onslow)
3/27/2007 - Brandon Michael Whimple - Rhodestown (Onslow)
Franklin County has experienced one prior line-of-duty death. Centerville Fire Department Emergency Medical Technician Betty King Dennis, 54, died on January 3, 2001, after being struck by a vehicle while directing traffic at a motor-vehicle accident.
Source: My Database
+ 1 - 4 | § ¶
Wilmington Fire Apparatus in 2006
Transcribed from the contents of a 2006 consultant's report on the Wilmington Fire Department. View that document (PDF, 212 pages). And maybe this'll lead to a historical fleet listing, if the information presents itself.
Readers are welcome to add any rigs added since this list. Plus any corrections or additions to this!
1979 Ford/Grumman - 1000/600 - Reserve Engine 14
1979 Harbor - 34' fire boat - 500 GPM (to be added to this page of mine)
1985 Ford/Quality - 1000/500 - Reserve Engine 13
1987 Ford/Grumman - 1000/500 - Reserve Engine 12
1988 Ford 700/____ - Box truck - Water Rescue 1 (dive unit)
1988 Sutphen platform - 1750/300/100' - Tower 2
1989 Ford/____ - Tractor-drawn haz-mat - Haz-Mat 2
1989 Pierce Dash engine - 1000/500 - Engine 10
1990 Pierce engine - 1500/500 - Engine 11
1991 Ford F700/Hackney - Mobile Air 1
1995 Sutphen ladder - 1500/400/75' (?) - Engine 5
1997 Freightliner/Hackney - Medium rescue - Squad 3
1997 Sutphen platform - 1500/300/100' - Tower 1
1998 Sutphen engine - 1500/500 - Engine 6
1998 Sutphen platform - 1500/500/75' (?) - Engine 7
1999 Freightliner/Hackney - Medium rescue - Squad 2
1999 Sutphen engine - 1500/500 - Engine 2
1999 Sutphen engine - 1500/500 - Engine 9
2000 Ford?/Hackney - Light rescue - Tactical Rescue 1
2000 Sutphen engine - 1500/750 - Engine 4
2001 Sutphen engine - 1500/500 - Engine 1
2001 Sutphen engine - 1500/500 - Engine 3
2001 Sutphen platform - 1500/300/75' (?) - Engine 8
2006 ____/Hackney - Medium rescue - Squad 1
2007 Metal Craft Marine Firestorm - 50' - 6000 GPM.
+ 2 - 2 | § ¶
UPDATED: Wake County Fire Commission Meeting Notice - September 18, 2014
Updated on September 15 with agenda and document packet. Note that the agenda includes Cost Share Study update. See prior posting about that.
The Wake County Fire Commission will hold its next meeting on Thursday, September 18, 2014, at 7:00 p.m. The location is Wake County EMS Training Facility, on the lower level of the Commons Building. The address is 4011 Carya Drive.
Agenda
Meeting Called to Order: Chairman Lucius Jones

Invocation
Roll of Members Present

Items of Business

Approval of Agenda
Adoption of Minutes for July 17, 2014 Regular Meeting

Regular Agenda

Consider Approval of Updates to the Fire Commission Rules of Procedures
Consider Approval of Support for the Wake County Fire Protection Mutual Aid Agreement

Presentation on Development of the Fire Commission Strategic Plan
Presentation on Process/Procedure for Standard of Cover (SOC)
Information Agenda

Fire Tax Financial Report
Cost Share Study Update
Chair Report
Fire Services Director Report

Other Business
Public Comments:

Comments from the public will be received at the time appointed by the Chairman of the Fire Commission for 30 minutes maximum time allotted, with a maximum of 3 minutes per person. A signup sheet for those who wish to speak during the public comments section of the meeting is located at the entrance of the meeting room.

Adjournment - Next Meeting November 20, 2014
Documents
Agenda packet (PDF, 8MB - Includes Cost Share Study draft)
+ 1 - 1 | § ¶
Youngstown Fire Forums, Apparatus Delivery Lists, Notes on N.C.
Never heard of the Youngstown Fire Forums? That's an extensive and active discussion board (or collection boards) operated by the Youngstown Fire Department in Ohio. The forum contains a lot of apparatus information, including threads with photos and details on particular makers and even particular rigs.
One of the site's feature is a collection of apparatus delivery lists. Insert multiple exclamation points. Those lists are gold to fire historians. The listed makers include Ahrens-Fox, American, Boyer, FWD, John Bean, Mack (MB, MC, MR), Pierce, Stutz, and Sutphen. The list authors, who deserve heaps of recognition and appreciation, include Rodger Birchfield, Bill Friedrich, Ed Hass, Dave Organ, John Peckham, Greg Ricker, and Bob Studer.
(As a fellow butcher, baker, and obsessive list maker, these records often represent the proverbial "life's work." Hundreds if not thousands of hours are required to research, compile, and maintain. Every one of these companies predates the digital. Someone had to enter or transcribe this information into file formats.1)
Let's take a look at some of the lists and what we can find...
Boyer
From the list by Rodger Birchfield, a number of early trucks were delivered in North Carolina, check the delivery list for full details. Apologies for errors, below are typed not copied and pasted.
Historian tip: Never re-type apparatus details if you can copy and paste from your source. Typing errors are terribly easy.
Angier - 1925 Ford
Boone - 1927 Chevy
Burgaw - 1927 Ford
Columbia - 1927 Chevy
Forest City - 1928 GMC
Hot Springs - 1928 GMC
Kenilworth - 1927 Reo
Marshall - 1927 Graham

Norwood - 1924 Ford
Old Fort - 1927 Reo
Selma - 1924 Reo
Southport - 1914 Ford
Spindale - 1927 Chevy
Spruce Pine - 1927 GMC
Sylva - 1927 Graham
Tryon - 1926 Graham
As for the two local trucks? Here are those details:
Angier - 4108 - 1925 Ford - 2 40Gal - Combination chemical hose car, probably, with two 40-gallon chemical tanks.
Selma - 2954 - 1924 Reo - Hale 723 - 2 35Gal - Triple combination? With two 35-gallon chemical tanks.
Pierce
The lists (multiple, very long) by Bill Friedrich contain over 300 units delivered in North Carolina through 1996. First ten trucks, job number and department name only:
E-0067 - LONG BEACH FD
E-0155 - BAY LEAF FD
E-0160 - WEST BUNCOMBE VFD
E-0318 - ST.TIMOTHY FD
E-0337 - ST.STEPHENS FD
E-0387 - UNION ROAD VFD
E-0388 - SWEPSONVILLE VFD
E-0479 - WEST IREDELL VFD
E-0547 - ROANOKE RAPIDS FD
E-0625 - SUMMERFIELD FIRE DISTRICT
Stutz
The list by Rodger Birchfield has exactly one, for Greenville N.C., a 1922 Model "C" triple-combination with 750 GPM pump.
Sutphen
The monster list by Dave Organ contains these early rigs delivered in North Carolina:
| | | | | | | | | |
| --- | --- | --- | --- | --- | --- | --- | --- | --- |
| Job # | City | CO# | YR 1 | Chassis | GPM | GBT | LGTH | TYP |
| HS-1007 | Morganton | AT-704 | 1974 | Sutphen | 1250 | 300 | 85' | ATQ |
| HS-1137 | Winston-Salem | A-1 | 1976 | Sutphen | 1250 | 150 | 85' | ATQ |
| HS-1249 | Durham | L-2 | 1976 | Sutphen | 1500 | 200 | 85' | ATQ |
| HS-1250 | Durham | L-3 | 1978 | Sutphen | 1500 | 200 | 85' | ATQ |
| HS-1348 | Durham | E-4 | 1978 | Ford C | 1000 | 500 | | ENG |
| HS-1349 | Durham | E-5 | 1978 | Ford C | 1000 | 500 | | ENG |
| HS-1423 | Charlotte | L-2 | 1979 | Sutphen | 1000 | 300 | 100' | ATQ |
| HS-1662 | Winston-Salem | E-4 | 1981 | Sutphen | | | 65' | MMQ |
| HS-1764 | Bethesda FD | E-22 | 1984 | Sutphen | 1500TM | 1000 | | ENG |
| HS-1801 | Bethesda FD | L-3 | 1984 | Sutphen | 1500 | 300 | 100' | ATQ |
| HS-2100 | Bethesda FD | E-2 | 1987 | Sutphen | 1500TM | 1000 | | ENG |
| HS-2237 | Wilmington | L-1 | 1988 | Sutphen | 1750 | 300 | 90' | ATQ |
| HS-2365 | Greensboro | E-6 | 1989 | Sutphen | 1000 | 1000 | | ENG |
1
Then there's all the time required for updates and corrections. Not every piece of data is "right" when received. The Mack MC list lists Raleigh's 1979 MC tractor as pulling a 1956 ALF trailer. The correct year is 1958. Think about how many times that repeats itself, across one of these lists? Where some sends an update, or new or additional information? These are not projects for the faint-hearted!
+ 1 - 2 | § ¶
FWD Fire Trucks Delivered in North Carolina
Just learned about this excellent resource, the Youngstown Fire Forums delivery lists list. Includes this FWD fire apparatus users list supplied by Rodger Birchfield.
Just a few are listed in North Carolina. The fields are order number, city, model number, and delivery date:
70070 - Raleigh, N.C. - F-75-T - 02-10-50
70105 - Morehead City, N.C. - FR-50-T-H - 04-24-51
70167 - Dunn, N.C. - F-75-T - 08-18-52
70361 - Raliegh, N.C. - F-722 - 05-29-57
70438 - Winston Salem, N.C. - F2F-1028 - 11-18-60
70445 - Albermarle, N.C. - F2F-1030 - 12-30-60
70639 - Winston Salem, N.C. - FF2-02 - 02-19-64
Readers can assist with details. Presume most are pumpers, though the 1964 Winston-Salem truck was a FWD/Baker/Pittman snorkel.
What's missing from the list? Thomasville had a 1967 FWD/Snorkel. Others?
+ 1 - 1 | § ¶
Wildwood Merging with Morehead City
FireNews.net has reported that the Wildwood Fire Department in Carteret County is merging with the municipal combination Morehead City Fire & EMS Department. From their story, from this News-Times story, by my high school bud Mark Hibbs, the merger will be effective October 1. Wildwood firefighters will become Morehead City firefighters. Full- or part- time employees will become town employees.
Read the story for more details including a ten-year contract to continue protection of unincorporated areas. The story notes that the merger's been cooking for ten to twelve years! Wonder how many other such mergers are percolating around the state... Click to enlarge:



Let's compare the merging departments and their districts:

Department
Square Miles
Population
Stations
Apparatus
Wildwood
About seven
~5,000
One, co-located with MHFD Sta 3
Morehead City
6.81 town, 11 county (contracted)
~22,000
Four, one for training only

Engine 1, 2013 Pierce rescue pumper
Engine 2, 2006 Sutphen 70' aerial
Engine 3, 2008 Sutphen
Engine 5, 2004 E-One Typhoon (reserve)
Rescue 2, 2012 Ford
Medic 1, 2012 Chevrolet Ambulance
Medic 3, 2009 Chevrolet Ambulance
QRV/brush truck, 2012 Ford
MAB, 2012 Thomas/Sartin
Boat, 25 ft. 2011 Jones Brothers

What's the history here?
The Wildwood Fire Department was incorporated on May 12, 1976. They changed their corporate name to Wildwood Fire and Rescue on June 1, 1984. Their station has been located at 5921 Highway 70 for at least a couple decades. Is that the original location? Morehead City opened their Station 3 in a building behind the Wildwood station in 2007.
The Morehead City Fire Department dates to the early twentieth century. They've had a couple different fire stations downtown, and added their second station in 1957, and third in 2007. Their EMS division was added in 2000, with the merger of Morehead City EMS. Read this blog post about their history.
As you can guess, this posting was cooking prior to the history post. Decided to split the things into two.
+ 3 - 2 | § ¶
Updated: Crawford Township Airport Crash Truck
September 12
Historian Pete Brock shares these photos and background on this truck, that original served the United States Coast Guard base in Elizabeth City:
A total of 719 Oshkosh P19s were built for the military. They had 1000 GPM pumps and carried1000 gallons of water, 130 gallons of foam, and 500 pounds of halon. The latter was replaced with 500 pounds of dry powder once the halon agents were determined to be ineffective for ARFF purposes and detrimental to the environment.
Oshkosh built 429 units for the Air Force, 62 for the Navy, 30 for the Army, 191 for the Marine Corps, one for the Coast Guard, one for the FAA center in Atlantic City, NJ, and five for special projects. I do not know how many were built for civilian use.
The Coast Guard unit was built in 1985 as an add on to the Air Force contract and cost $161,249.
Three models of the P19 were produced:

P19 - no structural panel, remote roof turret
P19A - structural panel, manual roof turret (Navy and Marine Corps only)
P19B - structural panel and remote roof turret.
Click to enlarge:

September 10
Found for sale on eBay, here's a photo of a 1986 Oshkosh P-19 former Air Force crash truck (1000/1000/130 foam/500 Halon) now serving as Crash 4 at Crawford Township Fire Department in Currituck County. Guessing it helps protect the Currituck County Regional Airport, but maybe readers know more. The truck's also pictured on the department's Facebook page. Photo credit unknown. Click to enlarge:


+ 1 - 1 | § ¶
Morehead City Fire Department History
For the Friday heck of it, here's a kinda, sorta history of the Morehead City Fire Department. Primary source are Google, Google Newspaper Archives, and prior blog posts. Readers, please help with apparatus information. Missing lots. Also, fact- and error-check me. Additional milestones are welcome. All sorts of things can added.

1906 to 1949

1906 - Morehead City Fire Department organized.
1908 - Sanborn Maps describe department as volunteer with forty-five members. Apparatus consists of Howe "triplex" gasoline fire engine, one hand engine, two hose carts, and 1,500 feet of 2 1/2-inch hose. Water supplied by seven fire cisterns.
1911 - Water system installed with first fire hydrants.
1913 - Sanborn Maps describe department as volunteer, one company, thirty members, one paid driver, one horse "worked on streets during day", one hose wagon with 800 feet 2 1/2-inch hose, one hand reel with 500 feet 2 1/2-inch hose, one Howe "gasoline fire engine." Water supplied by twenty-nine double hydrants. Fire station located in two-story City Hall building at 301 Evans Street.
1924 - Sanborn Maps describe department as with Chief (full-paid, also Chief of Police), Asst. Chief (part-paid), Drive (full-paid), twenty-five part-paid men, ten volunteers. Brockway combination chemical/hose truck. Fire station is two-story building on east side of N. 13th Street, mid-block south of Bridges Street. Twelve Gamewell boxes. Forty-two fire hydrants.
1920 - Town Hall built at 801 Evans Street. Two-story building includes/later includes a two-bay fire station. (Wrong date for building? Built after 1924? WPA building, built in 1930s?)
1926 - American LaFrance ships two pieces of apparatus to the town: 1926 Type 75 triple-combination pumper (#297), 1926 Type 40 combination chemical/hose truck (#6779). [My interpretation of John Peckham's American LaFrance database doesn't entirely make sense. Was one of these the quadruple combination mentioned below?
1941 - Sanborn Maps describe department as all partly paid, plus full-paid driver. Chief, Asst. Chief, driver, asst. driver, thirty-six men. Apparatus includes an American LaFrance quadruple combination (pumper/service truck/1000/90), American LaFrance triple combination (750/40). Nineteen Gamewell boxes. Seventy-one hydrants.

1950 to 1999

1951 - FWD pumper delivered (but overturned on delivery date a couple weeks later, killing a firefighter. See below.)
1956 - Station 2 opens at 3308 Evans Street. Two-story building with two bays. One-story expansion of bays later added, plus one-story living quarters expansion.
1958 - Morehead City Rescue Squad organized. Occupied two-story building at 304 North 25h Street. Ambulance service only, or also rescue services?
1960s or 1970s - Apparatus deliveries included a Ford C pumper (red).
1980 - Grumman/Howe pumper delivered.
1986 - Ford F-350/_____ utility truck delivered with high, climb-in body. Used as rescue truck?
1980s or 1990s - Apparatus deliveries include a Spartan/Quality pumper (white), a Ford/Pierce pumper/tanker (white), and a 1975 Mack 85-foot aerial ladder (red), that also served New Port and Cherry Point. (Purchased used? Late 1990s?)
1998 - Spartan/Duplex pumper (white) delivered.
2000 - Morehead City EMS merged with the town on July 1. Quarters later repurposed as Station 4, as training facility.

2000 to present

2001 - Station 1 relocated to 1406 Bridges Street. One-story building with three double-deep bays.
2004 - E-One Typhoon pumper (white) delivered.
2006 - Sutphen aerial platform, 1500/500/70-foot delivered.
2006 - Fireboat added, 1984 Mitchell Marine Builder, 25-foot. Surplus from Army COE. Sold in/circa 2011. Read blog post.
2007 - Station 3 opened at 5293 Highway 70, in partnership with Wildwood Fire Department. One-story building with six bays, two of which are converted to living areas.
2011 - Medical Ambulance Bus added, 2012 Thomas/Sartin. Purchased with Homeland Security grant. Read blog post.
2012 - Station 2 opened at 4034 Arendell Street. One-story building with three bays. Former Carteret County News-Times building, built in 1977. The administrative offices are relocated from Station 1.
2013 - Pierce rescue pumper delivered.




Click to enlarge:


Courtesy Jesse Chaplain


Fire department in 1934,
courtesy the History Place





Apparatus in 1950s, North Carolina State Archives photo
READ MORE
+ 2 - 1 | § ¶
September 11, 2014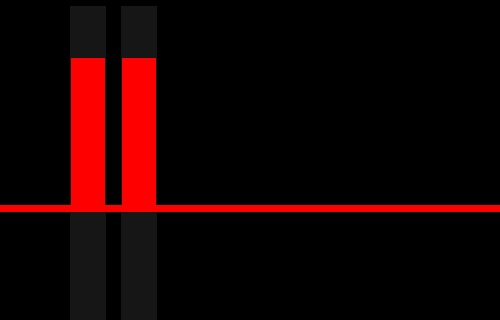 + 1 - 0 | § ¶
Four Wheel-Drive Engine at Hatteras, NC
Thank you sir, can I have another? Here's another image for sale on eBay. This is Hatteras Engine 403, a four wheel-drive 1986 International 4800/E-One pumper (1250/500/30). Scan of color slide. Still don't know the photo credit, but from the seller ID, it appears to be a photographer from New Jersey. Guessing they were vacationing at the Outer Banks once. The HFD Facebook page, by the way, has photos of their other trucks, here and there. Click to enlarge:


+ 1 - 1 | § ¶
Raleigh Fire Apparatus Histories as Color Charts
Mystery chart, any guesses? Baked good consumption at fire stations over time, with assorted frosting colors? Frequency of Hawaiian shirt acquitions over the years, mapped to favorite floral patterns? How about a six-foot spreadsheet-turned-color chart, depicting the history of Raleigh's pumping engines! What the heck, and why the heck?
They were designed by Yours Truly some years ago, as a means of charting Raleigh's apparatus histories. One chart for engines, another for aerial and service trucks. Super-easy to execute. Use a spreadsheet, draw borders for each year, and annotate with milestones such as station openings. Helped immensely for figuring what truck served where. Here's a closer look:
Worked great for my purposes, and is probably fine for any fleet history. Such as ambulances or rescue trucks. Shoot me a message if you want more details.
View the engine chart (PDF)
View the aerial/service ladder chart (PDF).
Note: Both documents require some serious zooming, to see the otherwise wee text.
+ 1 - 1 | § ¶
Holly Springs' New Rescue Pumper
Here comes another squad! The Holly Springs Fire Department yesterday received a 2014 Spartan ERV MetroStar rescue pumper, 1500/750/25. The truck will replace Engine 1, which is a Pierce of what model and year? (Maybe someone will post a full fleet list for the town. They have four engines, one ladder, two brush trucks, two UTVs, two boats, correct?)
That makes the fourth purpose-built rescue pumper for Wake County, correct? After Apex Engine 1 (2011 E-One, demo unit) and Raleigh Squads 14 and 15 (2014 Pierces). Wake Forest also operates Squad 5, a 1994 E-One Century 1000/1000 that carries extra rescue equipment. (Bonus question. How many Roto-Rays are installed on rigs in Wake County?)
Lee Wilson took these pictures yesterday. See his photos. See also our prior posting about Holly Springs' new Aerialscope.



Lee Wilson photos
+ 5 - 2 | § ¶
Vintage Photos of Engine 10
Here are four new old photos of Engine 10, which was a 1968 American LaFrance 900 Series, 1000/250, serial #7-1-1150. Served as Engine 3 (1968 to 1973), Engine 10 (1973 to 1986), Engine 33 (reserve, 1986 to 1989), Engine 19 (1989 to 1991), Foam 12 (starting in 1991), and was sold as surplus in 2002. Photos are dated March 1983 (top and bottom left) and April 1985 (bottom right). Ergo, the fiberglass roof was installed between those dates. That's a helpful data point. Will update this apparatus registry entry. Thanks to Battalion Chief David Whitley for these pics! Click to enlarge:


+ 2 - 1 | § ¶
Community Features at Fire Stations
Recently visited Dubuque, IA. The trip's activities riding the historic Fourth Street Elevator, touring the transformed Port of Dubuque, and photographing five historic or former fire stations.



Three of the fire stations were active, and each had a "little free library" at the street. Notes a city press release from August 5 (PDF), they've been installed at five of six fire stations. What's a "little free library" you ask? That's a little box without a lock, and with books that free for anyone to take or exchange. They were added by the Dubuque Campaign for Grade-Level Reading and the AmeriCorps VISTA program. Pretty cool.



Next was a water station seen at Station 5 on Grandview Avenue. That's one a high hill and in a neighborhood that appears popular with runners. The water fountains--plus bowl for doggies--are labelled as "provided by the Mississippi Valley Running Association (MVRA) and the Dubuque Fire Department, 2005." Also pretty neat.



Readers, what are some "community features" seen at your stations?
+ 1 - 1 | § ¶
One-Man Rescue Squad - Harold Jones Profile, 1969
From the April/May/June 1969 issue of Baptist Men's Journal. Profile of Raleigh Fire Department Rescue Officer Harold Jones. He entered the department on January 8, 1952. He was a longtime member of "Raleigh Rescue" as well as later member of the training staff. He retired with the unique rank of Commander on April 1, 1982. The pictured squad unit is a 1966 Chevrolet panel van. Thanks to his family for sharing this and some other clippings and materials from his career. Click once or twice to enlarge:


+ 2 - 1 | § ¶
Suggestion For Patch Graphics
Fire folks, have a suggestion. Each department should find the graphics file used to create their patches. (And/or emblems on vehicles, etc.) Someone somewhere has it. Maybe within your department. Maybe at your patch supplier. Get a copy of that file. Probably .EPS format. Then use that file for branding, on documents, on web sites, etc. It will look better than a cloth patch scan. (Except for those times, when the "cloth look" is preferred.) See examples below. Already have said file? I'd love a copy, and will archive in my files. Thank you.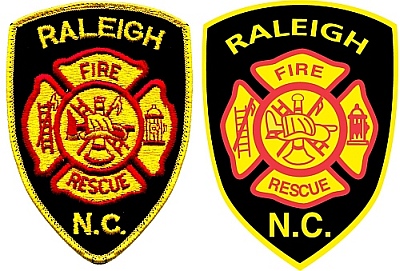 + 3 - 2 | § ¶
Wake County Fire Services Cost Sharing, Funding, and Service Delivery Analysis Report
That's the hefty title of an preliminary report (PDF, 3.2M) that's been released this week for public and stakeholder input at a special Wake County Fire Commission meeting on September 25, 2014. The meeting time is 10:00 a.m. The location is the Wake County Public Safety Center, 330 S. Salisbury St. Raleigh, NC 27601. The specific location is Conference Room C-170.
The report was created by Emergency Services Consulting International (ESCI), which was commissioned by the county earlier this year. They were tasked with (a.) reviewing the existing "cost share agreements" between eight fire departments that serve both incorporated and unincorporated areas of Wake County and (b.) establish a methodology for the future, to make distribution of that funding more "equitable, reasonable and defensible."

What's This All About?
Here's a bit of explanation. Everyone lives somewhere in Wake County, either within an incorporated municipality (city or town) or outside those areas, which are thus unincorporated areas. City and town dwellers pay municipal taxes that help fund fire protection. Those living "in the county" pay a special fire tax. And it's a single rate, regardless of where you live.* Those revenues fund protection in the "fire tax service district."**
How many people are talking about? Quite a few, actually. Based on 2012 U.S. Census estimates, that's 188,854 people living in unincorporated Wake County.
READ MORE
+ 2 - 3 | § ¶
History of an Abandoned Bridge
Here's a treat of a treat. Abandoned bridge over Crabtree Creek, just west of Crabtree Valley Mall. Specifically opposite Morehead Drive at Glenwood Avenue. Can be accessed both from the sidewalk on Glenwood, or a greenway trail on the other side of the bridge. And entirely unknown myself until this week. Talk about exciting!



Not a public roadway, but a private driveway. Served as access for a house that was located "up the hill." Here's an aerial photo from 1999, from the Wake County IMAPS site:



Local history buff Bill Ott shares some history:
READ MORE
+ 1 - 0 | § ¶
New Television Documentary: Inside The Garner Fire Department
The town of Garner's television channel GTV (with PEG Media Partners) has produced this thirty-three minute document about the Garner Fire Department. The program features footage across all aspects of the department's operations, as well as a number of interviews including Fire Chief Matt Poole Poole, Deputy Fire Chief Tim Herman, and Captain Ronnie Correia. It was directed, filmed and edited by Adam Carroll.


+ 2 - 2 | § ¶
New Wheels For Durham County EMS
Durham County EMS has posted photos on their Facebook page of a new supervisors vehicle. That's a Ford F-250 Super Duty with a body by... TBD. Equipment includes their current "equipment platform" plus additional bariatric equipment. Love the new graphics package. The side scene lights are a nice touch.
Readers, what other configurations are you seeing around the area (or state) of EMS light trucks or QRVs?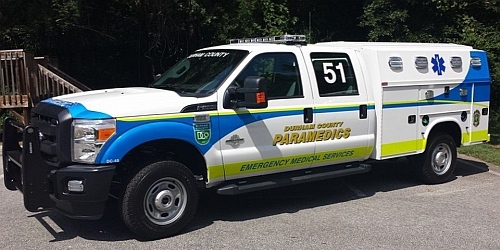 + 2 - 0 | § ¶
Video of House Fire in Winston-Salem
Dave Statter found this one, a nine-minute video of a house fire on Devonshire Street in Winston-Salem on February 4, 2014. Footage is pretty early into the incident, with companies arriving as the videographer arrives. Watch for power line action at 3:50, which getrs some folks jumping. Then the fire starts venting about 5:00. She starts walking the dog. This Journal story describes the fire as taking about forty-minutes to control. It displaced three people.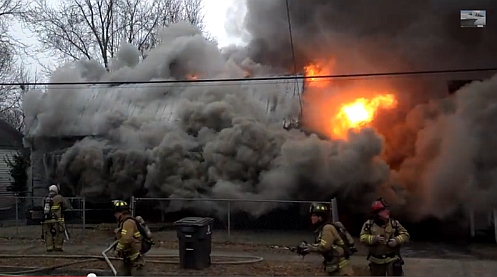 + 1 - 2 | § ¶
More Fun with Corporation Records
The North Carolina Department of the Secretary of State's Corporation Division has unveiled a new search engine for their corporate records. It becomes the default search tool on October 1. The current search tool was limited to 500 records in its results. The new search tool returns unlimited results, in sets of 200. Thus one can query several hundred fire department names. (Though a copule of my queries bombed. Such as "fire company" and "EMS." Neither of those search terms worked as expected.)
Here's an example of all corporation names containing either "fire department" or "fire protection" (non-profit only, ergo a fire department), and where the status equals either "dissolved" or "merged." Thus we get a good list of former fire departments. At least those that were incorporated. I will merging any new data into my former fire departments database.
READ MORE
+ 3 - 0 | § ¶
North Carolina Rescue Squad and Lifesaving Crew Names
How many rescue squads and lifesaving crews have served in our state? Here's a search of North Carolina corporation records, where the name contains either "rescue squad" or "lifesaving" or "life saving." There are certainly others not listed here, including both organizations that never incorporated and squads operated as part of other entities. Such as fire department rescue squads. Plus corporations with "EMS" or "Emergency Medical Service" in their title only.
See also this related prior posting about the history of ambulance service in N.C.

| | | |
| --- | --- | --- |
| 50 & 210 Rescue Squad, Inc. | Current-Active | 4/22/1991 |
| Aberdeen Rescue Squad, Inc. | Current-Active | 9/22/1967 |
| Ahoskie Rescue Squad, Inc. | Dissolved | 9/27/1962 |
| Air King Rescue Squad, Inc. | Current-Active | 1/20/1971 |
| Alexander Rescue Squad and Emergency Medical Service, Inc. | Current-Active | 3/27/1959 |
| Alexander Rescue Squad, Incorporated | Current-Active | 3/27/1959 |
| Alleghany County Rescue Squad, Inc. | Current-Active | 10/20/1969 |
| Andrews Rescue Squad | Current-Active | 2/2/1966 |
| Anson Rescue Squad, Inc. | Current-Active | 8/3/1959 |
| Apex Rescue Squad, Inc. | Dissolved | 9/8/1971 |
| Ashe County Rescue Squad, Inc. | Current-Active | 11/3/1967 |
| Asheville Area Rescue Squad, Inc. | Current-Active | 12/19/1962 |
| Ash-rand Rescue Squad and Emergency Medical Services, Inc. | Current-Active | 9/19/1962 |
| Aulander Volunteer Rescue Squad, Inc. | Current-Active | 6/6/1988 |
| Aurora Rescue Squad, Inc. | Current-Active | 4/26/1982 |
| Avery Central Rescue Squad, Incorporated | Current-Active | 2/27/1979 |
| Avery County Rescue Squad, Inc. | Current-Active | 6/13/1968 |
| Avery County Rescue Squad-ladies Auxiliary Inc. | Current-Active | 5/9/1975 |
| Ayden Rescue Squad Inc. | Current-Active | 4/13/1965 |
READ MORE
+ 2 - 0 | § ¶
Wayne County's Volunteer Rescue Squads Today
Lee Wilson last week photographed a pair of vintage rescue squad vehicles in Mount Olive. They're shown below and are quite cool. But did you know that fully five volunteer rescue squads are still serving in Wayne County? Here's an overview and historical perspective:
Goldsboro Rescue & EMS
One of the oldest squads in the state (let's say top fifteen), they were organized with the help of the Goldsboro Fire Department and the Goldsboro Lions Club. The project started in 1952 to organize the squad. There was a campaign to raise funds for a new rescue truck as well as equipment. The Lions Club purchased a new 1952 Chevrolet truck, which was housed at the Central Fire Station. Goldsboro Rescue was placed in service on March 18, 1953, and answered its first call on March 21. Here's a prior blog post on the subject.
In 1961, a new building was erected at 615 North Madison Avenue in the center of town, and served as the squad's new headquarters. (That's right behind Fire Station 2 at the corner.) On January 24, 1972, the squad changed their legal name to Goldsboro Rescue and Emergency Medical Services Inc. The organization remained staffed with volunteers until the 1990s, when part- and full-time personnel were hired to help with calls during the day.
On November 8, 1976, squad member Kenneth Lee Davis was killed when his "rescue van" was struck by a passenger car at New Hope Road and State Road 1709. The unit was returning from a call. Read prior blog post. Earlier that year, James M. Hickman drowned while attempting to rescue a motorist trapped in flood waters on Highway 117. Read prior blog post.
In 2002, Wayne County EMS began serving the county with paid personnel. That year, the Goldsboro squad building was largely taken over by Wayne EMS. The building continues to house the squad's memorabilia, as well as EMS 61 and the WayneNet transportation service. The vehicles owned by the squad, however, were transferred to the county.
In 2013, celebrating their sixtieth anniversary, Goldsboro Rescue & EMS returned the antique 1952 Chevrolet truck to the Lions Club. The squad remains active, and its members, though few in number, assist the county as needed, mainly during football season.
[ Postscript: Goldsboro Rescue Squad Inc. was incorporated on January 24, 1972. Before that time, or much earlier in its history, it was operated by or as an extension of the Goldsboro Fire Department. On April 20, 1989, they changed their name to Goldsboro Rescue and Emergency Medical Services Inc. ]
Mount Olive Emergency Services (MOES)
Originally named Mount Olive Rescue Squad, they were organized July 1958 with only seven members. The first state-certified volunteers joined in 1975. There are currently twenty-seven members on the roster, with fifteen active. Squad members hold basic, intermediate and paramedic certifications. Two of the antique rescue vehicles are still housed at the squad building and were photographed by Lee Wilson last week:


Lee Wilson photos - See more

Mount Olive Rescue Squad was restructured in 1999. The name was changed to Mount Olive Emergency Services and incorporated on October 10, 2002. Also that year, Wayne County became the primary provider of 24/7 paramedic care in the county. Mount Olive was the last rescue squad incorporated into the new formed county system. The phase-in process was completed in October 2003. Also in 2002, the county fire departments became responsible for extrication and other rescue services.
READ MORE
+ 2 - 1 | § ¶
North Carolina Tops in Number of Firemen, 1978
Found via Google news, Sylva Herald & Ruralite on February 2, 1978. North Carolina had "more fire departments, more firemen and more state-supported fire service training" than any other state. There were 1,100 fire departments in North Carolina and 38,000 firefighters, not including "persons trained for fire brigades." The numbers were cited by Keith Phillippe, who supervised fire service training for the North Carolina Department of Community Colleges.
"Through fifty-seven technical institutes and community colleges, 39,695 firemen were trained," according to report filed by his office. That includes "students in fire brigade training and also includes students who have taken more than one course in a one-year period." The story noted that "in addition to regular extension fire service training" there were a pair of two-year curriculums taught.
Fire Science was offered by Central Piedmont, Gaston, and Western Piedmont community colleges, and Alamance, Forsyth, Guilford, Rowan, and Wilson technical institutes. Fire Science Operation and Management was offered only by Durham Technical Institute and was intended "primarily for people actively employed in fire service management or supervisor positions."
The extension courses were "short courses" due to their length, and they covered specialty topics. The exception was a course called "Introduction to Firefighter." It was developed for fire departments, where "firemen must be trained for service as quickly as possible." Or for departments that were new, that hadn't been active for "not more than two years and have had no formal training."
Specialized courses included "Forcible Entry, Portable Fire Extinguishers, Hose Practices, Rescue Practices, Protective Breathing Equipment, Arson Detection, Civil Disorder [!], and Fire Brigade Training For Industry."
About the latter, Phillippe noted "'One means of avoiding major industrial plant fire losses in North Carolina is for each plant to maintain a well-trained fire brigade." He added "it's not the intention that a [plant brigade] take the place of the local fire department. However, it's [their] responsibility to take action during the first crucial minutes of a fire." Those initial steps can help prevent costly fires.
The fire brigade courses are also taught in prisons. "Instructors can go into a prison, like it was done in a minimum security prison in Greene County through Lenoir Community College, and train the inmates in the art of firefighting." Those inmates were "actually" firemen with the town of Maury Fire Department. They responded to fire calls "as would a regular fireman."
Prisons across the state were receiving "regular fire brigade training." Those courses were for "fire protection solely in prisons."
Also notes the article, "fire service training was among the first instruction to be offered in the late 1950s by industrial educator centers, which later became technical institutes or community colleges." Many students are sons and daughters of firemen, who received training in these schools.
Some fire service training was also offered by five other state agencies: the Insurance Department, the State Bureau of Investigation, the Institute of Government, North Carolina State University, and the Insurance Rating Bureau.