+ 0 - 0 | § ¶
Wake County EMS Announces Restructured Leadership Roles
This announcement appeared on the Wake County EMS Facebook page last week. After the departure of Wake County EMS System Director and Wake County Medical Director Dr. Brent Myers at the end of April, the organization is restructing the leadership roles.
The first position is the EMS Medical Director, who will function as head of the department and will provide the vision and direction in addition to the traditional Medical Director roles and responsibilities.
The second position is the EMS Director, who will report to the EMS Medical Director, and focus primarily on running both the Wake EMS organization and the Wake County EMS system.
Both positions are expected to be posted this week, and the selection process will begin in July.
What's the historical perspective here?
The first head of Wake County EMS was established in 1976, with the creation of the organization. Wake County Emergency Preparedness Director Russell Capps served in the position of Director.
The first full-time Medical Director was established on July 1, 2003. For one year prior, full-time Medical Director services were contracted with the UNC School of Medicine.
Five years later, Wake County EMS became its own county department. EMS System Medical Director Dr. Brent Myers was appointed as the new EMS Director in addition to his medical director role.
Who were the prior EMS Directors and Medical Directors? Will get back with you on that. Source for history info is this site.
+ 0 - 0 | § ¶
Report From The Winchester Firefighter's Parade
Attended the Winchester firefighters parade a few weeks ago. First time visit, both to the town and to the Shenandoah Apple Blossom Festival. Absolutely enjoyable experience. The firefighter festivities consisted of two events on Friday, May 1. First was a fire truck rodeo and display of apparatus. From 9:00 a.m. to 12:00 p.m. See the event description.
This happened at Millbrook High School, where a couple of parking lots were used for staging, exhibition, and the driver's course rodeo. There was also judging of each fire truck or emergency vehicle. Each parade entry was inspected and judged in a number of categories, including both fire and EMS categories, and types of vehicle. See the award winners on this page.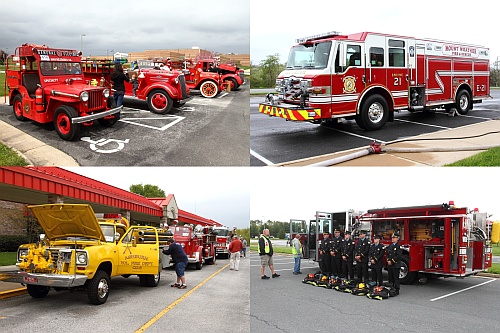 The Old Dominion Historical Fire Society was the sponsor of the parade's first division, consisting of antique vehicles. There were four divisions in the parade.
The ODHFS is based in Richmond and is a Virginia regional chapter of the Society for the Preservation and Appreciation of Antique Motor Fire Apparatus (SPAAMFAA). There were also other sponsors of the day's events, including Rosenbauer Fire Apparatus Dealers, Rappahannock Electric Cooperatove, and Wal-Mart.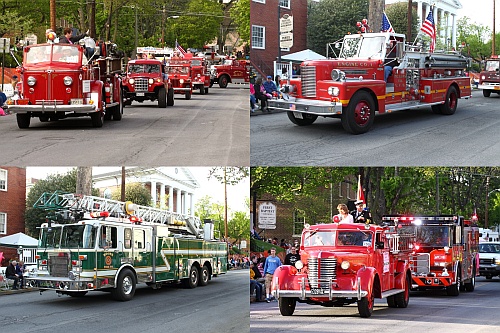 The parade was a three-hour (!) affair that started at 5:30 p.m. Trucks and equipment starting staging in early afternoon, with some firefighters attending the downtown Apple Blossom Carnival on Cameron Street. There were duty shirts and uniforms a-plenty that day!
The parade started on Cork Street at Cameron, turned right on Braddock, turned left on Piccadilly, turned left on Washington, turned right on German, turned left on Stewart, and turned left on Handley before ending at Cameron. Click to enlarge this map excerpt, or see the entire map (PDF).


How many trucks are we talking about? Over three hundred! Here's the complete list, as featured in the official program. There were may have been some missing in action and/or substitutions. See Mike's photos from the parade and rodeo, which include some of the Winchester apparatus that appeared.
Click to enlarge these excerpts from the official program:


Some notes about Winchester. The city is protected by four volunteer fire companies with sixty-six career members, twenty-one active operational volunteers, and sixty active administrative volunteers. Read more about Winchester Fire and Rescue, which is comprised of:
Friendship Fire Company #1 - Organized 1831
Rouss Fire Company - Organized as early as 1789, as Union Fire Company
Shawnee Volunteer Fire & Rescue - Organized 1953
South End Fire Company - Organized 1895.
There was a fifth fire company also served the city, the Sarah Zane Fire Company, organized in 1840 and disbanded in early 1980s, with members joining the Rouss Fire Company.
Readers are welcome to add their own perspectives, on that day's events and/or the departments that serve Winchester.
+ 2 - 0 | § ¶
Louisiana Tiller Found in Western North Carolina
Would you believe an old tiller from Baton Rouge sitting in a field south of Morganton? Photographer Lee Wilson last week found this beauty behind Pilot Mountain School on Highway 64 at Baker Farm Road. That's a former school-turned-shopping center (built 1942) that's located seven miles southwest of Interstate 40.
From John Peckham's famed registry, it's a 1949 American LaFrance Type 700 aerial ladder, model 7-100-TEO, 100-foot. Registration number 9184. Order number 4181, shipped December 31, 1949. (BRFD also received six pumpers [!] that year, also 700 series.) And obviously delivered open cab, and without the rear roof contraption.
Lee's found a bit of information about the truck. Served as Aerial 3 and Aerial 6, from Station 11 and Station 13. Retired in the 1980s. And it doesn't appear to be for sale.
Now what's the story on the twin booster reels, mounted on each side behind the turntable? We'll need reader help with that one. Add-on pump and water tanker perhaps, maybe low-pressure? For trash fires perhaps, maybe during the periods of civil unrest that gripped so many cities in the late 1960s?
See more pictures in this photo album from Lee's trip to the mountains. He visited a number of fire stations (Marion, Parkway, Banner Elk, etc.) and photographed quite a few fire trucks.



Lee Wilson photos
+ 2 - 0 | § ¶
City of Raleigh Recruiting Firefighters in July
Looking for a career that's physically and mentally challenging? A career that provides service to your community and opportunities for personal growth? A career that's fun, exciting, and demanding? Then a rewarding career in the fire service may be for you!
The City of Raleigh Fire Department will be accepting applications for the 41st recruit academy from July 1 to July 31, 2015. Please note that this is now a paperless process. Applications must be filled out and submitted online. Paper forms are no longer accepted.
Firefighter applicants must be twenty-one years of age or older, and possession a high school education or General Equivalent Diploma (GED). Prior experience or training is not required. Upon selection and hiring, firefighter recruits will complete a six-month training program.
Recruit Academy 41 is tentatively planned to start in early 2016.
Applications must be submitted through the city's new online platform. An account with governmentjobs.com is required. Visit www.raleighnc.gov/employment to create your account.
For specific information about the fire department recruitment process, visit http://www.raleighnc.gov/home/content/Fire/Articles/FireRecruitment.html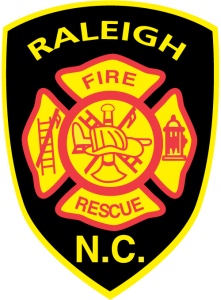 + 0 - 0 | § ¶
Reports on Recommended Budgets for FY16
The cities, towns, and counties of the Triangle have published their recommended budgets in recent days and weeks. What's on tap for fire department and fire service budgets? Here's what Mr. Blogger has gleaned. Readers, please augment (or outright correct) as needed!
Raleigh
http://www.raleighnc.gov/government/content/BudgetManagement/Articles/BudgetsAndProcess.html
Highlights of recommended budget:
Hire some thirty firefighters. (Recruiting starts in July, FYI.)
Convert three firefighter positions to Lieutenant positions. (Presumably anticipating tiller delivery in fall.)
Add two Deputy Fire Marshal positions.
Station 10 and Station 15 are next for renovations (design services funded in FY16), following Station 5 and Station 2 funded this budget year.
Increased operational funding of $320,000 for Station 29.
Funding for needs study for new training facility.
No new apparatus.
Durham
http://durhamnc.gov/ich/as/bms/Pages/2015-2016_Preliminary_Budget.aspx
Highlights of recommended budget:
Add fifteen full-time positions. Presuming firefighters, for Engine 17 / Station 17?
Complete design and development process of Fire Station 17, anticipating construction in FY17. Location is corner of Leesville and Doc Nichols Road. Believe the parcel is addressed 5503, northwest corner. Total 3.379 acres.
Start land acquisition for future Fire Station 18 site, in area of Herndon Road and Stinhurst Drive.
Chapel Hill
http://www.townofchapelhill.org/town-hall/departments-services/business-management/budget/budget-development/2015-2016
Highlights of recommended budget:
Two fire inspector positions added.
References to the town's four (presumably oldest) fire stations needing replacement, along with training center.
References to a Hamilton Road fire station site, part of a public-private redevelopment project.
Cary
https://www.townofcary.org/Departments/townmanagersoffice/Budget/recommendedFY2016.htm
See this blog posting.
Apex
https://www.apexnc.org/153/Budget
Highlights of recommended budget:
Heavy rescue replacement.
"Apex Rescue 4 serves as the fire district's Heavy Rescue unit operating out of our station on East Williams Street. The truck carries all types of rescue equipment to include Confined Space Rescue, Trench Rescue, Vehicle Extrication and High-Angle Rope Rescue. The total cost of this truck is $445,000. Of this, $84,000 will be paid by a Wake County fire apparatus replacement grant."
Pumper purchase for Station 5.
"Once Public Safety Station 5 is constructed, a new [$385,000] fire engine will be required to operate from this location. The purchase of an engine with all necessary equipment will reduce the response times to fire and medical calls to the western side of Apex. The amount shown is the cost of the apparatus. Equipment costs ($35,000) are included in the budget, but not paid for from fund balance.
Add twelve new firefighters, effective June 8, 2016, in advance of opening of Station 5.
SCBA replacement.
Details on Public Safety Station 5?
Addressed 2050 Kelly Road, which is northeast corner of Apex Barbecue and Kelly roads.
Architect Stewart-Cooper-Newell completing design work, with project going to bid soon.
READ MORE
+ 0 - 0 | § ¶
Today's House Fire in Apex
Our friends at the Apex Fire Department have passed along some pictures from today's house fire. Dispatched about 1:10 p.m. to 2107 Rocky Mountain Way. Two-story, wood-frame, single-family dwelling with 3,584 square-feet. Built 2002. Arriving units found heavy some and flames showing from the roof and attic area.
Recalling radio traffic and from other sources, Engine 4 was the arriving pumper. Three lines were stretched, and Ladder 4 was deployed. Crews attempted interior attack, but were withdrawn within about ten minutes. Aerial operations were started and knocked down most of the flames. Plus protection of exposures.
Included Apex E1, E2, E4, L1, L3, L4, B1, C10, C6, C5, C2, C1, with mutual aid from Morrisville E3, L1, Fairview E1, and Holly Springs Squad 1, E2. Medical included EMS 52, EMS 54, D5, T1. Investigation with WC 1, WC 2 assisting Apex Car 5 and Car 6. (Readers please provide corrections or additions as needed.)
On a related note, this was a stone's throw from the future site of Apex Station 5, e.g. Public Safety Station 5. The facility is planned for 2050 Kelly Road, which is the northeast corner of Kelly and Apex Barbecue roads. Lot sized 2.65 acres. The town's recently released recommended budget contains a few details. We'll cover that in a subsequent posting about the various local budgets.
Here's a WTVD story about today's fire. The house was destroyed, with flames consuming nearly the entire roof. Heat also damaged vinyl siding on a home next door. Nobody was home at the time of the blaze. Click to enlarge:

+ 1 - 0 | § ¶
Cary Climbs to Class 1 and Other ISO Updates
Speaking of the Cary Fire Department, let's trumpet their insurance rating improvement that was announced last month. And, cough, cough, which we didn't blog or tweet about at the time.1 They climbed from Class 3 to Class 1 rating, becoming the first ISO 1 fire department in the Triangle, and joining just a couple others in North Carolina.2
From Town of Cary press release on April 23, 2015:
"Following a rigorous four-month review by Insurance Services Office (ISO), the Town of Cary has jumped from a Class 3 rating to the top insurance rating of Class 1. As a result, roughly one in three Cary businesses can expect to see a lower insurance premium in the coming months; the change in rating will likely have little to no impact on residential insurance premiums. The rating will go into effect July 1. "
The last ISO review was conducted in 2010, and specific improvements to both the fire department and the supporting infrastructure included:
"Expanding capacity at the Town's Communications Center; implementing improvements to the Town's radio system; expanding the water system in proportion to the Town's population; and redistributing Fire Department resources in conjunction with the opening of a new fire station and starting construction of an additional fire station."
The Cary Fire Department has eight stations and 219 employees. They operate eight engines, four ladders, and three rescues. They serve an area of 57.56 square miles and a population of over 150,000.
How many Class 1 fire departments are there in North Carolina? Two more departments were added to that list in April, as both Fayetteville and High Point received insurance rating increases. Here's a press release on the former and a High Point Enterprise story on the latter.
Locally, both Raleigh and Durham were evaluated at the same time as Cary. The results of Durham's inspection were announced earlier this month. They climbed from a Class 3 to a Class 2, as this May 8 news release notes. The results of Raleigh's inspection are pending.
Congratulations to these fire departments on their increased insurance ratings!
1Here's the deal with social media and stuff. History Boy plays on three channels: Facebook, Twitter, and his blog. Sometimes he'll use one and plan to use another. Then he gets distracted and the second step doesn't happen. And even though, if asked later, he'll swear on a stack of pancakes that he did both. (Because his brain remembers the thoughts of intention, just not the resulting action.) Works for me as an excuse. Also a good reminder that you really need a methodology to successfully social media-ize across several channels. Say, a checklist. (Read Atul Gawande's excellent The Checklist Manifesto: How to Get Things Right for perspectives on same.)
2The Cary Fire Department is also nationally accredited, which is another rarity. They received same in 1999 as this news release notes. Today, there are nineteen accredited fire departments in North Carolina. View that list.
+ 1 - 1 | § ¶
Reference Sources For Houston Fire Department Millennium Book
Happened upon a copy of Houston Fire Department 2000: Millennium Edition, published by the Houston Fire Museum and printed by Taylor Publishing Company. The hardcover book measures 9" by 12" and contains 336 pages. The contents are the expected past 'n' present collection of names, portraits, pictures, and narratives. But there are some interesting sidebar items, including:
List of Houston's Mayors
List of Houston's volunteer fire companies in the 19th Century
List of demographics and department size by decade, 1840 to 2000
Fire response comparison, 1910 and 2000
Evolution of the modern pumper.
And a list of References, titled "Sources and suggested readings about the history of the city, firefighting, and the Houston Fire Department." Now that's neat and something I wish we'd (a.) compiled and (b.) included in the Raleigh Fire Department's centennial history book.
Surely there's on online version, right? History Boy has everything else seemingly documented on his RFD history site. Cough, cough, kinda, sorta. He has a page of sources from 2004, which applies to both Raleigh and Wake County information. But nothing specific about the city and the city fire department.
Memo to self: rectify said situation. Click to enlarge:


+ 2 - 0 | § ¶
Cary Planning For Quint Company (And Other News)
That's news out of the town's recommended budget for FY16. And that's an intentional attention-grabbing headline. Bit more exciting than say "Cary's Plans For Old Station 2" or "Cary Planning Ninth Engine Company."
The story goes something like this. Station 2 will be relocated from 875 SE Maynard Road to 601 E. Chatham Street, when new construction is completed during the next fiscal year. Meaning, between July 1, 2015, and June 30, 2016.
When the new station opens, Engine 2 will be relocated one-and-a-half miles north. This will create a first due coverage gap on the southeast side of town, e.g. along the Walnut Street corridor. That's also why the town is planning a new fire station at the corner of Walnut Street and Nottingham Drive.
The parcel is addressed as 1427 Walnut Street, and was purchased either last year or the prior. To be named Station 9, construction was anticipated as happening in FY16. The capital project has been posted until a later budget year. Here's a picture of the site, which presently houses a church building that's no longer occupied. Click to enlarge:


To maintain coverage to that area, the following plans are planned: Engine 2 will relocate to Chatham Street, Engine 6 will relocate to Maynard Road and be renamed Engine 9, and Ladder 6 will become a quint company that's designated Engine 6. The town is also adding three additional firefighter positions, so an additional "man" is added to the quint company.
There's no present timeframe for how long old Station 2 will remain operational. Thus, the town is also budgeting $250,000 for foundation repairs to the building in FY16.
Where will Rescue 2 be housed? That's still being assessed, along with the locations of Rescue 4 and Rescue 7, we are told.
In other budget news, funding for a pumper replacement is also recommended in FY16. Unit #1957, a 2003 Pierce, will be replaced.
Read the recommended budget on this page.
+ 0 - 0 | § ¶
Kenly's Restored 1944 Ford/Oren Pumper
On Saturday, the Kenly Fire Department in Johnston County proudly displayed their recently restored 1944 Ford/Oren pumper. Lee Wilson attended the event and has posted photos, as well as pictures from April, showing some of the restoration. Here's a blog post from 2013 about the truck. It was the second engine operated by the town, and was later privately owned in Iowa. The truck was returned to the department in November 2012.



Lee Wilson photos
+ 1 - 0 | § ¶
Wake County Names New Fire Services Director... Last Month
Entirely missed this one from last month.
Wake County named their new Fire Services Director in mid-April. Welcome Nick Campasano from Manchester, NH. He's a thirty-year veteran of the Manchester Fire Department and presently Deputy Fire Chief. He's also adjunct college professor in Nashua (teaches homeland security courses on campus) and an elected Selectman for the town of Goffstown.
He has an undergraduate degree in Human Services, and masters degrees in Organizational Management and Leadership as well as Security Studies. He'll lead the seventeen-person Fire Services department beginning on May 26, 2015. (If his name sounds familiar, you may know his son, Nicholas Campasano II. He's a Raleigh firefighter who graduated in the last recruit academy last year.)
Read the entire press release. Welcome aboard!
+ 1 - 0 | § ¶
Two Thoughts - Twitter and Mobile
Two thoughts for your morning reading.
First, Twitter.
You see that widget to the right, right? Twitter feed. Microblog. Mere 140 characters. That's what's supplanted many of the familiar blog postings over the last couple of years.
Is that the future of this blog? Will postings here become even less frequent, and even disappear in favor of all-Twitter? Probably not. Still need a platform for larger and longer content.
But keep an eye on that widget, as anything and everything is game for posting. Tweets by Legeros can include...
Hiring notices
May 12, 2015
Wilmington Fire Dept is hiring. Recruitment started in May, http://www.wilmingtonnc.gov/fire_departmen
t/recruitment …
Media commentary
May 12, 2015
N&O Starbucks/Coffee story, wish it had label of OPINION of COMMENTARY. Maybe I'm traditionalist. Your thoughts? http://www.newsobserver.com/news/local/counties/wake-county/article20665194.html …
Mobile photos
May 11, 2015
Mobile #police labs seen around Raleigh, Durham. @DurhamPoliceNC #NCALE
Announcements of posted photos
May 10
PHOTOS - #Firefighter events at Apple Blossom Festival @AVABF in #Winchester, VA, https://www.flickr.com/photos/legeros/collections/72157650057542204/ …
Interesting stories found on fire or news sites
May 9
Kinston Free Press, Historic firehouse's days may be numbered, old Hose Co. 2 on MLK Blvd, http://www.kinston.com/news/local/historic-firehouse-s-days-may-be-numbered-1.475212 …
Interesting themes or connections between news stories
May 5
Social media studies for fire, police, et al. via Firegeezer, http://tinyurl.com/nt274mn & Daily Mail, http://tinyurl.com/nt274mn . #BaltimoreRiots
Retweets of other tweets, from such folks as
Lee Wilson
FireNews.net
Raleigh Fire Museum
Dave Statter/Statter911
etc.
Second thought.
Mobile responsiveness. This blog is based on an older technology that's not mobile responsive. Meaning, it doesn't present a smaller or slimmer version when viewed on a tablet or phone.
Don't believe that any modifications are possible. Rather, an all-new blog platform is probably required. Been pondering restarting the blog, and for some years now. Fresh start, and maybe with better technology for managing comments.
Please remain calm if this blog stops some day (e.g., no new postings and maybe even no new comments), and a second one starts elsewhere.
That is all.
+ 1 - 0 | § ¶
Wake County Fire Commission Meeting - May 14, 2015
The next meeting of the Wake County Fire Commission is Thursday, May 14, 2015, at 7:00 p.m. The location is the Wake County EMS Training Facility, in the lower level of the Wake County Commons Building, 4011 Carya Drive. The documents for the meeting are linked below.
Agenda
Meeting Called to Order: Chairman Lucius Jones

Invocation
Roll of Members Present

Items of Business

Approval of Agenda
Adoption of Minutes for January 15, 2015 Regular Meeting

Regular Agenda

Consideration of Fire Tax District Budget Committee and Staff FY 2016 Operating Budget and FY16-FY22 Fire CIP
Compensation and Staffing Committee Recommendation to increase the current 2008/2009 Fire Service Pay Band Maximums 2%

Information Agenda

Compensation and Staffing Committee Update Regarding Eastern Wake Fire Department Organizational Re-Alignment
Fire Commission Rules of Procedure – Section VIII. Committees; D. Standing Committee Procedures
Fire Tax Distric Financial Report
Chair Report
Fire Services Director Report

Other Business
Public Comments:

Comments from the public will be received at the time appointed by the Chairman of the Fire Commission for 30 minutes maximum time allotted, with a maximum of 3 minutes per person. A signup sheet for those who wish to speak during the public comments section of the meeting is located at the entrance of the meeting room.

Adjournment - Next Meeting July 16, 2015
Documents
Agenda packet (PDF)
+ 0 - 1 | § ¶
Raleigh Fire Department Graduating Thirty-Six New Firefighters
As this press release notes, Raleigh Fire Department Recruit Academy 40 graduates this week. Thirty-six new firefighters will take their oath of office on Thursday, May 14. The ceremony will be held at 7:00 p.m. in the Fletcher Opera Theater at the Duke Energy Center.
The recruits completed more than 998 hours of classroom and practical instruction and physical fitness training over the course of their six-month academy. Upon graduation they'll be certified by State of North Carolina as Firefighter II, Emergency Medical Technician, and Hazardous Materials Responder.
There are thirty-two men and four women, and they include local residents and recruits from Florida, Kentucky, Ohio, and Washington.
The class also includes two second-generation Raleigh firefighters (J. A. Lane, son of Andy; J. T. Atkins, son of Jacob), and a third-generation Raleigh firefighter (D. N. Brown, son of Donnie and grandson of Titus). Plus a couple brothers of current firefighters and other relations. We'll update our family tree (PDF) accordingly.
The graduating recruits will help fill open positions, including firefighters reassigned to Station 29, when the new companies Engine 29 and Ladder 9 are placed in service next month. They are:
Rontaegus L. Alford
Jacob T. Atkins
Ryan W. Ault
Scott D. Bartow
Dillon N. Brown
Jonathan W. Brown
Eric R. Champion
Christian C. Christopoulos
Andrew E. Davis
James L. Davis
Rebecca E. Davis
Bradley T. Faucette
Britney M. Fitchpatrick
Randy D. Fobbs
Tyler L. Gouge
Eric T. Griffin Jr.
John T. Hauser
Cody A. Heakins
Eric A. Hisey
Alexis R. John
Daniel E. Kennon
Christopher R. King
Joseph A. Lane Jr.
Timothy M. Lee
Justin J. Melanson
Ryan L. Nelson
Tyler C. Parrott
Christopher K. Patterson
Rafael Perez-Valdivia
Aaron W. Proctor
Nicholas W. Robinson
Diana N. Trout
Aaron M. Voss
Jordan L. Whitley
Nicholas K. Williams
Aaron M. Winfree.
Congratulations to all! Click to enlarge:


+ 1 - 2 | § ¶
Small Fire at Old Station 8
Did you catch the twist to the commercial structure fire on Wednesday, reported at the intersection of Western Boulevard and Method Road? Engine 8 was first-due and found a small fire in the rear of a barbershop at 1007 Method Road. Eagle-eared listeners might've recognized the location as the original Station 8. See a few photos from Lee Wilson, from the aftermath.
Back in the day that was a rented house that opened as a fire station on April 1, 1960. Engine 9, the second engine at Station 1, was relocated at 11:55 p.m. on March 31. That was five minutes after City Council approved annexation to an area in west Raleigh.
The engine was a 1953 American LaFrance 700 Series. Tanker 1 was also placed in service at that location two days later. That was a 1960 GMC 4000/Alexander, 1500 gallons. Two shifts of six firefighters manned the station. Both trucks were housed in a concrete addition built by firefighters.
Engine 8 relocated to its permanent and still-present location in February 1963. Happened after Valentine's Day, but the exact date is still unknown. Station 8 is located at 5001 Western Boulevard. Read more histories of both locations. Alas, precious few photos have been found of the original station. One scanned newspaper clipping is shown below.



Lee Wilson photo

Mike Legeros photo from 2012

News & Observer photos, April 3?, 1960
+ 3 - 2 | § ¶
Alexandria, Historical Engine Houses, Bedrooms and Televisions
Where was Legeros this weekend, while the North Carolina fallen firefighters events were underway in downtown Raleigh? (And which were ably photographed by Lee Wilson, see his pictures of the parade and ceremony.) He was in Virginia for the occasion of his May 1 wedding anniversary. First in Winchester (more on that later), and then in Alexandria.
The latter is an old town, beginning in 1695 with its first European settlement. Much of the town was incorporated into the new District of Columbia in 1801. It was returned to Virginia in 1846. Today, the historic downtown is called Old Town.
Not surprisingly, there are a handful of former and historic fire stations to be found in Alexandria. The oldest is the former quarters of the Friendship Fire Company. They were organized in 1755 and their engine house at 107 S. Alfred Street was erected in 1855. The building was substantially renovated in 1871, and restored by the city in 1992. It presently houses the Friendship Firehouse Museum. Read more, and see my pictures from a 2009 visit.



Numerous other fire companies protected Alexandria over the decades and centuries, including the Columbia, Crescent, Hydraulion, Reliance, Relief, Star, Sun, and U.S. Steam fire companies. Plus the town of Potomac fire department, which was annexed by Alexandria in 1930. This history page on the AFD site provides more information.
Yours Truly found a total of six former and historic engine houses that are still standing:

| | | | | |
| --- | --- | --- | --- | --- |
| Columbia | 109 S. Saint Asaph | Built 1883 | Moved 1960 | Currently Columbia Firehouse restaurant |
| Friendship | 107 S. Alfred | Built 1855 | Closed ? | Currently Friendship Firehouse Museum |
| Reliance | 115 N. Patrick | Built 1900tr | Moved ? | Currently private residence |
| Relief | 317 Prince | Built 1935tr | Active | Currently Engine 301 |
| Relief | 319 Prince | Built 1880tr | Moved 1935 | Currently private residence |
| Potomac | 213 E. Windsor | Built 1926 | Active | Currently Engine 202 |
Tax records as source as noted "tr", by the way. Click to enlarge:



Mike Legeros / Google Street View (top right) photos

Alexandria was also home to Potomac Yard, which this Wikipedia article calls one of the busiest rail yards on the east coast. Railroad development in the area started in the 1850s. The switching yard named Potomac Yard opened in 1906. The site reached capacity in 1937. During subsequent years and decades, use of the facility greatly diminished. It was decommissioned in 1989, and has been redeveloped as a site for commercial and residential use.
One of the most interesting buildings is named The Station at Potomac Yard, and is a combined high-rise mixed-use building and municipal fire station. The later is located on the ground floor along with retail space. The upper four floors house sixty-four apartments. There are also two levels of underground parking, for the firefighters, residents, and retail customers. Here's one of numerous articles about the project you'll find via Google.

The fire station opened in 2009, and included individual bedrooms for the firefighters. But without televisions, as this city press release noted:
The bedrooms are small, and contain a bed and a desk. "Studies have shown that, around the country, firefighters are spending more and more time in their bedrooms watching television or working on their computers. This does not encourage team building. We are not allowing TVs or phones in bedrooms. We want the firefighters to use them for sleeping and spend time in the common areas with other members of the company when they are awake," North said.
There's an interesting twist, and one that's probably been discussed and/or debated by firefighters since the introduction of individual rooms. (Wonder what the history is there? Presuming it's a function of gender separation, as female firefighters joined career departments. Though separate rooms for officers have been a staple for decades.)
What's the norm locally, regionally, or nationally? How common or rare are single-room bunk rooms? Need readers to advise. Presuming that "no walls" are rare, with space dividers as the norm. Be they sleeping areas segmented by actual walls, partitions, or lockers or furniture.
Benefits and/or demerits to individual dorm rooms or sleeping areas? Now there's a topic for discussion, and notably when technology is added.
How do such things affect team dynamics, as expressed in the above quote? Person-to-person communication comes to my mind. Remember Nextel phones? They exploded the firehouse environment like nothing before.
Think back a few years and before the first cell phones. "Back in the day," we might say, "we didn't have fully enclosed cabs, nor rip 'n' run printers, nor computers with internet connections. Just two land lines. You spent most of your day talking to the people working at the station."
Today it's a whole 'nother world. When each member of the "firehouse team" has/can have a personal phone, e-mail device, instant message device, and Facebook device, what happens to that "traditionally encapsulated" team dynamic.
Discuss as desired.
+ 0 - 2 | § ¶
Vintage Photo of High Point Pumper-Tanker
Found for sale on eBay, color slide scan of a 1984 Chevrolet/Slagle pumper-tanker that served High Point Fire Department. Wonder what the history is there? Purchased to protect new or pending annexed areas that didn't have hydrants? Acquired through assets obtained from a rural fire department? Maybe readers will know. Click to enlarge: