+ 1 - 0 | § ¶
Response Changes in Chesterfield County, VA
From a reader, here's a Firehouse.com story about response changes starting tomorrow in Chesterfield County, VA. That's right outside Richmond, if memory serves. Three big things:
Volunteers will not be using red lights in personal vehicles.
Tankers will respond to calls without lights and siren and driving the speed limit.
Volunteer units that are not staffed will not be dispatched.
The last point is something we've discussed here, and which has been advocated by readers for Wake County. Under the new guidelines, notes the story, only staffed units will be dispatched to calls. And only those resources "necessary to mitigate the emergency" will be allowed to respond.
The article also provides some details about CCFD. They only have two full volunteer stations, and their total personnel number 423 career members and 100 volunteers. Read the article, discuss as desired. Or learn more about Chesterfield County Fire & EMS.
+ 0 - 1 | § ¶
Cary Fire Station 8 and Other News
Speaking of new fire stations, Cary Fire Station 8 is planned to include a permanent police substation. As last week's News & Observer story reported, the town has fast-tracked funding of a temporary substation in the same area. And possibly in the same shopping center as the Wachovia bank branch that experienced the hostage situation on February 10. As this project page notes, the fire station will be located at 408 Mills Park Drive. Three apparatus bays and 13,700 square-foot. Two stories, we've heard.
Starting tomorrow, Truck 7 becomes Rescue 7 and Truck 6 becomes Ladder 6. The changes are part of a new CAD and records management system (RMS) that's going live on March 1. The former is a 2008 Pierce Velocity heavy rescue/service ladder/mobile air/everything unit. The latter is a 2008 Pierce Velocity aerial ladder, 105-foot with a 1,500 GPM pump. They're location at Station 7 and Station 6, respectively. But since that's way too easy to figure out, maybe it's time for some Philly/Raleigh style renumbering. Ladder 1, Ladder 2, Ladder 3, Ladder 4, etc. Any takers?
Speaking of apparatus, bids are about to open for a 100-foot aerial platform and a heavy rescue. The latter is the replacement for Rescue 2, one of two 2000 Ford F-550/KME light-duty trucks that have seen heavy duty. The new ladder will replace one of the current ladders, which will replace the reserve 1995 Mack/Craft Body Works service truck. That one's also used as a reserve rescue. CFD has also placed Technical Rescue Support 1 or TRS 1 in service. That's the tractor-drawn unit, with a Volvo tractor pulling a Great Dane trailer. The confined space and trench rescue equipment was formerly carried in separate, small trailers. See pictures of these and other Cary fire trucks.
+ 1 - 0 | § ¶
Behind The Fire Station
Couple interesting things found behind the Newport fire station on Sunday. Forestry service plow and transport. Tractor-drawn live fire simulator. See more photos. Interesting tanker they've got, as well. That a converted milk tank on a newer chassis?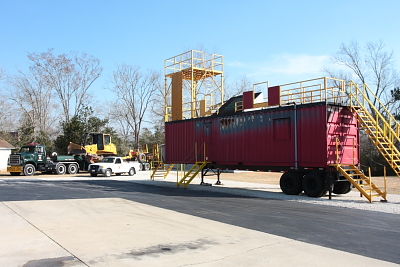 + 1 - 0 | § ¶
Future Home of Morehead City Station 2
Pictured is the future location of Morehead City Fire & EMS Station 2 at 4034 Arendell Street. That's the old News-Times building, a one-story structure with 6,690 square-feet. Built 1977. The structure has both bay space and an office area, the latter which will be converted to living quarters as well as the administrative offices for the fire and EMS departments. The building will also house a relocated satellite police station. The entire structure is planned for use, and without expanding the building's footprint. The property had been on the market for several years, and the town acquired same at a cost below market value.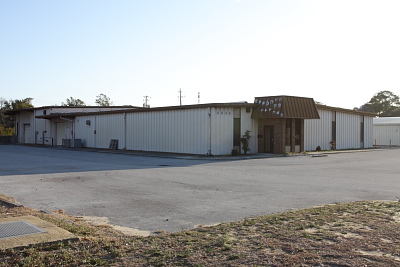 Funding is being provided by the United States Department Agriculture, though what looks like a combination of a loan up to $2.1 million and a grant of $200,000. Early estimates placed the project costs at $1.05 million for acquiring the land and $1.3 million for renovation and site improvements. The architect for the renovation is C. R. Francis Architects of New Bern. Renovations are planned for completion this year. Moving the station will also lower the ISO rating for the town, from 5 to 4. (The location is more strategic, the town having developed in directions west and north of the original municipal boundaries.) The project was approved at a special meeting of the city council on November 22, 2010.
The current Station 2 is located at 3308 Arendell Street. It's a combination one- and two-story structure with 3,342 square-feet. Built in 1956, it's had additions including a bay extension in the rear and living quarters added on the west side. The station houses Engine 2, a quint, and a reserve pumper-tanker. The fireboat is also housed there, parked in the rear. The boat appears to be out of service, based on reading the below town minutes. The fire station sits on land owned by the Carteret County School System. If the city ceases using the building, the property reverts back to the schools.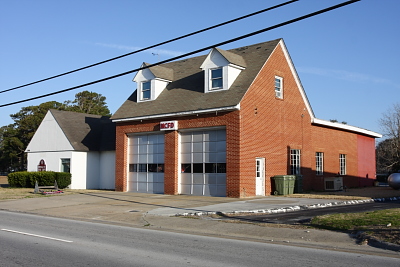 Camp Glenn Elementary School is located beside the fire station. It's named after the National Guard camp on that site from 1911 to 1918, and was later the site of a Navy base and the first Coast Guard air station, 1920 to 1921. The first State Highway Patrol training school was also held at that location, at the site of the then-abandoned camp.

See more photos of both buildings.

Sources:
+ 0 - 1 | § ¶
Red and White and Green and Yellow
How many fire stations do we pass, driving from Raleigh to Morehead City? Believe it's just seven...
El-Roy (Wayne)
Wyse Fork and pictured below (Jones)
Havelock #2 (Craven)
Township Six #2 and pictured below (Craven)
Havelock #1 (Craven)
Wildwood / Morehead City #3 (Carteret)
Morehead City #2 (Carteret).
We missing anyone? Click to enlarge:
+ 0 - 1 | § ¶
Loud Graphics
Saw this in Morehead City this weekend. Gives me ideas for other things. How about a rapid response vehicle for Yours Truly, done in a bright-colored tropical design? With hot pink chevrons, of course. Click to enlarge:


+ 0 - 1 | § ¶
When is it Acceptible to Reduce Fire Department Resources?
That's my rhetorical question to Firegeezer blogger Mike Ward, in response to this thoughtful posting titled Neither a Scapegoat Nor Soundbite. See the comments, eight so far. Great piece and with six points of what municipal firefighters should do in these tough economic times.
Learn your budget: the income, expenditures, and the process.
Fight rhetoric and soundbites with facts.
Avoid a perception of entitlement.
Think the unthinkable.
Have a personal plan B.
Engage in the messy local democratic process.
Mind you, we're faring pretty good (or comparatively good) for fire department funding in these parts. But his perspective is useful no matter your situation. Because resources are always required. The money must come from somewhere. Read, discuss. Happy Friday.
+ 0 - 1 | § ¶
Garner Fire Department Full-Time Firefighter Positions Available
Annual Salary: $30,400.00
Job Description: Employee will work twenty-four (24) hours per day rotating shifts (A, B, C). Duties will include, but are not limited to, Fire Suppression, Hydrant Maintenance, Pre-fire Surveys, Equipment Maintenance, Fire Prevention Education, Maintenance of Building and Grounds, and some administrative duties assigned by the Chief.
Qualifications:
Valid NC Class B Driver's License (within 12 months of employment)
NC Firefighter Level II
NC Rescue Technician (Preferred but not a prerequisite)
NC EMT
NC Haz-Mat Ops
Blood Borne Pathogens Training
NIMS 100, 200, 700, 800
Current Hepatitis B Vaccination/or Declination Form
TB Test within the past twelve (12) months/or Declination Form
How to Apply: Specific employment requirements for the job, benefits packet and application may be obtained from www.garnerfire.com or Garner Fire Station One (503 W. Main Street) Monday through Friday between 8:00 AM and 5:00 PM. Application must be completed and returned prior to Noon on Friday, March 18, 2011, to the attention of Deputy Chief Herman.
+ 0 - 1 | § ¶
Caption This Photo
Scene from yesterday's two alarm fire on Hoyle Drive. And you know what the motorist is asking these guys... See more photos by Mike Legeros, taken maybe twenty minutes after units arrived.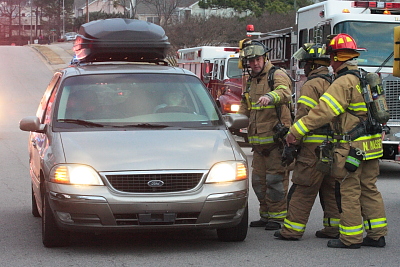 + 1 - 1 | § ¶
One Meridian Plaza - Twenty Years Later
Yesterday was the twentieth anniversary of the One Meridian Plaza fire in Philadelphia that killed three firefighters on February 23, 1991. The twelve-alarm (!) blaze in the 38-story high-rise office building changed the way such fires were fought. The fire started on the 22nd floor and burned out of control for hours, until it reached the sprinklers on the 30th floor. It destroyed eight floors, and damaged neighboring buildings.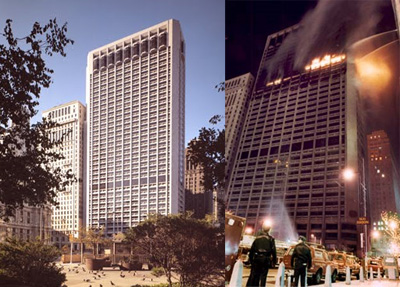 During the second hour of the fire, as it spread onto the 23rd and 24th floor, Captain David P. Holcombe, Firefighter Phyllis McAllister, and Firefighter James A. Chappell from Engine 11 were assigned to ventilate the stairwell at the top level. They entered a center staircase from the 22nd floor, and soon reported they were disoriented by heavy smoke on the 30th floor.
They reported their distress and broke a window for ventilation, search teams were sent to that floor, and did not locate the crew. That team moved to upper floors, and became disoriented and required rescue. Hours later, the team from Engine 11 was found, all unconscious and out of air. They could be not be resuscitated.
That's a condensed summary of some of what happened. Here are some links to learn more about the incident, its impact, and the building itself, which was demolished years later. At the time it was destroyed, it was the world's third tallest building to be demolished:
And this week in the Firehouse.com forums, user FWDbuff posted this run card for the incident:
READ MORE
+ 1 - 1 | § ¶
This Morning's Two Alarms / Hoyle Drive
Two alarms at 4716 Hoyle Drive. Battalion 1 arriving with heavy smoke and flames showing from the rear of a two-story, wood-frame townhome building with 7,804 square-feet. Built 1983. Engine 19 first engine on scene, with crews going inside structure. Dispatched 6:49 a.m. Controlled 7:18 p.m One unit rendered uninhabitable. Other units with smoke damage. Eighteen residents impacted. Cause under investigation Also reported as house fire on Presley Court off Hargrove Road. Units dispatched to second fire utilized as second alarm assignment. First alarm: E19, E15, E11, L2, R1, B1. Second alarm/Hargrove Road: E27, E21, E22, L5, R2, B2. Working fire: E__, A1, C10, C20, C40. Other: C2, C4. Medical: EMS 2, EMS 3, EMS 15, EMS 121, EMS 7, D4, D1, M92, T1. Few more details forthcoming, notably medical units on scene. Plus late-arriving pics from Legeros.



WTVD photo
+ 1 - 1 | § ¶
Burke County Fire Apparatus Accident
This Morganton News Herald article reports on Tuesday's apparatus accident in Burke County, when a West End Fire Department unit overturned on Dysartsville Road while responding to a reported structure fire about 2:30 p.m. Firefighter Donald Hughes was injured, suffering leg fractures and broken ribs. He was transported to Grace Hospital, and airlifted to Charlotte. The 2000 International fire engine was totaled.



WSCO-TV photo
+ 1 - 1 | § ¶
Charlotte Engine Collides with Car
As this WCNC story reports, Charlotte Engine 1 collided with a car this afternoon at the intersection of North Davidson Street and Parkwood Avenue. It was responding to the two-alarm condo fire on Donatello Avenue. Read this Charlotte Observer story about that fire. The person in the automobile was treated at the scene, and transported.



WCNC photo
+ 1 - 1 | § ¶
North Carolina Counties to Get Updated Aerial Photos to Aid 911 Response
FireNews finds this News & Observer story about a $12.3 million grant awarded to the city of Durham, which was applied for on behalf all 100 counties in the state, so their emergency communications centers can receive updated high-resolute color aerial photos of its county and surrounding counties. The updated imagery both unifies and replaces the patchwork of images that differ by year of creation, level of public access, and image quality. Durham and Orange counties received their new images last week. Wake and Johnston counties get theirs next month. Sounds super-cool. Can't wait to pay a visit, and see the imagery in action.
+ 2 - 1 | § ¶
Countywide Collaboration
Couple weeks ago and in the context of a couple apparatus deliveries, readers were passionately discussing our favorite recurring topic of collaboration among all fire departments in Wake County. Those discussions-- posted in postings about Rolesville's new ladder truck and Wake Forest's new ladder truck-- brought critical comments by the dozens. The points that people made were familiar to longtime readers of this blog: closest unit dispatch, staffing and training levels, automatic versus mutual aid, and such.
Saturday and a week ago Sunday, a pair of major incidents demonstrated the able collaboration of cross-country and intra-country fire departments. First was the structure fire on Eaglerock Drive on February 14. Second was Saturday's major grass in Wakefield. Discussing those two incidents on the blog has seen praise and appreciation for the response and abilities of those departments and their crews.
For your Monday morning discussion, how should we square these opposing opinions? The system's broken, at least when viewed from the safety of our arm chairs. But the system works great, when the wind's blowing and the fire is spreading fast. Obviously, the truth is somewhere in-between, and probably (certainly?) weighted much heavier on the "things that work well" side.
In the wake of both these incidents and earlier discussions, what observations, lessons learned, further questions, or further points can be made, on the long-talked but still very-passionate subject of collaboration among all fire departments in Wake County? And keep up the good work.
+ 1 - 1 | § ¶
Mystery Chevrons
Seen outside a fire station today and one that's not terribly difficult to identify. Now that's one compliant cargo trailer!


+ 1 - 1 | § ¶
Raleigh Police Memorial Foundation Golf Tournmanet, March 28
This week's Midtown Raleigh News reported that registration is underway for the second-annual Raleigh Police Memorial Foundation Golf Tournament on March 28 at North Ridge Country Club. Proceeds will help raise the estimated $250,000 needed to erect a memorial for fallen members of the Raleigh Police Department. Photos of the fallen officers are also displayed at the event, on signs at the tees. See photos from last year. The article also talks about the foundation and its origin, which began several years ago when Raleigh officers were participating in the Road to Hope bike ride from Virginia Beach to Washington, D.C. To register for the tournament, to learn more about the foundation, and to remember those who died in the line of duty, visit the web site rpdmemorial.org.



+ 1 - 1 | § ¶
Today's Brush Fires / Wakefield Brush Fire
How big brush fires happened around here today? The tac channels and patched channels were a-buzz this afternoon. Morrisville, Falls, Hopkins. For starters. Reports were also coming from Durham, with a woods fire at the Duke Homstead historic site. Below is a photo from the Wakefield Plantation Golf Course fire, which was reported about 3:30 p.m. Those wind-fed flames spread quickly and threatened structures on three sides.
Falls, Raleigh, Wake Forest, Stony Hill, Bay Leaf, and Durham Highway were among the departments on scene. That included a major working fire assignment from the city. WRAL reported about 25 acres burned, with the fire controlled about 5:00 p.m. Legeros has posted some preliminary (though late-arriving) photos. Lee Wilson was also on scene. Watch for his later.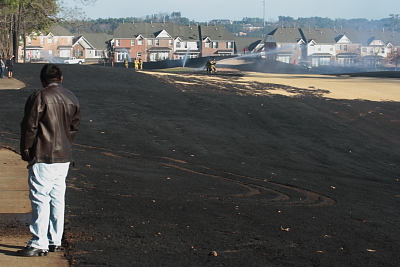 Sunday update, with units:
Falls - P212, pumper, brush, tanker 217, C2, C1 (incident command)
Raleigh - E25 (initial dispatch), E22, E15, E28, E4, E18, E27, E9, L5 (staffed by E22), L2, L2, R1, R3, R2, B4, B1, C10, C21, A1, C5
Bay Leaf - P258, P122, brush
Wake Forest - E3, two brush units, C5, C1
Stony Hill - E261, tanker 268, brush 263
Durham Highway - Brush
Forestry - Two units plus plow
Medical -

EMS

4,

EMS

6,

EMS

10,

EMS

68, D3, T1
Coverage - Fuquay-Varina E2 to Falls, Cary E70 (T7 crew on spare engine) to Raleigh Station 10, Raleigh E13 to Station 15, others?
Monday update:
+ 1 - 4 | § ¶
Falls/Wake Forest Merger Again on the Table
The Wake Forest Gazette this week reports on the status of the merger of the Falls Fire Department with the Wake Forest Fire Department. Discussions are still underway between the two departments, reports the Gazette, and they are developing a timeline to see if the merger can be made to happen. Factors include the county's desire to close the Falls fire station, the need for that territory to be covered in the event of station closure, and the absence of hydrants in areas of the Falls fire district. Read the story. Or see the earlier Gazette story on same.
+ 1 - 1 | § ¶
Greensboro Honorary Fireman Badge
Something else interesting from eBay, an honorary fireman's badge from the Greensboro Fire Department. The seller is dating to the early Twentieth Century. Have other departments around the state have issued such badges, in recent or earlier decades? Wonder if it was strictly ceremonial, or afforded any privileges? Like fire scene access.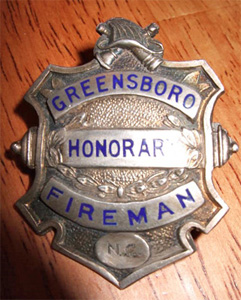 + 1 - 1 | § ¶
Winston Reservoir Collapse Kills 9, 1904
Speaking of disasters of yore, this historical marker tells the story of Winston's water reservoir, which collapsed early on the morning of November 2, 1904. That's a decade before Winston merged with Salem. Around a million gallons of water destroyed homes, drowned nine people, and injured many others. Read this GenDisasters account.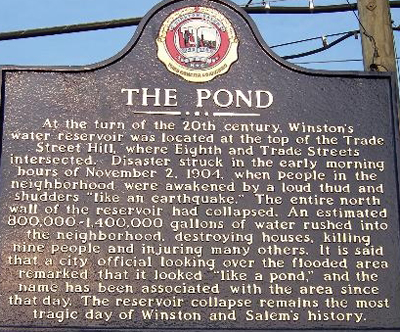 + 1 - 1 | § ¶
North Carolina Fallen Firefighters Database Updated
Speaking of historical information, Yours Truly has updated his North Carolina Fallen Firefighters Database this week. First and foremost, the information should not be considered an official representation of any fallen firefighters organization. The data has been compiled from multiple sources (NCFFF, NFFF, NCDOI, USFA, etc.) and includes quite a bit of expanded information from death certificates before 1976. Such as full names, birth dates, burial information, gender, and race. No photos at this time, however. The database is strictly text. The descriptions of the fatal incidents are also relatively brief, and not intended as extended narratives. View the database, and also see this historical article on North Carolina fallen firefighters from a few years back.
+ 1 - 1 | § ¶
Kenansville Prison Camp Fire Kills 11, 1931
Performing my regular eBay search on "NC fire" finds this 1931 issue of the Omaha Bee-News for sale. The contents of the issue are described as including a Kenansville prison camp disaster. Subsequent Google searches finds the story of a Duplin County prison camp (also called stockade) that burned on March 7, 1931. Eleven convicts were killed, which makes the fire the second deadliest in the state's history, behind the Hamlet chicken plant fire that killed 25 in 1981. See my database of deadliest fires in North Carolina.
The prison camp was located several miles from Kenansville. The fire started in the early morning, and guards and citizens rushed to release as many of the 52 prisoners as possible from their steel and wooden cages. Flames spread from the camp kitchen to the sleeping quarters. Camp Superintendent John Best reported the fire using the camp's lone telephone line, and nearly all of the town's citizens responded to assist.
Four guards worked as fast as possible to open cell doors. Forty-one prisoners were saved, and 11 died. Read this account from the Charleston Daily Mail as transcribed on GenDiasasters. The facility appears still operational, as this NCDOC page states. They cite the year of the fire as 1928. Next step, updating my fatal fires database accordingly.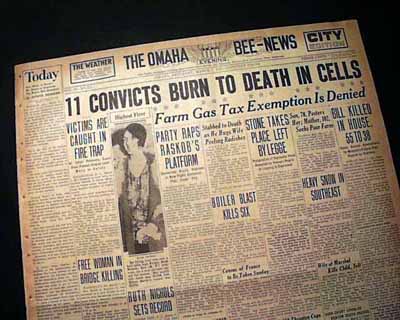 + 1 - 1 | § ¶
Italian Firefighting Action
From this updated Firegeezer story comes this well-shot video of a food distribution warehouse fire in Caldierino, Verona, Italy. The eight-minute video includes quite a few apparatus shots, including what looks like an Iveco/Magirus Dragon airport crash truck being utilized as a master stream. And those typically lean ladder trucks. No ground ladders or equipment racks on those things! Some interior footage as well.



+ 0 - 1 | § ¶
Flyer For Public Safety RAPS Race on Friday, April 8
Click to view this PDF flyer
for the public safety RAPS race on Friday, April 8:


+ 1 - 0 | § ¶
Garner Fire Department's First Annual Relay For Life Golf Tournament, Saturday, March 26
On Saturday, March 26, the Garner Fire Department hosts its First Annual Relay For Life Golf Tournament at Pine Hollow Golf Course, 3300 E. Garner Road, Clayton, NC. The Captain's choice superball tournament will raise money for the American Cancer Society's Relay For Life. The shotgun start is 12:00 p.m. Come early for a complimentary lunch a putting contest that starts at 11:00 a.m. The cost is $70 per golfer and includes green and cart fees, range balls, lunch and a BBQ chicken, raffle, tournament champion prizes, and Closest to the Pin, Longest Drive, and Hole in One contests. Visit this web page for registration and sponsorship forms. Team slots are limited, to register as soon as possible! Fore! For more information, contact Ronnie Correia at rcorreia@garnerfire.com.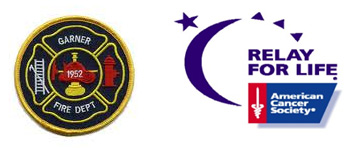 + 0 - 2 | § ¶
Charlotte Plane Crash Press Photo, 1974
Unusual item for sale on eBay, press photo from the September 11, 1974 plane crash in Charlotte of Eastern Air Lines Flight 212. We've blogged about that incident before, after finding an Hose & Nozzle article on same. The fatalities totaled 71 of the 82 souls aboard. And what is the origin of the phrase "souls on board?" That's a holdover from maritime tradition. Here's a discussion thread on same. Key quote: "Ships required a term that comprehensively covered everyone who could possibly be on board, in whatever capacity: the officers, the crew, the crew's families, the supercargo, the passengers, the local pilot, native bumboatwomen, etc."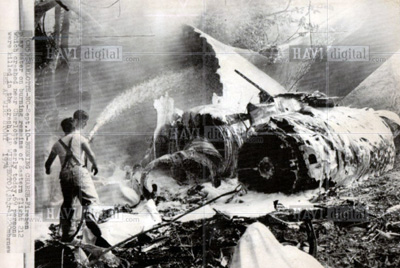 + 2 - 0 | § ¶
Yesterday's Brush Fire on Interstate 40
Captured this traffic camera photo yesterday afternoon, as a brush fire burned alongside Interstate 40 near Exit 266 in Orange County. The freeway was shut down as crews from New Hope and other departments battled the blaze that threatened nearby structures on Foxridge and Whitfield roads. The fire was reported around 5:00 p.m. and contained within an hour. Departments on scene included New Hope (three engines, tanker, brush, air truck), Hillsborough (engine, brush), Chapel Hill (engine, brush, BC), Durham (engine), Parkwood, and the forestry service (plow). Readers can expand the incident details and units on scene. See aerial photos from WTVD.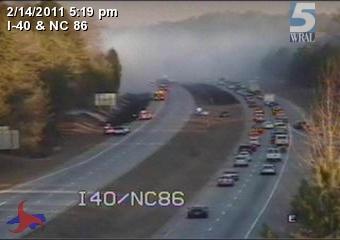 + 0 - 1 | § ¶
Red Neck Vampire Warning For Today
The National Center for Undead Tracking (NCUT) has issued a vampire warning for the Raleigh-Durham metropolitan area. They cite news reports of unusual activity related to neck biting as well as individuals claiming to be the Count himself.
The News & Observer reports today on a Morrisville man charged Sunday with assault, after biting another man on the neck with sufficient force to rip a portion of flesh away. He claimed to be a lay preacher, though any aversion to religion symbols was not reported.
NBC17 last week also reported that Durham man repeated called 911 for non-emergency reasons, and was hearing identifying himself as Dracula. He was arrested and charged with misusing the emergency telephone system. No information was provided on any Transylvanian heritage, however.
NCUT is particularly concerned about activity today, February 14. They have issued a particular warning for young women, who may find themselves bitten on the neck by their young male companions during the course of Valentine's Day.
+ 1 - 2 | § ¶
Red Flag Warning For Today's Weather
THE NATIONAL WEATHER SERVICE IN RALEIGH HAS ISSUED A RED FLAG WARNING...WHICH IS IN EFFECT FROM 10 AM THIS MORNING TO 9 PM EST THIS EVENING. THE FIRE WEATHER WATCH IS NO LONGER IN EFFECT.
SOUTHWEST TO WEST WINDS AT 15 TO 25 MPH ARE EXPECTED TO GUST BETWEEN 32 TO 40 MPH TODAY. THE STRONGEST WINDS WILL OCCUR BETWEEN 2 PM AND 8 PM. THESE STRONG WINDS COMBINED WITH LOW HUMIDITY AND VERY DRY TREE AND LEAF LITTER WILL POSE A RISK FOR EXPLOSIVE FIRE GROWTH. ANY FIRES THAT OCCUR WILL QUICKLY SPREAD AND GROW OUT OF CONTROL. FIRES MAY BE EASILY IGNITED BY SPARKS OR BY DISCARDED SMOKING MATERIALS.
PEOPLE ARE ENCOURAGED TO POSTPONE ANY BURNING UNTIL TUESDAY...AND TO PROPERLY EXTINGUISH ALL SMOKING MATERIALS.
+ 1 - 0 | § ¶
Hosed, Episode 2
Bar room sequence and with a bit of language not appropriate for sensitive ears. Probably won't generate the same sort of discussion as the first episode. Happy early Valentine's Day...



+ 3 - 0 | § ¶
This Afternoon's Major House Fire / Eaglerock Drive, Update

Sunday night update: See preliminary photos from the incident. Many more to be posted later...

That thick plume of smoke over north Raleigh this afternoon was an all-hands house fire at 11000 Eaglerock Drive, located at the dead-end of said street. At least eight departments were on scene-- Bay Leaf, Durham Highway, Falls, Stony Hill, Redwood, Bethesda, Wake Forest, Western Wake-- at the one-story, split-level, wood-frame structure with 3,327 square-feet. Built 1979. Durham Highway Pumper 1 was first on scene, with Bay Leaf Pumper 366 supplying water until shuttle operations could be started. The structure was soon fully involved on a couple sides, with fire spreading to the woods. Hazards included exploding ammunition, venting LP tanks, and multiple vehicles parking outside the structure that burned.


Mike Legeros photo

Water shuttle operations used a drop-tank at the corner of Eaglerock and Farmwood drives, with several hundred feet of supply line to the end of Eaglerock. Bay Leaf 258 pumped from drop-tank. The water point was the corner of Norwood and Old Creedmoor roads. Command located beside Pumper 1, was also the location of medical monitoring and rehab. Staging on Farmwood Drive. Brush trucks and engines sent to side streets, to help control the woods fires, as well as bring additional lines to the rear of structure. Dispatched about 1:20 p.m. Controlled about 3:30 p.m. More details maybe later. Plus the best of 799 photos taken by Mike Legeros, who arrived some 45 minutes after the incident started. Long drive from downtown Raleigh, where he was leaving another fire.



Bing Maps photo
READ MORE
+ 1 - 2 | § ¶
Far from Afar
Another one of the day's working fires, this one on Bladen Street in downtown Raleigh. And another smoke plume, this one reported by Ladder 4 as it was nearing Fayetteville Street. After-the-fact photos from Legeros forthcoming.


+ 1 - 0 | § ¶
Researching an Oxford Fallen Firefighter From 1935
This morning's pre-breakfast activity is augmenting my fallen firefighter records. My data was last collected in 2007, with research in public records and other sources. Everything was passed along to the North Carolina Fallen Firefighter's Foundation, to help their records. My history site database is out of date, and I am slowly working on an updated version. (Do a little research, then work on the other dozen-plus fire department projects on my plate.)
One old-new fallen firefighter is Scott Burwell, a member of the Oxford Fire Department and who died March 15, 1935. Source is the NCFFF web site for those but no other details. The best source for additional data is the death certificate, but that requires a physical visit to Olivia Raney Local History Library and either microfilm or their subscription to Ancestry.com. There is pretty good death information on the Family Search web site, including many of the data fields included in death certificates.
Search Family Search for Scott Burwell who died in Oxford, NC, in 1935, and no matching results return. Searching for any Burwell finds William Manor Burwell, who died in Oxford on that date. Sounds like a potential match. His race is listed as black. Ding goes the idea bell and next checked is my annotated copy of Early Black Firefighters of North Carolina. In the Oxford section, Scott Burwell is listed as a member of the town's colored fire company.
His cause of death is noted, fell from the running board while responding to a fire and died of his injuries. Its source is a historical article from the newspaper in 2005. That tells me that even the fire department itself probably lists the name "Scott" in their records. Is William Manor Burwell, age 50, also Scott Burwell? Next step will be the death certificate, at the next opportune time to visit the library. More later, and perhaps even a discussion of the ethics of presenting such historical records on firefighter fatalities.
+ 0 - 1 | § ¶
This Afternoon's Grass Fire + Two Alarms / Wooden Road
Grass fire plus two alarms at 9159 Wooden Road. Dispatched as a structure fire. Engine 24 arriving at a townhouse complex with a fast-moving grass fire between and behind the two-story, wood-frame, brick-veneer structures, each approximately 2,700 square-feet. Engine 24 caught own hydrant. Second-arriving Engine 23 directed to opposite end of block, to catch own hydrant and cut off the spread of flames. Second alarm requested within minutes. Dispatch included working fire assignment. Incoming units directed to stage on Alm Street. Fire controlled in 20 minutes and all second alarm units returned to service. No extension to structures. Extensive wet-down. One resident checked for possible smoke inhalation. Dispatched 1:26 p.m. Units on scene included E24, E23, E17, L6, R3, B4, C10, C20, EMS 54. See photos by Legeros.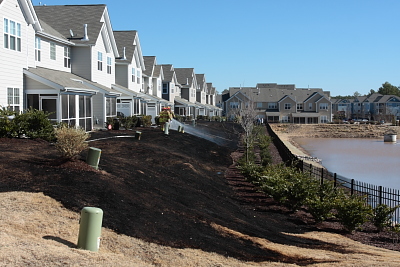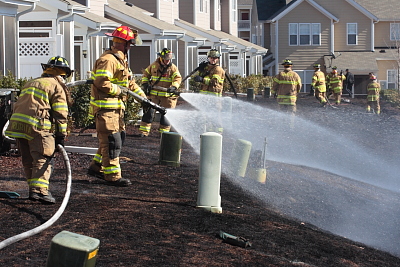 + 0 - 1 | § ¶
Fallen Fire Chiefs
This week's funeral for Wilson's Mills Fire Chief Ricky Barbour, who died on February 4, has me thinking about other Chiefs of Department who have died in the line of duty in North Carolina. Here's a list of fallen Fire Chiefs from my data. Additions and corrections are welcome. The fatalities date to 1914, when Charlotte Fire Chief J. Harvey Wallace died along with Captain W. B. Glenn at a barn fire. One department has lost three Fire Chiefs in the line of duty, the Winston-Salem Fire Department.
Arnold B Bullard, 55. Chief of the Winston-Salem FD. Died on July 6, 1980, of a heart attack after collapsing at the Public Safety Training Center.
George Crocker, 32. Chief of the Pine Level FD (Johnston). Died on August 22, 2008, of a heart attack at home, and after responding to a fire and three EMS incidents.
Jimmy Lee Davis Sr., 63. Chief of the White Oak FD (Onslow). Died on December 10, 2009, of a heart attack, after suffering a medical emergency while preparing to leave his residence to respond to a motor vehicle accident.
Edward Earl Gutherie, 61. Chief of the Morehead City FD. Died on October 15, 1978, of a heart attack on his way to a fire call.
Norman J Harrison, 43. Chief of the East Rockingham FD (Richmond). Died on August 12, 1978, of a heart attack while directing operations at a fire in East Rockingham.
William G Hobson, 57. Chief of the Winston-Salem FD. Died on September 15, 1938, of a heart attack while on duty at Station 2 on South Liberty Street.
Ferrell D Hood, 31. Chief of the Westarea FD (Cumberland). Died on November 15, 1986, of electrocution when a power line fell at a car accident.
Michael D Hoover, 36. Chief of the Tabernacle FD (Randolph). Died on October 14, 1992, in an automobile automobile.
Hubert Sidney Jones, 29. Chief of the Thoroughfare FD (Wayne). Died on November 6, 1998, of carbon dioxide poisoning and smoke inhalation after becoming trapped at a fire in an automobile salvage yard storage building.
Lawrence L Kerley, 36. Chief of the Waynesville FD. Died on August 21, 1942, of injuries sustained in bulk fuel storage explosion and fire on July 14, 1942.
George L Magness, 44. Chief of the Shelby FD. Died on May 25, 1979, and one of four firefighters killed at an explosion and building collapse in the 100 block of West Warren Street.
William Lloyd Neely, 52. Chief of the Statesville FD. Died on November 15, 1936, after collapsing while directing operations at a dwelling fire.
Harry E Nissen, 59. Chief of the Winston-Salem FD. Died on November 28, 1932, after his chief's car was struck by a Greyhound bus, while responding to a fire.
Jacob "Jake" Cogdil Parris Jr., 62. Chief of the Balsam-Willets-Ochre Hill FD (Jackson). Died on February 4, 1994, of a heart attack while responding to a rescue call.
Charles Schnibben. Chief of the Wilmington FD. Died on June 16, 1933, after his chief's car overturned while responding to a fire.
J Harvey Wallace, 40. Chief of the Charlotte FD. Died on July 1, 1914, and along with Captain W. B. Glenn while fighting a barn fire, when dynamite exploded in a nearby house.
Johnnie Bell Wiseman, 52. Chief of the Fall Creek FD (Avery). Died on June 26, 1965, when struck by a car while directing traffic at a vehicle accident
+ 0 - 1 | § ¶
More Books
Speaking of reading, here's a peek at the personal library of Mr. Blogger. This is one of several shelves in Mike's man cave. There are many more around the entire house. (The peril of being married to another avid reader.) Subject matter shown in these two pictures includes fire departments, fire apparatus, fire stations, fire alarm systems, FDNY badges, Chicago firehouses, Baltimore apparatus, Japanese fire engines, general firefighting history, general architecture, and maybe a graphic novel or two. Click once or twice to greatly enlarge:


+ 1 - 0 | § ¶
Book Report
Couple books to report about. From M.T. Publishing comes a second volume by the Los Angeles Fire Department Historical Society. Companies in Quarters: A Pictorial History of the Fire Houses of the Los Angeles City Fire Department. Here are product details. Hardcover, over 200 pages. Section of color photos. Features pictures of all 106 current LAFD stations, and over 120 former engine houses. Entire section in fact on bungalow-style stations, which were popular early in the last century. If you're a fool for old firehouses (is that one word or two words?), this one's worth a look.
Next is a print-on-demand book published by Blurb. This one's called Classic Chicago Fire Department Images from the 1950s and 1960s. Here are product details and a preview. The authors are Steve Redick and Warren Redick, veteran son and father fire photographers from the Windy City. We blogged about their old photos before, which are found on Steve's web site. Here's the historical section.
The book is available in three formats, with soft- or hardcover options. The picture quality is very good. The color images-- many presumably scanned from 35mm slides-- leap from the page. And it passes the proof of concept test for Yours Truly, who has wondered just how well photos reproduce using some of these self-publishing services. Might be time to try a collection of my own incident photos...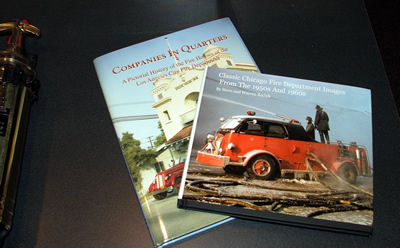 + 2 - 0 | § ¶
Hosed, Episode 1
This one'll be making rounds. Found it on the Firehouse forums. The description calls it "A comedy series about a volunteer fire department in Effingwoods NH. In this episode Ben (Juston McKinney) and Smitty (Gary Valentine) respond to a fire call. This episode co-stars Lenny Clarke (Rescue Me)." They also have a Facebook page. Optional discussion topic: firefighters in popular culture, and how that affects citizen perception.


+ 2 - 0 | § ¶
Close View of Raleigh's 1890 Hook & Ladder Wagon Circa 1913
You've probably seen this historic photo of Raleigh firemen sitting behind Station 1 on West Morgan Street circa 1913. The below image is a digital scan from the North Carolina State Archives (N_53_16_3955). Click to enlarge:



North Carolina State Archives photo


Shown below them is the 1890 hook and ladder wagon once operated by the W. R. Womble Hook & Ladder Company. They renamed themselves after receiving a new wagon in 1890, which they named after a member of the city board. The horse-drawn, steel-frame, city service truck cost $1,675 and was delivered "fully equipped with 215 of ladders, including one 65 foot Bangor extension ladder; also two pompier scaling ladders, two fire extinguishers, and a complete assortment of valuable firefighting tools." Click to enlarge:


Let's look even closer and see what we see. Lettering and gold leaf that reads "No. 1" and "R.F.D." Couple scaling or pompier ladders. Toolbox with twist latch. Both lower right. Center of photo shows a wheel brake. That wooden wheel almost certainly has a metal band around the outside. Three wooden ladders shown in this view. Click to enlarge:

More lettering, part of "W. R. Womble." More gold leaf. Basket on bottom rack for loose items. Unidentified shiny metal object in the basket. One or maybe two metal door openers, also on the bottom rack. Above them are perhaps a pike pole or two. Maybe also a folding wooden attic ladder. At the very top of the picture, the stenciled number "35" indicating the ladder length. What else do you see? Click to enlarge:

+ 0 - 1 | § ¶
Code 3 Collectibles FDNY Engine 63
It's been a while since I have bought a Code 3 Collectibles model. Maybe two years, maybe three. Their last couple dozen releases haven't exactly had me reaching for my wallet. Even their long-awaited American LaFrance 900 Series tiller tooling, issued late last year, was a no sale. Thus my excitement over the latest addition to the man cave model collection, this 1:64 scale replica of a Seagrave Maurader II engine lettered for FDNY Engine 63.
Really, really good detail on the piece. And a half-cab that actually (though minimally) tilts! Could this be a sign that better days (or, at least, better releases) are coming for Code 3? We can hope. Next in the release schedule is a Seagrave Marauder II aerial platform. That one should be a beauty, too. Visit the Code 3 web site for more pictures. Bought mine through Past-Time Hobbies.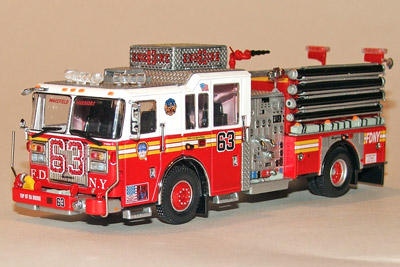 + 1 - 0 | § ¶
Stimulus Grants A Success At Local Fire Stations
Press release. A simple idea with strong environmental implications was the focus of today's press conference at Fire Station #6 at 2601 Fairview Road. The City of Raleigh, the United States Environmental Protection Agency, and the North Carolina Department of Environment and Natural Resources highlighted one of the benefits and success stories from the American Recovery and Reinvestment Act.
The focus of the event was the benefits and simplicity of a cistern system installed at nine Raleigh area fire stations and a Wake County EMS Station and the Willow Springs Fire Station. The project, paid for almost entirely with grants from the federal American Recovery and Reinvestment Act and a grant from the Clean Water Management Trust Fund, installed a system of cisterns to harvest rainwater from the roofs of the stations. The cisterns are capable of collecting more than 4,000 gallons of rainwater at each location. Read entire press release.
+ 1 - 0 | § ¶
Wake Forest Receives New Ladder
As referenced in this prior discussion of Rolesville's new ladder, here's the recently delivered Pierce platform of the Wake Forest Fire Department. Specs and other information forthcoming. Click to enlarge, or see other sizes on this Pierce Flickr page.


+ 1 - 0 | § ¶
Durham Helmet Cam Action
Statter911 found and blogged about this YouTube footage from a house fire Monday morning at 2814 Crest Street in Durham. Engine 2, Engine 10, Engine 11, Ladder 2, Ladder 11, Squad 2, Battalion 2, and other units. Haven't seen a lot of helmet cam action around here. Does it get posted fairly frequently (for Durham or elsewhere), or is this a rare treat? (At least, among those departments that permit same.)



+ 1 - 1 | § ¶
House Boat Burns in Carteret County
That's a reader photo from the Carteret County News-Times, as found by FireNews. Don't see that terribly often around here. Nine fire departments responded to the fire in the Core Creek community, including a haz-mat unit from Otway. Read the Times article or the FireNews story.
Why are we linking to both versions of the same story? That's easy. Each site has its own comments section. Just linking to one means you might miss interesting conversation on the other. (And not everyone thinks to click through from FireNews to the originating story site.)
And while we're on the subject, note that FireNews has upgraded their commenting technology. It's easier to leave comments across the site. There's also a new interface being tested on the Headlines stories, to the upper-right. Try it out!


News-Times photo
+ 1 - 0 | § ¶
Wilson's Mills Fire Chief Dies, Update #2
FireNews has reported the death of Wilson's Mills Fire Chief Richard L. "Ricky" Barbour, 54, who passed away Friday night at WakeMed in Raleigh. He had recently suffered cardiac problems and was receiving treatment. Chief Barbour was also the Safety and Health Director for the state of North Carolina. Read his obituary.
Memorial arrangements are as follows: Visitation is Tuesday, Feb. 8, from 6:00 p.m. to 9:00 p.m. at Wilson's Mills Baptist Church, 652 Swift Creek Road, Smithfield. The funeral service is Wednesday, Feb. 9, at 11:00 a.m. at the same location. Burial with fire department honors follows at Knollwood Memorial Cemetery.
Tuesday, Feb. 8 update. For tomorrow's funeral, any agency sending apparatus (Fire/Rescue, EMS, Law Enforcement, etc) must report to Level I Staging which at the NCDOT Equipment Yard located at 2861 US Highway 70 West, Smithfield, NC, 27577. The staging area will be opened at 0900 hours and further instructions will be given by the Staging Officer.
Also, Firehouse.com is reporting Chief Barbour's passing as a line-of-duty death. He suffered an apparent heart attack on January 30, the following day and within 24 hours after responding to a woods fire. See also this USFA fatality notice.


Firehouse.com photo
+ 1 - 0 | § ¶
Rolesville Receives Ladder Truck
This 2011 Ferrara Inferno HD mid-mount aerial platform was delivered to the Rolesville Fire Department yesterday. It's equipped with a 2,000 GPM pump, 300 gallon tank, and 100-foot aerial. The truck will be lettered and striped in the coming weeks, and placed in service in some months. The unit is designated Ladder 15. It's also the first Ferrara for Wake County, correct? Lee Wilson took this photo and has a posted some others.



Lee Wilson photo
+ 3 - 0 | § ¶
Train Horns For Fire Apparatus
From the Carolinas Fire Page mailing list, here's your video of the day. Granville Fire Department in West Virgina. Train horns for fire apparatus. Also posted on The Fire Critic. Wow.



+ 0 - 1 | § ¶
1969 Ford C/Ward LaFrance Command Tower
Last week we were discussing Ward LaFrance command towers. A couple served in North Carolina, including this 1969 Ford C/Ward LaFrance 1000/500/22-foot that Andrew Messer photographed. This picture is available in this collection of Western North Carolina apparatus pictures. (And that is one sweet collection of pictures, let me tell you!) The truck served Boone FD, then Deep Gap FD also in Watagua County, then Colletsville FD in Caldwell County for a brief period. Click to see larger version:


+ 0 - 1 | § ¶
Henderson-Vance Platform 1 in 1993
Lee Wilson shares this photo of Henderson-Vance Platform 1, which he shot in 1993. The truck is a 1978 Hendrickson 85-foot articulating platform. The history of truck has been provided by a reader and goes something like this. The apparatus was a joint purchase of the city of Henderson and the county of Vance and after a multi-alarm fire in downtown Henderson. The business community expressed their desire for a ladder truck and the snorkel was soon purchased. It was housed at historic Henderson Station 1 for a number of years.
In December 2004, the department took delivery of a new 100-foot aerial platform, and the snorkel was moved to the city garage. It was still a piece of active apparatus and could be special called by either the city or the county. In very recent years, the truck became an exclusive piece of apparatus for the county, and is presently identified as Vance County Fire Department Platform 1 Tower 8. That should be right, but readers can correct as needed. Click to enlarge:


+ 0 - 1 | § ¶
Mutual Aid versus Automatic Aid
An engaging discussion on this familiar topic is underway in this Statter911 story about a Denver TV station that's looking closely at mutual aid agreements, after a house fire involving a woman trapped in a basement and that the closest department was requested not to respond. We've discussed aspects of this issue on occasion. On several occasions, actually. The name on the side of the truck doesn't matter to the person in need. And seconds can indeed count when a closer fire department isn't dispatched. Lots of reasons behind the reasons for the way things are done. Take a deep breath and join the discussion.
+ 1 - 0 | § ¶
Station 7 Blueprints, 1958
For your Saturday hysterical, er, historical enjoyment, take a peek at these drawings from the blueprints of Raleigh Station 7. The top image shows the site plan, which was originally on the north side of Glaslock Street. Note the angular placement of the building and the driveway that exits to both cross streets. Why did the station cross the road? To be determined. Maybe just to get to the other side. Looks like a full basement was also planned, with a couple storage rooms. Only a boiler room was built below.
Station 7 opened on December 30, 1959. It was the first of a couple dozen built with the same basic building design. The station is also unique from its successors in a couple ways. It's the only one with a watch room on the same side as the dorm. And it's the only one with separate officer's quarters. Read more station history. Click once or twice to greatly enlarge:

+ 0 - 1 | § ¶
What's Unusual About This Picture?
Looking north on McDowell Street just north of Morgan Street. Taken this morning. There's something different about what we're seeing.


+ 2 - 0 | § ¶
Remains of the Race
The registrants numbered about 7,500 for the annual Krispy Kreme Challenge, a four-mile race that starts and stops at the North Carolina State University bell tower. Midpoint is the Person Street Krispy Kreme, where a dozen donuts are consumed. Yours Truly neither participated nor watched, but did snap a couple photos of the scene after all the shouting (and gagging?) was over. Judging from the pallet, said dozen donuts were probably consumed cold.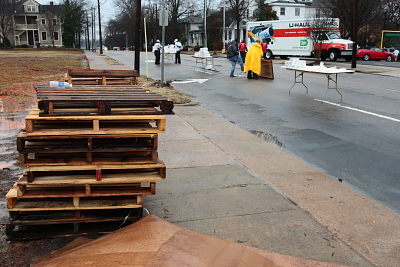 + 1 - 1 | § ¶
Lumber Here / Warrenton Fire Photos
That intentionally ironic photo is one of a couple hundred taken by Mike Legeros at Wednesday's major fire in Warrenton. He's posted his entire set of images as of this morning. They start at about three hours into the incident. (Took an hour get there, plus thirty minutes of indecision prior.) Photos have also been posted by WRFD member John Franks. And the previously posted incident details has also been updated.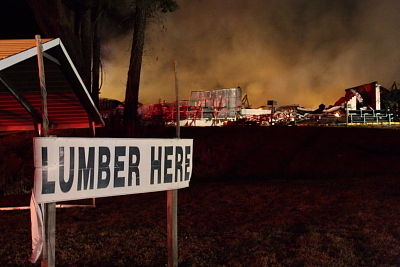 + 0 - 1 | § ¶
Bailey Fire Department Gets Highway Cut Throught
This is a WTVD troubleshooter story about the Bailey Fire Department in Nash County, and ten years worth (!) of efforts by the department get a cut-through constructed on Highway 264 between the Middlesex and Bailey exits. Previously, the 4.5 mile distance between the two exits could result in a 10 or 12 minute delayed response, if units were committed in one direction, but were needed in the other. The cut-through's been cut, as they reported. (And originally investigated in May.) Paving and signs are still pending. Total cost, $150,000. Total value, priceless.


+ 1 - 0 | § ¶
Wake New Hope Firefighter Injured in Auto Accident
Yesterday morning [Friday, Feb. 4] at 7:00 a.m., Lt. Keith Murray of Wake New Hope Fire Department (A shift volunteer) was involved in a serious vehicle accident. He was on his way to work when he struck a deer. The animal struck him in the head and came to rest in the back seat. The vehicle then continued on into a tree. The collison took place on Forestville Road, near Old Watkins Road. He was transported to WakeMed by Eastern Wake EMS. He was attended on scene by Raleigh E28 and New Hope E3, R14, and Car 1.
Keith has been admitted to WakeMed on New Bern Avenue. He has a crack to a vertebrae in his upper cervical area, and also broken left eye socket and cheek bone. As of yesterday afternoon, he was in a C-collar and resting on his back. His spirits are good, but he is in quite a bit of pain. He has significant swelling to the left side of his face. Surgery may be necessary for his facial injuries. As of last night, he was resting but still in pain. The results of a CT scan are pending to determine how soon he'll be coming home.
Please keep Keith and his family in your thoughts and prayers. As we receive more information we will pass it on to all of you. If you have any questions please contact Capt Hickman.
Don Hickman, Captain
Wake New Hope Fire Dept.
+ 1 - 0 | § ¶
Car Versus House in Raleigh
Rumson Road off Raleigh Road near Capital Boulevard yesteday afternoon. Driver with minjor injury. WTVD with short story.



WTVD photo
+ 0 - 2 | § ¶
Warrenton Major Fire Incident Details
Version 2.1. Last updated Feb 7 at 9:15 p.m.
General
Fire reported about 5:45 p.m. at the Southern States Farm & Garden store at 216 W. Franklin Street.
One-story concrete block building measuring 228 by 268 square feet, say tax records.
Total square footage of 63, 184.
News reports called the thing two blocks long.
First due Engine 31 reported Main Street thick with smoke when they left the station, and flames visible over the buildings.
Controlled within three hours (?).
At least 20 fire departments on scene or involved.
Warren County
Warrenton Rural FD
Afton-Elberon FD
Arcola FD
Churchill-Five Forks VFD
Drewry FD
Hawtree VFD
Inez VFD
Long Bridge FD
Macon Rural VFD
Norlina FD
Ridgeway VFD
Roanoke-Wildwood FD
Soul City FD
Vance County
Bear Pond FD, tanker (?)
Vance County FD, tanker, two aerials. Snorkel, former joint Vance FD and Henderson FD unit. Telesquirt, former Kerr Lake FD.
Cokesbury FD, tanker
READ MORE
+ 1 - 1 | § ¶
Kerr Lake FD Merges with Vance County FD
Last night's major fire in Warrenton brought a familiar-looking telesquirt to the scene. Remember this discussion? Incorrectly identified in our posting last night as a unit of the Kerr Lake Fire Department, the apparatus is now operated by Vance County Fire Department. We've since learned that Kerr Lake FD merged with Vance County FD several months ago. Or maybe as long as a year ago. The department was formed in 2007, as we also blogged about. One of their first trucks was Durham Highway's massive 1981 Mack/Darkley pumper-tanker. Maybe our readers to the north can add more.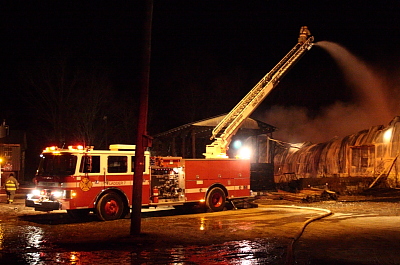 + 1 - 1 | § ¶
Goldsboro B-52 Crash 50 Years Later
Also from a reader, the Goldsboro News-Argus commemorates the approaching anniversary of the B-52 bomber crash that killed three of eight airmen on January 24, 1961. Two nuclear weapons were aboard the aircraft that crashed in the farming community of Faro.
Both bombs were jettisoned as the plane disintegrated in midair 12 miles north of Seymour Johnson Air Force Base. One bomb was found in the woods, hanging by its parachute. The other buried itself in a field after a free-fall speed estimated at 700 MPH. Needless to say, no nuclear explosion resulted.
The News-Argus has two stories about what happened, a recounting of the incident and a planned reunion for those involved in the crash. Read more on this Wikipedia page as well as this historical account. (And didn't we blog about this with a retrospective some years back? Can't find the thing, alas.)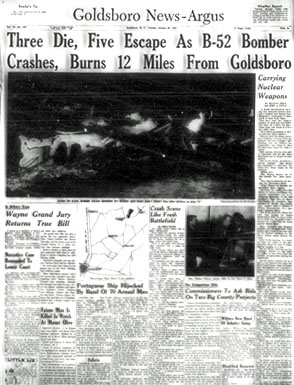 + 4 - 0 | § ¶
EMS World Q&A with Chief Kirkwood
Also on the EMS World web site, here's an interview with own Wake County EMS Chief Skip Kirkwood, on the subject of career opportunities. The segment runs just over six minutes. Watch the video, or click to access:


+ 5 - 0 | § ¶
EMS World: From Fire Scene to Cath Lab
From a reader, from the EMS World web site, here's an article by Johnston County EMS Training Officer Joshua Holloman, about a September structure fire and a 48 year-old firefighter who complained of chest pains. Though the EMS crew had cleared, a paramedic unit was summoned. An ECG was performed and an ST elevation myocardial infarction (STEMI) was revealed. (Yours Truly has to Google that one, to fully understand.) The firefighter was transported to the appropriate facility 30 miles away-- bypassing three community hospitals unable to offer the necessary treatment-- and he received a record door-to-balloon time at the heart center. He was discharge and home a few days later. As the sub-headline notes, the effective programs worked together to prevent a firefighter death. Read the story.
+ 0 - 1 | § ¶
Last Night's Major Fire in Warrenton
Southern States Farm Supply at 216 W. Franklin Street. Very large commercial building that was fully involved within a short time after being reported about 6 p.m. Hazards in the structure included fertilizer and fuel storage. Some 15 to 20 homes evacuated in five-block radius. Other exposures included nearby library building.
Eight or ten or twelve or more fire departments on scene from North Carolina and Virginia, plus others involved for coverage. Regional EMS response included Wake County EMS unit. Regional haz-mat team responded from Raleigh. Haz-Mat 2 and other units based operations at a nearby school.
Photographer Mike Legeros (Yours Truly) arrived about 8:30 p.m. Fire was controlled by that time. See his preliminary photos. We'll see if we can get and post some other earlier shots. Same for more details, and maybe a list of all participating departments and agencies. News coverage included News 14, WRAL and WTVD.
Below pictures show Warrenton's tower in the top shot and a (Carolina blue!) Soul City pumper and a Kerr Lake telesquirt in the bottom photo.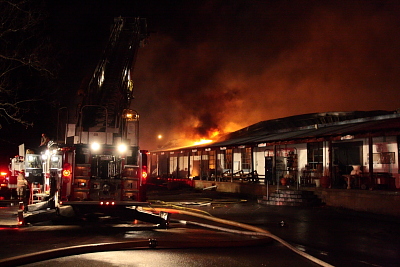 + 2 - 0 | § ¶
Our Summers Might Be Stifling...
...but our winters are pretty mild compared to such places as Chicago, one of many places hit with yesterday's big / giant / colossal / gargantuan / supercalifragilisticexpialidocious blizzard:



Scott Stewart / Sun-Times photo
+ 1 - 1 | § ¶
Raleigh Fire Department Fleet Listing, 1970-1971
Thumbing through some records this evening finds this fleet listing for Raleigh's rolling stock in 1970 and 1971.
Engine 1 - 1961 ALF then 1970 Mack
Engine 2 - 1953 ALF
Engine 3 - 1968 ALF
Engine 4 - 1957 FWD
Engine 5 - 1961 ALF
Engine 6 - 1950 Mack
Engine 7 - 1953 ALF then 1971 Mack
Engine 8 - 1951 ALF
Engine 9 - 1951 ALF
Engine 10 - 1958 ALF then 1961 ALF
Engine 11 - 1958 ALF
Engine 15 - 1970 Mack (second engine at Station 1)
Reserve - 1950 FWD at Station 2
Truck 1 - 1958 ALF tiller
Truck 5 - 1960 ALF midmount
Truck 6 - 1964 GMC service truck
Truck 7 - 1963 Ford service truck
Tanker 8 - 1960 GMC/Alexander
Tanker 9 - 1960 GMC/Alexander
Foam Unit 1 - 1966 Dodge (pick-up with high-ex generator)
Foam Unit 5 - 1965 International (same)
Rescue 1 - 1966 Chevy panel van
Rescue 2 - 1953 Reo Civil Defense heavy rescue, not staffed
Fire alarm truck (at Station 1)
Maintenance truck (at Station 2)
Hydrant truck (at Station 1)
+ 0 - 3 | § ¶
Interesting Reading
Firegeezer contributor Glenn Gaines comments on the need for the American fire service to broaden its business portfolio, from being largely reactive to entirely proactive. He cites successes in Europe and all-hazards approaches in some countries. There's your heretical thought for the day, transforming U.S. firefighters into a risk reduction and prevention force.
Dave Statter finds this fascinating Boston Globe story about shift-swapping in Beantown. The story authors scrutinize all aspects (current and historical) of approval, tracking, and payback. And they find abuses.
Wall Street Journal story on the rise of vending machine theft, and ways operators are trying to curb theft. Such as wireless notification systems and the fingers in the pies such systems can catch.
+ 1 - 1 | § ¶
Wake County Firefighters Association Meeting, Tuesday, Feb. 8
The winter supper and meeting of the Wake County Firefighter's Association will be held on Tuesday, February 8, at Apex Fire Station 4, 1615 E. Williams Street. That's an A-shift day. Serving starts at 6:30 p.m. The agenda includes more information about the upcoming Applebee's Flapjack Fundraiser in Knightdale on March 13. See the WCFA web site for more news and announcements, including a reminder to schedule the fire safety trailer for this year, and that scholarship applications are now being accepted.
+ 1 - 1 | § ¶
Morrisville Offers Volunteers Stipend to Attract Interest
As this Cary News story reports, the Morrisville Town Council last Tuesday voted to offer a $50 stipend to each volunteer firefighter per 12-hour shift. The town and its fire department are trying to attract more volunteers. They have eight on the roster these days, cites the story. That's a far cry from the all-volunteer force of fifty years ago. The Morrisville Fire Department hired its first paid staff in 1988, which consisted of six part-time members including current Fire Chief Todd Wright. Today, the department has some 40 career members staffing three stations. In addition to stipends, the town is offering free memberships to a local "aquatic and fitness center" as well as an opportunity for possible employment as a full-time firefighter. Read the story.