+ 1 - 1 | § ¶
Union County Town to Terminate Contract with County Fire Department
As reported by WBTV and WNCN this week, the town of Weddington in Union County voted to transfer its contracted fire protection from the Providence Fire Department to the Wesley Chapel Fire Department.
Town officials cited financial reasons as the reasons for the decision. They've been worried about PFD's ability to sustain itself. The date of the termination has not been decided. The plan will see the Providence fire station occupied by Wesley Chapel firefighters.
Earlier this year, WNCN reported that the town approved a merger of the Providence and Wesley Chapel fire departments. Unsure how that story relates here. Or if the merger has continued or is continuing.
The Providence Fire Department has also been addressing the issue via social media, with comments posted on their Facebook page and their web site.
PFD responds to the entirety of the town, as well as unincorporated areas of Union County, and some territory inside Mecklenburg County, where the department originated. They respond to calls east of I-485, in a territory that's decreased over the years and decades due (presumably) to municipal annexations by the city of Charlotte.
As noted on their web site's history page, PFD started in 1954 at the corner of Providence Road and what's today called Ballantyne Commons Parkway. In 1972, they relocated about four miles east to the intersection of McKee Road and Tilley Morris Road, which is present location of Charlotte Station 9. In 1985, they relocated about three-and-a-half miles south and into Union County, to their present location at 5025 Hemby Road.
Google finds these presentation slides (PDF) from April 2012, from the Union County Fire Commission and related to this issue.
What's the history of fire protection in Weddington? The town has a population of 10,101 and area of 15.9 square miles. Have they ever had their own municipal fire department? To be determined. Guessing they've relied on contract protection from PFD since the department extended into Union County in 1985. Maybe readers can help with history here.
+ 3 - 3 | § ¶
Vintage Photo of Leaksville Pumper/Tanker
Found for sale on eBay is this color slide of a 1967 Chevrolet pumper/tanker, from the Leaksville Fire Department. Note the faded lettering that says Eden Fire Department. The villages of Leaksville, Draper, and Spray merged in 1967. Each had their own fire departments, with Leaksville's dating to at least the 1920s. Unsure the explanation for faded lettering. Maybe was private-owned, with LFD added as a commemorative action? Maybe the truck was originally delivered as LFD, then changed to EFD, then restored to LFD? Very strange. Click to enlarge:


+ 0 - 1 | § ¶
UPDATE - Local Fire Photographers Honored by County Commissioners, Governor's Office
April 25, 2015
Both Lee Wilson and Mike Legeros were further honored this month by the North Carolina Office of the Governor. Last week they both received (via postal mail, by way of the Wake County communication's office) the Governor's Award for Volunteer Service in the individual category. Notes the accompanying letter (signing by The Gov!), "since 1979, this prestigious award has been bestowed upon citizens who exhibit the tradition of volunteerism that is at the heartof community service in our state." Congratulations to both! Click to enlarge:



November 3, 2014
Raleigh and Wake County fire photographers Mike Legeros and Lee Wilson were honored today by the Wake County Board of Commissioners. They were among ten people recognized for their tireless service to the citizens of Wake County. They received the County Government Volunteer of the Year Award, in a ceremony during the board's regular scheduled meeting. A reception was held before the event.
Lee Wilson and Mike Legeros are veteran fire photographers, with twenty-plus and ten-plus years of experience, respectively.1 They've comprised an official Wake County EMS photo since 2006, though their work has ranged far and wide.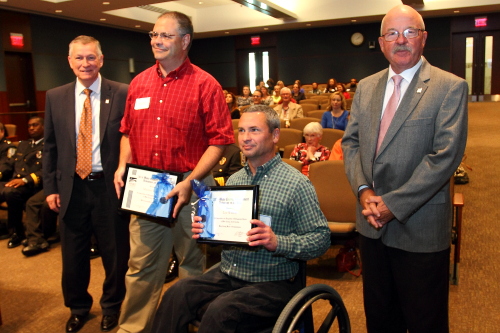 READ MORE
+ 1 - 3 | § ¶
Eight Fallen Firefighters To Be Honored at North Carolina Memorial Service on May 2, 2015
On Saturday, May 2, 2015, the names of eight firefighters will be added to the North Carolina Fallen Firefighters Memorial in downtown Raleigh. The tenth annual memorial service starts at 1:00 p.m. The day's events also include a fire apparatus parade at 10:00 a.m. More event information.
The eight fallen firefighters include six who died in 2014, plus a pair of legacy additions from 1999 and 1973. These will also be added to my fallen firefighters database.

| | | | | | |
| --- | --- | --- | --- | --- | --- |
| Halbert E. Campbell | Operations Officer | North Carolina Forest Service | November 17, 1973 | Died of a heart attack after leaving work, after a day of dispatching firefighting resources across the coastal region of North Carolina and specifically to a large fire in Holly Shelter. | Find a Grave posting. |
| Ralph Wynne | Fire Chief | Pactolus VFD | July 31, 1999 | Died as result of heart attack suffered while operating at a training exercise on July 29, 1999. | PFD Facebook posting. |
| John Derek Gupton | Firefighter | Justice Rural VFD | September 16, 2014 | Died of injuries sustained in motor-vehicle accident, while operating a 2,500 gallon tanker that overturned after leaving the road and striking a ditch culvert. | USFA notification. |
| James Halliburton | Education Ranger | NC Forest Service | August 13, 2014 | Died when struck by a fallen tree that was being removed from a roadway by a tractor at the Tuttle Educational State Forest in Lenoir. He was pronounced dead at the scene. | News release. |
| Thomas Gerald Lee | Firefighter | Four Oaks FD | February 1, 2014 | Died at his home from an apparent heart attack within twenty-four hours of responding to the station for a motor-vehicle accident call. | NCFFF posting. |
| Steven Brad McCoy | Firefighter | Nantahala FD | November 21, 2014 | Died in a fire at his home, after rescuing his daughter and returning into the structure to rescue his son, who had already been rescued by his wife. | NCFFF posting. |
| Donald Ray Miller | Firefighter | Glendale Springs VFD | February 4, 2014 | Died within twenty-four hours of a training exercise. | NCFFF posting. |
| Ricky Wooten Doub | Fire Chief | Forbush VFD | December 16, 2014 | Found deceased at his home after responding to an EMS call and a fire call during the day. | USFA notification. |
+ 2 - 2 | § ¶
Fairview's New Rescue
The Fairview Fire Department received this 2015 Spartan ERV MetroStar heavy rescue last week. Delivered on April 16, it'll replace the current Rescue 1, a 1993 International/EVI, which will be sold. See more photos from Lee Wilson. The truck is the same spec as one delivered earlier this month to Wake New Hope. See prior posting. Fuquay-Varina has also ordered a similar one, which should be delivered either late this year or early next year.



Lee Wilson photos
+ 3 - 0 | § ¶
Raleigh Fire Department Newsletter - Spring 2015
Time for another edition of the quarterly Raleigh Fire Department Newsletter. That's right, print-based news delivery! Can you believe it! The spring 2015 issue has been posted to www.raleighfirenews.org. Contents include the February snow days, Station 29 nearing completion, 2014 statistics, promotions, retirements, photo gallery, and more. The newsletter is a quarterly publication for personnel, retirees, and citizens. Read the new issue (PDF).


+ 2 - 1 | § ¶
New Numbering for Durham County Fire & Rescue
Durham County Fire & Rescue renumbered their stations and apparatus, effective last week. The former Bethesda fire stations were numbered in the 40s. The Parkwood fire stations were numbered in the 60s. The stations have been renumbered in the 80s:
| | | | |
| --- | --- | --- | --- |
| Old | New | Address | Opened |
| PFD 63 | DCFD 81 | 4716 Old Page Road | 1987 |
| BFD 41 | DCFD 82 | 1724 S. Miami Boulevard | 1982-83 |
| PFD 61 | DCFD 83 | 1409 Seaton Road | 1976 |
| BFD 42 | DCFD 84 | 7305 Leesville Road | 1988 |
| PFD 62 | DCFD 85 | 4300 Farrington Road | 1984 |

Here's a map along with pictures of a couple rigs. See more photos from Monday, as lettering and emblems were updated at Station 82. Click to enlarge:


Here are the apparatus assignments:
| | | | |
| --- | --- | --- | --- |
| Old | New | Year/Make/Model | Station |
| Engine 631 | Engine 81 | 2002 E-One Cyclone, 1500/1000. Alt. year 2000. | 81 |
| Ladder 413 | Ladder 81 | 2003 Sutphen platform, 1500/300/110-foot. | 81 |
| Rescue 614 | Rescue 81 | 2006 Spartan Diamond/EVI walk-around. | 81 |
| Battalion 610 | Battalion 81 | 20__ Ford F-250 crew cab with camper shell. | 81 |
| Engine 411 | Engine 82 | 2008 Sutphen ladder 1500/500/75-foot. | 82 |
| Tanker 625 | Tanker 82 | 2005 Freightliner/US Tanker, 1000/3000. Alt. year 2006. | 82 |
| Rescue 414 | Rescue 82 | 1991 Sutphen/Saulsbury walk-in. Alt. year 1990. | 82 |
| Brush 417 | Brush 82 | 1988 Chevrolet/E-One 500/300. | 82 |
| Squad 419 | Squad 82 | 20__ Ford crew-cab utility truck. | 82 |
| Ladder 613 | Engine 83 | 1993 E-One ladder, 1500/500/75-foot. | 83 |
| Tanker 615 | Tanker 83 | 2005 Freightliner/US Tanker, 1000/3000. | 83 |
| | Air 83 | 2000 Freightliner FL70/Pierce. Alt. year 2001. | 83 |
| Brush 617 | Brush 83 | 2004 Ford F-450 XL, 50/300. | 83 |
| Engine 611 | Reserve | 2002 E-One Cyclone, 1750/1000. Alt. year 2000. | 83 |
| Engine 421 | Engine 84 | 2003 Sutphen, 1500/1000. Alt. year 2004. | 84 |
| Engine 412 | Tanker 84 | 1987 Sutphen, 1500/1000. Alt. year 1992. | 84 |
| Engine 621 | Engine 85 | 1983 Chevy C-70/E-One, 750/750. | 85 |
| Tanker 415 | Tanker 85 | 1984 Sutphen, 1500/1000. Alt. year 1983. | 85 |
Notes:
+ 5 - 2 | § ¶
UPDATED - New Hope's New Rescue 14
April 9
Wake New Hope Fire Department's new 2015 Spartan ERV MetroStar was delivered yesterday. Lee Wilson took these pictures. See the rest of the series.



Lee Wilson photos
READ MORE
+ 3 - 2 | § ¶
Renovations Underway at Fuquay-Varina Fire Station 2
Lee Wilson snapped this shot yesterday of renovations underway at Fuquay-Varina Fire Station 2. Located at 5617 Hilltop Road, the station was built in 1990. It serves the north end of town, and the Furina rural fire district. Calvin Davenport Inc. was awarded the construction contract in the fall, for the amount of $871,734. The 6,000 square-foot facility will be renovated, with 2,000 square-feet of living space added along with an additional apparatus bay. The project is funded through a cost share agreement between the town and Wake County EMS. The expansion is needed to accommodate increased service demand. Source: "Focus on Fuquay-Varina," October 2014. Readers, what FVFD and Wake EMS units are stationed there?



Lee Wilson photo
+ 1 - 2 | § ¶
Wake County Apparatus Updates?
Lee Wilson has posted a photo of Apex's Engine 4, a 2014 Spartan ERV MetroStar-X Legend 1500/750 that was delivered in November. And he's also snapped shots as we posted last week of Wake Forest's new reserve engine and reserve ladder.



Lee Wilson photo
What other updates can people report? Here are a few get the conversation started...
Apex
2014 Spartan ERV MetroStar-X Legend 1500/750 has been in service as Engine 4, delivered in November. See above.
Fairview
2015 (?) Spartan ERV heavy rescue is pending delivery, within the next couple weeks. Same/similar spec as Wake New Hope.
Fuquay-Varina
2015 Spartan ERV heavy rescue in production, similar features as Fairview and Wake New Hope. Delivery expected late 2015/early 2016.
Raleigh
2015 Freightliner/Pierce air truck poised for delivery. See prior posting.
2015 Pierce Arrow XT pumper in production, expected in October.
2015 Pierce Arrow XT tiller (with pump) in production, expected in October.
Raleigh-Durham International Airport
2015 F-350/UPF Defender brush truck _/300/10 added last year.
2014 (?) Combat Support Products foam trailer added last year. See prior posting for both.
Wake Forest
2015 Rosenbauer Commander pumper/tanker 1500/1000 in production, new Engine 4. Expected in July.
1995 Pierce Dash pumper 1500/500 added as reserve. Ex-Raleigh. See prior posting.
1990 E-One Protector rear-mount ladder 1500/300/'75' added as reserve, Ladder 3. Ex-Johnston County, KS. See prior posting
Wake New Hope
2015 (?) Spartan ERV heavy rescue to be delivered this week, new Rescue 14. See prior posting.
+ 0 - 1 | § ¶
Clayton Fire Department Buildings in 1925
Random Sanborn Fire Insurance Map excerpts for your Sunday enjoyment. Clayton Fire Department as depicted in June 1925. Description of fire department:
"Volunteer, 40 men, 1 chief and one Asst. partly paid, one fire station with Reo truck carrying two 35 gal. chemical tanks, 750' 2 1/2" hose, and 36' extension ladder. One hose [house] at each end of business section with 300' 2 1/2" hose on hand reel at each & 75' ladders on hand cart kept in building in center of town together with 500' 2 1/2" hose in reserve. Department partly motorized. No fire alarm system. Siren & bell at fire station for giving alarm."
Water system included 40 double hydrants, with "domestic pressure" of 62 pounds and "fire pressure" of 120 pounds. Here are the four fire department buildings as shown on the maps. Their locations:
Fire station - Church west of Railroad
Hose house - Main and O'Neil, northeast corner
Hose house - Main between Lombard and Smith
Ladder truck - Barbour west of 2nd
Click to enlarge:
+ 1 - 0 | § ¶
Raleigh's New Air Truck
Lee Wilson yesterday photographed Raleigh's new air truck at Atlantic Emergency Solutions in Fayetteville. The 2015 Kenworth/Pierce will be delivered next week. It'll be added as Air 2 at Station 28 Station 15, along with Engine 15 and Rescue 1. It joins a 2002 International/SVI mobile airt unit, Air 1, which is housed at Station 8. We'll get some more details on the truck's specs and features. See more photos from Lee.



Lee Wilson photo
+ 3 - 2 | § ¶
Who Responds When a Rocket Explodes? - The Antares Incident at Wallops
On Tuesday, October 28, at 6:22 p.m. EDT, a rocket exploded shortly after liftoff from a spaceport on Wallops Island, VA. The catastrophic failure of Orbital Science Corporation's Antares rocket occurred less than a minute after the launch of the unmanned spacecraft.
The spectacular explosion was recorded and transmitted across the globe by spectators and journalists alike. The resulting fireball fell onto the launch facility, while debris was scattered for some miles.
Who were the firefighters that responded, and how did they fight that fire? Let's take a virtual trip to NASA's Wallops Flight Facility to learn about their fire department, their equipment, and the mishap on the launch pad that night.

NASA image
Part I - Department Profile
Wallops Flight Facility Fire Department (WFFFD) protects 6,200 acres on the eastern shore of Virginia on the Delmarva (DELaware, MARyland, VirginiA) Peninsula. The facility employees 1,110 full-time employees and includes the Mid-Atlantic Regional Spaceport (MARS).

The spaceport is operated as a combination of federal, state, and private concerns. For example, MARS owns the launch pad while NASA operates the airfield and owns several sub-orbital launch rails. The facility also houses such tenant partners as NOAA and the Navy.

The base has two fire stations and fifty personnel including part-time members. They're not federal firefighters, however. NASA contracts with LJT & Associates. The firefighters are contracted employees, while the apparatus and equipment is owned by NASA.
Station 1 is located on the mainland and protects the main base and its airfield. Station 2 is located on the island and protects the launch facility. They are approximately eight road miles apart.

Google Maps image
READ MORE
+ 3 - 2 | § ¶
High Point's New Air Light Resource Unit
From this Atlantic Emergency Solutions Facebook page posting comes this picture of High Point's new Air Light Resource Unit. Freightliner chassis with body by Bear-Kat Manufacturing, which is based out of their Roanoke Regional Service Center. Features included Scott RevolveAir SCBA charge station and compressor, interior work benches, spare cylinder access from both interior and exterior, reels with air hose and electrical cord, and a Will-Burt LED light tower with dual tilt and wireless remote. Note the new color scheme for High Point apparatus, grey over red.



Atlantic Emergency Solutions photo
+ 2 - 0 | § ¶
Wake Forest's New Reserve Apparatus
Photographer Lee Wilson posted these pictures to Twitter (as @cfp702) of Wake Forest's new reserve apparatus. Top is a 1995 Pierce Dash pumper, 1500/500, formerly from Raleigh. Served as Engine 11, Engine 21, and Engine 221 (reserve). Bottom is a refurbished 1990 E-One Protector aerial ladder, 1500/300/75'. Originally served as Quint 252 for the Consolidated Fire Company in Johnston County, Kansas. Now Ladder 3, though not in service yet. Both are recent deliveries. See the Wake Forest Fire Department web page for info on the rest of their fleet. Update: See more photos from Lee.



Lee Wilson photos
+ 2 - 1 | § ¶
FDMaps Does Detroit!
Here's one of the coolest fire history sites we've seen in sometime: detroit.fdmaps.com. Or more simply, Detroit Fire Department Maps. Debuted last week. The extensive, exhaustive site is the work of fire buff slash designer Jeff Harkey.
You know him as the Editor-in-Chief of FireNews.net. He's also the creator of FDMaps.com, which started as a North Carolina fire station mapping project. The site and the brand has extended to fire station maps of Atlanta, Chicago, and now Detroit.
There's much to explore on the site, including such goodies as:
Active firehouses - Mapped and listed
Historic firehouses - Mapped and listed, plus histories, plus current and/or historical building photos
Evolution of fire department growth - Video showing the department expansion and contraction from 1850 to 2015
More maps - Including volunteer era companies and all closed career companies
Apparatus photos - Historic images from the hand, horse, and motorized eras.
Hit the site and lose yourself for a couple hours. You'll have a blast.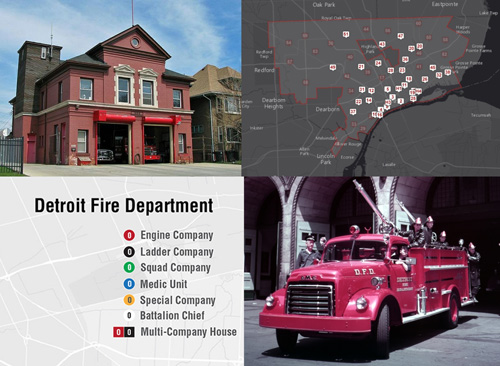 + 2 - 1 | § ¶
Wake, Durham Counties Consider Fire Service Consolidation
This one's making the rounds today, news report about Wake and Durham counties considering a consolidation of fire services. The idea is based on Durham County's newly created fire department, which would extend into Wake County, with the possibility of absorbing some of the private departments. There's an apparatus numbering scheme that's been mentioned, as well as regionalization of resources. Such as ladder trucks and heavy rescues. And a possibility of including the airport in the thing! Read the story here http://tinyurl.com/pd6dhko.