+ 5 - 1 | § ¶
This Morning's Two Alarm Apartment Fire
Two alarms at 910 Tryon Hill Road. Reported as odor investigation. Engine 13 arriving at a five-story, multi-use structure with a gazillion square-feet, under construction but nearly completed. Four-story apartments above a ground-level retail/commercial space/parking deck. Nothing showing, but with smoke conditions found inside structure. Crews began making entry into numerous apartments, performing searches and looking for the source of the smoke. Fire found in an exterior apartment wall on the courtyard, the building's second story. Fire damage in wall cavity and floor/ceiling between second and third floor.

Command located in parking lot across the street. Medical monitoring and rehab on the street, just east of building. Operations command in the courtyard. Apparatus staging on Morgan Street, and parking lots off Morgan Street. Equipment staging in courtyard, and on interior floors. Multiple "rope jugs" used to raise equipment to upper floors via courtyard. Two hydrants used, at Tryon Hill Drive and Wakefield Street (Engine 5, first boosting Engine 13, then Squad 14, which took a three-inch to the courtyard to supply hand lines), and Ashe Avenue and Wakefield Street (Engine 3, supplying the building's fire department connection).

Second alarm requested 20 to 30 minutes into incident. Separate radio channels for medical, and later for operations/courtyard operations. Standpipe used, with hand lines connected inside the building. Sprinklers subsequently activated. Construction site personnel assisted with shutting down water to building, and assisting Duke Energy with cutting power. Dispatched 6:47 a.m. Controlled at 8:19 a.m. Extensive overhaul, with crews remaining on scene until about 1:00 p.m. Cause determined as intentional.

Units on scene included... First alarm/working fire: E5, E13, E1, E3, L2 (from Station 1, moved there during earlier house fire), L3, L4 (self-dispatched? Clearing from earlier fire?), SQ14, SQ15, R1, B2, B5, B3, A1, C20, C420, C401. Second alarm: E6, E8, E7, L7, L8, B1. Plus: C2, C3, C4, C5, C14 (Safety), Car 51 (Haz-Mat Coordinator), Car 52 (Emergency Services Coordinator). Medical: EMS 11, EMS 8, EMS 4, D1, D4, Medic 92, Truck 1. Move-ups included Cary Engine 3 to Station 8, Swift Creek engine to Station 20, Engine 123 to Station 5 (reserve with "B" platoon personnel, retained after shift change), Ladder 1 to Station 1. Corrections welcome to this narrative. See more photos by Mike Legeros.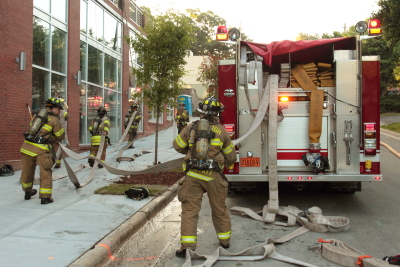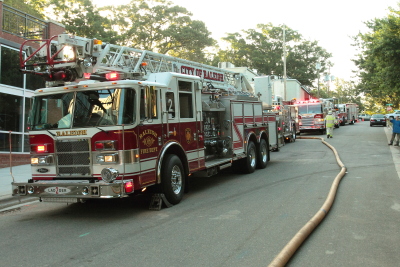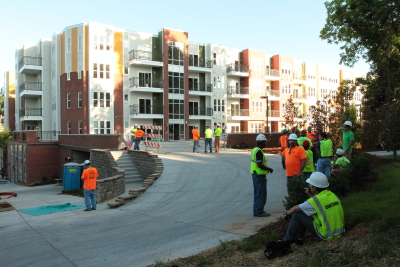 + 4 - 2 | § ¶
Mystery Apparatus
What the heck are we seeing here?!


+ 4 - 4 | § ¶
Boone's New Aerial Platform
Photographed by Lee Wilson this weekend, the Boone Fire Department in Watauga County took delivery of this 100-foot Ferrara mid-mount aerial platform a couple weeks ago. Named Tower 1, it replaces the familiar 1986 Mack Aerialscope that we recently blogged about. See more photos from Lee. Looks like BFD also placed a mini-pumper in service in recent months (years?), this Ford F-350 with a Monroe body. Named Engine 2, and also pictured below. Maybe readers can advise a full fleet listing for the department. Or maybe someday they'll add one to their web site, hint hint. (Still waiting, always waiting, for their history to be posted.)



Lee Wilson photos
+ 5 - 2 | § ¶
Upcoming Events - June
Some upcoming events to mark on your calendar.
+ 2 - 4 | § ¶
Charlotte-Mecklenburg Police SWAT/Bomb Response Unit
Came across this tonight via web searching. Spartan/Hackney SWAT/bomb squad unit, delivered to Charlotte-Mecklenburg Police Department a couple years ago. Maybe a 2011 model? The 20-foot body has a walk-through passage from the cab to the body. The truck's equipped with a 15-kw diesel generator, that can power AC, heating, interior lights, flood lights, and work stations. Roll-up door in rear accesses the robot garage. Ramp provided for deployment. Pneumatic tower with R-vision camera. Chassis is designed with a shorter wheelbase, to help with maneuverability. And that's a blue and white Roto-Ray on the front! Visit this Hackney page for more details, photos, and drawings.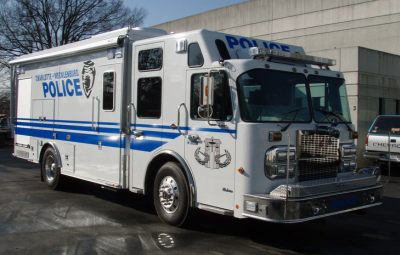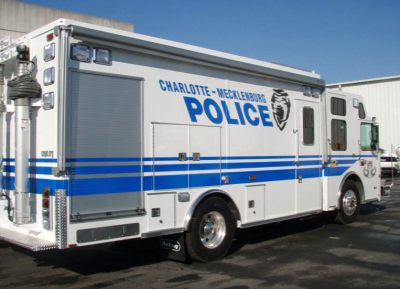 + 4 - 6 | § ¶
Squad 15 at Six Forks
Mobile phone photo from yesterday afternoon, units clearing a reported house fire on Lynn Road, just east of the old Six Forks Road Volunteer Fire Department. Also known as Six Forks VFD, or just Six Forks FD, later merged with Bay Leaf VFD, also known as Bay Leaf FD, and formerly sharing quarters with Six Forks Rescue Squad, later known as Six Forks EMS, now defunct and served by Wake County EMS, which occupies the structure with BLFD. Got that? (The headline has more "s" sounds than if we wrote "Squad 15 at Bay Leaf." Mikey likes alliteration.) Lower-light photo, which is why it's a little soft. Click to enlarge:


+ 4 - 1 | § ¶
Morning Reading - May 29, 2013
Good morning Raleigh. A good man was laid to rest yesterday. We're all the better for having known Senior Firefighter Morgan McLamb, who passed away on May 23 after a long illness. He was thirty-seven years of age, and survived by a wife and two young children. Morgan was a volunteer with Durham Highway FD, and worked at the Youngsville FD before joining the Raleigh FD on January 5, 2004. He was a nine-year veteran who last served on Engine 8 on "A" platoon. Read his obituary.
To help remember him, I've been digging through my photo archives, to find the best pictures of him at the station or on duty (which I've been posting on Facebook). How does that work, you ask? Do IU have a special index, or even (gasp) face-recognition software installed? Negative. 'Tis a manual process, enhanced with whatever "memory aids" are available. Recalling dates or timeframes or specific instances, for instance. File name searching helps as well, such as searching for "sta8" in my file names. Slowly but surely.
Anyway, here's some morning reading from recent local headlines...
+ 2 - 7 | § ¶
UPDATED: Former and Historic Firehouses of Atlanta
May 28
My research document is complete (for now) and has been posted on my history site. The PDF document lists all engine houses, past and present. Plus apparatus rosters. Other facilities to be added, shop, training, etc. And when's the trip to take pictures? Probably next year.
March 13
Here's my newest research project: historic and former firehouses of Atlanta. Found a half-dozen former houses so far. Might be another one or two still standing. (And perhaps a mess of former Fulton County fire stations.) Plus a couple active stations from the 1920s, and a bunch from the 1950s and early 1960s. Looks like that was an expansion period for the city. (My definition of historic is fifty years or older.)
Sources are a trio of Atlanta Fire Department history books that should arrive any day, plus a station history provided by a retired member of the department. Thanks, Chief! This is an idle pursuit. Might finish this year. Might finish next year. Alas, there's still plenty on my historical plate at present. But it's fun to chase butterflies some times.
READ MORE
+ 4 - 1 | § ¶
Atlantic Emergency Solutions - Greensboro Open House, June 6
Here's a neat event this week at the Greensboro Regional Service Center for Atlantic Emergency Solutions in Colfax on Thursday, June 6. They're the area's Pierce dealership. Click to enlarge:


+ 6 - 1 | § ¶
Arrival Video of Belmont House Fire
Here's a short video that's been making the rounds, such as FireNews.net and Statter911. Belmont Fire Department arriving at a well-involved (or is that fully-involved) house fire on Forney Avenue on Sunday morning. One fatality, a 62-year-old woman found in the front bedroom. (Does the fatality, in turn, warrant mention in this posting's headline? Should this posting be titled "... Fatal Belmont House Fire?" Does it add a sympathetic or gratuitous twist? You tell me.) Can't find much info on BFD. They have two stations, one of which is co-located with South Point FD. The municipality has 10.1 square miles, shaped roughly like a diamond. Population 10,076 in 2010. Town was incorporated in 1895.


+ 4 - 1 | § ¶
Garner High School's New Public Safety/Firefighter Program
The Garner-Cleveland Record last month reported on a new pilot program that's paired the Garner Fire Department with the Wake County Public School System. Expanding upon the story by Kyle Jahner, here's some information from a recent conversation with Garner Fire Chief Matthew Poole. The school system approached the fire department in 2011, about a pilot program to prepare high school students for careers in public safety. Four programs already existed in the state: Concord, Fayetteville, Jacksonville, and Harnett County. Additionally, a fifth program was starting in Hickory.
Officials from both the school system and the fire department toured Concord, to learn about their program. The fire department also helped the school system find an instructor. John Pinder was hired by the school to begin the program at Garner High School. Pinder was a former Cary firefighter and, most recently, a former Deputy Fire Marshal for the City of Raleigh. His first classes started in the spring 2013 semester, consisting of generic public safety classes.
Pinder's teaching two classes of thirty-three students, one of fifteen students and one of eight. Next year's enrollment has tripled, however. Nearly a hundred students are enrolled for the program beginning in the fall. The planned sequence of courses is general public safety, followed by Firefighter I, then Firefighter II. Students will finish the program with nearly all state credentials for Firefighter I and II, with the exception of live burn training. That's omitted due to age restrictions. Upon graduation from high school, students complete their fire training at Wake Technical Community College. The program will also prepare students to enter fire science college curriculums.
The program is currently providing instruction only on fire suppression. EMT is planned to be added at a latter. The program may expanded in the future to include EMS and/or law enforcement.
Pinder is also becoming (or has become) a member of the Garner Fire Department. He'll benefit from access to department resources, and have the ability to maintaining his certifications. They'll benefit from him as a volunteer member, and he'll be serving on duty crews. Down the road, the fire department may also look at implementing a junior firefighter program, that aligns with the school program. The fire department is also looking at providing a 1992 Pierce pumper to the program. The truck is a reserve of a reserve, and will be either donated or leased. The engine would be used on site, at the school.
The program is still being developed. Pinder is still putting his curriculum and resource needs together. The fire department anticipates shared use of larger training props, and a partnership at the training level for school students and firefighters.
Garner High School has seen their vocational programs grow in popularity. They have an Junior ROTC program that has taken off in recent years. They have more than 260 students in the ROTC program this year. Read the Garner-Cleveland record story for more information.


Garner-Cleveland Record/Kyle Jahner photo

+ 5 - 3 | § ¶
South Atlantic Fire Rescue Expo Promotional Video
Speaking of videos, here's a neat (and short) promotional video for the South Atlantic Fire Rescue Expo, which will be held at the Raleigh Convention Center on August 7-10, 2013.


+ 2 - 2 | § ¶
Mystery Road
Where's this bit of asphalt?


+ 4 - 0 | § ¶
Charlotte's Old Dilworth Fire Station > Salon and Spa
From a reader, here's a picture of Charlotte's old Dilworth Fire Station, which has been revitalized and renovated as the Re Salon and Med Spa. The historical two-story story served as Station 2 from 1909 to 1948. The building's site was in the cross hairs of developers in 2010, but a Facebook campaign followed by a letter-writing campaign helped save the building from demolition. The salon and spa opened at the end of 2010. Here are some press stories about them (scroll to bottom of page). Their web site also tells a bit about the building's history, and features this documentary from 2010 named If These Bricks Could Talk. Thanks for the photo, Andrew!


+ 1 - 1 | § ¶
LP Gas Emergency Training Conference in Raleigh, June 1-2
Event announcement. Western Wake Fire Rescue and the Wake County Association of Fire Chiefs is supporting the North Carolina Propane Gas Association with a North Carolina Industry Responders Conference held at the State Fairgrounds on June 1 and 2.
The two-day conference will provide training on LP gas emergencies and the related equipment, as well as the uses for LP gas that fire departments may encounter in incidents.
Developed by the Propane Education and Research Council, this program is delivered across the nation. This is first time the program has been delivered in North Carolina.
The two-day conference will take place at the Governor Martin Building on the North Carolina State Fairgrounds on Saturday, June 1, and Sunday, June 2.
Industry specialists from around the nation will provide the training. There will be numerous static displays on both days, and live fire training on Sunday.
Meals will be provided for participants, and training materials for each participating department will be provided, so they can conduct further training at their fire station.
See this FireNews.net event notice for more information, and an online registration link. The cost is $59 per person.
+ 3 - 0 | § ¶
Edenton Fire Station Locations
Reporting from the road. One of the oldest towns in North Carolina is the coastal city of Edenton. They've been served by a fire department since at least 1904. They've had a water system and fire hydrants since about 1904. Sanborn Fire Insurance Maps provide a peek into the early history of the Edenton Fire Department, and its many different firehouses, hose houses, and hook and ladder houses over the decades. View these maps (pre-1927) on the North Carolina Maps web site, or the complete set via the Wake County Library research databases, if you have a county library card. Click through to the second page of this post for a few map images and a couple photographs.

Map Date
Fire House Location(s)
Fire Equipment/Department Description
Number of Map Sheets
Apr. 1885
None
No fire equipment indicated.
One.
Aug. 1893
None
No fire equipment indicated.
Three.
Feb. 1898
Hook and ladder house on north side of county jail.
Hand-drawn hook and ladder truck, eight iron pails. Water facilities categorized as "not good."
Five.
Jan. 1904
Hook and ladder house on north side of county jail.
Volunteer of fifty men. One hook and ladder truck. 1,500-feet 2 1/2-inch hose on three reel carts to distributed when [water] plant is installed. Alarm by bell on court house. Thirty-eight double hydrants being installed.
Eight.
Jan. 1910

Four buildings:

Hose house behind courthouse, housed hose cart and supply cart.
Hose hose in 100 block of Magnolia (now Eden) Street, with hose cart.
Hose house on southeast corner of S. Broad and E. Church streets, with hose cart.
Hook and ladder house on north side of county jail.

All buildings presumed demolished.

Volunteer. Three companies of eight men each. Three hose reels with 350 2 1/2-inch hose each, located in different parts of town. 300-feet extra hose. One hook and ladder truck. Fire alarm given by bell at courthouse and by whistle at electric light station. Thirty-one double hydrants. Domestic pressure 32 pounds per square inch. Fire pressure 110 pounds per square inch.
Thirteen.
Aug. 1920
Five buildings.

Same as above, with addition of engine house beside hose house on southeast corner of S. Broad and E. Church streets. Housed chemical engine.

All buildings presumed demolished.
Volunteer. Three companies of eight men each. Three hose reel carts with 300 feet 2 1/2-inch hose on each. One supply cart with 250 feet 2 1/2-inch hose. One 40-gallon chemical engine. Colored hook and ladder company with truck and 60-feet of ladders. Fire alarm by bell at courthouse and whistle at water works. Forty-nine double hydrants. Gravity pressure 40 pounds. Direct pressure 110 pounds.
Fourteen.
Jan. 1927
One building at 300 Water Street.

One-story building housing fire department an auto-repair shop, as well as other space in the rear including warehouse.

Still standing, the fire station/repair shop section. Houses a pair of stores.
Volunteer, one chief and sixteen men, all partly paid. One fire station, no one on duty, with Reo truck with Foamite-Childs Corporation equipment: one Northern pumper, 350 GPM, with 40-gallon chemical tank with 150-feet chemical hose, two 2 1/2-gallon chemical extinguishers, 1,200-feet 2 1/2-inch hose. Hook and ladder and 400 feet 2 1/2-inch hose on hand reel in reserve. Alarm is phone into power house where whistle is blown for location of fire, and siren is sounded for general alarm. Fire station is located in a commercial garage where members of fire department are employed in day time only, but are not on duty with fire department until called. Sixty-five double hydrants. Domestic pressure 40 pounds per square inch. Fire pressure 100 pounds per square inch.
Seventeen.
Oct. 1943
One building at 404 S. Broad Street

Two-story combination town office and fire department.

Building no longer standing.

Presumably relocated in 1966 to present fire station location at 704 N. Broad Street.
One chief, one driver, and sixteen men, partly paid. One fully-paid driver. One station. One American LaFrance 1,000 GPM pumper with 80 gallon booster tanker, 200-feet booster hose, and 1,000-feet 2 1/2-inch hose. One Reo-Childs 350 GPM pumper with 40 gallon chemical tank, 150-feet chemical hose, and 750-feet 2 1/2-inch hose. [Plus] 1,500-feet of extra 2 1/2-inch hose. Alarm by telephone and siren. Sixty-four hydrants. Domestic and fire pressure 40 and 100 pounds, respectively.
Seventeen.

..
READ MORE
+ 5 - 0 | § ¶
Names, Abbreviations, And Other Thoughts on Written Style
Now for a few words about written style. It took great willpower the other morning to the words "Charleston 9" in my headline about the documentary of the same name. That's because my preference for writing numbers in such instances involves spelling them out. E.g., "Charleston Nine." But I sat on my hands and wrote the thing as it appears in the video and on the web page about the video: "Charleston 9."
Spelling out numbers, what the heck? That's certainly inconsistent with my treatment of fire station numbers, such as "Station 1" or "Station 2" or "Station 3" instead of "Station One" or "Station Two" or "Station Three." The same is true for unit or company numbers, "Engine 1" instead of "Engine One." But for most other uses—outside of dates and measurements, that is—my preference is spelling out the numbers "1" through "99". (You'll see same in the Raleigh FD centennial history book, where I served as writer and editor. The "Chicago Manual of Style" was my choice for most style choices.)
What about abbreviations. Didn't my last sentence just contain "Raleigh FD" instead of "Raleigh Fire Department?" Correct. My preference when citing a fire department's name, headline or sentence, is to spell the thing out. That's why I avoid the abbreviation "RFD" in my postings, and only infrequently use the slightly abbreviated "Raleigh FD."1 Exceptions to this include sentences containing multiple department names, such as "Raleigh FD, Cary FD, and Garner FD." And my post-posting comments, which are subject to any number of textual shortcuts.2
Next question, "fire department" or "fire rescue [department]?" Such as, say, "Eastern Wake Fire Rescue" or "Western Wake Fire Rescue." For the sake of simplicity (and personal preference), I call everything a "fire department." Which is why you'll see, say, "Garner Fire Department" instead of "Garner Fire Rescue." Probably drives each of them nuts. And on my photo site, everybody's an abbreviated fire department. Everyone's listed as "_____ FD."
Speaking of abbreviations, let's talk about capital letters. Another quirk of mine is my reluctance to "up case" letters outside of abbreviations. Dave Statter's web site is named STATter911. Same for his media company. My preference for rendering is Statter911. Probably drives him nuts. And should a ".com" be included at the end? Good question. "Statter911.com" is unique enough that the ".com" can be dropped. Can't say the same for, say, "FireNews.net." Thus it's always written with the ".net" included.
The South Atlantic Fire Rescue Expo is another example of my up-case quirkiness. They brand their event as the "South Atlantic FIRE RESCUE Expo." I render their name without the up-caps, as "South Atlantic Fire Rescue Expo." Heck, you'll even catch me calling the event the "Raleigh Fire Expo" in the same way that I refer to the "Baltimore Fire Expo." (The latter being in the Firehouse Magazine Expo.) Probably drives 'em nuts, though they haven't (yet) banned me from either event. 3
There are probably other quirks about the written style used on this blog. Readers can take me to task, or just ask questions about why certain words appear in certain ways. My answers might even seem reasonable.4
Sources
My brain.
Footnotes
1"Raleigh Fire Department" versus "City of Raleigh Fire Department?" The former is almost always my choice on the blog, or anything else that I am writing for the web or print. The latter appears in press releases from the city and thus also occasionally appears here. What's my opinion of "City of Raleigh" on the side of apparatus, and "City of Raleigh Fire Department" as official branded name? That's always seemed whacked to me, but it's an obvious evolution of the branded name "City of Raleigh."
2What about "F.D." instead of "FD." Where are the periods? They are omitted, as are periods in the abbreviations of state names. "NC" instead of "N.C."
3"SAFRE" is a convenient acronym for the South Atlantic Fire Rescue Expo. The letter combination has always looked ugly to me, and thus I tend to avoid the thing. The exception is in file names, for pictures taken at the expo. e.g., 2013-08-safre-parade-mjl. That works great as a compact file name.
4What are my bonafides? Was a mediocre English student in high school and college. Developed an interest in writing during my last year at "State College," as a movie reviewer for the school newspaper. Later wrote some 1,200+ movie reviews over a seven-year period for readers on the 'net. Also returned to college, for a post-graduate "certificate"in Professional Writing. (Five classes/fifteen hours on writing and editing.) Later wrote some books. Still later started a blog. Have also been technical writing in my day job for twenty years. So there.
+ 2 - 1 | § ¶
Tree That Was Struck by Lightning
Here's something that you don't see every day, a tree that was struck by lightning at the scene of a structure fire. The lightning strike also started the two-alarm apartment fire on Calumet on Tuesday. See more photos from the scene from Lee Wilson, as well the shots by Mike Legeros. Read prior posting about the incident.



Lee Wilson photo
+ 4 - 1 | § ¶
New Documentary Short Film - Charleston 9: The Ultimate Sacrifice
For your Friday viewing, a new documentary film has been released about the recovery of the Charleston Fire Department after nine firefighters died at the Sofa Super Store fire on June 18, 2007. The video was produced by Statter911 Communications and Greg Guise Media for the National Fallen Firefighters Foundation. It focuses on how the leadership of the late Fire Chief Tom Carr helped the department recovery after its devastating loss. Here's more information. Watch the 26-minute short film, via YouTube:



+ 3 - 1 | § ¶
Improvised Whiteboard
Saw this photo on Facebook, via the Law Officer magazine page, via their web site story, via an Associated Press story, about newly released photos from the January 2011 shooting scene in Tucson, AZ, that killed six people and wounded former U.S. Rep. Gabrielle Giffords. The Pima County Sheriff's Department on Tuesday released to the public some 600 images taken by investigators. Check out this improvised whiteboard. Don't know if the images have been posted/hosted in their entirety by anyone(s). That's probably its own legal (?), ethical, and practical dilemma.



AP/Pima County Sheriff photo
+ 3 - 2 | § ¶
UPDATED: Morning Reading - May 21, 2013
Evening update. Added city budget information, released today.
Good morning Raleigh. Got nothing to comment upon. Enjoy these news stories...
+ 3 - 2 | § ¶
Two Alarms on Calumet Drive
Two alarms were struck this afternoon at 3216 Calumet Drive. Fire was showing through the roof upon arrival of Battalion 2, at the two-story, brick exterior, garden-style apartment building. Built in 1973. Hydrants were caught and lines were pulled for an interior attack, as the two arriving ladders were positioned. As searches were performed, heavy fire was found spreading through the attic. Crews were withdrawn at about the fifteen-minute mark. Car 20 assumed incident command. Ladder 2 (in parking lot) and Ladder 4 (using reserve platform, on Calumet Drive) were directed to begin aerial operations. Portable monitors were also deployed, one in the front of the structure and one in the rear.
Command was located in the parking lot, on the left-rear corner of the building. Staging was along Calumet Drive. Hydrants were also caught on Calumet, with Engine 7 boosting to Engine 3, which boosted to Ladder 2 (was that right?), and Engine 11 boosting to Ladder 4. Rehab and medical monitoring was also on Calumet Drive, at Wake County EMS Truck 1. Dispatched at 3:31 p.m., the fire was controlled at 4:22 p.m. Seventy-five percent of the building was damaged. The cause was determined as natural, by lightning strike. First alarm: E11, E3, E21, E9, L2, L4, R1, SQ15, B2, B5, C420; Working fire: A1, C20, C401; Second alarm: E12, E13, E26, E10, L8, L1, B1; Self-dispatch (?) by E7; Also Car 3, Car 4, Car 5, Car 14 (Safety); Medical; EMS 3, EMS 5, EMS 36, EMS 63; D1, D9, M92, MD2, MD20, T1. See preliminary photos by Legeros. More later, plus also from Lee Wilson!


+ 4 - 3 | § ¶
City Council Awards Construction Contract For Fire Station 29
Press release. On May 21, today, the Raleigh City Council awarded a contract not to exceed $2,700,000 to Resolute Building, Inc., for the construction of Fire Station 29. It will be located at 12117 Leesville Road and will house a single engine company, Engine 29. The 10,000-square-foot fire station, designed by Stewart Cooper Newell William Ferm Architects, will have three apparatus bays, sleeping quarters with twenty-seven beds, an exercise room, office and watch station. The facility will have reduced water use and energy efficient HVAC and lighting. The project is pursuing U.S. Green Building Council Leadership in Energy and Environmental Design (LEED) Certification. Construction will begin this summer with completion scheduled for approximately ten months. Here's a map showing the location relative to the city's other fire stations. Below is a design drawing that appeared in the Raleigh Fire Department newsletter, as well as in the recent centennial history book.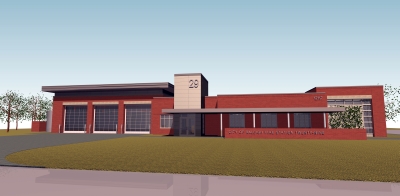 + 3 - 2 | § ¶
New Flickr Interface, Alas
Flickr has redesign their user interface. Will take some getting used to. Here's Lee's and Mike's pages:


http://www.flickr.com/photos/leewilson/



http://www.flickr.com/photos/legeros/
+ 2 - 1 | § ¶
Transitional Fire Attack in Portland (Video)
Your evening fire video, found by Statter911. Lengthy (and well shot) footage before, during, and after arrival at a house fire this morning. Exterior attack to start against well-involved structure, then they go inside. Video from Pippin Beard and Kristen Kingsbury.



+ 2 - 1 | § ¶
Fire Is... Video Series
Belatedly blogging about a fabulous five-part fire safety series called Fire Is, hosted by veteran television journalist Dr. Frank Field along with his son Storm and his daughter Allison (shown below). All three are television journalists. The series places particular emphasis on how fire isn't like what children and their parents see on television or in the movies. It was developed for older children, grades 5 - 7. After third grade, they note, most kids don't receive additional fire safety education.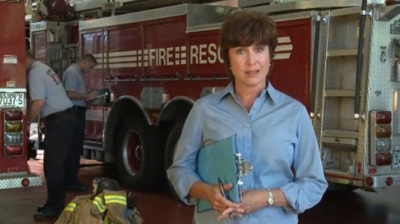 The five clips have been made available as a DVD, and can also be viewed online. (Copies were distrubted at year's Fire Expo in Baltimore, where Mr. Blogger grabbed his copy.) Among the participants is the Charlotte Fire Department, and you'll see their PIO Captain Rob Brisley, among others. The program was created in New Jersey, and with parterships from organizations there. And here's an Instructor's Guide (PDF), produced by Everybody Goes Home.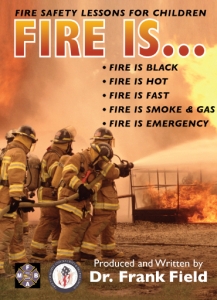 Watch the videos, which are linked from this landing page, are available in both English and Spanish, and which include a pre-test:
+ 3 - 1 | § ¶
Mystery Law Enforcement (?) Vehicles
Seen on Glenwood Avenue this morning, inbound at Lead Mine Road. Colors are both dark blue and black. Not shown, leading the convoy, was a presumed comms truck, a mid-sized two-axle box truck (if recalled correctly) with what looked like a collapsed dish/antenna tower on top. Didn't have time to retrieve the real camera(s). USSS? Homeland? Military? Posting for collective interest, or at least until the blogger suffers the consequences of [insert favorite conspiracy theory outcome]. If this posting disappears, then this was just a figment of some guy's imagination. Please remember me well. Click to enlarge:


+ 1 - 1 | § ¶
Henderson Firefighter Dies on Duty After Accidental Gunshot - November 7, 1970
Reader Randy Newman passes along the tale of another unusual firefighter fatality, which we've supplemented with documentation after a quick trip to the local library. Lt. Joseph Morris Hicks, 59, of the Henderson Fire Department died of an accidental gunshot wound on Saturday, November 7, 1970. The eleven-year veteran of the department was at the fire station, when he bent over to get a Coke from a vending machine. He was carrying a pistol which fell from its holster, struck the floor, and discharged.
Reported the next day's News & Observer, "the bullet struck him just above the bridge of the nose, almost exactly between his eyebrows." The shot penetrated his skull. Lt. Hicks was transported to Duke Hospital in Durham, where he was pronounced dead at 12:10 p.m. His death certificate lists the cause as "cerebral anoxia" and "cerebral laceration," from the gunshot wound.
Lt. Hicks was buried at Sunset Gardens in Henderson on November 9, 1970. His obituary lists that he was survived by his wife Mary C. Hicks, and his son Jimmy Hicks.
Civil Unrest
Regarding the weapon he was carrying, this was a period of civil unrest in the Vance County town. Tempers had been rising and protests becoming more heated over integration of the town's schools, the dismissal of a black teacher in late September, and the arrests of blacks involved in school walkouts. Also in the mix were reactions from a shooting death in Oxford in May, when a black man was shot by a white man.
On Friday, November 7, the violence started after police used tear gas on people protesting the school controversy. Later, a tobacco warehouse "in the black section" burned and the firefighters were met with sniper fire. The blaze was blamed on arson, which spread and destroyed several nearby frame home.
The National Guard was dispatched by the Governor, with some 300 troops arriving on Saturday afternoon. Calm conditions were reported that night, and the town manager continued a curfew which had been first ordered on Friday.
Hicks and other firefighters had also armed themselves on Friday, after being fired upon while answering fire calls. After Hicks was shot, the others stopped carrying their weapons on the advice of the police chief. After the guard members arrived, they turned their weapons in.
(The threat of violent affected nearby fire departments as well. Recalled an old-timer with the Bear Pond FD, during my recent visit to town, they carried a rifle on their original pumper, stored in the hard suction!)
Calm was reported again on Sunday, November 9, though both guard members and state troopers continued patrolling the town. As the story goes, however, riot shot guns were carried on the engines during this time, and for many years later.
Thanks again, Randy. We'll forward this information to both the state and national fallen firefighter foundations.
Sources
News & Observer, November 7-9, 1970
Joseph Morris Hicks death certificate.
Oral histories.
+ 2 - 0 | § ¶
Reader Question: First Fire Departments in Wake County?
Question:
Which fire department was the first one organized in Wake County? Both municipal and county?
Answer:
Those milestones include...
1819 - First fire company, volunteer, Raleigh. It's municipal-affiliated, but is it "municipal" ? Let's instead cite...
1852 - Raleigh reorganizes fire companies, and forms what I would call the first real FD organization. So, that's a good year for first municipal fire department in Wake County. They were volunteers.
But what about non-Raleigh municipalities?
1908-1912 (?) - Wendell
1910s - Zebulon
Those dates are based on my research of some years ago. Maybe someone knows more accurate start years? Those were also volunteer.
What was the first career fire department in Wake County?
1912 - Full-paid fire department formed in Raleigh.
What was the first rural-era volunteer department? When Civil Defense funding was available, starting in the 1950s?
1952 - Garner Fire Department organized.
But what about the first rural, non-municipal affiliated department?
1956 - Six Forks Road Fire Department organized.
Clear as mud?
+ 2 - 2 | § ¶
Fallen Firefighter Research Part 2 - Details and Statistics
As a follow-up to my recent posting about North Carolina fallen firefighter research records, let's look look at some data and details from my database therein. The spreadsheet was created in 2006, the year the memorial was dedicated in Nash Square with 164 names. That roster has expanded with some ninety names, both those who've died in the years since, and the legacy members from prior decades. Here's a recap and expansion of some data and details from an essay written in 2006:
Multi-Fatality Fires
Three times in the state's history have four firefighters died in the line of duty at the same incident. On May 25, 1979, four members of the Shelby Fire Department were killed when a building exploded during an apparently routine fire in a clothing store. On September 7, 1982, four members of the National Spinning Company textile plant fire brigade in Washington were overcome by smoke and died in an early morning fire. On July 1, 2012, four members of the North Carolina Air National Guard 145th Airlift Wing from Charlotte were killed when tanker crashed in South Dakota on the White Draw fire near Edgemont.
Winston-Salem's Fire Chiefs
Three Chiefs of Department and one Assistant Chief in Winston-Salem have died in the line of duty. Fire Chief Harry Nissen in 1932, in an automobile accident; Fire Chief William Hobson in 1938, of a heart attack; Fire Chief Arnold Bullard in 1980, of a heart attack; Asst. Chief John Goforth in 1956, of a heart attack.
Father and Son
North Carolina Division of Forest Resources pilot Marshall Newman and mechanic Larry Moody died after a midair collision near Kinston on November 19, 1973. Twenty-seven years later, his son also died in an aircraft accident involving the Forest Service. On September 7, 2000, forestry pilot Tim Newman and crew chief Mike Fossett were killed when their Huey UH-1H helicopter crashed near the Blue Ridge Parkway, near Waynesville in Haywood County.
Fire Alarm Systems
Three fatalities have involved personnel working with electric-telegraph fire alarm systems, which utilized low-voltage electrical wires typically strung from telephone and other poles: W. Graham Cathey in Charlotte in 1928; Oscar Hayworth in High Point in 1936; William Capps in Fayetteville in 1956.
Unusual Circumstances
In 1929, Luther Horne of Fayetteville was killed by a collapse at the ancestral home of legendary Fire Chief James McNeill. In 1931, Edgar Elliott of New Bern fell into the Neuse River and drowned while battling a riverfront fire. In 1934, Pruitt Black of Charlotte died when he tripped on his bunker pants and fell down the pole hole. In 1976, McDaniel Narron of Antioch died after suffering a heart attack while operating the pump at a fire at his own home. In 1989, Roy Bailey died when he was shot and killed while directing traffic.
Read more about these incidents in this essay from 2006.

---

Statistics
By county, 74 of North Carolina's 100 counties have lost firefighters in the line of duty. The highest counts are:
Mecklenburg - 17
Forsyth - 13
Cumberland - 10
Wake - 10
By agency, 163 fire departments and fire protection agencies have lost firefighters in the line of duty. The highest counts are:
Charlotte Fire Department - 12
North Carolina Department of Forest Resources - 11
Winston-Salem Fire Department - 8
Wilmington Fire Department - 7
Note: Five agencies have lost four members, twelve agencies have lost three members, and eighteen agencies have lost two members.
READ MORE
+ 1 - 1 | § ¶
Six Thousand Postings Later
Just noticed that last week's observations about a Wilmington aerial tower was posting 6000.1 Wow, how did that happen? This blog began on December 27, 2005. The first posting was, well, Welcome to our Blog. Actually, that was the fifth one. The first four were test posts.
We've covered quite a bit of ground in these eight and a half years. Local stuff a-plenty, from numbering schemes to incident discussions to local governance. Lots of rumors, at least in the early days. (We're more fact-based presently.) History and photography in equal parts, as well.
We've been heated at times, and then re-heated for some of the more popular dead horses. It's been a couple years, however, since we've had super-long discussions. Those were in the days before reader comments required approval. Here are those with the highest comment counts, and all are from the pre-moderation period:



What's next for this blog? Would like to upgrade the platform, to add Facebook commenting and maybe user-controlled user profiles. Might commence cleaning out the oldest postings, and removing expired event notices and fluffier stuff. The historical pieces--both local and statewide--are gold, and will be preserved somehow. Maybe re-posted on other pages. Maybe moved to another site, some day. Beyond that, it'll be same old same old. I'll keep talking until there's nothing else to say, or no one left reading. Thanks for participating.
1 Sounds like an impressive number, but it ain't. Here's the math: 6000 divided by 8.5 years divided by 365 days equals just about two postings per day. Any fool with a lot of free time and a wardrobe of tropical shirts can pull that off.
+ 2 - 3 | § ¶
Winston-Salem Fire Department To Reduce First Responder Call Types
FireNews.net this week reports on this Winston-Salem Journal story that the city fire department will no longer respond to non-life threatening medical calls effective July 1. They'll respond only to calls involving cardiovascular, respiratory, life-threatening trauma, and life-threatening allergic reactions, notes a memo from the Fire Chief. They'll also no longer respond to medical calls at facilities where medical professionals are on staff, such as medical offices, nursing homes, and assisted living centers. The change is a cost saving measure that will save the department $145,000 in fuel costs in the first year.
The fire department started responding to all medical emergencies in November 1999. (Was that the year they started their first responder program? Didn't they take a stab at one the decade before?) Their annual EMS call volume is 18,500, of which an estimated 70 percent are not true medical emergencies. Read the stories, which include a few reader comments (so far) on the Journal site.
Reader perspectives are requested. First is a contextual question, what's the norm for first responder call types, locally, regionally, or nationally? Second, a specific question. Will WSFD respond to life-threatening events at medical facilities? Or are those omitted, period? Third, what results have readers observed about changes in EMS service levels by fire departments? (What happens when you greatly cut your call volume, for example?) Should be good fodder for discussion.
+ 8 - 11 | § ¶
UPDATED: Vintage Wilmington Crash Trucks
May 17, 2013
Updated, adding a third slide also found for sale on eBay. Dry-chemical unit carried on a 1989 Ford. The airport currently has a pair of Oshkosh 4x4 crash trucks, one in service and one in reserve. See photos of those rigs from 2010, in the comments section below.


Jun 26, 2011
Updated, adding another slide also found for sale on eBay. Crash 1, a 1954 American LaFrance, one of the "O" models used by the military. Likely Serial #54L210, 1954 American LaFrance Type O-11A, former North Carolina Air National Guard. 500/1000/100 and 80 gallon tank of Chlorobromomethane, an extinguishing agent. [ Data added May 2014, from Ted H. via the Fire Trucks at War Facebook group. ]
Also found for sale on eBay, yet another 35mm slide. This is a 1975 Oshkosh M-1500, civilian version of the military P-4. Specs 1250/1500/180 and operated by the New Hanover County Fire Department. We blogged about this before, noting that there once were two Air Force installations in Wilmington, and the 48th Interceptor Squadron was protected by a crash truck at the airport. [ Data added May 2014, from Mark R., via the Fire Trucks at War Facebook group. ]
That information was dated 1971. Betcha this truck was provided by the military, but operated by the county-run fire department. Believe this was a prior incarnation of NHCFD, that solely protected the airport. The current New Hanover County Fire Department was created 1997. [ Incorrect. See comments below. ] As for the airport, they're protected by an airport-operated department, no? Anyway, great picture.


+ 1 - 1 | § ¶
Jacob Spain Night at Zebulon Sonic, May 20, 2013
Come eat at the Zebulon Sonic drive-in restaurant, 1240 N. Arendell Avenue, and a percentage of sales will be donated to the Jacob Spain Memorial Scholarship. That's a $500 annual award awarded annually to an FFA student at East Wake High School. The scholarship was established earlier this year by Raleigh Asst. Fire Chief Garry Spain and his wife Jennifer, after their son Jacob passed away suddenly in May of last year. The scholarship will be awarded for at least the next forty years. The event on Monday includes large drinks sold for 72 cents, which was the number of Jacob's football jersey. Here's an Eastern Wake News story from February about the Spains and the scholarship. Click to see the flyer (PDF).


+ 4 - 2 | § ¶
Morning Reading - May 16, 2013
Good morning Raleigh. Warmer weather has finally and perhaps regrettably arrived. Loved this unusually cool spring, but then this Minnesota-born boy has never tolerated the heat particularly well. At least as his age and, ahem, body mass has climbed in recent years. Anyway, here's some of the news and fire news that's passed across my reading table. Now passing onto your reading table...
+ 1 - 3 | § ¶
UPDATED: Fallen Firefighters Research Documents
May 15
Update. Added another dozen-plus death certificates, from 1978 and 1979. And redacted social security numbers where present in the documents. Also updated the database with fallen firefighters from 2011 and 2012. Also added as data and narrative details throughout the database. Notable are added burial dates and locations. Also added a PDF version of the database, for alternate/easier format for reading. (Might alter the web page version of the database in the future. It's a little slow to load.) Watch this space for some stats about the data therein.
April 30
Specifically, digital scans of death certificates newly uploaded, of our state's fallen firefighters from 1911 to 1977. Eighty-seven of the things, copied from microfilm or online databases at Olivia Raney Local History Library in Raleigh. They were compiled beginning some eight years ago, to assist the North Carolina Fallen Firefighters Foundation with their historical records. The documents offer a surprising wealth of information, including vital statistics, family information, and burial location. Occupations are noted, as are causes of death. The latter vary in their levels of detail. Some are simple medical notes, others describe the accident or situation that caused the death. They've been stored in a single web folder, and are linked from my fallen firefighters history page.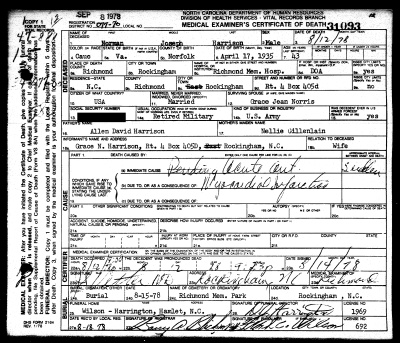 + 1 - 1 | § ¶
Where There's Smoke...
That's a WTVD aerial photo of the smoke plume from this afternoon's major house fire at 8414 Fawncrest Drive in Garner. One-story, wood-frame structure with 1,550 square-feet. Built 2001. Departments on scene included Garner and Fairview, plus a tanker task force from Eastern Wake, Hopkins, New Hope, Rolesville, Wendell, Zebulon fire departments. Read stories from WTVD, WRAL.



WTVD photo
+ 1 - 2 | § ¶
Boone Aerialscope and a Reader Challenge
Reader Peter Brock shares this shot of Boone's Aerialscope, photographed yesterday behind Station 2. (Same is a reserve ladder these days, correct?) Next, a challenge for readers: how many Mack CF model Aerialscopes have served in North Carolina? This truck's a 1986 model with a 95-foot boom, which is somewhat rare outside New York City. Raleigh's well-known 1977 model was a 75-footer. For extra credit, which 'scopes in our state previously served elsewhere? For extra extra credit, the bulldogs on the front of the trucks were either gold or silver. What's the difference? Click to enlarge:


+ 2 - 3 | § ¶
New Hanover County's New Engine
Seen on the Pierce Flickr site as well as FireNews.net, here's Engine 13 newly delivered to New Hanover County Fire Rescue. Its a 2013 Pierce Arrow XT with the Pierce Ultimate Configuration (PUC). The pumper-tanker has a 1,500 GPM pump, a 1,000 gallon tank, and a Husky 12 foam system. The engine was dedicated on May 1, and photos of the ceremony are posted on the New Hanover County flickr site.


The fire department has been progressively growing larger of the years, since its formation in 1997. They have ten stations (see this CFP list), a number of which were originally operated by private fire departments. The roster of those that have passed includes Castle Hayne FD (1958-2010), Federal Point FD (1974-2010), Myrtle Grove FD (1957-2010), North Wilmington FD (1990-1993), Seagate (1940-2005), South Wilmington (1956-1990), Winter Park (1951-2005), and Wrightsboro (1952-2010).
Today, the fire departments serving the county number four: Carolina Beach FD, New Hanover County FD, Wilmington FD, and Wilmington International Airport. What does the future look like locally county-run fire departments? Looks like Durham is starting in that direction.
+ 2 - 1 | § ¶
Raleigh-Wake ECC Sending Letters to Businesses with High Numbers of 911 Misdials
Press release. To help reduce misdialed calls to the Raleigh-Wake Emergency Communications Center, letters are being sent to businesses that have a high number of errant 9-1-1 emergency calls. The letters began going out this month.
In March 2012, an area code overlay was put in place in Raleigh and central North Carolina that required 10-digit dialing for local calls. Unfortunately, the similarity between the 9-1-9 area code and the 9-1-1 emergency number created a flood of misdialed calls to the Raleigh-Wake Emergency Communications Center. More than a year after 10-digit calling has taken effect, these misdials continue.
During the last 12 months since the institution of the area code overlay, 9-1-1 calls have increased by 20 percent. In addition, outbound calls --- those made by staff in the 9-1-1 center --- rose by 80 percent and the number of callers who hung up before 9-1-1 could answer rose by an even higher 92 percent.
Misdials and hang-up calls divert resources away from actual emergencies because dispatchers must dial back on hang-ups to assure that an emergency is not taking place. If no response is received from the call-back, dispatchers send a police officer to the source of the call to make certain that no assistance is needed.
In his letter to businesses with frequent 9-1-1 misdials, ECC Director Barry Furey invites owners/operators to contact him personally to discuss ways "to reduce this burden."
+ 3 - 1 | § ¶
Slagle's Fire Equipment is Closing
If you haven't heard the news, Slagle's Fire Equipment of South Boston, VA, and Cayce, A, is closing. They announced in late April that they were shutting their doors, due to factors including drastically diminished apparatus sales. The company was formed by Jack Slagle in 1962. Over the past fifty years, each of five sons has been part of the family business. The company both sold and built fire equipment, including hundreds of "Slagle's Super Slide" brush truck slip-in units. Read this VA Fire News story, or visit the company's web site, where a going out of business sale is underway. And here's a nifty history page about the company.


+ 2 - 0 | § ¶
Aurora Fire Department Century Theater Shooting Report
From a reader, here's the preliminary incident analysis by the Aurora Fire Department in Colorado of the Century Theater Shooting on June 20, 2012. Twelve people killed and seventy people were transported after a gunman opened fire at a movie theater, during a midnight movie showing. The report is linked from this Denver Post story from a couple weeks ago. Thanks, Barry.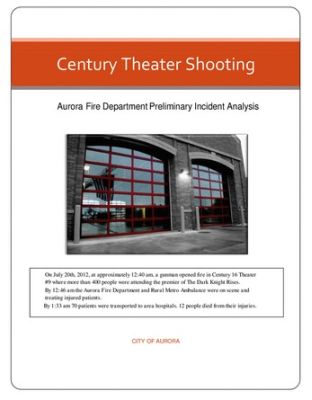 + 3 - 1 | § ¶
High Winds + Lightweight Construction (video)
Your morning fire video, found by Statter911, shot by Tom Stanford. Apartment fire in Stony Plain, Alberta, Canada, on Thursday. How would you attack this thing? Here's part one:


+ 1 - 0 | § ¶
All They Do Is Sit Around And Play Cards - Vintage Image of Station 3
Found in my files, here's an old, blurry photo from the original Station 3 on East Hargett Street. Circa 1940 or abouts. Firemen playing cards in what looks like a small, ancient kitchen. See this page for a diagram of the old building, which was built in 1898. Maybe not as bad as the original Station 4 on Jefferson Street. As the story goes, the bathroom also served as the kitchen (!) for the first few decades. Why such seemingly crappy conditions? Remember that Raleigh was a comparatively small city in the early days, and only a couple decades into a career fire department with only a handful of fire stations. The facilities, apparatus, equipment, and even clothing (no fire helmets until about 1950) were adequate, or abouts. Click to enlarge:


+ 3 - 3 | § ¶
Prom Girls Pass Fire Scene
Early evening in Cameron Village and a headline we'll probably never seen again on this blog. The fact that they're barefoot just adds to the mystery. Click to enlarge:


+ 2 - 1 | § ¶
Gone Too Soon (Book Page)
Here's another note about the Raleigh Fire Department centennial history book, this time about a page that's caused a little bit of confusion. Called Gone Too Soon, it displays portraits and names of thirty-three fire department members who have died off-duty since 1912. They were still active members, and ranged in ranks from Firefighter to Fire Chief. That's why they're not pictured in the Retiree pages.
The Gone Too Soon page is opposite the Fallen Firefighters page, which tells about the three members who died in the line of duty. Clear as mud? We played with different page titles, such as the literal but inelegant Died Off-Duty. To help understanding, a text sidebar was added at the of the retiree pages, with this very explanation. Hopefully it helps, at least some. Read more production notes about the book. See the Raleigh Fire Department Centennial Roll Call (PDF). Rest in peace, all.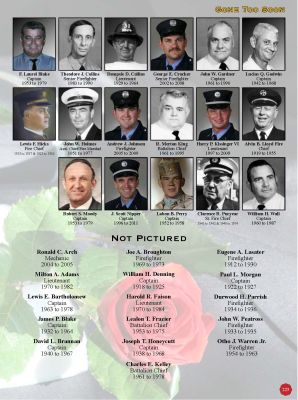 + 1 - 1 | § ¶
UPDATED: Winston-Salem Steamer History, Centennial Activities This Weekend
May 11
After this weekend, the steam engine will be displayed for a number of weeks at the Old Salem visitors center, which is located on Salem Avenue. The steamer will be displayed indoors, in the main hall. Have heard it's in pristine condition. The towns of Winston and Salem operated a number of steam engines in their day. Read more about the history of the state's steamers, which numbered over forty:
Winston
1882 LaFrance (#39), fourth-size
1893 LaFrance (#252), third-size
1903 LaFrance (#487), third-size, also operated by Winston-Salem Fire Department, after towns merged in 1913. Still in service in 1917.
Salem
1886 Button (#190), fifth-size. Was a reserve unit by 1907. Still on roster in 1912.

1905 LaFrance (#512), fourth-size. Still on the roster in 1912.
Here are a couple photos from Digital Forsyth, top showing Salem's Button steamer: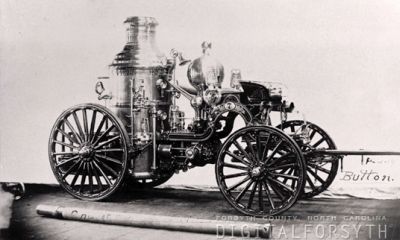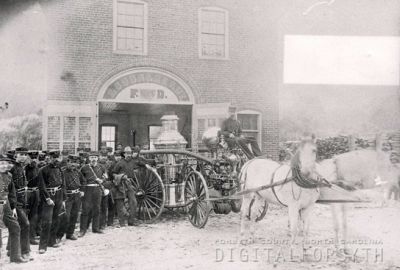 May 8
For those in the central Piedmont this weekend (or inclined to travel in that direction), the city of Winston-Salem has a number of centennial events planned this week. The fire department will have some displays and participation, including:
Friday, May 10
Fire department display
619 Trade Street, Winston-Salem
Fire department display, with artifacts and their 1924 American LaFrance pumper
5:00 p.m. to 10:00 p.m.
Saturday, May 11
Winston-Salem Centennial Parade
Fire department will participate with 1901 1905 American LaFrance steamer, 1924 American LaFrance pumper, and two brand new pieces.
Route is Old Salem to Trade Street to Old Salem.
Parade starts at 2:00 p.m.
More centennial celebration information.
+ 2 - 2 | § ¶
Dark Tower in Wilmington
Saw this Sutphen in Wilmington last week. Looked like a darker red on the thing than usual, or was that a trick of late-day light? Nice Mars light on the front. Click to enlarge this mobile phone photo:


+ 1 - 3 | § ¶
Raleigh Fire Apparatus - Where Are They Now? (Book Page)
One of my favorite pages in the Raleigh Fire Department centennial history book is this one, showing former city apparatus serving or sitting elsewhere. The page follows a six-page apparatus photo gallery. How many can you identify? No peeking!
More information about the book, which turned out exceptionally well. Or read the production notes. (My role was writer, researcher, photographer, and content manager.) Wish I was a millionaire, and I'd drop copies from a plane for everyone. Time to play the lottery again. Click to enlarge:


+ 1 - 2 | § ¶
Raleigh Fire Museum Poster Concept
New poster concept, for directing visitors to both the Raleigh Fire Museum and the antiques at Station 28. What do you think? The museum is open tomorrow, Saturday, by the way. We'll have a limited number of history books for sale as well. Hours are 10:00 a.m. to 2:00 p.m. Click to enlarge:


+ 2 - 0 | § ¶
Charlotte Fire Department Recruit Class 90 (Video)
Found via random YouTube searching. Collection of footage and stills from their twenty-six week fire academy. Guess that's something probably done in recruit academies in most places these days, choosing one or more recruits for photography and videography duties. Cameras are ubiquitious and video editing (and public posting) is easier than ever.


+ 1 - 2 | § ¶
Mystery Structure
Seen somewhere in Raleigh. Shouldn't take but a second for someone to identify it.


+ 3 - 1 | § ¶
Vintage Knightdale Tanker Found
Photographer and renowned rural explorer Lee Wilson last week tracked down this vintage Knightdale tanker. Named Rural Unit 2, the converted military "deuce and a half" was built by fire department members most likely in the late 1960s. The truck was listed on a department roster in 1970.
The location is off Robertson Street before it becomes Knightdale-Eagle Rock Road. The thing's been sitting there some twenty or thirty years. Thanks to Billy Neal, for the notification that we passed along to Mr. Wilson. And see these recent photos by Legeros of Knightdale's first pumper, now sitting in a field in Henderson. Looks like we forgot to blog about that. Click to enlarge:


+ 1 - 1 | § ¶
Free e-Book - Raleigh Fire Department Newspaper Articles: 1910-1913
Here's the long-awaited (ha) fifth and final volume of historical newspaper articles about the Raleigh Fire Department. The e-book collects News & Observer and Raleigh Times stories from 1910 to 1913. That's the period that the career fire department was formed. (Did the research years ago, just forgot to compile the things.) The e-book is PDF format, 138 pages long, and, get this, 65 megs in size. Sorry about that giant file size. Download the e-book (very large PDF). More information about these e-books. There are five volumes, each covering a decade or slightly more of the fire department's history. A collected version of all five volumes is coming soon, to be available for sale as a hardcover, on-demand book. What is niche audience?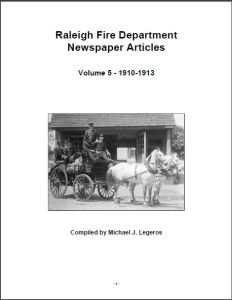 + 1 - 1 | § ¶
City of Raleigh Disaster Preparedness Survey
The City of Raleigh is working with North Carolina State University on a diaster prepardness survey for Raleigh-area residents. Below is the communication that has been distributed to a number of residents. Readers are invited to participate, and assist the project members with collecting data.
--
Dear Raleigh Resident,
This email is regarding a community survey about disaster preparedness for Raleigh and surrounding areas. The link to the survey is included below. Clicking on the link will take you to a consent form, and after clicking on "Agree" on the consent form, you will then be able to view and respond to the survey.
This is part of a doctoral research project by a student at North Carolina State University and is made possible by funding from the Society for Community for Research and Action and by cooperation from the city of Raleigh.
As mentioned above, this is a questionnaire about how people prepare for natural disasters. Your response is crucial in forming an accurate picture of how Raleigh residents perceive hazard risks and gather information about disasters.
The survey takes about 10 minutes to complete. None of the information you provide will be shared except for on an aggregate/group level (you will not be asked to share your name or contact information). Final results will be shared in summary form with Emergency Management Officials for the City of Raleigh and the broader social science research community.
Thank you for taking the time to participate in this survey!
The principal investigator on this research project is Sarah E. DeYoung and you may contact her with any questions at sedeyoun "at" ncsu.edu
+ 2 - 0 | § ¶
Feed the Firefighters Foundation is Back and Ready to Reach New Heights
Press release. Support your local heroes and the Feed The Firefighters Foundation at the first annual Feed the Firefighters Benefit Jam on Saturday, June 22, from 1:00 p.m. to 11:00 p.m. at The Corner Tavern and Grill at Beaver Creek Commons Shopping Center, 2016 Creekside Landing Drive, Apex.
Local firefighters from all surrounding stations will be invited to attend. An entry fee of $10 is required. The Corner Tavern and Grill will provide Barbecue meals for $10 each, with all proceeds going to the Feed the Firefighters Foundation.
Special appearances by the Ricky Young Band and Crush will highlight the afternoon's festivities, which will take place under an outdoor tent and will take place rain or shine.
READ MORE
+ 2 - 2 | § ¶
Two Alarms at Cameron Village
Two alarms were struck this morning at 427 Woodburn Drive, at a sushi restaurant at Cameron Village. Engine 5 arrived with smoke coming from the roof of the one-story brick commercial building and shopping center with 25,924 square-feet. Built in 1949, it includes a full basement. Crews entered the building, to locate the seat of the fire. Dispatched at 2:11 a.m., a second alarm was requested about 2:21 a.m. Staging was set as a parking lot across the street. Heavy smoke was reportedly pouring from the building by this time. Crews worked to also gain additional access and ventilation the building. The fire was found in the kitchen area, and quickly contained. The fire was controlled at 2:41 a.m. All second alarm companies were returned to service around that time. The cause was determined as accidental. Half of the building was damaged. Units on scene included (first alarm) E5, E6, E13, E1, L4, L2, R1, Squad 14, B3, B5, (working fire) A1, C20, C401, C420, (second alarm) E3, E8, E7, L7, B2, (medical) EMS 11, EMS 1, EMS 3, EMS 6, M91, D4, D5, D3. See WRAL story and other news reports. Sources include radio traffic, after which Yours Truly returned to bed.



WRAL photo
+ 2 - 0 | § ¶
Raleigh Fire Department Centennial History Book - Available at Fire Museum on Saturday, May 11
Copies of the recently published Raleigh Fire Department centennial history book will be available at the Raleigh Fire Museum on Saturday, May 11, 2013, during the museum's regular hours of 10:00 a.m. to 2:00 p.m. The price is $60.00, tax included. Payment by cash or check. After that date, information will be posted regarding further availability.
The hardcover, full-cover book contains 264 pages with over 2,100 photos including over 950 portraits of active and retired personnel. All divisions and functions of the fire department featured, along with the history of the fire department depicted in visual timelines and text narratives.
The Raleigh Fire Museum is located in a modular classroom at 105 Keeter Center Drive, Raleigh. The museum is open monthly, on the second Saturday of each month, from 10 a.m. to 2 p.m. Learn more about the museum.


+ 3 - 1 | § ¶
Wake County Fire Commission Meeting - Thursday, May 9
The next meeting of the Wake County Fire Commission is Thursday, May 9, at 7:00 p.m. The location is the Wake County EMS Training Facility, in the lower level of the Wake County Commons Building, 4011 Carya Drive.
Agenda
Call meeting to order

Invocation
Roll of Members Present
Approval of Agenda

Minutes

Adoption of Minutes for March 21, 2013 Regular Meeting

Regular Agenda

Fire Tax Budget Committee

Staff Recommended FY 2014 Fire Tax Budget

Information Agenda

Fire Tax Financial Report
Chair Report
Fire and Emergency Management Director Report

Other Business
Public Comments

30 minutes maximum time allotted, Maximum 3 minutes per person

Adjournment - Next Meeting July 18, 2013.
+ 3 - 1 | § ¶
First Responders < The Words
What do you think about the words "First Responders" as a label for the people who work in emergency services? Our prior posting about a local "First Responder Career Expo" has me thinking about this.
For an event description such as a career fair, the words "First Responder Career Expo" are entirely fine. We might argue that "Emergency Services Career Expo" is a bit more descriptive to the lay person. Even more self-explanatory would be a like "Fire - EMS - Law Enforcement - Emergency Communications Career Expo."
That title's totally descriptive, but really too long for a poster. Ditto for branding, and the necessary short or easy label for identifying the event. (Shorter labels always work better in branding and communication. That's just the way it is.)
So what's the best catch-call here? What's the best label for firefighters, medics, law officers, and telecommunicators? "First responders" is adequate, sure. "Emergency workers" might be a bit better, though it gets me thinking of emergency room workers as well. (Don't even try to get me to correctly identify every type of person that works in an ER.) "
"Emergency crews" is plural and usually means a larger quantity. "Emergency crew member" doesn't really work. What other labels might be good? (How about "safety personnel" as Dave Statter once observed and railed against!)
Where noses can get bent is in news reports. Such as when headlines or story text says things like "first responders brought the fire under control." Readers, your thoughts? What's your favorite label for these people, for usage in various contexts?
+ 2 - 3 | § ¶
Raleigh/Wake County First Responders Career Expo
Event information:

Tuesday, May 21, 2013
2:00 p.m. to 6:00 p.m.
Mount Peace Baptist Church
1601 Martin Luther King Jr. Blvd.
Raleigh, NC 27610
Click to enlarge this poster:


+ 1 - 2 | § ¶
UPDATED: Raleigh Fire Department Retiree Luncheon
May 5
Here are photos of the event, from Lee Wilson and Mike Legeros. Here's a News & Observer story about the event. It was attended by over 145 retirees, plus some 45 guests, and 30 recruits. Eleven volunteers prepared and served food, and performed other tasks.


And just how much food was provided by the Raleigh Professional Fire Fighters Association, who sponsored the event? Check out these quantities:
25 pounds of rice
40 whole chickens
32 cans cream celery soup
32 cans cream of chicken soup
1 box chicken bouillon cubes
20 gallons of tea
20 pounds sugar
2 large family boxes tea
250 plates
250 packages of silverware, napkin, salt and pepper
250 bowls for dessert
5 1/2 sheet cakes
8 large bottles Texas Pete sauce
8 large containers peanut butter
20 loaves of bread.
READ MORE
+ 5 - 5 | § ¶
North Carolina Rescue Squad History
What was were the first rescue squads in North Carolina? This question was recently discussed on Facebook. Below are some of the highlights Note that "rescue squad" often meant the equivalent of a "first aid truck" and/or "crash truck." Patient transportation were functions often added later, to supplement or replace the funeral homes and later ambulance services that provided same. The longest lifecycle of these squads was first aid/rescue services > patient transport > basic patient care > advanced patient care. The first rescue squad in the country is the Roanoke Life Save Crew in Virginia, organized in 1928.
Obvious milestones in North Carolina EMS and rescue history include Office of Civil Defense resources during the Cold War years, the implimentation of NC DOI credentialing for rescue squads, the creation of NC EMS office and program(s), the implementation of First Responder programs, the addition of advance patient care levels (EMT-I, EMT-D, paramedic), etc. (This blogger is a fire historian not an EMS historian. Apologies for outright errors.)
Earliest Rescue Squads
The first rescue squads were not initially incorporated. WSRS was organized in 1937, but incorporated in 1947, for example. The actions to incorproate were perhaps tied to monteary donations and asset insurance.
Winston-Salem Rescue Squad, formed 1937.
Davidson County Rescue Squad, former 1941.

Other groups, pre-incorporation?

Vance Life Saving and Rescue Squad is cited as the state's second rescue squad. Dates TBD.


Early fire department rescue squads?

Greenville FD - 1947
Washington FD - 1951
Goldsboro FD - 1953
Raleigh FD - 1953
etc.

Early fire department ambulances?

Goldsboro FD operated two ambulances mid-/late-century.
Salisbury FD, Wilmington FD operated ambulances in the 1970s.
etc.
Earliest Incorporated - Rescue Squads and/or Life Saving Crews
From the state corporations web site:
Winston-Salem Rescue Squad, Incorporated - 2/21/1947
Charlotte Life Saving and First Aid Crew, Inc. - - 7/18/1947
Gaston Life Saving and First Aid Crew - 6/23/1948
Rowan County Rescue Squad, Incorporated - 7/23/1951
Elkin Emergency Rescue Squad, Incorporated - 9/25/1951
Granville County Life Saving and Rescue Squad, Incorporated - 8/25/1953
The Raleigh Emergency Rescue Squad, Incorporated - 8/27/1953
The Vance Life Saving and Rescue Squad, Incorporated - 9/10/1953
READ MORE
+ 3 - 1 | § ¶
Mystery Forestry Rig
What's this rig? Was seen in today's fallen firefighter's parade in downtown Raleigh. Wildland engine, simple as that? Never seen it before...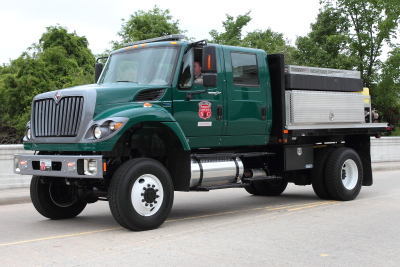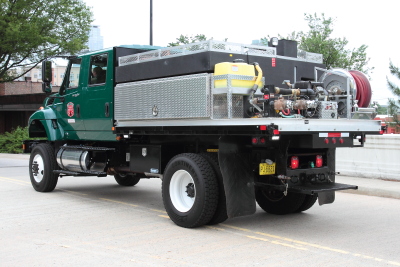 + 2 - 2 | § ¶
Morning Reading - May 4, 2013
Good morning Raleigh. Back after an overnight on the road, after an assignment to shoot apparatus in Brunwsick County. Good learning experience for this seasoned fire photographer but budding contract photographer. (Though wat too busy for even regular gigs. And, no, don't do weddings.) Lengthy inbox was waiting, along with photo site updates. Just returned from the fallen firefighters parade. Hope to attend the ceremony this afternoon.
+ 3 - 1 | § ¶
North Carolina Fallen Firefighters Memorial Service, Saturday, May 4
Press release. The North Carolina Fallen Firefighters Foundation will hold the Eighth Annual Memorial Service Saturday, May 4, 2013. The service will honor thirteen firefighters from across North Carolina who died in the line of duty in 2012 and previous years.
The day will begin with a parade at 10:00 a.m. in downtown Raleigh. The parade will feature apparatus from only those departments who have lost a firefighter in the line of duty. The parade will include pipe and drum bands and honor guards from across the state. Following the parade, the First Annual NCFFF Red Helmet Ride will be held. The motorcycle rally will begin at the Kmart in Garner and ride to the memorial location.
Starting at 1:00 p.m., the memorial service will be held for the North Carolina fire service families that have experienced an line of duty death. The service will be held at the site of the North Carolina Fallen Firefighter Memorial located in historic Nash Square, 222 W. Hargett Street, Raleigh, NC.

| | | |
| --- | --- | --- |
| James Aiken | Brevard FD | 8/25/1909 |
| Burleigh Scotton | Wilmington FD | 9/24/1972 |
| Tommy Wright | Blowing Rock FD | 3/21/2010 |
| Samuel Butler | Evans Crossroad VFD | 1/8/2012 |
| Donald L. Suggs | Summerville Fire and Rescue | 6/11/2012 |
| Ryan S. David | NC Air National Guard | 7/1/2012 |
| Joseph M. McCormick | NC Air National Guard | 7/1/2012 |
| Paul K. Mikeal | NC Air National Guard | 7/1/2012 |
| Robert S. Cannon | NC Air National Guard | 7/1/2012 |
| Caleb Benfield | Bethlehem Fire & Rescue | 10/10/2012 |
| David M. Tatum | White Oak FD | 11/5/2012 |
| Walter M. Summerville III | Kernersville Fire and Rescue | 11/6/2012 |
| John M. Hall | Clarkton VFD | 11/7/2012 |
READ MORE
+ 4 - 1 | § ¶
UPDATED: Brevard Line of Duty Death, August 25, 1909
May 2 - Afternoon
Lo and behold, a little digital sluthing finds the Sylvan Valley News from August 27, 1909, via the DigitalNC web site. (They don't even have a complete run for that month. What are the odds?) Here's the page (PDF) about the accident. It occured on a Wednesday morning, about 7:00 a.m. The chemical engine was "rushing down the hill" north of the courthouse, to a fire at "Jim Axum's house." Just as the hose was being put into play, an explosion occured, which instantly killed Aiken.
He was behind the apparatus, unwinding the hose, when the end of the engine's cylinder blew off. He was thrown ten or twenty feet. He was found dead, with a broken neck and other injuries. Others were injured, including Chief Gallowey, who was knocked down and run over the apparatus. The cause was suspected as the tank became pressurized or over-pressurized by gas, as it descended the hill to the fire.
Good lesson on the accuracy of recorded history. Even the most seeming accurate accounts should be second-sourced, to confirm what might've been misremembered or misinterpreted by others. Next question, were chemical engine accidents common? Rare? Exceptionally rare? To be investigated.
May 2 - Morning
One of the legacy names being added to the North Carolina Fallen Firefighters Memorial at Saturday's annual ceremony in Raleigh is a member of the Brevard Fire Department who died on duty on August 25, 1909.
James P. "Jim" Aiken was the town's only black fireman, and was serving as Acting Fire Chief when he was killed while responding to a fire. He was forty-eight years old.
This web page biography of Jim Aiken describes the incident as follows:
"Jim was driving the town's two wheeled steam fire wagon to the fire, when it turned over going too fast around a curve. It exploded killing Aiken instantly. Jim Aiken was so popular that none of the Black churches were big enough for his funeral. The white First Baptist Church of Brevard offered its building for Aiken's funeral. So many people of all races attended that the crowd overflowed the church and filled the nearby streets. All the stores and government buildings in Brevard closed for Jim Aiken's funeral."
Two-wheeled "steam fire wagon" you say? That seems highly unlikely, given the sheer mass required for such an apparatus. More likely, one of two things was true: (a.) the town had a four-wheel steam engine, or (b.) they had a two-wheel wagon for hose, which were supplied by hydrants.
Since Mike's list of steam engines in North Carolina doesn't include Brevard, the second option seems more likely. But let's look into verification.
Looking at a Sanborn Fire Insurance map dated June 1911, the town's fire department is described as:
"Volunteer company, chief, and fourteen menu. Two fire stations. One combination [chemical engine and hose] wagon with 60-feet of ladders, three Babcock extinguishers, and 800 feet of 2 1/2-inch hose (stationed near Courthouse), and one cart at Southern depot with 500-feet 2 1/2-inch hose. Bell alarm."


That's helpful, to a degree. Two years after the accident, the department didn't have a steam engine, but did have a pair of hose wagons. Was either of these the two-wheel wagon that Jim Aiken was driving at the time of his death? Presumably a repaired version?1
The detail about an explosion suggests perhaps one or more of the chemical extinguishers on the combination chemical engine/hose wagon exploded. However, such a vehicle seems more like a four-wheeled than two-wheeled conveyance. The second cart, a simple hose wagon, could've have easily been a two-wheeled apparatus.
Perhaps our readers to the west can shed some light, or cite other historical accounts that further expand or clarify the story. Also, memo to self, add this account to my hosted copy of Early Black Firefighters of North Carolina.
1Did Brevard in fact possess a steamer, that was destroyed in 1909? That was a four-wheel version, misrememberd as a two-wheel version? And references of which haven't yet been found by Mr. Historian? It could happen.
+ 1 - 0 | § ¶
Sculptor of North Carolina Fallen Firefighter's Memorial Passes Away
The News & Obsever yesteday reported on the passing of Carl Regutti, 77, the local sculptor whose work in bronze included the North Carolina Fallen Firefighter's Memorial at Nash Square. Among his other best-known work was a nine-foot tall sculpture of the horse Aristides, winner of the first Kentucky Derby. Regutti died Tuesday after a lengthy battle with cancer. He's survived by his wife Grace, four children, and twelve grandchildren. Read the entire story, or see this FireNews story for funeral arrangements.



News & Observer photo
+ 1 - 2 | § ¶
Vehicle Fire in Wal-Mart Parking Lot (Video)
Found via random YouTube searching, here's an "other side of the fence" video of a vehicle fire in the parking lot of a Wal-Mart of Wilmington on February 7, 2013. High winds as winds, which you can see and hear. Plus citizen commentary/reactions. Credit to Chris Heath. (Can't find much in the way of YouTube-posted fire video from around our state. Guess we take what can get.)



+ 1 - 2 | § ¶
Kenly's 1944 Ford/Oren
For your Friday enjoyment, here's an old beauty out of Johnson County. This 1944 Ford/Oren pumper was the second fire engine operated in the town of Kenly.1 The truck later served the Brookville (?) Fire Department, was later privately owned in Iowa, and was returned home in November of last year. Restoration is planned. Lee Wilson photographed the rig while attending the department's pork chop fundraiser on Sunday. Our favorite apparatus photographer has been making the fundraiser rounds. It's that time of year. See more photos.



Lee Wilson photo
1Presuming purchased new. Looking at the state corporation records, Kenly Volunteer Fire Department was incorporated on February 10, 1956. Since the town was incorporated in 1887, odds favor a fire department or at least fire apparatus in place before that time. Probably correlates to installation of the first water system and fire hydrants. First apparatus might've been a true triple-combination from a couple decades prior, or maybe just a small truck that hauled hose and other equipment closer to the 1940s. Readers perhaps will inform.