+ 3 - 4 | § ¶
Ladder 1 > Station 16
Yes, that's a ladder truck parked behind Station 16 on Lead Mine Road. Ladder 1 has been relocated for a couple weeks, while apron work is performed at Station 4. Since Station 16 is also having apron work finished, all vehicles were parked in the rear earlier this week: Engine 16, Mini 1, and Car 420, the on-shift Deputy Fire Marshal. For decades, the Lead Mine Road fire station housed a ladder company. Truck 16 was placed in service on June 8, 1979, with a 1964 GMC service ladder truck. Two years ladder, it was upgraded to an aerial ladder on September 16, 2001, a 1961 American LaFrance midmount. On August 21, 2006, the company was renamed Ladder 16. On January 6, 2009, the unit was moved to Station 17. Read more company histories (PDF).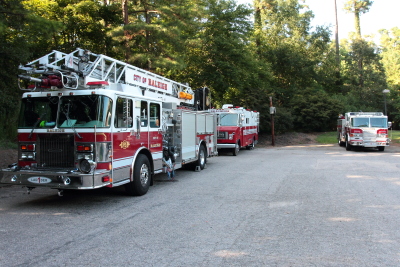 + 4 - 9 | § ¶
Update #6 / August 31 - Two Alarms on Manor Valley Court
August 31
This morning's News & Observer features this story by Thomasi McDonald, about the YouTube video(s) of Saturday's fire on Manor Valley Court. The particular video is a nearly ten-segment of citizen footage showing operations in the rear (Division C) of the burning apartment. (By my calculations, the footage starts at 6:45:13 p.m.) It's the most-watched of a handful of videos from four different YouTube users, with over 21,600 views as of this writing. It's also been extensively discussed, in YouTube comments, in blog postings, and on Facebook. We learn that the footage was shot by Mike King, who lives in a neighboring building, and who runs the local news site Raleigh Gazette. (His YouTube username was previously Michael Jordan, ergo those citations in prior postings or comments.) The Gazette is also sponsoring a fundraiser, to help victims of the fire.
The article talks about the talk about the video, and how viewers have commented on seeming absence of suppression activities. Both King and fire department officials defend the actions of firefighters. Explained are the activities that weren't immediate visible in the video, or to those watching the incident from that vantage point. Crews had entered the structure, to begin fighting the fire, to search for reportedly trapped occupants, and ensure the evacuation of all other residents. The story mentions one woman in a second-floor apartment with two dogs, who didn't want to leave. (Capt. Jake Jakowski of Squad 14 grabbed the dogs and guided the woman out, and just as an explosion started spreading fire across the top of the structure.) Read the entire News & Observer story.

---
Two Alarms on Manor Valley Court
Photo and media links:
Narrative:
Two alarms were struck in northwest Raleigh early Saturday evening at 5024 Manor Valley Court. Four-story, wood-frame apartment building with 36,408 square-feet. Thirty apartment units. Dispatched at 6:37:56 p.m. Working fire dispatched at 6:39:47 p.m., due to multiple callers. Heavy fire and through the roof on third floor, in top rear, found on arrival of Engine 17 at 6:42:13 p.m. Battalion 4 arrived at 6:43:18 p.m. and assumed command. Second alarm requested by Battalion 4 at 6:44:39 p.m. [Stuff goes here.1]
Crews experienced what has been described as a backdraft, which was captured in video footage as an explosion that shot flames and smoke from the top floor and roof of both ends of the building. That event occured within minutes into the incident. No firefighters were injured in the explosion. See video links above, or embedded videos below.
Collapse conditions soon observed, and evacuation orders given by Battalion 4 at 6:53:09 p.m. and transmitted by Headquarters at 6:53:23 p.m. Fire traveled the entire roof line. Three aerial streams utilized, two on Summit Manor Lane: Ladder 1 in the A/B corner, and Ladder 3 in the B/C corner. Ladder 2 was located Doie Cope Road on the C/D corner. Engine 17 also deployed a deluge gun on B/C corner. Portable monitors also utilized on the building's three exposed sides.
At least three hydrants utilized, including Engine 16 supplying Ladder 3 from Summit Manor Lane just off Grove Barton Road, Engine 23 supplying Engine 17 (and Ladder 1?) on Summit Manor Lane just above the building, and Engine 18 supplying Ladder 2 on Doie Cope Road, a bit west of Bella Park Trail. Command (by Battalion 4, then by Car 20) and medical monitoring/rehab located above the building, on Summit Manor Lane. Staging on Grove Barton Road, with some apparatus parked on Doie Cope Road. Two additional engines special called.
Declared under control at 8:00 p.m. Two firefighters transported with elevated heart rates due to exertion. (They're okay, we're told.) No injuries to residents. Two dogs died. Thirty apartment units damaged. Crews stayed on scene all night, and overhaul continued into Sunday morning. Cause is undetermined.
First alarm: E17, E23, E16, E18, L3, L1, Squad 14, R1, B4, B5, C420. Working fire: A1, C20, C401. Second alarm: E4, E24, E9, L2, B3. Special called: E13, E10. Also C43, C2, C402, WC1. Medical: EMS6 (first alarm), EMS 35, D4 (working fire), EMS 3, M95, D1, T1 (second alarm). Overnight companies were E20, E22, E7 (10 p.m. to 2 a.m.) and E6, E26, E28 (2 a.m. to 6 a.m.) Coverage included E13 and L7 to Station 17, and E10 to Station 16. Later, E20 to Station 17 and E22 to Station 16. Also Bay Leaf Engine at Station 18, and Durham Highway P1 at Station 24.
1What was happening during those first few minutes. Actions include firefighters pulling a line, to begin an interior attacks. Crews responding to the report of trapped occupants. Other firefighters ensuring that all occupants were evacuated. Still other firefighters working on apparatus placement, and laying supply lines from the hydrants. And so on.


Lee Wilson photo

Mike Legeros photo
READ MORE
+ 2 - 3 | § ¶
Raw Video of Car Fire with Citizen Commentary
Found via YouTube searching, a car fire video posted by Clay Stewart on October 20, 2012. Location not noted, but readers can probably ID within seconds. (Is that Falls of Neuse at Durant, with Engine 22?) Colorful citizen commentary as a bonus.


+ 1 - 2 | § ¶
Last Night's House Fire in Apex
Flames heavily damaged a home in Apex last night. Heavy fire was showing from the roof of 2007 Graybark Court upon arrival of firefighters. No one was home at the time of the blaze, which is believed to have started in the bedroom. The two-story, wood-frame residence with 1,560 square-feet was built in 1994. The fire was reported around 9:00 a.m. Apex (E3, E1, E4, L4, B1, C1), Fairview (E1), and Cary (E4) fire departments were among the agencies on scene. Both the WRAL and WTVD stories contain brief footage of the fire.
Is there a unique, unusual, or unconventional aspect to this story, worth noting this morning? How about... why are we (meaning me) always citing WRAL and WTVD, but rarely WNCN or News 14? Well, frankly and even though my name is Mike, those are the two news sites (TV news) that I'll browse on a regular basis. Not saying that I'm regular, mind you. Just that they're the most frequently viewed by me. Will work on doing better.



WRAL photo
+ 3 - 4 | § ¶
Drive-Thru or Drive Through?
That's the WRAL headline to this story about a minivan that drove into the Wendy's restaurant on New Bern Avenue in Raleigh this afternoon. No serious injuries were reported.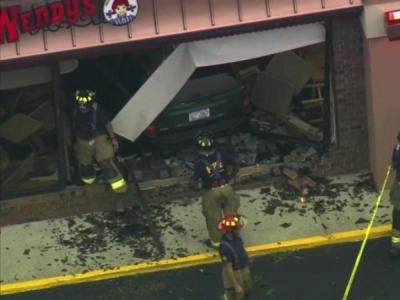 + 3 - 3 | § ¶
Tunnels to Towers 5K Run and Walk in Raleigh on Saturday, September 21
Press release. The Stephen Siller Tunnel To Towers Foundation, a nonprofit organization dedicated to honoring first responders and military service personnel, is proud to announce its national Tunnel To Towers 5K Run & Walk series will stop at PNC Arena in Raleigh, NC on September 21, 2013. Proceeds from the Triangle area run will benefit Building America's Bravest program and help build two specially-adapted "Smart Homes" in Fayetteville, NC for military members returning home with devastating injuries.
"These technologically advanced homes are designed and built specifically for each wounded veteran's needs, thus allowing them to live in the freedom they deserve, the same freedom they served and protected for each of us," said Lisa Bender, Tunnel to Towers Foundation Assistant Regional Director. "Every day, in every community, our first responders serve, save and sacrifice on the behalf of all Triangle citizens; through honoring their heroism, the Tunnel To Towers Triangle event honors our debts to our bravest veterans."
Stephen Siller, an off-duty FDNY firefighter and father of five, was on his way to play golf with his brothers on September 11, 2001. When he heard what was happening in lower Manhattan on his scanner, he bravely turned his truck towards the terror. After getting stuck in traffic, Siller ran from the Brooklyn-Battery Tunnel to the Twin Towers with 65 pounds of gear. He was last seen helping others escape. The Siller family created the Stephen Siller Tunnel To Towers Foundation to honor Stephen's legacy and follow in his footsteps by supporting families who lost loved ones on 9/11 and military members who have been seriously injured in the line of duty.
The Tunnel To Towers Run is a living, breathing memorial tribute to the memory of the heroic life and death of Stephen Siller, the 343 firefighters, and for all who perished and sacrificed their life on 9/11. The Triangle area run will take place at 9:00 a.m. on Saturday, September 21, at PNC Arena. Registration is now open and only $25 per adult and $20 per child. Special rates are available for firefighters, law enforcement officers, EMS and military personnel. Participants will receive a t-shirt and can receive other awards and prizes with greater pledge contributions. Click to enlarge:

READ MORE
+ 3 - 4 | § ¶
Bay Leaf on Twitter
The Bay Leaf Volunteer Fire Department has signed onto Twitter. Very cool. What other local fire departments are tweeting these days? And what are you tweeting about/how are you using Twitter? Also, how widely are you announcing your channel? Are you linked on your web site, citing in e-mail signatures, redesigning printed collateral, etc.? Here's Bay Leaf's Twitter profile page. Feel free to engage in optional discussion on pros and cons (or, if you prefer, value or liability) of social media or communication technology. Retroactive sneering also permitted. e.g., "the fire service doesn't need such things as e-mail."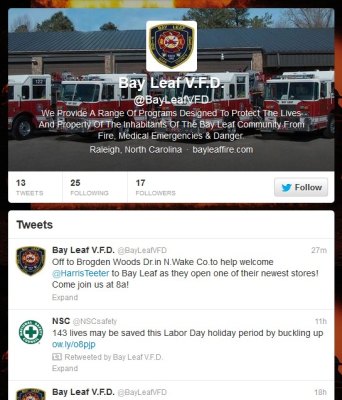 + 7 - 3 | § ¶
Stoney Point Fire Chief and Two Fayetteville Fire Captain Receive National Honors
In case you missed these stories on FireNews.net and/or in the Fayetteville Observer, a Fire Chief and two Captains from Cumberland County were recently honored in Chicago at the Fire-Rescue International conference, and by the Veterans of Foreign Wars.
Fire Chief Freddy L. Johnson Sr. of the Stoney Point Volunteer Fire Department was named the 2013 Volunteer Fire Chief of the year. He's been a firefighter since 1975, and a member of SPFD since 1976. He's a retired member of the United States Army, a former Cumberland County Sheriff's Office Captain, and presently the Emergency Services Director in Hoke County. He was recognized last year by the North Carolina Association of Fire Chief's as its Volunteer Chief of the Year. Read about Chief Johnson at FireNews.net.



Fayetteville Observer photo

Captain Zahra M. Harvey of the Fayetteville Fire Department was named Fire-Rescue Magazine's Company Office of the Year, also at Fire-Rescue International in Chicago earlier this month. Captain Harvey has been a firefighter since 1996, starting as a volunteer. She joined FFD in 1997 and was promoted to Captain in 2005. Read about Captain Harvey on FireNews.net.
Captain Vince Lewis, also of the Fayetteville Fire Department, was named National Firefighter of the Year by the Veteran of Foreign Wars. He was selected as Firefighter of the Year by local VFW Post 10630 in Hope Mills. He received district and state honors before winning the national title. Capt. Lewis has been a member of FFD since 1995. Read about both Capt. Harvey and Capt. Lewis in this Fayetteville Observer story.



Fayetteville Observer photo
+ 5 - 1 | § ¶
Back to School with Bus Crashes
The yellow buses started rolling in Wake County this morning. Four, count 'em four, school bus accidents were reported today. No students were injured in any of the incidents. From this WRAL story, they were:
Trawick Road and Skycrest Drive. Bus versus van. No injuries reported, but two students taken to hospital by parents as a precaution. Reported about 8:00 a.m.
Evans Drive, 4200 block. Bus versus sedan. No injuries. Reported about 8:30 a.m.
East Cary Middle School, near the school. Bus versus vehicle. No students were aboard. Reported this afternoon.
Lake Wheeler Road and Carolina Pines Avenue, near the intersection. No injuries. Reported this afternoon.
+ 2 - 6 | § ¶
Why This Blog is Boring
Here's a response to a comment in the Manor Valley Court thread, that's maybe worth it's own thread. The incident has been getting a fair amount of social media discussion, on a variety of sites.
Thus responded the reader named Truckie:
Someone from RFD needs to go on Statter911.com and lay the smack down on all those KIC's who have dissected the operations of the RFD.
Thus responds the reader named Legeros:
Truckie, those jokers definitely need a smack down. That is, unless you're the type of reader who prefers more confrontational conversation. That's the rub with these things. There are apples and oranges and pears (oh my) in these forums. One person is energized, while another is offended or gets defensive. Some says "facts please," while others encourage speculation. And so forth.

It's a wonder these forums don't implode on a regular basis. Think about all the different "kinds" of things being said:

Good job/great job comments
Bad job/you guys suck comments
Grammar/spelling comments about comments
Safety observations or criticism, "Wears the PPE on those guys in Division Y."
Tactical questions, "What was Engine X doing in Division Y?"
Tactical criticism, "Engine X in Division Y was doing their thing all wrong."
Tactical suggestions, "In the future, an engine in Division Y should probably do this."
Tactical explanations, "From someone who was there, here's what Engine X was doing in Division Y."
Citizen questions, "What was that fire truck doing on that one side of the building?"
Citizen explanations, "Here's what happens at a fire like this. There's an engine on one side of the building that's…"
Personally directed observations or criticism, "Look at that fourth firefighter, and how he's doing what he's doing."
Chief officer directed observations or criticism, "This is all the result of Chief Smith."
Department directed observations or criticism, "This is the way it always happens with the Cityville Fire Department."
Reader directed observations or criticism, "Hey LeatherHead123, you suck."
Forum directed observations or criticism, "Everyone on this blog is stupid."
Related or off-topic comments.

Boy, my list sure seems slanted toward the negative, doesn't it? Are we really that negative on these blogs!?

Plus there's levels or degrees of civility, from polite to profane. Plus the type of commenter, from anonymous to nickname to real name to Facebook name. More variations in preferences.

This also provides some insight into this blog, and how I've handled comments over the years. When we started, it was wide open. Short of outright attacks or really harsh language, anything was permitted. Heck, the comments weren't even approved. They posted auto-magically. Over time, I came to learn that people didn't like feeling bad, when reading things that made them feel bad. Sure, they enjoyed a good game of Monday Morning Quarterback like anyone else, until… they (or their crew or their department) was the target of criticism. Or until they were smacked for a response to someone else's smack. And so forth. Thus the reason that only a narrow range of tactical comments and criticism ends up here. Ergo why this blog is pretty boring.
+ 3 - 2 | § ¶
Monster Sutphens
Also found these on the Sutphen new deliveries site, a couple of industrial rigs of large proportions. Top is an industrial aerial for IMTT in Bayonne, NJ. Equipped with a 3000 GPM pump, 500 gallon water tank, 1,000 gallon foam tank, and a 75-foot aerial ladder. Bottom is a industrial pumper for Motiva Enterprises in Houston, TX. That baby's got a 3000 GPM pumper, 1,000 gallon tank, and 5,000 GPM deck gun. Are there many industrial rigs around North Carolina? Tempted to think they're few and far between, but maybe readers know. Click to enlarge:


+ 5 - 4 | § ¶
Monster Brush Truck - Benton County, WA
Found this while cruising the Pierce Flickr site, a monster brush truck (or maybe it's an off-road tanker) for Benton County Fire District #4, which is located in West Richland, WA. That's one tough-looking off-road chassis, and with dual monitors atop the bumper. The slot in the forward section of the sealed (?) body appears to contain a booster reel. That's an Oshkosh chassis, correct? See larger versions of the photo.


+ 6 - 2 | § ¶
Johnston County Foam Unit in Action
Here's a picture of Johnston County's foam unit in action at a recycling yard fire in Clayton yesterday. See more photos from Jason Thompson at Jocofire.com. He also has video forthcoming. The unit is a 2007 Hino with a 2,000 GPM foam monitor and 1,500 gallons of foam in containers on two pallets. See prior posting. Maybe readers can detail the unit's full equipment and response protocols. Next question, how many foam units do we have in the area these days? RDU airport. Raleigh, Apex with trailers. Johnston County/Selma. Who else?



Jason Thompson/Jocofire.com photo
+ 3 - 4 | § ¶
Reader Question - How Many Phone Photos Are You Posting?
Was asked this question this week. How many phone photos are you posting these days, instead of with your DSLR camera? The answer depends. For starters, there are precious few phone photos included in the galleries posted on www.legeros.com/firepics. What phone photos do appear are usually panoramic images. Any posted phone photos will contain "-phone" or sometimes "-pano" in the file name. (But not every panoramic image is a phone photo, as the prior posting indicates.)
That said, I also take one or two or a handful of phone photos at incidents and events. These are usually posted in (almost) real-time to my personal Facebook page. Once I'm back at my computer, I'll remove any that don't look good in "regular size." (Small screens make phone photos look great, don't they?) Some may later surface on www.legeros.com/firepics as well.
See, here's the problem. When I'm shooting on scene and switch to my phone--for the purpose of a real-time posting--there's a chance I'll forget to take the shot again using my DSLR camera. It's like my brain links "okay, that's been photographed, move to the next thing." I've tried a couple things to combat this problem. First and easiest is only shoot with my phone *after* using my DSLR camera for the same shot. Second change is abstaining from phone-shooting and post-shooting at the same time. Too disruptive to the creative flow. I'll do the second part a bit later, at a break in the action, or right before leaving. Not quite real-time, but sufficient for my purposes.
Now for a big fat exception. For the last year or two, I've been using my phone instead of DSLR camera when shooting when traveling. Same for some fire service events. The pictures are initially posted to my personal Facebook page, either in real-time or later that day/night. Maybe even later, I'll pull the best of the bunch (e.g., non-crappy in "regular size") and post on one of my web sites (see below). I'm turning away from this approach, however. The ease of point-and-shoot-and-share is offset on a number of fronts, including heavy battery usage (and a lot of repeate recharging) and the lower quality of mid- and low-light photos.
Here's a primer on my photo sites and contents therein:

| | | | | | |
| --- | --- | --- | --- | --- | --- |
| Web Site | Subject Matter | Frequency of Updates | Camera(s) Used | Retention of Posted Photos | Notes |
| legeros.com/firepics | Local incident and event photos, plus (mostly) related travel photos. | Every few days. | DLSR, almost always. | Three or four years. | Also includes links to photos by Lee Wilson, and occasionally guest contributors. |
| legeros.com/photos | Travel and stuff photos. | Very rarely. | DSLR, mainly. | Forever. | Travel and stuff photos, minimally updated. Retained indefintely. DLSR images, mainly |
| flickr.com/legeros | Historic firehouses, fire museums, travel photos, local explorations, other stuff. | Occasionally | DSLR, almost always. | Forever. | Occasionally updated. Retained indefinitely. DSLR images, almost always. This is the place to find collections of galleries including yearly "best of fire photos," which is the closest thing I have to a portfolio of my fire photography. |
| facebook/legeros | Life stuff and fire stuff, posted to separate monthly albums. | Daily or abouts. | Phone, mainly. | Six months or so. | Plus one-off albums of both DSLR images and phone photos. Some travel. Some fire/event stuff, with people tagged. |
Notes
JAlbum is the program that creates the photo galleries on legeros.com. Been using for, say, seven years. Every gallery is manually built using the application, and manually installed on the site. HTML by hand via web editor, FTP transfers, etc.
Flickr has been my photo site choice for years. Place to post "permanent" photos, and perhaps make them a little easier for the general public to find. Low-resolution versions only, which is the same as what's posted to legeros.com. The site's improved its usability over the years, and recently underwent a radical upgrade. A person's "photostream" and individual photo sets (or galleries) are probably more pleasing to the eye. Site-wide navigation is still tricky, depending upon your browser and connection speed. And there's no tree-based or hierarchical structures available, unlike, say, SmugMug. That's a demerit that's always driven me nuts.
DLSR cameras are a Canon 7D with an 18-55mm F4 lens, and a Canon 50D with a 70-200mm F4 lens. Phone is an iPhone 4S. Post-processing software is Canon Digital Photo Professional for nearly everything, plus PhotoShop Elements 10 for some things. Plus IrfanView image viewer for quick/sundry edits, at any time.
+ 1 - 3 | § ¶
Panoramic Photo of Training Center
Here's a panoramic photo of the Keeter Training Center, created from a series of images taken atop the five-story training tower. Camera is a Canon 7D with 18mm focal length. Manual setting, to ensure consistency of exposure. Stitched into single image using Photoshop Elements 10, and the PhotoMerge feature. See more photos from the facility, mostly apparatus and vehicles. Click to enlarge: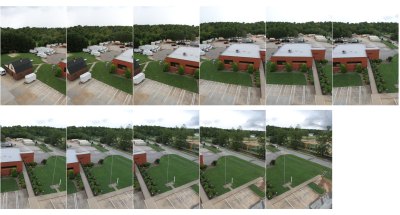 + 1 - 4 | § ¶
AutoStitch Phone App
Newer models of the iPhone have a feature on their camera app that takes panoramic photos. Works great, except that the saved images don't have terribly high resolution. I'm now trying the AutoStitch app, which costs $1.99, was installed yesterday, and that produced this image taken this morning at Hillsborough Street and Glenwood Avenue. Unlike the iPhone camera's panorama mode, AutoStitch requires frame-by-frame shooting. This is a good advantage if there are moving objects in the frame. Below are pre- and post-PhotoShop versions, so you can see "right out of the camera phone" looks like.1 These are full resolution at maximum settings in the app, by the way. Large files. Click once or twice to enlarge. No safety vests were harmed in the making of these pictures...



1Yeah, there are a couple defects. One of the stitched images has some blur. Probably camera shake. There's a ghost person on the far right of the frame, as well. And there's an idiot directly behind the camera, though he's not pictured. Next time will do better.
+ 2 - 1 | § ¶
Video of Cleveland House Fire
Here's your morning fire (scene) video, Cleveland, Garner, and Clayton fire departments on Old Evans Road on Tuesday, from Jason Thompson at Jocofire.com. See ample still shots on in this gallery on his Flickr site. Watch the video.


+ 4 - 0 | § ¶
Historic Firehouses of San Francisco (and More)
Might be passing through San Francisco in a couple months. Started thinking about attractions and activities. Finding and photographing some old firehouses is a time-tested diversion, except for the sheet scale of the idea. There must be dozens in a city of that size. Who could stop at shooting just a few? Next question, where to find a list of such structures? Or how to justify the time required to research and compile such a thing? (Have other things that need attention.)
Lo and behold and the San Francisco Fire Museum web site presents itself, courtesy of Google. Wait'll you see this site. Three separate pages about current, former, and vintage firehouses, for starters. Dozens, maybe hundreds of the things! And with addresses and dates and photographs. Holy completed research! Plus gobs of other goodies. Company histories, Chiefs of Departments, fire horses, fireboats, notable fires, and more. Exceptionally robust web site. And it gives Yours Truly some good ideas for his history pages, and the Raleigh Fire Museum site. (Yes, someday those sites will be merged.) Check it out!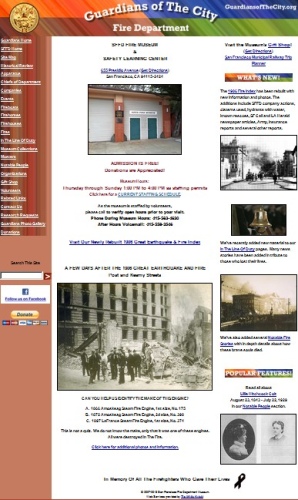 + 2 - 2 | § ¶
Wake County Fire Academy Now Hiring
Applications are now being accepted for Wake County Fire Academy Recruit Class 6. The class begins January 6, 2014, and graduates in late June. The application process closes November 22, 2013. Students who complete the program receive certifications in Firefighter II, Hazardous Materials, Emergency Medical Technician - Basic, National Incident Management System - ICS 700, 800, 100, 200, and Technical Rescuer. Read more in this overview flyer (PDF), which includes requirements, expenses and fees, and an overview of the academy. You can also click the announcement below (PDF) for more information: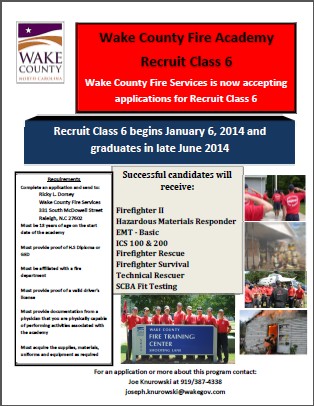 + 5 - 3 | § ¶
UPDATED: Vintage Wilmington Engines
August 20
More images of vintage Wilmington engines have been posted for sale on eBay. Check out these beauties! Same seller as other recent postings here, such as this one. Top to bottom, left to right are old Engine 2 (1920s? pumper) [update: NOT a pumper from Wilmington, NC, apparently], Engine 1 (1977 ALF), Engine 2 (1977 ALF), reserve Engine 2 (1950 ALF), reserve Engine 1 (1966 ALF), and reserve Engine 6 (1960 Howe). Click to enlarge:


[ Above is NOT from Wilmington, NC, apparently ]

August 8
Found for sale on eBay, photos of two vintage Wilmington engines. Top is Engine 3, a 1962 Howe. Bottom is Engine 5, a 1967 Howe. Ignore the watermarks. Click to enlarge:


+ 2 - 1 | § ¶
Vintage Jacksonville, New Bern, Wrightsville Beach Engines
Found for sale on eBay are these nice color slides of Jacksonville Engine 1 (1975 American LaFrance), New Bern Engine 10 (1968 Ford/Ward LaFrance), and Wrightsville Beach Engine 1 (1974 Ford/Howe). Wonder if WBFD rig was delivered without roof beacon? Perhaps for low-clearance fire station, back in the day? We also see that Jacksonville was another North Carolina city that operated yellow (or yellow-ish) fire apparatus. Have we ever compiled a list of those? Don't readily see one, when searching the blog. Here are pics that Lee Wilson has shot and posted, however, in a Flickr gallery titled Not Red Fire Apparatus. Click to enlarge:


+ 2 - 2 | § ¶
Vintage Emergency Vehicles at Raleigh Classic Car Show
The classic car show at the Raleigh convention center this past weekend saw a handful of vintage emergency vehicles: three old pumpers including Raleigh's 1926 American LaFrance and Wilson's Mills 1945 Mack and a pair of police cruiser. Bottom left is a 1978 Plymouth Fury from the State Highway Patrol. Bottom right is a late 1990s (?) Ford Crown Victoria from the Raleigh Police Department. See more photos from Mike Legeros, including interiors of each. Next question, what other makes and models did both SHP and RPD operate over the years and decades? Readers, feel free to even post a historical fleet listing for either agency, if someone has one. For Raleigh Fire Department vehicle histories, see this web site of mine, which lists everything.


+ 3 - 1 | § ¶
The New Fords Are Here
These future Raleigh police cruisers are awaiting painting, lettering, and lighting gear. There's also a crop of Chargers coming, to join these Explorers. See this prior discussion and even prior discussion on the vehicles lately evaluated for city police use. Maybe one of our LEO readers can talk about the vehicles, and what added value an Explorer-sized vehicle brings to the table. Click to enlarge:


+ 4 - 5 | § ¶
Early Annual Reports of the State Fire Marshal of Illinois
Here's something pretty interesting. Early annual reports from the Illinois Fire Marshal. First through sixth annual editions, starting in 1911. Scanned and archived online by the University of Illinois Library. Whopping 450+ pages, if you download the PDF version. Describes all manner of things, from statistical reports on fires to summaries of fire departments to convictions of arsonists. Fair number of images, including portraits and photographs. Check out the chief's portraits in one of the volumes! Lots to enjoy and plenty to compare regarding "then and now." Read the document(s).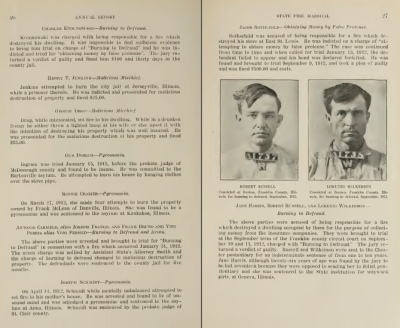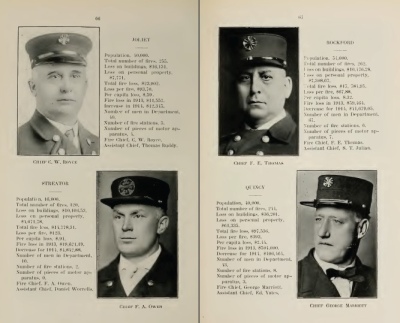 + 3 - 2 | § ¶
Historic and Former Firehouses of Springfield, IL
Eight fire station buildings in the birthplace of Honest Abe. Also the State Capitol of Illinois. Also, maybe, the hometown of the Simpsons. Shot these in May 2010. How did that happen? Was visiting my wife's family, who live in Bloomington, IL1. Needed something to do, so took a day trip to Springfield, which is 85 minutes south. Figured they'd probably have a few historic firehouses that I could find. Best as recalled, my first stop was the local library. Found one or more fire department history books, or maybe also old city directories. Then probably used a library computer and Google Street View to find those fire station buildings still standing. (Really can't remember, but it's a safe presumption.) Used GPS to locate these eight structures2. Now here's the kicker. Never kept a copy of my notes, it seems. Forgot about these shots until this week. Loaded them into their own Flickr gallery, and re-researched the buildings. Have located all but one, the white house-looking building. No idea regarding its location. Still looking, and have reached out to SFD. See more photos.
Update: Sanborn fire insurance maps helped me locate the mysterious white building, it's a two-story residence on Elizabeth just north of the intersection of Garfield. There was a fire station on the corner, Station 8, and the house was perhaps my best attempt at identifying a potential former firehouse at/near that location. As shown on the maps, the fire station building was instead a one-story affair. It was located there by 1917, but was gone by 1952. The building that housed the fire station also appears to have been replaced, when comparing the subsequent building diagram. Other since-demolished fire stations in Springfield (from the maps) include: Station 6 on East South Grand Avenue on the southeast corner of South 4th Street, Station _ in the 300 block of South 4th Street, east side, between East Monroe and East Capitol Avenue, Station 2 in the 300 block of East Jefferson, north side, between North 3rd and North 4th streets, and Station 1 in the 700 block of E. Monroe, south side, just east of the old City Hall, between South 7th and South 8th streets.




1And which is why my Flickr collection of historic firehouse galleries also features Bloomington/Normal, IL, and other places visited for purposes of family, such as Des Moines, IA, and the Quad Cities. Every trip should have a couple projects to complete, says Mike.
2One of those structures is the old State Fairgrounds firehouse, now the Illinois State Fire Museum. Built in 1938, it housed the state fair fire department for a number of years (or decades). Don't know if it was a seasonal entity.
+ 1 - 2 | § ¶
Adventures in Lens Repair
This happened the other week, while Mr. and Mrs. Blogger were traveling in the Twin Cities. That's East Calhoun Parkway in the background, which passes past Lake Calhoun, the largest lake in Minneapolis, the city of my birth. (Lived in the suburb of Minnetonka until moving to Morehead City at age fourteen, then to Raleigh at age eighteen.) Why is my camera pictured (a.) on the ground and (b.) in two pieces? The story starts a few days earlier, when my gear was being packed in my carry-on. Took both cameras (and both lenses). Packed a bunch of accessories, including the over-shoulder strap for this one. It attaches to the base of the camera, which is a Canon 50D. The lens is a 70-200mm F4.0, also made by Canon. The white body means it's a higher-end "L" lens. Sealed body, and resists dust and moisture. Real workhorse.
Here's what happened. While packing, the strap was unhooked from the camera, and tested for suitcase fit. Decided the strap would fit better if attached the body. The strap's connector is like a carabiner, with a metal loop, a spring-loaded goat, and a screw-locker. Smart Guy snapped the thing to the camera's body, but forgot to twist the locking screw-locker. Camera gets packed, plane gets boarded, camera gets unpacked, and camera is toted all across the Twin Cities. Take pictures like crazy on Thursday and Friday and Saturday. Then on Sunday, there at Lake Calhoun, while getting out of the rental car, Mike attempts to swing that second camera strap over his shoulder. The strip swings just fine, but the camera instead drops a solid foot to the ground. And breaks "in half."
Which is why lens protection is on my mind this week. How much to repair? The estimate from Canon via Southeastern Camera (good place) is $328.00. The replacement cost is, say, $550 (used) or $700 (new). (That is, bought somewhere online.) The warranty would be six months (repaired) or one year (new). Don't know what I'll do just yet. For now, my "long shots" are being shot with slower, lower-quality Canon 28-135mm f/3.5-5.6. See if you can tell a difference in photos posted from the last few days.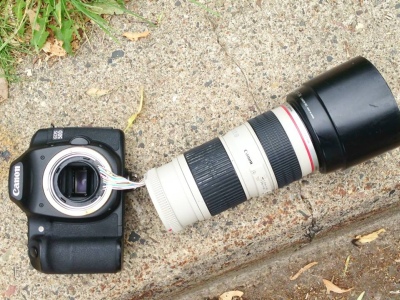 + 2 - 0 | § ¶
The Well-Protected Lens
Should you put a protective filter on that lens of yours? Depends who you ask. Some folks say don't put cheap glass over good glass, if you have a higher-end lens. Other just won't risk lens damage. Er, damage to the front element of a lens, which is what we're talking about. Here's a fun posting from the Lensrental blog, and a picture of theirs with fifty UV filters stacked and packed. Enjoy, then Google for discussions on the issue.



Lensrental blog photo
+ 1 - 4 | § ¶
Cleveland Fire Department Cancer Awareness Shirts
The Cleveland Fire Department in Johnston County has produced their first annual cancer awareness shirts for sale. Sizes are Youth XS through Adult 3XL. Colors are grey with pink, pink with white, and the official color of Johnston County, camoflague with pink! See below examples. The shirts include the tag line "Fight'n for the cure!" Youth shirts are $10. Adult pink and grey shirts (short and long sleeve) are $15. Adult camo shirts short sleeve are $20. Adult camo shirts long sleeve are $25. Contact any member of the department to purchase, or e-mail District Chief J. D. Howell at jdhowell@clevelandvfd.org. Proceeds support the Pretty in Pink Foundation.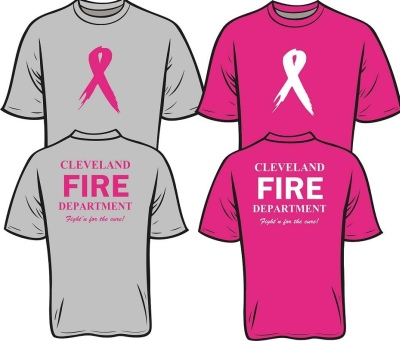 + 1 - 0 | § ¶
Winners and Trophies at the South Atlantic Fire Rescue Expo
Who won what at the South Atlantic Fire Rescue Expo in Raleigh last week? From their web site, here are the assorted winners and trophy awards:

Fire Apparatus Parade

See apparatus photos on this page

Best Appearing Engine
Sharpsburg Fire Department

Best Appearing Aerial
Raleigh Fire Department

Best Appearing Special Apparatus
677th Engineering Detachment Firefighting Team, NC National Guard, Morrisville

Longest Distance Traveled
Cashiers Glenville Fire Department, Cashiers

Best Appearing Antique Fire Apparatus in Parade
Centre Hanover Fire Company, Marshville

Best Appearing Static Antique Apparatus
Charlotte Fire Department

Haz-Mat Challenge

Winner: High Point

Rankings for all teams:

High Point
Raleigh (8:00 a.m. team)
Greensboro
Concord
Wilmington
Monroe
Williamston
Fayetteville
Asheville
Raleigh (12:30 a.m. team)

Golf Tournament

First Place Team Division
Charlotte Fire Team 2
Chuck Melton, Wally Love, Tripp Fincher, Dean Benson

Overall Individual Medalist Winner
Tony Waters

BBQ Throwdown

See team photos on this page

First Place
Up in Smoke – Raleigh Fire Department
Grant Williams, Tim Duke

Second Place
Big Heads – Timberlake Fire Department
Charles Dunn, Randell Baker

Third Place
Box Alarm BBQ – Colington Volunteer Fire Department
Bruce Kaufman, Jr., Butch Lucas

Fourth Place
BOBO's Que – Clayton Fire Department
Bobby Owens, Bonnie Owens

Fifth Place
Charlotte Fire Department Station 7 – Pride of North Charlotte
Jay Adams, Joe Pipkin

Best Appearing BBQ Throwdown Display
Up in Smoke – Raleigh Fire Department
Grant Williams, Tim Duke

Winner of Rib Cook Off
Box Alarm BBQ – Colington Volunteer Fire Department
Bruce Kaufman, Jr., Butch Lucas

Cornhole Tournament

Winner
KnotWright – Raleigh Fire Department
David Ritchie, Scott Wright
+ 2 - 2 | § ¶
Raleigh Fire Department Barbecue Team Wins "Throwdown"
One of the tastier events at last week's South Atlantic Fire Rescue Expo last week was the BBQ Throwdown. Over a dozen and a half (by my count) teams prepared their wares on Thursday, August 8. The collective results were then sold as sandwiches on the first day of the expo on Friday. First place was awarded to the Raleigh Fire Department team "Up in Smoke." That was a two-pronged attacked by Grant Williams and Capt. Tim Duke. Their team was sponsored by FireNews.net. They also received the award for Best Appearing BBQ Throwdown Display. Of our local cooking crews, Clayton Fire Department won Fourth Place. They were Bobby Owens and Bonnie Owens. The event included an accompanying cornhole tournament (for our readers from elsewhere, that's a bean-bag toss game), which was won by the Raleigh Fire Department team "KnotWright." That's Lt. David Ritchie and Senior Firefighter Scott Wright. See the full results on the event site. See pictures of the barbecue teams by Lee Wilson and Mike Legeros. There were no awards for cooking area decorations, alas. Loved the display by Wrightsville Beach Fire Department. See that picture.



South Atlantic Fire Rescue Expo photo
+ 1 - 1 | § ¶
Vehicle Versus House in Charlotte
WSCO posted this bird's eye view footage of an extrication in northeast Charlotte this afternoon, after a sport-utility vehicle crashed into a house on Robinson Church Road. The driver was airlifted in critical condition to Carolinas Medical Center. The driver's Chevy Suburban was reported traveling at a high rate of speed when it entered a curve, became airborne, and struck the home. Read the WSCO story. Check Google for additional news stories and photos and footage. Readers can add a run card and any incident details as desired.


+ 3 - 1 | § ¶
Hazing, Harassment, Lawsuits, Metrics
Reading this Fire Law blog posting this morning about a Maryland lawsuit by a former recruit claiming she was illegal hazed, harassed, and forced withdraw from a fire academy. The department and the particulars are named in the posting. More importantly, Curt Varone provides opinion and perspective on the issue, and he opens with the below beloved clip from the movie Full Metal Jacket. He then asks
"How many fire instructors out there – with the absolute best of intentions – tend to emulate Sergeant Hartman in how they treat new recruits?" He then deconstructs those behaviors from a legal perspective, and how problematic they are if challenged in a court of law.
My reaction to the story (and thus my posted comment) is a high-level slash historical one (as such treatment of recruits is presumably the exception versus the rule in the nation's fire service):
I've long asked about metrics regarding hazing and harassment. You know, the science behind the question "how's that working out for you?" Those behaviors (presumably) added value at some point in the history of the fire service and other institutions. (Because we know they wouldn't have been adopted otherwise… right?) Are they still value-adds? Yeah, great question to ask about a lot of things still done because they're still done.
Does hazing and harassment (still) work? Can you prove it? And if you can't, why are you still doing it?


+ 2 - 2 | § ¶
What's Next for the Traveling Fire Buff?
With a pair of back-to-back summer vacations under my belt, the adventures of the Traveling Fire Buff are concluded for the season. Historic firehouse photo projects in Camden, Philly, Minneapolis, and St. Paul. Fire museum visits to Cape May (NJ) and Salisbury (MD). Fire expos in Baltimore and Raleigh. Okay, the last one didn't require any travel, but it did consume a big ol' mess of time and energy. What's next? Here are my prospects and plans for "buff stuff":
Roanoke and Lynchburg - Have compiled data and mapped locations on former and historic firehouses in these two western Virginia cities. (Here's the Roanoke data.) Hope for an excuse for road trip within a year. Maybe next summer.

Baltimore Fire Expo - Might attend again, for my tenth year in a row (or abouts). Or, might take a break. The show is same-old same-old, but the social component gets stronger every year. Both meeting new people and growing increasingly socially comfortable with those already known. Plus getting there is a blast.

Raleigh Fire Expo - Will be there next year and probably all future years. How long will the South Atlantic Fire Rescue Expo be staying in the Capital City? No idea, but it's darn convenient for those living here. Did make a couple changes this year. Declined to propose myself as a speaker, for a history talk-as-workshop. Had done that for three consecutive years. (Plus on a fire photography panel last year.) Also worked at work on Friday, due to workload. Typically take that day as vacation.

Fire Department Instructor's Conference (FDIC) - Hoping to attend next year, for the first time. And particularly because Indianapolis has a host of historic and former firehouses. Instant photo project there! Can't effectively drive to Indiana, alas. So it'll be a plane trip.

Intershutz - International fire expo in Germany, held every five years. Next one's in 2015. Haven't been to Europe yet. Did get our passports a couple years ago, when Intershutz 2010 was approaching. Might try to get there this time.

National Fallen Firefighters Memorial Weekend - Will be traveling to Emmitsburg, MD, in October. First time for a real visit. Paid a Sunday stop some years ago and took a couple pictures. Will be assisting the social media group as a photographer. More later.
That's the firm-ish list. There's the SPAAFAA Winter Conference in Charleston in February, which might get added to the above list. There's the expo in Myrtle Beach in June, which might be interesting to sample. Plus whatever wild hairs appear. Such as odd historical whims that compel day trips around our state. Want to shoot the steamer currently on display in Old Salem in Winston-Salem. Plus my "regular fire duties," of course. Local incident and event photography. Quarterly fire department newsletter. This blog. Plus all hysterical historical duties in Raleigh, both as official Historian and part of the Raleigh Fire Museum. Hobbies are good.
+ 2 - 0 | § ¶
Zebulon's Former Firehouse For Sale
As this Eastern Wake News story reports, the town's former firehouse is for sale. And the price has been slashed to nearly nothing. The former municipal building (and fire station and police station) at 111 E. Vance Street is selling for a mere $35,000. That's reduced from the previous sale price of $242,000. Talk about a deal! The two-story, 4,846-foot square building was built before 1953, which is the year the rural fire department was formed, of which its first piece of apparatus is shown in the below historical photo. (Left is the municipal department's 1946 Mack, right is the rural department's 1953 International. The fire departments, plural, moved next door to a dedicated fire station in 1974.) Maybe readers know the building's exact age. Using the building will require more money, as extensive renovations are apparently needed. For starters, the story mentions the "A" word, asbestos. But it still might be a deal for the right person.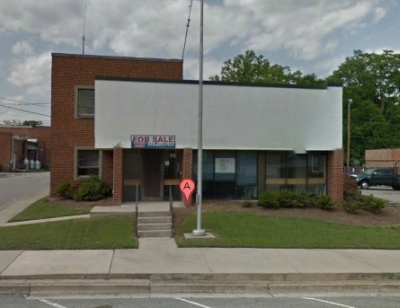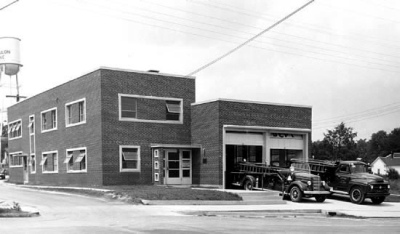 + 2 - 1 | § ¶
Historic and Former Firehouses of St. Paul
Twenty-three, count 'em, twenty-three historic and former firehouses in St. Paul, Minnesota. Meaning, fire department buildings (a.) still standing, (b.) active or retired, and (c.) fifty years of age or older. Earliest was built in 1872, and seven were constructed before 1900. Single, double, and triple bay facilities. Two of them expanded with two-story additions back in the day. Doubled their sizes! One of them reduced in height, now a single-story building dating to the 1880s. Beautiful, interesting, fascinating structures. Read their histories, and see the photos in this Flickr gallery. Also shot a few more historic and former Minneapolis firehouses, which are listed on this page, and shown in this Flickr gallery. Both cities were visited during last week's trip to the Twin Cities.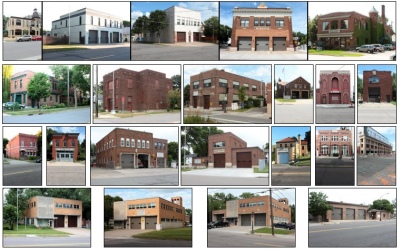 + 2 - 0 | § ¶
Second Annual Carolina Brotherhood Ride Underway
As this WBTW story reports, the second annual Carolina Brotherhood bicycle ride is underway. Emergency responders from across the state are riding this year to honor six fallen brothers and sisters: Trooper Bobby Gene DeMuth Jr. of the North Carolina Highway Patrol, Master Police Officer Jeremiah M. Goodson Jr. of the Lumberton Police Department, Deputy Sheriff Dewayne Charles Hester of the Bladen County Sheriff's Department, Deputy Sheriff William Mast Jr. of Watauga County Sheriff's Department, Master Corporal Sandra E. Rogers of the Aiken Department of Public Safety, and Detective Randall "Shane" Thomas of the Henderson County Sheriff's Department.
On Sunday afternoon, the cyclists rolled into Darlington Raceway as part of their 700-mile ride through the Carolinas. They'll continue through the week, averaging 100 miles a day until they reach Boone, NC, on Saturday. The next stops are planned for Columbia (SC), Aiken (SC), Honea Path (SC), Hendersonville (NC), and Marion (NC). The event was started two years ago, to honor Asheville Fire Department Captain Jeffrey Bowen. Learn more and follow the riders progress at www.carolinabrotherhood.com.



WBTW photo
+ 2 - 2 | § ¶
Morehead City's New Rescue Engine
This nice-looking rig was displayed last week at the South Atlantic Fire Rescue Expo. It's a 2013 Pierce PUC rescue pumper and with a few interesting features. The pump panel's located behind a roll-up compartment door, a light tower's mounted mid-body, and a remote controlled deluge gun on the bumper. The truck can also pump while rolling, a first for non-ARFF vehicles in that area. The truck cost $547,000. See also this Carteret County News-Times story. Click to enlarge:


+ 3 - 0 | § ¶
UPDATED: Rocky Mount Fire Department History Book Available For Ordering
August 12
The following ordering information has been posted on the Rocky Mount Fire Department Facebook page. Scroll down to the July 25 posting to also watch a page-through of the book:
The book is on sale through September 1, 2013. Delivery date of book is November 1, 2013. The price is $90.68 including sales tax. We will accept cash, check or money order made out to the "City of Rocky Mount." Orders can be received at: Fire Station number one at 375 East Raleigh Blvd or by contacting Ms Vickie Price 252-972-1498 or via email vickie.price@rockymountnc.gov

Orders can also be made by contacting: Garry E. Hodges, owner of Sunset Studios LLC, 2013 Rocky Mount Chamber of Commerce Small Business of the Year Award Recipient, 233 Dover Road Rocky Mount NC 27804, 252-937-8211, www.sunset-studios.com

READ MORE
+ 3 - 1 | § ¶
See You Next Year
Had a blast at this year's South Atlantic Fire Rescue Expo in Raleigh, and an equally grand time in Baltimore two weeks prior at the Firehouse Expo. What's on the calendar for 2014? Here are dates for select fire service conferences and events next year. Google is your friend for finding more information:
SPAAMFAA Winter Convention (Charleston, SC) - February 6-8, 2014
Fire Department Instructor's Conference (FDIC) (Indianapolis, IN) - April 7-12, 2014
Lancaster County Firemen's Association Fire Expo (Harrisburg, PA) - May 16-28, 2014
South Carolina State Firefighters' Association Conference (Myrtle Beach, SC) - June 9-14, 2014
SPAAMFAA Summer Conference (Columbus, OH) - June 25-28, 2014
Firehouse Expo (Baltimore, MD) - July 15-19, 2014
South Atlantic Fire Rescue Expo (Raleigh) - July 23-26, 2014
+ 1 - 1 | § ¶
Today's Apparatus Parade in Downtown Raleigh
As part of the South Atlantic Fire Rescue Expo, which included a parade of fire apparatus on Fayetteville and Salisbury streets. This footage was shot with a handheld digital SLR camera. Will try a tripod next time. Readers are welcome to list the participating rigs:

+ 1 - 3 | § ¶
Charlotte Commemorative Coin Set
Attending the South Atlantic Fire Rescue Expo on Saturday? These commemorative coin sets can be purchased for $50. Charlotte Fire Department Engineer Jeff Dixon has them. He'll be around all day, and particularly near their 1902 steamer. He has many sets for sale. The eight coins celebrate the department's 125th anniversary. They depict seven pieces of antique apparatus that are still part of the department's fleet. Click to enlarge:


+ 1 - 2 | § ¶
Minneapolis Station 7
Here's a neat station adornment, a historic bell hanging in front of Station 7 in Minneapolis. The inscription on the bell reads "Clinton H. Meneely Bell Company, Troy, N.Y., U.S.A., A.D. 1883." The mounting assembly has been shaped as a numeral. How cool is that? What similar types of bell assemblies (or outdoor art) have you seen at fire stations?
The fire station is located at 2000 E. Franklin Street and was opened in 1962. It houses Engine 7 and Ladder 3. My memories are strongest of Foam-Hose 1, which was housed there in the late 1970s. That was a 1958 Walter Class 1500 crash truck, ex-Navy, converted by the MFD shops to a foam/deluge unit in 1976.
Named "Big Red," we blogged about the thing back in 2007. Read that posting, or see photos of the truck at an aviation museum in Anoka. (Raleigh-Durham Airport also operated a Walter Class 1500 crash truck, purchased new in 1959. See a couple photos.)
As for the fire station, it was photographed along with a few others, to complete my Flickr gallery of historic and former Minneapolis firehouses. Defined as (a.) active or retired facilities that are (b.) fifty years or older. Learn more about Minneapolis Station 7 and other stations at the Extra Alarm Association site. Great web site.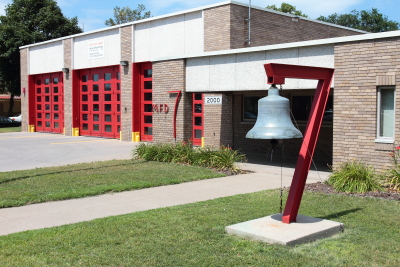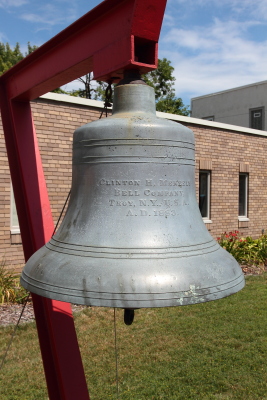 + 3 - 3 | § ¶
UPDATED: Raleigh Recruits Graduate on Friday
Congratulations to the twenty-seven members of Raleigh Fire Department Recruit Academy 38. They graduate from their twenty-eight week academy tomorrow night, Friday, August 9. The ceremony starts at 7:00 p.m. at Meymandi Concert Hall at the Duke Energy Center in downtown Raleigh. Below is a spiffy group photo shot by Jeff Harkey last week. He and Lee Wilson took photos, which can be seen here. We'll see if someone will send the names for everyone, left to right, and maybe their home towns. Watch this space. See more versions of their class photo. There are also several galleries of photos from their academy: February 1, March 21, April 2, April 25, April 30, May 30, June 21, June 24, July 12 and 16.
Update. Pictured and with their home towns in parenthesis are, back row, left to right: Ben Thedieck (Raleigh), Miles Roe (Bellport, NY), Ryan Dover (Raleigh), Clayton Welch (Grand Cane, LA), Alex Oliver (Blackburg, VA), Charles Santos (Miami, FL), Adam Hauser (Cleveland, OH), Clarence Barbour (Philadelphia, PA), and Kahlil Robinson (Raleigh). Middle row, left to right: Marilyn Rodriguez (Cary), Kamilah Webb (Anchorage, AK), Michael Fox (Cary), Graham Pearce (Rolesville), Zeth Lee (Kinston, NC), Peyton Ellis (Arlington, VA), Jonathan Braswell (Holly Springs), Nick Banister (Raleigh), and Kirsty Thayer (Ashaway, RI). Front row, left to right: Russ Leaptrott (Troutman, NC), Zachariah Reynolds (Greensboro), Jessica Newman (Dobbs Ferry, NC), Addison Lynch (Bracey, VA), Sam Scott (Raleigh), Jonathan Tyner (Raleigh), David Boyette (Garner), Brandon Freese (Pittsville, MA), and Ryan Bracey (Raleigh).
Their family ties include Jonathan Tyner as son of Captain Jim Tyner, and David Boyette as son of Battalion Chief David Boyette, and grandson of retired Capt. Wade Boyette. See my family tree document (PDF and newly added on my web site) for more information about "who's related to who" in the Raleigh Fire Department.


Jeff Harkey photo
+ 2 - 4 | § ¶
When Old Buildings Change - Camden Engine 1
While most repurposed former firehouses can be recognized as old engine houses, here's one that's absolutely devoid of its original charm. Here's the old quarters of Engine 1 on Pine Street in Camden, NJ. Built in 1892, it was closed in 1978. The building is presently part of a multi-family residential complex. It was photographed during Mr. Blogger's visit late last month. See those photos. See more history, courtesy of Phil Cohen. As for these two photos, see a larger version of the present day photo and the Engine 1 history page. Next question, what are some utterly unrecognizable old engine houses that you're aware of? Locally, you'd never know the rear of old Memorial Auditorium held a fire station. That thing's been built over. Click to enlarge:


+ 1 - 1 | § ¶
Convention Center Filled with Fire Engines
Some sixty-five pieces of fire apparatus have been loaded into the Raleigh Convention Center, as preparations continue on the exhibit floor of the South Atlantic Fire Rescue Expo. The days and hours for the, er, expo portion of the Expo are Friday from 10 a.m. to 5:00 p.m. and Saturday from 9:00 a.m. to 4:00 p.m. Photographer Lee Wilson has been on scene this week. See his photos so far.


Lee Wilson photos

And here's a lame panoramic picture of the show floor so far, via mobile phone photo by Mike Legeros. Click to enlarge:

+ 2 - 3 | § ¶
UPDATED: Former and Historic Firehouses of Camden
August 8
Photos posted, both the street-side adventures and the old engine houses.
July 25
Reporting from the road, and after a fine day of firehouse hunting in Camden, NJ. Still on the Road to Baltimore, and today's stops included an afternoon (and dinner) in the city across the river from Philly. My tour guides were Camden Fire Department historians Phil Cohen (see his web pages) and Lee Ryan. They were a fun pair, exceptionally informative, and helped keep me out of harms way. (Was dressed down for the occasion. The tropical shirt stayed in the car.) Photos and historical information are forthcoming. Below is a preview. Left to right, top to bottom, are two volunteer houses from the days of the Stockton Fire Department. That's the town that was annexed by Camden in 1889. Next, you're seeing old Engine 1, old Engine 3, old Engine 4, old Engine 6, Squad 7, old Engine 8, Engine 9, Engine 10, and Engine 11. Pretty old buildings.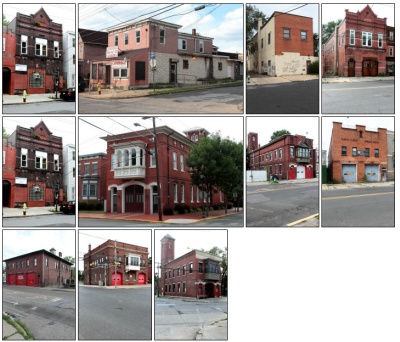 + 1 - 0 | § ¶
Explore the History of Firefighting in Raleigh This Week
The Raleigh Fire Museum will be open on Saturday. It's located at the training center in downtown Raleigh. There's antique fire appartus stored at Station 28 in northeast Raleigh. Or go virtual, and visit these sites to learn about firefighting in Raleigh's Capital City: Legeros history pages, Raleigh Fire Museum site, historical photos. Want to talk shop? Legeros will be around the show on Saturday, as well as shooting the parade. Other museum staff members will be found out and about, as well as at the museum itself. Drop a private message via e-mail (or Facebook) if you want to connect, or have questions, or need more information. We are at your service! Click to enlarge this promotional rack card:


+ 2 - 2 | § ¶
Schedule of Events for South Atlantic Fire Rescue Expo
Lots happening this week in Raleigh for the annual South Atlantic Fire Rescue Expo. Here's the official schedule of events, which includes:
Golf tournament
Tuesday and Wednesday at Pine Hollow in Clayton

Pre-Conference Training and Workshops
Wednesday, Friday, and Saturday

Special showings of Burn: One Year on the Front Lines of the Battle to Save Detroit
Wednesday at Lincoln Theater, and Thursday at Convention Center

BBQ Throwdown
Thursday (cooking) and Friday (sandwich) sale

Cornhole Tournament (in conjunction with BBQ event)
Thursday


Exhibit Floor
Friday and Saturday

Brotherhood Bash
Friday night at Napper Tandy's

Fire Truck Parade (at 12:00 noon this year!)
Saturday

Haz-Mat Challenge
Saturday

Banquet and Reception
Saturday
And as a bonus attraction, the Raleigh Fire Museum will also be open on Saturday. Pay a visit at the Keeter Training Center from 10:00 a.m. to 2:00 p.m. on Saturday, Aug. 10. Admission is free. Parking and restrooms are available.

+ 1 - 2 | § ¶
Vehicle Versus House in Durham < Failed Driving Test
As this WRAL story reports, a man taking his driver's license road test with an instruction lost control of the driving school's SUV on Monday afternoon and struck a home on Cooke Road in Durham. There were no injuries, but said vehicle operator failed the road test. Wonder what the numbers are on these building strikes, per week or month in our area?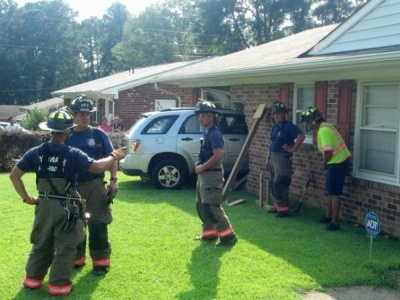 + 1 - 1 | § ¶
Eastern Wake Fire Rescue Withdraws From Merger Talks
This Eastern Wake News story reports on what was communicated at a recent fire commission meeting, that Eastern Wake Fire and Rescue has called off discussions of a merger with the Knightdale Fire Department. The county manager's office earlier this year encouraged Eastern Wake FD, along with twelve other county-funded fire departments, to explore consolidation options as a fire tax revenue shortfall is predicted in 2014. Discussions began between Eastern Wake FD and Knightdale FD, and a proposal was made by the town in April that would reduce EWFD personnel to twenty-four employees, slightly constrict their service area, and convert their second station on Hester Street to an all-volunteer station. The proposal was not well-received by EWFD, the story notes. Negotiations have thus been cancelled, and the department has withdrawn from the issue. The county manager's office will re-approach the department about consolidation within the next year. Read the story.
+ 3 - 3 | § ¶
Authentic Fire Truck Billboard
Reporting from the road. Saw this in St. Paul today, at the business of Captain Ken's Foods. As the web site notes, the products were started by a Captain in the St. Paul Fire Department. His name was Ken Freiberg and his specialty was oven-baked beans.
He began his career in 1943, and was promoted to Captain in 1953. His beans were a firehouse favorite, and word spread around the community. He sold his first dish of beans from a stand at the state fair in 1964. A few years later, he retired from the fire department to pursue a second career in food service. (Wonder how many other commercial foods or services had their start in firehouse kitchens?)
Shown is the billboard at the company's headquarters at 334 S. Roberts Street. What's the story of the truck that's parked on high? No idea, but we'll see what we can find. Looks like a 1910s or 1920s model. Didn't poke my head inside, which might've been a mistake. Looks like there might be more artifacts in there! Click to enlarge:

+ 1 - 2 | § ¶
Best Mailbox Ever
Reporting from the road. Also seen in St. Paul, MN, is this vintage extinguisher-turned-mailbox. Again at Station 20 on West University Drive. Built 1920. Have favorites you've seen in your day, or at your station? Pass along photos!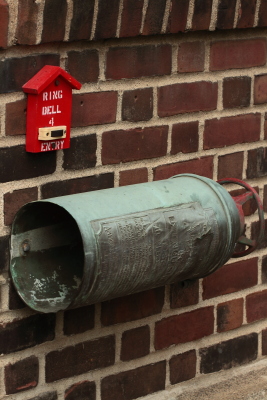 + 2 - 2 | § ¶
Vehicle Versus Tobacco Field
As posted to JocoFire.com. Driver lost control on Lassiter Road in Johnston County. First responder was 50-210 Fire Department. Driver declined transport by Four Oaks EMS. See original posting on the site's home page. Open question for readers, what are some of the more unusual vehicle versus ______ incidents you've encountered?


Jason Thompson/JocoFire.com photo
+ 3 - 2 | § ¶
Street Siren in St. Paul
Reporting from the road (again). Seen at this historic (and still active) fire station in St. Paul, MN, it's a small siren mounted between the bay days. Station 20 on West University Drive. Built 1920. Don't know if it's still operational. Originally installed (as it's been explained to me) to warn vehicles and probably pedestrians of the outgoing apparatus. I've seen these somewhere else. Maybe in Milwaukee? Maybe in Minneapolis. Memo to self, check my photo galleries. What street-side warning devices have you seen before? Will have shots of all historic and former firehouses in the twin city at a later date. Over twenty such structures!