+ 9 - 6 | § ¶
Panoramic View of Vehicle Accident
Panoramic view of accident with injuries on westbound Interstate 40 between Harrison Avenue and Wade Avenue. Alarm time around 4:20 p.m. Agencies on scene included Cary, Western Wake, and Raleigh fire, Cary and Wake EMS, Cary and Raleigh police, State Highway Patrol, and the Department of Transportation. Five cars with one patient. Image created with a Canon DSLR and stitched together with Photoshop Elements. Click once or twice to enlarge:


+ 5 - 1 | § ¶
Rescue 2 and Rescue 3 - Out of Service
Rescue 2 and Rescue 3 were removed from service at 8:00 a.m. this morning, January 31, in preparation for special operations reorganization that will place a five-person heavy rescue in service on Tuesday, February 5. That'll be Rescue 1. Here's a short history of those units:
Rescue 2
Removed from service on January 31, 2012.
Placed in service on July 7, 2009, at Station 7 at 2100 Glascock Street. Renamed from Rescue 7.
Rescue 7 returned in service on July 17, 2001.
Rescue 7 moved to Station 21 on October 14, 1998.
Rescue 7 placed in service on February 1, 1982.
Note: Rescue 2 was also the second piece of the Raleigh Emergency Rescue Squad, a 1954 Reo Civil Defense rescue truck housed at Station 1. It was later housed without staffing at Station 8, Station 10, and Station 12. It was removed from service in November 1974.
Rescue 3
Removed from service on January 31, 2012.
Placed in service on July 7, 2009, at Station 14 at 4220 Lake Boone Trail. Renamed from Rescue 14.
Rescue 14 returned in service on July 17, 2001.
Rescue 14 moved to Station 6 on February 1, 1982.
Note: Rescue 3 was previously placed in service on July 28, 1976, at Station 3 at 13 S. East Street. It operated a 1975 Chevy/Murphy ambulance and was moved to Station 12 on July 24, 1978. The unit's history is summarized as R1 > R3 > R12 > R7 > R21 > R19 > R1 (at Station 19).
+ 4 - 5 | § ¶
Morning Reading - January 30, 2013
Good morning Raleigh. Some reading material for your Wednesday morning, including some older news from Apex. They're the county's third largest municipal fire department, with four stations and eight-three employees. Next question, when/where is their fifth fire station planned?
+ 4 - 5 | § ¶
The Legeros Building in Minneapolis
Google e-mail notification (searching each day for the keyword "Legeros") finds this interesting posting, with a historic photo of the Legeros Building at 2914 Hennepin Avenue in Minneapolis, MN. Named for my father's father's brother Harry, if geneology is correct. Just down the block from the Rainbow Building at Hennepin and Lake, where my dad and his brothers and their father ran the Rainbow Cafe for a number of decades.



OutUptown.com photo
+ 4 - 1 | § ¶
This Morning's Apartment Fire in Chapel Hill
WTVD has a slideshow of aerial photos (low-definition, alas) of this morning's multi-residential structure fire in Chapel Hill. Six apartments were destroyed and three were damaged at University Gardens near downtown Chapel Hill. They're either apartments or condos, depending upon if you're reading WTVD, WRAL, or the Chapel Hill News. Attic on southern end of building heavily involved with smoke and fire on arrival. Aerial operations utilized. Dispatched about 10:00 a.m. Took about an hour to control. Fifteen residents displaced. The blue trucks cleared the scene about 2:00 p.m. It's fire season around town(s), that's for sure.



WTVD photo
+ 3 - 5 | § ¶
Restaurant Opening to Benefit Local Fire Fighters' Burned Children Fund Chapter
Event notice. Bia Restaurant at 419 Glenwood Avenue is having their grand opening on Friday, February 8, 2013. They'll open with a charity dinner to benefit the Fire Fighters' Burned Children Fund - Wake County Chapter. Notes the flyer, many of the staff of the Raleigh Hibernian Pub relocated to Bia Restaurant after the fire on December 26. To honor the Raleigh Fire Department, the restaurant will donate ten percent of the night's proceeds to the local chapter of the FFBCF. Click to read:


+ 5 - 3 | § ¶
Roof Ops on Lakestone Drive
Here's your morning hot shot, from yesterday afternoon's house fire on Lakestone Drive. Two-story garage with heavy fire in the second story. Crews withdrawn and defensive operations started. No extension to the house. See more photos by Mike Legeros.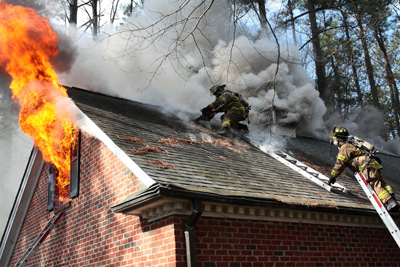 + 5 - 2 | § ¶
Can You Date This Photo?
Need a caption for this photo, might be last-minute filler for the centennial history book. Any ideas on the year or years this would've been taken? Guessing early 1990s, by the engine, ladder, and rescue units shown. Click to enlarge:


+ 4 - 6 | § ¶
Raleigh Annual Report, Fiscal Year 1948
Here's another historical treat, the complete annual report from Fiscal Year 1948. That was the first year of the Council-Manager government. The Capital City was previously governed by Commissioners, before then Alderman, and before then Commissioners. If memory serves. This document is dated June 30, 1948. Pretty interesting. Read the document (PDF, 5.3M) or click the cover:


+ 7 - 2 | § ¶
Raleigh Fire Department, Circa 1939
Here's a new old photo that was recently received by the Raleigh Fire Museum, by way of clippings and other materials from the late retired Captain Joe Hobby. That's the 1939/1917 American LaFrance aerial ladder in front of Memorial Auditorium, and presumably with the entire fire department pictured. We'll date this one circa 1939, when the tiller's new cab was delivered. Click once or twice to enlarge:


+ 3 - 2 | § ¶
UPDATED: This Afternoon's WF and MPI
Here's a panoramic phone photo of this afternoon's apartment fire and multi-patient incident at 713 Centennial Parkway. Engine 8 arrived with a working fire on first floor of a three-story apartment building with 84 units and 48,192 square-feet. Built 1971. Smoke and fire showing, with fire in rear corner apartment. Engine 8 made interior attack. Engine 5 boosted pressure at hydrant, from opposite side of Centennial Drive. Engine 20 and Engine 5 (and others?) performed searches, brought people out.
Heavy smoke conditions throughout the building, and a number of residents were evaluated or treated by EMS for smoke inhalation. Six were transported, including a police officer who was one of the first on the scene, and entered the building to warn residents and help them evacuate. EMS third alarm requested, due to number of occupants and possible patients. Extended overhaul.
Twenty-one units rendered uninhabitable. Forty-three people displaced. Many moved to the Burger King across the street, for shelter. Dispatched 4:19 p.m. Working fire assigned dispatched while units were en route. Freezing rain, icy streets, and slow traffic conditions impacted response. Controlled at 4:56 p.m. Cause determined as accidental, occupant smoking in bed. Fire units on scene: E8, E20, E5, E1, L4, L7, R3, B3, B2, A1, C10, C20, C40, C2. EMS units on scene: EMS 4, EMS 35, EMS 31, EMS 18, EMS 19, EMS 6, EMS 33, EMS 11, EMS 51, EMS 5, EMS 33, EMS 55, EMS 32 (thirteen!), D9, D1, M94, MD20, Truck 1, Evac 1. See preliminary photos from Mike Legeros. Click once or twice to enlarge:


+ 2 - 3 | § ¶
UPDATED: Run Numbers For 2012
Wake County Fire Departments
| | | | | |
| --- | --- | --- | --- | --- |
| Apex | | 2,386 | | Also 3,388 runs. |
| Bay Leaf | | 906 | | * |
| Cary | | | | |
| Durham Highway | | 704 | | |
| Eastern Wake | | 1,445 | | * |
| Fairview | | 1,331 | | |
| Falls | | 143 | | Merged with Wake Forest during year. |
| Fuquay-Varina | | 3,438 | | |
| Garner | | 4,847 | | |
| Hopkins | | 424 | | * |
| Holly Springs | | 1,444 | | |
| Knightdale | | 1,139 | | * |
| Morrisville | | 1,761 | | * |
| New Hope | | 1,690 | | |
| Raleigh | | 36,582 | | Also 53,607 runs. More below. |
| Raleigh-Durham Airport | | 1,464 | | |
| Rolesville | | 716 | | * |
| Stony Hill | | 460 | | * |
| Swift Creek | | 630 | | * |
| Wake Forest | | 2,536 | | |
| Wendell | | 1,726 | | * |
| Western Wake | | 672 | | * |
| Zebulon | | 1,471 | | * |

* Source is Wake County Fire Services.
Wake County EMS
84,867 runs, with 62,428 transports.
Raleigh Fire Department Busiest Units
Busiest Engines
E3 - 2,547
E12 - 2,433
E1 - 2,151
E11 - 2,096
E15 - 1,967
Busiest Ladders
L4 - 2,347
L2 - 1,726
L3 - 957
Busiest Rescue
R2 - 788
+ 5 - 5 | § ¶
Relocating Cary Station 2
The Cary Fire Department's web site has a project page for the new Station 2, which will be relocated to 601 E. Chatham Street in the fall of 2014. That's the corner of Highway 54 Chatham Street and Reedy Creek Road. The land was purchased in April 2012. (Time to update Mike's map!) There's a drawing of the building on the web site, which matches the drawing of Station 8, currently under construction on Mills Park Drive. Perhaps they're identical?
The current station was built in 1974, and "designed and built to accommodate one fire truck and four firefighters, one-half of the resources currently deployed from the facility. It was also designed to predominately serve a residential area generally bounded by Maynard Road and the Walnut Street corridor to Buck Jones Road. Further, the station is in disrepair and has reached the end of its useful service life."
More details, notes the site: "The building's condition shows major wall separations, floor and foundation subsidence, and an undermined and fractured apparatus floor and front ramp. The station is overcrowded by vehicles and staff. From its current location, emergency units responding from the station do not meet the Town's response-time goals in northern (downtown and easterly on Highway 54) and southern (Crossroads and through Holly Springs Road) parts of its service area."
To further improve responses in the town's southeastern service areas, an additional station is planned in the Walnut Creek and US 1 area. Here's a map (PDF) showing a possible location and response areas in the future. Read more about the Station 2 project.


+ 12 - 17 | § ¶
Eight Years, Five Days, and One Inch Ago
With a wintery precipitation pending for Friday afternoon, let's revisit and repost this recollection from January 19, 2009. Don't forget to fuel your vehicle after reading. And maybe plot a half-dozen alternate routes home from work or school!

On January 19, 2005, a surprise snowfall paralyzed the Capital City. 'Twas an early Wednesday afternoon when the white stuff started falling. About an inch accumulated around town. On roadways, the snow quickly melted and then refroze due to the low temps. The slick streets were soon clogged with cars and busses, from early-closing schools and businesses.
Everybody was suddently on the road and congestion stalled traffic throughout town. Emergency responses were slowed on both major roads and popular cross streets. The gridlock also caused problems for the crews clearing snow and applying sand. Gridlock persisted on major roads into the early evening. Dozens of abandoned cars littered roadways.
Multiple-vehicle accidents occurred throughout the afternoon, though no serious injuries were reported. Firefighters assisted some stranded motorists with finding shelter. Routine commutes that day took as long as ten hours for some drivers.
Around 8:00 p.m., units responded to a working apartment fire at 1209 Holman Street. Car 72 and Truck 1 were first on scene, reporting fire showing from a second floor window. By 9:00 p.m., the Raleigh Police Department had responded to 422 vehicle accidents since 11:00 p.m. Another 60 reported accidents were pending. By midnight, officers were taking information over the phone for minor wrecks.
By 10:00 p.m., some 350 school buses were still on the road. Another 3,000 children around Wake County were being sheltered at 56 schools. Major Raleigh roadways including both the Beltline and New Bern Avenue remained stalled into the late evening. By 11:00 p.m., Governor Mike Easley had declared a state of emergency for Wake County. This allowed state government buildings to be opened as shelters. Some stranded motorists slept overnight in their cars.
By 8:00 a.m. the next morning, the Raleigh Fire Department had answered 152 calls since the start of shift. The average call volume was 82 calls per day.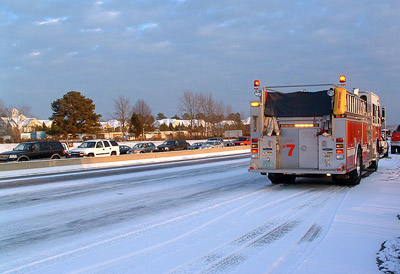 + 4 - 2 | § ¶
Ice Sculpture in Chicago
That striking image is from Scott Olson/Getty Images, showing the aftermath of a five-alarm fire in Chicago yesterday. Was described as the city's biggest in years. That and fourteen other strong photos are posted to this buzzfeed.com posting (found via FireNews.net Twitter feed @firenews). Here's a chicagoareafire.com posting (one of several) with real-time radio recordings and more. Wonder what that run card looked like!? Talk about a different world, for both firefighters and fire photographers.



Scott Olson/Getty Images photo
+ 4 - 3 | § ¶
Coming Attractions
Since we're cartwheeling through cartography, here's another new Mike map. This one's a coming attraction of the Raleigh Fire Department's coming changes effective February 5. That's when two squads and one heavy rescue enter service, along with a fifth Battalion. Plus some new unit numbers that we'll talk about later. Note that Battalion 1 is shown at Station 15, which is a temporary location until its moved to Station 19. They'll start building space at the new station next month. Read the latest issue (PDF) of the Raleigh Fire Department Newsletter to learn more about these changes. Click once or twice to enlarge:


+ 3 - 3 | § ¶
Raleigh Fire Department Newsletter, Winter 2013
The winter 2013 edition of the Raleigh Fire Department Newsletter has been posted to to the web site raleighfirenews.org. This issue's includes information about upcoming Operations changes, the upcoming recruit academy, the story behind the academy numbering, scenes from the fireman's ball, promotions and retirements, and more. Edited by department historian Mike Legeros, the Raleigh Fire Department Newsletter is a quarterly publication for personnel, retirees, and citizens. (Might be a good future essay topic as well. Tips and tricks for starting, creating, and maintaining a fire department newsletter. Memo to self: do that.) Read the issue
, or click to access:

+ 5 - 3 | § ¶
Durham Highway Run Statistics
Speaking of run numbers or "the runs" (yes, this a very serious blog), here's a nifty summary posted on the Durham Highway Fire Department web site. Summary of stats from both last year, and over the last seven years.


+ 4 - 4 | § ¶
FDmaps.com Maps Raleigh Engine Volume
FDmaps.com has created another of their neat enhanced maps, this one showing (and comparing) call volumes for Raleigh engine company runs in 2012. Some of their other enhanced maps include Charlotte engine company runs in 2012 and Charlotte battalions. Neato.


+ 6 - 1 | § ¶
Raleigh Fire Department Data Management Forms, 1988
For your Sunday historical enjoyment, here's a collection of Raleigh Fire Department data management forms from 1988. These were provided in a binder at each fire station. What's so interesting about a bunch of forms from a quarter century ago, you ask? Beyond the obvious then and now enjoyment-- and historical perspectives therein-- they also show the many moving parts required to "run a fire department." Particularly one serving serving the size of Raleigh at that time.1 The forms also represent the limitations of technology at that time. Paper forms for paper recording, or later data entry.2 Today, some of this information is entered only once and in one place, but is output in various forms and formats. You've come a long way, baby.
View the collection of forms (PDF).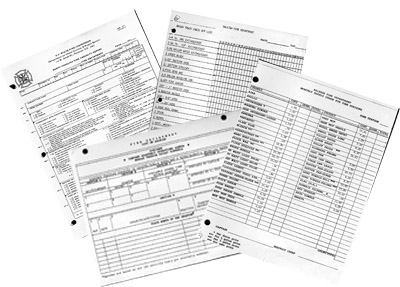 1There were certainly additional forms used by the Fire Marshal's office, the training staff, and such.
2This was just about the time the first station computers were being installed, and the first fire reporting software.
+ 5 - 2 | § ¶
Raleigh Fire Department Badge Numbers
One of the most common-est questions we're asked at the fire museum is do we have a list of badge numbers? That is, numbers corresponding to the people who wore them on their shirts, coats, caps, and helmets. The answer is, alas, no. Ten years of searching hasn't yielded one yet. But occasional pieces of information are found, such as list of addresses and more in a station log book from the 1950s. Maybe someday we'll find a full list. Complicating factors include that the numbers were transferred to newer firefighters, some times. We've also heard that helmet numbers and badge numbers may have been different for some folks, or maybe in later years. As always, still researching this one. Click once or twice to enlarge:


+ 1 - 3 | § ¶
Raleigh Fire Department Radio Records, Circa 1957
Found these in a log book some time back. Radio records for the Raleigh Fire Department. Dating this to circa 1957, based on the notation and that Engine 7 isn't listed. That station didn't open until two years later. Quite a few cars and support vehicles! Some are certainly reserve units. Click to enlarge:


+ 4 - 2 | § ¶
Before Squad 51, There Was Rescue 8
From a reader, here's an interesting YouTube video showing the opening credits of "Rescue 8." Same was a syndicated television in the late 1950s that chronicled the exploits of two LAFD firefighters assigned to the rescue unit. They're weren't paramedics, of course, but they did perform first aid. The main character was played by Jim Davis, likely better known as Jock Ewing from some other show called "Dallas." Search YouTube to find other snippets. Thanks Barry!



+ 3 - 3 | § ¶
Fairgrounds Fire Department Articles of Incorporation
For your historical enjoyments, here's a scan of a photocopy of the articles incorporation of the Fairgrounds Fire Department, which operated from 1961 to 1998. The scan is from a photocopy requested from the Secretary of State in August 1992. The articles were signed February 23, 1961. What's interesting is that articles name the department Fairgrounds, plural, but their trucks bore the name Fairground, singular, for years. Read the FFD history, or read the articles of incorporation (PDF). The incorporators were:
James H. Walker
F. D. Graham
H. G. Finch
J. Wilbur Doyle
Kidd Brewer
The first board of directors were:
J. E. Tyson
Ira O. Schaub Jr.
B. J. Abbott
James H. Walker
J. M. Adams
F. D. Graham
H. G. Finch
J. Wilbur Doyle
Wade E. Griffin
Kidd Brewer
V. A. Mason
N. R. Morgan
Many or maybe all of these were members of the Western Boulevard Fire Department, which operated from 1957 to 1960.
Read the WBFD history
.
+ 2 - 2 | § ¶
Warren County Junior Firefighter Competition 2013
Here's a flyer for the Third Annual Warren County Junior Firefighter Competition on April 26-27, 2013. The two-day event will include a Friday evening social, six field events, knowledge-based events, trophies for first, second, and third place for each event, vendors, and more. Proceeds benefit Warrenton Fire Explorer Post 672, to support its educational efforts and community outreach programs. Read the flyer (pdf).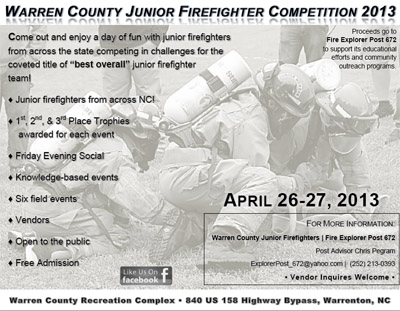 + 4 - 2 | § ¶
Careless 911 Misdials Continue to Plague Raleigh/Wake Emergency Communications Center
Press release.The Raleigh-Wake Emergency Communications center has released its analysis from 2012 that illustrates ten-digit dialing continues to cause significant problems .For 2012, the number of calls to 911 rose 18 percent with the number of outgoing calls increasing more than 36 percent. It is abundantly clear that 9-1-1 hang-up calls and misdials continue at an alarming pace. Instead of dialing the area code 919, callers are mistakenly dialing 9-1-1 and hanging up.
Misdials and hang-up calls divert resources away from actual emergencies since dispatchers must call back on hang-ups to assure that an emergency is not taking place. If no response is received from the call-back, dispatchers send a police officer to the source of the call to make certain that no assistance is needed.
Ten-digit dialing became mandatory in the area in late March. Hang-up calls requiring police dispatch have almost tripled from 2011 to 2012. In 2011, there were close to 17,500 hang-up calls. In 2012 that number soared to 52,160, which required more than 30,000 police officers dispatch calls.
+ 3 - 2 | § ¶
Ice Ice Baby
Yup, just as they forecast, a tricky commute this morning. Receiving reports of wrecks everywhere. Couple on the Beltline, around Wake Forest Road. Engine 9 attending one, reported a second, now two accidents with injuries working. Personal observations on Millbrook Road (at Shelley Lake) and Lynn Road (at the bottom of that hill, east of North Hills Drive) confirm icy bridges. Like walking on an ice rink! Drive slow, even on those seemingly safe secondary roads. Wear your vests, but watch the cars. Situational awareness is absolutely imperative. Even if you're a guy with a couple cameras standing off to the side...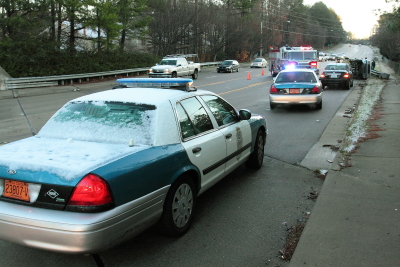 + 6 - 2 | § ¶
UPDATED: Future of Fire Service in the Fire Tax District
January 18
Documents folder updated with presentation slides that were shown both at the fire commission meeting (see agenda and more), and earlier at the Board of Commissioners work session on Monday. The slides present a background of the financial issues, summaries of the fire tax district finances, expectations and assumptions for the future, and conclusions and next steps. Some of the things noted in the slides:
Unincorporated areas are dropping in size (81% of county in 1990 to 64% of county in 2012), and thus several rural fire districts have been steadily decreasing of the years.
Municipal departments are growing in the last ten years, adding 12 new stations since 2000, versus 3 new county stations since 2000.
Municipal departments are often the first responding stations to many areas served by the private fire departments.
Population is growing in Wake County, but far less in unincorporated areas.
Cost of the fire service is far outpacing population growth.
Looking ahead, expectations are zero revenue growth in 2014 and 2015. But expected expenditures increasing slightly.
Savings implemented to date by consolidations/mergers, realignment of stations, shared use of resources: closing Western Wake Station 2 and contracting with Cary ($584,389), merger of Falls into Wake Forest ($15,000, initial)
There are areas of the county that will probably remain unincorporated, due to watersheds: Falls Lake, Swift Creek, Little River, and Jordan Lake. Plus the RTP, due to other reasons.
Thus, consolidations should be considered for areas such as Falls Lake, Swift Creek, and Little River/eastern Wake County.
County staff will not consider an increase in the fire tax rate, until strategies for a financially sustainable fire service are identified and pursued.
County staff will begin meeting with the Boards of Directors of the private fire departments to share this vision, and begin discussions about consolidations and/or other strategies for long-term financial sustainability.
Read this information in the slides (PDF).

---
January 17
For those attending tonight's meeting of the Wake County Fire Commission the regular agenda includes the item "Future of Fire Service in the Fire Tax District." Will await the minutes, as Mr. Blogger will be downtown at a fire department promotional ceremony. By way of historical context, the County Manager spoke on this matter to the Fire Commission in October. Here's a summary of his comments (PDF).
For tonight's meeting, here's the agenda item's description in the supporting document:
Item Title:
Future of Fire Service in the Fire Tax District

Specific Action Requested:
That the Fire Commission receives information related to the Future of Fire Service in the Fire Tax District.

Item Summary:
Wake County staff has been tasked with evaluating fire service in the Fire Tax District in an effort to develop strategies and recommendations to ensure the sustainability of fire service in the Fire Tax District.
On Monday, this subject was presented before the Wake County Board of Commissioners. Their meeting agenda provides this summary:
Future of Fire Service in the Fire Tax District - Joe Durham, Deputy County Manager; and Demetric Potts, Fire and Emergency Services Business Officer
Item Summary:
The purpose of this presentation is to provide information about Fire Service Delivery in the Wake County Fire Tax District. The Fire Tax District Budget is not sustainable in its current form and the County believes that savings will be achieved through strategies such as consolidations and mergers, realignment of stations, and shared use of resources. The presentation will provide background information the Fire Tax District, historical and current financial information as well as expectations and assumptions.

The Board of Commissioners will receive the presentation and provide feedback.
---
Fire Commission?
What is the Wake County Fire Commission? Here's a good overview in the form of a Q&A we did on the blog. Here's the commission's official site.

Fire Tax District?
For the laymen or new readers, what is the Fire Tax District? It represents all unincorporated areas of Wake County, e.g. those areas outside of municipal town or city limits. Plus the town of Wendell. Their fire protection is administered by Wake County, through fourteen contracts with not-for-profit corporations (private fire departments, like Bay Leaf FD and Hopkins FD and Wendell FD), and six contracts with municipal fire departments (Apex FD, Cary FD, Fuquay-Varina FD, etc.). And said fire protection is funded by taxing the residents (and business owners, right?) in those areas.

What's the History?
But what about mergers and consolidations? Haven't those been tried before, discussed before, proposed before, etc? Correct. Some of what's happened before...
Mergers and closures:
2012 - Falls FD merges with Wake Forest FD.
2007 - Western Wake Station 2 closes. County contracts with Cary FD for newly created suburban fire district.
2002 - Six Forks Fire Department merges with Bay Leaf FD.
1998 - Fairgrounds and Yrac fire departments merge, form Western Wake FD.
1982? - Wake Forest FD #2 merges with Wake Forest FD.
1960 - Western Boulevard FD disbands. Members organize Fairgrounds FD.
Statements and studies:
2011 - County Manager provides short statement to Wake County Fire Commision on fire service funding challenges and potential savings through consolidation of fire departments. Read statement (PDF).
2004 - Wake County Fire/EMS Capital Facility and Equipment Study by TriData is released. Recommends fire service improvements through changing station locations. Read blog posting and another blog posting.
1994 - Comprehensive Review of Wake County Fire Protection by TriData is released. Recommends fire service improvements on many fronts. Read blog posting.
Notes:
Closure list omits the many times that fire departments relocated their stations "farther out" as municipalities annexed their original district. Like Durham Highway's original station on Highway 70, now a stone's throw from Station 17. Read blog posting.
Merger list omits the many private rural fire departments that merged with their municipal counterparts. Such as Zebulon Rural FD, which was created to protect those people living "outside the city." Read blog posting, with some of those names.
+ 3 - 4 | § ¶
Five Alarms in Salisbury Last Night
FireNews has details about the 1896 building at 600 North Church Street in downtown Salisbury, that was reported alame at 9:44 pa.m. The Salisbury Post has more details. The historic Grimes Mill Museum was already engulfed in flames when firefighters arrived. Defensive operations were used, with six aerial streams operating at one point.
Departments on scene included Salisbury FD, South Salisbury FD, Spencer FD, Rockwell FD, Granite FD, Locke FD, Cleveland FD, and Kannapolis FD. Maybe our readers will share a run card. See the Post story for a slideshow of strong images by Hugh Fisher.
See other media sources accordingly, such as WSCO-TV. Here's a photo of the building in 2009, from that year's fall mountain trip. Next question, when was the list "old mill" building that burned in our area? And/or, what notable mill files have occured in Raleigh/Wake County or the Triangle?



Hugh Fisher photos
+ 3 - 2 | § ¶
The Prickly Perils of Public Speech
If you're a public employee, you can get fired or disciplined for stuff you say on Facebook. We've seen those headlines for a while now, or at least if you're paying attention. (Now sure how well the younger generations are tuned into the issue of speech, social media, and employment consequences. But that's another discussion...) But what about when you're off-duty? But what if your Facebook profile doesn't identify you as a public employee? But what if you're (a.) and (b.) and (c.) your Facebook profile is private? Only a couple hundred of your "friends" are reading those words, so the situation should be safe, right?
Fire Law blogger Curt Varone takes a terrific look at a situation in Florida, where arbitration is beginning for a Miami Dade Fire Department Captain. Last spring, he posted comments on his Facebook page that drew outrage from community members in the wake of the Trevor Martin shooting. He was demoted to Firefighter, amid calls for his termination. Some interesting facts were revealed in the first hearing on Monday: (a.) he was off-duty, (b.) using his home computer, (c.) using a Facebook account that didn't identify him as a firefighter, (d.) using words that (e.) while offensively (f.) weren't as specific or targeted as presumed, (g.) were posted to a private profile that, (h.) were subsequently released to the world at large by a second fire department member who, (i.) took a screen shot and started the fire. Got that?
What do all those points (and letters) mean? Curt walks through some of the First Amendment issues involved in this case, and in a clean and easily understood manner. Read his posting which is ultimately a bit downbeat. He acknowledges that things are still clear as mud, with regard to social media issues and public speech. What, you say? You mean, you really can get fired or disciplined for off-duty offensive speech and even if it's posted to just a relative few people? Yes, you can.
+ 4 - 1 | § ¶
Greenville Fire Department License Plate Sign
Found for sale on eBay, a license plate sign for the Greenville (NC) Fire Department. Seller says its circa 1950s. Opening bid is a mere $99.95.


+ 4 - 3 | § ¶
Fire Photographers are the Same Everywhere
From a reader, here's a great gallery of shots out of Israel. Looks like a commercial facility, with foam operations. Lots of personnel and candid photos. Excellent all-around footage. No idea the photographer's name, nor even the web site's name. Beyond HNN, which probably means Hebrew News Network. Wonder if the photog's wearing a tropical shirt? Thanks Joseph.



www.hnn.co.il photos
+ 2 - 4 | § ¶
This Morning's House Fire in Garner
Here's a picture from WTVD of the house fire on Trekwood Garner that's been working for the last hour or two. Tons of tankers, with two water points. Units on scene have included Garner E1, E2, E3, E4, E5, E9, R1, B1, C1, C2; Fuquay-Varina E3, mutual aid from Cleveland (E3 nursing, E4 shuttle), 50-210 (two pumper-tankers in shuttle) and Elevation (E1, manpower) fire departments in Johnston County, and tankers from Eastern Wake (T3), New Hope (T12), Wendell (E117), Zebulon (T98), Rolesville (T157), and Hopkins (T227). Ladies and gentlemen, presenting your Wake County tanker task force! Plus assorted move-ups, such as Clayton E4 to Cleveland and Fuquay E2 at Garner Station 2.



WTVD photo
+ 4 - 2 | § ¶
Wake County Fire Commission Meeting - Thursday, Jan. 17
The next meeting of the Wake County Fire Commission is Thursday, January 15, at 7:00 p.m. The location is the Wake County EMS Training Facility, in the lower level of the Wake County Commons Building, 4011 Carya Drive. See below agenda and related documents.
Agenda
Call meeting to order

Invocation
Roll of Members Present
Approval of Agenda

Minutes

Adoption of Minutes for November 15th, 2012, Regular Meeting

Regular Agenda

Fire Commission Chair Election
Fire Commission Vice Chair Election
Future of Fire Service in the Fire Tax District
Consider Appointment of Facilities Committee Chair
Consider Appointment of Staffing Committee Chair
Consider Appointment of Contract Committee to review and update Fire Protection Agreement

Information Agenda

Fire Training Center Pump Update
Post Incident Review Program Update
Fire Tax Financial Report
Single Fire Tax District Budget Update
Fire Service Response Boundary Update
Chair Report
Fire and Emergency Management Director Report

Other Business
Public Comments

30 minutes maximum time allotted, Maximum 3 minutes per person

Adjournment - Next Meeting March 21st, 2013.
+ 5 - 3 | § ¶
Before They Wore Helmets
On June 30, 1950, budget money was approved for Raleigh firefighters to receive their first helmets. Before then, dress caps were worn while fighting fires, as shown in this photo from November 22, 1948, when city firemen assisted Angier, Apex, Dunn, Fuquay Springs, and Fort Bragg fire departments at a warehouse fire in Varina. Now that's old school mutual aid there! Here's a prior posting about the evolution of the Raleigh fire helmet. And here's another posting on that subject.
It's worth noting that the Raleigh Fire Department during that decade, and particularly during the war, was considerably understaffed. Documents from that period talk about the customary practice of relying on citizens to help move or man hose lines at major fires in downtown Raleigh. Crazy? Smart? Sounds like there were always dozens of people offering help, or climbing in and helping, at major fires in the city. City officials would certainly come to expect such help and probably (under)allocate resources accordingly. Quite the trap. Click to enlarge:


+ 2 - 2 | § ¶
Engine 24 at Car Fire
Action sequence from traffic camera, of Engine 24 yesterday afternoon at Interstate 540 at or near Lumley Road. Image created the old fashioned way, with sequential screen captures and subsequent pasting into a graphics editor. Click once or twice to enlarge:


+ 3 - 3 | § ¶
Mobile Home Fatal Fire Video, Winston-Salem
Found on YouTube, here's a compilation of three video clips of a fatal mobile home fire in Winston-Salem on December 12. Posted by user TheRJSJR. Two people died in the blaze on Kirk Road. Here's a news story about fire. See individual clips (and without captions) on the user's YouTube channel.


+ 2 - 3 | § ¶
Sport Utility Vehicle Versus Sports Bar in Wilmington
That's a place on South College Road in Wilmington, where a sport-utility vehicle made a dramatic entrance last night. The vehicle entered the structure intentionally, after the driver had a dispute with a patron. He's been charged with numerous counts of various charges. Two people were transported to the hospital, one with serious injuries and one with minor injuries. Read WECT story.

WECT photo
+ 3 - 3 | § ¶
Numeric Radio Codes?
Though the Raleigh Fire Department switched to plain-text radio language years ago, some numeric codes occasionally appear. These are older police and maybe EMS codes, such as:
Code 7 - Deceased person
68 (pronounced six eight) - Suicide
101 (pronounced one oh one) - Someone shooting
102 (pronounced one oh two) - Someone shot
This outdated scanner page of mine has more. What other numeric codes (non ten codes) are used around the area, or the state?
+ 3 - 3 | § ¶
Raleigh Fire Museum Open Today, Saturday, January 12
If you're headed into downtown Raleigh today for the inauguration parade, poke your head into the nearby Raleigh Fire Museum. It's located 105 Keeter Center Drive and is open from 10:00 a.m. to 2:00 p.m. Hundreds of artifacts and photographs are displayed. Newest is this handsome hand hose reel from the nineteenth century:


The museum is open on the second Saturday of each month, and is located in a classroom trailer at the Keeter Training Center at 105 Keeter Center Drive. Parking and restrooms are available. Admission is free. Learn more about the museum, and the group that operates it, at www.raleighfiremuseum.org.
Please note that other antique apparatus is stored elsewhere. Both the museum's 1961 American LaFrance pumper and the city's collection of antique fire apparatus is housed at at Fire Station 28 at 3500 Forestville Road. The collection includes a 1905 steamer, a 1926 American LaFrance pumper, a 1950 Mack pumper, and a 1982 Mack pumper. Visitors are welcome.
+ 3 - 2 | § ¶
Two Alarms in Greensboro
Here's your evening hot shot from News & Record photographer H. Scott Hoffman, from this afternoon's two-alarm warehouse fire in Greensboro. See larger version and a second photo on the newspaper's web site. Speaking of farther away fires, it still burns my biscuits that I missed the R. J. Reynolds Plant #256 fire (see article in this OFM journal) in Winston-Salem on August 27, 1998. Learned of that one from a friend there. Thirteen engines and five ladders battled that blaze. Took nine hours to control. Would've taken the afternoon off, except for the unfortunate coincidence of a scheduled cat adoption after work. Arrgggh. That would've been a blaze to behold. The cat's still around, and he made my later wife happy, so all was good. I guess. (She probably married me for the thing...)



H. Scott Hoffmann/News & Record photo
+ 4 - 4 | § ¶
Campus Police Cruiser with Chevrons
From a reader, check out this Dodge Charger used by the North Carolina State University Police Department. And with a strip of chevrons on the rear... Thanks, Matt. Click to enlarge:


+ 1 - 3 | § ¶
Fire Truck Cab Found
This former Deep River FD truck was found in Fuquay-Varina, behind a home business on North Main Street that's across the street from Applebee's. Thanks Tyson! Click to enlarge:


+ 4 - 2 | § ¶
New Wheels for Battalion 2
Another new chief's buggy is about in service. 2012 Chevy Tahoe and four-wheel drive (right?), no less. Will replace a 2004 Chevy Tahoe. Battalion 2 is housed at Station 12. Battalion 1 received one a couple months ago, as we noted.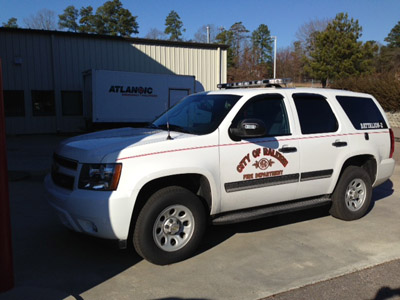 + 2 - 4 | § ¶
Metal by Metal
The band is called Compressorhead. They are robots. This their instrumental cover of Motorhead's "Ace of Spades." Observe the four-armed drummer, so it's not an exactly one-to-one robot to human mapping. What will technology do next...? Here's a version with Lemmy's vocals added. And here's the original. (For more about Lemmy, recommend watching/buying Lemmy the movie. Good stuff.) End of musical interlude.



+ 3 - 5 | § ¶
History Book Preview and Order Deadline
We're just about done writing the Raleigh Fire Department Centennial History Book. Here's a peek at a few of the pages (PDF) completed so far. This will be a good-looking book, with 260 full-color pages, and over 2,000 photos including portraits of all active members and of every retiree. The deadline for orders is January 15, 2013. Don't wait until the last-minute. This won't be available in stores, and won't be available once all orders are placed. Follow the project at http://www.facebook.com/rfd100book.
If you've already ordered—recently or back in the spring—you're good to go. See this ordering information. Next question, when will the books be here?! Fulfillment is currently planned for March. But remember, we're still writing. There's still a month-plus of production before it'll be ready to go to press. As more specific information is provided, more specific information will be provided. Click below to see the preview pages: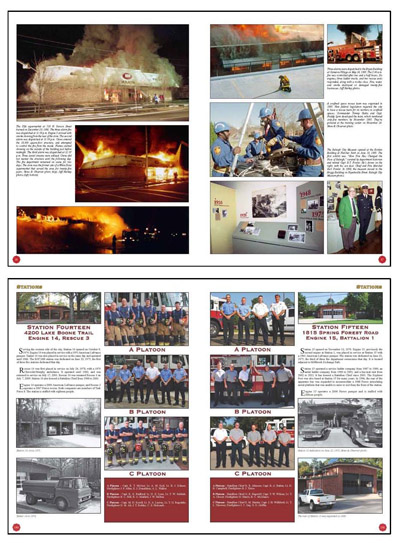 + 2 - 3 | § ¶
Legeros Fire Photos - Year in Review
Here's a recap of last year's photo activity. Incidents, events, and activities of the Raleigh Fire Department, Wake County EMS, and a mess of other departments and entities. Thanks yet again for the pleasure and privilege of playing paparazzi. Can't think of a more rewarding gig. See the photos by Mike Legeros.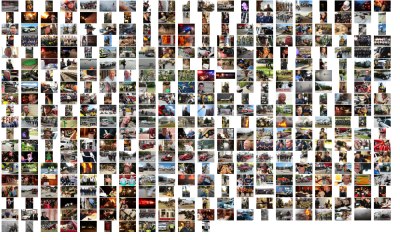 + 3 - 3 | § ¶
Old Engine 1 > Station 28
On Saturday, January 5, 2013, the Raleigh Fire Museum relocated its 1961 American LaFrance 900 Series pumper. The old beauty was moved from Station 9 on Six Forks Road to Station 28 on Forestville Road. Old Engine 1 now proudly resides with the city's fleet of antique apparatus: one steam engine (1905 ALF), three pumpers (1926 ALF, 1950 Mack, 1982 Mack), and two rescue boats and a trailer (1953). Talk about a place that provides instant happiness!
The 1961 pumper was purchased earlier this year with donations from active, retired, and former members. (A plaque is planned for the rig, to display the names of the donors.) The museum continues to raise money for maintenance, repairs, and, maybe, restoration. To contribute to the cause, visit this donation page.
The engine served the city from 1961 until 1982, and was sold to the Stem Fire Department in Granville County in what we believe was 1986. It was later sold to a private owner. See photos of the engine's journey from Jan Chamblee and others, as well as photos from Lee Wilson.
To see this absolutely cool collection of antiques, swing by Fire Station 28 at 3000 Forestville Road. Or use this contact form to inquire about scheduling a station tour.


+ 3 - 3 | § ¶
Heroin Stamps as Art
For your Sunday diversion, here's something entirely unusual. Am listening to the audiobook version of Blue Blood by Edward Conlon, a non-fiction biography (and police procedural) by a fourth-generation member of the NYPD. Conlon, a Harvard graduate and regular writer for the New Yorker, includes exceptionally descriptive details about the illegal drug trade. One of his passages talks about heroin stamps and the wide variety of brand names.
Wait, what, brand names for illegal drugs? Yes, as he explains. The baggies are stamped with a word or a phrase or artwork. This serves as brand identification, for starters, for the users. Anyway, he rattles off an amusing, fascinating list of brand names. Such as, say, and as found via Google: God Father, Perfect Ten, Adult Content, Sh_t in a Bag, True Story, 911, etc. (There's your truth in advertising!)
The next question is the obvious one. What do these look like? Google finds a number of sites with stories or postings on the subject. Here's one from www.good.is, about an art project in New York City. The creators are hoping to mount an exhibit of heroin stamp photos. They're hoping to "raise awareness and tell the complex stories of heroin markets in New York City, through larger-than-life images." Pretty wild. You can donate to the artists on this microdonor site.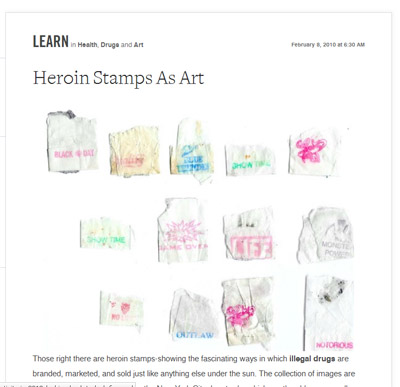 + 4 - 0 | § ¶
Raleigh Police Special Vehicles
Expanding on this thread from yesterday, a quick search around my fire photos (and their archives) finds the current fleet of Raleigh Police Department special vehicles. Or at least, those encountered by photo boy. Top to bottom, left to right: 200_ Thomas Mobile Command Center; 200_ Thomas Field Operations Command Unit; 200_ Chevrolet/Hackney support vehicle; 200_ Chevrolet Silverado hazardous devices unit and bomb disposal trailer; 200_ Ford/Matthews Specialty Vehicles box truck for the bomb squad; armored response vehicle of unknown make and model (Lenco?); and a Navy surplus tractor used for towing a trailer with barricades. Next question, what are some of the notable former vehicles that have served? Blog 101 recalls a pair of former RFD rescue units over the years. There was also an old armored car, painted very dark blue. Also a dark blue school bus, maybe three-quarters length. What others? Click to enlarge:


+ 5 - 2 | § ¶
1991 Chevy/Frontline Rescue as Police Unit
Here's something you don't see every day, a former Raleigh rescue truck as a special police unit. This 1991 Chevy/Frontline rescue truck was disposed to the police department in 2000, after it was replaced by one of two 1999 Freightliner/MedicMaster "heavy ambulances." It originally served as Rescue 7, Rescue 21, and Rescue 19. Was used by the SEU, if memory serves. For those keeping score at home, it's the second ex-rescue to serve as such. First was a 1975 Chevy/Murphy ambulance and, coincidentally, also a former Rescue 7.
Photo by myself, taken along with other RPD special units when they were parked at the old ball field (e.g. Public Works facility) on West Street. (Now they're all indoors, inside a big building near Wake Forest Road and Six Forks Road.) That was probably around 2002. We've been overdue for a better scan of this print, and here it is. Click to enlarge:


+ 3 - 6 | § ¶
Multi-Generational Firefighting Families?
Inspired by participants in the Hibernian pub posting comments, how many multi-generational firefighting families do we have in Raleigh and Wake County? From my research in Raleigh, five (!) three generations have served in the Raleigh Fire Department since 1912:
Taylor
Henderson Taylor (1930-1941)
Capt. Henderson B. Taylor Jr., retired (1953-1981)
Firefighter Timothy B. Taylor (1986-1990)
And to which Tim's son Tyson is presently a career firefighter with Fuquay-Varina FD. Four generations!
Ray
Driver Joseph L. Ray, retired (1955-1976)
Capt. J. Stan Ray, retired (1971-1996)
Capt. Kenneth C. Ray (1997-present)
Hodges
Capt. Jerry K. Hodges, retired (1966-1995)
Capt. Craig C. Hodges (1983-present)
Firefighter Christopher C. Hodges (2010-present)
Ellis
Firefighter/Mechanic James C. Ellis (1950-1976)
Capt. J. Wayne Ellis (1973-1996)
Lt. Josh J. Ellis (2000-present)
Brown
Capt. Titus L. Brown (1971-2005)
Capt. Donnie L. Brown (1990-present)
Firefighter Donnie L. Brown II (2012-present)
+ 3 - 4 | § ¶
Session Laws of North Carolina
Ready for another research aid? Try this one, from the State Library of North Carolina, from their Online Collections shown on that page, from their Digital Collections site, from their North Carolina State Government Publications Collection. With me so far?
Let's look at the Session Laws, which are available from 1817 to 2009. These are texts of the laws passed in the state. They were originally bound in book volumes. They've been digitally scanned and indexed.
Why in the world would you want to search the state's session laws, you ask? Good question, my friend.
Well, let's say you've found a historical reference to an old fire company. Some crazyguy's web site—he wears Hawaiian shirts even in the winter!—says something like "Rescue Steam Fire Engine Company receives charter from General Assembly. February 24, 1870." And you'd curious what that legislation looked like.
Visit the aforementioned Session Laws site and open the 1869-1870 Private laws. (The laws are divided during some years into Private/Public and Local/Public.) After a few seconds of churning, a bound version of the laws is displayed. And the thing is searchable! Enter "rescue" and click Search. The matched word is first located on Page 14, and shows the "An act to incorporate the Rescue Steam Fire Engine Company, number one, city of Raleigh" on "Page 59." Find the page and enjoy the text. (If the interface has a learning curve, go slow. Or get your ten year-old son/daughter to help you.) Take screen captures, or save the page(s) as PDF, or even the entire book (!) as a PDF document.
How cool is that?! Here's the Rescue Company charter, by the way. Click to slightly enlarge:


+ 4 - 2 | § ¶
Year in the Life of a Highland Park Helmet Cam
Found via Statter911 via Huffington Post, here's a Friday morning video treat. This is an eight-minute compilation of helmet cam clips from Highland Park (MI) firefighter Scott Ziegler (who posts his clips to YouTube as HPZ1542). They show the dramatic reality of a year in the life in their shots. Highland Park is located within the city limits of Detroit. It's a three-square mile city with a population of about 12,000 people. In recent years (decades?) it's experienced severe economic difficulties, as well as growing fire problem. The city's fire department has also been impacted by budget cuts over the years. Among the fires seen in the video is the burning of their former headquarters fire station. See that structure and other historic Highland Park fire stations in photos of mine. (Here's a tour of Detroit's historic firehouses.) Enjoy the virtual ride-along.



+ 4 - 2 | § ¶
But Where's Mater?
Found on Facebook, apparently originating on the P_ss.Myself.Laughing page. That's pretty funny right there.


+ 3 - 2 | § ¶
Surveys and Research Reports on Charlotte Fire Stations
From a reader, here are some nifty web-based architectural surveys and research reports about historic Charlotte fire stations. They're from the Charlotte-Mecklenburg Historic Landmarks Commission. Thanks for sharing, Jeff!
And here's Mr. Blogger's histories of those and other historic Charlotte fire stations. Written for the web a few years ago. See also these photos from 2005 and 2008.
And for an interactive map of Charlotte's current fire station locations, see this FDmaps.com page. That's a big damn fire department.
+ 3 - 2 | § ¶
News & Observer Index, 1926-1992
Heard about this one yet? The State Library of North Carolina has scanned and mechanically transcribed the typed index cards used by librarians to index News & Observer articles from 1926 to 1977. They've then added the records that were directly entered into a database after 1977. The whole thing's on the web, and easily searched. The disclaimer is that it's not a database or articles, nor can individual articles or dates be searched. Instead, you're searching index cards. From there, proceed to a library with N&O archives, and you can retrieve the stories. In Raleigh, those locations include the NCSU library, the Cameron Village library, and Olivia Raney Local History Library. View the News & Observer index.

+ 5 - 1 | § ¶
Chris Perry Named as New Zebulon Fire Chief
Great news to report. Zebulon Town Manager Rick Hardin has selected Christopher C. Perry to be the next Zebulon Fire Chief. He will assume his duties on March 1, 2013. Chief Sidney Perry, absolute relation, will be retiring February 28, 2013. Chris Perry has been a member of Zebulon FD since 1986, when he joined as a volunteer. He was hired the town's first full-time firefighter in 1990. He was promoted to Captain in 1992 and to Assistant Chief in 1998. He has held that rank since that date.
Chief Perry worked for Wake County Fire Services from 1992 to 2008. He was one of the original three members assigned to WC1, and later supervised the program. His last position was Chief Deputy Fire Marshal, responsible for WC1 and fire department assistance. In 2008, he moved to Johnston County and was hired as Fire Marshal. In 2010, he was promoted to Asst. Director of Emergency Services. The position still included his role as Fire Marshal.
He's also currently serving as the Second Vice President on the North Carolina Fire Marshal's Association, and has served on the board of the Wake County Firefighters Association for three terms. Congratulations, my friend!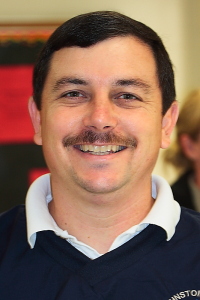 + 1 - 3 | § ¶
Mike's Blog Tips
Taking a cue from a discussion on this thread about last week's fire, here a handful of tips on how to be a better blog participant. These also apply to any online forum, as well as Facebook. Use 'em when composing status updates or responses to status updates.
Tip #1 - Compose yourself elsewhere. Open a text editor program, or Microsoft Word. Use that program to create your comment, then copy and paste into the blog window, or web form, or what have you. You'll get the benefit of any built-in spell checker. You'll have a bigger canvas for writing, e.g. a larger screen. That larger screen-- bigger window-- will help you with, say, carriage returns. You'll recognize if you've written any long or unwieldy blocks of text. (And if the blog screen times out, or something doesn't "take" when click SUBMIT, you've still got a copy of your original words.)
Tip #2 - If you change your mind, act accordingly. It's doggone easy to click, type, post and within the space of a few seconds. Blink and you've added two cents on blog or board or Facebook. But if you have second thoughts-- minutes or hours or days later-- there's no shame (in my opinion) of altering your course. If it's your board-- or you're on Facebook-- you can delete your comment or original posting. (If it's received a lot of traffic or responses, it might be a glaring "undo." But you do what you have to do.) If you've posted a comment on this blog, and you have second thoughts, you have a couple options. First, you can mail me and say "hey, thinking about it more, can you delete my comment?" Or post a second time, with a clarification, a retraction, an apology, an explanation, etc.
Tip #3 - Take it seriously, but not too seriously. Maybe that should be reversed, since a sense of humor-- and/or a sense of perspective-- is paramount to effective communication and relation with other humans. But at the same time, treat your words and what you say as an extension of yourself and your thinking. And without you as a physical participant-- without body language or facial expressions or voice tone-- the words are all we'll have to go on. And if you're anonymous, the burden of clarity is even greater. The reader won't have a "person" in their mind, to add context or experience to the words you've written.
Tip #4 - When talking with firefighters online, expect them to talk like, well, firefighters. For better or worse, blogs and boards and Facebook conversations can resemble a virtual day room. Just be cautious if there are "women or children" virtually passing by, for a station tour or what have you.
What tips would you add?
+ 2 - 4 | § ¶
Course Helps Morrisville Firefighters Handle Stress
The Cary News is reporting this week about Fire Chaplain 101, a Morrisville-based non-profit organization founded in 2010 to provide training for fire department chaplains. They've extended their training to firefighters and in November they launched a day-long seminar. Topics included suicide awareness, stress management, cultural diversity, and living wills. Morrisville was one of the group's pilot locations, notes the story. The seminar is available to fire departments across the state. Read the entire story.



Aliana Ramos/News & Observer photo
+ 3 - 1 | § ¶
Three Sticks on the Home Page
Some shameless self-promotion. See the current firehouse.com home page for a photo story of mine, from last week's fire at the Hibernian. Same photos, plus incident summary. Guess the weather gets a chunk of credit for the photogenic atmospherics...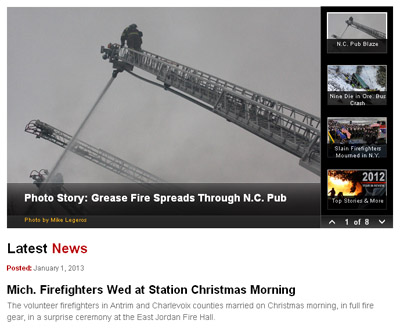 + 5 - 6 | § ¶
UPDATED Before The Days of Civil Service Protection
January 1, 2012
Here's the state law (PDF) enacted on March 1, 1935. The passage of the bill ended the practice of patronage hiring for city firemen and policemen. The bill was titled "An Act to Create a Civil Service Commission for the Fire Department and Police Department of the City of Raleigh and to Provide the Necessary Machinery and Rules for the Organization and Operation of Said Civil Service Commission and [Fire and Police] Departments." Among the provisions were:
Creation of a five-member Civil Service Commission.
Commission granted full charge of hiring and dismissing members of the fire department.
Competitive examinations were now required for employment.
Promotions would be made by the Fire Chief, with approval of the commission.
Appointments to Fire Chief would be made by the Public Safety Commissioner, also with approval of the commission.
Dismals required cause, and included the opportunity for an open hearing to defend the charges.
Political activity other than exercising the right to vote was prohibited.
October 29, 2012
On Saturday, one of my history book activities was researching the biographies of Raleigh's fire chiefs. A couple newspaper articles about Jack Keeter, chief from 1955 to 1973, provide a peek into the hiring and firing practices before the days of civil service protection. ('Tis a timely topic, as the Raleigh Fire Department has been conducting testing of firefighter applicants in recent days and weeks.) Said protection was implemented in 1935, after a bill was introduced into State Senate on April 6, 1933, by Wake County Senator John W. Hinsdale.
Upon ratification of the legislation, Raleigh firefighters would be hired or fired not on the basis of political patronage, but instead by a (proposed) three-member Civil Service Board. For hiring, competitive exams would be open to all eligible people. (That is, all white persons. The exact language: "all white persons possessing the rights of suffrage and meeting requirements prescribed by the board.) Notices of examinations would be posted two weeks prior. And on the other side, firefighters "liable to dismissal" had the opportunity of a public hearing before the board at least ten days after notice of such charges.
No longer were firefighters subject to being hired or fired, based on the outcomes of elections. Keeter's biography provides some examples. He was worked for auto dealer Carl L. Williamson, after moving to Raleigh in 1928. (Keeter came from Rutherford County to see the State Fair and never left.) When Williamson ran for Public Safety Commissioner (in 1931?), Keeter worked for the campaign. (The Commissioner was one of three who ran the city.) When Williams was elected, he rewarded Keeter with a job in the fire department.
But such political patronage cut both ways. Retired Captain Jack Crabtree-- speaking at the time of Keeter's death in 1978-- recalled in 1933, when Jim Brown defeated former police chief Wynder Bryan for Public Safety Commissioner, eighteen firemen lost their jobs because they supported Bryan. Two of the "lucky ones" were Crabtree and Keeter. The latter was rewarded with a promotion to Lieutenant. (Did every firefighter have to support someone in these races? Was it optional, and you rolled the dice? If your guy one, you'd maybe get favors??)
READ MORE