+ 3 - 2 | § ¶
Picture of a Picture of a Picture
How many photographers do you see? That's Main Street, USA, and specifically Warrenton, NC. The parade was the world's record attempt on Saturday, as part of the annual Warren County Fireman's Day. Read that recap, and see those photos as they're slowly getting posted.


+ 3 - 1 | § ¶
See You in Emmitsburg... Somewhere
Travelling this weekend to Emmitsburg, MD, to work as a volunteer at the National Fallen Firefighters Memorial Weekend. This is my first real visit to the memorial, which is located on the grounds of the National Emergency Training Center, also known as the National Fire Academy. Yours Truly will be assisting the social media team, and serving as a photographer for still shots and maybe video that's transmitting during the weekend. Due to the pending possible federal government shutdown, the logistics of the weekend are still in flux. This morning, the National Fallen Firefighters Founding is moving its operations off-campus. That will ensure operational continuity in the event that the campus (and the memorial grounds) are closed. Eighty-one firefighters will be honored this weekend. Below is this morning's press release. See you there, somewhere.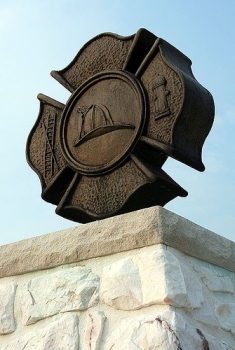 READ MORE
+ 2 - 1 | § ¶
Vintage Advertisement - Atlas Water Supply Apparatus
Back in the day when fire trucks were built in Raleigh. This one was displayed on the back cover of Hose & Nozzle magazine of November/December 1977. Here's a prior post about Atlas (including another ad) from last year. Click to enlarge:


+ 1 - 4 | § ¶
The New Chargers Are Here
The Raleigh Police Department's new Dodge Chargers have arrived, and are awaiting painting and lettering. Just a handful have been purchased, if memory serves. Here's a preview of same, along with some now-painted Ford Explorers that should be soon hitting the streets. Pay no attention to the lurking man in the Hawaiian Shirt. Click to enlarge:


+ 3 - 4 | § ¶
Reporting From Warrenton
Here's a preview of my photos from Warrenton, where a world's record was attemped for longest fire engine parade as part of the annual Warren County Fireman's Day. Alas, they weren't able to secure enough trucks for the thing. Hearing that about 120 pieces of firefighting (e.g., can pump or could pump) apparatus appeared, with about 144 total fire department vehicles. Was probably the event's longest parade to date, howver, and it made a splendid start to the day's activities. The parade was followed by firefighter games at the Warren County Recreational Complex.
Saw apparatus from as far away as Mecklenburg and Craven counties. Plus trucks from closer environs, including Wake, Durham, Johnston, and Nash counties. Plus an appearance by Raleigh's 1905 American LaFrance steamer, with the legendary fire service instructor Capt. Wilbert "Tramp" Dunn (retired Raleigh Fire Department) in the saddle. We'll keep an eye on FireNews.net for the inevitable recap from their area buff and photographer John Franks.
What's the story on the light blue apparatus? That's Soul City Fire Department, which we've blogged about before. (They also had a red-and-white pumper in the parade. Was bought from another department and a repaint is pending.) How many pictures did the Hawaiian Shirt Guy take? Total count was 1,376. Have reduced by half, but still culling the keepers. Give me a day or so to get those posted. See this short set of preview pictures. Watch for tons of more photos and probably a few videos from other folks, including the one below.


And here's a twenty-eight minute video by Jason Thompson, watching the whole the thing from across the street from the fire station:
+ 4 - 2 | § ¶
See You in Warrenton
World's record attempt at world's longest fire engine parade. Starts at 11:00 a.m. See you there.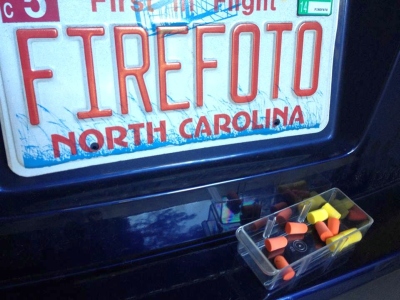 + 3 - 3 | § ¶
Video Tour of Durham Fire Station 2
Posted on YouTube this week, here's a nifty educational video from the North Carolina School of Science and Mathematics. Forensics (!) instructors Candice Chambers and Amy Garrett take a tour of Station 2 in Durham, with Firefighter Mike Shaffer as their tour guide.



+ 4 - 5 | § ¶
Sherman Pickard on State Fire Training - November 1957
Here's another blast from the past, courtesy of Hose & Nozzle magazine from November 1957. Here's Shermand Pickard, Director of Fire Service Training for the North Carolina Department of Insurance, talking about a statewide program for training volunteer firefighters at the local level. For anyone with ties to the Raleigh Fire Department, that name and face are particularly familiar. Shermand Pickard was appointed as the city's thirteenth Fire Chief on March 3, 1986.
He had previously served for nineteen years as Director of Services for the North Carolina League of Municipalities. He was a native of Greensboro, and raised in Burlington. He joined the Burlington Fire Department two years after graduating from high school, and was a member from 1949 to 1955. He left the department as Director of Training. He was hired by NCDOI as director of fire and rescue service training. He was also a volunteer fireman in Garner during the 1960s. Click to enlarge:

+ 1 - 3 | § ¶
Raleigh Fire Department Hiring in October
The Raleigh Fire Department will be hiring in October. The application process opens October 1. Visit the recruitment web site on that date for application materials. You can also get information at any Raleigh fire station or at the Keeter Training Center, 105 Keeter Center Drive. They'll be hiring for Recruit Academy 39. Click to enlarge:


+ 1 - 2 | § ¶
Eastern Wake's New Fire Chief
David L. Cates has been appointed as the new Fire Chief/Administrator of Eastern Wake Fire Rescue. He took office on August 1. Chief Cates is a veteran firefighter and longtime fire instructor. He entered the fire service in October 1987, as a volunteer of the Parkwood Fire Department in Durham County. He served for almost fifteen years, as a volunteer, resident volunteer, part-time firefighter, and Board member. He held ranks including Captain and Training Captain. His first "real job" was selling ambulances and fire engines with Emergency Apparatus Inc. from 1990 to 1993.
He became certified as a fire instructor in 1993, with course instructor Greg Grayson. He was hired as a curriculum instructor at Wilson Community College in 1994. Cates worked as an instructor until 2013. During that time he completed the Masters Degree program from Oklahoma State University, with a Masters in Political Science with specialization in Fire and Emergency Services Administrator. He holds a Bachelor's Degree in Business Management from North Carolina State University. Go Pack.
Cates moved to Wake County in 2002, and started volunteering at Western Wake Fire Rescue in October 2002. He was appointed Assistant Chief in early 2005, and as Fire Chief in January 2007. During that period he has served on the Wake County Fire Commission. Chief Cates is forty-six years old. He's married and has three children, all boys. He affectionately calls them his Chief and his engine company.



Lee Wilson photo
+ 2 - 1 | § ¶
Schedule for Saturday in Warrenton
There's a heck of an apparatus parade planned on Saturday in Warren County. For the occasion of the thirtieth annual Fireman's Day, they'll attempt to break the world's record for longest fire engine parade. They'll need over 220 pieces of apparatus to make a new record. The estimated ninety minute parade will start at the fire station in Warrenton and continue for two miles north on Main Street/Warren Plains Road. The Grand Marshal will be North Carolina Insurance Commissioner and State Fire Marshal Wayne Goodwin. The parade will be followed by a firefighter compeition at the Warren County Recreational Complex. Read more in this FireNews.net story, which includes contact information. There's still time to enter! Here's the schedule for Saturday. Look for Mr. Blogger and maybe Mrs. Blogger there.
07:30 – Staging Area Opens (Warren County Armory)
07:30 – Apparatus Judging Registration (Mariam Boyd School)
07:30 – Breakfast available by Chick-Fil-A (Warrenton Rural VFD)
08:00 – Apparatus Judging Begins (Mariam Boyd School)
10:30 – Drivers Meeting (Warren County Armory)
10:45 – Apparatus Move-Up from Staging Area to Parade Starting Line
11:00 – Parade Starts. Guinness World Record attempt.
12:45 – Competition Team Captains Meeting (Warren County Recreation Complex)
13:00 – Firefighter Competition (Warren County Recreation Complex)
17:00 – Awards Ceremony after completion of competition
+ 2 - 1 | § ¶
Garner Places Fifth Staffed Company in Service
From the Garner Fire Department's Twitter feed, they've placed their fifth staffed company in service today with Rescue 1: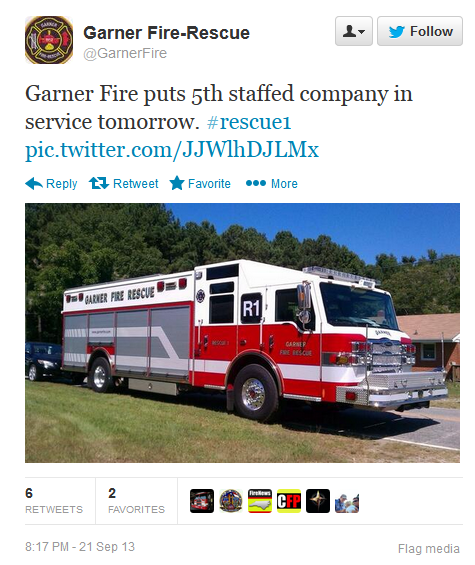 + 2 - 0 | § ¶
Raleigh Chamber Names Raleigh Officer "Hero of the Year"
Here's a News & Observer story about yesterday's Greater Raleigh Chamber/Wells Fargo 2013 First Responders Appreciation Breakfast, during which members from Wake County fire, EMS, law enforcement, and emergency communications agencies were honored. Raleigh Police Department Officer Mike M. Harmon was honored as Hero of the Year. He was wounded last year when he encountered an armed murder suspect in Northwest Raleigh. The ceremony was held at the Marriott City Center. The guest speaker was Raleigh Fire Chief John McGrath. See also this News 14 story. Here's what should be a full list of those that were honored:
Outstanding Service Awards
Captain S. Scott White (Raleigh FD)
Senior Officer Mike M. Harmon (Raleigh PD)
Deputy Anthony Locklear, Deputy Jim Martin (Wake County SO)
Christopher Walker, Mark Andrews, Andy Hill (Wake County EMS)
Trooper Joshua Cockerham (NC SHP, Troop C, District III)
Hero of the Year
Senior Officer Mike M. Harmon (Raleigh PD)
Friends of First Responders
Barry Doyle, Barry's Cafe
+ 4 - 4 | § ¶
UPDATED: 1944 Diamond T Pumper
September 21
Reader Chad Simon recently found this rig parked outside Loop Road Auto Parts in Garner. Same was purchased from the auction mentioned in the below prior posting. Owned by current or retired employee of the store. The Diamond T pumper has a 1944 chassis with 1945 adds-on. Thought to have served in the Lynchburg, VA, area. Click to enlarge. Thanks Chad!


June 25
Look at the lines on this beauty, a 1944 Diamond T pumper as photographed by Lee Wilson at a classic car auction at the State Fairgrounds this weekend. See more photos from Lee. Or see a couple other shots on this auction site. No idea where the truck originally served.



Lee Wilson photo
+ 2 - 2 | § ¶
UPDATE #2: Wake County Eyes Upgrades to 911, Radio Systems
September 21
The Wake County Fire Commission this week received an update on this project. To recap, the current 800mhz radio system that's used by public safety agencies will no longer be supported by Motorla beginning in 2016. This was announced by them in 2008. The county thus created a master plan that year, identifying planning needs. The county engaged consultants in 2011 to assist in evaluating replacement options. The report was received in early 2012.
Three options for a next step were determined: (a.) continue radio system partnership with State Highway Patrol, (b.) form a radio system partnership with town of Cary, or (c.) create independent radio system for Wake County. The project's steering committee subsequently eliminated the Wake-only option. They presented their findings to the Board of Commissions on September 9. Their recommendation was a partnership with the town of Cary.
Meaning, all agencies that use the county radio system (which includes the city of Raleigh) would use the same radio system as the town of Cary. As was explained on Thursday night, operational benefits would included the ability to share (correct?) talkgroups. Presume that Cary and Raleigh/Wake County would continue to operate separate communications facilities. See those slides (PDF), which include some nifty maps.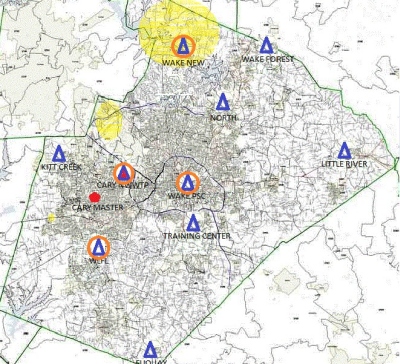 READ MORE
+ 3 - 1 | § ¶
Re-Uncovering Hidden Raleigh
About a decade ago, Yours Truly commenced an exploration of interesting things around town. Notably these were buildings or structures or infrastructure of historical nature. Some things still standing, some things long-gone. The pictures and maps and notes were posted to a site called Hidden Raleigh. And nothing much more was done. Fast-forward to present day (catch your breath, please), and Photo Boy is back on assignments. Urban exploration of the Capitol City has resumed, and the results are being posted to this Flickr collection. (Disclaimer: Said project is subject to cessation at any time. The perils of juggled hobbies.) See if you recognize these three places: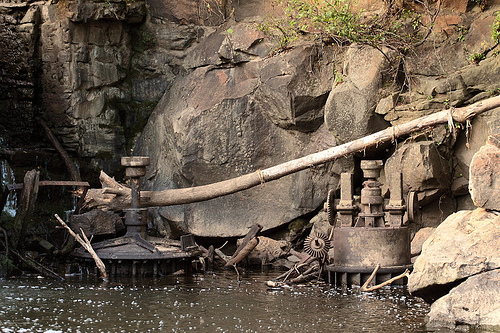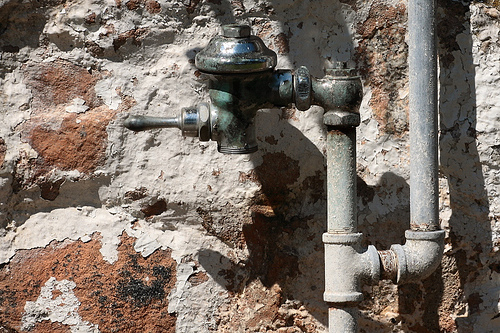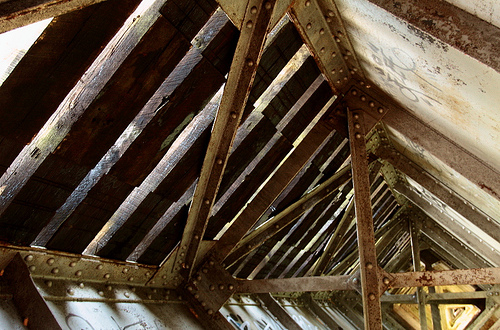 + 3 - 1 | § ¶
Future of This Blog (Platform)?
Any web heads here? I'd love some input on the future of this blog's platform. That is, the software that runs the thing. Presently, I'm using Pivot 1.40.5 or something. Prior version of Pivot X. Way old. Manual everything. Stores as flat files. Thousands of entries dating to 2009. It's a bit fugly, and certainly lacks such useful bells and whistles as tag clouds, Facebook integration, and SQL storage. The time is ripe for an upgrade or a replacement. Here some options I'm considering:
Upgrade to Pivot X, which requires SQL, and which is still manual-everything. But, get this, Pivot X is no longer being developed. That team's doing something now called Bolt.
Skip Pivot X and investigate Bolt.
Switch to Wordpress, which everyone seems to love. Manual installation again, but way more automated in operation. Lots of great features there.
Consider the Fire/EMS blogs platform/system/site, if they'd have me. Their IT does the heavy lifting. But would have to have ads.
Second question in here:
You like starting fresh, with no imports of old content? Just link to the old site and let those old entries remain live?
Or import everything (if it can be done), and kill the old blog.
Meet the new blog, same as the old blog.
Thanks for any perspectives.
+ 1 - 0 | § ¶
USFA Firefighter Fatality Report For 2012
The U.S. Fire Administration (USFA) has released their 2012 annual report on firefighter fatalities. Some stats that they note:
Includes 42 volunteer, 28 career, and 11 wildland agency firefighters.
Four multiple firefighter fatality incidents claiming a total of ten firefighters.
Fifteen firefighters died in duties associated with wildland fires.
Emergency incident activities resulted in the deaths of 45 firefighters.
Twenty-two firefighters died while engaging in activities at the scene of a fire.
Seventeen firefighters died while responding to or returning from 16 emergency incidents.
Eighteen firefighters died as the result of 14 vehicle crashes, including POV, apparatus, and air crashes.
Heart attacks were the most frequent cause of death with 39 firefighter deaths.
Eight firefighters died while they were engaged in training activities.
Twelve firefighters died after the conclusion of their on-duty activity.
Nine of last year's firefighter fatalities in the report were from North Carolina, which tied with Pennsylvania as the highest in the country:
Jan. 8 - Samuel Butler Sr, Fire Chief, age 52, Evans Crossroads FD, MVA
Jun. 10 - Donald L. Suggs, Asst. Chief, age 55, Summerville Bunnlevel FD, cardiac
Jul. 1 - Paul K. Mikeal, Lt. Col./Pilot, age 42, NC ANG, air crash
Jul. 1 - Joseph M. McCormick, Major/Pilot, age 36, NC ANG, air crash
Jul. 1 - Ryan S. David, Major/Navigator, age 35, NC ANG, air crash
Jul. 1 - Robert S. Cannon, Sr. Master Sgt./Flight Engineer, age 50, NC ANG, air crash
Nov. 3 - John M. Hall, Deputy Fire Chief, age 48, Clarkton FD, cardiac
Nov. 5 - David M. Tatum, Lieutenant, age 55, White Oak FD, illness
Nov. 6 - Walter M. Summerville III, Fire Chief, age 55, Kernersville FD, cardiac
+ 2 - 4 | § ¶
UPDATED: Upcoming Events - September/October
Saturday, Sep. 14
Day with Raleigh Fire Department (and Raleigh Fire Museum), Keeter Training Center, 105 Keeter Center Drive, 10:00 a.m. to 2:00 p.m. Read that press release.
Friday, Sep. 20
Greater Raleigh Chamber/ Wells Fargo First Responders Appreciation Breakfast, Raleigh Marriott City Center, 7:30 a.m. to 9:30 a.m. See web site.
Tunnels to Towers "Never Forget 9/11 Mobile Exhibit", PNC Arena, Raleigh, 11:00 a.m. to 7:00 p.m. News & Observer story.
Saturday, Sep. 21
Durham Highway Fire Department Public Safety Day, Leesviille Road High School, 8409 Leesville Road, Raleigh, 10:00 a.m. to 2:00 p.m. Facebook page.
Tunnels to Towers 5K Run and Walk, PNC Arena, Raleigh, 9:00 a.m. Web site.
Tunnels to Towers "Never Forget 9/11 Mobile Exhibit", PNC Arena, Raleigh, 12:00 noon to 4:00 p.m. News & Observer story.
Saturday, Sep. 28
Bailey Fire Department 65th Anniversary Celebration, includes open house from 10:00 a.m. to 4:00 p.m. and firefighter games. Bailey, NC. Facebook page.
Hopkins Fire Department Community Day,

8933 Fowler Rd, Zebulon,

11:00 a.m. to 3:00 p.m. Facebook page.
Warren County Fireman's Day including attempt at breaking world's record for longest fire truck parade. Warrenton, NC. Parade starts at 11:00 p.m. Fireman's games follow. Facebook page.
Sunday, Sep. 29
Stony Hill Fire Department open house, Station 1,

7045 Stony Hill Road, Wake Forest, 2:00 p.m. to 5:00 p.m.
Saturday, October 5
Garner Fireman's Day, Garner Fire Station 1, 503 W. Main Street. 11:00 a.m. to 7:00 p.m. See web site.
Morrisville Fire Safety Day, Park West Village Target, Bristol Creek Drive, 10:00 a.m. to 2:00 p.m.
Tuesday, October 8
Zebulon Night Out, Zebulon Municipal Complex, Arendell Avenue, 6:00 p.m. to 9:00 p.m.
Saturday, October 12
Creedmoor Fireman's Day, Main Street parade at 2:30 p.m., Brunswick Stew Dinner following parade at South Granville High School. See web site.
Fuquay-Varina Fire Department Open House, Station 1, 301 S. Fuquay Avenue, 10:00 a.m. to 3:00 p.m. See web site.
Parkwood Fire Department Barbecue Cookoff, Station 1, 1409 Seaton Road, Durham, 12:00 p.m. to 7:00 p.m. See web site.
Friday, October 18
Brogden Fire Department (Johnson County), barbecue and bake sale.
Sunday, October 20
Bay Leaf Fire Department Station 1 grand opening, 11713 Six Forks Road, Raleigh, 2:00 p.m.
+ 1 - 1 | § ¶
Seaside Heights Boardwalk Fire Footage, 1955
This video was surfaced last week by Statter911. Compare this film footage with what you watched of last week's Seaside Heights fire. What a difference a half-century makes, and, yet, doesn't. Wind looks stronger, or much stronger. What's that, gale force at times? (Yes, they were 50 mph winds!) Minimal fire apparatus and what looks like a handful of hose streams. Curious camera operation. The thing never stops moving! This NBC10 story recounts the blaze of June 9, 1955. The fire destroyed three blocks of the Seaside Heights boardalk. Eighty-five buildings were lost and with an estimated $4 million in damages. Here are some more links about the fire from the Seaside Heights Volunteer Fire Company Museum. (And a neat site itself!) Google for more historical perspectives.



+ 2 - 1 | § ¶
Your Morning Hot Shot
As posted to FireNews.net , that's a strong image from Bob Bartosz of what's left of a tractor-trailer near mile marker 144 on Interstate 95 on Friday. Red Oak and Battleboro fire departments responded. Interstate highways can make for some good shooting, though scene safety and situational awareness are mandatory. Timing is also crucial as getting there can be no small feat. Once traffic starts backing up, you're often, well, hosed. See more photos and read more about the incident.



Bob Bartosz/FireNews.net photo
+ 2 - 2 | § ¶
CORRECTION: Wake County Fire Commission Meeting - September 19, 2013
September 17
Corrected location. This meeting will be held in the Wake County Office Building, 337 S. Salisbury Street, in Room G31.
September 15
The next meeting of the Wake County Fire Commission is Thursday, September 19, at 7:00 p.m. The location is the Wake County EMS Training Facility, in the lower level of the Wake County Commons Building, 4011 Carya Drive.
Agenda
Call meeting to order

Invocation
Roll of Members Present

Items of Business

Approval of Agenda
Adoption of Minutes for July 18, 2013 Regular Meeting
Radio System Replacement Update

Regular Agenda

Consider support for Recommended Amendments to Fire Protection Agreement Section 20, Standardcs of Performance
Consider support for Recommended General Amendents to Fire Protection Agreement

Information Agenda

Apparatus Committee Update
Facilities Committee Update
Compensation Committee Update
Fire Training Center Update
Fire Tax Financial Report
Chair Report
Fire and Emergency Management Director Report

Other Business
Public Comments

Comments from the public will be received at the time appointment by the Chairman of the Fire Commission for 30 minutes maximum time allotted, with a maximum of three minutes per person. A signup sheet for those who wish to speak during the public comments section of the meeting is located at the entrance of the meeting room.

Adjournment - Next Meeting November 21, 2013.
+ 1 - 2 | § ¶
Naval District Washington Fire Department
Here are a couple Associated Press (AP) photos from yesterday's active shooter incident at the Navy Yard in the District of Columbia, and showing the multitude of apparatus and emergency vehicles that were likely there. The top-shot is particularly well-composed. The ladder truck and engine are from the Naval District Washington Fire Department. According to this Federal Fire Departments blog post, the Central Division of the NDWFD has three firehouses: Station 1 at Bolling AFB (E41, T21), Station 2 at Washington Navy Yard (E42), and Station 3 at Naval Research Laboratory (E43, HM43). Other units in the photo include a mobile ambulance bus, which may be from Arlington County, VA. from DCFD. There's also a Metropolitan Police armored vehicle, with an interesting roof-rack or assembly. What's that for, second-story rapid entry? (See this Flickr image of the unit from Mike Cole.) We'll look for a run card for the incident.



AP photos
+ 4 - 0 | § ¶
Fatal Fire Pit Explosion in Fayetteville
This Fayetteville Observer story has details on the fatal fire pit explosion on Saturday night. One person was killed and four people were injured when an explosion occurred at a fire pit in the driveway at 6544 St. Louis Street. The blast occurred about 8:30 p.m. and when some seven adults and ten children were sitting around the pit.
The resulting shrapnel killed an adult male, 28 years old. He was pronounced dead the scene. Three other adults and one child were transported to Cape Fear Valley Medical Center with non-life threatening injuries. Others also received various injuries, it appears, but were not transported. Damage to surrounding property included a Ford Taurus parked nearby that was heavily damaged.
No cause has been identified by officials, though it is believed to have been accidental. Neighbors described the explosion as sounding like an artillery blast from Fort Bragg. See also this second Observer story. Next question, what are fire pits, how do they work, and how dangerous are they? Perhaps one of our readers will tackle that one.
+ 3 - 3 | § ¶
New Wheels For District 5
Cary EMS has placed a new District Chief's vehicle in service. This 2013 Chevrolet/SSV was activated on Friday, September 13. The prior unit, a 2008 (?) Ford, has been placed reserve. New and old are shown top and bottom. Slight differences. See more photos.


Lee Wilson photos

+ 1 - 2 | § ¶
Starting Them Young
Scene from Saturday afternoon at the training center, where the Raleigh Fire Department and the Raleigh Fire Museum presented a "Day with the Raleigh Fire Department." The event was scheduled during the museum's regular second-Saturday-of-each-month opening. There were apparatus displays, museum tours, and activities for children. That's a booster line from Mini 2, with the always popular "knock it down" attraction. (Wetting an officer's helmet is a crucial skill to be mastered early.) Large time was had by all. Hope to hold again next year. Thanks for everyone's help. See more photos.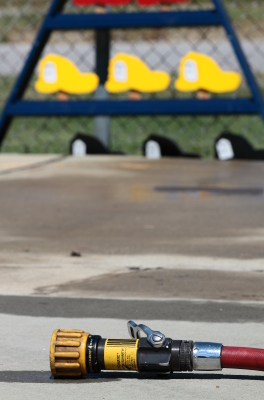 + 4 - 0 | § ¶
Firefighters as Police Against Dangerous Drivers?
These stories have been making the rounds, about a recent decision by the North Carolina State of Appeals, about a case involving the encounter between an erratic (and as charged later, intoxicated) driver and a Chapel Hill fire engine. The details of the incident and the subsequent case are detailed in the links below. In the larger matter of "what are the rights of firefighters, when they intervene or outright attempt to apprehend dangerous drives," FireLaw blogger Curt Varone posts a host of intrigue questions on the matter, from "does a firefighter have the legal authority to use red lights and siren to stop a civilian vehicle?" to "can a firefighter be held liable to a third party killed or injured by a dangerous driver, if had the means to stop them but failed to stop the vehicle?"
Read about the case. Discuss as desired.
+ 1 - 4 | § ¶
Grain, Grain or Ladders Last Night on Blount Street
Ladder action on Blount Street last night at the Cargill plant. Fire in a grain dryer, extinguished by sprinkler system. Ladder 7 and Ladder 1 4 shown on the Blount Street side of the tracks. Two hydrants were also caught and supply lines charged on the street. The railroads (plural?) were notified so any trains would be halted. Dispatched at 8:45 p.m. Units on scene included E1, E3, E13, E2, L7, L2, L4, R1, Squad 14, B2, B3, A1, C20, C420, C401, EMS 1, EMS 19, D4. Some of those had been released by the time your crack fire photographer arrived and shot his first photo at 9:20 p.m. Wonder how many notable fires have happened at that location? Recall two alarms on October 24, 2002. And a fire in the silo a couple years later.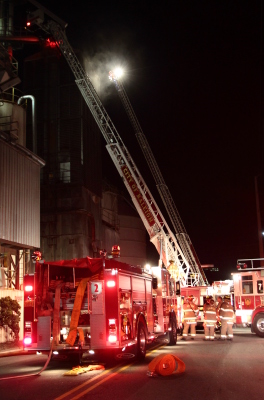 + 2 - 0 | § ¶
Wohoo! City Directories Available Online!
One of the best resources for historical research is now available online. A century's worth of the state's city directories have been digitized and made available from the North Carolina Digital Heritage Center (NCDHC). The collection features 939 directories from 108 cities in 64 counties, from 1860 to 1963.
What are city directories? These were hardcover books that listed every resident of a city, including their address, phone number, spouse's name, and occupation. They also listed businesses, as well as aspects of the local government. Such as the fire station locations, and even the company officer's name. See this posting showing some directory pages from Raleigh, from early decades.
There was also a street index, that listed the residences or business at each address, along with cross streets. Thus allowing a reverse search of "who lived" or "what was located" at a particular address or on a particular street, during a particular timeframe. (See this posting about using same to learn when a business moved after a fire.)
They also contained "yellow page" style business listings, which in more recent decades, contained such categories as "ambulance services" (see this posting) and "fire departments." (Old phone books are an equally good source in this regard. Unsure if they're archived online. Here's a posting about that.)
I've used the Raleigh directories in ways as simple as verifying that someone was a member of the fire department. Such as when finding a new name in a historical roster. I'll check the directories over several years, as a way to approximate when the person was listed with a career of "city firefighter." Not an exact science, mind you, but still helpful.
These digital archives will take some getting used to. The research process isn't as speedy as, say, having a shelf of the physical books to rapidly look through. But a physical trip to a local library is no longer required. That's the huge benefit, as collections of city directories are typically only found in a local library. Want to research Wilmington. Then travel to Wilmington. (The big universities may have multi-city collections, however. That's probably how the digital collection was created.)
My best advice for commencing usage? Download and store the PDF versions to your local computer. Rinse and repeat for every year that you want, and for each city that you want. Then access from your computer. Way faster.
Below are some examples of these directories. See if you can guess the year (ha) or era for each. Top to bottom is Wilmington, Charlotte, and Salisbury. Big thanks to Mrs. Blogger, who surfaced to me the news of this great new digital collection.

+ 1 - 2 | § ¶
You Might Be Having a Bad Day...
...if you see this approaching your front door. That's an armored vehicle operated by the Wake County Sheriff's Department. Built by Lenco and probably of recent model year. Was displayed at the Wake Tech Public Safety Campus on Wednesday, September 11. It and other local emergency vehicles were displayed as part of an event celebrating fifty years of the school's public safety training. See more photos.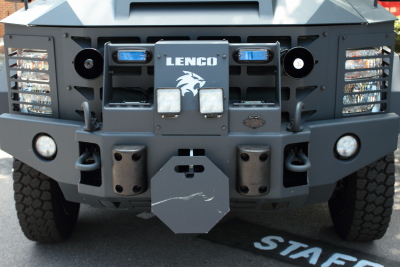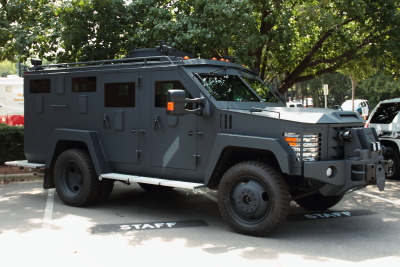 + 2 - 2 | § ¶
The Story of East Side Squad 246
FireNews.net has posted a nifty video story about the East Side Fire Department in Randolph County. Their heavy rescue truck, originally operated as Rescue 1 in Elizabeth, NJ, served at the World Trade Center after the terrorist attacks of September 11, 2001. East Side FD operates the truck as Squad 246, out of one of three stations that serve areas south and east of Asheboro. The rig is well-described on this ESFD web page:
Squad 24[6] is a 1998 Spartan Saulsbury which was commissioned to be built in January 1998 by the Elizabeth, New Jersey Fire Department. Elizabeth specified a completely custom designed 3 door aluminum Spartan cab. It is powered by a 470 horsepower Detroit Diesel mated to an Allison 4060 transmission. Once the cab was completed, it was shipped to Saulsbury in New York state to have the body built and mounted. The body is made out of 10 and 12 gauge stainless steel with stainless supports. The truck was then fitted with R.O.M. roll up doors. It took approximately 18 months to build and it was placed in service as Elizabeth Rescue 1 in June of 1999. Rescue 1 was the primary rescue for the city for the next 12 years and saw lots of action. Most famously, Elizabeth Rescue 1 served at the World Trade Center in the hours and days immediately following the terrorist attacks on September 11, 2001.
As the story notes, the department identified the need for a new truck in 2011. They didn't even half the amount of a new truck, so they bid on that truck up north. Their bid was $55,000 and they won the the thing. Fire Chief Eric Hoffman and Capt. Richard Lambe claimed their prize in January 2012. They discovered that their new rescue truck was (a.) a monster and (b.) in desperate need of TLC. There was dirt and rust and things that didn't work. They slowly drove the thing back to town, and their department began the slow process of restoration. The process took ten months, and is documented in these photos. Next question, how many other ex-NY/NJ rigs are serving in our state, and that also saw service on 9/11?
Read/watch the FireNews.net story.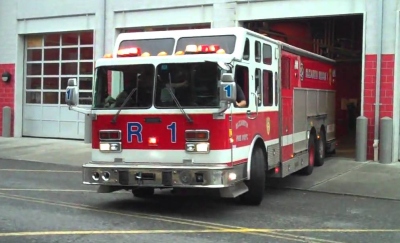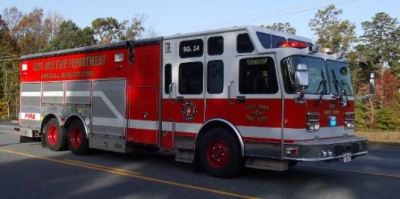 + 3 - 2 | § ¶
Today is September 11

Share your reflections as desired.
+ 2 - 2 | § ¶
Update on Bay Leaf Station 1
The Bay Leaf Fire Department is occupying their new Station 1 this week. Either today or tomorrow at the latest. Several punch list items remain to be completed over the next few weeks, including removal of the temporary facilities behind the station. Plus grading and adding concrete to the rear of the project. The grand opening is Sunday, October 20, at 2:00 p.m.
The two-story facility is fully sprinklered.1 The 16,407 square-feet includes administrative staff officers (Fire Chief, part-time Administrative Assistant, shift Captains), four bedrooms (with three beds per room), exercise room, conference room, training/community room, day room, kitchen, IT room, decon room, radio room, and a maintenance shop. There are seven apparatus bays, and built-in training props.
On September 3, the fire department transitioned to a new staffing plan. They now have a twenty-hour crew of three at Station 1, with a part-time member on weekdays and volunteer duty-crew members on weeknights and weekends. Station 2 is staffed with a four-person career crew from 9:00 a.m. to 4:00 p.m. Weeknights and weekends are still staffed with a volunteer duty-crew. Station 3 is a volunteer station with no staffing. The new staffing plan utilized the same number of employees, with no new positions.
Station 1 was previously staffed with three daytime career crews including one twenty-four position. Lee Wilson swing by the station last week and took this photo. See more shots. Thanks to Bay Leaf Fire Chief Tim Pope for the information. Looking forward to a tour!



Lee Wilson photo
1The two-story fire station is still a rarity in our area. Apex #3. Bay Leaf #1. Holly Springs #1. Raleigh #1, #3, #6. Others? And how many firehouses also have sprinklers these days?
+ 6 - 2 | § ¶
Vehicle Versus Building on Charles Drive
This happened around corner from Blog Central on Monday. Sport-utility vehicle versus apartment building on Charles Drive. Engine 16 responded. No injuries. Scene tape deployed. See more photos.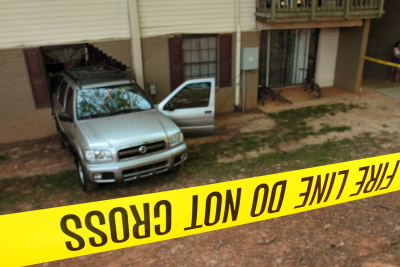 + 2 - 2 | § ¶
Wilmington Firefighters Memorial Dedication, Wednesday, September 11
The Wilmington Firefighters Memorial will be dedicated tomorrow at 6:00 p.m. The memorial is located at Station 2, at 3403 Park Avenue at Empie Park. The station opened last year on the site of a former fire station. The memorial has been constructed to honor the seven city firefighters who have died in the line of duty, and the 343 firefighters of New York City who perished on September 11, 2001. Its centerpiece is a steel artifact recovered from the rubble of the World Trade Center. Firefighters have been working around the clock, getting the site ready for tomorrow. The project still needs money. They're about $25,000 short on the total funds required. Pavers (walkway sections inscribed with text) can still be purchased on the memorial web site. Or see their Facebook page for the latest updates and photos. Here's an artist's rendering of the site: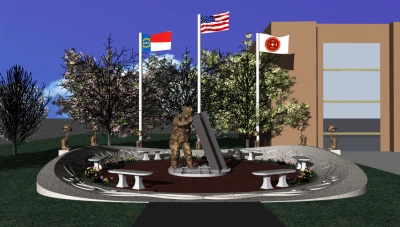 + 2 - 0 | § ¶
Wake Tech Public Safety Special Event, Wednesday, Sep 11
Wake Tech Community College is holding a special event oN Wednesday, September 11, to celebrate fifty years of their public safety education programs. The event will be held at the Public Safety Education Campus at 321 Chapanoke Road in Raleigh, from 11:30 a.m. to 1:00 p.m. Click to enlarge:


+ 2 - 1 | § ¶
Boston Globe < Statter < Legeros
The recently published Boston Globe article "Plenty of firefighters, but where are the fires?" opens with:
Is there such a thing as too many heroes?

Walking past a neighborhood fire station can be one of the most deeply reassuring experiences of city life—a reminder that there are people in our midst ready to pull on their helmets and stride into danger whenever and where something goes wrong.

But as a recent Globe story reported, city records show that major fires are becoming vanishingly rare. In 1975, there were 417 of them. Last year, there were 40. That's a decline of more than 90 percent. A city that was once a tinderbox of wooden houses has become—thanks to better building codes, automatic sprinkler systems, and more careful behavior—a much less vulnerable place.
Dave Statter at Statter911 responded with "How Do You Fight The Concept of 'Too Many Heroes?" His posting opens with:
As we know, the economists and statisticians over the last decade have been presenting a different view of firefighting that has been embraced by a lot of jurisdictions across the country. The findings of the academics are often pushed forward by those who believe in smaller government and/or large reductions in the taxes we pay.

For some departments it has meant a reinvention into what this article by Leon Neyfakh in the Ideas section of The Boston Globe calls "all-purpose urban response squads". Other departments have been able to mostly hold the line and continue in the roles defined by the long tradition of firefighting. But many of those are doing so with a lot fewer firefighters and resources.

Whether we like anything in this article or not, it is the reality of the 21st Century and a force that most departments have dealt with or are dealing with in some form or another. Being prepared to address all of these issues is a crucial role of labor leaders and the modern fire chief, whether career or volunteer.
Legeros offers this response, posted via Facebook:
This is complicated stuff, I think, because firefighters are both (a.) everyday/every-hazard service providers, and (b.) an insurace policy for the community. The former is the most visible piece, and maybe the easiest for editorial and social commentary. So easy to just run with change-based speculation or scenarios. Change truck sizes. Change station locations. Change response types. Change staffing. Change saturation. Etcetera.

This gets further complicated, I think, by a couple truths of the fire service. First, the majority of the public doesn't really or fully understanding what the fire service does, and why it's important. There isn't the priority or saturation of public education or fire service marketing that could help on this front. It's getting better though, and digital imagery and social media are vastly improving the ability of communities to "know about" their firefighters. Second, something goes here. [ Hey, it's early. Got distracted by my closing paragraph. ]

So it's complicated, when those outside are looking inside and with ideas of change. And yet, they're the ones with the keys to the kingdom. They're the elected officials and the taxpayers, and the people who paying for/supporting the service that they benefit from.

This all makes me think of Harry Carter's crystal ball predictions last week, http://tinyurl.com/ng5dwkb. He offers a vision where fire suppression operations are rare, and firefighters or the fire service is performing "full service" fire-prevention projects, public education, and property inspection. A future where even more fires are prevented, and even fewer fires are fought. Okay, maybe a really far future. (Though some countries are doing that already, no? Isn't that the ethos of the fire service in Japan?) Yeah, I know. Change. Scary.
+ 3 - 1 | § ¶
Wake County Fire Department News - September 8, 2013
Apex FD has started a Flickr site, and are experimenting with posting photos to same. Any other fire departments using Flickr around here?
Bay Leaf FD is nearly finished with their new Station 1. They'll have an open house on October 20 at 2:00 p.m. They also placed a full-time crew in service at Station 1 on September 3.
Also noted in a prior posting, Bay Leaf FD has started using Twitter. Their handle is @BayLeafVFD.
Durham Highway FD's annual Public Safety Day is Saturday, September 21, from 10:00 a.m. to 2:00 p.m. See Facebook page.
Eastern Wake FD has hired David Cates as their new Fire Chief. He's a veteran fire service instructor and Fire Chief at Western Wake FD. He announced his resignation last week.
Knightdale FD is hiring for firefighters. The job opening was posted on September 3.
Morrisville FD has moved their new rescue truck to Station 2. The 2013 Spartan MetroStar/Rescue 1 was delivered in June. It's staffed with two people.
Raleigh FD will begin hiring next month for their next recruit academy. Applications will be accepted during the month of October. Watch their recruitment site.
The Raleigh FD and the Raleigh Fire Museum are hosting a "Day with the Raleigh Fire Department" at the training center on Saturday, September 14, from 10:00 a.m. to 2:00 p.m. Read that press release.
Also on Saturday, September 14, Raleigh Fire Explorer Post 108 will hold their banquet dinner and fireground simulation. The event starts at 6:00 p.m.
The Raleigh FD also recently (or a bit longer ago) redesigned their web site. Really nice collection of information about the department's services and its organization.
Stony Hill FD has their annual open house on Sunday, September 29, at Station 1. The event is from 2:00 p.m. to 5:00 p.m.
Wake Tech Community College will hold a 9/11 commemoration in Room 1425 on the Public Safety Education Campus on Wednesday, September 11, from 11:30 a.m. to 1:00 p.m. See this web site.
Wendell FD is one of four Wake County fire departments receiving 2013 International/KME tankers, along with Bay Leaf, New Hope, and Wake Forest. See this prior posting.
+ 4 - 3 | § ¶
Cloudy Versus Sunny
Morrisville's Rescue 1 as photographed at Station 2, under partly cloudy (top) and sunny (bottom) skies. Makes all the difference in the world. And explains why some of our well-known expert apparatus photographs (cough, cough, Lee Wilson) decline to shoot apparatus until cloudy conditions pass. These were shot with a Canon 7D with 100 ISO in RAW format. Auto white balance, standard picture setting, and only sharpness added.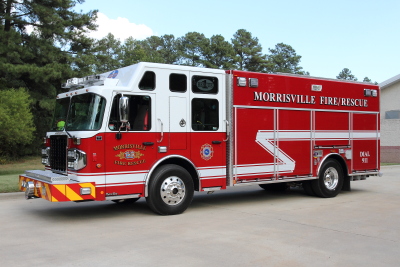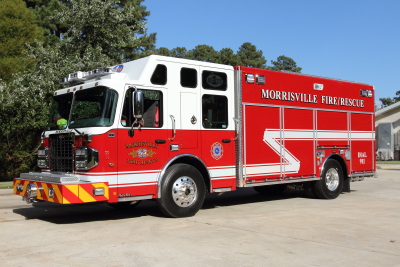 + 2 - 1 | § ¶
Day with the Raleigh Fire Department and Raleigh Fire Museum, Saturday, Sep. 14
Press release. On Saturday, September 14, from 10 a.m. to 2 p.m., the Raleigh Fire Museum and the Raleigh Fire Department will present a "Day with the Raleigh Fire Department." This outdoor event will be held at the Keeter Training Center, 105 Keeter Center Drive in Raleigh.
This free event for the public will include tours of the Raleigh Fire Museum, which is located in a classroom building at the training center. The museum is a collection of artifacts and images representing over 150 years of firefighting in the Capitol City.
Live demonstrations of firefighting equipment will be conducted during the day, along with behind-the-scenes tours of the training center including the six-story drill tower. Fire apparatus will be displayed for exploration, and fire safety materials will be available. Learn about this year's theme for Fire Prevention Week in October: Prevent Kitchen Fires.
Visitors can also learn about careers with the Raleigh Fire Department. Applications for the position of Firefighter will be accepted in October. Free food will also be provided at this all-ages event, with hot dogs, popcorn, and sno-cones.
This event is jointly sponsored by the City of Raleigh Fire Department and the Raleigh Fire Museum.
The Raleigh Fire Museum is a 501(c)(3) charitable organization that works to preserve and present the history of the Raleigh Fire Department and the men and women that have served and supported the organization. The museum is open on the second Saturday of each month, from 10:00 a.m. to 2:00 p.m. Learn more about the museum and the organization at www.raleighfiremuseum.org.
For more information on "A Day with the Raleigh Fire Department", please contact Asst. Fire Marshal Tim Henshaw at 919-996-6392. View this press release at http://www.raleighfiremuseum.org/news/2013-09-07.html.
+ 2 - 3 | § ¶
Flickr and Twitter
Been fiddling around with my Flickr site lately. New additions include...
Plus one new photo collection:
Watch for more additions, as am planning updated photos and explorations of these Hidden Raleigh sites.


Also been busy on Twitter. Follow me, baby, it's easy! @legeros
My types of tweets are:
Notifications of posted photos to www.legeros.com/firepics
Notifications of blog posts to www.legeros.com/blog
Notifications of videos posted www.youtube.com/legeros
Other stuff, on very rare occasion. Not much of a retweeter or commenter. Have tweeted the occasional web story that I've enjoyed, or posted a real-time photo of something. Need to use the thing more.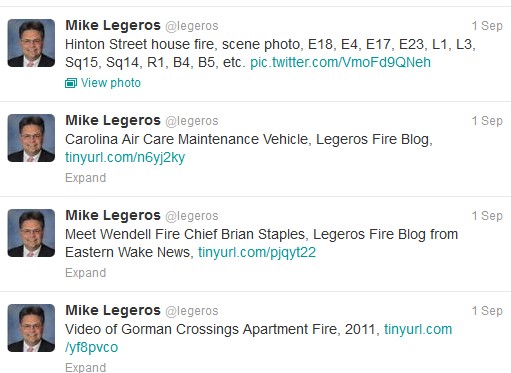 + 3 - 3 | § ¶
Meet Brustus
Also photographed by Lee Wilson this week is "Brustus," a five-ton M35 (?) military truck converted to a brush truck by the North Carolina Forestry Service. The truck's motor and the pump are dated circa mid-1980s. Same was received by the New Hope Fire Department in 2010, and was last photographed by Lee in November 2012. The thing's been since painted more thoroughly. See a couple more photos.
The apparatus was obtained through a program where excess military property is provided to fire department through the forestry service. Here's a federal web site about the program. (There's also this state web site, which isn't just short 'n' sweet.) Recently the Apex Fire Department also received such a truck. What other departments in our area are operating such vehicles? Military conversions have a long history in Wake County, as they served as the first units and first tankers for most or maybe all of the rural-serving fire departments in our county.



Lee Wilson photos
+ 1 - 1 | § ¶
Wendell and New Hope's New Tankers
Photographer Lee Wilson this week photographed two of the new tankers recently delivered in Wake County. The 2013 International/KME tankers-with-pumps (500/2000) were delivered to Bay Leaf, New Hope, Wake Forest, and Wendell fire departments. A fourth and final is awaiting delivery to Wake Forest. Wendell Tanker 117 and New Hope Tanker 10 are shown below. What apparatus are these replacing? Let's let readers report on that. Second question, for you number-ologits. How many tankers are serving in front-line service in Wake County? Twenty-some? More? See more photos.



Lee Wilson photos
+ 3 - 1 | § ¶
Bystanders Rescue Wilson's Mills Police Officer From Burning Car
Here's a nice story from WRAL about a group of people who rescued a Wilson's Mills police office late Sunday morning. They came upon his patrol car in a ditch on Wilson's Mills Road about 11:00 a.m. As shown in this cellphone video, smoke was coming from under the hood. Flames were reportedly spotted under the car, as the growing group of people worked to pry the car door open. The removed the dazed officer, who suffered no serious injuries, and was recovering at home on Monday.



Kathy Hoffman/WRAL photo
+ 3 - 6 | § ¶
Last Night's House Fires
Early-evening thunderstorms and super awesome heavy rain brought predictable problems around Raleigh and Wake County. Flash flooding struck in all the usual places, such as Glenwood Avenue near Millbrook Road in Raleigh. The total rainfall in Capital City was just over an inch. According this WRAL story (with numerous viewer photos), Louisburg won that bet with 2.7 inches of rain. There was one water rescue in Raleigh, in the 8500 block of Glenwood Avenue. Stranded motorist(s). Numerous lighting strikes were reported, and working fire house fires happened in Raleigh (Hinton Street), Garner (Tavernier Knoll Lane), and Fuquay-Varina (Judd Parkway).
In Fuquay-Varina this morning, an abandoned house burned on Judd Parkway behind the Walmart. The was reported just before 3:00 a.m. Fuquay-Varina, Holly Springs, and Fairview fire departments were on scene. Apex FD was also dispatched, but returned to service. Three firefighters were transported, two with heat-related injuries and one with a back injury. All injuries were minor, and all three have been released. See this WNCN story. Readers can add incident details.
In Garner last night, units arrived at 1405 Tavernier Knoll Drive and found heavy fire in the attic of a one-story, wood-frame residence with 2,081 square-feet. Built in 2008. Two additional engines and three additional tankers were soon requested, so we'll call this a second-alarm equivalent. Units on scene included Garner E3, E9, E5, Tanker 7, Tanker 12, R1, B1, Fairview E2, E8, Tanker 6, Tanker 7; Fuquay-Varina E3. The fire was reported around 8:30 p.m. (correct?). No news reports have surfaced so far. Readers can add incident details.
Also last night in Raleigh , Engine 18 was dispatched to a medical call at 2505 Hinton Street around 9:10 p.m., and instead found a working house fire. Flames erupted from the attic of a two-story, wood-frame structure with 3,304 square-feet, and built in 1992. Crews made their way inside, while Ladder 1 was deployed. Once the aerial stream started, the fire was quickly contained. Units on scene included E18, E4, E17, E23, L1, L3, Sq15, Sq14, R1, B4, B5, A1, C20, C420, C401, EMS 6, EMS 22, EMS 35, D4. (Was a "normal" run card, compared to the west side-wide dispatches and detours of two hours earlier.) See more photos and a very short video from Mike Legeros.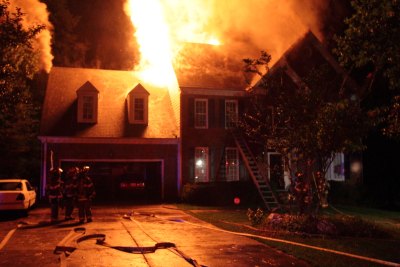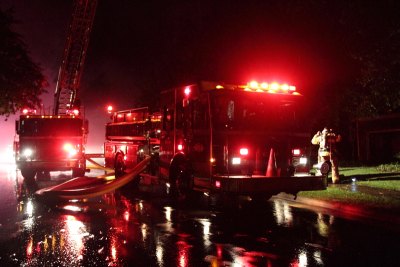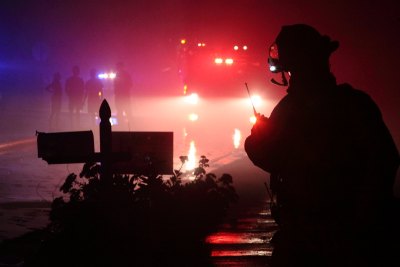 + 4 - 2 | § ¶
Carolina Air Care Maintenance Vehicle
Saw this on Saturday, parked at their facility at Raleigh-Durham International Airport. The building is a former Wake County EMS station, built by the airport in 1997. Currently houses a pair of CAC ground units. Housed EMS 6 until late 2005. The unit was removed from airport-area service. (UNC moved into the facility in January 2006.) Six Forks EMS later installed an airport-area unit, in an airport-owned warehouse on Mt. Herman Road. After the disillusion of SFEMS in 2011, the county placed EMS 34 in service at the location. (See related posting.) The original airport-unit, EMS 6, operated at the old airport manager's house, which was located about a quarter-mile north on the right side of Airport Boulevard. Placed in service at that location in December 1990. See more photos of the CAC facility, plus a few other airport explorations.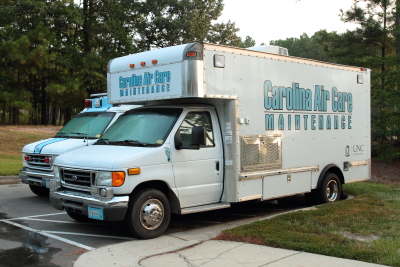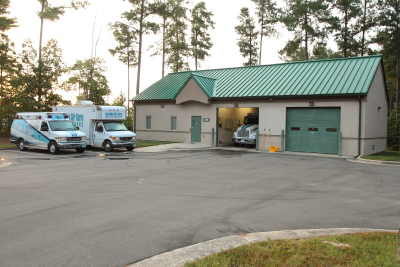 + 3 - 2 | § ¶
Video of Gorman Crossings Apartment Fire, 2011
You've probably figured out my pattern for these postings. Random YouTube searches on "Raleigh fire" or "Raleigh apartment fire" or such. Found this one this morning. From two years ago, the two-bagger at Gorman Crossings Apartments on July 19, 2011. Here's our blog posting about that incident, complete with forty-one comments including tactical smack. (Write a letter on that moderator, he must've been out to lunch..) Unsure why we haven't come across this video before. The fire happened as Mr. Blogger was driving to Baltimore for the Fire Expo. That's a suitable excuse. This video by Jeremy Gilchrist is 5:31, was shot from Division A, and includes citizen commentary. Anyway, expect cameras. Everyone has them and more than few people are posting to YouTube. Just read comments are your own peril. You can't un-see something once you've seen (or read) it. (That's is, Mike? The best you've got on this subject? Yes, feeling succinct this morning.) Watch the video.