+ 4 - 0 | § ¶
History Book - Some Photos
For your Saturday morning enjoyment, here are some historical photos lately compiled for the Raleigh Fire Department Centennial History Book, currently in production. There are part of the specialty pages we've previously posted about. Exciting stuff, and great fun for Yours Truly. This is my fourth book project, and they become pretty fun after the initial heavy lifting. (And in curious five-year cycles. The Arcadia books starting in 2002, the 95th anniversary book in 2007, and now now.) Learn more at www.facebook.com/rfd100book.
Left to right, top to bottom: call box, circa 1977; CSR team trains, 1993; original SAED from 1993; station gong, circa 1925; USAR 801 at Station 25; RPFFA's 1948 Mack at Ted Calvert's funeral, 1990; auxiliary firefighters demonstration, 1942; Ladies Auxiliary gets chartered, 1957; cutting the rug at the Fireman's Club, circa 1979; Photo Unit's annual report cover, 1992; Honor Guard at naturalization ceremony, 2009. Click once or twice to enlarge:

+ 1 - 1 | § ¶
Responders, Photographers (!) Honored at Appreciation Breakfast
At the Angus Barn this morning, Raleigh and Wake County first responders were honored at the fifth annual First Responder Appreciation Breakfast. Hosted by the Greater Raleigh Chamber and sponsored by a number of businesses, the event recognized and honored the efforts of fire, law enforcement, emergency medical, and emergency communication agencies, including Wake County EMS, the Wake County Sheriff's Office, the Raleigh-Wake County Emergency Communications Center, the Raleigh Fire Department, the Raleigh Police Department, and Troop C, District III of the North Carolina State Highway Patrol. Click to enlarge:


Raleigh/Wake County Emergency Communications Center Director Barry Furey (shown above) provided the keynote speech, and spoke eloquently (and humorously) about the men and women who do the work of emergency services. Hero of the Year nominees were introduced from the above agencies, and moving stories were told of their dedicated work. Such as the State Trooper who stopped a wrong-way vehicle on the Beltline, and who subsequently named Hero of the Year. (An earlier version of this posting incorrectly identified the winner as Raleigh/Wake ECC nominee was Call Taker Heather Corbett. She was a nominee, and the state's 911 employee of the year, as this WRAL story noted.)
Also receiving an award, were citizen photographers (and more) Mike Legeros and Lee Wilson. (And with Yours Truly seated at a VIP table down front. Yikes.) They received this year's Friends of First Responder award, as presented by Marty Clayton of Progress Energy. He read a short statement about the pair, which is included below. [ Read that, then come back here. ] Thank you as always, my friends, for the pleasure and privilege of serving those who serve. You're a good family to be part of. Click to enlarge:

READ MORE
+ 2 - 1 | § ¶
September Episode of FireWatch
The September episode of FireWatch is available for viewing online. This month's episode celebrates the tenth anniversary of the show. Original host, retired Fire Educator Jan Parker, returns to talk about her time on the show. They take a trip back to September 2002 for a few highlights, watch an old segment with Bonnie Woodruff, and talk about the future of the show. FireWatch airs on the RTN-11 cable television channel on Monday (12:30 p.m.) Friday (11:00 a.m.), Saturday (11:30 a.m., 6:30 p.m.) and Sunday (2:30 p.m., 8:30 a.m.). Or view archived episodes of FireWatch. (Also check this page, and scroll down about halfway, for links to all past episodes.)

+ 0 - 2 | § ¶
Raleigh Fire Department Hose Company Badge
Bought this on eBay last week. Gold cap badge about two inches high. Reads "Hose Co. No. 1" and "Raleigh F.D." Should date to between 1913 and 1926. The former's the year the first motor apparatus was delivered. By the latter year, the city's hose companies were called engine companies. Who would've worn such a badge? Good question. Given the gold color, presumably a company officer?
Now for a harder question. Is it authentic? That one's a good question. Haven't seen on of these before, though this being a cap badge, it would've been harder to notice in photos. Could be a one-off, maybe a badge that an individual member had made for themselves? Or maybe it's from a different Raleigh Fire Department? The seller was located in PA. How many other towns or cities are named Raleigh? Maybe readers know. Meanwhile, it makes for a good mystery.


+ 2 - 0 | § ¶
Bay Leaf's New Temporary Fire Station
This temporary fire station is under construction behind Bay Leaf Fire Station 1 at 11713 Six Forks Road. Two bays for two engines, and a trailer for living quarters. The current station building, opened in 1983, is being replaced.
The temporary quarters should be completed and occupied by mid-October. Two engines will stay there. The station's other apparatus has been moved to Station 2 and Station 3. And their boats were moved to Durham Highway's fire station, believe they said.
The replacement facility has been planned for years. Designed by Stewart-Cooper-Newell, it'll be a two-story fire station with four bays, six sleeping rooms, and an outdoor deck that doubles as a training platform. Read this earlier posting from October 2011.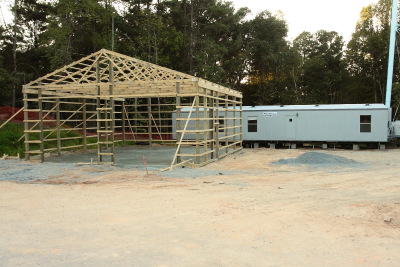 + 0 - 2 | § ¶
Junker
Lee Wilson photographed this old International pumper this week, located on Highway 421 near the town of Harrells in Sampson County. See more photos.



Lee Wilson photo
+ 3 - 1 | § ¶
Wakestone Gardens, January 5, 1994
Here's another major fire from the city's more recent history. Wakestone Gardens at 3917 Lassiter Mill Road, which was right at the Beltline, but a lower elevation than street-level, if memory serves. Two alarms on January 5, 1994, dispatched at 10:09 p.m. Took about two hours to control. The two-story (two-story?), 6,000 square-foot main building was destroyed. Here are a couple photos recently found. First by local photographer Gregory Wiggs, found in the files at Station 9. Given to the crew. They were first-due. Second are a pair of recently researched photos from the News & Observer, by ____ Thomason. They also make good comparison of night photography techniques. Looks like Wiggs was shooting with ambient light, while Thomson fired a flash. Entirely powerful flash, it seems! Also have a scanned print, somewhere, of a darker shot of Ladder 16 flowing. If memory serves or as the stories go, it was the last time the 1979 Mack/1958 American LaFrance tiller was used. No time to dig that out. Click to slightly enlarge:



Gregory Wiggs photo



News & Observer photos
+ 0 - 2 | § ¶
Q&A: Glenwood Towers
Question from a reader, regarding 509 Glenwood Avenue. That's Glenwood Towers, the city housing authority's high-rise for seniors. Built in 1971, the 12-story (?) building has 297 units. Or say tax records.
Q: I live downtown, off of Glenwood Avenue. After not having a scanner since my teens, I recently started listening to the Raleigh FD feed on the Radio Reference site. Listening has brought back one childhood memory: hearing the fire department dispatched to Glenwood Towers multiple times a day. Just in the last two hours I've heard three runs dispatched, and I'm sure that 509 Glenwood is the reason that I hear so many sirens when I'm at home.

My questions are: 1) Has there ever been a significant fire there? and 2) Has anyone ever looked to see how many times RFD is dispatched there every year? It seems like this has to be the most responded to address in the city, and Engine 13 might as well just move into an apartment.


A: You are correct, the fire department does respond to 509 Glenwood Avenue on a very frequent basis. (Though with less frequency as I recall when I rode Engine 5 in the early 1990s, when they were first due. During my few years as a firefighter.) And there other popular addresses that you'll hear, for calls ranging from EMS to fire alarms. Near my house, Engine 16 responds with regularity to a couple nursing homes. That is, they respond frequently. I cannot advise if the crew consumes a lot of fiber.

Regarding call counts, I am not in the loop with regard to "most responded" addresses in the current or a given calendar year. Maybe our friends at the ECC can cite some data. (And the percentage of fire versus EMS.)

Has there been a significant fire at Glenwood Towers? There was a two-alarm fire on December 27, 1990. Heater/air-conditioner on fire in a room on the seventh floor. One resident transported to the hospital. The second alarm companies were not utilized, and returned to service. As memory serves, that's happened a number of times over the years and decades. The response starts big or bigger, but is reduced as the severity of the situation drops.

Two alarms were struck on May 18, 1992. Engine 5 arrived, and Car 52 upgraded the call. Heavy smoke on the second floor, with fire found in an air-conditioning unit. I don't have any notes if the second-alarm companies were returned to service. They very likely assisted with smoke removal, other overhaul, and evacuation/re-entry of residents.

If memory (but nothing handy to cite) serves, there has been at least one fatal apartment fire at Glenwood Towers. But neither multi-fatality, nor multi-unit fires. If memory services. Nothing like, say, the Wilmington high-rise fire on February 15, 1983. That one killed three elderly residents and displaced more than 160. Read about that in a prior posting.

Anyway, here's a photo from May 18, 1992. Click to slightly enlarge:


+ 3 - 1 | § ¶
History Book - Retiree Pages
More about this project (see prior posting). One of the neater features of Raleigh Fire Department Centennial History Book are the retiree portrait pages. For the first time ever, we're including portraits of every retiree-- living or deceased-- since the beginning of the city retirement system in 1949. That's about 350 portraits, plus a few more as we find them. (Plus those not pictured, maybe 15 or 20.)
Couple things have made this possible. Digital publishing tools, for starters. We're able to scan the older commemorative books and produce reasonable quality images, where photographic original don't exist. Ditto for other lower-quality sources. Next is the extensive digging by Yours Truly-- conducted both during this project and in prior years-- that has yielded both pictures and picture data.
(The latter is the Centennial Roll Call, which Historian Mike Legeros has been building for years. Official records were incomplete, so he constructed his own master list. Didn't happen in a vacuum, mind you. Lots of data verification from paper sources. Lots of interviews and oral histories as secondary sources, to check and double-check and triple-check the data. Was such an effort that he's left sometimes talking in third person...)
We're still working on these pages and the portraits. Active and retired personnel are reviewing the captions, to ensure the right person is pictured and the right data is diplayed. We're still trying to find a few more photos, and trying to get portraits or head shots if at all possible. Versus cropped snapshots, which don't look nearly as good. We'll also have separate pages for those who died off-duty (Gone to Soon) and on-duty (Fallen Firefighters). Click to enlarge this sample:


+ 2 - 0 | § ¶
History Book - Specialty Pages
Mr. Blogger's big project is presently the Raleigh Fire Department Centennial History Book. We have monthly deadlines through the end of the year, at which point which we'll submit the remaining content for publishing. This month, the station personnel are finishing crew photos of themselves. Those'll appear on the station pages. While at History Central, the specialty pages are being built. Picking photos, obtaining high-res versions, writing captions for the photos, and writing introductory text for the page. Plus designing a conceptual layout that the designer can take and run with.
What are specialty pages, you ask? Those are both the disciplines-- USAR, haz-mat, EMT, rescue, etc.-- and the groups, such as Local 548, the Explorers, the old Ladies Auxiliary, etc. Even, cough cough, the Photo Unit. Plus a couple one-off histories, such as the fire alarm system and early communications. Here's a preview of what we'll send to the designer. Final product may be different. Your mileage may vary. Void where prohibited. Click to enlarge:


+ 1 - 1 | § ¶
Fatal Ambulance Accident in Monroe
Sandhills Ambulance Service Emergency Medical Technician Belinda Gale Rivers, 43, was killed Tuesday morning, when her ambulance was struck by a tractor-trailer truck in front of Carolinas Medical Center-Union on U.S. 74 in Monroe. The truck was traveling westbound on the highway when it collided with the ambulance, which had pulled into the roadway. The medical unit was based in Cheraw, South Carolina.
Rivers was riding in the passenger seat of the ambulance. She was pronounced dead at the scene. The driver of the ambulance, Jonathan Brown, was injured and was listed in stable condition at Carolinas Medical Center-Charlotte. No patient was being transported The truck driver was not injured. See these FireNews and Firegeezer stories, which include other media links such as WBTV and WCNC. There are numerous ground and aerial images from the scene.



WCNC-TV photo



WIST-TV photos
+ 0 - 2 | § ¶
Traffic Cam Captures Car Fire on 40
Department of Transportation traffic cameras (or camea, singular) captured this vehicle fire this afternoon on Interstate 40 just east of Interstate 540. Durham Fire Department arriving, with Morrisville Fire Department blocking. There's probably a solid six minutes between first and last frame. Click once or twice to enlarge:


+ 1 - 1 | § ¶
Everybody Loves a Parade, October 5, 1954
Photo research continues for the Raleigh Fire Department Centennial History Book. Here are some News & Observer images of Fire Prevention Week parade on Fayetteville Street in downtown Raleigh on October 5, 1954, with a 1950 Mack (Raleigh), 1936 American LaFrance (Raleigh), 1939/1916 American LaFrance (Raleigh), and 1954 International with shop-built trailer (Cary). Click to slightly enlarge:


+ 1 - 1 | § ¶
Close Hose and Sparkling Water
In the absence of flames or smoke, there are still many other interesting things to photograph on the fireground. This is a very close view of Engine 11 at a reported apartment fire on Sunbow Falls Lane last night. Working fire assignment dispatched due to multiple callers, including reported flames from one unit and people possibly still inside. Arriving unit found smoke showing, and burning material on a balcony. Quickly extinguished. Most units returned to service. See more photos by Mike Legeros. Was very dark, so external flash was paramount. Resulted in some interesting images, including the sparking water in the second shot. Top photo gets me thinking about macro photography. Wonder what some of this stuff would like like really close?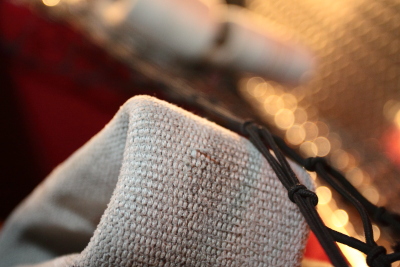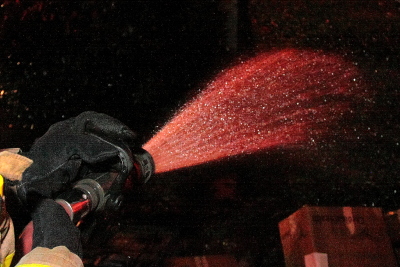 + 3 - 2 | § ¶
Yesterday's Apartment Fire in Clayton
The Clayton News Star has posted a pair of photos from yesterday's apartment fire at 500 West Main Street. Four families were displaced by the 1:45 p.m. blaze. Clayton, Garner, and Archer Lodge fire departments responded. That looks like Garner's ladder in the bottom photo. They're located at 503 West Main Street, just in another county. Run time says Google is 13 minutes, with 9.8 miles between the addresses. See also WTVD and News 14 stories.



Rebecca Putterman/Clayton News-Star photos
+ 1 - 2 | § ¶
Forest Fire Tower For Sale
From a reader as found on eBay. Get your very own 100-foot MC-39 Aeromotor Forest Service Fire Observation Tower from the early 1950s. Merely $28,000 via Buy It Now. Currently disassembled and stored in northern New York State. Ready to load and ship on or around end of January. Made of heavily galvanized and nearly rust free steel. Observation cabin at top measures seven by seven feet, and is made from galvanized sheet metal. Think of the possibilities! Airborne man cave! Sky-high deer stand! Neighborhood zip line! Just ignore that little voice inside your head that says "my wife would kill me." She'll be thrilled. Here's the listing. Go for it. Thanks for passing along, Bob.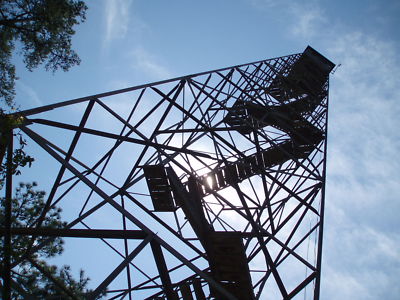 + 2 - 2 | § ¶
Old Beauties in Sampson, Johnston Counties
Photographer Lee Wilson captured these old beauties last week, while riding around Sampson and Johnston counties. Top to bottom is a former Knightdale engine, a 1979 Ford/Grumman serving the Garland Fire Department in Sampson County; former Angier-Black River engine, a 1974 Chevrolet/Howe serving Blackman's Crossroads in Johnston County; a 1965 Chevrolet/Howe, the first new engine purchased by Blackman's Crossroads. See more photos.



Lee Wilson photos
+ 2 - 0 | § ¶
Caption This Photo
This curious character was captured in action in June 2006, while Lee Wilson was photographing fire department activity downtown. (Members of NC USAR Task Force 8 repelling down the side of the Wachovia building.)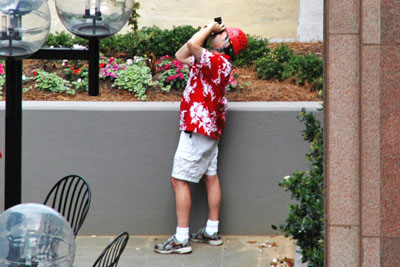 + 2 - 3 | § ¶
Residential Sprinkler System Demonstration in Wake Forest, Friday, Sep. 28
Press release. A demonstration of residential sprinkler systems will be conducted on Friday, September 28, at 9:00 a.m., at 6305 Mountain Oaks Way, Wake Forest, NC. This Raleigh Fire Department and the Stony Hill Fire Department have partnered to conduct this media event. This is a private dwelling with a sprinkler system installed. The purpose of the event is to the educate the public on the benefits of residential sprinkler systems.
Residential sprinkler systems have been proven to reduce fire damage and save lives. Prince Georges County, Maryland conducted a 15 year study on residential sprinkler systems. In the report the total fire damage in sprinklered buildings was $9,983 per incident compared to $49,503 per incident in non-sprinklered buildings. It is also worth noting that 101 fire deaths occurred during the 15 year study, none of which occurred in sprinklered buildings. Read their report.
The United States Fire Administration also endorses residential fire sprinklers. Their statistical analysis shows that dying in a fire is reduced by 69% when sprinklers are installed and when used in conjunction with smoke detectors that reduction increases to 82%. To learn about additional benefits including a reduction in homeowner's insurance premium for sprinkler systems, visit this web site.
District Chief Tony Bailey(Stony Hill) and Asst. Chief and Fire Marshal Peter Brock (Raleigh) will be available for media interviews at this event. See this document for contact information for Chief Brock.
+ 2 - 3 | § ¶
Water Supply Then and Now
Raleigh Fire Department hydrant connections then and now. Top photo is undated, probably early or mid 1990s. Bottom photo is Illeagnes Street on December 8, 2011. You've come a long way, baby. Click to enlarge:


+ 0 - 2 | § ¶
On What Date Did That Happen?
The question is often encountered during historical research. Such as a Raleigh Times story on Wednesday, May 28, 1986: "The law went into effect Sunday, but Capt. Bryant Woodall of the Raleigh Fire Department said hazardous chemical reports have been coming in for the past six weeks." Which date was Sunday? You can count backwards, of course. But what if you don't know the day of the week that May 28 fell upon. Visit the web site timeanddate.com for their calendar generator. Works like a charm.


+ 1 - 1 | § ¶
Knightdale Fire Department Open House, Saturday, Oct. 6
Here's another thing happening during the increasingly crammed Fire Prevention Week weekends. Knightdale Public Safety is celebrating their 10 year anniversary with a fire department open house on Saturday, October 6, from 10:00 a.m. to 2:00 p.m. Click to read this PDF flier:


+ 1 - 1 | § ¶
Stony Hill Fire Department Open House, Sunday, Sept. 30
Good times planned at Stony Hill Fire Station 1 on Sunday, September 30. Click to enlarge the below flier.


+ 1 - 2 | § ¶
Raleigh Fire Explorers in Action, 1991-1993
Here are some vintage shots of the Raleigh Fire Department Explorer Post 108 in action, from 1991 to 1993. They're some of the content being collected for the Centennial History Book that's in production. That's a limited edition thing, folks. Won't be in bookstores. Don't snooze and lose if you want one. Photos by Jeff Harkey. Numerous Explorers have pursued successful careers in Raleigh since the post's formation in 1985. See anyone you recognize? Click to enlarge:


+ 1 - 2 | § ¶
Fully Involved on Oak Island
FireNews.net has posted some dramatic photos from Mike Boswell via WECT, from a house fire on Oak Island on Tuesday. The vacation home was well-involved on arrival. There was nobody home. One firefighter was transported for smoke inhalation. See additional photos in the WECT story. The photog did a good 360 walk around. Looks like it was a windy one.



Mike Boswell/WECT photo
+ 3 - 1 | § ¶
UPDATE #2: IGA Grocery Store Fire - December 20, 1992
September 18
How about some pictures from Jeff Harkey, then a member of the fire department's photo unit. Have attempted to display these in chronological order, kinda sorta. Click to enlarge:


September 16
Extensive update to the incident description below, include correcting the times. Added narrative details, and included log book entries from most of the responding companies and units.
September 2
Doing some work this morning on our Raleigh Fire Department Centennial History Book. (Have you ordered yours?) This stunning image is one of two that'll appear on the front of the dust-cover. That's the IGA Grocery Store at 718 N. Person Street. Three alarms for that one. News & Observer photographer John Rottet took the photo. Click to enlarge:


John Rottet/News & Observer photo


What Happened
Here's an incident description. (Memo to self, also update my historical timelines) Sectors are 1 (front), 2 (inside), 3 (rear), 4 (left), 5 (right), 6 (roof), 7 (staging). Corrections and expansions welcome.
First Alarm

IGA Grocery Store at 718 N. Person Street.
E3, E7, T1, R7, C52 dispatched at 11:34 p.m.
Engine 3 arriving.
Smoke showing from rear of store around room-mounted air-condition units upon arrival.
C52 records heavy smoke conditions throughout and all around building.
Engine 3 declares Code 3, results in automatic dispatch of second alarm, and other operational steps.

Second Alarm

E4, E11, T11, R6, C51 dispatched at 11:39 p.m.
Crews attempt to force door in rear of building.
Two crews (with two hand lines) enter front of store at approximately 11:55 p.m.
Engine 3 supplies hand lines to front door.
Engine 11 supplies hand lines to Sector 5 (right of building).
Attack crew notices ceiling tiles on floor indicating fire overheard.
Volume of fire grows and moves to front of store.
Two crews inside unable to extinguish fire.
Command changes to aerial operations using three aerials.
Fire begins showing [outside of building?] at approximately 11:53 p.m.
Truck 1 (snorkel) positions to Sector 4 (left of building), supplied by Engine 7, and operates master stream onto roof.

Third Alarm

E16, E6, T16 dispatched at 12:07 a.m.
Crews ordered to withdraw from building at approximately 12:10 a.m.
Additional truck companies establish master streams at front and right side of building.
Engine 6 supplies Truck 16 for about two hours, from hydrant at corner of Franklin and Blount streets.
Hand lines required to cool apparatus from radiant heat.
Mansard-style canopy on three sides of building becomes fully involved and collapses into parking lot.

Rescue

Rescue 7 arrives on first alarm, helps with fire suppression. Notes Rescue 6 set up rehab.
Rescue 6 arrives on second alarm. Assists with entry, suppression, overhaul, rehab.

Continued at bottom of post
Other Photos
There have been others that we've seen, such as this one by Jeff Harkey, then a member of the department's photo unit. Believe that photo appeared in Firehouse magazine. And here are three more News & Observer images. Scroll down the page. Don't have photo credits for those.


Other Fires
This was the last (or one of the last) grocery store fires (fully-involved) in the city. There have been earlier ones. Piggly Wiggly on Fairview Road in 1988 (three alarms), for starters. Read more about Raleigh's bigger fires.
What other grocery stores fires are remembered around here?
_
READ MORE
+ 0 - 3 | § ¶
Raleigh Fire Apparatus, 1992
We're in the thick of history book research these days. Let's hope in our time machine and travel back two decades, when later FireNews Editor Jeff Harkey took these posed photos in April 1992. If memory serves, the occasion was a feature in Fire Apparatus Journal. These images are scanned from prints. Enhanced to improve shadows, but not much color correcting. No time today for negative scans. Maybe later. Top to bottom, left to right: 1979 Mack/1958 American LaFrance, 1981 Mack, 1985 Pirsch, 1986 EEI/Pemfab, 1986 E-One, 1986 Seagrave, 1988 GMC/Union City, 1988 Pierce engine, 1988 Pierce snorkel, 1990 Pierce/1986 EEI, 1990 Pierce, 1990 Spartan, and one of two crazy-huge 1991 Chevy/FrontLine rescue trucks. Who else operated rescue rigs like those? Read apparatus histories.


+ 1 - 2 | § ¶
New Chapel Hill Fire Department Facebook Page
The Chapel Hill Fire Department has a new Facebook page. The page contains current department information, as well as a number of photo albums with current and historical images. The site's a work in progress and the site operator plans to post working fire information, similiar in style to the Durham Fire Department Facebook page. There's nothing wrong with a blue fire truck, says this State grad.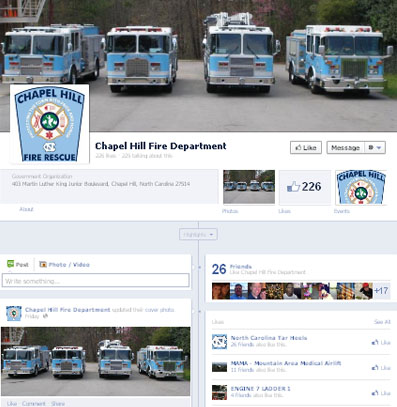 + 0 - 5 | § ¶
$500,000 City Bond Issue Approved, January 1942
Found an interesting News & Observer story dated January 21, 1942. The Local Government Commission the day before approved the city's issuance of a $500,000 bond, contingent on approval by voters. The bond issue included items related to the fire department, though most (or maybe all) were not implemented for years or even a decade. (Need to read further, to find out if the bond issue didn't happen, or if war-time restrictions prevented station construction and vehicle acquisition.) They included:
Construction of new Station 1, on Dawson Street lot already purchased. Current station was housed in Old Station 2, built in 1914. The new Station 1 was completed in 1953.
Construction of Station 6, later determined as Budleigh area. Opened in rented building in 1943. The new Station 6 was completed in 1949.
Purchase of aerial ladder. This didn't happen until 1958, when a 1958 American LaFrance tiller replaced the 1939/1916 American LaFrance tiller.
Purchase of a pumper. A used 1919 pumper was purchased in 1943. The next new pumper was purchased in November 1949, a 1950 FWD that Yours Truly often cites as a 1949 model. This was followed quickly by a 1950 Mack, purchased in January 1950.
Purchase of a service truck.This took nearly two decades to complete, when the body of the 1922 American LaFrance service truck was added to a 1963 Ford truck chassis.
Expansion of the fire alarm system. These were presumably additional fire alarm boxes for some newly annexed areas.
Total for above items, $162,000.
+ 1 - 1 | § ¶
UPDATED: Wrightsville Beach Former Fire Stations
September 15
Updated with Sanborn Map information from 1955.
September 14
Here's a bit of cobbled-together history on Wrightsville Beach's former fire stations. The town's fire department was established around 1915. By the time of the Great Fire of 1934, they had a few water mains used for hose stations. No hydrants, no fire truck. For big fires, they called Wilmington.
By 1955, the fire station was located in the 400 block of Waynick Boulevard, beside the town hall and police station. The town was equipped with fire hydrants by that time. A water tower stood behind the fire station, and one still stands at the site today. No other department information is listed on the map sheet that's in my files.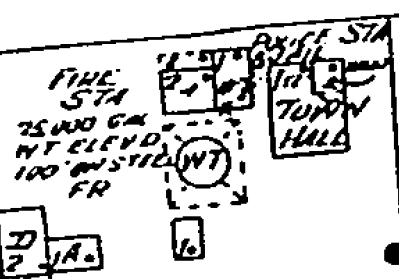 By the early 1970s, the fire station was still located in the 400 block of Waynick Boulevard. After the Causeway Bridge was completed, the town built a second fire station on Harbor Island, to house a fire engine for the island. Built in 1972, that one-bay building is located at 5 Live Oak Drive.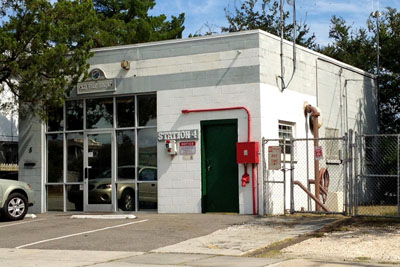 Station 2 was closed in 1984, and presumably at the time that Station 1 was relocated into a warehouse building at the junction of Highway 74 and Highway 76. The present address is 10 Seawater Lane. Old Station 1 doesn't appear to be still standing, based on Google Maps Street View. Both of the town's fire stations were presumably consolidated into a single facility. That fire station operated until 2010, when a
monster of a new station
was completed just a few hundred yards west.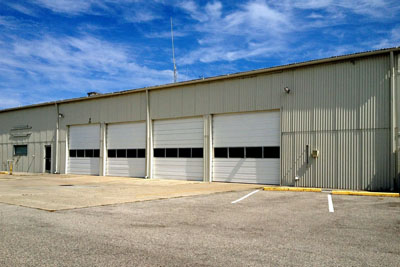 Now for a general New Hanover County fire department question. What's the story on the Figure Eight Island Fire Department, which incorporated in 1983 and dissolved in 1988? Were they based on the private island, or on the mainland? Did they merge with Ogden FD, which today has a station just a stone's throw from the bridge. Read more about former
New Hanover County fire departments
and
former fire stations
(and a page that's a bit outdated, alas).
+ 2 - 3 | § ¶
Fire Commission Meeting Cancelled - September 20, 2012
Next week's regular scheduled meeting of the Wake County Fire Commission on Thursday, September 20, has been cancelled. There were no action items for consideration of the Fire Commission. The next scheduled regular meeting is November 15. See you in the fall, unless you're really jonesing for a fire service meeting. For a nominal fee, Mr. Blogger will sit at the head of a large room and read aloud minutes from prior meetings. You supply the room.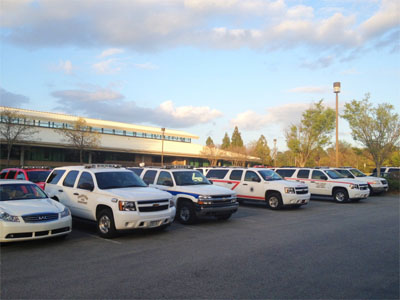 + 3 - 2 | § ¶
Moncure's New Ladder
The Moncure Fire Department in Chatham County recently placed this 2012 Ferrara/HME/Smeal 1750/500/77-foot ladder truck in service. The truck is designated Ladder 8. See more photos from Lee Wilson.



Lee Wilson photo
+ 1 - 3 | § ¶
Holly Springs Station 2 Opening Soon
Here's a tour from photographer Lee Wilson, who visited the soon-to-open fire station at 1140 Avent Ferry Road in Holly Springs. The earlier building at that location-- the first fire station that protected the town, built in 1972-- was damaged by the tornado last year. The department has been operating a temporary station on the site. See more photos from Lee. Seach the blog for prior postings. And watch those porticos!



Lee Wilson photos
+ 2 - 1 | § ¶
Trooper Gene DeMuth Laid to Rest in Rocky Mount
The News & Observer has posted this striking photo by Takaaki Iwabu of a horse-drawn caisson carrying the casket of North Carolina Highway Patrol Trooper Bobby Gene DeMuth Jr. to his funeral yesterday at Englewood Baptist Church in Rocky Mount. He was killed in Nash County on Saturday while attempting to stop a fleeing suspect in a vehicle chase that originated in Raleigh. Hundreds of law officers attended the funeral, reports the story, with highway patrol units attending from as far as Alaska, Idaho, and Texas. Two Marines attended the ceremony to play taps, and the Wake & District Public Safety Pipes and Drums played Amazing Grace. During the graveside ceremony, the patrol's aviation wing participated to also honor DeMuth. Read the entire story. See additional coverage from the Rocky Mount Telegram, WRAL, and WTVD.



Takaaki Iwabu/News & Observer photo
+ 3 - 0 | § ¶
Zebulon Seeks Fire Chief
This posting has appeared on the town Zebulon's web site in eastern Wake County. Applications must be received by October 24. And this posting can mean only one thing, that longtime Fire Chief Sidney Perry is retiring. Congratulations, my friend. Read a profile of Chief Perry that we posted in February, when he was named Career Fire Chief of the Year at the NCAFC Mid-Winter Conference.

Fire Chief – Town of Zebulon, pop. 4,464. Performs highly responsible managerial, administrative and supervisory work in directing the activities and personnel of the town's fire department. ISO Class 3/9. Responsibilities include management of 14 f/t positions and 16 volunteers with an annual budget of $1.1M. Department has medical responder responsibilities. Position requires ability to prepare budget projections, possession of strong oral and written communication skills, ability to deal tactfully with the public, and ability to develop positive working relationships with staff, other town employees, elected officials, and related local, county, state and federal agency representatives. Requires a degree in fire science or related field and/or completion of advanced courses and seminars in fire administration and fire science. Requires a standard level III Fire inspection and Firefighter Level II certification as well as 10 years fire service experience with a paid department and five of those years serving in an officer or supervisory role. Extensive experience of an increasingly responsible nature in all phases of municipal fire suppression and fire prevention, including; or an equivalent combination of education and experience. [...] Salary Range $58,697-$88,043. [...] Applications must be received by October 24, 2012.
+ 2 - 0 | § ¶
Durham Highway's New Dalmatian
Photographer Lee Wilson spent some time this week with the newest member of Durham Highway Fire Department. See his photos. Maybe you'll be able to meet him as well, this Saturday, at Leesville Road High School, for Durham Highway's annual Public Safety Day. Time is 10:00 a.m. to 3:00 p.m. Read more on the department's Puppy Page, which includes some historical information about dalmatians in firehouses. Short version that I've always heard: dogs were common companions to horses, back in the day. And this breed proved the most companionable. Woof.



Lee Wilson photo
+ 2 - 3 | § ¶
September 11, 2012


Today is a day to remember.




+ 1 - 2 | § ¶
State Fire Fighters Association of North Carolina Convention, 1954
On June 16, 1954, the State Fire Fighters Association of North Carolina opened their 15th annual convention at the Hotel Sir Walter in Raleigh. This was the state organization affiliated with the International Association of Fire Fighters created in 1940. See related prior posting. They were hosted by Local 548 that represented Raleigh firefighters. Here's the convention program, as found in a scrapbook of the Raleigh Fire Department Ladies Auxiliary. Read program (PDF).


+ 2 - 2 | § ¶
Is Clicking Like Really Saying Anything, Asks The Lawyer
That's lawyer and fire blogger Curt Varone's headline to this informative posting from his Fire Law blog. He teases a number of answers from this reader question: Is clicking "Like" to a Facebook post making a public statement sufficient to get someone in trouble? Read the reader comments as well, as the discussion has continued. See our previous posting related to this, titled Click Like, Get Suspended. The below graphic has nothing to do with this posting.


+ 0 - 2 | § ¶
Save the Date: Stony Hill Inaugural Junior Firefighter Challenge, March 16, 2013
Here's extended advance notice on junior firefighter challenge that the Stony Hill Fire Department is starting:
Stony Hill Inaugural "March Into Spring" Junior Firefighter Challenge
Saturday March 16, 2013
Stony Hill Fire Department Station 1
7045 Stony Hill Road
Wake Forest, NC 27587
Put winter behind you and warm up to spring by joining us as Junior Firefighters and Fire Explorers compete in the Stony Hill Inaugural "March Into Spring" Junior Firefighter Challenge in Wake Forest North Carolina! We will start the day with written and hands on knowledge tests then move into the field for the events of the day. The Stony Hill Auxiliary and members will have refreshments available throughout the day. Lunch options will be available for a nominal charge.
Registration deadline February 15, 2013!
Meet & Greet
All participating teams are invited to join us on Friday night March 15th from 6:00 PM to 9:00 PM for fellowship, food, drinks, games and fun!
The food and drinks will be provided and we are planning on having a DJ to spin some tunes for everyone.
Contacts
Dave Martin (919) 795-5883
Brian Rimmer (919) 455-8120
Jeb Bailey (919) 761-3189
E-Mail: juniors@stonyhillfire.org
+ 2 - 2 | § ¶
Mini Pumper Gets Makeover
Photographer Lee Wilson spent some time at the Raleigh Fire Department shop yesterday, where Mini 1 is getting a makeover. The 1986 Chevrolet Silverado brush truck (with 13,000 miles!) had one of two booster reels removed and the remaining reel relocated to the rear, for starters. That's lowered the profile of the truck. They've raised it a hair, and added new wheels and rims. Plus some other changes. Below is the before and after. See more photos.
Mini 1 is stored at Station 16. It's has a former twin at Station 23. The city's three mini-pumpers (the third is at Station 3, a 2005 Ford F-550/Reading/Slagle) are used for brush and woods fires, along with parking deck fire responses. They're used for EMS responses in remote areas, such as Umstead Park. They're also enlisted during storms and snow as special response vehicles, and can be used for other purposes, such as towing the recently delivered foam trailer that's stored at the Keeter Training center.



Mike Legeros photo



Lee Wilson photos
+ 1 - 2 | § ¶
Bay Leaf's Big Fire
Major house fire in north Raleigh tonight. Bay Leaf Fire Department arriving at 1601 Kirkby Lane, at a three-story, brick, single-family dwelling with 4,916 square-feet. Built 2004. Located at end of dead-end street, no hydrants in subdivision. Heavy fire on second and third floors, and in attic, with defensive operations soon starting. Crews withdrawn from rear of structure, due to collapse hazard. Aerial operations started, after water supply established.
Water shuttle used, with drop tank and relay pumping from Kirkby Lane and Caistor Lane. That's about 1,000 feet, says Google. One water point at Mt. Vernon Church Road and Norwood Road. That's about 1.1 miles, says Google. Dispatched about 5:20 p.m. First photo (top) taken about 5:55 p.m. Operations ongoing as of 9:55 p.m.
Units on scene included Bay Leaf P252, P366, P251, P122, P258, P121, L25, A12, C1 and others; Durham Highway P1, P4, Wake Forest E5, Stony Hill P395, tanker 268; Rolesville tankers 157, 158; Creedmoor engine and two tankers; Wake County EMS 22, EMS 12, EMS 34, EMS 15, EMS 7, EMS 6, D3, M93, M95, T1. See preliminary photos by Legeros, who tried his best while also holding an umbrella. More later. Bed time.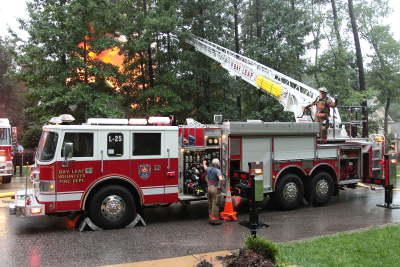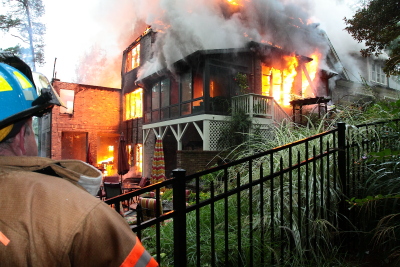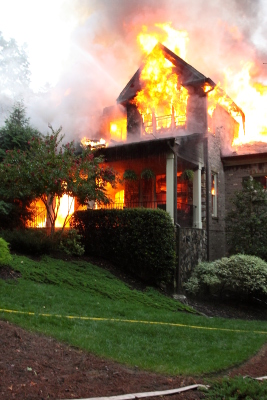 + 4 - 2 | § ¶
Firefighters Crossing The Street
In his "tips for living in a world with social media" (see comments in yesterday's posting), fire blooger-turned-communication guru (self-proclaimed) Mike Legeros offered the observation "cameras are everywhere." Here are personnel from Engine 2 crossing South Saunders Street. Observe good technique in bag-carrying, and correct use of safety vests. Maybe also observe that the photographer might need to get a life. FIREFOTO not WALKFOTO.


+ 2 - 4 | § ¶
Click Like, Get Suspended
Here's a cautionary tale out of Columbus, Miss. Two firefighters and a police officer have received 30-day suspensions for clicking "like" on a controversial Facebook posting, which had already resulted in the resignation of the original posting firefighter. Sounds crazy, you say? Check out this tale from Hampton, VA. That's a posting from fire lawyer and blogger Curt Varone.
What exactly are the rights for public employees regarding protected public speech, and using such mechanisms as a Facebook like button? Sounds like the courts are still working that out, at least from what I read on Curt Varone's Fire Law blog. (Don't believe the Supreme Court has yet ruled on this aspect of social media...) Readers more knowledgeable than myself (meaning everyone) are welcome to comment. As for the story out of Columbus, Miss., see this Fire Law posting and this Statter911 posting.
Next question, how can Joe Q. Responder use social media and in a manner that doesn't threaten their job? Based on the above example, it includes watching both what you say (posted words) and what you do (clicking Like). What are particular examples of do's and don't's? Maybe we'll readers tackle that one, to start. (And for heaven's sake, leave the blogging to experienced nut cases like the Hawaiian Shirt Guy!)
+ 2 - 1 | § ¶
Vintage Guilford County Crash Truck
Found for sale on eBay, here's Crash 2 of the Guilford County Fire Department, a 1975 Oshkosh M1500. From the collection of the late Richard M. Adelman of Memphis, TN. See prior postings about him (use the search box to your right), and his son's sales on eBay. And see this posting, about one of these trucks that itself was recently for sale on eBay. Click to enlarge:


+ 1 - 3 | § ¶
Harnett County Emergency Services Monument
Asst. Chief Justin Riewestahl at Buies Creek Fire Department share this photo of the newly completed Harnett County Emergency Services Monument. The location is the 300 block W. Cornelius Harnett Boulevard, between the Court House and the social services building. Money for the memorial was raised through a number of fundraisers, including gun raffles and helmet raffles. Readers are welcome to add additional information. We'll get and post a better photo. Plan to pay a visit. Click to enlarge:

+ 1 - 2 | § ¶
Raleigh Fire Museum Open This Saturday, September 8
Looking for a weekend activity? The Raleigh Fire Museum is open this Saturday, September 8, from 10:00 a.m. to 2:00 p.m. Tour the 100-year history of the city's career fire department, and learn about the volunteer fire companies that also protected the Capitol City. Hundreds of artifacts and photographs are displayed.
The museum is open on the second Saturday of each month, and is located in a classroom trailer at the Keeter Training Center at 105 Keeter Center Drive. Parking and restrooms are available. Admission is free. Learn more about the museum, and the group that operates it, at www.raleighfiremuseum.org.


Please note that the Raleigh Fire Museum's 1961 American LaFrance pumper is located at Fire Station 9 at 4465 Six Forks Road. The engine was recently returned to Raleigh after decades of private ownership. Also note that the Raleigh Fire Department's collection of antique fire apparatus is housed at a separate location, at Fire Station 28 at 3500 Forestville Road in northeast Raleigh. The collection includes a 1905 steamer, a 1926 American LaFrance pumper, a 1950 Mack pumper, and a 1982 Mack pumper. Visitors are welcome at both locations.
+ 12 - 14 | § ¶
UPDATED: Frat Truck / Greensboro's Old Quad
September 2012
Merely six year after our original posting, a reader comment reveals the origin of this fire truck. It's a former Greensboro rig, an American LaFrance 700 Series quad. Meaning, a service ladder truck also equipped with a pump. Note the booster reel in the top photo, scanned from Greensboro Fire Department 1926-2001. The second photo is from 1974, from the News & Observer. Readers can perhaps tell more. Click to enlarge:


August 2006
Lee Wilson wonders where this long-time fixture from Fraternity Court is from. It's a probably a 700 Series, so it's 1950s vintage. Hasn't the frat had it since at least the 1980s? Anyone know the story on this thing?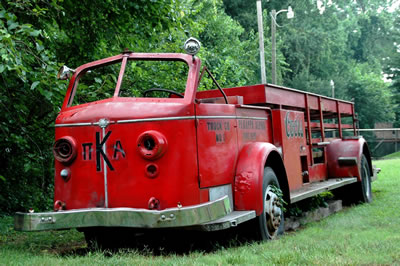 + 5 - 1 | § ¶
Raleigh Firefighter Loses Leg, 1958
On February 18, 1958, Raleigh firefighter Claude W. Johnson broke his leg on duty. As that day's Raleigh Times article reported, he fell on ice at the scene of a house fire at 407 Folk Street. Fire Chief Jack Keeter said "he jumped a fence and fell on the ice." He added that Johnson "was in satisfactory condition, but would be in the hospital for some time." Johnson was admitted to Rex Hospital, records a notation in a Ladies Auxiliary scrapbook. Five fire companies responded to the 6:45 a.m. blaze, which was reported by fire department switchboard operator Roy High, while he was returning home from night shift at Station 1. The structure was severely damaged.
An undated newspaper account subsequently reported that doctors had amputated the left leg of the 31-year-old fireman. (The above Raleigh Times story said Johnson was 33 years of age.) The date of his injury was reported as March 1, which may be the date of the amputation. He lost about four inches of his leg below the knee. Surgery was required as blood had stopped circulating to the injured limb. Johnson had been a member of the department for three years, the article reported, and was a Rolesville native.1 Officials were quoted as saying he'd be transferred to the fire department's switchboard.2 Johnson retired on March 30, 1976. That's four years after the Raleigh and Wake County Emergency Communications Center assumed call-taking and dispatching duties.3 This portrait was taken in 1984.


1Legeros records the hire date of Claude Johnson as September 16, 1956. The above news article isn't dated. The amputation may have happened in 1959, several months after the injury.
2Driver Vernon J. Smith also lost his leg, in an apparatus accident on November 14, 1952. He worked in light-duty roles as his health permitted, including as dispatcher. He died of his injuries on March 10, 1956.
3Roy High, mention in the first paragraph, was a former firefighter. He was injured in an accident involving the auxiliary truck and a Greyhound bus on September 11, 1947. High and Firefighter H. S. Stephenson were both thrown from the vehicle, and sustained injuries. As the story goes, High never returned to line duty, and remained a dispatcher the rest of his career.
+ 2 - 2 | § ¶
Raleigh Fire Department Centennial History Book Facebook Page
A Facebook page has been created for the Raleigh Fire Department Centennial History Book project. The purpose of the site is two-fold. First, to generate more sales. We need 600 pre-orders for the project to complete. Order yours today. Second, we need your help. Those requests are being posted to the site, such as a search for retiree portraits. The book will feature some 330 retirees, but we're missing a couple dozen more. See if you can. Watch the site for more requests, as well as more postings. As station crew photos are submitted, for example, we'll post them. Visit www.facebook.com/rfd100book.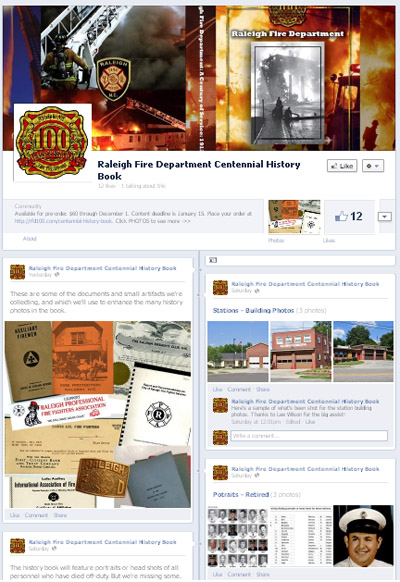 + 0 - 2 | § ¶
Histories of IAFF Locals in North Carolina
The Professional Fire Firefighters and Paramedics of North Carolina (PFFPNC) has a nifty collection of historical resources on their web site, many taken from Hose and Nozzle and The North Carolina Federationlist articles. They note their research was conducted at Wilson Library at UNC, which we can personally recommend as a great place for research. (Love those bound volumes of Hose back issues.) Browse their history pages and you'll learn such things as:
1918 - Wilmington Local 129 chartered. First IAFF local formed in North Carolina.
1932 - Asheville Local 332 chartered. They're reformed in 1946 as Asheville Local 865.
1938 - Raleigh Local 548 chartered.
1940 - Charlotte Local 660 chartered.
1940 - High Point Local 673 chartered.
1940 - North Carolina Fire Fighters Association created.


Five locals are charter members, Raleigh, Wilmington, Charlotte, Durham, High Point.
Group is later renamed North Carolina Professional Fire Fighters.
Group is later renamed Professional Fire Firefighters and Paramedics of North Carolina.

1941 - Winston-Salem Local 682 chartered.
1947 - Greensboro Local 947 chartered.
1959 - General Assembly outlaws the right of firefighters and police officers to belong to unions, part of larger bill about public employees and unions.
1968 - The statute is ruled unconstitutional by a federal court, as challenged by IAFF and Charlotte local.


However, collective bargaining remains prohibited.
IAFF locals re-activate or re-charter. Other new locals are organized.

1969 - Greenville Local 1867 chartered.
1970 - Burlington Local 1915 chartered.
1970 - Goldsboro Local 1871 chartered.
1970 - Kinston Local 1847 chartered.
1970 - Wilson Local 1932 chartered.
1975 - Gastonia Local 2469 chartered.
1978 - Hickory Local 2653 chartered.
+ 1 - 4 | § ¶
Charlotte Street Closures for DNC
The Charlotte Observer has posted a couple of interesting maps on their web site, showing vehicle and pedestrian restrictions during this week's Democratic National Convention. Haven't found details (yet) on how fire and EMS personnel will be responding in those areas. Probably a mess of "gators" and/or bike teams. Maybe we'll see a news story about same. Click to enlarge:



More than 1,000 police officers-- from around the state, and including Chicago-- are patrolling on foot, horseback, and motorcycles. As this article notes, more than 50 groups have teamed to provide security, both local and national, such as the U.S. Secret Service, the U.S. Department of Homeland Security, the Chemical Biological Incident Response Force, the White House Military Office, the U.S. Capitol Police, the U.S. Environmental Protection Agency, the U.S. Marshals Service and the U.S. Postal Inspection Service. Wonder what the full list looks like? Maybe we'll do some Googling later.
+ 2 - 1 | § ¶
And Sometimes The Cat Door is Closed
Off-topic amusement for your holiday enjoyment. People's Choice Award winner of the first Cat Video Film Festival held this week at the Walker Art Center in Minneapolis, the old home town. Starring Henri the Existential Cat. He suffers the world and, like the rest of us, is surrounded by morons. Thanks to Mrs. Blogger for this one.


+ 2 - 2 | § ¶
Charlotte Fire Prevention Bureau Guidelines for DNC
Google finds some interesting things related to fire prevention guidelines from the Charlotte Fire Department, for occupancies and outdoor events during the Democratic National Convention. Probably nothing new for the inspectors and fire marshals reading here, but it's a nice contrast to all the apparatus and operations stuff that we usually feature here. (The fire that isn't started is one less that requires a response.)
Here's a page of fire department guidelines, with four documents in PDF format. And Here's a city/county planning guide (PDF) format. Start reading on page 8 for EMS, fire and life safety, and public safety planning requirements. Interesting chart on page 10, showing the tiers of requirements for expected numbers of participants: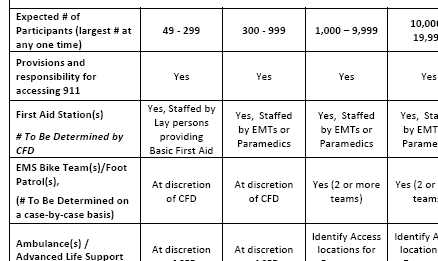 + 2 - 2 | § ¶
...and a Picture of District 9
While we're sporting our utility vehicles, here's a picture of District 9. That's the unit that's been discussed in this older thread. District 9 is the Advanced Practice Paramedic supervisor of the Wake County EMS System. They work 11:00 a.m. to 11:00 p.m. daily, and their office is at the Crisis & Assessment Services (CAS) center on the WakeBrook campus on Sunnybrook Road. They don't have a geographic district, and are currently not recommended for dispatch on any call types. Click to enlarge:


+ 2 - 0 | § ¶
New Buggy for Raleigh Battalion 1
Seen today at a reported structure fire on Six Forks Road. That's, what, a 2012 Chevy Tahoe? Replaces a 2005 Ford Expedition. Battalion 1 is housed a Station 15. Click to enlarge:


+ 1 - 2 | § ¶
Morning Reading - September 2, 2012
Behind on blog postings. Raleigh Fire Department is hiring, as prior posting notes. Cary and Rocky Mount also. Durham just closed their application period. Good luck to everyone. Follow the instructions to the letter. Practice, prepare, and get everywhere early. Nothing eases the mind like being within walking distance of your destination 15 or 30 minutes early. (Just circle the block. Or park up the street. Get your mind straight and nerves calm.) And it's now September, which means the season for fireman's days and public safety days has started. We'll see a bunch for the next six or seven weeks. Want yours listed on the blog? We'll compile and post an events schedule. Just mail me!
Local

National
Firefighter vanity plates - The Fire Critic is compiling photos as submitted from firefighters and others. There's one poser on there with the tag FIREFOTO. Wonder who the hell he is?

Fire videos as training tools - Dave Statter's posted a pair of videos good for talking about do's and don't's. Gasoline tanker in Tioga County, PA, and ambulance fire in Newark, NJ.

Boots filled water and opinions therein - That's my title for this week's Statter911 posting about an incident in Richmond, Maine. Firefighter finds boots filled with water. Outcome included a town investigation. Readers react. Legeros analyzes. Here's what he (me) posted:

So the lessons learned from a couple days of reader comments here are, I guess…

1. Messing with PPE isn't cool (or worse).

2. Water in boots is no big deal (though directly contradicts #1).

3. Complaining up the chain about #2 is a bigger issue, and a symptom of someone maybe not part of the team (which #2 was actually intended to promote).

4. Bringing the matter to the attention of people outside the department is an even bigger deal, particularly because "unwanted physical play" is regarded as a form of harassment through the eyes of, say, Human Resources officers.
Legeros Fire Photos
+ 1 - 1 | § ¶
Raleigh Fire Department is Hiring
Hiring has started for Raleigh Fire Department Recruit Academy 38. The application period closes October 5. The 26-week academy starts on January 31. Here's the job posting on the city's employment site, and the fire department recruitment web site. Position number 200-12, starting salary $32,673. Minimum requirements include age 21 by beginning of academy.
Applications will be accepted at the Keeter Training Center, 105 Keeter Training Drive, Raleigh, from September 4 to October 5. They can be submitted in person or by mail. The application period closes on October 5. You can download the employment application, or get one at locations including any Raleigh fire station, the Keeter Training Center, or the city personnel office (222 W. Hargett Street).
Fire station open houses will be held on Saturday, September 16, and Saturday, September 23, from 1:00 p.m. to 4:00 p.m. on both dates. Applicants are encouraged to visit the stations to learn more about the job, and pick up applications.
Recruitment is being conducted using a variety of channels, including a trio of billboards that should be appearing this weekend. That's Hammell Drive, three alarms on September 21, 2008, as shot by Mike Legeros. Locations for same will Highway 64 at the Neuse River, Interstate 440 westbound at Wilmington Street, and Highway 70 at Yeargan Road in Garner. Good luck to all applicants!

+ 2 - 1 | § ¶
Former Firehouses in New York City
Ever wondered about former firehouses in New York City. Here's an nycfire.net discussion board thread about that topic, with pages of interesting information and photos. Don't expect a personal tour any time soon, however. Toured Philly this summer, which was an adventure (both on the ground and beforehand with research) and a return visit is required for a couple more station buildings since identified. Sources for that started with acquiring a copy of the PFD history book Hike Out! Then scanning the company history in the appendix. Then converting to text. Then correcting. Then appending with information found via the 'net and Google Maps street view.


Toured Chicago in a prior year, and those were exclusively structures built before 1900. Both active and retired. See those photos. Believe it was a comprehensive excursion, as but a handful of those had survived. They were found using the first of the four History of Chicago Fire Houses volumes, by Ken Little and John McNalis. That made the research super-easy. Just flipping pages and writing a list by hand. Then using Google Maps street view to confirm that the buidlings were still standing. (Acquring the four volumes, which are out of print, was the harder piece!)

But New York City?
That's a considerable larger and more complicated kettle of fish. First, there's finding the building information. That is, an easily accessed list of past and present stations and their current dispositions. Then there's the sheer physical challenge of (a.) getting to the Big Apple and (b.) traversing all five boroughs to shoot said buildings. Probably won't be anytime this decade. But there's some easy arm chair explorations available. Google Maps street view coupled with this list of fire company locations (PDF) compiled by Mike Boucher BXCO. Start entering addresses and see what you find!
Looking for the volunteer houses of New York City? Try these listings, also by Boucher:
For even easier armchair view (of active stations of an age), find a copy of Brian R. McCaffrey's full-color book FHNY - Fire House New York - A Pictorial History of Firehouse Architecutre in the City of New York. There's a page for each active firehouses, and many that are historic or very historic. Good stuff. And wonder how many months that took, getting those photos? Here's the Amazon page on same. Maybe someone else has published a book of photos of the former firehouses.
As for Mikey? Such research and explorations are relaxing, so maybe that's a future vacation. Or series of vacations. Nothing so clears the mind and invigorates the soul as searching for fire stations...