+ 6 - 3 | § ¶
Propane Tanker Overturns in Holly Springs
WTVD has posted aerial photos (albeit with slightly distorted aspect ratios) of this afternoon's haz-mat incident in Holly Springs on Highway 55 at Holly Springs Road. A tractor-drawn propane tank jackknifed, with fuel leaking from the driver's side saddle tank. The incident was dispatched as a vehicle fire involving hazardous materials. High pucker factor, there! Holly Springs Fire Department was on scene (E1, E2, E3, R1, B1, etc.), along with Wake County Fire Services and a haz-mat unit from the Raleigh Fire Department. Coverage in Holly Springs was provided by Apex and Fairview (?) units. Readers can add additional details.



WTVD photo
+ 6 - 0 | § ¶
Recruit Academy 37 Starts in Raleigh
The newest members of the Raleigh Fire Department reported for duty this morning at the Keeter Training Center for the start of Recruit Academy 37. Twenty-nine future firefighters will spend 28 weeks receiving certifications as Emergency Medical Technician (EMT), North Carolina Fire Fighter Level I and II, and North Carolina Hazardous Materials Operations. They'll also receive training on technical rescue, hazardous materials operations, fireground procedures, high-rise operations, rapid intervention teams (RIT), accountability systems, safety companies, engine and ladder company operations, and firefighter safety and survival.
EMT classes will comprise the first eight weeks of their instruction. They'll also receive physical fitness training that will continue through the duration of the academy. By the end of their training, the recruits will participate in live fire burns at the Wake County Fire Training Center and Central Carolina Community College in Sanford. They'll also attend firefighter survival training at Gaston Community College in Gastonia.
Recruit Academy 37 graduates on July 12, 2012. See also this press release. Congratulations and good luck!


+ 5 - 5 | § ¶
Yesterday's EMS Station Fire
The season's least-expected structure fire shut down Six Forks Road early Thursday's afternoon, when EMS 3 caught fire at its station at 5305 Six Forks Road. The paramedic ambulance had just returned from a call a couple minutes earlier. The two Wake County EMS members found their ambulance in flames after hearing noises coming from the apparatus bay. They evacuated the building safely.
By the time Engine 9 arrived, the engine compartment was fully-involved and the bay ceiling was also burning. The engine caught its own hydrant across the street. Engine 4 was second due, and assisted with the water supply. Within minutes, four engines, two ladders, and Battalion 1 were on scene. Other EMS resources and EMS command staff were quickly on scene as well. The fire was quickly contained, though extensive overhaul was required on the roof. See scene photos from Mike Legeros.
The call was dispatched at 12:42 p.m. and controlled at 12:58 p.m. Six Forks Road was closed in both directions for over an hour. Fire investigators determined the origin of the fire as the engine compartment of the ambulance, caused by unspecified mechanical problem. EMS personnel removed computers, supplies, and other materials from the living area of the station. The facility is closed, though EMS 3 was soon back in service with a spare unit. Both it and the second unit assigned to the station have been relocated to alternate locations.
The loss of the 2010 Chevrolet McCoy-Miller ambulance and its contents are estimated at over $200,000. The damage to the structure has not been estimated yet. The 1962 building formerly served as the Six Forks Fire Department fire station. Read that history. It was opened as an EMS station in 1976. The structure has already been secured and sealed, until further repairs are made.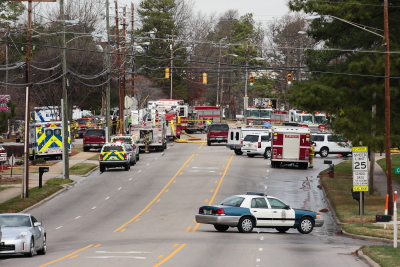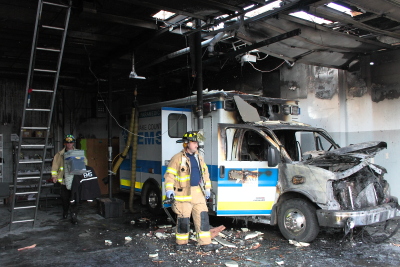 + 4 - 2 | § ¶
CRC Emergency Command
Here's the coolest non-emergency emergency vehicle that we've seen of late: Cary Restoration Company's Emergency Command unit, parked at the scene of today's ambulance slash structure fire on Six Forks Road. More on that incident a bit later. One of five or sixe on scene when Lee Wilson was passing by, about 5:00 p.m. You think your truck's has seasonal bling? Check out the double wreath action on the grill. Love the striping along the bottom edge, also. And gets a person a thinking about graphics. Imagine the possibles for a certain pair of photographers and their personal vehicles! EMERGENCY PHOTO -Twenty-Four Hour Service - no riders. Click to enlarge:
+ 4 - 1 | § ¶
The Old Six Forks Fire Station
While we await details and photos of today's vehicle and structure fire at EMS station on Six Forks Road, let's look back at the building's early history. It was constructed for the Six Forks Fire Department, and was their third location. Their first two fire stations-- when they were named Six Forks Road FD-- were located in the present 4300 and 4400 blocks of Six Forks Road. Read some of that history.
In 1962, the fire department moved maybe a mile north to 5305 Six Forks Road. They relocated their 7.5 HP siren farther up the road, on Six Forks Road near Northclift Drive. They had three trucks: a 1956 Ford/American/Barton pumper, a 1961 International pumper, and a military surplus 1500-gallon tank. The three-bay building served until 1974, when SSFD relocated to 1431 Lynn Road. Read a Northside News story about them from 1971: part one and part two.
Two years later, Wake County EMS was organized. They operated four ambulances: EMS 1 and EMS 4 downtown, EMS 2 outside Mayview Convalescent Center on Whitaker Mill Road, and EMS 3 at the old Six Forks fire station. One of the three bays was converted to living quarters. The parking lot might've been paved at this time as well. Readers can add to the history in more recent decades. Below is an image from 1971 of the old fire station. Click to enlarge:


+ 0 - 3 | § ¶
Funeral for Capt. Scott Nipper
Raleigh Fire Department Capt. J. Scott Nipper was buried yesterday at Raleigh Memorial Park on Glenwood Avenue. This followed a funeral service (and prior visitation) at Providence Baptist Church on Glenwood Avenue. About 400 people attended the service, which was filmed for a number of news outlets. Photographers Lee Wilson and Mike Legeros also attended. Below are links to news stories and photos of this somber event. See also this prior posting and this prior posting.
+ 4 - 5 | § ¶
Presenting... The New Medic 93
And officially the coolest looking emergency vehicle in Raleigh or Wake County. If you're fond of European-styled "fast cars," that is. We'll get details later. And maybe a better photo or two, than this reader-submitted shot. Click to enlarge:


+ 2 - 3 | § ¶
Two Alarms on Crossroads Arbor Way
The scream of sirens broke the silence in southwest Raleigh late this morning. Two alarms were struck at 1712 Crossroads Arbor Way, with Swift Creek 1 arriving at a two-story, wood-frame, sixteen-unit apartment building with 10,656 square-feet. Built 1999. Smoke and fire were showing from the rear of the structure. Crews commenced an interior attack, while aerial apparatus was positioned on two sides. Four sticks in the air! The 11:21 a.m. alarm was controlled at 12:10 p.m. Six apartments were rendered uninhabitable. The cause was determined as fireplace ashes placed in cardboard box and put on a balcony. More incident details forthcoming in the pictures posted by Mike Legeros. He was at ground-level. See his preliminary photos. Also see news coverage from WRAL (including the aerial photo below), WTVD, News & Observer.



WRAL photo

Mike Legeros photos

+ 6 - 1 | § ¶
Buildings Used to be Here
Three views from South Wilmington Street of where Walnut Terrace once stood. See pre-demolition explorations of the 300-unit public housing facility, built in 1959 and recently removed. New buildings forthcoming. Click once or twice to enlarge:


+ 3 - 2 | § ¶
Angier Suffers $150,000 Blaze, November 20, 1924
News & Observer, Friday morning, November 21, 1924
ANGIER SUFFERS $150,000 BLAZE
Arriva of Fuquay Springs Flivver Saved The Business Section
Angier, Nov. 20 - Fire originating in a lot of rugs hanging against a wall through which a chimney had been built, destroyed four of the principal business houses here today, entailing a loss estimated at $150,000, and until the timely arrival of the Fuquay Springs fire flivver1, threatened to destroy the entire business section of the town.
Heroic work by the Fuquay department under the command of Capt. Jeter Jones, checked the flames and a few minutes later the company from Dunn arrived in a cloud of dusty. The Raleigh department arrived a few minutes later and added its weight to the fire fighters, and the block was saved. The Raleigh covered the 27 miles of rough roads in 55 minutes.
Buildings destroyed included the Earpe cafe, Wilson and Co., the largest general merchandise store in the town, and the D. D. Overby store. The Overby Drug Co., next door to the Wilson store, was practically ruined when the walls of the three story buildings adjacent collapsed upon it. The losses are understood to be partially covered by insurance.
The fire had its beginnings in a store room above an apartment on the second floor, occupied by A. C. Barefoot and family. Hanging against the wall directly against the chimney from the apartment were the rugs. A loose brick, a hearty fire in the heater beneath, with the rugs hanging against the wall did the rest. The fire was discovered early, but the absence of any equipment for fighting it let it go almost unhindered.
Much of the contents of the stores were removed to the streets where they were overrun by the throngs that gathered from far and wide, attracted hither by the glare in the sky. Confusion was of the sort that is usually described as indescribable. Half dozen coffins hastily snatched from the burning were piled about, and standing guard over them an old fashioned wooden horst upon which country merchants display buggy harnesses.
For two blocks along the railroad all sorts of merchandise is scattered. The town authorities pressed half dozen cities into service as constables and placed them on guard against looting which had begun before the fire was checked. Some of the merchandise removed was caught under the collapsing walls of the building when they fell into the streets. No one was injured.
1Flivver is a slang expression for a Ford Model T.
+ 3 - 1 | § ¶
General Instructions and Information Regarding Kennedy Caravan
Found this this morning while organizing some files. This is a set of instructions signed by Raleigh Fire Chief Jack Keeter, for the purpose of directing vehicles participating in a caravan for either John F. Kennedy or Robert Kennedy. Chief Keeter's role is listed as Assistant Marshal. Perhaps there was a parade associated with this event? Looks like they staged at Fire Station #1, then headed to the airport, then the Governor's Mansion, and then to Reynolds Coliseum. Readers can offer further interpretations.


+ 1 - 2 | § ¶
Vintage Training Film, San Diego Fire Department
From a reader, here's a silent training film from the San Diego Fire Department posted earlier this year to YouTube. Looks like the roaring twenties, maybe early in the decade? Eleven minutes in length and with some splendid footage. Pompier ladders get demonstrated, as does a spring-loaded aerial ladder. They show some drafting, a fireboat in action, and the fire alarm system. Then there's a lengthly commercial structure fire sequence, complete with two firefighters pushing an automobile away from a hydrant! Love the police assistance as well, with a motorcycle officer ticketing for failure to yield. Maybe a better version-- with fewer jumping frames-- will surface some time. Thanks Matt!



+ 3 - 1 | § ¶
Bonus Room Burns on Boxing Day
Our friends in the Durham Fire Department have shared this photo of a garage fire they fought this morning. "A" shift companies responded to 4810 Southern Drive and found a bonus room over a garage fully involved and then some. Engine 4 was first on scene and quickly knocked down the flames. No injuries. Cause determined as space heater. Heat damage to adjacent dwelling. Crews were on scene for 90 minutes. The run card: E4, E16, E12, E6, L12, S4, B3, B1, MS1, SO1, M61. Thanks for sending, Sean! Click to enlarge:


+ 5 - 2 | § ¶
House Fire on Huntingdon Drive
Here's a photo posted by WRAL of this morning's house fire at 5125 Huntingdon Drive in southwest Raleigh. The call was dispatched at 5:45 a.m. Engine 8 arrived at a two-story, brick, single-family dwelling with 2,250 square-feet. Built 1967. Fire was showing from the roof. Crews entered after a water supply was established. Three lines were brought inside, searches were started, and ceilings were pulled as fire was found extending into the attic. All firefighters inside the structure was brought outside at the 20 minute mark, for a personal accountability report and some exterior operations that included using Ladder 7. The fire was reported controlled at 6:34 a.m. Crews and investigated remained on the scene into the morning. Some sections of the second floor collapsed onto the first. The cause is still under investigation. Twelve people were displaced. No occupants were injured, but one firefighter was transported with minor burns to the legs. Sources: WRAL story, RFD media release, radio traffic.



WRAL photo
+ 1 - 2 | § ¶
Researching an Early Fire in Raleigh
One of the earliest recorded fires in the city's history occurred in the spring of 1824. Here's what's included in my Raleigh Fire Department history timelines, which are based on several years of research and from a variety of sources:
Fire strikes city. Press reports note 'no sufficient supply could be obtained, the water works having been suffered to go out of repair and remain so.' (Spring? 1824)
The cited source is Wake: Capital County of North Carolina - Volume 1, Prehistory Through Centennial Elizabeth Reid Murray, Capital County Publishing, 1983. Here's the entirely of what Ms. Murray wrote about the fire:
At another fire a year later [in 1824] it was learned that "no sufficient supply of water could be obtained, the water works having been suffered to go out of repair and remain so." Some black men and boys procured tubs of water to fight the blaze and distinguished themselves by their extraordinary exertions. The city commissioners afterward appointed a committee "to designate such Negroes as particularly signalized themselves by their activity in putting a stop to the fire," and another committee to take steps toward improving the water supply.
Ms. Murray's cited source for her information is the weekly Raleigh Register of February 24 and March 7, 1824. Thus my date of spring 1824 as the possible date for the fire.
Last week, an e-mail was received from a person researching their family's history. Looking at a letter in the Joel King Papers Collection at the Duke University Library, he cited correspondence he found between his great-great-great uncle, Benjamin S. King of Raleigh [and a Clerk of Wake County for a period of time], to his brother Joel King in Louisburg on February 23, 1824.
The words are incomplete, but it seems that he is describing a fire that started in a blacksmith "yesterday morning" and burned down three or four houses and "had it not been for a near miracle of providential interference the principal part of the Town might have been consumed by the devouring element."
That places the date of the fire as February 22, 1824. Next step should be a visit to Olivia Raney Local History Library, to see if the aforementioned
Register
articles are available on microfilm. Then read said articles. Then update timeline. Thanks to Johnny King for sending. History never sleeps.
+ 2 - 3 | § ¶
UPDATED: Funeral Arrangements for Capt. Scott Nipper
December 25 update, adding funeral service information that was omitted from original posting.
Arrangements have been announced for Raleigh Fire Department Captain J. Scott Nipper. Visitation followed by a funeral service, then graveside ceremony and burial will be held in Raleigh on Wednesday, December 28. Details are below. Capt. Nipper died on Wednesday, December 21, in a car accident in Granville County. His daughter Gracie remains hospitalized at Duke Medical Center. See prior posting.
Visitation
Wednesday, December 28
12:00 p.m. to 2:00 p.m.
Providence Baptist Church
6339 Glenwood Avenue
Raleigh, NC 27612

Funeral
2:00 p.m. at Providence Baptist Church

Graveside service and burial
Immediately following the funeral
Raleigh Memorial Park
7501 Glenwood Avenue
Raleigh, NC 27612
+ 3 - 3 | § ¶
Fires on Christmas?
How many major (two-alarm or greater) fires has the Captiol City seen on Christmas Day? Exactly one, according to Mike's records, and that was this morning. Looking at Christmas week-ish, a few more surface between the 1920s and the 2010s. Unsure of calls in the county, one of which is included below:
Dec 26, 1931 - Five hose lines at school building, 109 W. Morgan Street.
Dec 28, 1943 - Eight hose lines at Bellas-Hess department store, Wilmington and Martin streets.
Dec 27, 1947 - Four hose lines at commercial building, 121 S. Salisbury Street.
Dec 27, 1971 - Two alarms ? at 119 W. Parsons ? Street.
Dec 30, 1978 - Many departments at Fairway Apartments, 4803 New Hope Road.
Dec 27, 1980 - Two alarms ? at apartments, 4357 Avent Ferry Road.
Dec 20, 1992 - Three alarms at IGA Grocery, 718 N. Person Street.
Dec 27, 1990 - Two alarms at high-rise apartments, 509 Glenwood Avenue.
Dec 28, 1998 - Three alarms at Quail Corners Shopping Center, Falls of Neuse Road.
Dec 23, 2000 - Two alarms at house fire, 3021 Farrior Road.
Dec 20, 2004 - Two alarms at commercial structure, 220 W. Davie Street.
Dec 22, 2005 - Two alarms at apartments, 12241 Oakwood View Drive.
Dec 23, 2005 - Two alarms at apartments, 1508 Gorman Street.
Dec 20, 2006 - Two alarms at apartments, 2433 Wesvill Court.
Dec 22, 2010 - Two alarms at apartments, 4644 Grinding Stone Drive.
+ 2 - 1 | § ¶
Two Alarms on Green Road on Christmas Morning
More than twenty-five people were displaced early this morning at a two-alarm fire at Green Castle Apartments at 2647 New Hope Church Road. The call was dispatched at 2:19 a.m. to 3923 Green Road. New Hope Engine 1 arrived at a two-story, brick-and-a-frame, townhouse building with 7,920 square-feet. Built in 1972. They found heavy fire venting from the roof of two of the building's seven units. A second alarm was dispatched while units were still en route. Defensive operations were utilized.
Ladder 2 and Ladder 5 flowed from the front of the building, while Ladder 1 was deployed in the rear. Plus deluge gun, portable monitor, hand lines, etc. The fire was controlled at 3:30 hours. The entire building was heavily damaged. All occupants escaped safely. Red Cross is reportedly assisting 15 families, with temporary shelter provided at a nearby hotel. The cause of the fire, which started outside one unit and spread to the roof, is undetermined.
As this WRAL story reports, this is the third large fire in five years at this location. Twenty-four people were displaced on June 14, 2010 (two alarms), and twelve people were displaced on April 3, 2006 (two alarms). Lee Wilson and Mike Legeros (see early photos) were both on scene this morning, and will provide additional incident details in their posted (or updated) pictures.



Lee Wilson photo

Mike Legeros photo
+ 2 - 2 | § ¶
Santa on Scene!
The Big C has been making the rounds at emergency scenes this week. With a presumed wink and a nod, K. Kringle first appeared on Tuesday in Dallas County, Texas. Cruising along in his Santamobile-- off-season passenger car-- he leaped into action at an accident and pulled a man from a burning truck. He further assisted with traffic control and then continued on his way. Firegeezer has that story.



WFAA-TV photo

The jolly old elf was subsequently seen assisting at a house fire on Friday in Dickson City, PA. The Fire Critic has that report including a video clip showing Big Red changing air bottles. What was he doing still in the states, and not supervising last-minute manufacturing and supply chain activities farther north? Probably just scouting landing locations for his arctic aerial vehicle.



FireCritic.com photo

Asked about expected gifts for the aforementioned bloggers-- and a few other keyboard jockeys with their own fire and EMS web sites-- S. Claus is believed to said "lumps of coal for the lot of them!"
Merry Christmas.
+ 8 - 1 | § ¶
Raleigh Mack to Burlington in 1979?
Doing some housecleaning today. Found this document from a few years ago and apparently never blogged about. (If you haven't figured it out, Mr. Blogger uses this forum as much as a personal archive as anything else.) Did the Raleigh Fire Department give a Mack CF pumper to Burlington back in the day? Read on...
December 2006
Original question to Mike Legeros, posed by an apparatus buff: "When I was in Burlington, the firefighters told me that they had acquired a Mack CF pumper from Raleigh a number of years ago. According to legend, the Mack was bought by the Raleigh Fire Department, but never placed in service. It was either given to the Burlington Fire Department, or sold for a very reasonable price. It is a pretty standard Mack CF pumper, except that it has a non-synchronized manual transmission. One of the Burlington firefighters said that the transmission was the reason it wasn't accepted by Raleigh. And that's why they let it go, after an apparatus accident depleted Burlington's fleet. Is this a story you have heard about over the years? Were the firefighters accurate in what they related?
Yours Truly passed the question along to Burlington Fire Department Historian Stuart Cozart, who provided this answer: "From what I understand, the below 1949 American LaFrance pumper was the truck that was wrecked. The accident in fact did wipe out, for all practical purposes, the operational fleet. The LaFrance was housed at Station 2 on Webb Ave." Click to slightly enlarge:

The reports are not complete, but I understand that the 1979 CF Mack, with the un-synchronized transmission, was purchased through Raleigh Fire Department. Not sure if it was a demo, or if Raleigh allowed Burlington to piggy back on an order. The 1979 Mack (chassis number CF685F2068) served as Engine 2 for many years. It is now in reserve as Engine 7 and is shown below in front of Station 5." Click to slightly enlarge:

READ MORE
+ 2 - 6 | § ¶
Traffic Camera Captures Vehicle Fire on Beltline
That's Engine 12 with Engine 10 blocking at a vehicle fire a few minutes ago on Interstate 440 at what looks like the exit ramp from outbound New Bern Avenue onto the outer loop of the Beltline. Engine 26 was also dispatched and returned to service. Isn't modern technology great? Thanks for the pan and zoom assist, whoever was at the controls. Click to enlarge:


+ 3 - 1 | § ¶
Nine Firemen Join Force, February 1, 1949
From the February 1, 1949, edition of the News & Observer. That year, the Raleigh Fire Department was operating six engines, one aerial ladder, and one service ladder from six stations. They would answer 698 calls that calendar year in a city 10.88 square-miles in size and with 65,679 residents (1950 demographics). The budget that fiscal year was $192,095. Notable things that happened that year included the overhaul of the interior of Fire Station 5 on Park Drive, opening a permanent Fire Station 6 on Fairview Road, and forming the Fire Prevention Bureau. Click to enlarge:


+ 3 - 3 | § ¶
Troy Fire Department Circa 1976
Among the features of the recent redesign of FireNews.net is a new section of historical images. Below is the Troy Fire Department circa 1976. Look at those beauties! Double Macks, one CF and one B series L series. Couple Ford C series, maybe pumper-tankers? What do you think, town and rural trucks? Looking at their web site, it appears that station building shown is still being used. Be sure to see the other old photos posted on FireNews.



FireNews.net photo
+ 1 - 3 | § ¶
Morning Reading - December 24, 2011
Good morning Raleigh. 'Tis the morning after the night before the night before Christmas. Do you have your shopping done? Did you get your metal pole, for the Festivus feats of strength? Our hearts are also still heavy for the family and friends of Raleigh Fire Department Capt. J. Scott Nipper. Funeral arrangements are still pending. We'll pass along what's passed along, when that information is announced. Meanwhile, sundry reading on Saturday morning.
+ 3 - 3 | § ¶
Update #1 - Raleigh Fire Captain Killed in Car Accident
Update on December 22 at 10:00 a.m.
Gracie Nipper remains at Duke Medical Center. She underwent a four-hour surgery last night to repair multiple fractures to her legs, wrist, and ribs. She is scheduled for additional surgery tomorrow. The doctors have given her a good prognosis, with a long recovery time. No arrangements have been made for Capt. Nipper's funeral service. The family and the fire department thank everyone for their thoughts and prayers during this difficult time.
A press conference by Fire Chief John McGrath is planned at Fire Administration at 2:00 p.m. today. The location is 310 W. Martin Street.
--

Jonathan Scott Nipper, 43, a Captain with the Raleigh Fire Department, was killed on Wednesday, December 21, in a traffic accident in Oxford in Granville County. His daughter Gracie Nipper, 10, was riding with him, and was airlifted to Duke Medical Center. She was last reported as stable with multiple fractures, and underwent surgery this evening. Capt. Nipper joined the fire department in January 1996. He was assigned to Station 1 on South Dawson Street. He was off-duty at the time of the accident. News coverage includes WRAL, WTVD, and News & Observer.



+ 3 - 3 | § ¶
New Multi-Training Simulator For Raleigh
The Raleigh Fire Department this week took delivery of a live-fire, multi-training simulator. Built by Fire Training Structures (FTS), it was delivered on Monday. The 40-foot, mobile simulator system was installed this week at the Keeter Training Center. Instructors will be trained in the coming weeks. The city received $146,000 in federal funds for the purchase, awarded by the U.S. Department of Homeland Security as part of its Assistance to Firefighters Grant (AFG) program. The system is equipped for live fire training as well as ventilation, forcible entry, standpipe, sprinkler, confined space, firefighter survival, and Self Contained Breathing Apparatus (SCBA) skill stations.


+ 4 - 2 | § ¶
Response Changes in Raleigh
For anyone that listens to a radio or scanner, "reading the tones" is a soon-acquired skill. On the Raleigh Fire Department dispatch channel (alert talkgroup), two tones typically means a fire alarm. Engine and ladder. Three tones usually means a vehicle overturned. Engine, ladder, rescue. On the other end, ten or twelve tones means something big. High-rise structure, full haz-mat response, full USAR response. If you've got a really good ear, you can even identify which tones are which units. (Those skilled listeners are usually the ones working in the fire stations. Or, cough cough, sitting beside a scanner all day long. You know who you/we are...)
You've probably noticed a few more tones of late, and a more units dispatched on structure fires in Raleigh. Beginning late last week (December 15), dispatch assignments were charged for a number of call types. These changes are an extension-- or have been made possible-- by this summer's implementation of Emergency Fire Dispatch. More accurate call types = more accurate control of assigned assets, as desired by the department(s) served by the communications center. The Raleigh Fire Department has thus adjusted a number of their responses.
Two of the most noticeable changes involve structure fire responses:
Multi-residential, commercial, and industrial structure fires. Two ladders are now dispatched on the initial response, instead of just a single ladder company. There are eight ladders (and 28 engines) in the city. Here's a map showing all stations and equipment. Hey, it's even up-to-date.
Structure fire dispatch, except high-rise. The fourth engine company—which functions as the Safety Company—is now dispatched on the initial response, instead of the working fire dispatch. This elevates the initial response to four engines, one or two ladders (see above), one rescue, and one Battalion Chief. (And the working fire dispatch is reduced by one unit, to just Air 1, Car 10, and Car 20.)
The other changes are a bit more varied:
Structure fires involving hazardous materials. One haz-mat company has been added to the standard structure fire response, which is based on building type. High-rise versus non-high rise.
Woods/grass/brush fire (outside fire) greater than one acre. Two engines, one mini pumper, and one Battalion Chief are now dispatched. Those smaller than one acre will continue to receive one engine.
Vehicle accidents with confirmed pinned subjects. One Battalion Chief has been added. The response to overturned vehicles remains one engine, one ladder, and one rescue.
Elevator rescue. One ladder has been added. The response is now one engine, one ladder, and one rescue.
Full haz-mat or full USAR response. One Battalion Chief and One Division Chief replaces the prior response of two Battalion Chiefs. Lots o' tones on those!
High-rise structure fires. Ladder companies will be dispatched only on the first two alarms, for a total of four ladders. No ladder companies will be dispatched on third, fourth, or fifth alarms.
These are exciting changes (spoken like a true geek), and it may inspire some of the other town and county fire departments in similar directions.
+ 4 - 0 | § ¶
Veterans Affairs Fire Departments / Oteen Fire Department
We've blogged before about institutional fire departments, of which several have served in North Carolina. What about fire departments operated by the US Department of Veterans Affairs? There are twenty VA medical center/hospital fire department in the United States, says a reader who shares the below list. Thanks Greg! Some have web sites (check Google) and that include fire apparatus photos:

VAFD, Alexandria, LA
VAFD, Bath, NY
VAFD, Battle Creek, MI
VAFD, Butler, PA
VAFD, Canandaigua, NY
VAFD, Castle Point, NY
VAFD, Chillicothe, OH
VAFD, Coatsville, PA
VAFD, Fort Harrison, MO
VAFD, Fort Meade, SD
VAFD, Hot Springs, SD
VAFD, Lyons, NJ
VAFD, Martinsburg, WV
VAFD, Montrose, NY
VAFD, No.Little Rock, AK
VAFD, Northport, NY (Long Island)
VAFD, Perry Point, MD
VAFD, Togus, ME
VAFD, Tomha, WI
VAFD, Tuskegee, AL
None in North Carolina, presently. Going back a few decades, however, and the Oteen Veterans Hospital in Asheville had a fire department. We've also
blogged about them before
. Below is a picture from 1922, and the department was active until at least 1955. The pictured apparatus is a 1918 American LaFrance Type 75 Triple Combination. Registration number 2234. It was shipped on June 18, 1918. The destination was a tuberculosis hospital in Azalea, NC. The location of the rig as noted in
John Peckham's ALF database
was later changed to Hospital #19 Oteen. That refers to US Army General Hospital No. 19, which opened in 1918. At some point, perhaps the two hospitals joined forces for fire protection. Or maybe the Army took over the role and the rig.
Read more of that history and the current historical district
. Click to enlarge:
+ 1 - 0 | § ¶
Map of Raleigh Fire Stations
Forgot to mention this one last month, an updated version of my map of Raleigh fire stations and other facilities (including the museum!). Now an appealing grey instead of puke green. Created using a city limits map downloaded from the City of Raleigh web portal. Graphics software for creating the circles and letters and boxes. Eyeballs of others to review and advise corrections. Click once or twice to enlarge. Linked from my unofficial site.


+ 0 - 2 | § ¶
Morning Reading - December 19, 2011
Good morning Raleigh. 'Tis the season for retirements. Best of wishes to our friends in Raleigh and Cary (among other places) who are celebrating (or have celebrated) their last day or last shift. See you on the other side. New response assignments in Raleigh. Have you noticed the changes, notably a fourth engine now dispatched on structure fires? And a second ladder added for apartments, commercial, and industrial structures. More on that later. Now onto some reading.
+ 2 - 1 | § ¶
Scotts Hill Fire Department Cookbook
Here's something interesting found for sale on eBay, a coil-bound cookbook published in 1991 by the Scotts Hill Fire Department north of Wilmington in Pender County. The 76-page document was likely created a fundraiser. Search eBay and you'll see similar documents from around the country. How many cookbooks have been created and sold around here? That's a good question! The Morrisville Fire Department produced one in 1975.1 Readers might recall others. As for the Scotts Hill Fire Department and which we've blogged about before, they operated from 1977 to 1992. Probably didn't operate horse-drawn equipment, however. Will check on that! Read about more former fire departments in North Carolina.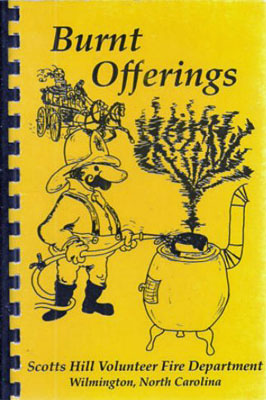 1Recipes included Mildred Howard's "Congealed Salad," Hilda F. Carpenter's "Persimmon Pudding," Onnie Riggsbee's "Cola Cake," Mary Frances Ferrell's "Mayonnaise Biscuits," Gayle Mills' "Hamburger Goulash," Mary Hill's "Porcupine Meat Balls," and Cleo Meachum's "Corned Beef Casserole."
+ 2 - 1 | § ¶
More Vintage Slides
While we're cruising down memory lane, let's look at a second set of 35mm color slides, also from the 1970s and also found at the training center. These surfaced in 2007. They were supposed to be available on the Raleigh Fire Department Historical Society photo page, but the link didn't get added. Guess we'll blame their webmaster, which is the same person that's writing this blog posting. [Insert sound effect of Homer Simpson saying "d'oh!"] We meaning me has restored the link, and added annotations to the photos. Names with some faces, and questions with some others. There are some great apparatus shots in this deck, in particular. See the slides.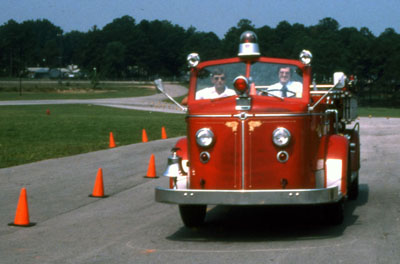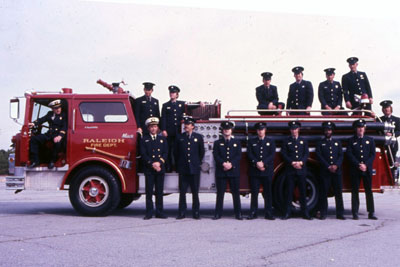 + 5 - 4 | § ¶
Which Rescue is Which?
Quick question for the gearheads. Which of these old Raleigh rescue units is a 1974 Chevy Silverado versus a 1975 Chevy Silverado? Look at the grills or the beacon colors. (At least one reader has told me before-- that's you, Dale-- but my memory fails me regarding where those notes are recorded.) I will update my apparatus database accordingly. Click to enlarge:


+ 2 - 0 | § ¶
Vintage Slides of the Training Center
Let's hope in our wayback machine and take a trip to the mid-1970s. Our physical location will be the Raleigh Fire Department training center off South Wilmington Street (or was it still called Highway 15A?), and some years before the classroom building was built and the facility was renamed Keeter Training Center. What we'll watch are some high-expansion foam operations, and the filling of the smokehouse with suds.
The department had a pair of these machines-- equipped with small engines and long canvas chutes-- and they were carried on a pair of pick-me-up trucks. Foam 1 was downtown (Station 1), Foam 5 was at Cameron Village (Station 5). The latter was purchased and donated by shopping center owner Willie York, and for use in the Village Underground (remember that?). Readers can add their stories about high-ex and other old training tower tales.
By the time one M. Legeros was (briefly) a firefighter and stationed at Station 5, the foam truck was still in service. That one was a 1965 International. Three forward gears, if memory serves. Shifting lever on the steering color. Tiny siren under the hood. Here's a fun memory: one of the rescue trucks was out of service, so they piled their Hurst tools and more in the bed of one of those trucks. Then they threw a canvas tarp over the thing. 'Twas a funny sight when rescue rolled on scene!
But back to the slides. Do you have or know of other old slides? Please contact the Raleigh Fire Department historical society. We'll get 'em and share 'em and keep 'em safe. View and enjoy the slides.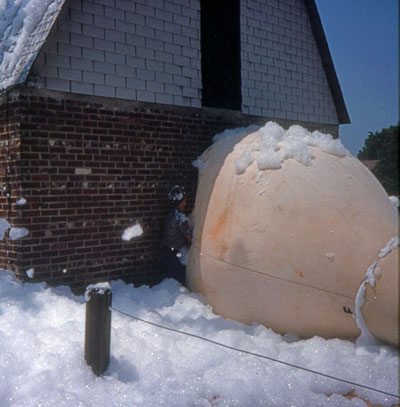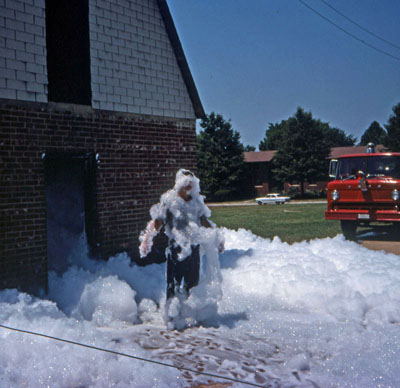 + 2 - 4 | § ¶
Military Surplus Pumper For Sale
From a reader, this former Marine Corps pumper was photographed at the state surplus facility on Garner Road. Sale priced at $4,500, says the sticker in the window. High-wheelbase, maybe originally designed for snow, sand, or brush duty? Lettered for Comfort VFD, of which there's one in Tennessee. Click to enlarge:


+ 2 - 2 | § ¶
Yesterday's Fires at Night
Four sets of photos have been posted of nighttime fires from yesterday. Three from Lee and one from Legeros. East Lenoir Street (Lee), from yesterday morning; Northfield Drive (Lee and Legeros) and Raceview Terrace (Lee) from last night, a pair of early evening working fires in the Engine 9-Engine 4 corridor along Six Forks Road. Below are two views from Northfield, both using external flash to illuminate what was a very dark scene. My my notes are minimal on that one. Ambient light in some, external flash in others. Varied settings. Slower lens, since my better one's in the shop. Still learning, still have homework to do.


Lee Wilson photo

Mike Legeros photo
+ 2 - 0 | § ¶
Watching Videos
Watching a pair of YouTube videos, found during my semi-regular search on "fire NC" and "fire department NC" and "house fire NC." There isn't a lot of current or recent fire footage on that site. Neither from fire photogs nor fire departments. Draw conclusions as desired. These two were interesting to me. Nearly two minutes of exterior operations at a house fire during snow (!) in Beaufort in January 2011, and a fast-moving fire in Orlando, FL, also from January. The second video was found as a related/suggested video for the first one. Shows just how fast-moving that fast fire is moving, as well as residents' attempts to extinguish.

+ 3 - 1 | § ¶
Two Children Rescued at Raleigh Apartment Fire
Raleigh firefighters rescued two children early this morning at an apartment fire 1534 1536 North Raleigh Boulevard. The children suffered smoke inhalation and entered respiratory distress. One was resuscitated on scene. Two adults self-evacuated. All four were treated on scene by Wake County EMS. The children were transported to WakeMed.
Units were dispatched at 4:25 a.m. Engine 7 was first on scene at the two-story, brick building with 5,292 square-feet, with heavy smoke and fire showing. Battalion 2 took command on his arrival, and requested a second alarm about ten minutes into the incident. Staging was just south of the scene on Raleigh Boulevard, about a block north of Fire Station 7.
Fire investigators and other units were still on scene at daybreak. The cause was determined as accidental due to unattended cooking. Photographers Lee Wilson and Mike Legeros (below) went to the scene, and will provide more details with their posted pictures. See Lee's photos, see Legeros photos. News coverage: News & Observer, WRAL, WTVD,
December 15 update: Added links to photos and News & Observer story.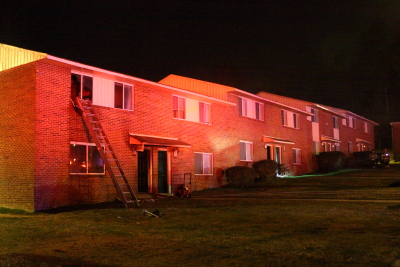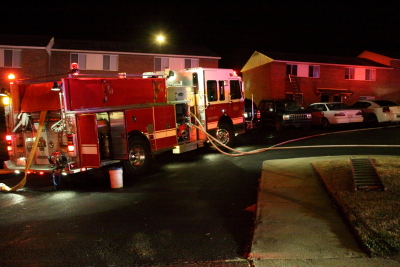 + 2 - 2 | § ¶
Picking Photos
One of my prior immersive (read: obsessive) hobbies was writing movie reviews that were posted on the Internet. Started with USENET newsgroups (remember those?) and progressed to a web site named Movie Hell. One of my annual tasks come Christmastime was writing a "year in review"-- thoughts on the hundreds of movies I had seen and the theater (and writing) experiences therein. This tradition has continued with fire photography, with an annual compilation of favorite photos. They're also linked on the archives page of www.legeros.com/firepics.
This is a time-consuming exercise, for starters. From January 1 to October 31, for example, that translates to 204 folders and 12,000+ images. Some are skimmed by looking at the thumbnails in a folder view. The majority are viewed at full-size. And everything is reviewed quickly; a fast succession of images, with just enough time to register those that make me react. The "wow" photos. The ones that make me stop scrolling. (Plus some "non-wow" photos that have sentimental or other appeal.)
It's also an instructive exercise and functions a personal performance review. I get a great self-review of my craft, as well as a chance to remember and even relive some of the captured incidents and events. (Being a fire photographer means also critiquing your behavior on scene.) The resulting collection is also useful and can serve as starting point for people looking for particular photos. Sort of a stock-photo collection. This year's set will be posted around January 1. The set will again be somewhat subjective; some/many incidents will be missing. And since I just posted a collection of people pictures, the number of faces may be smaller this time. We'll see what happens. Check back in a couple weeks.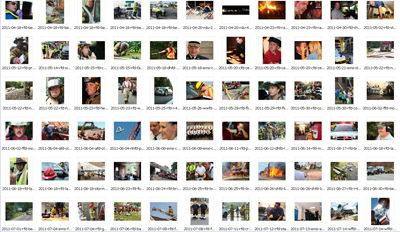 + 2 - 0 | § ¶
Falls of Neuse Road Bridge Over Neuse River to Close Beginning Monday Dec. 12
Press release. One of the oldest bridges in Wake County will be closed beginning Monday, December 12 at 9 a.m. as crews prepare to tear it down and replace it with a new bridge. The 73-year-old bridge over the Neuse River on Falls of Neuse Road is one of the 10 oldest state-maintained bridges in Wake County. Message board signs have already been put in place alerting motorists of the closing. The new bridge is scheduled to be open by June 1, 2013. Read entire press release.
And here are a couple prior postings about the bridges, when the new bridge was being finished and the morning of its opening. The latter included this digaram showing the various sections of road. Dam interesting. Click once or twice to enlarge:



Afternoon update. And here's a reader photo showing some of the bridge's wooden components as depicted at a vehicle accident a couple years ago. Thanks Nick!

+ 1 - 3 | § ¶
Morning Reading - December 9, 2011
Good morning Raleigh. We'll open the fire museum tomorrow morning from 10 a.m. to 2 p.m. at the Keeter Training Center. Second Saturday of the month, our regular schedule. More details on the museum. Tragedy all around in the news late this week, with police officer and firefighter deaths both near and far. Dave Statter's site in particular has numerous details on the death of Worcester, MA, firefighter Jon Davies. Below are less-serious subjects and articles from recent days.
+ 5 - 2 | § ¶
Now That's a Construction Sign!
Also seen in Morrisville, on the corner of Cary Parkway and Chapel Hill Road. Big shopping center being erected. Some stores already open. Good food stuffs across the street, opposite Cary Parkway. That's one booming town!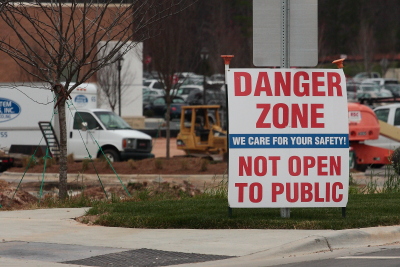 + 3 - 4 | § ¶
Morrisville's New Fire Station... Almost Ready!
Looks like Morrisville's new fire station is close to completion. The three-bay building is located at 200 Town Hall Drive. Here's the town's project page. The current Station 1 is located on Morrisville-Carpenter Road. According to my research (done several years ago), this is the fourth "central fire station" for the town. Let's see what we can learn...
First Building
Opened in 1955
Tin shed behind Red and White Store on original section of Morrisville-Carpenter Road.
Believe the store building is still standing. Maybe two blocks remain of the old road.
Second Building
Constructed in 1958.
Brick or more likely block building. Had a-frame facade, if memory serves from a photo seen somewhere (but not in my possession).
One door/bay that housed the department's first pumper and a brush truck.
Where was that building located? Again behind the Red and White?
Third Building / Current Fire Station 1
Constructed in 1960
Located on Morrisville-Carpenter Road.
Two bays facing east.
In 1963, two more bays and meeting room added.
In 1984, three bays were added. Did that make the station seven-bays in width, or were some bays made deeper?
In 1992, the station underwent a complete renovation. The a-frame roof was added.
Around 1997, some of the bays were closed and the remaining bays were reoriented to face north. This was done when the road was shifted west, to join with Aviation Parkway.
Anyway, click to enlarge this photo, taken yesterday while passing through town. Looking forward to the grand opening!

+ 2 - 2 | § ¶
Tuesday's Big Blaze in Holden Beach
Found this on Firehouse.com, from the Wilmington Star-News. Explosions on Holden Beach shortly before 5 a.m. Tuesday. Unoccupied homes times two ablaze on Starfish Drive. Flames shooting 20 feet over the tops of the burning roofs. Daylight brought the damage report. Fire started at 115 Starfish Drive and spread to 113 Starfish Drive. Also destroyed were two boats on trailers in a vacant lot, and two others damaged. Tri-Beach FD, Supply FD, Civietown FD, and Grissettown-Longwood FD responded. Read the entire story, which also includes a video clip. See also this News 14 story, which has morning-after footage.



Christopher Critz/Star-News photo
+ 8 - 1 | § ¶
Dalmatian is Durham Highway Firefighters' Best Friend
Here's a nice story from WRAL's TarHeel Traveller about Angus the fire dog, everyone's familiar and beloved canine friend at Durham Highway Fire Department. Watch the story or click to play:


+ 1 - 4 | § ¶
December 10, 1941
Three days after the attack on Pearl Harbor on December 7, 1941, the state's fire chiefs and police chiefs convened at the Capitol. They were addressed by the Governor, who announced his plans to invoke emergency authority and confer police power upon the Highway Patrol. He also addressed the possibility of air raids. "Nobody doubts but that, while there would be sharp resistance and gallant opposition, it would be possible for the Germans of the Japanese to send plans over our country." He asked that police and firemen also strive to keep public morale at a high level in the event of emergencies.
There were sessions conducted on civilian defense, including one conducted by State Fire Marshal Sherwood Brockwell. He was also the recently named coordinator of state defense against fire. Some 170 fire chiefs listened and took notes as Brockwell lectured on identifying and combating incendiary bombs. He was helped by Lt. Kenlon H. Brockwell, his son and Post Fire Marshal at Fort Bragg, and Capt. J. M. Munday, Drill Master of the Charlotte Fire Department. (If Munday's name seems familiar, he died on duty in 1955. He was an Assistant Chief and suffered a coronary.)
From the December 11, 1941, issue of the New & Observer: "Brockwell demonstrated the content of an incendiary bomb and explained the equipment needed and the procedure for extinguishing it. From a chart, he explained the appearance and effect of armor piercing, demolition, fragmentation, aerial mine, light and scatter aerial bombs. [He] also explained the action of white phosphorous and thermite, the formerly highly adaptable to sabotage, and offered ways of counteracting their flames." He explained thermite is used against oil deposits, and urged special precautions in such places as Wilmington.
Fire chiefs were urged to coordinate their departments for "mutual assistance" in the event of raids. They were told that they should also depend on "mobilized, organized civilian aid." The attending police chiefs, meanwhile, discussed deputizing citizens in the event of emergencies. They were urged to "prepare lists of 'qualified and dependable men'" for same. The Governor the day before had issued bulletin to the mayors of North Carolina cities with over 5,000 people, describing how to organize Civilian Protection Committees. Bulletins to smaller towns were pending. (Auxiliary fire companies would be organized in a number of cities and towns, including in Raleigh.)
This photo appeared in the aforementioned News & Observer story with the headline "Fire Chiefs Hear Air Raid Lecture." Pictured left to right are Kenlon Brockwell, Sherwood Brockwell, and J. M. Munday. Click to enlarge:

+ 5 - 2 | § ¶
Unusual Accidents
Let's start with an intoxicating incident in Catawba County on Sunday morning. Happened on Highway 321 in Newton about 2:45 a.m. Law enforcement officers were wrapping up a checkpoint when a red Camero crashed into the back of a big, honkin' "Booze it or Lose it" bus. The driver was transported with non-life threatening injuries. Charges included... DWI. Read the WCNC story, though this one made the news nationally. Heck, was even on the Drudge Report!



WCNC photo


Let's turn to Tuesday morning, today, to a pair of men driving a pair of sport utility vehicles in Wendell. The odd thing here is that they were riding on railroad tracks, near the exit for Highway 64 off of Highway 264. One of their vehicles became stuck. Then the train came. They made a hasty exit, escaped any injury, and approximately 1.5 miles later, their vehicles and the train came to a stop. Read the WRAL story or the News & Observer story.



WRAL photo

Finally, the third tale isn't as much an accident as a mechanical malfunction. Or, more precisely, flat tires. It's the vehicle that the tires were attached to that's unusual. 'Twas a heavy-haulage load-- 125 feet long, 150 tons heavy-- that took to the shoulder of Interstate 540 near Highway 64 today, also in or near Wendelll. The rocket-shaped thing, you ask? Stainless-steel pressurized chemical reactor vessel, reports this WRAL story. Should be rolling again by tomorrow.


WRAL photo
+ 3 - 3 | § ¶
UPDATED: Hillsborough FD / Orange Rural FD - Apparatus, Patch, History
December 6 update. Here are some photos of older Hillsborough FD and Orange Rural FD apparatus, as photographed by Lee Wilson in the early 1990s. He dug through his print archives to provide these. They are: HFD Engine 231/E3 (1993), a 1980 Ford/FMC; HFD Ladder 272/Aerial 22 (1993), 1987 Simon-Duplex/LTI; ORFD E23 (in 1991), 1973 Ford/Bean; ORFD Tanker 2 (1990); HFD Tanker 27 in two photos (1993), 1984 Ford/Grumman; ORFD Squad 268 (1993), 1983 International; ORFD Tanker 233 (1991), 1991 White/EEI. See more photos from Lee. Click to enlarge:


We're discussing the history of the Hillsborough Fire Department in this thread about the town's new ladder truck, as well as the former department's connections to the town's current fire protection provider Orange Rural Fire Department. Google finds this image of an HFD patch. One more piece of the puzzle.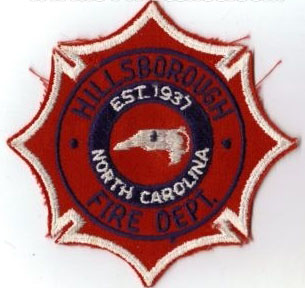 READ MORE
+ 7 - 3 | § ¶
Pierce Ladder... Headed to China
Here's something you don't see everyday. From a reader at a Pierce plant in Wisconsin, here's an aerial ladder being built for a fire department in China. No idea what the lettering reads. Observe the hard suction included on the apparatus. Here's a press release with more information about sales of both Pierce and Oshkosh apparatus to China. Couple photos in the press release as well. Click to enlarge:


+ 2 - 2 | § ¶
Saturday's Live Burn in Selma
Here's your Monday morning hot shot. That's the former Golden China Buffet Restaurant on Highway 70 at Ricks Road in Selma in Johnston County. Commercial structure fire, you ask? Nope, it's a training exercise. The stack of wooden pallets on the right gives that one away. Photographer Lee Wilson spent some time there Saturday and has posted his photos. Readers can post the list of participating departments.



Lee Wilson photo
+ 3 - 1 | § ¶
Early American LaFrance Deliveries in Wake County
Not counting the Captiol City. Those rigs are listed on this web site, with details a-plenty. These records are a bit scarce, alas. They're from a database of American LaFrance apparatus compiled by the late great John Peckham. See our blog post about same.
Apex
Type 10 pumper.
Registration #185.
Shipped to Shreveport, LA on April 10, 1912.
Traded in Atlanta on August 15, 1927.
Sold to Apex on October 1, 1927.
Read AFD history.
Cary
Chemical car.
Registration # F-849.
Two 35 gallon tanks, one-ton chassis.
No date in database.
Bid accepted by town on October 23, 1922.
Read CFD history.
Wake Forest
Combination hose and chemical car.
Registration # F-772.
One 40 gallon chemical tank, one-ton chassis.
No date in database.
Town approved purchase on September 19, 1921.
Read WFD history.
Zebulon
Combination hose and chemical car.
Registration #F-917.
One 40 gallon chemical tank, one-ton chassis.
No date in database.
First fire truck purchased by town in 1928.
Read ZFD history.
+ 2 - 1 | § ¶
Handbook For American Fire Engine Company Steam Engines
Ever wondered how to operate a steam fire engine? Here's a document that tells you how. It bears the lengthy title of Handbook of the Steam Fire Engine with Instructions for the Running, Care, and Management of the Machine and Directions for Operating the Heater, Also Suggestions for the Care of Hose, and Other Useful Information. It was published in 1897 by the American Fire Engine Company, which later merged with the LaFrance Fire Engine Company. You know where that lead! Below is an excerpt. Read the entire document, which was created via OCR software, from a transcription that appears in Those Magnificent Old Steam Fire Engines by W. Fred Conway, published 1997 by FBH Publishers, New Albany, IN.
OPERATING THE ENGINE.

The engineer should start up the machine gradually, but before doing so he ought to satisfy himself that the joints and connections in the suction hose are air tight, that the discharge gate is open and the churn valve closed, and that the fire has been properly attended to. Let the cylinder cocks be open and the exhaust nearly closed, and all the bearings and journals well oiled. The wheels should be properly blocked, especially if standing on a grade. When starting, the throttle valve should be opened slowly at first, or condensed steam will be thrown out of the stack on the dome, and is liable to stain it.

The automatic air cocks on the upper pump heads must be opened immediately after starting. They serve to promptly relieve the upper pump chambers of air, and may be closed as soon as water is ejected from their orifices.

When condensation has ceased, the engine being warm, the drain cocks should be closed and the machine speeded up gradually until a good pressure of steam is obtained.

After the engine is fairly started, do not stand too close, but let your position be a step back; and, with your face towards the machine, endeavor to train your eyes and hands to command the entire situation. While it is perfectly proper to be near the throttle, in order to promptly close it in case of bursting hose or failure of the water supply, do not acquire the habit of constantly clinging to the same, for there are other duties equally as important that require your attention.

In the general hurry and rush, avoid all excitement, and let your duties be attended to in a calm and collected manner.
+ 1 - 5 | § ¶
Raleigh's Steamer Sans Trailer
Among the antique apparatus stored at Station 28 on Forestville Road is a 1905 American LaFrance steam engine. This is the second steamer that was owned by the city, after a 1870 Gould. Here's some of that history. The 1905 steamer is mounted on a trailer, and has sat on same for a few decades. What does the horse-drawn pumping engine look like on its own wheels?
Here's a special photo showing same. It's a doctored image, created using PhotoShop Elements. Look closely and you'll see the seams. Still pretty cool. With the fire department's centennial anniversary just around the corner, special attention is being paid to the steamer. More on that later. Now, let's get Mr. Blogger to update his various web pages, so this photo isn't just forgotten here on the blog. Memo to self: do that. Click to enlarge:


+ 1 - 2 | § ¶
Morning Commute
Here's a familiar scene on Interstate 40, headed westbound just past Wade Avenue. Heck, it's a familiar sight in both directions, and along that stretch of road for a couple months. It also happens on Wade Avenue, heading into Raleigh. Question, why does Wade Avenue get slow outbound between the Beltline and Blue Ridge Road? Is the incline just too much for drivers, and everyone mysteriously drives slower than they need to? And wouldn't you love to see some stats on accident rates on that stretch of road? Has to be daily or better. Saw some guy in a Hawaiian shirt taking this photo, on the bridge there. Click to enlarge:


+ 1 - 2 | § ¶
Morning Reading - December 3, 2011
Good morning Raleigh. Getting ready for a presentation early this afternoon. Disasters of Raleigh at the City Museum in the historic Briggs Building on Fayetteville Street. Subject is fire, of course. Great fires of Raleigh, plus ample historical context therein. Then we open the Raleigh Fire Museum next Saturday. History never sleeps.
+ 1 - 3 | § ¶
REMINDER: Raleigh City Museum Programs Today, Saturday, Dec. 3
Visit the Raleigh City Museum this afternoon from 1:00 to 4:00 p.m. and learn about the disasters in Raleigh. Two programs will be conducted on fire and weather disasters in the Capitol City. An engine company will also be present, with their apparatus available for viewing.
Beginning at 1:30 p.m., active and retired members of the Raleigh Fire Department will speak about fighting some of the city's biggest fires. At 2:00 p.m., historian Mike Legeros will talk about the history of disastrous fires in Raleigh.
READ MORE
+ 4 - 1 | § ¶
Top This Trailer Hitch
Here's the ultimate automotive accessory for firefighters, past or present. This one comes from DJ, one of our longtime readers and a blogger himself. His license plate echoes his site name, 9-ECHO-1. And his background in firefighting stretches back decades, such as when he worked at Raleigh-Durham Airport and volunteered at Yrac Fire Department. Looks like the perfect holiday gift to me.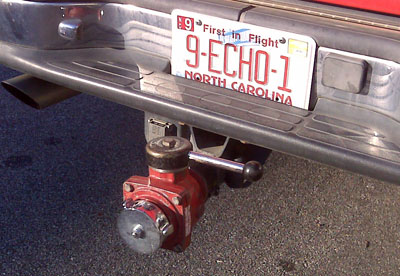 + 5 - 4 | § ¶
Hillsborough's New Ladder Truck
December 3 update: See also this subsequent posting about HFD history.
The town of Hillsborough has taken delivery of a new ladder truck, a 95-foot aerial platform built by Sutphen. Ladder 2 will be operated by Orange Rural Fire Department, which is contracted by the town for fire protection in the town. Curiously, the new truck is lettered for the Hillsborough Fire Department.1
The new apparatus replaces a 1987 Simon-Duplex/LTI quint. This town news release includes details on the funding for the truck. FireNews.net also has details on the delivery, from a News of Orange County story.
We see quite a few Sutphens in the central Piedmont, such as operated by Durham, Greensboro and Winston-Salem. As for the Hillsborough Fire Department and its history, we've tried to track that but without much success. Maybe a visit to the local library is in order one of these days. Click to enlarge:


1Reminds me of Avery County's short Sutphen platform, which was bought by and lettered for the county but operated by the individual fire departments. If memory serves correctly.
+ 2 - 2 | § ¶
Clayton EMS 44 - Then & Now
Reader Jason Thompson has found Clayton's second EMS 44, a 1977 Chevrolet ambulance that was the first Type III in our region. The original was a 1965 Ford SD-Type. Scooby-Doo Type. And that's when they were called Clayton Rescue. Until that time, he recounts, Type I Swabs (original Wake County EMS units and many other local squads), Type II (one-piece vans), and high-top suburbans dominated EMS agencies around here. Plus, of course, all those Cadillacs and old Oldsmobiles and Pontiacs that were still around. This one's serving as a plumber's vehicle. Pretty cool. Thanks Jason!