+ 1 - 4 | § ¶
Chasing Smoke in Salisbury
Found via random Google searching ("NC house fire"), here's a YouTube video of a house fire in Salisbury on Independence Day. User kenjr29mfl describes the clip(s): "As we were headed to the interstate to leave Salisbury we had to stop for an emergency signal. I saw that the Paramedics, two Fire Trucks, and the Fire Chief all left out on the call. So I decided to follow and see what was going on. Turns out it was a house fully involved in a fire."



+ 2 - 0 | § ¶
Who's Gonna Play This Old Piano?
Let's cruise off topic for an interesting New York Times article about the demise of used pianos. As their values have plummeted in recent years, owners are more likely to dump 'em than donate them. And many are also dying of old age, those that survived the golden age of American piano-making from 1900 to 1930. Interesting stories. And for a bit of appropriate musical accompaniment, here's Jerry Lee Lewis singing on the subject. Video clip from 1976, from the television series Pop Goes The Country. Song written by singer-songwriter Ray Griff, who had over 700 (!) songs turned into recordings.



+ 3 - 0 | § ¶
Wilmington Firefighters Memorial Volleyball Tournament, Saturday, August 4
Our friends at the Wilmington Fire Department pass along this event notice. On Saturday, August 4, they're hosting a volleyball tournament at Capt'n Bill's Backyard Grill, 4240 Market Street, to help raise funds for the Wilmington Firefighters Foundation. Come and support the firefighters memorial that's being constructed at Station 2 at Empie Park. There will be raffle prizes, bounce houses for the kids, a corn hole tournament, and an exhibition game with Wilmington firefighters versus Wilmington police officers.
If you'd like to participate, early registration is $100 for a four-person, co-ed team. All proceeds from the registration fees and raffle go towards the Memorial Fund. Registration for the tournament starts at 11:00 on Saturday, and the games will begin as soon as registration ends and the brackets are made. See this tournament flyer or visit the memorial web site at wfdfirefightersmemorial.org. For more information, contact Rodney Lester on Engine 1-B at Fire Headquarters.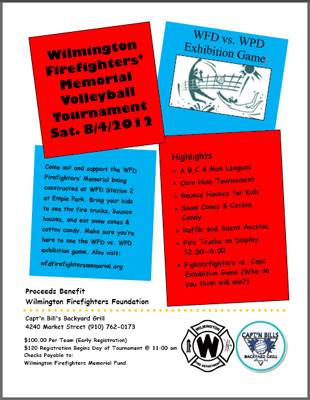 + 1 - 0 | § ¶
Laurinburg Ladder 1 (and More)
Photographer Lee Wilson found himself in Scotland County this weekend, and snapped this well-posed photo of Laurinburg Ladder 1. That's a 1997 Sutphen aerial platform (1765/300'/100') from Brunswick, NY. It's served the Laurinburg Fire Department for about six years. (They have two stations, named Station 1 and Station 6.) See more photos, including some apparatus from Hamlet in Richmond County. including their early 1920s American LaFrance pumper and 1949 Mack pumper.


+ 2 - 0 | § ¶
Orange Grove Fire Company Opens Second Station
Lee Wilson has posted photos of an open house at Orange Grove Fire Company's new Station 2 on Rocky Ridge Road in Orange County. The two-bay, metal building houses an engine and a tanker. See more photos.



Lee Wilson photos
+ 1 - 1 | § ¶
Fueling The Tiller
More than one driver likely did a double-take as they passed this service station today on Peace Street. That's Raleigh's 2010 Pierce Arrow XT tiller, better known as Ladder 4. And despite the camera's perspective, the rear cab clears the canopy with room to spare. Death, taxes, and diesel. Three constants of life. And long gone are the days of exclusive fueling using station tanks, or the old Dodge fuel truck that made the rounds on Saturdays. When was the retired, anyway? As for Raleigh fire stations with fuel tanks, they have included Station 1, Station 2 at Memorial Auditorium, Station 2 on Pecan Street, and Station 6. What others? Click to enlarge:


+ 0 - 1 | § ¶
Morning Reading - July 29, 2012
Good morning Raleigh. Just about back to normal, after a splendid week's vacation last week. Two nights in Philly (for firehouses), two nights in Baltimore (for the expo) and two nights outside D.C. (for recreation). Look through the prior blog postings for tales and photos. Now turning attention to next week's Fire Expo, as well as continued work on the Raleigh Fire Department Centennial History Book. The cost of this limited edition, full-color, 260-page, hardcover volume is $60.00 through December 1. What, you haven't ordered your copy yet? Watch this space for a fresh marketing push, and a preview of the production cover.
+ 1 - 0 | § ¶
Museum Celebrates History of Kinston Fire Department
Here's a neat video story from WRAL about the Caswell No. 1 Fire Museum in Kinston. See also this handful of photos from inside the museum, plus exteriors. The shots are seven years old, alas. We'll work on shooting new ones. Read also some Kinston Fire Department history, in the context of their former firehouses. Thanks for passing along, Adam!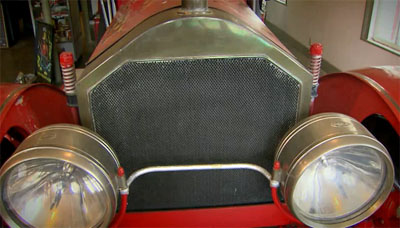 + 0 - 1 | § ¶
Two Alarms This Morning on Hillsborough Street
Two-alarms were struck this morning at a commercial structure fire at 5500 Hillsborough Street. That's a metal warehouse building with 3,000 square-feet, built in 1995. Building used for storage of new and used lawn equipment. It was located behind the primary structure at that address. A working fire assignment was dispatched while the units were en route, due to the visible column of smoke. Car 10 and Engine 10 arrived and found the structure fully involved.
Hand lines were pulled, a hydrant was caught, and portable deluge monitors were prepared. Additional engines were also requested, which prompted the second alarm. The majority of fire was knocked down before deployment of the monitors, however. The fire was controlled in 25 minutes, but required extensive overhaul. The cause is undermined. Hillsborough Street was closed during the operations.
Dispatched at 7:07 a.m., second alarm about 7:12 a.m., and controlled at 7:32 a.m. Units on scene included E8, E20, E14, E5, L7, L4, R3, B3 (first alarm), A1, C10, C20, C40 (working fire), E16, E13, E1, L3, R2, B4, (second alarm), Car 2, EMS4, EMS7, EMS8, EMS11, D1, D5, M91, T1. Happened at shift change, with "B" platoon personnel reporting to the scene to relieve some "A" platoon members. See photos by Mike Legeros.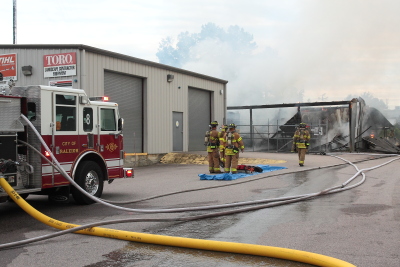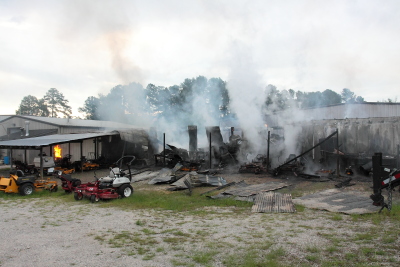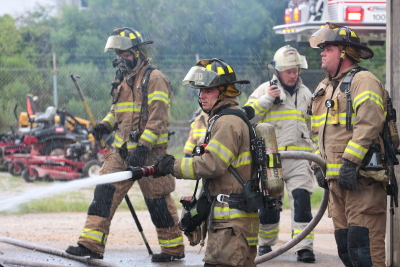 + 0 - 1 | § ¶
Raffle Tickets Now Available For Second Annual Brotherhood Bash, Friday, August 10
Get your raffle tickets for the Second Annual Brotherhood Bash on Friday, August 10. The location is again Napper Tandy's at 126 N. West Street in downtown Raleigh. Tickets prices are $5.00 for one, or $20.00 for five. Top prizes include a Cairns N6A leather lid and a set of leather fire boots. Lots of other swag and door prizes will also be given given away throughout the night.
See any Capital Area FOOLS Board member and Wake County Firefighters Association member for tickets. You can also purchase tickets during the Fire Expo, on the show floor. Ticket sales will end at 8:45 p.m. on the day of the bash, Friday, August 10. Portions of the proceeds will be donated to the North Carolina Fallen Firefighters Foundation.
Here's the Facebook event page. Here are photo's from last year's bash. See YOU there for a fun filled night of fellowship and plenty of BROTHERHOOD!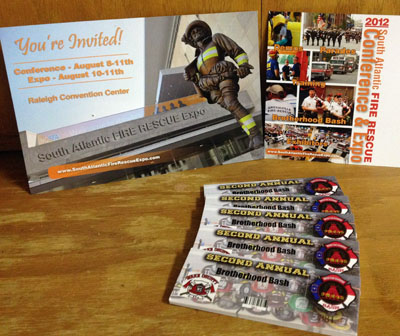 + 2 - 0 | § ¶
Super Pumper Appears at Michigan Muster
The legendary Super Pumper appeared this week at the 2012 SPAAMFAA National Summer Conference in Frankenmuth, MI. Reader and Raleigh antique owner Tim Henshaw sent a couple camera photo photos. The tractor-drawn monster is owned by and resides at the Antique Toy and Fire House Museum in Bay City, MI. Visit their web site. Click to slightly enlarge:



Below is some historical information about the rig, plus pictures of Code 3 Collectibles excellent 1:64 scale models of same. Recommend also reading John A. Calderone's book about the Super Pumper System, published in 1985 and reprinted in recent years by Fire Apparatus Journal:

The Mack Super Pumper System was built in 1963 for the Fire Department of New York. Designed by Gibbs and Cox, a marine and naval architectural firm, the Super Pumper System consisted of five pieces of equipment: the tractor-drawn Pumper, a tractor-drawn Tender, and three smaller Satellite units. The Super Pumper System was designed for major fires and could deliver 8,800 gallons of water per minute through 4 1/2-inch hose for a distance of a quarter-mile or more.

The DeLaval 6-stage centrifugal pump was powered by a Napier-Deltic 18-cylinder engine of 2,400 horsepower, which roared so loudly that special ear protectors were required of the pump operators. The Pumper drew water from special, high-pressure hydrants or using a 12-inch suction hose which was lowered via rear-mounted winch into the river or harbor. The Tender carried over 2,000 feet of 4 1/2-inch supply hose and was equipped with a rear-mounted, rear-facing steering wheel, to assist with positioning the apparatus.

Mounted on the Tender's tractor was a giant deluge gun capable of flowing 4,000 gallons of water per minute from four 2 1/2-inch supply lines. The Super Pumper System Satellite units also had large deluge guns. Both the Super Pumper and the Super Tender were retired in 1982. The Super Pumper, which along with the tender required 15 people to operate, ran 2,200 calls during its time in service.
+ 1 - 0 | § ¶
North Carolina Fire Fatalities in 2012 via Google Maps
Seen as posted on Facebook. Last updated four days ago. Interactive map showing this year's fire fatalities. Creator listed as "Frank." No contextual information provided, nor sources cited. Access the map.


+ 1 - 1 | § ¶
Faces in Stone
Here's an interesting feature of Engine 14's house in Philadelphia. Located on Foulkrod Street, the two-bay building was built in 1927. Adorning the bottom of a second-story balcony on the front are these four faces. Any architectural historians handy, who can explain their significance? Based on their expressions, perhaps they convey some sort of comedy or fool? And/or are they racial stereotypes? Doesn't look like that to me, but... (Apologies if we enter dangerous political territory, there. Equal apologies if these are dead-ringers from someone at your station.) See the entire set of photos. See related thread about building decorations.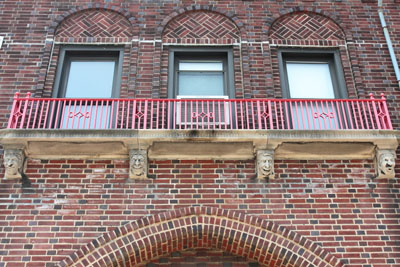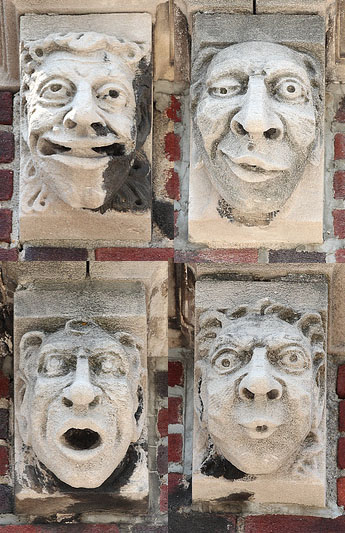 + 1 - 0 | § ¶
Stem's First Fire Engine vs. Cary's Second Tanker
Look at this photo from Lee Wilson, showing the Stem Fire Department in Granville County's first fire engine, an ex-military tanker. Then look at this photo of Cary's second tanker, an ex-military tanker constructed in 1956. Closed cab versus open cab. Could Stem's still be a match, with a hard top later added? Or is that unlikely? Read more Cary Fire Department history (on a site that is, alas, outdated).



Lee Wilson photo


+ 0 - 1 | § ¶
Durham Police Officer Injured in I-85 Crash
WTVD yesterday posted photos of the crash scene on Interstate 85 near Cole Mill Road, where a Durham police cruiser was rear-ended by a tractor-trailer truck, moments after it had pulled over another vehicle. The officer, who hasn't been identified, was transported to Duke Hospital and last listed in critical but stable condition. See also other news reports, including this WRAL story. There's also a ground photo in this story from the Herald-Sun.


Durham Herald photo


It's perhaps worth mentioning that the state's "move over" law turned ten this year. It took effect in January 2002, and requires motorists to move one law away, if safely possible, from any law enforcement or other emergency vehicle that's on the side of the highway. Violations result in a mandatory fine of $250 plus court costs. More info.



WTVD photo
+ 1 - 0 | § ¶
Historic and Former Firehouses of Philadelphia
Presenting sixty-one structures that served the Philadelphia Fire Department, including a pair of high-pressure pumping stations, a pair of fire insurance patrol stations, and a trio of volunteer houses. The engine (and ladder) houses date from 1871, and with the oldest active station built in 1894. That's Engine 37 on Highland Avenue. Nearly all of these were photographed last week, during a two-day (!) blitz on the way to Baltimore. (Some 2,000 photos, of which 678 were posted. Yeah, a bit much.) Read more about the firehouses, or view the photo set on Flickr. Criteria for inclusion is (a.) active and older than 50 years of age or (b.) closed and of any age.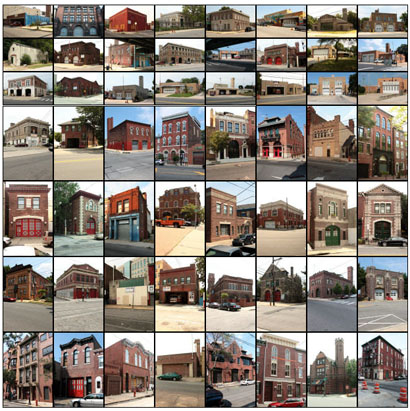 + 1 - 2 | § ¶
UPDATED: Here Comes the BOSS
July 25
This has started. What are observations or opinions so far, regarding impact on emergency vehicles that must also use said shoulders? Read recent News & Observer story.


Chris Seward/News & Observer photo
June 26
Are you ready for buses on the shoulders of Interstate 40 in Durham County? That's the plan on a ten-mile stretch between the Durham Freeway and 15-501, plus eastbound between the Durham Freeway and Page Road. These will be Triangle Transit buses only. They'll be allowed on the shoulders only when traffic is moving slower than 35 MPH. The buses can travel no more than 15 MPH faster than the I-40 traffic, and no faster than 35 MPH period. Trial period starts today. Formal program starts July 16. Dubbed Bus on Shoulder System. BOSS. At least they're not using the accident-prone stretch between Wade Avenue and the airport! Read more from the News & Observer.
+ 1 - 1 | § ¶
Challenging Extrication in Charlotte
This tractor-trailer turned over a guardrail in north Charlotte early this morning. The single-vehicle accident happened about 12:25 a.m. on the I-485 west ramp to I-77 north. Two people were extricated from the cab, and airlifted to Carolinas Medical Center. Huntersville FD, Long Creek FD, and North Mecklenburg Rescue were among the agencies on scene. Read more from WSOC and WCNC. Truck was carrying rolls of paper that apparently shifted, causing the truck to turn over.



WCNC photo
+ 1 - 1 | § ¶
View From The Console
There was a steady stream of Locution-dispatched fire and EMS calls in Raleigh and Wake County this afternoon, as a band of severe thunderstorms passed through about 4:00 p.m. How long did she go without taking a breath? Here's what the computer-aided dispatch (CAD) screen showed at about 4:14 p.m. That's showing 51 active incidents, with seven pending. Lots of trees down, wires downs, and smells of smoke. Kudos to the crews that have endured rain, wind, and other hazards these afternoons of late. (As well as the telecommunicators that face their own floods of phone calls and radio traffic.)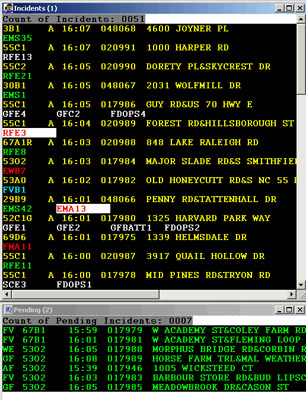 + 2 - 0 | § ¶
Saw You in Baltimore
Photos have been posted from last week's adventures in Baltimore and the Fire Expo therein. Some from the show floor, and some from the fire blogger booth. Okay, more than just "some." Left to right in this Saturday shot are Bill Schumm, one of the geezers from Firegeezer, Firehouse columnist and book author Will Wyatt, and Dave Statter of Statter911. Bill posted a number of updates, including this one and this one. Also read Dave's summary for a run down of the various special guest stars that also appeared. Will play paparazzi for food.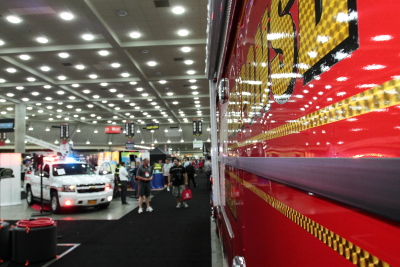 + 1 - 1 | § ¶
Last Night's House Fires in Apex and Holly Springs
Lightning started two serious house fires last night, during a period of heavy thunderstorm activity. This two-story home on Hoboken Court in Apex caught fire about 7:00 p.m. Arriving units found the attic fully-involved, reports this WTVD story. The occupants escaped injury, and a cat was rescued from second-story windows. See this NBC17 story for some photos. Apex E3, E1, E2, L3, L4, B1, C1, Cary E5, B2, Morrisville P3 were among the units on scene.



Steve Sbraccia/NBC17 photo


This two-story home at 504 Gooseberry Drive in Holly Springs caught fires shortly before 8:00 p.m. The flames spread to a second house, which caught fire. The heat also damaged the siding on a third home, on the opposite side of 504 Gooseberry. Two additional engines were requested. Departments on scene included Holly Springs, Fuquay-Varina, Apex, and Cary. See this WRAL story for photos and video footage.


Thomas Babb/WRAL photo
+ 0 - 2 | § ¶
Shrimp Boat Burns Near Carolina Beach
Here's your morning hot shot, a shrimp boat that burned near Carolina Beach on Saturday night. New Hanover FD, Wilmington FD (with boat?), and the Coast Guard responded. A (fire?) boat from Military Terminal Ocean Sunny Point also assisted with lighting, reports this WECT story. After extinguishing the flames, crews removed 3,000 gallons of water from the boat, to prevent the vessel from sinking.


Darlene Strickland/WECT photo
+ 0 - 1 | § ¶
Carolina Brotherhood Bicycle Ride Starts Tomorrow
Inaugural Carolina Brotherhood Cycle Ride from Wilmington to Asheville begins July 23rd
30 Firefighters to Ride in Honor of Captain Jeff Bowen, Asheville Fire Department
Beginning Monday, July 23, firefighters from North Carolina and South Carolina will be joined by brothers from Florida, as they cycle over 400 miles in five days to pay tribute to Asheville Fire Department Capt. Jeff Bowen. He died on July 28, 2011, at a high-rise fire in a medical office building. Capt. Bowen, a member of Rescue 3, gave his life while searching for possible victims. Eight other firefighters were also injured. Firefighter Jay Bettencourt, one of the injured, will participate along with other Asheville firefighters in the demanding, cross-state bicycle ride.
This annual ride will be in tribute and support of the brothers and sisters from the Carolinas who have sacrificed their life for others. This year, the ride will make overnight stops in Elizabethtown, Rockingham, Charlotte, Forest City, and conclude at Asheville Fire Station 1. The cyclists will average 75 miles a day and end with a 6,000 foot elevation climb into downtown Asheville. Using GPS technology, the procession of each cyclist will be available in real-time on the website www.carolinabrotherhood.com.


This rolling tribute from the coast to the mountains is relying on donations, support, and sponsorship as the sole means of reaching their goal. This year's proceeds will go to the widow and three children of Capt. Bowman. Help them raise $40,000 by visiting the Carolina Brotherhood web site, to make a donation or buy t-shirts. You can also contact members about sponsorships. Follow them on Twitter @carolinablood or "like" them on their Facebook page.
Overnight layover with a next morning 8:00 am departure:
7/22 - Wilmington Elk Lodge - 5102 Oleander Dr., Wilmington, N.C. 28409
7/23 - Elizabethtown Baptist Church - 1800 West Broad St., Elizabethtown, N.C. 28337
7/24 - NCNG Armory - 1207 Rockingham Rd., Rockingham, N.C. 28739
7/25 - Palmer Fire Bldg. - 2601 East 7th St., Charlotte, N.C. 28204
7/26 - Callison Recreation Center - 217 Clay St., Forest City, N.C. 28403
7/27 - Asheville Fire Department Headquarters - 100 Court Plaza., Asheville, N.C. 28801
Riders and supporting participants:
Asheville FD (10)
Charlotte FD (13)
Charleston FD, South Carolina (4)
Raleigh FD (2)
Columbia FD, South Carolina (2)
Southwest FD, Florida (2)
And firefighters from Dana, Salisbury, Wilmington, and Wilson fire departments in North Carolina.
+ 1 - 0 | § ¶
Hey, Hey, Hey
Here are a few more historic Philly fire stations, this time highlighting the hay lofts. Found a number of these, in stations dating to the early 1900s, when apparatus was horse-drawn. Some with wooden beams, some with metal. One old station had two lofts! That's old Engine 8, now Fireman's Hall Museum.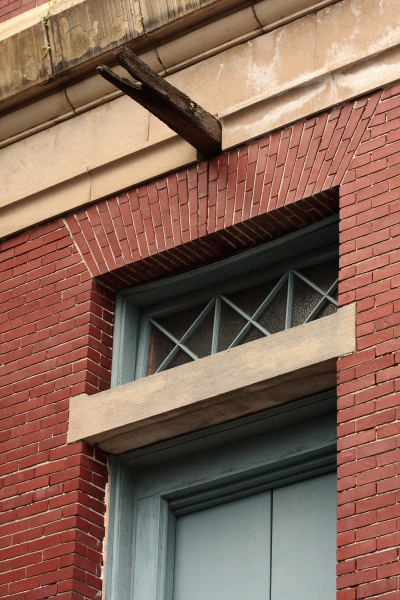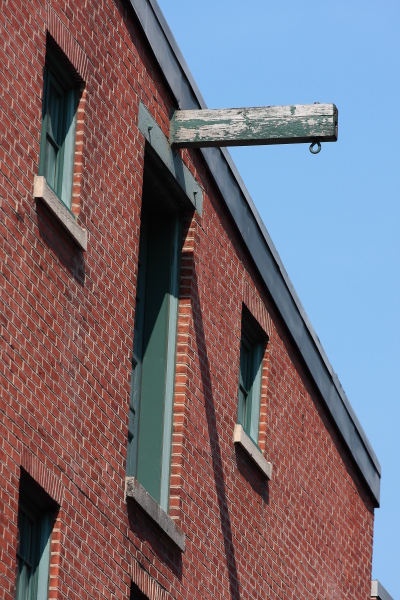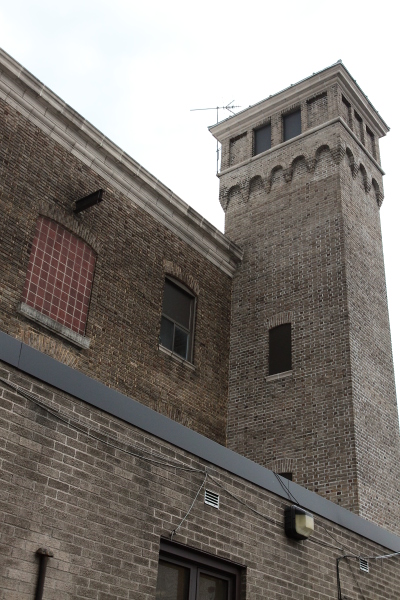 + 1 - 0 | § ¶
Howe, Howe, Howe
Photographer Lee Wilson found this aging engine in Durham County the other day. That's Havelock's old Engine 1, a 1971 International/Howe that lives on Carpenter Pond ROad near the Wake County line. Below that is Lee's photo from 1990, scanned from the film photo. Wonder if they make a special brand of GPS that targets such things!?

+ 1 - 0 | § ¶
Historic Firehouses of Baltimore
Hey Legeros, when are you going to post some pictures of old Baltimore houses? Relax, been there and done that. Was a couple years ago. For your viewing pleasure, here's a Flickr gallery. And a historical web page. Want to see explorations of some other cities, such as Detroit, Milwaukee, Minneapolis, and St. Louis? Visit this history page. Heck, there's even a mess of North Carolina stuff in there!

+ 2 - 0 | § ¶
Scenes From The Show Floor
Here's some of the colorful apparatus seen on the show floor at the Baltimore Fire Expo this week. They're all rescue or medical rigs, as it happens. Plus one other "colorful" photo. Not sure what to make of that guy. Doesn't have enough grey hair to be a 'geezer. Must be a squatter. Looks like the convention center has a pest problem. At least you can spot that joker guy coming a mile off.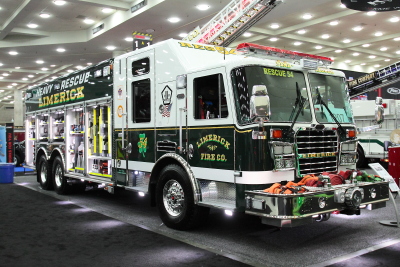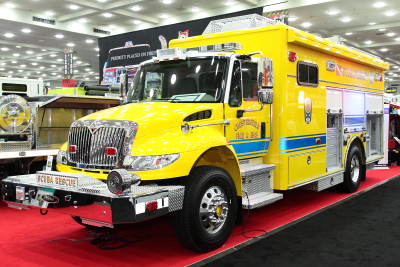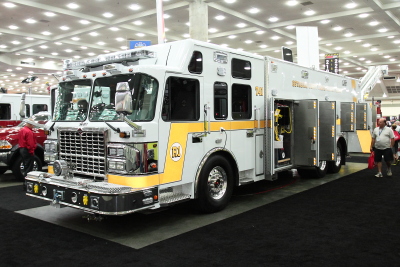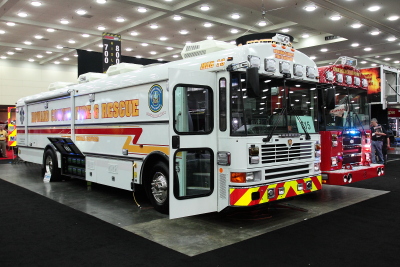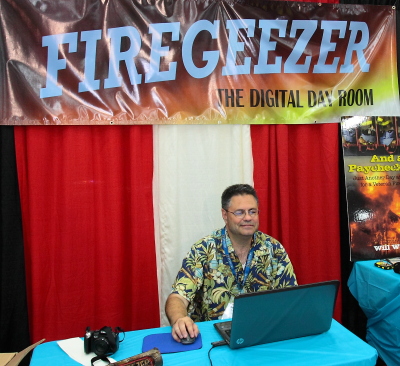 + 1 - 1 | § ¶
Reporting From The Road
Getting ready for a day at the Baltimore Convention Center, starting with a social media session at 8:30 a.m. Maybe more severe weather downtown (and in town) as well. Heavy thunderstorms yesterday caused flooding in the adjoining Hilton hotel. (Didn't see it in Hanover, by my hotel, until some hours later.) More later.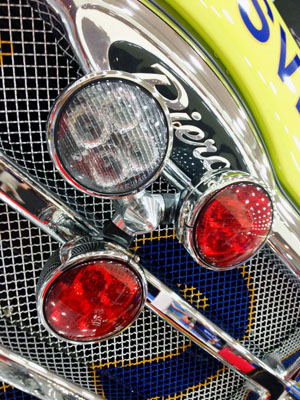 + 0 - 2 | § ¶
New Foam Trailer For Apex
Lee Wilson took this yesterday's of Apex's new foam trailer at Station 3. It was delivered about two month. The three-axle trailer carries 1,700 gallons (1,800 gallons max) of Class B ARAFFF foam, has a 1,200 GPM pump capacity (see reader details), and a 1,000 GPM monitor. Built by Plas-Tech Industries in Ocala, Fl. It'll be pulled by a Ford F-550 pick-up truck. See more photos. Or see earlier post about Raleigh's new foam trailer, also received recently.



Lee Wilson photo
+ 0 - 1 | § ¶
Building Decorations
Reporting from the road, reporting from Philadelphia. Trying to photograph 50 or 60 former or historic firehouses over two days. Here are some of the decorations found on some of the older station buildings. More later.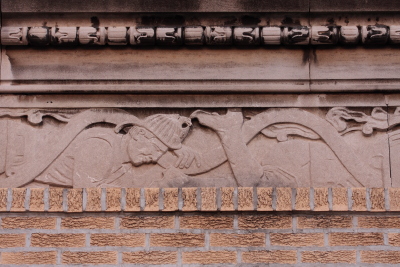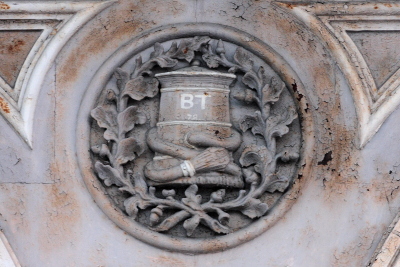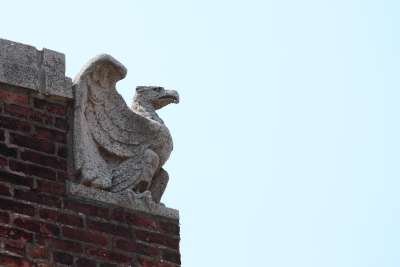 + 0 - 1 | § ¶
Comparative Analysis of Fire Department Milestones
Pretty good title for a paper, isn't it? For your Sunday afternoon enjoyment. Reader input and corrections are welcome. Sources are a bunch of fire department yearbooks, a bunch of Wikipedia pages, and a couple other web sites.


City Created
First Fire Company
Volunteer Department Created
Career Department Created
Notes
Asheville
1797 (incorporated)
1882
The decade of the 1880s (?)
1924
Charlotte
1768 (incoroporated)
1845, first mention of fire engine
1865 (?)
1887
Plus one volunteer company,
Neptune, that continued until 1907.
Durham
1849 (railroad station)
1869 (incorporated)
1876
1882
1909
Greensboro
1808
1849
1884-1886
1926
New Bern
1710
1773, town authorized to create fire company
1867
1961, first career members?
NBFD is a combination department.
Raleigh
1792
1819
1852
1912
Wilmington
1739-1740 (incorporated)
1846
The decade of the 1870s (?)
1897
Winston-Salem
1753 (Salem)
1849 (Winston)
1913 (Winston-Salem)
1772 (Salem)
1876 (Winston)
? (Salem)
? (Winston)
1913 (Winston-Salem)
1923
+ 1 - 1 | § ¶
Wrong-Way Vehicle Accidents
Two people were killed this morning on Interstate 40, victims of another wrong-way vehicle accident. We've seen a couple of these in the last month. How many, when and where? From Google, here's the most recent and most serious. Seems the wee hours on the weekend are the deadliest, at least ancedote-ally speaking. Maybe we have accident-researching readers who paint a more complete picture:


| | | | |
| --- | --- | --- | --- |
| Date | Time | Location | Details |
| July 15, 2012 - Sunday | 2:30 a.m. | I-40 at Jones Sausage Road | Sedan travelling in wrong direction collided with (light) truck head-on. Truck's driver and passenger killed. Sedan's passenger injured, critical. |
| June 29, 2012 - Friday | 3:38 a.m. | Wade Avenue near I-40 | Honda SUV travelling in wrong direction struck Pontiac head-on. Two subjects pinned. Both transported with non-life threatening injuries. |
| June 10, 2012 - Sunday | 4:00 a.m. | I-440 near Western Boulevard | Car left roadway avoiding Acura travelling in wrong direction. One killed, on serious injury. Driver of Acura cited for DWI and other charges. |
| March 30, 2012 - Friday | 2:45 a.m. | I-440 near Six Forks Road | Dodge SUV travelling in wrong direction struck VW Jetta head-on. Driver of second vehicle killed. Driver of first vehicle transported with non life-threatening injuries. Cited for DWI. |
+ 1 - 0 | § ¶
Fire Departments Celebrating Anniversaries This Year
The North Carolina State Fireman's Association is compiling a list of North Carolina fire departments celebrating anniversaries this year. They've posted the below list to the South Atlantic Fire Rescue Expo web site. Congratulations to all!
There are some apples to oranges, however. Some are the anniversaries of career departments, such as Raleigh and Charlotte. When was Raleigh's volunteer fire department formed? That was 160 years ago, when the "modern" volunteer department was established in December 1852.
You can get even more granular, citing the first fire companies. New Bern in/around 1773, Salem in 1785, Fayetteville and Washington in 1791, Raleigh in 1819, Charlotte in 1845, Wilmington in 1846, etc. See these presentation slides for some of that context. Those pesky historians, always adding more details!
Benson Fire Department
125 Years
Charlotte Fire Department
125 Years
Franklin Fire Department
100 Years
Littleton Fire Department
100 Years
Raleigh Fire Department
100 Years
Faith Fire Department
60 Years
Garner Fire Rescue
60 Years
Long Creek Fire Department
60 Years
Pikeville-Pleasant Grove Volunteer Fire Department
60 years
Pinecroft Sedgefield Fire Department
60 Years
Woodleaf Fire Department
60 Years
Eno Fire Department
50 Years
Red Oak Community Rural Fire Department
50 years
Shine Fire and EMS
50 Years
Stedman Volunteer Fire Department
40 Years
Otway Fire and Rescue
35 Years
Duck Fire Department
30 Years
Southern Shores Volunteer Fire Department
30 Years
+ 1 - 1 | § ¶
Making Entry
Two members of Raleigh's Haz-Mat 1 (operated by Engine 2) make entry into an engineering building on the campus of North Carolina State University, in the top photo from yesterday. Reported as a fire alarm, with Engine 20 and Ladder 7 dispatched to 911 Partners Way. That's a three-story, brick and steel educational building with 128,768 square-feet. Built 2004. Engine 20 found smoke on the third floor, and the call was upgraded to a structure fire.
Fire found in a wastebasket in a lab on the third floor. Sprinkler system had also activated. Extended salvage and overhaul operations. Room also investigated for hazardous materials, which special called a haz-mat unit. None found. That's Engine 20 in the bottom photo, with a booster line deployed for a decon pool. What's the secret to that deep-focus? Auto-DEP setting on my Canon setting, plus a lot of light. Bright sun really helps.
Units on scene included E20, E8, E1, E5, L7, L4, R3, B4, B2, A1, C10, C20, EMS 8, D1, T1. See entire series of photos by Mike Legeros. Perfect conditions for photography at this one.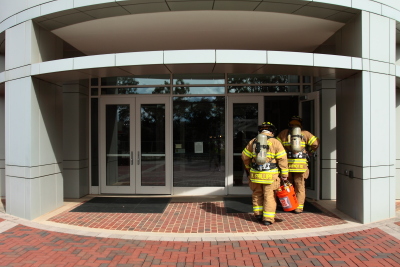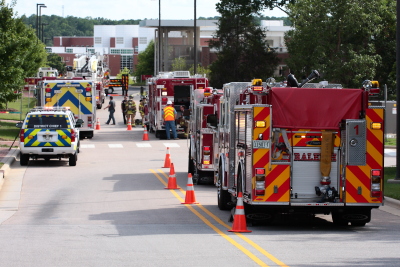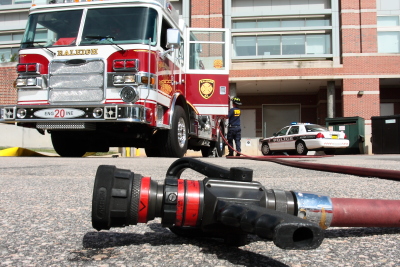 + 4 - 1 | § ¶
Changing Times
Lee Wilson took this photo this week of Johnston EMS units at the Clayton EMS station. Effective July 1, they assumed emergency medical services duties in the town. Read that prior posting. Or see more photos. Those are some orange trucks! Need me some (more) shirts that color.



Lee Wilson photo
+ 2 - 0 | § ¶
NCSU Fire Marshal's New Wheels
Seen on scene on Partners Way on the Centennial Campus this afternoon. Fire alarm with smoke found in building with fire found in trash can with sprinkler system found activated. Extensive overhaul, plus investigation for possible haz-mats. Photos later. Click to enlarge:


+ 1 - 1 | § ¶
Twenty Three Years Ago
Speaking of graduation ceremonies, last night's activities took me back a double decade to May 26, 1989. That's Raleigh Fire Department recruit M. J. Legeros presenting a plaque from his academy to the members of the training staff. (Those being Lane, Gattis, and Dunn.) Included on the plaque was a picture our class taken at the Governor's Mansion. Started a tradition there! (How did he get that gig? Drew straws. And with explicit instructions to "don't screw up, Lou.")1 . Ours was a 14-week academy and we numbered nineteen. Among the positions being filled was the opening of Station 20, in January that year.
The members of what was later numbered Academy 13 (!) were Palmer L. Buck, Gregory R. Bridges, Donald L. Deyo, Tony Edmundson, Dennis A. Gaither, Daniel H. Haines, Charles A. Hodge, Robin R. Johnson, Todd E. Jones, J. Anthony Lane, Michael J. Legeros, Randall E. Mayo, Doug T. Melville, S. Alan Moody, R. Fred Noble, Robert M. Pearce, A.C. Rich, Barry D. Spain, and Jerry L. Ward. Talk about a cast of characters! And, indeed, friendships were formed that have lasted a lifetime. Click to enlarge:


1
Was nicknamed "Lou" as a shortened formed of mispronounced "Lou-geros." Believe Tramp coined that one. Here's some of the crew in present day, at a reunion breakfast a couple years ago. Click to enlarge:
+ 0 - 2 | § ¶
Fire Commission Meeting - July 19, 2012
The next meeting of the Wake County Fire Commission is Thursday, July 19, at 7:00 p.m. The location is the Wake County EMS Training Facility, in the lower level of the Wake County Commons Building, 4011 Carya Drive. See below agenda and related documents. (Blog Man will be in Baltimore, so send me some highlights!) See this earlier posting, to learn more about this governing body.
Agenda
Call meeting to order

Invocation
Roll of Members Present
Approval of Agenda

Minutes

Adoption of Minutes for May 10, 2012, Regular Meeting

Regular Agenda

FY 2013 Fire Tax Budget Update
Consider Recommended Amendment to Fire Compensation Administrative Guidelines

Information Agenda

Fire Tax Financial Report
Post Incident Review Program Update
Fire Services Training Division Update
Chair Report
Fire and Emergency Management Director Report

Other Business
Public Comments

30 minutes maximum time allotted, Maximum 3 minutes per person

Adjournment - Next Meeting September 20, 2012
Agenda
Draft Minutes of the May 10, 2012 Regular Meeting
Regular Agenda - Consider Recommended Amendment to Fire Compensation Administrative Guidelines
Information Agenda - Post Incident Review Program Update
Fire Services Training Division Update
+ 1 - 1 | § ¶
Which Red is the Real Red?
As photographed at last night's recruit academy graduation, he's a fine example of sun versus shade with regard to the color of fire apparatus. These two trucks were painted with the same shade of red. When seen (or shot) in direct sunlight, it's a bright, vibrant shade of red. When shaded or under a cloudy sun, it's a deep, dark shade of red. See photos from last night by Legeros and Lee. Click to enlarge:


+ 1 - 1 | § ¶
On Being a Doosche and Writing Well
Great conversation is happening on this earlier blog thread, which started as a request for more "likes" on Facebook. We'll blame Mr. Blogger's ego for that one. Reader comments have taken the thread into a couple different places. Yesterday, we talked about moderating comments and the criteria for allowing or not allowing their posting. Today, the topic is spelling, grammar, and writing skills. Does a firefighter need to write well? What the heck's the value in that? (Wrong, the answer is not "so they can get better on blogs.") See my answer and join the conversation.
+ 2 - 1 | § ¶
Like This Blog on Facebook
With a whopping 117 "likes" on Facebook, let's see if we can raise that number a bit. Visit this blog's Facebook page and click LIKE. It's that simple. You'll see these blog postings in your Facebook stream. And you can comment and start discussions on those threads, as well here. (And with no approval required for comments on Facebook!) Also, while you're social media-ing, consider following the blog on Twitter as well. Real easy to find, it's simply @legeros. (And does Mr. Blogger get, with more people liking and more people following? More eyeballs. More reach. Ego expansion. That's about it. Still haven't wanted to make money on this thing...)
+ 2 - 1 | § ¶
West Sanford Fire Department
Photographer Lee Wilson took this photo yesterday of Orange Grove Fire Department's 1985 Ford/Grumman pumper-tanker. The truck originally served West Sanford Fire Department in Lee County. The department merged with Northview Fire Department on July 1, 2010. As this Sanford Herald story reported, their district had shrunk to only 267 homes and 12 businesses. (The district included a small portion of southcentral Chatham County.) Memo to self, add WSFD to my database of former fire departments.


After the merger, the station on Cumnock Road in northwestern Lee County became a substation for NFD. The West Sanford Fire Department was incorporated in 1956, say state records. Below are two more photos from Lee, showing the former NSFD station and the earlier (original?) NSFD station. They are across the street from each other.

+ 4 - 0 | § ¶
UPDATED - Blueprints of Station 7, 1958
For your Saturday hysterical, er, historical enjoyment, take a peek at these drawings from the blueprints of Raleigh Station 7. The top image shows the site plan, which was originally on the north side of Glaslock Street. Note the angular placement of the building and the driveway that exits to both cross streets. Looks like a full basement was also planned, with a couple storage rooms. Only a boiler room was built below.
Why did the station cross the road? To be determined. Maybe just to get to the other side. One story goes like this: construction was started on the current site, on the wrong side of Glascock Street. This error wasn't noticed in advance, and the city had to scramble to acquire the current site. (Need to research that one.) Another "story" about Station 7 is that the parking lot's land isn't owned by the city, which is why it's remained dirt for decades. Based on the city-county iMAPS system, the lot is on land perhaps originally intended as an extension of Colleton Road. Makes for a good tale, if nothing else.
Station 7 opened on December 30, 1959. It was the first of a couple dozen built with the same basic building design. The station is also unique from its successors in a couple ways. It's the only one with a watch room on the same side as the dorm. And it's the only one with separate officer's quarters. Read more station history. Click once or twice to enlarge:

+ 1 - 2 | § ¶
Fairview Announces New Fire Chief
The Fairview Rural Fire Department Board of Directors today announced the selection of David Price as Fire Chief. He begins his position on July 30, 2012. Price, a Captain at Bay Leaf Fire Department, is a 32-year veteran of the fire service in Wake County. He joined the Yrac Fire Department in 1980, was hired by Bay Leaf as a Firefighter/Engineer in 1985, and was promoted to Captain in 1991. He's served seven terms as Secretary and three terms as President of the Wake County Firefighters Association. He's also served three terms on the Wake County Fire Commission. He's presently the Chairman of the commission's compensation and equipment committees. Congratulations David!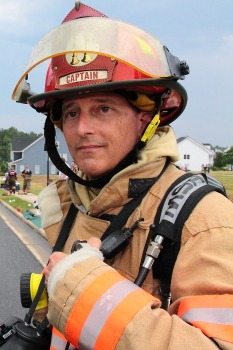 + 0 - 4 | § ¶
Raleigh Recruits Graduate on Friday
Raleigh Fire Department Recruit Academy 37 graduates on Friday, July 13, at 7:00 p.m., at Meymandi Concert Hall at the Progress Energy Center in downtown Raleigh. (That's Memorial Auditorium by its old name.) Twenty-eight recruits started their 28-week program on December 30, 2011.
They're graduating with state certifications of Firefighter I and II, and Emergency Medical Technician. They've also received training on technical rescue, fireground procedures, high-rise operations, haz-mat operations, rapid intervention teams (RIT), accountability systems, safety companies, engine and ladder company operations, and firefighter safety and survival.
Starting Sunday, July 15, the probationary firefighters will be assigned to engine and ladder companies at fire stations located throughout the city. Pictured in front of the North Carolina Fallen Firefighter's Memorial in Nash Square are, left to right and with home towns listed in parenthesis:
Back row: Kasey Randleman (Raleigh), Evan D'Meza (Long Island, NY), Jonathan Seagroves (Raleigh), Lewis Lovell (Newport, Wales), Donnie Brown (Raleigh), Will Haliko (Akron, OH), Elijah Johnson (Pawtucket, RI), Jason Lee (Garner), David Foresi, Nick Lamotta (Roseville)
Middle row: Julio Mercado (Coamo, PR), Sean Scanlon (Cherry Hill, NJ), Marc Lockley (Goldston), Don Macon (Raleigh), Chris Morales (Zebulon), Patrick Collins (Wendell), Lee Baker (Garner), Alec Artze (Miami, FL), Andre' Somme' (Quenns, NY).
Front row: Kempton Healey (Chapel Hill), Harrison Todd (Zebulon), Joe Montague (Wendell), Adam Marshburn (Wendell), Eric Godwin (Rose Hill), Aaron Stevens (Matthews), Zachariah Kahan (Garner), Trey Grady (Zebulon), and Cassie Neugent (Winston-Salem).
Congratulations to all! Click to enlarge:


+ 1 - 3 | § ¶
North Charleston's New Fire Boat
'Twas dedicated on July 4. Metal Craft Marine built the 32-foot craft that's powered by a pair of Cummins diesel engines. Top speed 43 knots, and can pump over 2,000 gallons per minute through four monitors. Named W. Frank New, in honor of the fire chief. Read
Post & Courier story
, or see this
press release
. News reports say it's the first fireboat for the Charleston area. Could that be right? Seems like CFD or even the Navy might've operated one way back in the day.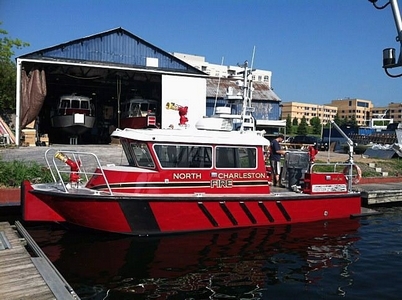 + 1 - 2 | § ¶
Henderson Central Fire Station Open House, 1974
Here's a nifty artifact from a reader as shared via Facebook, the program for the opening of Henderson's Central Fire Station on May 19, 1974. The engine house at 211 Dabney Drive replaced the old Central Fire Station at 205 N. Garnett Street. That building, built in 1908 and later shared by City Hall, remained open as Fire Station 2. It's presently the oldest active fire station in the state. Click to view the program as a PDF document. Thanks, Thomas!


+ 2 - 0 | § ¶
Raleigh Fire Department Newsletter, Summer 2012
The summer 2012 edition of the Raleigh Fire Department Newsletter has been posted to to the web site raleighfirenews.org. This issue's includes information about the restoration of the old steamer, office space changes, a new foam trailer, a budget summary, and highlights of the centennial celebration. Plus the usual recap of recent promotions, appointments, and retirements. Edited by department historian Mike Legeros, the Raleigh Fire Department Newsletter is a quarterly publication for personnel, retirees, and citizens. Read the issue
, or click to access:


+ 0 - 3 | § ¶
Former Firehouses by Lee Wilson
Photographer Lee Wilson has photographed a number of former firehouses during his explorations of nearby counties this spring and summer. Left to right, top to bottom are Pine Level, Bunnlevel, Flat Branch, Wade, Angier-Black River, Salemburg, Roseboro, and Spencer. Click to see larger versions. See more of his random photos.

+ 3 - 0 | § ¶
Fire Chiefs of the Raleigh Fire Department
Here's a new poster created by the Raleigh Fire Museum, showing the career fire chiefs of the Raleigh Fire Department. From 1912 to 2012; from Brockwell to McGrath. The 16x20 poster will be displayed during the museum's regularly montly opening this Saturday, July 14. The museum is open from 10 a.m. to 2 p.m. on the second Saturday of each month. It's located in a classroom trailer at the Keeter Training Center at 105 Keeter Center Drive. Learn more about the museum, or learn more about Raleigh's fire chiefs. Click once or twice to enlarge:


+ 3 - 1 | § ¶
Orange Blossom Special
For your Sunday morning entertainment, let's go off-topic with a musical (and comic) interlude. Here's Roy Clark and a number of other talented instrumentalists performing the fiddler's national anthem "Orange Blossom Special" in concert in 1987. The quality of the footage isn't the greatest, but the audio recording is aces. The train song was written by Ervin. T. Rouse in 1938, and the first recording made one year later. Notes the Wikipedia entry, for a long time you couldn't get hired in a bluegrass band as a fiddler unless you could play the song. It's also a great number for drummers, one of my favorites for playing along.



+ 2 - 2 | § ¶
This Afternoon's House Fire in Chapel Hill
WTVD has posted about 30 seconds of footage of this afternoon's major house fire at 6814 Mimosa Drive just outside Chapel Hill. The fire departments on scene included New Hope, Chapel Hill, Carrboro, Eno, Efland, Hillsborough (Orange Rural), and Durham, as reports this News & Observer story. The 3,700 square-foot, 2 1/2-story structure was built in 1998. The structure was fully involved when the first engine arrived from the New Hope station about a half-mile away. One firefighter was transported for heat exhaustion. The temperature this afternoon was 100 degrees.


+ 1 - 2 | § ¶
If You Can't Say Something Nice
Several years ago I wrote a couple books about local fire departments. These were photo histories of Raleigh and Wake County firefighting. They were softcover volumes, about 220 pages each. (And bargain priced at $19.95, list!) They contained relatively little writing-- a couple pages of introductory text, and captions for around 200 images. So maybe "authored" is a better word than "written" here.


Both books contained errors. Small, medium, and big mistakes. The whopper was probably the wrong picture of old Station 6 in the first chapter of the first book. Sure, it looked like a former firehouse. Had two stories and everything. But the right building is right next door. A single-story affair, half of which the fire station occupied. (Lists of these errors, by the way, is available at www.legeros.com/books.)
The authoring process provided a valuable or perhaps invaluable lesson in limitations. Despite my best attempts at accuracy and clarity and artistic expression, the results were flawed. The books contained imperfection. There were things that I didn't like. They were typos, like Falls off Neuse instead of Falls of Neuse. There were boo boo's, like the aforementioned photo. Or, get this, the claim that Raleigh's first paid fire chief was the first one in America. Wrong!


(That howler came from a general history book about Raleigh. The correct statement might be that Fire Chief Sherwood Brockwell was the youngest full-time chief in the country at the time. Or maybe one of the youngest.)
There were also errors of omission. Things worthy of inclusion, but which weren't included. For example, there's no reference to the city's first line of duty death. Why not? During my period of research-- and when Yours Truly was just learning to walk as a historian-- only the sketchiest of facts presented themselves. Opting for safety over sorrow, the then-incomplete tale of Vernon Smith was left untold. (I didn't even have a photograph to write a caption about! That picture-- of the overturned engine-- was found on eBay a couple years later.)
READ MORE
+ 1 - 3 | § ¶
Morning Reading - July 7, 2012
Good morning Raleigh. Getting ready to go north in another week or so. The Baltimore Fire Expo beckons. The current travel plans are as follows: Monday night on the road, Tuesday and Wednesday nights in Philadelphia, Thursday and Friday nights in Baltimore, and Saturday and Sunday nights outside D.C. The adventure begins with explorations of former and historic Philly firehouses. Read abut that project on the PhillyFireNews discussion board. Then seeing the gang at the Expo. Then conclude with a couple days of recreation, including one of my favorite place for two-stepping, Cancun Cantina in Hanover, MD.

+ 3 - 1 | § ¶
More Severe Weather, More Working Fires
The hundred-plus heat wave has continued into the weekend. Thunderstorms have been passing through in the afternoons, and again sparked a string of fire calls on Friday. They included three working fires on Carterwood Court in Cary, Kings Castle Drive in Apex, and Legendary Lane in Morrisville. Believe all were started by lighting.
High winds brought down trees and power lines again, with a mess of damage around Apex. That included power lines across Highway 1 between Cary and Apex. Relief from this pattern is expected Monday or Tuesday.
Regarding the Morrisville fire, that's a two-story, wood-frame structure with 3,341 square-feet. Built 2011. Photos taken approximately 29 minutes, 47 minutes, and 65 minutes into the incident. See more photos from Legeros.


+ 1 - 4 | § ¶
Umbrella Cam
How to take pictures in very heavy rain. Step one, place umbrella in crook of arm. Step two, place both hands on camera. Step three, good luck! See photos from yesterday on Oakshyre Way (house), Gemini Drive (below, house), New Bern Avenue (commercial structure), Dixie Trail (parade), and various (elsewhere). Didn't get to Wake Forest Road. Was grilling steaks.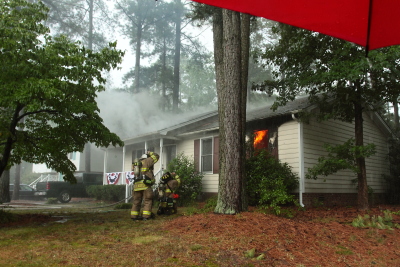 + 1 - 3 | § ¶
What is a Fire Buff?
[ This marvelous essay has been available for some time from Mike's web site, and is from "Pictorial History of Firefighting" by Robert W. Masters, revised edition published in 1967 by Castle Books, New York, reprinted without permission. We posted this back in 2007. Let's revisit. ]

What is a Fire Buff?
By Robert W. Masters
Buffs have been variously defined as "sidewalk superintendents of fires," as "fire-engine chasers who think they're the guys for whom the bell tolls," as "frustrated firemen," and as "smoked hams who are never quite cured." Irreverent as these definitions are, buffs have been called still nastier names by some firemen and chiefs. Traditionally, most professional fire-fighters look down on buffs, without good reason. The best behaved spectators at fires are usually the buffs. It is a principle of good buff behavior never to interfere or offer unsolicited suggestions, but to stand ready to perform any task requested. As buffs watch fires they resemble baseball fans watching home games. They cheer the direct hits and scoring plays, they groan at mishaps, and sometimes they tell each other the trouble started back when the second alarm was turned In too late. They may even criticize the chief for not bringing up the water tower to pinch hit for the deck pipe, but they'll say it quietly. Buffs are great rooters for the home town fire team, and they only wish they could be in there pitching.

Those fire chiefs who look down on buffs as nuisances might find on looking deeper into the subject that these men formed the core of auxiliary fire departments during World War II, when regular departments suffered draft gaps. In New York City, various buff clubs furnished most of the auxiliary personnel to man the fire alarm telegraph bureau. Overseas, Army, Navy and Marine fire departments were run by buffs, and a good many were cited for excellent duty. Even in peacetime, the Kansas City (Mo.) department, for example, has been forced to send out SOS calls for buff assistance, when strained to the limit by multiple coincident alarms. In case of another war, conflagrations may spread regular departments so thin, the buff is likely to become "the man of the hour" for chiefs to depend on.
READ MORE
+ 4 - 0 | § ¶
Close-Knit Town Salutes Fallen N.C. Air Crew
Here's a story from today's Charlotte Observer, about the small South Dakota town of Edgemont and its reaction to Sunday's crash of a Charlotte-based Air National Guard C-130. Four crew members were killed and two injured while the aircraft was dumping retardant on a wildfire. Photographer John Minimum, of Edgemont, captured the craft on its next to last run over Craven Canyon, shown below.
As this earlier FireNews.net story reports (from this Charlotte Observer story, and other sources), the crash killed Lt. Col. Paul Mikeal of Mooresville, Master Sgt. Robert Cannon of Charlotte, Joe McCormick of Belmont, and Captain Major Select Ryan Scott David of Boone. The two surviving crew members include Josh Marlowe of Shelby, who was seriously injured.
On Tuesday, flags on were flown at half-staff on all city property in Charlotte. On Wednesday, a moment of silence was observed before the city's fireworks show at Memorial Stadium. Governor Bev Perdue also ordered all North Carolina state flags to be lowered on Tuesday to honor the fallen Guardsmen.


John Minium/Charlotte Observer photo
+ 1 - 2 | § ¶
Whoa
And then the skies opened, and Raleigh's warmest Fourth on record became one of the busiest for fire calls in several months. Can't readily recall the last such "storm surge." Three working fires in the city, on Cobble Creek Lane Oakshyre Way (house), Gemini Drive (house), and Wake Forest Road (commercial garage). A number of vehicle accidents on I-540 and I-440. Numerous other incidents and incident types. Plus special units detailed to special events. Ask dusk approaches, sounds like things are getting back to normal. Companies returning to their regular areas. Below is Ladder 2 operating on Cobble Creek Oakshyre . We'll get cracking on the pictures later, or maybe tomorrow. Fireworks to see downtown, first. And some clothes to dry out. Click to enlarge:


+ 2 - 0 | § ¶
Remembering Andy
How about a pair of selections from his early recording career? Here's the great Andy Griffith, who passed away yesterday, singing a snappy rendition of The Midnight Special. Recorded in 1959. And one of his comic takes on a literature classic, Romeo and Juliet. It was part of his stand-up routine, and was also featured in an episode of the Andy griffith Show. It was also recorded in the late 1950s.


+ 0 - 3 | § ¶
Fourth of July
Happy Independence Day. Suggested activites are (a.) outdoor recreation, (b.) safety with regard to things that burn or explode, and (c.) reflections on the rewards (and the costs) of our freedom. Well, and maybe watching 1942'sYankee Doodle Dandy with James Cagney as George M. Cohen. That one's usually on cable today.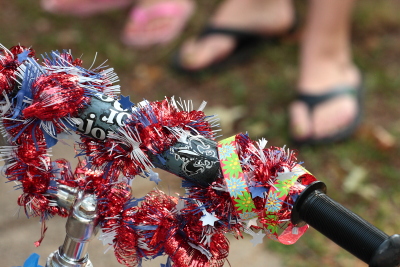 + 1 - 0 | § ¶
Coming in August: Fire Photography Panel, Raleigh Fire History Talk
Speaking of the Raleigh Fire Expo in early August-- better known as the South Atlantic Fire Rescue Expo, were the state's firefighters and state's fire chiefs and whole mess of exhibitors converge-- also mark your calendars for earlier on Friday, August 10. Yours Truly is participating in a pair of workshops:
On Scene - Emergency Services Photography
Friday, August 10
11:45 a.m. to 1:15 p.m.
Panel discussion moderated by Jeff Harkey (FireNews.net) and with panelists Mike Legeros (Raleigh/Wake County), Bob Bartosz (Rocky Mount/Nash County), Rob Brisley (Charlotte), and Mike Porowski (Charlotte/Mecklenburg County). Hopefully we'll have a hefty audience (in number, not mass) and thus a number of questions to answer or points to discuss. For a preview of what Legeros might talk about, see these sides (PDF) from a 2007 presentation on the subject.
Centennial History of the Raleigh Fire Department
Friday, August 10
3:15 p.m. to 4:45 p.m.
Looking back at two centuries of fire protection in the Capitol City, from Raleigh's creation in 1792, to the formation of the volunteer fire department in 1852, and the career fire department in 1912. Will also review general fire service history, and provide a contextual history of firefighting in North Carolina. For a preview, see any of the slides from earlier North Carolina Firefighting History or Raleigh Fire Department History talks.
+ 0 - 1 | § ¶
Second Annual Brotherhood Bash, Friday, August 10
Mark your calendars for the Second Annual Brotherhood Bash on Friday, August 10. That's the weekend of the Raleigh Fire Expo. The location is again Napper Tandys at 126 N. West Street in downtown Raleigh. Starts at 7:00 p.m. The sponsors are the Capital Area FOOLS and the Wake County Firefighters Association. (Good groups, both.) Here's the Facebook event page. More information later. Here are photo's from last year's bash.


+ 0 - 2 | § ¶
IMAPS Application Adds Raleigh FD Response Districts
The City of Raleigh and Wake County Geographic Information Services (GIS) organizations have launched Version 2.0 of IMAPS, which is the super-useful online mapping and property research tool. Among the enhancements are additional public safety map layers, which include Raleigh Fire Department response districts. That is, the first-due territory for each engine company. (Maybe ladder company layers in a future version? Or second-due territories? Or hydrant locations? We can hope...) Pretty neat. Try iMAPS 2.0. Or read this press release.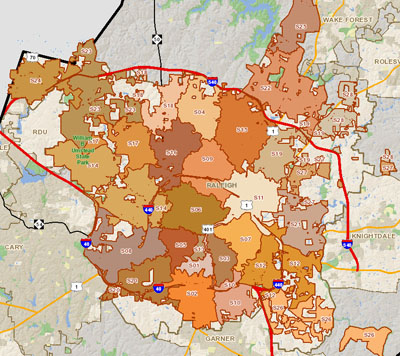 + 4 - 0 | § ¶
Granville Perkins Watercolor Collection of Philadelphia Firehouses
Found this this weekend, a collection of watercolor paintings of Philadelphia firehouses circa 1860. These are all volunteer companies, some of which would comprise the career department formed in 1871. These are probably the only representations of same readily available. Casual Google Maps Street View browsing finds a five that are still standing: Friendship Hose House - Sepviva and Norris Streets, Marian [Hose] House - 542 Queen Street, Shuylkill Hose and Truck - 1227 Locust Street, Southwark Hose House - 512 South 3rd Street (and still looks like it!), Tivoli [Hose House] - 2200 Brown Street. Pretty neat. View the collection or Google for other access points to the collection. Or read about my PFD engine house research.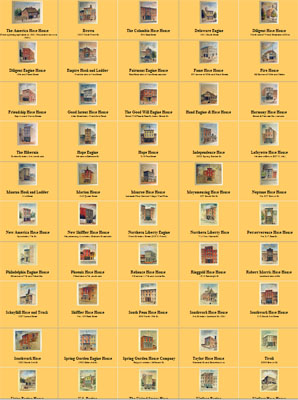 + 0 - 1 | § ¶
Derecho
Defined by Wikipedia as "a widespread and long-lived, violent convectively induced straight-line windstorm that is associated with a fast-moving band of severe thunderstorms in the form of a squall line usually taking the form of a bow echo." Here's a timelapse of the storm system that produced the "super derecho" that struck the DC area on Friday, and that still has millions without power.


+ 0 - 1 | § ¶
Today's House Fire in Creedmoor
WTVD has posted this photo of this afternoon's hosue fire in Creedmoor. The 9,000 square-foot home on Sam Moss Hayes Road was a total loss. Fire departments on scene included Creedmoor, Oxford, Brassfield, Corithn, Providence, Stony Hill, and Redwood. Three counties worth! Readers are welcome to add details...



WTVD photo
+ 1 - 0 | § ¶
Budget Highlights Around Wake County
Here are some fire department budget highlights found on the web, via news stories and budget documents. Lots of varied highlights with regard to personnel, equipment, vehicles, or facilities. The source material varied greatly. Didn't find any budget information for Garner or Wendell fire departments, alas.
+ 2 - 1 | § ¶
Wake County EMS Workhorses
Paramedic ambulance, District Chief, and Advanced Practice Paramedic (APP). Posed in front of a location of historical significance to Wake County EMS. Click to enlarge:


+ 3 - 1 | § ¶
This Morning's House Fire on Jasper Court
Durham Highway, Bay Leaf, Wake Forest, Stony Hill, and Bethesda firefighters fought a major house fire in north Raleigh this morning. Dispatched at 5:05 a.m. to 2620 Jasper Court. Two-story, wood-frame structure with 2,056 square-feet. Built 1997. Heavy fire in the back of the structure, from the deck to the roof. Durham Highway Pumper 1 first on scene.
Pulled a line to the rear, and another to the front door. Fire knocked in rear of structure, then crews entered structure to attack on first and second floors, then into attic. Crews evacuated after attic became fully involved. Deck gun used to knock down bulk of fire, then crews re-entered structure to finish extinguishment. Aerial operations Scene lighting with Bay Leaf Ladder 25.
Fire controlled in 45 minutes, reports News & Observer. Durham Highway personnel were still performing salvage and overhaul at mid-morning, as Wake County and Raleigh fire investigators worked to determine the cause. Units on scene included Durham Highway P1, P4, P3, R5, Bay Leaf P366, P258, L25, Wake Forest E5, Stony Hill P261, Tanker 268, Bethesda 421; EMS 22, EMS 12, EMS 6, EMS 54, D4, T1. See stories from WRAL and WTVD. Mid-morning aftermath photos from Legeros forthcoming.