+ 7 - 6 | § ¶
Second Annual Garner Softball Tournament, Saturday, August 4
Our friends at the Garner Fire Department pass along this announcement:
The second annual Garner Fire Rescue Softball Tournament has been scheduled! It will be held on Saturday, August 4, 2012, at Clayton Recreation Park. This is the same location as last year. All proceeds from this year's event will go to the construction of the Garner Veterans Memorial to be constructed in Lake Benson Park in Garner. The memorial will honor servicemen and servicewomen from the Garner area who've served in armed conflicts.

Our tournament last year was a great success and we hope to build on that. Last year, six teams participated. Our goal is to double that amount to twelve teams. The entry fee is again $200 per team. Each team may be comprised of up to two different public safety agencies and credentials are subject to be checked. As this is a public safety charity tournament, and we would like only public safety personnel to participate in teams.

Teams may be co-ed but we will play by male rules. Softballs will be provided by Garner Fire Rescue. It will be a one-day tournament, though the exact format is TBD. (Last year we were able to guarantee four games per team with pool play. We are looking to possibly do the same this year.) Team Registration forms, Roster forms, and Sponsorship forms are available on this web page. Money and rosters are requested no later than Friday, July 27. Preregistration is welcome by either phone or e-mail. Thank you for your time and please do not hesitate to contact me with further questions.

Ronnie Correia
rcorreia@garnerfire.com
919-625-7112
+ 6 - 1 | § ¶
Car 20 > Station 1
Time to update our Raleigh Fire Department unit rosters. Effective tomorrow, June 1, the fire investigation unit (Car 20) will move from Station 9 to Station 1. Also moving is Car 21, the secondary / reserve unit, and the supporting personnel from Engine 9. They'll be swapped with personnel from Engine 1. The fire investigation unit will utilize newly vacated and newly expanded office space and living areas at Station 1 and around the corner at Fire Administration.
Welcome back to the big house to the investigators. The "arson squad" started at Station 1 and was moved to Station 9 by June 3, 2000. (Exact date to be determined.) They utilized space previously occupied by the Division Chief, who moved to Station 8 in December 2005. As for who else has been housed at Station 9 over the decades...

Engine 9
Feb. 14, 1963 to present
Rescue 9
Oct. 28, 1974 to July 24, 1978
Mini 9
Apr. 24, 1987 to Mar. 14, 1997
Jan. 7, 1998 to June 3, 2000
Jan. 25, 2006 (?) to Aug. 17, 2007.
Tanker 9
Feb. 14, 1963 to Oct. 27, 1974
Car 51 (Battalion Chief, formerly Car 4)
July 24, 1978 (?) to January 2, 2001
Car 10 (Division Chief, formerly Car 5)
Jan. 2, 2001 to Dec. 10, 2005.
Car 20 (Fire Investigator, formerly Car 198),
Car 21 (secondary / reserve)
Jun. 3, 2000 (?) to Jun. 1, 2012

Read more Raleigh Fire Department company and unit histories in this PDF document.
+ 8 - 2 | § ¶
Old-Fashioned Firefighter Games in Raleigh on June 16
Time is running out to enter your team in the firefighter games planned in downtown Raleigh on Saturday, June 16. The contests are part of an all-day centennial celebration, celebrating the 100th anniversary of the Raleigh Fire Department. And it's real easy to participate. Have four firefighters on your team. Bring your PPE. Must be 18 or older. Sign a waiver. That's it. Departments can enter more than one team. And teams can compete in any of the four events. Here's what's planned:
Bucket Brigade - Fill buckets, throw water on a simulated roof top, gutters drain into barrel, time stops when barrel is full. Best time wins.
Command and Control - Three firefighters with blindfolds and a hose, fourth member standing in a water container and shouting orders. Elimination event, most water in container wins.
Hose Stream Deployment - Run to gear, dress in gear, run to hose, connect hose to nozzle and hydrant, flow water, spray target. Best time wins.
Quick Dress - Run to gear, dress in gear. Best time wins.
Longer descriptions and the registration forms are available on www.RFD100.com. And the games are just one of the events that day. We'll start with a fire apparatus parade at 10:00 a.m., continue with a muster including live pumping. There'll be birthday cake, historical displays, and a Kidde Kids Zone with activities for children.
Here are photos of similar firefighter games, as annually held in Warrenton and Southport. And read a historical perspective on firefighter competitions in North Carolina. Departments competed annual in statewide tournaments going back to the 1880s. See you on June 16!

+ 7 - 1 | § ¶
Raleigh's Fire Alarm Bell Will Hold Place of Honor at Centennial Celebration on June 16
Press release. A centerpiece of the Raleigh Fire Department's 100th anniversary celebration was middle-aged the day the department was established. In 1912, the city established its first paid, professional fire department. By that time, Raleigh's fire alarm bell had been atop City Hall for 42 years. These days, except for very special occasions, the 1,000-pound, solid bronze bell rests in its place of honor surrounded by a specially built curved wall in the Raleigh Fire Museum. But the beautiful old bell will be at center stage on Saturday, June 16, when the Raleigh Fire Department celebrates this century of exemplary service with a downtown party. Read entire press release. Or learn more about the centennial celebration at www.RFD100.com.

+ 7 - 5 | § ¶
The Adventures of Charlie LeDuff
Here's your investigative reporting video of the week, highlighted by Dave Statter of Statter911 and featuring Detroit's famous (infamous?) reporter Charlie LeDuff. The story contrasts the city's spending on a new public safety building with physical problems (notably plumbing) in some firehouses. Tough situation, for sure. And nothing (right?) like we have in the Carolinas, and on either side of the camera.
There's lots to reflect on here. The nature of investigative journalism, as well as LeDuff's "gotcha" style. The business of public relations and reputation management. The problems in urban fire departments with old stations and tight budgets. The city of Detroit, and it's one-of-a-kind fire problem. Very interesting in many ways, both the story and the issues. For more Charlie, see some of the other links in Statter's posting.


+ 6 - 4 | § ¶
Johnson City's New Tower
Speaking of Tennessee, here's another photo from Lee Wilson's explorations of the Johnson City Fire Department last week. This beauty is Truck 3, a 2012 Smeal aerial platform, 2000 GPM, 300 gallons, 100-feet, that was placed in service on week ago. Was originally built for the Chicago Fire Department. See more photos from JCFD and Lee's mountain trip.



Lee Wilson photo
+ 6 - 2 | § ¶
Big Burn in New Bern
The Sun Journal has posted this reader photo of this evening's commercial structure fire on the New Bern waterfront. It was reported about 7:00 p.m. at 901 N. Craven Street. The building is occupied by Precision Molding. New Bern FD, West of New Bern FD, and Township 7 FD are among the reported agencies on scene. Read more. Or see this FireNews.net story with more details and photos.



@basicallyrachel (Twitter) / Sun Journal photo
+ 3 - 7 | § ¶
Johnson City Central Fire Hall
Vacationing photographer Lee Wilson found this historic firehouse late last week in Johnston City, TN. That's their Station 3 and fire department headquarters. The building was built in 1929. Read more about JCFD engine houses. And what other departments around these parts also call their houses halls? See more photos from Lee, which include other Johnson City stations and apparatus.



Lee Wilson photo
+ 7 - 1 | § ¶
Bull Head Fire Department
Would you believe a Bull Head Fire Department? This one's also in Greene County, between Snow Hill and Stantonsburg. How 'bout that building adornment! Guess we'd be better include a few puns to complete the fun. Wouldn't want to steer you wrong, or put my reputation at steak. Hopefully this posting is well done, lest we descend into udder silliness. (Not exactly a meaty topic, mind you, but that's rare. Just don't grill me about it.) Click to enlarge:


+ 5 - 4 | § ¶
Scenes from the Kinston Regional Jetport
As photographed this morning at the Kinston Regional Jetport. Top is a former fire station building, part a former maintenance building. Located beside the terminal building and dates to at least twenty years ago. Then the fire station was moved "up the ramp" to another combination building (since demolished), located where the Forest Service currently sites. (They have a big base there.) At the time the fire station was moved, the fire siren was also moved. That's the second photo, showing a utility building located just east of the control tower, and a couple hundred feet from terminal.
Third photo is the airport's reserve crash truck undergoing service in the maintenance garage. Those bays are part of a combination fire station and maintenance building located on John Mewborne Road, just "up the ramp" from the Forest Service base. The fire station has two bays in the building, facing air-side. Their primary apparatus is an E-One Titan triple-agent crash truck. Firefighters are maintenance personnel who do double-duty.
See more photos, including a couple close-ups of the rig below. That's a late-eighties/early-nineties (?) Walter that's been refurbed in more recent years, probably by CRES. Wonder how many other airports in our state have cross-staffed firefighters?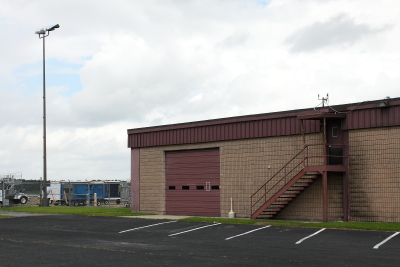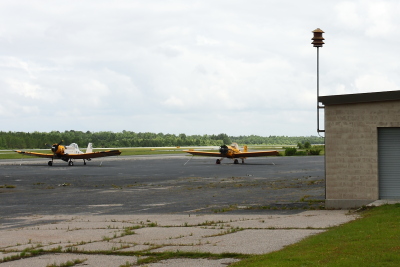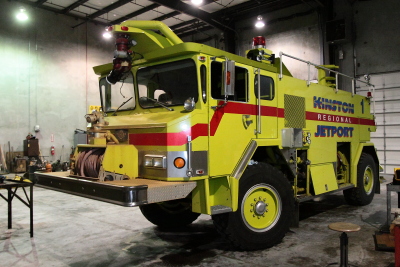 + 6 - 3 | § ¶
Old Snow Hill Fire Station
Took this picture early this afternoon, returning from a morning jaunt to Kinston. This is a former fire station in Snow Camp Hill, in Greene County. It's located a couple blocks from the downtown. Looks like a fire station built in the sixties or seventies, perhaps? Maybe in two stages or two eras, flat roof at start, pitched roof when remodeled? The bay sizes are uniform, so it doesn't appear to be a station that started small and was expanded. The number of bays suggest both municipal and rural apparatus. Maybe separate departments?
Based on the age and historic designation of the downtown, Snow Hill almost certainly had a fire department earlier in the century. Next question, where was the prior or perhaps original fire station? Best guess is a early-century municipal building or town hall, maybe with a single bay for a fire engine. (Though there looked to be a 1930s era municipal building on First Street, with a WPA plaque. Didn't see any bay or garage space. Perhaps by the 1930s, a dedicated fire station was operating?) Readers perhaps can answer.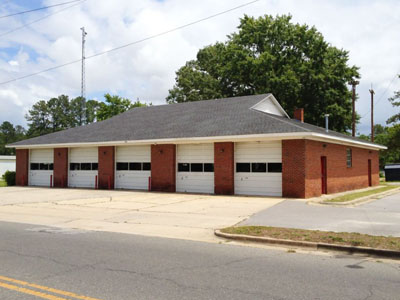 + 5 - 3 | § ¶
Raleigh's Past Treasures - Questions From a Reader
Longtime resident Cliff Small sends the following comments and questions. He's lived in town since 1967 and remembers much of "old Raleigh." He has four questions, which we're punting to our blog readers. Answers? More questions? Thanks for everyone's help.
He's a covered bridge buff and last year was stunned and thrilled to find that there had been a covered bridge on the old Louisburg Road, now Capital Boulevard, over Crabtree Creek. His only real source about this is from this web page.

He's been going mad trying to find out more information on this bridge. All he has found is that there was a bridge there named the Jones Bridge. This is the same family of the Crabtree Joneses, maybe? There was an encampment North of the site during the Civil War. There is a parallel railroad bridge and some curious metal pieces sticking out of the ground along the greenway trail nearby.

He currently lives off Lead Mine Road and has seen a photo online of the mine shaft, but doesn't know exactly where it was/is. (He can't find that online article currently.) There is the old red building across from Mine Shaft Road. He did find this story, however, about a mine inside the Beltline.

He can remember when you could cross under the train tracks off Capital Boulevard, where you get onto Wake Forest Road and go over to Atlantic Avenue. This was a one-lane deal. I wish this could be opened up again for at least bicyclists as a part of a bike trail access to the downtown area.

Are there any plan views of the old Bloomsbury Park that anyone knows of?
--
May 28, 2012
This isn't quite what Cliff is asking for, but it's still interesting. It's a 1913 plan for Terminal Park beside Bloomsbury Park. It's featured in the recently published book Stories to Tell - A Centennial Celebration of Carolina Country Club: 1910-2010. Click to enlarge:


+ 9 - 3 | § ¶
Kid's Zone Sponsored by Kidde to be Part of Raleigh Fire Department Centennial Celebration June 16
Press release. What child hasn't at one time played firefighter or was thrilled to be up close to a real fire truck? Kidde, the world's largest manufacturer of fire safety products will make these dreams come true for kids attending the Raleigh Fire Department's Centennial Celebration in downtown Raleigh on Saturday, June 16.
Kidde is sponsoring the Kid's Zone that will be located at the corner of Salisbury, Lenoir and South streets. At Kidde's booth, there will be a bean-bag toss, toy fire truck races, and a smoke alarm testing station for children. Kids who participate will get a balloon, temporary tattoos, and other giveaways. Educational fire and carbon monoxide safety information from Kidde will be available for parents as well as kids.
Read entire press release. And learn more about the cenetennial celebration at www.RFD100.com.

+ 5 - 4 | § ¶
Fire Station Information on Web Pages
You know what would be great? If every fire department listed their fire station locations on a single web page, with street addresses and the year opened or built. Just a single, simple, flat list. Easy to read, easy to print. Plus bonus points if they include companies or apparatus, locations of prior locations, and/or which direction the building faces. (The last one's great for buffs or media, both of whom might take pictures or film in front of the station.)
The above was a Facebook status update this week. It prompted a couple comments on fire station phone numbers. Didn't mention phone numbers, as that's its own kettle of fish. But let's the blog audience. Good or bad, making fire station phone numbers public?
Arguments against include (a.) people might call there instead of 911 to report a fire and (b.) reporters will call in the middle of night for details about fires on the other side of the city or county. Arguments for include (a.) easier for community members to contact their neighborhood fire station, (b.) people with forethought will call the station instead of 911 to ask about checking their smoke detectors.
I've observed both. Some cities (and big cities) list all their station addresses and phone numbers right along side. Maybe the crews hate it? Maybe they love it? And I've seen the opposite, where you can't find but a single phone number for an entire fire department. (What other angles am I missing here? Homeland security concerns? Traditions of secrecy or withholding? You tell me...)
+ 4 - 5 | § ¶
Architecture Students Design Fire Museums For Raleigh
On May 4, 2012, a fire museum design project review was held in the Rotunda at Brooks Hall at North Carolina State University. A jury reviewed the work of students in an six-credit architectural design studio class, which was comprised of eight graduate and three fourth-year undergrad architecture students. This studio-type course is required of every architecture student for every semester they are in the program, noted their instructor Roger Clark. Unlike a lecture or seminar course, the studio class requires students to apply information from other courses while designing a particular project located on a particular site. (Any readers who've been through this program, you know who you are, feel free to add perspectives...)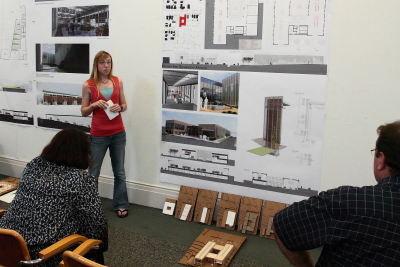 The students were assigned a hypothetical project of designing a new Raleigh Fire Department Museum on one of three sites: (a.) urban street, (b.) prominent corner on the fringe of downtown, and (c.) prominent road on a suburban site. The museum was to house the department's current antique apparatus, as well as any they might obtain in the future. It was also to house historical images and other two-dimensional information and three-dimensional objects related to the history of firefighting and the Raleigh Fire Department.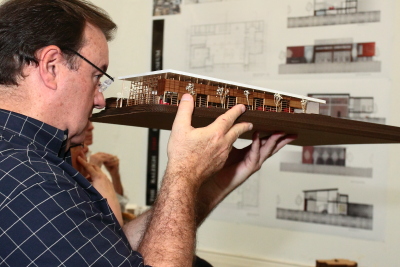 There was to be a meeting/community room, a children's area, a library for log books and materials, and a memorial to honor fallen members or all past members. The facility was to serve as a history museum, as well as an education center and a place to honor firefighters. Raleigh Fire Museum members participated at the beginning of the semester, providing tours, presentations, and other information to the students.
See photographs by Legeros. And read a subsequent blog posting by designer (and new graduate) Sara Horn.
+ 3 - 3 | § ¶
Six Forks Fire Chiefs
Here's another blast from the past, a list of the fire chiefs of the Six Forks Road Fire Department. They were Raleigh's first suburban fire department, organized in June 1956. (Soon followed by New Hope FD in September 1956 and Western Boulevard FD in January 1957.) Their members also formed Six Forks Rescue Squad in 1976 and for the first ten years of the squad's operation, members were required to be either SFFD members or their spouses.
The Six Forks Road Fire Department-- later shortened to just Six Forks FD-- had four station locations, three on Six Forks Road and the last one on Lynn Road. Their house became Bay Leaf Station 3 when the department merged with Bay Leaf Fire Department on July 1, 2002. Here's a short timeline of their history (compiled some years ago). Need a good picture gallery to go with that, though. Any ideas? Say a Wake County Fire Departments historical photo gallery?? (Might know just the buff/historian to make that one happen...)

Search the blog for more SFFD history, including these postings (three of which repeat the same photo above!):
Here's the list of Fire Chiefs as compiled by longtime SFFD and BLFD member Bob Edmundson. We've added them to our Wake County Fire Chiefs list. Thanks Bob!

| | | | | | | | |
| --- | --- | --- | --- | --- | --- | --- | --- |
| First | Middle | Last | Start | Stop | Total | Notes | Dates |
| William | T | Howell | 1956 | 1957 | 1 | First Fire Chief | Apr 30, 1956 – Oct 14, 1957 |
| Allen | | Thompson | 1957 | 1958 | 1 | | Oct 14, 1957 - June 30, 1958 |
| David | H | Pattishall | 1958 | 1959 | 1 | | July 1 to June 30 |
| Raymond | C | Jones | 1959 | 1960 | 1 | | July 1 to June 30 |
| William | T | Howell | 1960 | 1961 | 1 | | July 1 to June 30 |
| Peter | J | Harris | 1961 | 1963 | 2 | | July 1 to June 30 |
| Norman | C | Champion | 1963 | 1964 | 1 | | July 1 to June 30 |
| Raymond | C | Jones | 1964 | 1965 | 1 | | July 1 to June 30 |
| David | | Barham | 1965 | 1971 | 6 | | July 1 to June 30 |
| Hunter | | Averette | 1971 | 1973 | 2 | | July 1 to June 30 |
| Joe | | Terry | 1973 | 1975 | 2 | | July 1 to June 30 |
| Lewis | E | Bartholomew | 1975 | 1978 | 3 | Died in office Feb. 14, 1978 | July 1 to Feb. 14 |
| Phillip | C | Woodlief | 1978 | 1986 | 8 | | March to June 30 |
| Alfred | E | Lynn | 1986 | 1991 | 5 | | July 1 to June 30 |
| Don | | Adams | 1991 | 1998 | 7 | | July 1 to June 30 |
| Rodney | | Warner | 1998 | 2002 | 4 | SFFD merges with BLFD | July 1 to June 30 |
+ 6 - 4 | § ¶
Durham Highway Updates Web Site
The Durham Highway Fire Department recently updated their web site. Notably are the addition of news stories and photo galleries. Visit the site at www.dhfd.org.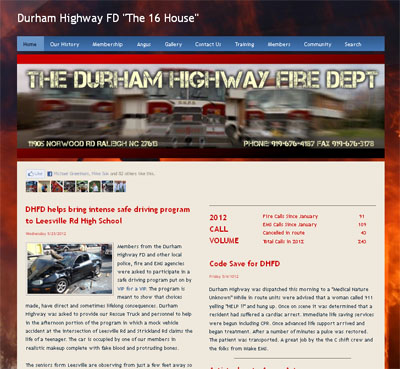 + 3 - 5 | § ¶
Old Engine From Cana
Photographer Lee Wilson's spending the holiday weekend in western North Carolina. He found this old engine somewhere between here and Spruce Pine. Vintage Dodge and lettered for Cana, VA. See more photos.



Lee Wilson photo
+ 2 - 5 | § ¶
Portrait or Landscape?
Here's an artsy shot from last night's house fire on Fieldcrest Drive. That's Engine 16's supply line to Engine 9. But is the picture better turned on its short end (portrait) or long end (landscape)? Someone schooled in art theory can probably explain which one "works" better. Can't decide, myself. And no cheating by turning your head sideways! Click to enlarge:


+ 6 - 5 | § ¶
Historical Revision - Six Alarms at Pine Knoll Townes
For years, Yours Truly has called Pine Knoll Townes a five-alarm fire. That is incorrect, as demonstrated by this recently found resource summary. As compiled by then-Battalion Chief Peter Brock, it shows six alarms for the $4 million fire that destroyed or seriously damaged 32 homes and displaced 29 families and 72 people. Commence correcting your historical information, which may include:
We'll get to work on those...
--
Pine Knoll Townes Resources
3525 Oneonta Place
February 22, 2007
Compiled by Battalion Chief Peter Brock
| | | | | |
| --- | --- | --- | --- | --- |
| Time | Alarm Level | Assignment | Notes | Resource Commitment |
| 15:04 | still | E27 | | 1 engine |
| 15:04 | still | E19, BC4 | | 2 engines |
| 15:08 | 1st | E9, E7, E22, L16, R19, BC1 | | 5 engines, 1 ladder |
| 15:12 | 2nd | E6, E16, E4, E18, L23, L26 | | 9 engines, 3 ladders |
| 15:18 | 3rd | E2, 14, E25, L22, BC3 | | 12 engines, 4 ladders |
| 15:19 | special called | E15, E21, Haz-Mat 15 | | 14 engines, 4 ladders |
| 15:22 | 4th | E26, E8, L20, R14 | brand patrol | 16 engines, 5 ladders |
| 15:25 | 5th | New Hope E1, E2, Tanker 10, Brush 7, Falls Brush 219 | brand patrol | |
| 15:28 | 6th | E5, E10, E20, L1 | | 19 engines, 6 ladders |
| 16:00 | special called | Two chiefs, 5 instructors, 32 recruits | recruit academy | |
| 17:52 | relief | E26, L20, R14 | | |
| 21:06 | relief | E25 | | |
| 21:21 | relief | E13, E20 | | |
| 00:32 | relief | E23, E5 | | |
| 03:31 | relief | E1, E11 | | |
| 03:42 | relief | L22 | | |
READ MORE
+ 2 - 4 | § ¶
Spreader
Extrication in action this afternoon by Cary Fire Department Rescue 2, part of a "here's what a fatal accident involving teens and drinking looks like" demo for students at Cary Academy. Good reds in this shot, helped by bright sunlight, two red "collided" cars, and a red running track as roadway. See more photos. Please don't drink and drive. Click to enlarge:


+ 7 - 1 | § ¶
Pilot's Engine 72
Here's an interested apparatus photographed yesterday by Lee Wilson, Pilot Fire Department in Franklin County, and their 1989 Mack/EEI pumper(-tanker?). See more photos.



Lee Wilson photo
+ 8 - 5 | § ¶
Video of Wilmington Brush Fire Crossing 17th Street
For your morning interest, sundry YouTube searching finds this five-minute video of the Pine Valley Fire in Wilmington on April 16, 2012. This citizen-shot footage shows the flames approaching and then crossing the 17th Street Extension. Here's a page of WWAY stories about the fire. Here's a city information page about the fire, which includes a nifty fact sheet summarizing the resources used. Included 14 pieces of apparatus and 60 personnel (including 50 call back) from Wilmington FD, one engine and two units for city fill-in from New Hanover County FD, and two EMS units, one rehab unit, and one supervisor from New Hanover EMS.


+ 7 - 3 | § ¶
Guilford County Fire Departments, 1981
Here's a treat from three decades ago, two pages of station and apparatus photos from the Guilford County Fire Protective Association Annual Yearbook and Fier Safety Manual: Summer/Fall 1981. Bought that baby on eBay. Shown on these two pages in PDF format are PGFD, AFD, GFD not Greensboro FD, MFD, SFD, the airport FD, BFD, another SFD, FD13, FD14, ORFD, CFD, GCFD, DRFP, GRFD, PSFD, FD28, SFD, WFD, NFD, a second CFD, JFD, MHFD, and LFD. Got that? Dig all the custom cab rigs that are shown. No explanation is provided for the annotations, however. Click to view:


+ 4 - 7 | § ¶
Ten-Digit Misdials Continue to Plague Raleigh/Wake ECC
Press release. Ten-digit dialing continues to cause significant problems for the Raleigh-Wake Emergency Communications Center. Instead of dialing the area code 919, callers are mistakenly dialing 9-1-1 and hanging up. Misdials and hang-up calls divert resources away from actual emergencies, as dispatchers must dial back on hang-ups to assure that an emergency is not taking place. If no response is received, a police officer is sent to the source of the call to make certain that no assistance is needed. Ten-digit dialing became mandatory in the area in late March. For the first two weeks of May, the average rose to 181, more than six times [ ! ] the normal amount for days prior to the area code overlay. Read entire press release.
+ 2 - 5 | § ¶
Morning Reading List?
Been a while since we asked this question. What's your morning reading list look like, for fire and emergency services web sites? These days, my daily fare consists of these four:
Plus local news media, looking for stories on same: WRAL, WTVD, News14, News & Observer. Less frequently visit Firehouse, the Firehouse forums, FireCritic, and smaller local news sites like Cary News, Eastern Wake News, Midtown Raleigh News, and the Wake Weekly. The latter local rags get hit a couple times a week, usually midweek.
Also watch Facebook for posted links that catch my eye, including the frequent link posts from both FireNews.net and HPFirefighter.com.The latter, which started as an unofficial High Point Fire Department site, has also started aggregating fire news in recent months. Also have Google alerts which send daily e-mail with links to newly posted (or newly indexed) web pages that mention "Raleigh Fire Department."
Yours?
+ 6 - 1 | § ¶
Expected the (Un)Expected
Dave Statter surfaced this video last week of a flaming van on a San Jose freeway that started rolling just after the engine arrived. Like the reader comment suggesting a chock-throwing device on the roof of the pumper. There's your million-dollar idea right there. Inventors, start your engines. It's worth noting that Statter911 has become a superb site for viewing fire videos. Dave has a knack for curating compelling content, and his readers provide equally rich entertaining and education in their comments. What vehicle fire-that-surprised-you stories can you share?



+ 3 - 5 | § ¶
Old Engine at Durham Junkyard
Reader Paul Attryde found this Ford/American LaFrance pumper while rooting around a junkyard on Wrenn Road in Durham. Observe the interesting warning lights on the roof. Beacon plus two strobes (?). Can anyone identify? Click to enlarge:


+ 5 - 4 | § ¶
Camp Celebrate Apparatus
Quite a collection of apparatus participated in yesterday's Camp Celebrate procession from Triangle Town Center in Raleigh. Top to bottom, left to right are Chapel Hill, New Hanover County (!), Apex, Roxboro, Stony Hill, and Rocky Mount. Photos by Lee Wilson. See more photos from Lee. Maybe someone can post the complete roster. Big thanks to everyone who participated and helped.



Lee Wilson photos
+ 9 - 2 | § ¶
Wake County Fire Chiefs Past and Present - Version 1
For your Friday enjoyment, here's a project that I've been idly playing with. Wake County fire chiefs past and present. If my math is correct, same contains 244 unique names from 36 departments and dating to 1870. Still incomplete for a few departments, alas. Apex, Cary, Fairgrounds, Falls, Holly Springs Rural, Morrisville, Rolesville, Six Forks, Wake Forest #2, Wake Forest Rural, Wendell, Western Boulevard, Yrac, and Zebulon. But top people are researching the gaps. Thanks for everyone's help so far, and going forward.
View the list of Wake County Fire Chiefs (PDF)
The list is presently posted to this blog. We'll place it in a better location on legeros.com later. Readers are entirely invited to check my work. Corrects are encouraged! Now, let's slice and dice and the data and bit...
Longest Serving
W. Lee Rowland, Fuquay-Varina, 1925-1963 - 38 years
George Gupton, Knightdale/Eastern Wake, 1978-2012 - 34*
Sidney Perry, Zebulon, 1980-present - 32
Billy Wayne Perry, Zebulon Rural, 1954-1986 - 32
Willie Hopkins, Zebulon, 1946-1975 - 29
Phil Mitchell, Garner, 1982-2010 - 28
Jimmy Thompson, RDU, 1986-present - 26
Tom Vaughn, Wendell, 1988-present - 24
L. D. Warner, Swift Creek, 1965-1987 - 22
Cecil Parker, Holly Springs, 1992-2012 - 20
Frank Woods, Hopkins, 1992-present - 20
Albert Perry, Wake Forest, 1958-1978 - 20
Died in Office
Lewis Hicks, Raleigh, 1923
Alvin Lloyd, Raleigh, 1955
Clarence Puryear, Raleigh, 1974
Terry Edmundson, RDU, 1985
Lewis Bartholomew, Six Forks, 1978
Jimmy Keith, Wake Forest, 2004
Others?
Common Last Name**
Perry - 7
Keith - 5
Bailey - 4
Jones - 4
Ray - 4
Harris - 3
Johnson - 3
Future Computations
Would be interesting to calculate total service for folks who served as chief for two or departments. And to calculate who also served in other departments, and outside Wake County. That list would be pretty honkin' huge.
*In 2003, Knightdale FD changed their name to Eastern Wake FD.
**Check my math on those counts. And we'll be adding more names to the master list, of course.
+ 6 - 4 | § ¶
Letter to the Editor / Memo From Fire Chief, Circa 1958
Found in my files. These date to around 1958, based on the citations regarding a second aerial ladder (delivered 1958) and construction of Station 7 (opened 1959).
To the Editor:

Yesterday I spent a most enjoyable and enlightening hour and a half in the Raleigh Fire Station on Dawson Street.

Like too many of our Raleigh Citizens, I have always subconsciously taken for granted that if a fire were occur in my home, I would pick up the telephone, call the fire station, and have the fire put out. It never occurred to me stop and think what operations might be behind this very prompt and efficient service.

Also like many citizens, I had never seen a fire engine except as it flashed past, hurrying to answer a fellow citizen's distress call. Those big gleaming, clean-as-a-pin engines sat there, ready to go into operation at a second's notice. When I saw them, I knew exactly how my young son feels when he is around a fire engine.

Many of us, I feel sure, don't know that there is a definite science in the art of fighting fires. I peered with awe at the banks of complicated dials, knobs and fixtures that each fireman must know how to operate in order to extinguish a fire. I learned that these engines carry their own supply water which can be used to instantly start fighting the fire while the other hose lines are being attached to the hydrant.

Do you know that from the instant the first "licks" hit the alarm bell until the firemen are on the truck and ready to go into action takes only 18 seconds. Sounds incredible but that's true. Our fireman are on duty around the clock, seven days a week. They sleep in the station house with an ear open for that first sound of an alarm bell, ready to leap into action--to protect our lives and property.

Except to answer a fire call, these men never leave the station house while on duty. They have a kitchen and sleeping quarters right in the station house. When it is said that they are on duty 24 hours a day, it means just that. Meal time, coffee break time, sleeping time-- all subject to interruption at any time, day or night, for the citizens of Raleigh.

The firemen of Raleigh have a proud tradition. Their salaries are small, their glory minor, but their service int he face of constant danger is tremendous.

Our Fire Chief, Jack Keeter, is to be highly commended for his wonderful organization of our fire department and for the services that he and his men render the people of Raleigh. I don't know how others feel, but as for me, I'll never again "take for granted" such important service.

(Mrs.) Becki Brenner, Raleigh

Municipal Memo

By Jack B. Keeter, Raleigh Fire Chief

We have, in my opinion, as fine a fire department as there is in the state of North Carolina, or anywhere else. It is our constant aim and effort to give the citizens of Raleigh first class, efficient fire protection.

The Fire Department is composed of 123 personnel. Because of the 24-hour shift system, there are approximately 60 persons on duty all times. There are six fire stations in use and it is expected that a seventh will be constructed within approximately a year. There are 20 pieces of firefighting apparatus.

[ Those apparatus being seven engines, two aerial ladders, one service ladder truck, two rescue trucks, one auxiliary truck, and probably two reserve engines. Maybe three. Wonder if he was counting chief's car or the shop truck or... ]

The fine quality of the personnel, a good training program and, the finest equipment that money can buy are what makes this fire departmcnt a good one.
READ MORE
+ 3 - 3 | § ¶
Evening Reading - May 17, 2012
Good evening Raleigh. Great time today at the second annual Wake County EMS System reunion. There's such a rich vein of history in our area, with decades of service by volunteer rescue squads and career EMS agencies (and variations in-between). See photos by Legeros, including a couple sweet rides shown outside the Wake County Commons Building, where the luncheon was held. Enjoy some reading and these stories that caught my eye this week:
+ 7 - 5 | § ¶
Mystery Patient Compartments - Then & Now
Pair of patient compartments in a pair of ambulances. One is vintage, one is modern. Can you identify? Marvel at the simplicity (then) and the complexity (now).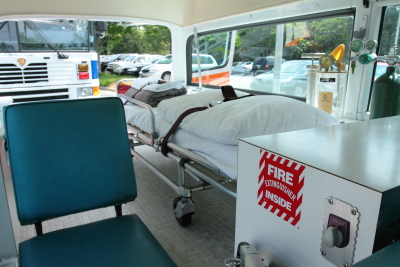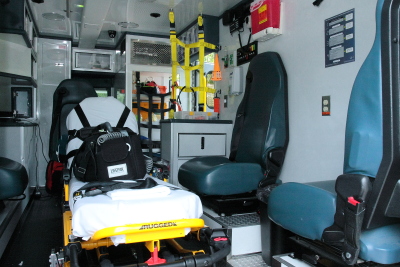 + 8 - 3 | § ¶
Historic Firehouses of Raleigh
Let's apply the travel treatment to our own town, shall we? Here are the historic and former fire department buildings in Raleigh. The oldest dates to the volunteer years, with the Capital Hose House built in 1887. Then leap to the 20th Century, with a number of former firehouses, including the rear of what was once called Memorial Auditorium. The oldest fire department building still in service is the old alarm house behind in Station 1. See the photos by Legeros, all of which were taken a couple years ago. Will do a fresh photo tour one of these months! Read more history about these buildings.
Sta 1 - 220 S. Dawson Street - Built 1953
Sta 3 - 13 S. East Street - Built 1951
Sta 5 - 300 Oberlin Road - Built 1961
Sta 6 - 2601 Fairview Road - Built 1949
Sta 7 - 2100 Glascock Street - Built 1959
Old Alarm House - Behind 220 S. Dawson Street - Built 1942
Old Capital Hose House - 117 W. Morgan Street - Built 1887 - Closed 1889

Old Sta 2 - Memorial Auditorium, rear - Built 1932 - Closed 1969
Old Sta 2 Repair Shop - 263 Pecan Street, rear - Built 1969 - Closed 2004
Old Sta 4 - 505 Jefferson Street - Built 1926 - Closed 1963
Old Sta 4 - 2913 Wake Forest Road - Built 1963 - Closed 1993
Old Sta 6 - 2519 Fairview Road, left half - Opened 1943 - Closed 1948
Old Sta 8 - 903 Kent Road - Opened 1960 - Closed 1963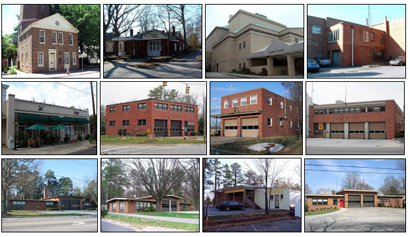 + 5 - 5 | § ¶
Rolesville's New Engine 151
Delivered last week, a 2012 Pierce Saber. More photos forthcoming from Lee Wilson. We'll get some specs for the thing, too. Click to enlarge:


+ 8 - 4 | § ¶
Raleigh's Old Engine 1 Returns Home
The Raleigh Fire Museum last week acquired a 1961 American LaFrance 900 Series pumper that originally served the Raleigh Fire Department. It was purchased with donations from active, retired, and former members. The engine served the city from 1961 until 1982, and was sold to the Stem Fire Department in Granville County in what we believe was 1986. It was later sold to a private owner.
The truck's in good condition and the museum will continue to raise money for maintenance and, hopefully, restoration. See photos of the engine's journey from Jan Chamblee and others, as well as photos from Lee Wilson. To learn about the Raleigh Fire Museum or donate money, see www.raleighfiremuseum.org. The engine will be participating in the Saturday, June 16 centennial celebration in downtown Raleigh. Hope to see you there!



Lee Wilson photo

Dean Narron photo
+ 4 - 6 | § ¶
Old Wilson, Williamston Engines
Photographer Lee Wilson found these two trucks in Johnston County last week. Top is an American LaFrance 700 Series in Clayton, former Wilson Engine 2. Bottom is a 1948 Mack outside Smithfield that once served Williamston. See more photos.


Lee Wilson photo
+ 6 - 5 | § ¶
Citizen Video of Charlotte Townhouse Fire
Found via random YouTube search, here's some citizen video of a Charlotte townhouse fire on April 20, 2012. Only about 80 seconds of footage. Some citizen commentary. Sound of evacuation tones about a minute in. Google searching finds these WSCO and WBTV stories. Two alarms on Duke Lancaster Drive. Five families displaced.


+ 6 - 4 | § ¶
Wake County Firefighters Association Quarterly Meeting, Meal - Tuesday, May 15
From the Wake County Firefighters Association: The next quarterly supper / meeting will be held this Tuesday, 5/15/2012, at Wake Forest Fire Department Station 1, 420 East Elm Ave. The meal will be served around 6:30p with the meeting to follow around 7p. There will be a speaker from the new retirement system that the State Fireman's Association has put together. We will also be announcing the scholarship awards. Please feel free to bring any new apparatus that you have recently received so we may all take a look. We look forward to seeing everyone soon!
+ 4 - 5 | § ¶
Wake County Recognizes EMS Week
This week is Wake County EMS week. Read press release. There are a couple events planned, both public and private:
EMS Healthy Living Open House at Station 1 - Monday, May 14 - 7:00 a.m. to 1:00 p.m.
Residents are invited to stop by for blood pressure screenings, fresh fruit, tours of ambulances and to meet Pete the Paramedic Panda. Attendees can also learn about automated external defibrillators (AEDs) and hands-only CPR techniques. At 10:00 a.m., Wake County EMS will host a news conference to launch a new initiative with local businesses aimed at improving cardiac arrest survival rates.

Cardiac Arrest Saves Ceremony at Fletcher Opera Theater - Wednesday, May 16 - 7:00 p.m.
The County's EMS System will celebrate the 69 survivors of cardiac arrest in 2011. No other community in the U.S. benefits from a higher pre-hospital cardiac arrest survival rate.

Wake County EMS System Reunion at the Wake County Conference Center - Thursday, May 17 - 10:00 a.m. to 3:00 p.m.
Past members of the EMS departments and rescue squads are invited to a reunion event. Starts with a meet and greet at 10:00 a.m., barbecue lunch at 11:00 a.m., and historical fun from 1:00 p.m. to 3:00 p.m. Visit this web site for more information, including an RSVP form.
+ 3 - 5 | § ¶
Vintage Benson Beauties
As photographed by Lee Wilson at Saturday's open house at the Benson Fire Department. Top is a 1950 Ford/Howe. Love the lines on that one and the overhead ladder rack. (Wake Forest had a similar style rig in that era.) Bottom is an early 1900s horse-drawn, gas-powered pumper. That one was recently returned to the fire department and has been undergoing restoration. See prior posting from 2010. The engine dates to 1907, though that might be an approximate year. Here's a history page of mine with a photo of the engine operating circa 1907. Our readers to the south can perhaps add more information. See more photos from the Open House.



Lee Wilson photos
+ 4 - 6 | § ¶
Drawing of Holly Springs Station 2
Found on the fire department's stations page, here's a drawing of Holly Springs Station 2, which is under construction on Avent Ferry Road. See earlier blog post. See construction photos from Lee Wilson.


+ 6 - 5 | § ¶
Temporary Fire Stations
Here's Station 12 on Ogeechee Road in Savannah, one of three temporary stations operating on the far west and south sides of the city. We photographed all three while visiting the historic city last week. See those photos. (Yeah, you're pretty much crazy person if spend your vacation cruising the perimeter of a place like Savannah, instead of spending every last moment downtown. We don't even need Mrs. Blogger to comment on that one...)
Locally, we've seen a number of temporary fire stations around Raleigh and Wake County. In the Capital City, Engine 8 occupied a rented house on Method Road from 1960 to 1963. In Holly Springs, the municipal fire department's early locations included a warehouse circa 1995. Their Station 2 is currently operating in a trailer on Avent Ferry Road, while their new building is completed on the same site. What other temporary stations have served or are serving around here/this region?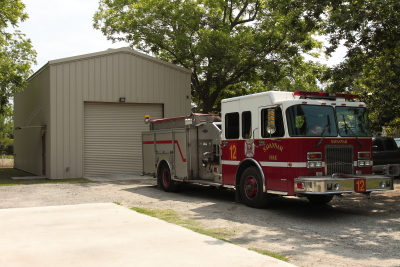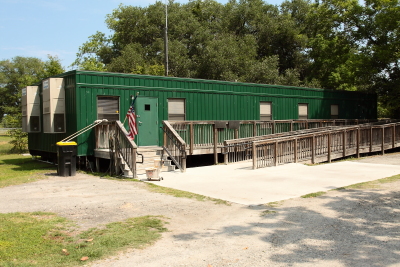 + 7 - 3 | § ¶
Anson County C-130 Crash, April 29, 1992
My deadliest disasters database includes military aviation accidents with fatalities numbering five or greater. A reader informs of an incident not listed. Nine crew members aboard a C-130 transport plane were killed when their craft crashed into Blewett Falls Lake in Anson County on April 29, 1992. The plane was based at Pope Air Force Base, about 40 miles east of the crash site. The incident ties for ninth deadliest military plane crash in the state's history. The highest fatality count was an Army transport crash on September 20, 1943, at Laurinburg-Maxton Army Air Base. The crash killed all 25 aboard, and was also the first fatal crash at the base. Memo to self: updated my database with the Anson County incident.
Laurinburg-Maxton AAB - Sept. 20, 1943 - 25
Pope AFB - Mar. 23 1994 - 23 killed, 100 injured
Camp Lejeune Onslow - Jun. 23, 1967 - 22
Laurinburg-Maxton AAB - Jun. 7, 1943 - 20
Gingercake Mountain - May 17, 1943 - 18
Camp Lejeune - May 10, 1996 - 14
Camp Mackall - Oct. 30, 1943 -14
Greenknob Mountain - Jun. 13, 1944 - 10
Cherry Point MCAS - Oct. 16, 1975 - 9
Blewett Falls Lake - Apr 29, 1992 - 9
+ 5 - 4 | § ¶
Centennial Celebration Invitation From Fire Chief John McGrath
Fire Chief John McGrath extends his invitation to the Raleigh Fire Department Centennial Celebration in downtown Raleigh on Saturday, June 16, in this short video clip. The all-day event begins at 10:00 a.m. and will feature a fire truck parade, firefighter competitions, antique apparatus pumping demonstrations, a Kidde Kid's Zone, and a huge birthday cake. Learn more at www.RFD100.com, including registration information for your apparatus for firefighter team. Click to watch the video:


+ 5 - 1 | § ¶
Morganton City Hall and Fire Station, 1910
Found for sale on eBay is this postcard of the Morganton City Hall building, which included a fire station in the rear. Never seen this photo before! Sanborn Maps from April 1910 show the structure located on King Street, just west of West Union Street. The volunteer fire department of 25 men operated a horse hose wagon and a horse hook and ladder truck. The town had 45 hydrants. The population was 3500. Don't know when the building was built, or when it was demolished. View the Sanborn Maps. Click to enlarge:


+ 4 - 2 | § ¶
Evening Reading - May 11, 2012
Good evening Raleigh. Summer appears to be here! Days are getting longer, days are getting hotter. Good time for summer projects and summer vacations. Regarding the former, Yours Truly is compiling a list of all Wake County fire chiefs past and present. Started as question, which chiefs have been the longest-serving? That led to a longer list, which is a few departments shy of being completed. Names plus start and stop years, where possible. Watch this space.
A parade is coming and you're invited! - FireNews.net posting about the Raleigh Fire Department centennial celebration on Saturday, June 16. An all-day celebration is planned downtown. The festivities start with a parade on Fayetteville Street. Your department is requested to send modern or antique apparatus. You can also participate in the apparatus muster and the firefighter challenges. Learn more at www.RFD100.com.

Fairview hiring for Fire Chief - The Fairview Fire Department in Apex is hiring to fill a full-time Fire Chief position. Applications accepted through June 1. See this PDF document for more information, including an application. Congratulations again to outgoing Chief Ed Brinson, who's continuing the family name in the North Carolina State Fireman's Association as Assistant Director.

FireNews and Bartosz cover triple-truck crash on I-95 - FireNews.net posting about Wednesday's fatal, fiery truck crash on I-95 in Rocky Mount. The city department was assisted by Red Oak FD, Coopers FD, West Mount FD, and Battleboro FD. Plus a crash truck from the airport. (Full run card, anyone?) Photographer Bob Bartosz contributed some 20 photos.

Speaking of fire photographers... - Mark your calendar for Friday, August 10. That's the date that a Fire Photography Panel will be held at the South Atlantic Fire Rescue Expo in Raleigh. The 90-minute workshop is scheduled from 11:45 a.m. to 1:15 p.m. The moderator is FireNews.net Editor Jeff Harkey. The participants include myself. More on that one, later.

Speaking of the Fire Expo - After you've learned about fire photography, plan to attend my workshop at 3:15 p.m. on the same day. Historian Mike Legeros will present a Centennial History of the Raleigh Fire Department. The 90-minute session will include a contextual history of the fire service in North Carolina as well. And probably a lot of neat old photos.

Salary freezes often mean double duty for area firefighters - Star-News story about Wilmington firefighters making ends meet, and as the city faces an estimated $4.5 million budget hole.

Volunteer cartographer sets Google Map record straight on Triangle - News & Observer story from Sunday about a WakeMed police officer whose a citizen cartographer off-duty. Pretty neat.

14 tips for raising the bar on memo writing - Modern Meeting Standing posting on writing better. Learn from the thing, okay? You'll become a better texter, tweeter, and e-mail writer. Might even help some folks with blogging!

Vacation photos from Charleston and Savannah - Mr. Blogger is about finished with his post-vacation post-processing. Posted so far are shots from the Charleston Naval Yard, Savannah Historic Firehouses, and Savannah Temporary Firehouses (!). Pending is the Hilton Head Island Airport Fire Department and general shots from around Savannah.
+ 3 - 3 | § ¶
Historic Urban Firehouses of the South
Slowly but surely we're amassing a collection of current photos of historic urban firehouses in the South. As posted to the Mike Legeros Flickr site, you can tour these cities:
There's also an omnibus of North Carolina stations, which mixes urban, suburban, and rural. For specific cities, see this history page and these articles therein:
Memo to self, create individual Flickr sets for the above North Carolina cities. Add links between each new set and its corresponding history page. Oy, photo management never ends.
+ 7 - 3 | § ¶
Boeing Fire Department in North Charleston
Back from vacation but still processing photos and observations from our trip to Savannah by way of Charleston. Heard there's a new airport fire department in North Charleston, serving the Boeing plant that opened last year. Google finds a couple apparatus delivery photos. Top photo is a 2011 Oshkosh Striker 3000, from this E-Vehicle News story. See larger photo on that page. Bottom is a 2011? Ford F-550/American LaFrance mini-pumper slash light rescue, from this ALF page. Perhaps readers can add details about BFD as well as main airport fire department in North Charleston.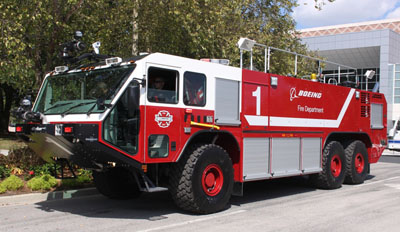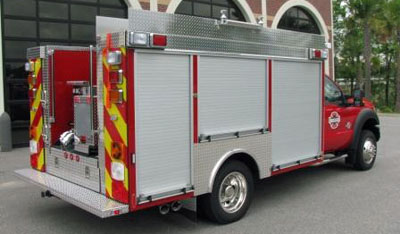 + 6 - 3 | § ¶
Raleigh Fire Museum Open This Saturday, May 11
Don't forget that the Raleigh Fire Museum is open this Saturday, May 11, from 10:00 a.m. to 2:00 p.m. The museum is open on the second Saturday of each month, and is located in a classroom trailer at the Keeter Training Center at 105 Keeter Center Drive. Parking and restrooms are available. Admission is free. Learn more about the museum, and the group that operates it, at www.raleighfiremuseum.org.


Please note that the Raleigh Fire Department's collection of antique fire apparatus is housed at a separate location, at Fire Station 28 at 3500 Forestville Road in northeast Raleigh. The collection includes a 1905 steamer, a 1926 American LaFrance pumper, a 1950 Mack pumper, and a 1982 Mack pumper. Visitors are welcome.
+ 8 - 6 | § ¶
Historic Savannah Firehouses
The Savannah Fire Department dates to 1867, and its career department was formed in 1890. The first fire company was formed over a century earlier in 1759. That was a couple decades after the first fire in 1737. The first officially organized fire department was formed in 1825, and the first independent fire companies were organized in 1845.
The department used hand-powered apparatus until 1866, when all hand engines were converted to steam power. Motor appratus arrived in the 1910s. After the successful operation of an American LaFrance combination chemical hose wagon, eleven more were purchased in 1911. Savannah became the first fully mechanized fire department in the United States.
Three engine houses from the late 19th and early 20th century are still standing in the city. Other historic fire stations include two from the 1930s and two from the 1940s. One of each is active, notably the monster Headquarters Fire Station on Oglethrope Avenue. Also at that location resides Big Duke, the alarm bell and tower that previously sat in front of the police station.
604 Barnard St. – Built 1886 - Closed 1952 – Sta 4
2202 Barnard St. – Built 1900 – Closed 1982 – Sta 6
801 E. Gwinnett St. – Built 1909 - Closed 1999 – Sta 7
2102 Ott St. - Built 1936 - Closed 1955 - Sta 8
121 E. Oglethorpe Ave. - Built 1937 - Sta 3/ Big Duke
1943 Capital St. - Built 1945 – Closed 2008 - Sta 9

6 West Henry St. - Built 1946 - Closing 2012? - Sta 5
230 East Lathrop Ave. - 1952 – Closed 1999 - Sta 4
2824 Bee Rd. - Built 1955 - Sta 8
535 East 63rd Street - Built 1959 - Sta 1
7 Martin Luther King Blvd. - Built 1970 - Closed 1999 - Sta 2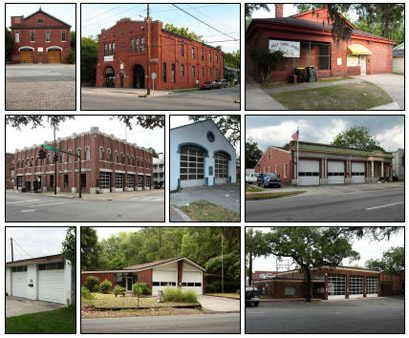 See photos of the stations, shot this week on our vacation. Criteria was (a.) age 50 years or older or (b.) no longer serving as a fire station, built any year. Or read more information.
Sources:
+ 5 - 2 | § ¶
Charleston Building Their Largest Fire Station Ever
Check out this monster fire station that Charleston's getting ready to build. New Station 9 at King and Heriot streets. Five bays, with the department's headquarters on the second floor. It replaces an existing station at the same location, though that building (and a much smaller facility) is closed because of mold problems. The $5.5 million, 19,500 square-foot building was designed by Rosenblum Coe Architects. It'll house Engine 9 plus the haz-mat team. It also has space to accommodate one of the four downtown engine companies, which will be needed on a temporary basis, as the city works to retrofit its older stations for earthquake protection (!). See this Post & Courier story for more information. See pictures of Charleston's historic stations, photographed by Legeros in 2007.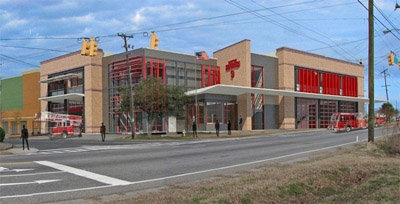 + 3 - 3 | § ¶
Reminder: Brotherhood Conference on Saturday, May 12
This is a reminder that the Wake Forest Fire Department is hosting a Brotherhood Conference on Saturday, May 12. The location is Ravenscroft School at 9409 Falls of Neuse Road, Raleigh. The event time is 9 a.m. to 4 p.m. The special guest is Lt. Ray McCormack, FDNY. This conference is free for any active firefighters. There are 400 slots max. Download the flyer (PDF), or click to read for contact information:


+ 9 - 3 | § ¶
Hilton Head Island Airport Fire Department
Here's a peek inside the bays of the Hilton Head Island Airport Fire Department. The station is staffed with two career firefighters, who operated an Oshkosh crash truck and a Ford quick-response vehicle. Didn't get the model years or specs, alas. The department is operated by Beaufort County, versus HHIFD. The latter, however, has their headquarters and training facility across the street from the airport fire station. More photos later, including some inside shots of their about-a-year-old station.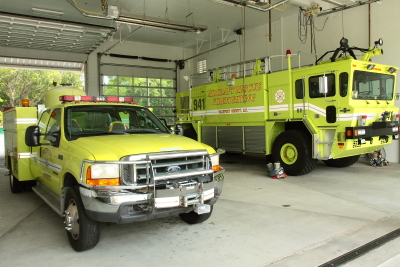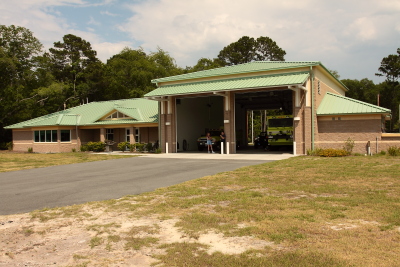 + 2 - 3 | § ¶
What a Cistern Lid Looks Like
This cistern lid is located in Washington Square in Savannah, GA. The lid, which measures four or five feet in diameter, is located 20 feet north of a brass plaque that sits upon a brick stand. The plaque reads:
Washington Fire Company No. 9 - 1847 to 1875

Located at this site. The volunteer Washington Fire Company No. 9 provided fire protection to Washington and adjacent wards for 28 years. The top of a cistern visible 20 feet north served as a water reservoir for the fire apparatus. The men of the Washington Fire Company were memorialized by the placement of this cornerstone at Fire Station No. 1, which was built at 522 East Brought Street in 1878. This was Savannah's first municipal fire station, which was demolished in 1962.

Dedicated to the brave firemen of Fire Station No. 1

Who also served as mentors and role models for the youth of the "Old Fort" section of Savannah.

October 14, 2007.
Click to enlarge:
+ 4 - 4 | § ¶
Scenes From a Shipyard
Here are a few fire-related sights from the old Charleston Naval Shipyard, which is located on the Cooper River in North Charleston, S.C. Top is the yard's old fire station. Not sure if there was more than one. Next is North Charleston Fire Station 2. Might be a converted building that wasn't a fire station. (The Navy ceased operations at the yard in 1996.) There's a gate in the rear to allow access into the old shipyard, which is now a commercial and industrial development area. (And with at least one residential area as well.) Below that is a reserve E-One engine and a USAR rig, parked at Station 2. See more photos from the shipyard. Thanks to Stretch for identifying the mystery slabs in our prior posting.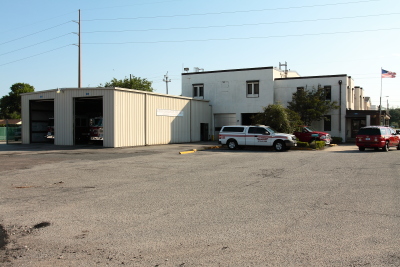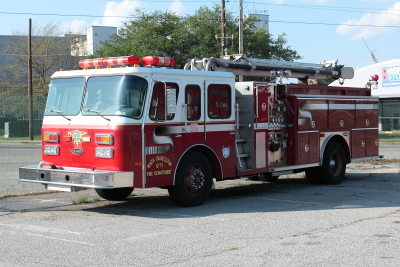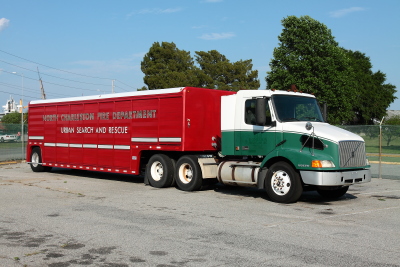 + 3 - 2 | § ¶
Fire Commission Meeting Notice & Documents - May 10, 2012
The next meeting of the Wake County Fire Commission is Thursday, May 10, at 7:00 p.m. The location is the Wake County EMS Training Facility, in the lower level of the Wake County Commons Building, 4011 Carya Drive. Below is the agenda and a list of meeting documents, that are posted here.
Agenda

Call meeting to order Invocation

Roll of Members Present
Approval of Agenda

Minutes Adoption of Minutes for March 22nd, 2012, Regular Meeting
Regular Agenda

Fire Tax Budget Committee

Committee Recommended FY 2013 Fire Tax Budget
Staff Recommended FY 2013 Fire Tax Budget

Consider Recommended Fire Protection Agreement
Consider Recommended Amendment to Fire Compensation Administrative Guidelines
Apparatus Committee

Recommended Wake New Hope Apparatus Replacement

Information Agenda

Fire Tax Financial Report
Chair Report
Fire and Emergency Management Director Report
County Budget Update

Other Business
Public Comments

30 minutes maximum time allotted, Maximum 3 minutes per person

Adjournment - Next Meeting July 19th , 2012

Meeting Documents

1. Agenda
(See 01 _5-10-2012 Agenda.pdf)
1(A). Draft Minutes March 22, 2012
(See 01A _Minutes, March 22, 2012.pdf)
2. Fire Tax Budget Committee
(See 02 _Committee Recommended FY 2013 Fire Tax Budget.pdf)\
(See 03 _Staff Recommended FY 2013 Fire Tax Budget.pdf)
3. Recommended Fire Protection Agreement
(See 04 _Fire Contract amended 03.01.12 REDLINE.pdf)
(See 05 _Revised Fire Agreement for May 2012 Meeting_Fire Commission.pdf)
4. Recommended Amendment to Fire Compensation Administrative Guidelines
(See 06 _Amendments _ Compensation Administrative Guidelines.pdf)
(See 07 _Compensation Administrative Guidelines_Amended v1.pptx.pdf)
(See 08 _Compensation Committee Recommendation.pdf)
(See 09 _County_FD Leave Accrual Comparisons.pdf)
5. Apparatus Committee Report
(See 10 _Apparatus Committee Recommendation - Wake New Hope Apparatus Replacement.pdf)
6. Fire Tax Financial Report
(See 11 _Fire Comm Finance Reports - July 1 to May (FY12 YTD).pdf)
+ 8 - 3 | § ¶
Mystery Slabs
Seen this weekend on the grounds of the old Charleston Naval Yard, which is located along the Cooper River in North Charleston. Uniformed shaped concrete slabs, located beside abandoned rail spurs. Sections of foundations or flooring? Used for barrier reef building? Inquiring mind wants to know! More photos later.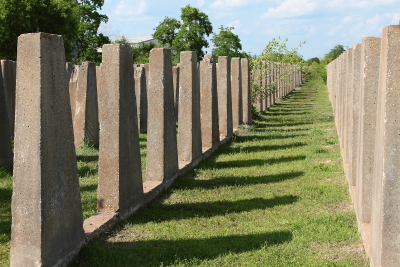 + 7 - 7 | § ¶
North Charleston Fire Department Group Photo
How about an old-fashioned fire department group photo, with a complete fleet of apparatus and vehicles and all personnel ? The North Charleston Fire Department in South Carolina made this stunning image, which is found on their web site. View a larger version as the cover page of their Stragetic Plan document (PDF). Give a gold star to the planners of that shot! NCFD operates 12 stations and what looks like 12 engines (including a quint?), five ladders, and two rescues. Plus some other special units. (They're the third-largest city in the state. Are they the third largest fire department, also?) Believe the background is City Hall and the photographer perhaps on the roof of a nearby commercial building? Talk about a perfect setting! What other fire department group photos have you seen that you liked, either on the web or hanging in stations? Click to enlarge:

+ 7 - 4 | § ¶
Ladder 2 First Due
That's one of Raleigh's reserve ladders at last night's commercial structure fire at 2809 Brewton Place. It's operating as Ladder 2, which found the fire after investigating smoke they and Engine 11 smelled/saw while returning from another call. The 1999 American LaFrance/LTI platform ladder (1500/300/93') arrived at a one-story metal garage building with 2,400 square-feet. Built 1969. Occupied by an auto repair business. Heavy smoke was showing. Lines were pulled and a supply line connected to the ladder truck. Crews made entry, first to the gated property and then to building, and quickly controlled a fire inside. Run card included E11, E19, E27, E21, L2, R2, B2, A1, C10, C20, C40. Finding fires by finding smoke is the oldest story in the book. What are some your great stories of sighting or sniffing out structure fires? See a few photos from last night.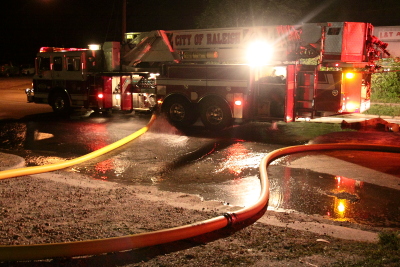 + 8 - 5 | § ¶
S.O.B. Security
With travel on our mind this week, how about an oldie but goodie? Shot this six years ago at South of the Border. While we're here, how about some photos of Pedro's fire station? Here's the blog thread from back then. You never sausage a place. Click to enlarge:

+ 5 - 5 | § ¶
Lake Norman's New Pierce Engine (and Others)
Found on the Pierce Flickr page, this sharp-looking Pierce Arrow XT was delivered to Lake Norman Fire Department in Iredell County. Serves as Engine 2, says the department's web site. See larger version. Lake Norman, by the way, is the largest fresh water body in North Carolina. Over 50 square miles. And which compels the obvious question: how many fire departments in how many countries serve Lake Norman? And with how many fire boats??


The company's Flickr page is a great site for armchair apparatus viewing. Check out the Spring 2012 deliveries set and the assorted rigs delivered to China. Couple monster three-axle, industrial-looking pumpers in there. Here's another Flickr user's shot of job 25130 on a flatbed in Los Angeles (I think), headed probably to the port.
The Pierce New Delivery site has a smaller subset of photos, but still some interesting finds. Here's Fayetteville's Pierce Arrow XT pumper that was delivered in January. Nice looking truck!


+ 2 - 5 | § ¶
Separated at Birth?
These two highly suspicious characters have been seen hanging around fire stations in Raleigh and Wake County. They should be considered armed with cameras and dangerously funny-looking. John Doe #1 is easily spotted by his clothing, except when walking among tropical plants. He's known for immobilizing his victims with lengthy stories of fire department history. Approach with caution, especially if you're not wearing your PPE on scene. He can be easily subdued, however, with large servings of chicken and rice. John Doe #2 is identified by his characteristic fire department t-shirts. His modus operandi involves frequent requests of station crews to pose their apparatus. He hibernates during early daylight hours and can be trapped using a length of charged five-inch hose. Recommended bait is either barbecue or a UNC basketball game. Please contact local authorities if you see them. Click to enlarge... if you dare:


+ 5 - 2 | § ¶
Four Guilford Fire Departments Brace for Budget Cuts
Found via hpfirefighter.com, here's an interesting MyFOX8 story about budget cuts in Greensboro and Guilford County. The city is trying to tighten its budget by $4.1 million. The fire department is cutting $1 million from their budget. They've passed $300,000 of the cuts to the "rural" fire departments that they contract with. As the story notes, Colfax FD, District 13 FD, McLeansville FD, and Pinecroft-Sedgefield FD (misnamed Pine Cross Sedgefield) are affected. Read or watch the story. Google doesn't (yet) find any other stories on the Greensboro Fire Department budget, or its further plans. That's certainly a tricky area, public reporting about public safety budgets and budget processes. [ Insert additional pontifications as desired. Have to get ready for work... ]


+ 4 - 5 | § ¶
DCFD Engine 10 Newly Remodeled
Firefighter/photographer Stanley Jaworksi passed along a couple shots of DCFD Engine 10. The station at 1341 Maryland Avenue NE was recently remodeled into a four-unit, loft-style condo building. The remodeled preserved the historic facade of the 1894 structure, while adding two three-level townhomes and two "affordable-rate" condos. See this PDF document and this web site for more info. Below is the "before" shot, when Mr. Blogger found and photographed all former firehouses in DC. See those photos from 2009. Or see my history page about DC historic firehouses.



Mike Legeros photo

+ 4 - 3 | § ¶
Fire Chief Ed Brinson Named Assistant Director of NCSFA
Press release. Edward P. Brinson has been selected to serve as the Assistant Director of the North Carolina State Firemen's Association. Chief Brinson is known to many and currently serves as the Chief of the Fairview Fire Department in Apex. He has been involved with the fire service at the local, regional and state levels over the years. He served as President of the North Carolina Fallen Firefighters Foundation from 2004 to 2007, and is a member of many national and international fire service organizations. Chief Brinson begins his work with the NCSFA on May 14. Read the entire press release. Congratulations, Chief!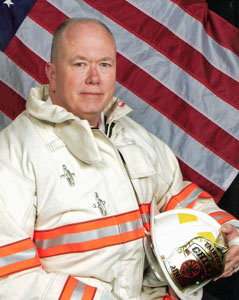 + 3 - 6 | § ¶
Wake County EMS System Reunion 2012
Members of the Wake County EMS System family are invited to a reunion event on Thursday, May 17, at the Wake County Conference Center, 4011 Carya Drive, Raleigh. The festivities start at 10:00 a.m. with a meet and greet. Lunch is served at 11:00 a.m., barbecue, $10 at the door. Historical fun is planned from 1:00 p.m. to 3:00 p.m. They'll have a photo booth, service member recognitions, and then and now display of EMS vehicles and equipment. Visit this web site for more information, including an RSVP form. See you there!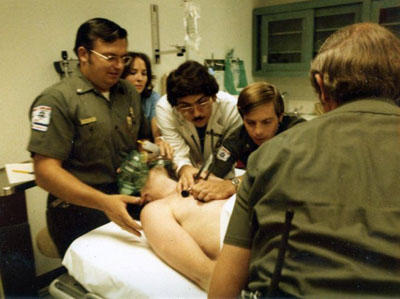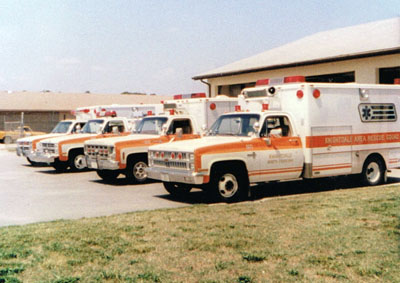 + 4 - 5 | § ¶
Remembering Fairgrounds Engine 196 and Durham Highway Unit 8
Continuing on yesterday's topic of tankers, here's a pair of big ones that once served Fairgrounds and Durham Highway fire departments. Can't find any real good (e.g. Lee Wilson style) posed photos in my digital archives. We'll make do with these shots. Top is a 1985 Kenworth/Grumman Firecat, 1250 GPM, 2500 gallon pumper-tanker. (Read about "The Beast.") Bottom is a 1984 Mack/Darley 1500 GPM, 1800 gallon pumper-tanker and which was the longest unit in the county at the time. (Those specs correct?)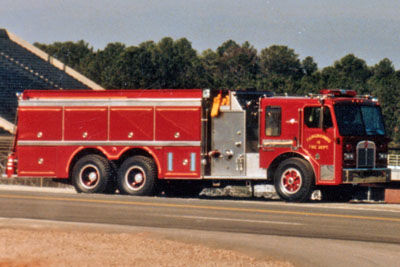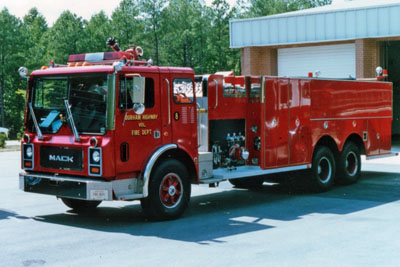 + 6 - 9 | § ¶
Bill of Sale, Yrac Rural Fire Department, 1962
This is a bill of sale from American Lafrance to the Yrac Rural Fire Department for "one (1) American LaFrance Chevrolet 750 GPM pump and hose car with 500 gallon tank." Purchase price $13,781.05. Includes $120 sales tax. Shipped on April 27, 1962. Method of delivery was "driven away." Read some history of Yrac FD. That's Cary spelled backward, if you didn't catch it. Click to enlarge:


+ 8 - 5 | § ¶
One Sweet Tanker
Here's a sharp-looking tanker featured as a new delivery on FireNews.net. 2011 Kenworth/Crimson tanker, 750 GPM, 3,000 gallon tank. Love those chevrons. What are some of the monster tankers serving around our area? And are any tractor-drawn tankers still used in the central Piedmont?



FireNews.net photo