+ 6 - 0 | § ¶
Two Firefighters Injured in Nash County House Fire
Veteran fire photographer Bob Bartosz snapped some strong shots at today's house fire on Old Highway 64 near Worth Road in Nash County. The fire was reported just before 11 a.m., reports this WTVD story. Two firefighters were injured. The injuries were not life threatening. See more photos from the Rocky Mount Telegram.



Bob Bartosz/Rocky Mount Telegram photos
+ 3 - 0 | § ¶
Against the Elements
That's what we'll title this photo from Wednesday's fire at the Hibernian Pub. Still working on processing the full series of photos. See the initial set. Boy, a lazy blogger (guilty as charged) could get a week's worth of postings out of a incident like this one. Click to enlarge:


+ 0 - 2 | § ¶
Open House at Old Station 4 on Wake Forest Road on Saturday, Dec. 29
Last-minute notice on this one. Oak City Coffee Roasters is holding an open house at old Station 4 on Wake Forest Road on Saturday, December 29. The event is from 6:00 p.m. to 11:00 p.m. They've been using the building this year as a location for roasting their coffee. The public is invited, and no invitation is required.
This Goodnight Raleigh posting tells more, and has a picture of the roasting operation inside the former fire station. As we noted in a recent posting, the building is apparently destined for demolition. A mattress store is planned for the location. The fire station operated from 1963 to 1993, before relocating to Northway Court.

+ 1 - 1 | § ¶
Korean Remake of The Towering Inferno?
Just in time for the holiday season that's almost over, here's a trailer for an upcoming Korean film called The Tower. The director is Kim Ji-hoon. The trailer was found at Ain't it Cool News. Looks like a remake of The Towering Inferno. Or maybe a cross between that and Die Hard.


+ 1 - 1 | § ¶
Thumbnails From The Fire
How many pictures did you take at the fire the other day? About a thousand. How many of those were keepers? Looks like 369. When will you have the rest posted? Today or tomorrow or the next day. What's taking so long? Time. Apologies to those who thought they'd be reading about finger injuries.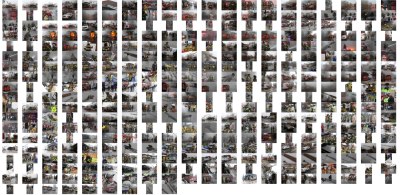 + 0 - 2 | § ¶
UPDATE #4 - Hibernian Pub - Narrative, Media, More
December 28
Narrative of the fire, drafted and posted yesterday, has been posted in this FireNews.net story.
December 27
Here's the first version of a narrative. Edits are welcome. See also photos by Mike Legeros.
[ snip ]
December 26
3:28 p.m.
Early incident details. Dispatched 10:20 a.m. Engine 13 arrived with smoke showing from the roofs and eaves of the building. Extensive fire found within voids between ceilings and roof. Engine 1 caught first hydrant. Second alarm requested upon arrival of Car 10, about 10:30 a.m. Crews withdrawn--from interior and from roof--for defense attack about 10:40 a.m. Aerial streams operated with Ladder 2, Ladder 4, and Ladder 3. Four (?) portable monitors used, on two sides of the building. One deck gun used by Engine 13, in front of building. Command at intersection of Glenwood and Lane. Rehab at intersection of Glenwood and North. Staging on North, east of Glenwood, and Glenwood, south of Lane. Four hydrants used: #1 - Glenwood (west side) at Lane, with Engine 1 boosting to Engine 13. Later also supplied Ladder 3. #2 - Glenwood and North, for Ladder 4. No engine boosting. #3 - North, east of Glenwood (?), for Ladder 2. Engine boosting? Controlled at 11:35 a.m. Extensive overhaul with companies on scene into mid-afternoon. Cause determined as accidental, grease fire in kitchen area. See preliminary photos by Mike Legeros.


2:30 p.m.
Mobile phone video clip compilation:

Media coverage:
12:53 p.m.
Let's get the coverage rolling. Here's the run card and coverage assignments. Thanks Max, for compiling the move-ups.
First Alarm - 311 Glenwood Avenue
Hibernian Pub - 10:21 a.m.

Engine 13, Engine 1, Engine 3, Engine 5
Ladder 4, Ladder 2
Rescue 2
Battalion 3
EMS 7

Working Fire - 10:27 a.m.

Air 1
Battalion 2
Car 10, Car 20, Car 40
EMS 2, M94, D1, T1

Second Alarm - 10:30 a.m.

Engine 6, Engine 2, Engine12
Ladder 3
Rescue 3
Battalion 1
Car 2, Car 3, Car 5
OFM staff
Training staff
EMS 2, EMS 31, EMS 11

Special called at 10:57 a.m.

Engine 7, Engine 11
EMS 14, M94, Evac 1

Relief companies included

Engine 23 and Ladder 1, dispatched 5:49 p.m.
Ladder 7
Coverage
Engine 4 to Station 5
Engine 19 to Station 7
Rescue 1 to Station 9
Ladder 5 to Station 11
Engine 14 in service with Ladder 8
READ MORE
+ 1 - 4 | § ¶
Not Pretty, But Still Standing
Found via firehouse.com, here's a Fayetteville Observer story from Sunday about the city's old training tower. The fire department hasn't used the thing in about five years. The city deeded the property to the neighboring Cape Fear Botanical Gardens in July. The present problem is that the tower is more eyesore than history treasure. As the story notes, the four-story structure was built in 1952 as part of Pope Park. Demolition is planned, but that will take money and fundraising is probably three years away.



Next question, was other old training towers are still standing in our state? Charlotte's (1938) and Durham's (1927-28) come to mind. The latter is listed on the National Register of Historic Places. Greensville's (1943?) was still there at last check, beside old Station 2. They're shown left to right, below. Thinking about, aren't there brick towers still used in Durham (second location) and Greensboro? Is there one still standing in Winston-Salem? Raleigh's is gone, Wilmington's original tower (first in the state, no?) is gone.



+ 2 - 3 | § ¶
Twas the Day Before Christmas

Twas the day before Christmas, and all through the house,
The crews had the spirit, and no reason to grouse.
The trucks and equipment, were checked off with care,
In case of the big one, which might take them there.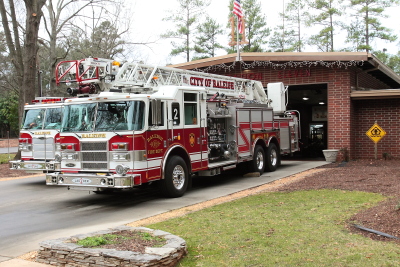 The bathrooms were cleaned, the grocery list made,
With careful consideration, sweet tea or pink 'ade?
The watch room was staffed, Lt. Edwards on tap,
Wearing Donnie's fuzzy funny, a singing Christmas cap...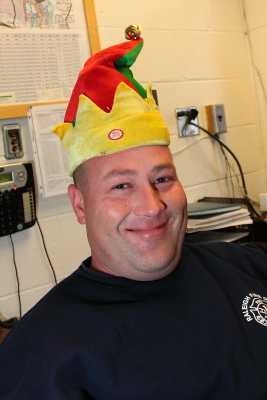 Happy holidays!
+ 0 - 3 | § ¶
Raleigh's Old Light Truck
As referenced in this thread, here's a vehicle that we don't have a lot of pictures of. This is Raleigh's old Rescue 1, a 1966 Chevrolet C3605 panel truck. It was purchased from Sir Walter Chevrolet on August 18, 1966 for $2,728.47. It was replaced by a 1975 Chevrolet/Murphy ambulance on December 2, 1974.
From there, my notes get a little weird. Was it placed in reserve? Did it serve as Rescue 12, Rescue 3, and Rescue 14, as the above web page indicates? That doesn't seem right, though there are photos of the thing parked at Station 12 circa 1974 to 1976. Maybe it was a combination reserve truck and, say, towing unit for boat trailers? Don't know.
Then in the eighties, the thing was converted to a light truck and air bottle transport unit. It was repainted red, and spotlights were mounted on the roof, and wooden racks for air bottles were added in the rear. Some remember an open trailer pulled behind the thing, also equipped with lights and maybe a generator? Service period was as early as June 23, 1983, and as late as July 16, 1988. By February 1989, if memory serves, it was parked at the Keeter Training Center. Click to enlarge the top photo:


+ 1 - 1 | § ¶
Vintage Fire Photos - White Memorial Church, August 2, 1987
As seen and finally identified in our recent mystery photo, here are a handful of historical photos after a fire at the White Memorial Church on Oberlin Road. The incident date is August 2, 1987. The units seen look like Engine 5, Engine 6, Truck 1, Foam Unit 1 (likely being used as an industrial-strength smoke fan), and whatever the 1966 Chevy panel truck (and former rescue unit) was called at the time. Might've been Light Truck 1. The thing carried lights and later air bottles.
By that time, there was a cascade system in the alarm house at Station 1. Did the panel van also carry a generator? Still trying to determine the year the thing was placed in service. It's remember at Station 1 as early as 1981. Log books list the thing as early as 1983, at least as found so far. They list it in service until 1988, and probably when the first mobile air unit was delivered that year. Here's a PDF document with unit (and company) histories, that tells more. Anyway, view the photos, which were taken by Robert L. Ott Sr. and presented courtesy of his son William E. Ott.


+ 1 - 1 | § ¶
Goodbye Denise!
That familiar fixture of Fire Prevention-- now named the Office of the Fire Marshal-- is retiring on January 1. That's Senior Support Staff Specialist Denise Smith, whose leaving the front office after 32.2 years of service with the city and the Raleigh Fire Department. She's shown at a lunch on Wednesday (see photos), where she was toasted and roasted to fine effect. Great party, great person. Happy trails.


+ 2 - 0 | § ¶
Idea of Hiring Chief Splits Maryland Volunteer and Career Firefighters
That's the title of this firehouse.com story, reprinting this Frederick News-Post story about a controversial proposal to create a Fire Chief position to oversee the volunteer fire (and rescue) departments in Frederick County, MD. The proposed authority structure was crafted by a committee of stakeholders over about eighteen months. The position would replace (or at least augment that of) the county's fire and rescue services director. And the proposal has brought mixed feelings. Will this chip away at the authority of the volunteer departments? But it will bring (more) standards and compliance therein. (Here's an editorial from the paper on the topic.)
From the county's web site, here's a listing (PDF) of the thirty-two fire and rescue departments. They're a mix of municipal and volunteer. Frederick, for example, is protected by four fire companies. (Don't know if they're unified under a municipal fire chief, or operate independently.) There's the Vigilant Hose Company in there, that protects Emmitsburg, the location of the National Fire Academy and the National Fallen Firefighters Memorial. (They also have a fire museum up that way. Here's that site. And the National Fire Hertiage Center.)
How does this relate to Raleigh and Wake County? Well, many have long wondered if a county-run fire department is an eventual future here. Ours is an apple to their orange, however. We have municipalities, but of vastly varying sizes. One to lead them all include Raleigh, Cary, Apex, et al might be a considerable uphill battle. But what about the dozen-plus rural fire protection districts? Either initially with a leader or later with WCFD on the sides of the trucks? Good question.1
And how do such consolidating efforts resolve the long histories of the existing departments, you have to wonder. Maybe a WCFD has the "Stony Hill Fire Station" or the "Bay Leaf Fire Company" or such. There's some serious speculation to be had, through nothing no one's hasn't thought about before. (Nice triple-negative, there.)
Interesting story all the same. Read, ponder, discuss, debate.
1Don't have a backend comparison to cite, either. How does their county compare with our country with regard to consistency in operations, for example? What sort of service deficiencies or surpluses exist? What do their administrative processes look like, individually and holistically? No idea.
+ 2 - 0 | § ¶
New Nebo
New apparatus that is. This photo's from a FireNews.net feature about a new pumper-tanker delivered to Nebo Volunteer Fire Department in McDowell County. That's a 2012 International/Rosenbauer with a 1250 GPM pump and a whopping 1,800 gallon tank. Now that's a tall truck! And check out something called a "swivel dump." See the story for more photos and details. That's a delivery from local Rosenbauer dealer C. W. Williams, and here's the delivery information.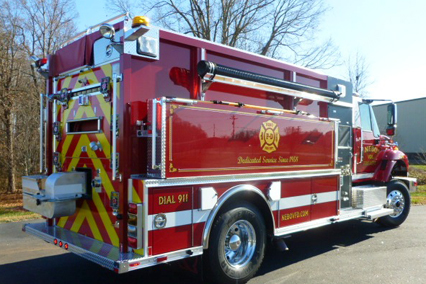 + 0 - 2 | § ¶
Slow News Week...
Actually it's a busy Mike week. Deadlines for the fire department history book. Mr. Blogger is busying being Mr. Copy Editor and Mr. Proofreader. Happy to have a project over the holidays. Things tend to slow down during Christmas. And we meaning me isn't good at being slow. Then there's the dreaded/wonderful day itself, when everything is closed. That is, except emergency services. And the movie theaters. Will be first in line for one of the new movies that day.
Again, got nothing. Guess we'll throw a couple random historical pictures here for collective enjoyment. See if you can place these. More later, longer series and proper labels later. Photographs by Robert L. Ott Sr. by way of his son William Ott. Click to enlarge:


+ 1 - 1 | § ¶
Vintage Cherry Point Crash Truck
Speaking of crash trucks and found for sale on eBay, here's a postcard view of a United State Marines MB-1 crash truck. That's a Walter truck, right? Photographed June 20, 1979.


+ 2 - 0 | § ¶
Statesville's New Airport Crash Truck
Have you check out FDmaps.com yet? New site, and with a blog. And more than just postings about maps. There are station photos and the odd apparatus photo, such as this shot of Stateville's new airport crash truck. The 2003 Colet SVD K15 ATTCC previously served Langley Air Force Base in Hampton, VA. (Google finds that detail in Statesville city council meet minutes excerpt.) The apparatus serves Statesville Regional Airport and is presently temporarily housed at Station 1. Next question, what apparatus was the airport operating beforehand? Click to see the larger photo: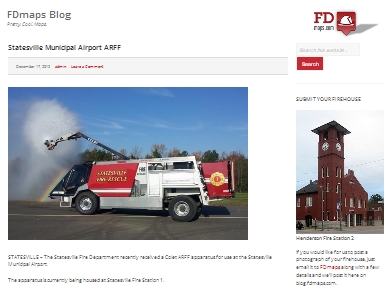 + 2 - 0 | § ¶
Nothing
Got nothing this morning. Come back later. Enjoy your holiday shopping this week.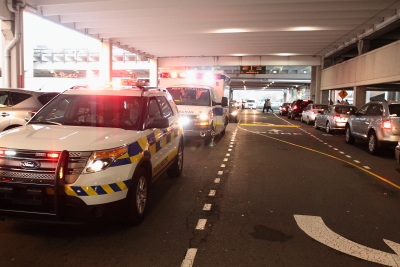 + 1 - 4 | § ¶
New Rescues for Thanksgiving and Buis Creek
Just in time for Christmas is this picture of Thankgiving's new (used) rescue. They're in Johnston County. It's a 1997 Pierce Quantum that originally served as Richmond's Rescue 1. Delivered September 13. Get this, the thing has a 500 GPM pump (!) in addition to a cascade system. (So it's a rescue engine?!) See more photos.
Also new in the area is Rescue 881 at Buis Creek Fire Department in Harnett County. Delivered on December 11, it's a 2012 Rosenbauer Spartan-Force. Says photographer Lee Wilson, it's the first Rosenbauer rescue in our area. But we've had a couple engines delivered, no? See more photos.



Lee Wilson photos
+ 2 - 4 | § ¶
Rescue and Squad Helmet Shields
Here's a preview of helmet shields that are coming soon to the Raleigh Fire Department. Rescue 1 (as five-man company) and Squad 14 and 15. These are for Firefighter ranks. The Lieutenant and Captain will have their positions listed instead of "rescue" or "squad." Read the Fall 2012 edition (PDF) of the RFD newsletter for that story. Click to enlarge:


+ 3 - 2 | § ¶
Vehicle Versus Bank
The latest collision between a moving vehicle and a stationary building happened this morning in the 3900 block of New Bern Avenue. As these WTVD photos depict, a sport-utility vehicle jumped a curb and struck the side of a Wells Fargo bank. The driver fled the scene, the passenger was transported to WakeMed.



WTVD/Jim Schumacher
+ 2 - 1 | § ¶
Raleigh Fire Department Org Chart, 1980
Here's your morning historical artifact, from the Fiscal Year 1980-81 budget document. Note that some vehicles are included. Click to enlarge:


For contextual comparison, here's that decade versus this decade.

| | | | | |
| --- | --- | --- | --- | --- |
| Calendar Year | | 1980 | | 2010 |
| | | | | |
| Calls | | 4,326 | | 38,151 |
| City Pop | | 150,255 | | 403,892 |
| City Size | | 55.165 | | 143.865 |
| | | | | |
| Stations | | 15 | | 27 |
| Average Station Age | | 15 | | 27.8 |
| | | | | |
| Engine Co | | 16 | | 28 |
| Aerial Truck Co | | 2 | | 8 |
| Service Truck Co | | 3 | | n/a |
| Rescue Co | | 2 | | 3 |
| District/Bat Chief | | 3 | | 4 |
| | | | | |
| Chief | | Keith | | McGrath |
| | | | | |
| Fiscal Year | | FY80 | | FY10 |
| Authorized Positions | | 325 | | 568 |
| | | | | |
| Admin | | 21 | | 7 |
| Prevention | | 5 | | 25 |
| Operations | | 299 | | 520 |
| Services | | n/a | | 9 |
| Training | | n/a | | 7 |
| | | | | |
| Adopted Budget | | 5,040,282 | | 50,481,355 |
+ 2 - 1 | § ¶
Oregon Mall Shooting Media
Aerial images of yesterday's mall shoot in Portland, OR, are appearing around the 'net. You can see some of the units that were on scene, and they were staged/parked. Search via Google or just look on local news sites. Would be an interesting run card to see. Looks like three or four engine companies and at least a half-dozen ambulances were on the run card.
Harder to find is this photo gallery from Thomas Boyd at the Oregonian. It's the outside-the-mall perspective of bystanders and responders. Based on the twilight, looks like they were taken some hours afterward. The gunman started shooting around 3:30 p.m. The responders were probably there for hours. Maybe our readers can advise how long a store-by-store search would take in such situation. Probably an hour? Longer?



Associated Press photo
+ 1 - 1 | § ¶
The Pope Tweets
Today is 12/12/12. Was the apocalypse supposed to happen, per the Mayan calendar? Or was that asteroid that just passed close to earth suppose to strike us? Meanwhile, over in Vatican City (been waiting a lifetime to write that phrase), the Pope sent his first tweet this morning. HHPB is online. Social media is here and even the Really Old Schoolers are joining. Maybe you can convince your chief to get on board.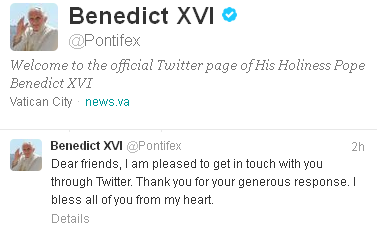 + 1 - 1 | § ¶
Vintage Mystery Chief's Car
Here's another mystery photo, dated July 1982. Make and model of said vehicle is probably (certainly?) older. Fire Chief's car from somewhere in North Carolina. Another vintage color image from from Robert L. Ott Sr. by way of son William Ott.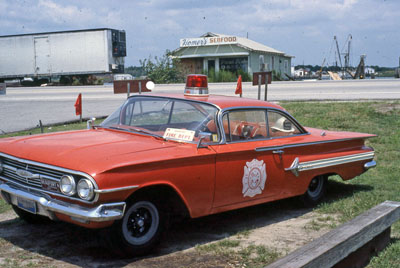 + 2 - 1 | § ¶
Life in the History Lane
Here are some facts and figures about the Raleigh Fire Department Centennial History Book project, which Yours Truly has been increasingly immersed in these last weeks. (Have patience if you're waiting for FIREFOTO to resume his regular action. Deadlines have required a pause in photography action. That and a very recent lull in working fires!)
Source material? Digital assets at History Central include 65.3 GB of scanned images and documents. That's 20,964 files in the folder, which include 1,635 TIF images and 16,0003 JPEG images. There are some duplicates in there, for sure. Even some triplicates. (Included in that staggering count is 7.31 GB and 7,466 JPEG newspaper scans.1)
The total excludes, however, digital photos by Legeros. Meaning, scene and stock shots. From 2004 to mid 2012, we'll put that total around 60,000. No idea on total size. As for photographic prints, there are at least 500 in albums as reprinted from the State Archives. Add another 500 in albums that were borrowed from others. And another 500+ of mine, from my pre-digital days. (Plus a few hundred or several hundred 35mm slides and negatives, from various sources.)
What's the output looking like? The book's project folder contains 49,064 files that total 62.6 GB in size. That's still a ways behind the 2007 book project. which numbered 91,039 files and 100 GB. What do those numbers translate to? Content created or prepared to date includes:
567 portraits (so far) of active personnel
407 images depicting the volunteer era through 2012
365 portraits (so far) of retirees
204 images of specialty disciplines, groups, and special functions
116 photos of/about fire stations
106 candid photos
103 photos of/about OFC, OFM, training, services, operations
81 crew photos, one per station per platoon
40 apparatus photos, in dedicated section
Pretty good start. We'll be adding several dozen more in these final weeks of production. Firefighters in action. Centennial events. And some other goodies, which we haven't mentioned above. Over 2,000 photos in a 260-page hardcover book. Sounds like a bargain to me. And we haven't tallied the prospective word count.2 Order yours here.


1That was a project from a copy years ago. Read every day's newspaper(s) in Raleigh from the late 1860s to the early 1910s. And copied every article about the fire department. That project took a little while.
2The book's text history will be finished over Christmas. That's my holiday project. Taking the history text from the 1984 and 2002 yearbooks, and adding everything that's happened since. Plus normalizing the whole thing, adding new facts, corrected old errors, etc. Should totals 25,000 words. Maybe 30,000.
+ 2 - 0 | § ¶
Mystery After the Fire Photo
Here's a historical treat. This is another vintage color image from from Robert L. Ott Sr., and courtesy of his son William Ott. His father passed away in 1993, but left a photographic legacy that his sons Lee and Bill are working to preserve. What are seeing here? Where's this, when's this, and what's happening in the photo? Many interesting things to comment upon... Click to enlarge:


+ 2 - 0 | § ¶
Into the Pit
Found this one while looking through some files. Raleigh Fire Department recruit academy at the Wake County Fire Training Center on April 9, 2009. Family day, near the end of their academy. Tramp Dunn at the controls. This one's a flame pit, with gas burners simulating an tanker fire. The shot pretty much takes itself, as long as your camera has a fast shutter. And you've got a telephoto lens. The good ol' fire pit. We've all been there before, though didn't they burn diesel fuel back in the day? As when our academy was put through the paces in 1989? See the full series of shots. Click to enlarge:


+ 2 - 0 | § ¶
Top 911 Call Taker Lauded for 'Superhuman Effort'
That's the News & Observer's headline from Saturday, for a profile of Raleigh-Wake County Emergency Communications Center Call Taker Heather Whitaker. She earned the statewide honor as 911 Employee of the Year. She answered 5,269 calls in May, the highest number ever answered by anyone ever at the ECC. The communications center was hit hard on March 31, when a flood of accidental 911 calls started. Estimates the center's director, they'll have processed up to 200,000 extra calls by the end of the year. That's both the incoming oops and the extra ongoing "hello, someone called 911 from this number" outgoing calls that are returned. Whitaker grew up in Garner, graduated from NC State University, and was a supervisor at a Raleigh call center that handled custom framing orders. She's worked at the ECC for three years. Read the story.



News & Observer photo
+ 1 - 2 | § ¶
Glenwood Avenue...
...between Blue Ridge Road and the Beltline sucks. Here's my idea to improve the thing. Can't possibly happen, but a fella can dream. Traffic engineers et al are welcome to explain why it wouldn't work. Because if such a seemingly simple solution did, it would have been done ages ago, right? (Seems obvious, at least if you drive through the corridor every day as we do...) And you'd probably put a couple gas stations out of business (for starters). Maybe that's one reason it's never been tried. Click to enlarge:


+ 1 - 1 | § ¶
Old Cary Ladder at Buis Creek
Lee Wilson caught a couple photos of Cary's old Ladder 1, a 1988 Pierce Arrow 105-foot aerial platform that's still serving at Buis Creek Fire Department in Harnett County. They purchased the ladder from the town in 2004. That's a Christmas wreath around the Q on the grill. See more former Cary rigs. There was a time that the truck was one of just a couple platforms in whole of Wake County. Raleigh, Cary, and Zebulon had them. Now everybody's got a "bucket truck." See more photos.



Lee Wilson photo
+ 0 - 2 | § ¶
Historic Mill Burns in Una, SC
Twelve fire departments in Spartanburg County, SC, and some hundred firefighters are or were battling a blaze at the vacant Saxon Mill. The fire was reported about 9:50 p.m. last night. The mill was founded in 1990. The main building was built in 1906. Here's some media found via a bit of web searching. Photos and story at GoUpstate.com and video footage and story from WSPA.



Tim Kimzey/GoUpstate.com photo


+ 0 - 2 | § ¶
Volunteer Fire Fighters Learning Basic Principles, 1965
From the January 27, 1965, issue of the Raleigh Times:
GARNER - Volunteer fire fighters of Garner are learning basic principles about their work during a two-week training course which began Monday night. The second week will be held Feb. 8 through 11.

Sherman Pickard, director of Fire and Resource [Rescue?] service of N.C. Department of Insurance, is directing the program.

Pickard said that a class held two weeks ago for trainees studied methods of financing a fire department, organizational structure, fire insurance program, personal protection provided for each man in case he is hurt while fighting fire, N.C. traffic law relating to fire department vehicles, history of the local department as well as a brief history of rules and regulations dealing with individual and group fire fighters.

In the classes this week and the concluding week, equipment and how to work it will take up most of the time. Identification of equipment, its use, and location will be taught. Different kinds of apparatus will be demonstrated.

Protective clothing including smoke masks will be explained and shown, and how to ride a fire truck will be taught. Details of equipment, use, different makes, and how to maintain them will be taught.

On the job training will be conducted at Raleigh's training grounds for firemen. Here they will be subjected to about 240 degrees of heat as well as undergo smoke tests.

In more advanced training, operation of water pumps, hydrolytic [sic] machinery, Garner's water system, and more advanced fire fighting tactics will be touched upon.

Standard operation procedures have been drawn up for three "codes" of fires. Pickard said that this is determined by man power, equipment, and water availability.

Code one deals with any fire within town limits requiring handled with 1 1/2 inch hose. Fire hydrants are usually close enough to be used. This code covers most dwellings. This may or may not require all three of Garner's engines.

Code two deals with any fire within town limits that requiring the use of 2 1/2 inch hose. The local schools and probably the business district are the only places in Garner where this code would generally be needed.

Code three deals with rural fires within the St. Mary's Fire District. This not only spells out the duties for engine drives but also systematically gives plans for tanker drivers.

Pickard said that Garner has one of the best rural fire fighting systems in the entire state.

These SOP duties have been brought up to date with a newly published set of duties dated this month.

The classes are being held each night through Tuesday. Fire Chief B. R. Poole expects most of his 40 m en to attend each session.
+ 0 - 3 | § ¶
Still More History Book Page Previews
But from just one section of the Raleigh Fire Department Centennial History Book. As noted in this prior posting, it will feature a section of historical photos, divided by decade. From the 1910s to the 2010s. Plus four pages of photos from the volunteer era. Here's a third preview of what we're designing. Haven't ordered yours yet? Deadline is January 15. Don't wait another hundred years! Click to enlarge:


+ 1 - 1 | § ¶
Raleigh Fire Museum Open This Saturday, December 8
Looking for something to do on Saturday? The Raleigh Fire Museum at 105 Keeter Center Drive is open from 10:00 a.m. to 2:00 p.m. Tour the 100-year history of the city's career fire department, and learn about the volunteer fire companies that also protected the Capitol City. Hundreds of artifacts and photographs are displayed. New this month is this hand hose reel from the nineteenth century:


The museum is open on the second Saturday of each month, and is located in a classroom trailer at the Keeter Training Center at 105 Keeter Center Drive. Parking and restrooms are available. Admission is free. Learn more about the museum, and the group that operates it, at www.raleighfiremuseum.org.
Please note that other antique apparatus is stored elsewhere. The museum's 1961 American LaFrance pumper is located at Fire Station 9 at 4465 Six Forks Road. The city's collection of antique fire apparatus is housed at at Fire Station 28 at 3500 Forestville Road. The collection includes a 1905 steamer, a 1926 American LaFrance pumper, a 1950 Mack pumper, and a 1982 Mack pumper. Visitors are welcome at both locations.
+ 2 - 0 | § ¶
Construction Photo of Cary Station 8
Speaking of fire stations, things are looking good at 408 Mills Park Drive in this reader photo. Search the blog for prior postings. Or read more from CFD. Click to enlarge:


+ 0 - 2 | § ¶
FDmaps.com - NC Fire Station Mapping Project
Here's something that pegs the cool meter, a web-based fire station mapping project that covers the entire state of North Carolina. The site is FDmaps.com. The creator is Jeff Harkey, Editor of FireNews.net among other things. He's (a.) tracked down the location of every fire station in the state, (b.) mapped the location via geo-coding, and (c.) created a web site to host said map(s). Totally interactive. Click, zoom, pan, etc. (The whole thing started as a CarolinasFirePage project back in 2000. You've seen that before, a list of all fire stations by county. And you may have seen his FDNY maps as well.)

What's even nifty-er here is that he's included subsets of the data. Such as the location of the state's fire boats, six of which are mapped so far: Charlotte, Cornelius-Lemley, Morehead City, Station 15 - Colington, Station 35 - Military Ocean Terminal Sunny Point, and Wilmington. (What, there's one or missing? Such as, say, Wrightsville Beach? No problem, he invites users to participate and submit data. Yup, this one's heaven for buffs.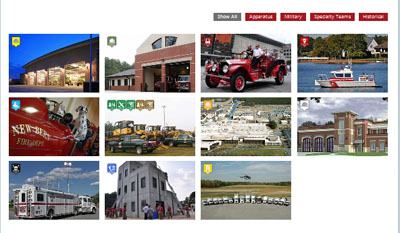 Here's a tip, scroll to the bottom of the site and you'll find drop-down menus to select specific cities and counties, as well as select categories and some special/enhanced maps:


Some of the other goodies waiting to be found on the site:
Airport fire stations - Thirty-two of those (!) containing ARFF apparatus. Woof!
Federal military fire protection agencies - Thirty-four.
Fire stations housing antique apparatus - Nineteen mapped so far. That one will probably expand.
Fire museums - Seventeen of those, wow!
Forestry facilities - Total 141, which includes NCFS, NC Parks, and USFS.
Etcetera.
He's also tracked down the private fire brigades serving in the state. Eighteen of those mapped so far. Now dying to know about them. Apparatus, equipment!?
Capstone Paper Company
Clariant Corporation
Corning
DSM Pharmaceuticals
Du Pont Teijin Films
Duke Energy McGuire Nuclear Station
DuPont - Fayetteville Works
GE Nuclear Energy
Goodyear Tire and Rubber Plant
GSK - Zebulon
IBM - Research Triangle Park
International Paper Company
PCS Phosphate
Progress Energy Shearon Harris Nuclear
Sta 2400 - Blue Ridge Paper Products
Sta 2500 - Blue Ridge Paper Products
Sta 36 - Progress Energy Brunswick
Weyerhaeuser Company
Plenty to explore on this super-cool web site, and plenty of participation for anyone with even a passing interest in the subject. Commence interacting with site. Meanwhile, enjoy as buffs in the other forty-nine states ooze envy at the latest great work of Jeff Harkey. That name again, kids, is FDmaps.com.
+ 0 - 3 | § ¶
New Pine Level Engine
Another new Ferrara/HME (or is HME/Ferrara?) engine has been delivered in our area. This one's in Johnston County, at Pine Level Fire Department. Their new Engine 3 was delivered on November 19 and will be placed in service in January. 2012 Ferrara/HME top-mounted pumperd, 1500/1000. See more photos.



Lee Wilson photo
+ 2 - 0 | § ¶
Morning Reading - Ethics of Detachment
When do you put down the camera and help? Should you put down the camera and help? Outcry over this week's subway death story (or stories) in New York City notwithstanding, this is an oft-discuss among photojournalists. Or so it seems from a bit of morning reading. Below are some interesting and thought-provoking links on the subject, found via sundry Google searching. The issue of detachment certainly plays through my head at times, in the course of my documenting local emergencies and responders. Don't know if I'd call myself a photojournalist, however. Have to think on that one. This posting's title comes from this blog post by Ian Lind in Kaaawa, Hawaii. He's links to two of the stories below...
+ 1 - 2 | § ¶
Class of 1989 - Now with More Bugles!
Raleigh Fire Department Recruit Academy 13 has produced another Battalion Chief. Congratulations to Donald L. "Duffy" Deyo, promoted on December 1. The class of 1989 has now produced five of those bad boys. Plus another seven Captains and four Lieutenants, if my math is right. And, ahem, one photographer/historian. (Member of department from 1989 to 1991.) Two versions for your evening enjoyment, one with Legeros included. Pretty easy to find Waldo in the second shot. Left to right are Battalion Chiefs Barry Spain, A.C. Rich (also Safety Officer), Greg Bridges, Rob Johnson, and Duffy Deyo. Click to enlarge:


+ 1 - 1 | § ¶
Critical Public Safety Center Moves Forward
Press release. The Raleigh City Council, on Dec. 4, approved moving ahead with the proposed Critical Public Safety Facility and authorized solicitation and of the Construction Manager-at-Risk (CMAR) for future approval for the project. The City of Raleigh commissioned Pearce Brinkley Cease and Lee (PBC+L) /AECOM in July to program and design the City of Raleigh Critical Public Safety Facility, that would house the Emergency Communications Center, Emergency Operations Center and the City's Primary Data Center.

This initial Phase One design services included the evaluation and updating of the departmental programming, site evaluation, master planning, and initial conceptual building design efforts. In addition, the City Council authorized conducting a security and threat assessment as a component of the Critical Public Safety Facility's development. The City contracted with Burns and McDonnell for Phase One threat and security analysis services associated with the initial development of a new facility.
+ 1 - 1 | § ¶
Mystery Fire
See if you can place this one. Click to enlarge:


+ 2 - 3 | § ¶
Car 40 to Station 16
On November 29, the platoon Deputy Fire Marshal was moved from Station 21 to Station 16. That's Car 40, and what might be the first tone you hear for a working fire dispatch. (Do my ears have that correct?) The move was made as Rescue 1 will relocate to Station 21, when placed in service as a five-man (er, person) company in early 2013. That'll happen along with Rescue 2 and Rescue 3 removed from service, and some other stuff. Click to enlarge:

+ 0 - 2 | § ¶
Apex to Keep Apex EMS
Here's an interesting story from the Cary News the other day, about the town of Apex's decision to maintain control of their EMS department. The county has been interested in absorbing the nine-member department into Wake County EMS. It currently collects EMS revenue on behalf of the town, and has declined to fund the chief and administrative assistant positions. (That's my word, "declines." The news story uses the word "refuses" which strikes me as editorially biased. Yours thoughts?) The positions aren't cost-effective, says the County Manager. The town has agreed to fund the positions while it continues negotiations with the county. See related story about the pending retirement of EMS Chief Nicky Winstead, and more on these fund issues. Next question, how old or current is this patch, that's still on my site?


+ 1 - 1 | § ¶
Efland's New Engine
Lee Wilson photographed Efland's new engine. They're in Orange County. The white-over-yellow rig is a 2012 Ferrara Intruder II Maxx/HME rescue pumper, 1500/1000. It will be placed in service at Station 2 as Engine 134. See more photos.



Lee Wilson photo
+ 1 - 1 | § ¶
How to Be a Pain in the Neck
Want some neck pain to go with your scene photos? Lean into the camera, instead of keeping your neck straight. You won't notice in the moment, but you'll have a surprise waiting the next day. That's Legeros in action on Hammell Drive on September 21, 2008. Warehouse fire on a Sunday afternoon. Three alarms. See photos from Mike Legeros and Lee Wilson. Richer colors in the second set. Must be a Nikon versus Canon thing. Click to enlarge:


+ 0 - 2 | § ¶
Overhaul and Protective Garb, 1947
Here's your morning historical photo, Raleigh firemen performing overhaul on February 13, 1947. What they're wearing is what they fought fire with. Turnout coats were used in the department as early as the 1930s, though not apparently always or by everyone. Scene photos from that decade show some people wearing dress coats and dress pants while fighting fire. (Admittedly, the number of photos from the 1930s is so small that its really not a good sample size.)
Same for turnout pants, which are also shown in some fire photos from the 1930s and 1940s. Again, not always or by everyone. Maybe there were limited sets? Maybe they had to be personally purchased? Helmets were added later, around 1950. Dress caps were worn while fighting fires and they're shown in scene photos going back to the 1920s. (There were some tin helmets in the departments past. We blogged about that in the past.) Click to enlarge:


+ 0 - 2 | § ¶
Fire Chief John McGrath and Raleigh Fire Department Honored By NFFF
Press release. In recognition of exemplary commitment to the 16 Firefighter Life Safety Initiatives, the National Fallen Firefighters Foundation (NFFF) presented the Seal of Excellence to the Raleigh Fire Department in North Carolina.
The NFFF's Seal of Excellence Award is presented annually to an individual, group, or entire fire/rescue/EMS department demonstrating commitment to the 16 Firefighter Life Safety Initiatives, commitment to firefighter health and safety, and for contributing to reducing the number of firefighter line-of-duty deaths and injuries.
Following the 2009 crash of a ladder truck, the department developed an extensive apparatus training program for all drivers. They also produced a video about safe driving which included personal accounts from those who had been involved in the crash.


Chief Ronald J. Siarnicki, executive director of the NFFF, presented the award during the department's 100th Anniversary Ball on Saturday, November 17. Chief Siarnicki also presented a replica of the National Fallen Firefighters Memorial to Chief John McGrath for his service to the Foundation.
Chief McGrath serves as the Memorial Weekend Incident Commander, is a Taking Care of Our Own® Instructor and a Chief to Chief Participant. Siarnicki noted that from the early planning stages through the final moments of each year's Memorial Weekend, McGrath's focus is on meeting the needs of the survivors and expects the same from all who volunteer during the weekend.


"Chief McGrath's dedication to the National Fallen Firefighters Foundation, the survivors, and the fire service as a whole is unparalleled" said Siarnicki. "He is respected and admired by all. On behalf of the National Fallen Firefighters Foundation, it is my pleasure to honor him and the Raleigh Fire Department tonight." Click to enlarge:

www.everyonegoeshome.com
.
+ 2 - 1 | § ¶
First Responders Talent Show - Sunday, Feb. 10
Here's something fun that's coming, as sponsored by the Raleigh Police Memorial Foundation. Auditions on Sunday, January 27, at 4:00 p.m. Location: Ravenscroft, 7409 Falls of Neuse Road, Raleigh. Competition on Sunday, February 10, at 6:00 p.m. Location: Tir Na Nog, 218 S. Blount Street, Raleigh. Participation limited to Wake County first responders. Click to enlarge: